With the Toto AIMES one-piece toilet, Toto maintains its dedication to producing high-performing, environmentally friendly products. This toilet has a contemporary appearance, a reliable flushing mechanism, and a comfortable seat.
With the Toto AIMES replacing your 5.5 GPF toilet, you may conserve 24,665 gallons of water annually. It should be no surprise that TOTO is the top toilet manufacturer globally, given its excellent output caliber.
Their AIMES toilet is one of their top one-piece choices. So, keep reading the TOTO AIMES review to find out why this model is a good fit for your house! Let's get started!
Brand Overview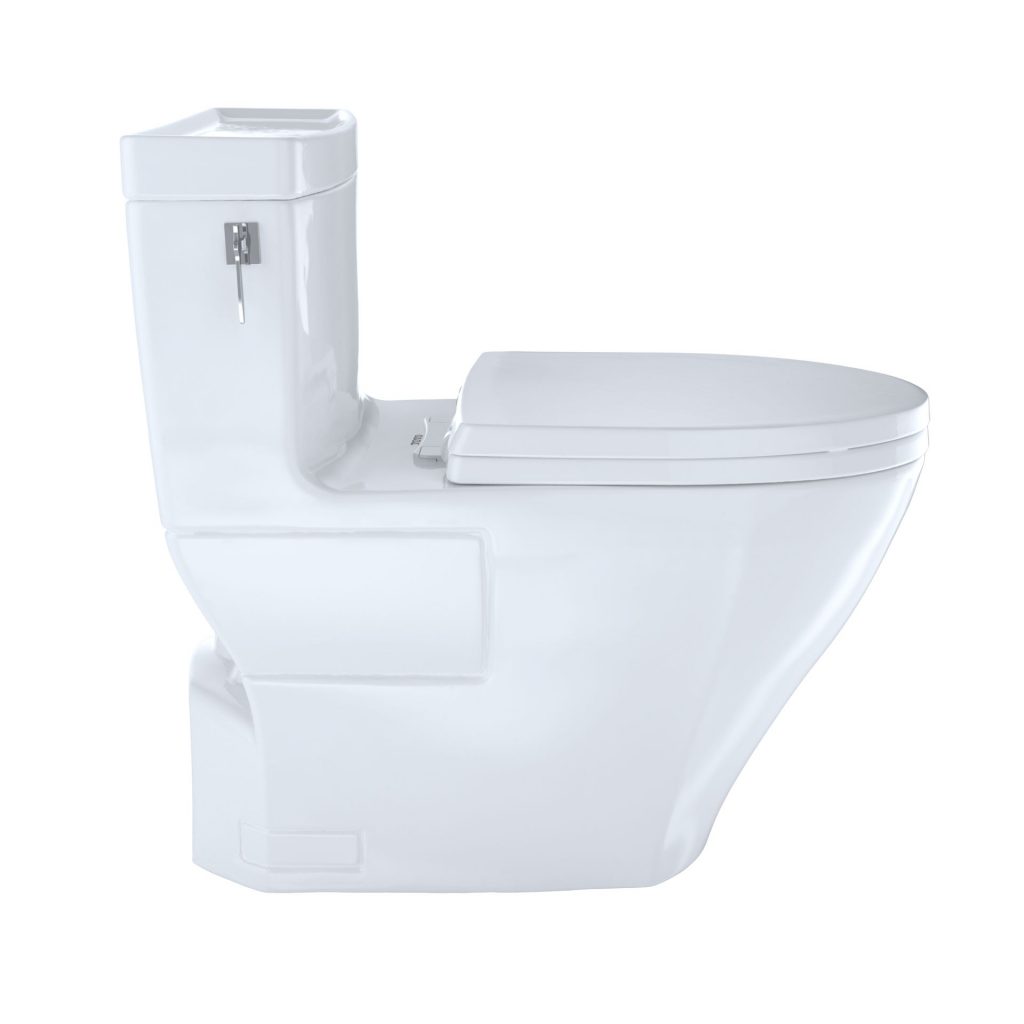 Japanese Toto Ltd. is one of the world's greatest and largest toilet manufacturers after 100 years of invention and design. Toto invented numerous unique flushing systems exclusive to their toilets throughout the years.
The one-piece Toto AIMES toilet is priced in the middle and resembles a high-end model. With the AIMES' attractive appearance comes a long range of cutting-edge functions presently unavailable in toilets at a similar price.
For many years, the only choice available to householders was a two-piece toilet. One-piece designs provide many benefits, and the adaptable AIMES universal height Washlet from TOTO is one of our favorites.
The TOTO AIMES transforms your approach to the most used household fixture with a completely contemporary design.
The enlarged bowl on this toilet gives the front 2 inches more space. It also incorporates a skirted trapway, eliminating the need to clean crevices regularly. It has a simple design with a benefit, aside from the trip-lever on the side.
TOTO created this WASHLET+ toilet to integrate seamlessly with their bidet seats. The hoses and wires will remain concealed if you decide to replace this toilet. The AIMES has a chair-height arrangement with a single flush with a 1.28 GPF rating.
In addition to the Legato, which has a similar design, this one-piece toilet is one of the most popular TOTO toilet types. AIMES is a great option if you are a property owner seeking a stylish, bidet-compatible toilet but are not quite ready to make the switch.
Features
The TOTO AIMES kept coming up when we searched for the best one-piece, reasonably priced device, and good quality. We had to try this unit and give you our own evaluation because we saw how happy many others are with it. Let us discuss the top features that this item has to offer.
Great design
The TOTO AIMES differs from other toilets in its design. AIMES begins with a skirted design that is common in many high-end toilets.
The AIMES' sleek, elegant appearance is enhanced by its simple flourishes and geometric design. This design makes the AIMES simpler to clean and maintain while concealing the trapway.
Toto offers four color options if you prefer one above the others: Cotton, Classic White, Bone, and Verde Beige. The CEFIONTECT Glaze Technology covers porous ceramic surfaces in each hue.
Self-cleaning bowl
It takes less water to keep the bowl clean and sanitized when there is less garbage that sticks to the surface—the smooth, simple lines of an extended one-piece design complement any decor.
Even the trip lever, which comes in chrome plate, polished nickel, or brushed nickel finishes, contributes to the Aims' contemporary appearance.
Marks do not require extensive rubbing
The CEFIONTECT's ion-barrier aids in preventing solid waste from adhering to the toilet bowl's sidewalls. There's no need for abrasive chemical cleaning since fewer trash sticks to the AIMES, keeping it cleaner between routine scrubs.
The AIMES lid lowers gradually without banging, featuring stainless steel hinges and a SoftClose seat. The left side trip lever finished in polished, brushed nickel or chrome completes the toilet's attractive appearance.
Strong flush and simple cleaning
The TOTO AIMES' Tornado Flush System is one of its major qualities, as was already described. With just 1.28 gallons of water every flush, it offers efficient, clog-free flushing. 
Additionally, the bowl will always be flawlessly clean and free from germs, mildew, dirt, and particles, thanks to the surface's smooth and streamlined appearance. This is a great option if you want a strong, efficient, sanitary unit for your bathroom.
The shape of the bowl
The bowl's form is one of the most crucial factors when purchasing a new toilet. Toilet bowls come in two shapes: round or elongated. The TOTO AIMES will be more convenient and pleasant because of its expanded bowl.
However, it lengthens it by a few extra inches, which might not be the best option for bathrooms with limited space.
Additionally, the toilet seat is over 17 inches tall, which complies with ADA standards and makes it accessible to youngsters and persons with impairments. This piece of furniture seems like a chair when you sit on it, making it comfortable for taller individuals.
Usage of water
This unit's primary objective is to reduce your monthly expenses while protecting the environment. It complies with EPA WaterSense standards and, in some areas, it is eligible for city tax refunds because each flush uses just 1.28 gallons of water. You will save water and money by choosing an environmentally friendly model like the TOTO AIMES.
CEFIONTECT
CEFIONTECT glaze from TOTO, which is very smooth, prevents particles from sticking to porous ceramic surfaces. CEFIONTECT's ion barrier keeps things clean for a longer period. Less cleaning means using less water and fewer chemicals, which is better for the environment.
Universal height
TOTO's core values consider individuals of all ages and capacities. To make bathrooms more accessible and pleasurable for everyone, Universal Height provides sinks and toilets at a more accessible height.
All individuals, irrespective of age or ability, may enjoy using the toilet from the start of their days through the remainder of their lives because of this straightforward design approach.
ADA approved
To set design standards that would benefit individuals of all ages and abilities, the American Disability Act (ADA) was passed in 1990. A fundamental tenet of TOTO Total Design, ADA standards considers everyone's demands, regardless of theirs, without needing further adaptation or specialization, improving the bathroom experience for all family members, regardless of generation.
Standard guarantee
It is crucial to look into the retailer's warranty options when purchasing a new toilet. The usual one-year warranty that most TOTO systems come with might not initially seem alluring. The five-year warranties offered by certain businesses make the TOTO warranty look pointless.
However, there are still other things to think about. For instance, most TOTO items have excellent ratings across many websites, and customers are often quite happy with the functionality and dependability of their products.
Cost
Unlike other TOTO devices, this one has mid-range pricing. Your money will be well spent because of its amazing performance that exceeds high standards. If you are aiming for a certain toilet aesthetic, consider that the color you select will also impact the ultimate cost.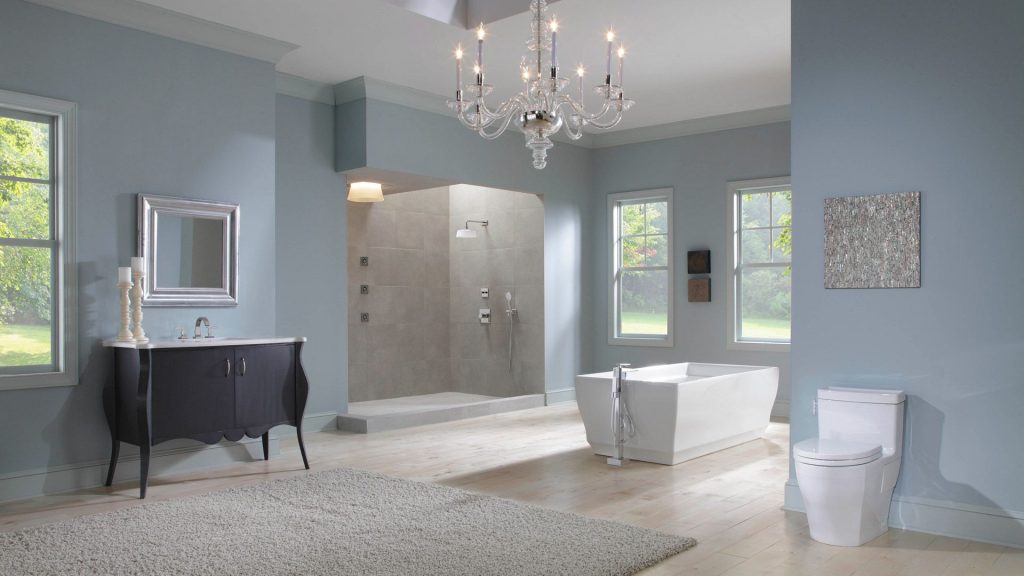 How Does TOTO AIMES Work
The Tornado Flushing System is the most important component of the toilet. You get efficient, clog-free flushing with tornado flushing. SanaGloss' CEFIONTECT Glaze Technology prevents germs and solid waste from adhering to the ceramic bowl's surface.
Every portion of the bowl is thoroughly cleaned with a powerful centrifugal force when the flush lever is pulled. You will not need to squander any time every day cleaning those difficult-to-reach spots thanks to its powerful flush.
However, what does the Tornado Flush genuinely offer? First, while some toilets can not do it even with more than two gallons of water, this toilet can deliver a very forceful flush with just 1.28 gallons.
Additionally, the dual-nozzle system takes advantage of centrifugal and gravitational forces to keep the bowl clean for a longer period.
Gravity and centrifugal force are used in the Tornado Flush to swirl the water and produce a whirlpool effect.
Also, this device only has two nozzles for maximum pressure, unlike typical toilets with several rim holes. You will get a device that almost requires no care and cleans itself if it has an anti-sticking coating and a strong flush.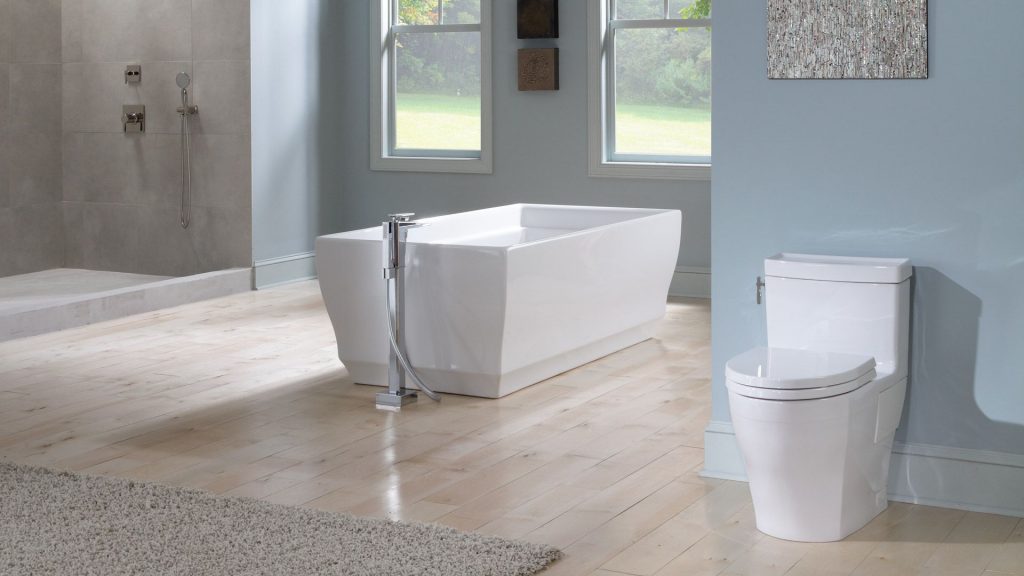 Benefits of TOTO AIMES
This toilet has many qualities that we appreciate. First, it boasts a stunning and opulent design that avoids rim hole construction and features a camouflaged trapway. Using the restroom late at night also offers strong but silent operation. It complies with EPA WaterSense regulations and offers daily financial savings thanks to its effective flush.
It is a great long-term investment because this TOTO toilet is simple to install, maintain, and clean. The SoftClose seat technology of this product is another of its best qualities, in our opinion. This seat immediately extends seat longevity and minimizes unintended slamming.
There were just two potential downsides that drew our notice. The toilet's one-year warranty is the first drawback since extended warranty alternatives are preferable. However, it is constructed with high-quality components; thus, it is unlikely that the guarantee will be used.
Second, this model offers excellent performance despite being more expensive than other alternatives.
Useful Tips for Purchasing a Toilet
Toilet unit in one or two pieces
Choosing between a one-piece and a two-piece toilet is crucial when purchasing a new toilet. Although the TOTO AIMES is a one-piece toilet, both styles offer advantages and disadvantages.
For instance, one-piece systems are significantly simpler to maintain since they do not have any hard-to-reach areas where dust and grime may collect. They appear more opulent and sophisticated, making them perfect for hotels and contemporary bathrooms.
On the other hand, imagine having to transport the apparatus to your house. If it weighs more than 100 pounds, it might be quite difficult.
Additionally, if a one-piece toilet breaks, you will need to replace the entire thing, increasing your expenditures. One further thing to consider is that one-piece units are also more expensive.
Comparatively, two-piece toilets are less expensive and simpler to transport to the installation site. They are also less expensive, which is unquestionably advantageous. They can be more work to maintain, though, and they do not appear as opulent and exquisite as their one-piece equivalents.
However, remember that if something fails, you must replace a tank or a bowl rather than the entire machine.
Colors to select
White toilets are the most common color and are perfect for any bathroom. You might want to consider a different hue if your bathroom contains darker tiles or tiles of a certain color.
However, you should be aware that different variations might cost more, so if the cost goes up to $200, do not be shocked.
The shape of the bowl
A toilet bowl can be either round or elongated. Elongated bowls have a more upscale, contemporary appearance and cost more. Also, they take up more space than round bowls while being comfier.
A circular bowl, on the other hand, is less expensive but also less fashionable. Additionally, it is a little bit shorter, which makes it perfect for a tiny bathroom, but it does not provide as much comfort as an elongated bowl.
Conclusion
As you can see, if you are searching for a one-piece appliance, the TOTO AIMES is a great option, and we have covered everything about the toilet in our TOTO AIMES review.
Although it only has a one-year guarantee, it is reasonably priced and has several fantastic features. So, you may go for this amazing TOTO Aimes toilet, which is definitely worth your buck!