A French curve toilet is one of the many toilets out there with an aesthetic structure. But even as exquisitely structured as this toilet may look, finding the right bidet seat for it can be challenging.
If you are looking for the best bidet seat for your French curve toilet, this article can be your perfect guide.
I went into detailed research and explained the best bidet seats for one-piece toilets in this article. But I figured it would be best to give individual attention to a French curve toilet to help you make the right choice.
So here we go!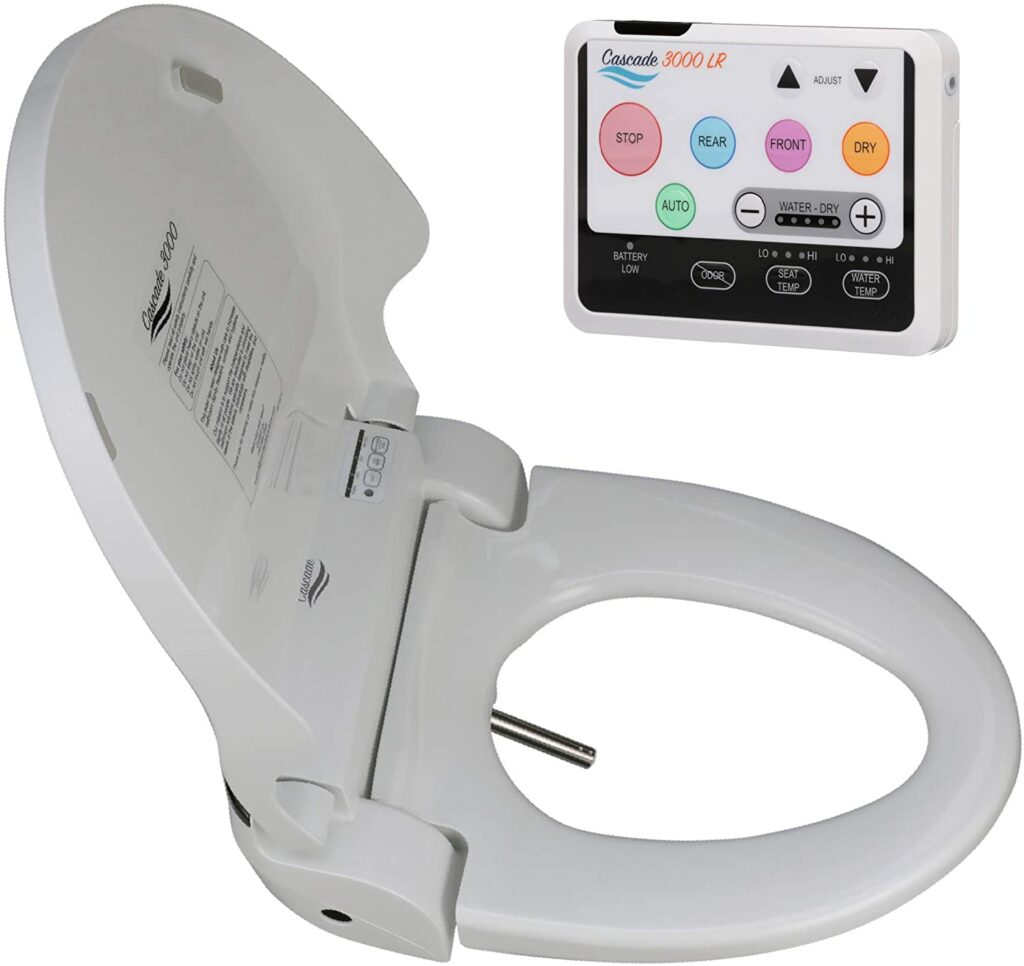 Cascade 3000
It can fit into a good number of curved toilets, including many of Kohler's one-piece French curved toilets.
What Bidet Fits a French Curve Toilet?
The best bidet that fits a French Curve Toilet is the Blooming NB-R1063 or Cascade 3000. These two bidets are the few bidets that fit closely to a French Curve Toilet when compared to all the bidet seats in the market.
Best Bidets for French Curve Toilet
I did not arrange the bidets I listed below according to preference or functionality. And I tried as much as possible to list the many French curve toilets that go with these bidets.
I hope you find one that fits yours!
Cascade 3000 – Best Luxury Bidet for French Curve Toilet
Cascade 3000 Bidet Seat (White, Elongated, Large...
EASY to USE bidet remote control - Comes with one of two remote controls, LARGE (6.75" x 4.78") or SMALL (2" x 5.25"). Large remote...
POPULAR FEATURES like auto wash and dry, 2-in-1 nozzle, and temperature controls. Auto wash function makes it simple to use the same wash...
SELF CLEANING NOZZLES nozzles automatically have water run over and through them before and after each use to keep them clean and fresh...
Cascade 3000 may not be among the most popular luxury bidet seats on the market like the TOTO s550e or Bio Bidet 2000, but it's one of the few bidets out there that fits a French curved toilet. And when it comes to having premium features, it has remarkable ones.
It can fit into a good number of curved toilets, including many of Kohler's one-piece French curved toilets. Even the older ones!
One thing I would say I like about the company that manufactured this product is their willingness to reply and assist customers who are interested in their product. So if you are still unsure if the Cascade 3000 will fit your French curve toilet, you can send them a message on their website with your toilet measurements.
Features
So aside from fitting a French curved toilet, what features does the Cascade 3000 have? A good number of them!
It comes with dual stainless steel nozzles that help with durability and perfect targeting, and with hygienic. Many bidet users would say that they prefer a stainless nozzle to a plastic one because there is less chance of harboring germs.
Its instantaneous water heating system also provides a never-ending warm wash water supply for the user. The user can control the water temperature, seat temperature, and water pressure in the extra remote control that comes with the bidet.
You even have the option to choose between a large remote or a small remote during purchase!
If I am to be asked, I will choose a larger remote, though. It will be better for easy visibility when using or when mounted on the wall.
There is also a LED nightlight that supports night navigation. A feminine wash that specifically targets the female region during washing. And an air dryer that lasts for three minutes and a natural deodorizer.
And to add, the nozzle automatically self-cleanses after every use!
Blooming NB-R1063 – Best Overall Bidet for French Curve Toilet
As stated by their company, Blooming can fit into the Kohler Rialto (the older version), Kohler San Raphael, and Glacier Bay N2420 French curve toilet. It fits into the American Standards Lexington one-piece toilet too.
Just ensure you pick one that matches the structure of the toilet. That is round for a round toilet and an elongated one for an elongated toilet. Interestingly, Blooming NB-R1063 has a round version too. This makes selection easy for buyers.
Blooming NB-R1063 comes with a fairly considerable price, significantly different from the Cascade 3000 which some users may consider quite pricey.
Features
Don't think that because the price is considered average, the features will be less; it's not. It comes with amazing features that make you look forward to using the bidet for each toilet visit.
It comes with an aluminum-coated nozzle that oscillates (massage and pulse) when in use. The nozzle is single, but it targets the rear and the front region of the private area when in use and initiates. And its adjustable ability also contributes to this. All of this can be controlled by the external remote control that comes with the bidet.
There is also an on-demand flow of endless warm water, so you don't have to wash with cold water. And so is the provision of a warm seat to avoid cold bum cheeks. To dry yourself after use, initiate a dry feature from the remote.
For night navigation, the automatic LED nightlight is very effective.
Alternative
A perfect alternative to the Blooming NB-R1063 is the ALPHA JX which also has a round model. It can fit into a few Kohler French curve toilets like the Santa Rosa, the Kohler San Raphael, and the American Standard Lexington toilet.
Its price is also equivalent to that of the Blooming NB-R1063, and so are its features.
SmartBidet SB-2400ER Electric Bidet Seat for Elongated...
For most not all standard elongated toilets and French Curve toilets. Please first check with your toilet's dimensions.
Heated seat, water, dryer with adjustable temperature and pressure
Posterior and feminine wash modes. Oscillate for all wash modes.
I thought I should add this bidet to the list because, according to the company SmartBidet, they advertised this particular model to be the one that fits into some French curve toilets. This, according to them, is the only one that fits all their six models.
Some bidet users did say that the SmartBidet SB-2400ER can fit into a Glacier Bay N2420 one-piece toilet. But I can't say if it's true or false. However, SmartBidet has stated that the best way to know if the SmartBidet SB-2400ER will fit your French curve toilet is to use the descriptive measurement diagram stated on their website here.
Features
This smart bidet comes with an adjustable stainless steel nozzle that has a cool, hygienic feature of self-cleaning itself before and after use. The posterior wash in this nozzle aims to wash the user's rear area, while the feminine wash targets the female fontal area.
So, no need to struggle to position yourself for proper washing if you are a lady.
There is the availability of warm water and a warm seat with a skin sensor that warms up when skin is in contact. Each function, including the dryer, adjustable pressure, water, and seat temperature, can be controlled through the external remote with images and written icons for better understanding.
Sale
The American Standard Aqua Wash bidet seat may not be among the best and fanciest bidets on the market because it is non-electric with fewer features. But it's one of the less costly bidet seats out there that fits a good number of one-piece French curve toilets.
So if you are on a very tight budget, it could be an alternative.
It fits into Mansfield one piece toilet, Jacuzzi Primo toilet, Kohler San Raphael, and a few other Kohler toilets. But the best way to know if it will fit your French curve toilet is to compare the measured dimensions of the bidet to that of your toilet.
Features
As I pointed out earlier, this bidet has very few features because it is a non-electric bidet seat with limited features. But the water pressure from it comes with a considerable flow.
It does not come with a warm water supply, warm seat, or stainless steel, but the plastic nozzle is adjustable and detachable. So even if the nozzle does not self-clean itself, you can easily detach the nozzle and sterilize it yourself.
All bidet functions can be controlled through the little lever handle by the side of the bidet seat. It has a sign for the front wash and the rear wash. And lastly, the toilet seat does not slam but soft closes.
It can be easily installed, and its one-button push lift-off feature aids for easy removal.
Installing a Bidet in a French Curved Toilet
The installation method of a bidet seat into a French curve toilet is the same as any other toilet. And if you have the right measurements with your bidet and the toilet, you will have your bidet installed within thirty to forty minutes. (Even less than that).
And you can even set it up without the need for a plumber!
On a general note, here is how to install one:
Turn off the toilet's water supply through the external shut-off valve. You can always find it on the wall behind your toilet.
Completely drain the water from your tank by flushing it. This prevents water from leaking when you remove the hose.
Remove the existing toilet seat and its lids by finding the bolt hole under the toilet bowl.
Install your bidet seat by placing and positioning the mounting brackets (also known as mounting plates). Then slide the bidet seat into the bracket till it locks. If the bidet seat is appropriate for the toilet, it won't wiggle easily or have tight spacing at the back.
Now, connect the t-valve that comes with your bidet to the shut-off valve. Followed by the hose that also comes with the bidet. If you want, you can put a plumber's tape for extra safety to prevent leaking.
Though this is optional, you can install a bidet filter in between your t-valve and your bidet seat hose.
When this is all done, slowly turn on the shut-off valve to check for any leaks.
Finally, if your bidet seat is electrical, connect it to the electrical outlet. If it's non-electrical, there is no need for this.
And finally, use your bidet!
Read more: Best Japanese Bidets
Bidet for Jacuzzi Primo One Piece Toilet
The Jacuzzi one-piece toilet is one of the most difficult French curve toilets and finding a bidet seat can be for it can be stressful. It is because the curves on their sides are quite extreme and too tight.
As mentioned above, the best bidet seats that can fit into a Jacuzzi Primo one-piece French curve toilet are both Cascade 3000 and the American Standard Aqua Wash bidet seat. Some users testified to it.
However, there are cases where some users complain that they don't fit. If you are faced with this issue, how do you solve this?
Since they seem to be the bidet seat that fits now, you may need to modify the bidet seat kit to make it work. Identify what seems to be the obstruction and work around it. Sometimes, it could be you creating the need for more space on your mounting bracket (also known as the mounting plate). Check out this video where Manybidet made a perfect demonstration of it.
If you are skeptical of making any modifications on the plate and still want to use a bidet for your toilet, below are options you can consider.
Read more: Best Electric Portable Bidet
What to Do if the Bidet Doesn't Fit Into Your French Curve Toilet?
If you have a French curve toilet, that is way too difficult to find a fitting bidet for it or one that's even close to fitting. Then, below are other options to look for:
Buy a handheld bidet
You can still have the experience of using a bidet without using a bidet seat. Many people believe that using a bidet is only limited to a bidet seat, but it's not. In your toilet, you can install a handheld bidet (also known as a handheld sprayer or bidet hose).
Thankfully, this type of bidet does not require you to remove your existing toilet seat like bidet seats.
Though this type of bidet is usually manual, it can get the job done. There are also ones that come with good pressure and offer a warm water option. In this article, I made a list of the best handheld bidets on the market.
Buy raised seat
Trust me, I know this sounds like a super weird idea because of the appearance and how lifted your toilet will be, but I am just trying to list the options we have here.
I have never tried this, but some Reddit users swore that this sort of help.
You can buy a raised seat like this Carex Toilet Seat Riser, which fits into round and elongated toilets. Or opt for one that is lower than that. After installing the raised seat on your French curve toilet, proceed to install your bidet seat on it.
Modify the bidet seat at your own risk
As I mentioned above, if your bidet seat is 'close' to fitting your toilet, you can modify it to make it work. Determine what the obstruction is and see if it's modifiable.
There is no static modification for a bidet that would fit 'properly' in a curved toilet because toilets are different. And that is why there are no specific steps or instructions on how to go about it. Remember, you are doing it at your own risk, and any mistake might cause you to buy another setup kit or even the full bidet seat.
Read more: Best Attachable Bidets
Change your toilet
If all the above options are not for you, then you should change your toilet completely.
I hate to say this, but this seems to be the suitable option, IMO.
There are tons of cheap yet classic toilets out there that will fit into any bidet without giving you trouble. Remember, when purchasing a new toilet, PLEASE go for a two-piece toilet.