Finding the perfect bidet for your toilet can be somewhat tricky and exhausting if you own a one-piece toilet. The reason is that some, if not most, of the one-piece toilets available on the market, come with designs that make installing a bidet complicated.
If you have a two-piece toilet design, there is no need to worry about this. The majority, if not all, of the bidet seats in the market, can perfectly fit your toilet. Provided you purchase a bidet with the right fitting.
That is, you should purchase a round bidet for a round toilet or an elongated bidet for an elongated toilet.
Gladly, I have done the tedious work for you by going into deep research to select the perfect bidets that will fit your one-piece toilet. So you don't have to stress yourself.
We have done extensive research to compile the list for you. So, without further ado, let's check the list of the best bidets for a one-piece toilet.
Also read: Best Bidets for French Curve Toilet
For a moderate price, it fits not only a one-piece toilet but also a French curved one.
A non-electric bidet seat that fits into a few one-piece toilets like the Mansfield one-piece toilet, a Jacuzzi primo toilet with a French curve, and a few others.
Can You Put a Bidet on a One-Piece Toilet?
Yes. You can install a bidet on a one-piece toilet. However, it may be somewhat stressful to find a bidet that fits flawlessly in a one-piece toilet. But there are a few bidet seats out there that go well with it.
It may seem as if there is a scarcity of bidets for one-piece toilets because these toilets are not common in many homes. There are high users of two-piece toilets, and many bidet manufacturers seem to focus on the majority.
What Is the Best Bidet for a One-Piece Toilet?
Overall, the best bidet for a one-piece toilet is the Galaxy GB-5000 and the ALPHA JX. They have a considerable price, with amazing features.
Having said that, the bidets I mentioned below are listed based on price ranges; I hope this helps with your budgeting. I also specify the one-piece toilets suitable for these bidets to make a choice easier for you.
I also give alternatives to these bidets. So if you don't fancy the features in it, hopefully, their alternative might be your favorite!
Best Bidet for One-Piece Toilet
TOTO s550e – Best Premium Bidet for One-Piece Toilet
TOTO SW3056#01 S550E Electronic Bidet Toilet Seat with...
A REFRESHING CLEAN FOR EVERYONE - Instant and continuous warm water stream will last as long you need it; AIR-IN WONDER WAVE provides a...
STEP INTO A LAVISH STANDARD OF LIVING – Automatic open/close lid provides a hands-free experience by sensing when users approach and...
CLEAN INNOVATIONS OFFER PEACE OF MIND - PREMIST helps prevent waste from adhering by misting the toilet bowl before each use; EWATER+ cleans...
TOTO products are one of the popular names and brands in most households. This links to their trademark in producing quality products when it comes to bidets and toilets.
The s550e bidet seat or washlet (as most people prefer it) is their top luxury model.
Its fits perfectly into any conventional one-piece toilet that does not come with a complicated design.
If you are interested in a luxury bidet seat and have a TOTO one-piece toilet, there is always a high chance this bidet seat will fit. The company produces their bidets seats to fit into most, if not every, of their produced one-piece and two-piece toilets. This is why most of their bidet seats are compatible with their bidet toilet combo or washlet+, as listed in this article.
If you have a French curved one-piece toilet, this bidet seat may not be for you (though it's fairly manageable on a Kohler San Souci). And it may also fit into the Kohler Cimarron model one piece. However, the alternative I mentioned below can fit into a good number of French curved toilets.
Here is a link to a PDF file where TOTO Company listed the type of toilets compatible with their bidets, including the TOTO s550e bidet.
Features
If you are certain that this bidet seat will fit your one-piece toilet and you're interested in this bidet, be certain that it will meet your expectation of a luxurious bidet journey.
As an ultra-exorbitant tech-advanced bidet, it has features that promote hygiene and make washing your private area more comforting. One of these is the eWater+ cleaning technology, which sets out to clean the toilet bowl and wand in and out after and before every use.
So you have the contentment that no germs are trapping on them, particularly the bidet wand, since that transports the water to your private area.
There are also other features like the provision of instant and unbroken flow of warm water. An automatic lid and seats that close and open, an automatic deodorizer and air-dryer that dries the users up after use and many more features.
For these features, it inclines to be pricey, which may be a turnoff for some users. And unfortunately, it only comes in an elongated model.
Alternative
An excellent TOTO s550e alternative bidet for a one-piece toilet is the Cascade 3000 Bidet Seat.
It has the same price range and also has most of the features available in the TOTO s550e. The good thing about it is that it comes in both round and elongated models. And it fits into both one-piece and two-piece toilets, including some French curved one-piece toilets!
Unfortunately, if you have a Jacuzzi Primo one-piece toilet, this bidet may not fit or require you to modify the mounting plate.
Galaxy GB-5000 – Best Overall Bidet for One-Piece Toilet
For the moderate price and the fact that it fits not only a one-piece toilet but also a French curved one, I give this bidet the overall best!
The Galaxy GB-5000 bidet may not be among the most popular bidets on the market, but it has been very helpful for users who are lost when finding the perfect bidet for their toilet. Specifically for users who have Kohler one-piece curved toilets, most especially Kohler San Raphael.
This doesn't mean it doesn't fit a two-piece toilet; sure, it does. However, for a single-piece toilet, this is a sure deal!
Features
It comes with a good number of features that makes using a bidet fun. Even though it may not be luxurious like the TOTO s550e, you won't be missing much.
For a warm wash, it comes with a hybrid water heating system that provides an immediate flow of warm water to the user. There is also a heated temperature seat that keeps the user's skin warm.
That is, there is no shock of shivery feeling on the seat in the middle of the night or early morning when you want to use your toilet!
For night navigation, there is an automatic LED safety nightlight in it. It senses when the user approaches the bathroom and lights up.
If you prefer a bidet with a stainless steel nozzle, then it is another plus!
The bidet comes with an oscillating stainless steel nozzle that is hygienic to use and targets both its users' front and back areas. A nice feature for the ladies.
For the best bidets for women, check out this article.
When using the Galaxy GB-5000, you have the option to control the flow and temperature of the water, seat and air dryer. You can do this from the external remote control, which you can also mount on the wall next to you.
The one downside of this bidet is that it only comes in an elongated model. But not to worry, below I mentioned an alternative to this bidet with an elongated and round model.
I got you covered!
Alternative
The alternative to the Galaxy GB-5000 that fits a one-piece toilet and some Kohler French curved toilet is the ALPHA JX. And like I mentioned, it also comes in a round model.
It can fit into an American Standard one-piece elongated toilet too.
And it falls in the same price range as its counterpart and has unrivaled features that make bidets less boring.
This list wouldn't be complete if I didn't mention the Blooming NB-R1063 bidet seat, which is another great seat for a one-piece toilet.
As it fits any two-piece toilet perfectly, it can also effortlessly fit a good number of one-piece toilets and French curve toilets. And that includes the San Raphael Kohler, the America Standard Lexington and the older version of Kohler Rialto toilets. If you intend to purchase this bidet, ensure that you purchase the right model for your toilet fitting.
That is a round bidet seat for a round toilet and an elongated bidet seat for an elongated toilet.
And gladly, the Blooming NB-R1063 also has a round model for a round toilet.
Features
So what features does the Blooming NB-R1063 have? The seat comes in a sturdy design with on-demand and an endless warm water system. So you are certain that warm water will be available for you when you want to use your bidet. The lid and seat are also soft closes. A good advantage for those who dislike the sound of slamming toilet seats. Additionally, the seat warms up for its users when approached to use the toilet. So no cold shock on your bum cheek!
Nozzle to this bidet is aluminum coated. When washing, it pulses and massages for calm spray. The nozzle has a front and rear wash for easy targeting of either the rear or frontal region of the private area.
There is also a LED light that automatically lights up whenever you approach your toilet. It is perfect for nighttime navigation.
To control any features in this bidet, you can do so from the external remote control button that comes with the bidet. The remote control works with AA batteries, and you can also mount it on the wall using the remote holder included by the manufacturer.
Hopefully, this will prevent it from disappearing like the TV's remote! Lol
Sale
Finding a budget-friendly bidet seat for a one-piece toilet can be very thorny!
However, after deeply ransacking the online street, I came across the American Standard Aqua Wash bidet seat. It is a non-electric bidet seat, which contributes to why the price is so friendly for users who don't want to spend so much on their one-piece toilet.
It fits well on any less complicated one-piece toilets and some Kohler toilets.
And, if you have a Mansfield one-piece toilet, a Jacuzzi primo toilet with a French curve, Water Ridge one-piece toilet, American Standard Compact Cadet One-Piece toilet and Kohler San Raphael, this bidet is your best shot!
Nevertheless, for users who have a Kohler Santa Rosa one-piece toilet, it may be a case of gambling. But below, I mentioned another budget-friendly bidet seat that may be your option.
Features
As a non-electric bidet seat, there aren't many features to expect from it.
It is a simple bidet seat with a gentle push lever that releases good water pressure to wash the private region. You can also control the water pressure and target either the front or the back region through lever control.
Even though the nozzle is made of plastic, there are two of them, and they are detachable. Another advantage; after every wash, the nozzles automatically tuck back into its shield for protection. So, expect no pee or poop on it.
A good hygiene option!
The toilet seat does not slam but soft close. However, the American Standard Aqua Wash bidet does not come with a hot water feature. If you live in a warm region, you won't mind the cold water. But for those who live in a cold region and need warm water so bad, you may have to improvise.
For this, I suggest you do not connect your bidet to the water supply that goes to your toilet tank but under your toilet sink instead. By this, you get a warm water supply from there. If your toilet sink is too far from your toilet, you can get a longer bidet inlet hose.
Be sure to adjust the water temperature from hot to warm on your sink so that it can be comfortable for your private area.
Alternative
A good substitute for the American Standard Aqua Wash is the Kohler Puretide. It is also budget-friendly. And as I mentioned above, it is one of the very few budgets that fit one-piece toilets. Particularly one that comes with slight curves on the sides.
How Do I Know I Have a One-Piece Toilet or a Two-Piece Toilet?
For many toilet users, differentiating their toilet style for a proper bidet seat purchase can be confusing.
For a simple explanation, a one-piece toilet has both the tank and the bowl of the toilet in one piece. In contrast, the two-piece toilet comes with a separate tank and bowl. A quick way to tell is to examine the joint between the toilet bowl and the tank. Below is a picture of what they look like.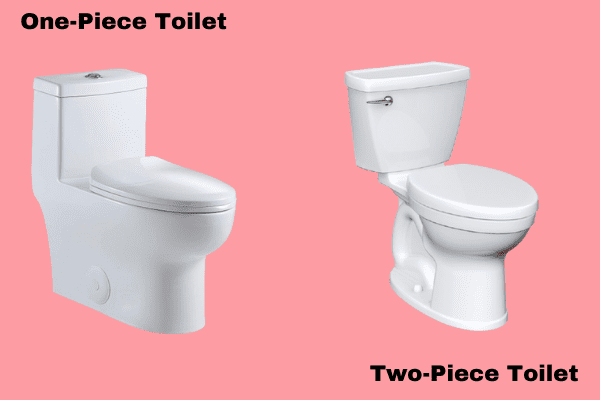 One-piece toilets or single-piece toilets (as some would call them) can come in a skirted design and a curved French style. These designs are what make it difficult in finding the right bidet seats for it.
Do You Need a Special Toilet for a Bidet?
No, you don't need any special toilet for a bidet. A bidet can be installed into any toilet, provided you install one that has the right measurements for your toilet. However, the Flushometer and Wall-Hung toilets can present you with many complications when installing a bidet on them.
That being said, I always recommend that when purchasing a bidet for any toilet design or model, don't try to force a round bidet seat on an elongated toilet or vis-a-vis. If you do this, there are chances that your bidet might be too short for your toilet, or there will be a 1-inches of the bidet seat extra shooting out of the toilet.
Little things like that can make the toilet look tacky in appearance. (Or else you don't mind it as the user.)
Installing a Bidet on a One-Piece Toilet
The process of installing a bidet seat on a one-piece toilet is the same as installing a bidet seat on any other two-piece toilet or conventional toilet. And if you get a bidet seat that fits or doesn't have a skirted design, there won't be many complications.
The simple steps are:
First, turn off the water supply to your toilet through the shut-off valve. You can find this close to the floor behind your toilet.
Then completely drain the water on your toilet tank by flushing your toilet.
Remove your old or former toilet seat.
Then install the t-valve on the supply line and fill valve. The T-valve usually comes with the bidet. It's part of the installation kit.
Mount your bidet seat.
Then finally, connect your bidet seat to the water supply with the water supply hose that also comes in the kit.
Suppose you have a skirted one-piece toilet. Here is a better video explanation by Bidetking on how to install a bidet on it.
Issues when installing a Bidet on a One-piece toilet
If you have a one-piece skirted toilet, you might find it difficult to locate the fill valve behind the toilet when installing a bidet. Because of its design, most of the structure is concealed. To solve this, you can get a T-valve dedicated to skirted toilets, which has top male and bottom female connections.
You might also have difficulties accessing the skirted toilet's bolt holes as it is not accessible under the bowl. To resolve this, you will need a set of top mounting bolts. Some bidet manufacturers include this in their kit. But if you don't have one, you can always purchase one.
Another issue, which is particularly noticed in most French curved single-piece toilets, is that using a mounting plate that comes with your bidet may not fit in. It prevents the bidet seat from sliding back properly into the plate, thus making it wiggle freely or be too stiff. And this is because of the curves of the toilet.
A fair solution is to probably replace the mounting plate with a smaller and curve-shaped one. If you can't find a better mounting plate, you can consider padding or cutting the one you have.