Yes, a bidet makes an excellent gift to give to anyone for a birthday, holiday, or when you are in the mood to gift someone something nice!
So if you are thinking of the perfect gift to give your loved ones or friends? The bidet can do the trick.
One smirk some people make when suggesting a bidet as a gift to someone is that they 'assume' that some people do not like it since it's related to the toilet. But that's not true!
Using a bidet has many advantages that many people are unaware of. And most people don't know about it since the bidet isn't popular in most Western countries but Asia.
So, when you gift someone a bidet, it's an amazing way to spread the knowledge of the more hygienic way to keep your private area cleaner.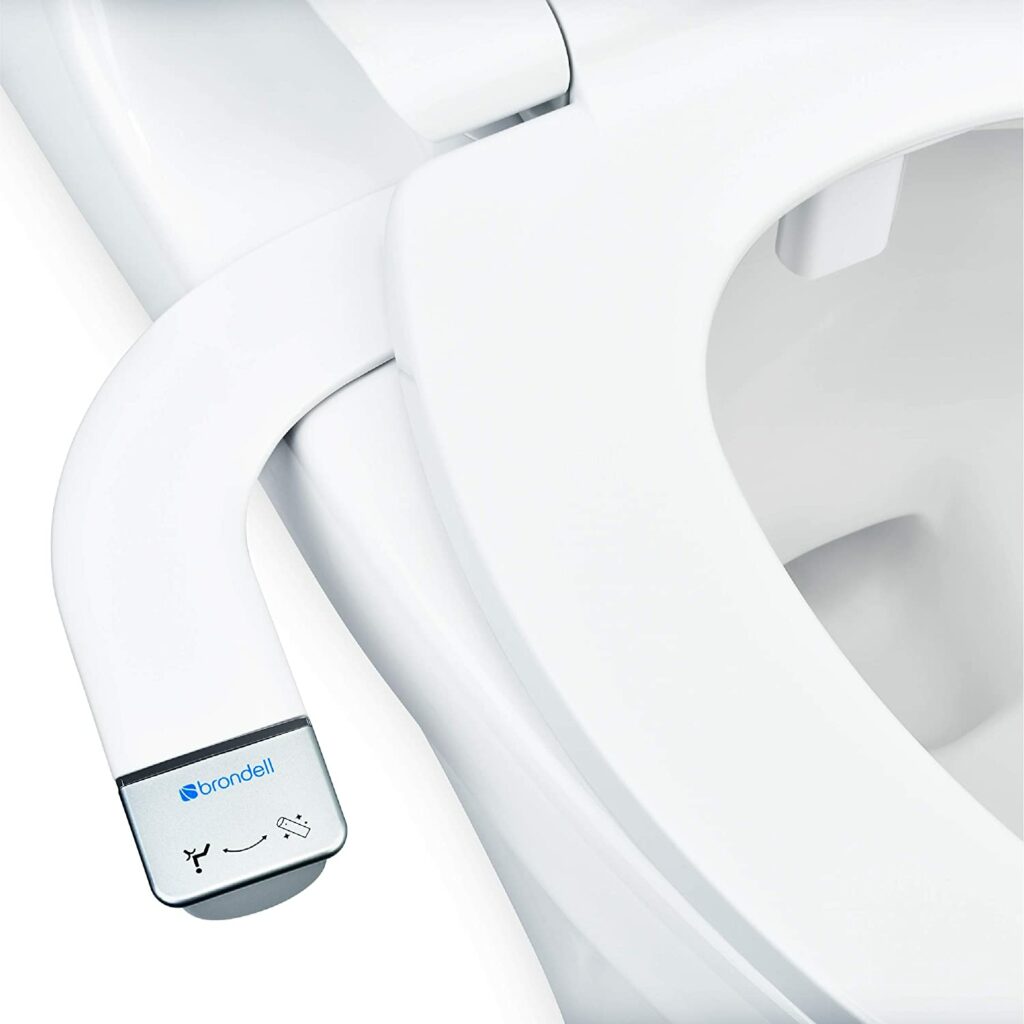 Brondell SimpleSpa
This bidet attachment works great for the basic need of washing the users.
What is the Best Bidet Gift?
The best bidet gift for anyone is the Toto C5. It comes with features that give a memorable experience when using a bidet.
It strikes every balance for a fair price, easy usability, and targets perfectly.
Also Read: Is Bidet for Man or Woman
The Best Bidets Gifts
The bidet comes in variants of different prices. Gladly, whatever your budget may be, different types of bidets can meet the budgets you may have. However, one big difference is that the price differences may also counter the features in the bidet.
With that being said, here are the best bidets that can serve as a perfect gift to anyone.
Toto C5- Best Overall Bidet Gift
Without breaking the bank, the Toto C5 bidet has the features and durability that make you not miss using a top luxury bidet. That's because its performance is top-notch for its price compared to other bidets that fall into the same price range as it does.
Its external wireless remote controls all its functionalities and makes it easy for accessibility and usability. It is a great feature if you buy it for someone who has mobility issues.
Unlike most luxurious bidet seats that produce continuous warm water, this bidet is not the same. For this bidet seat, the user will have to wait for approximately a minute for the tank's water to heat up to produce the warm water.
If you are gifting this bidet to someone who lives in a warm region, this won't be an issue because the cold water (not chilling) can be refreshing down there. However, if this will be an issue, the best way to beat this is to set the warm water before using it.
So you don't have to keep waiting.
Aside from this possible setback, the Toto C5 can give the user an amazing experience, whether as a first-time bidet user or a long-time user.
Alternative
An alternative to the Toto C5 is the ALPHA JX.
Unlike the Toto C5, which only has an oval design, the ALPHA JX has a round and elongated model. Its price is equivalent to the Toto C5 and the same with its available features.
Bio Bidet 2000- Best Luxury Bidet Gift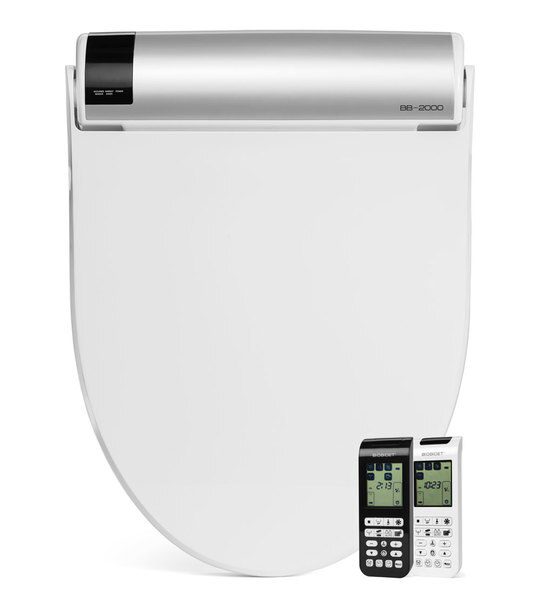 If your choice of a bidet to gift out is luxurious, you should consider the Bio Bidet 2000. It has every feature available in every premier class bidets. These include an instant warm water provision, automatic closing, opening lid, a three-in-one stainless nozzle with specific vortex functions, and feminine and posterior wash.
The bulky appearance of this bidet may be a turn-off for some people who prefer a sleek-looking bidet, but other than that, the features in it will make you fall more in love with it.
The installation process is not a hard knock job!
Anyone that can handle screwdrivers can set it up in a matter of time, even without having a plumber experience or having installed a bidet before.
What you will love about the nozzle is the exclusive HydroFlush feature. It functions by cleaning and flushing all impurities from the nozzle easily and swiftly before use. You can use the simple side panel buttons by the side for quick use without the external remote, which comes with a night lid.
Alternative
The Toto K300 is an alternative to the Bio Bidet 2000.
It falls in the same price range, with premium features almost present in the Bio Bidet.
BioBidet USPA 6800U- Also Great for Gifting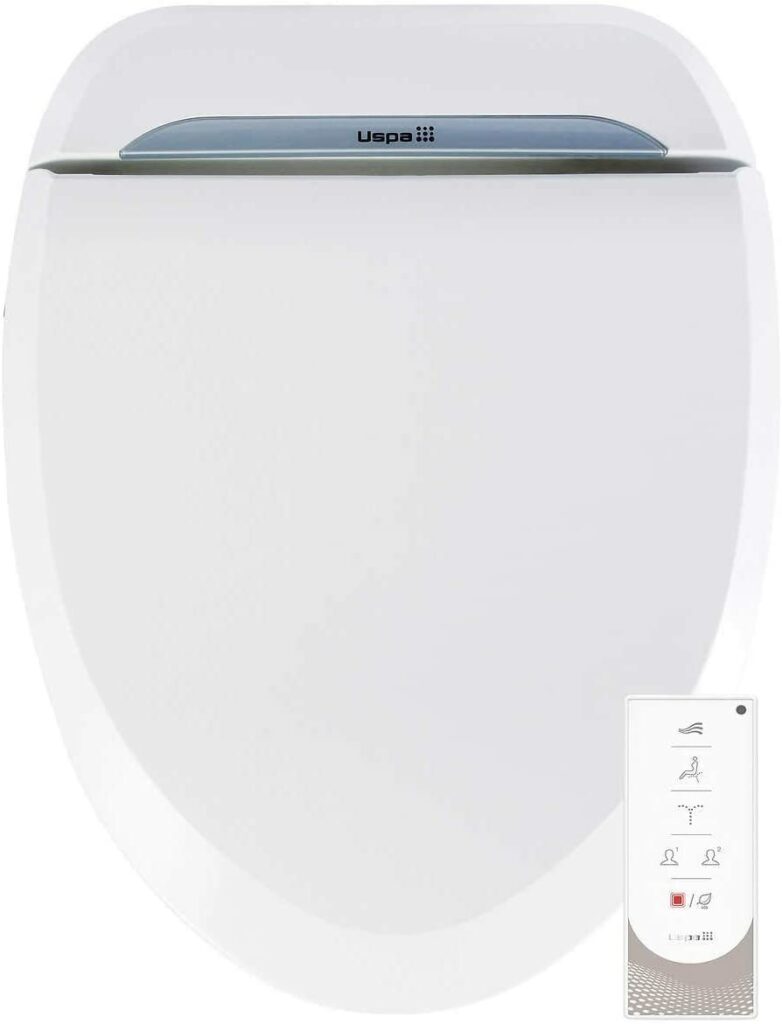 The BioBidet USPA 6800U may not be regarded as a luxurious bidet, but it has features that are way better than wiping with only tissue paper. Its oscillating dual plastic wand with adjustable pressure releases good water pressure when washing. The targeting for the female frontal area is 'satisfactory' as the frontal wands aim well for that area.
There might be little to no wiggle for a female user and aiming for the water to reach up there particularly.
The warm seat temperature is comforting when in use, and it's neither too hot nor gimmickry cold. The warm water temperature runs for about 20-40 seconds even, but even at that, the limited 40-second warm water provision can still get the job done. Unlike a luxurious bidet, this bidet doesn't have a continuous flow of warm water for the budget price.
This bidet seat may not be the ideal bidet to gift a heavy person because the plastic it is made of can't handle it.
Alternative
The Brondell Swash SE600 is another good buy if you prefer a substitute.
Unlike the BioBidet USPA 6800U, it comes with a single stainless nozzle opening for front and rear wash. It likewise self-cleans before each use, and users can customize their wash from the external remote control.
Brondell SimpleSpa – Best on Budget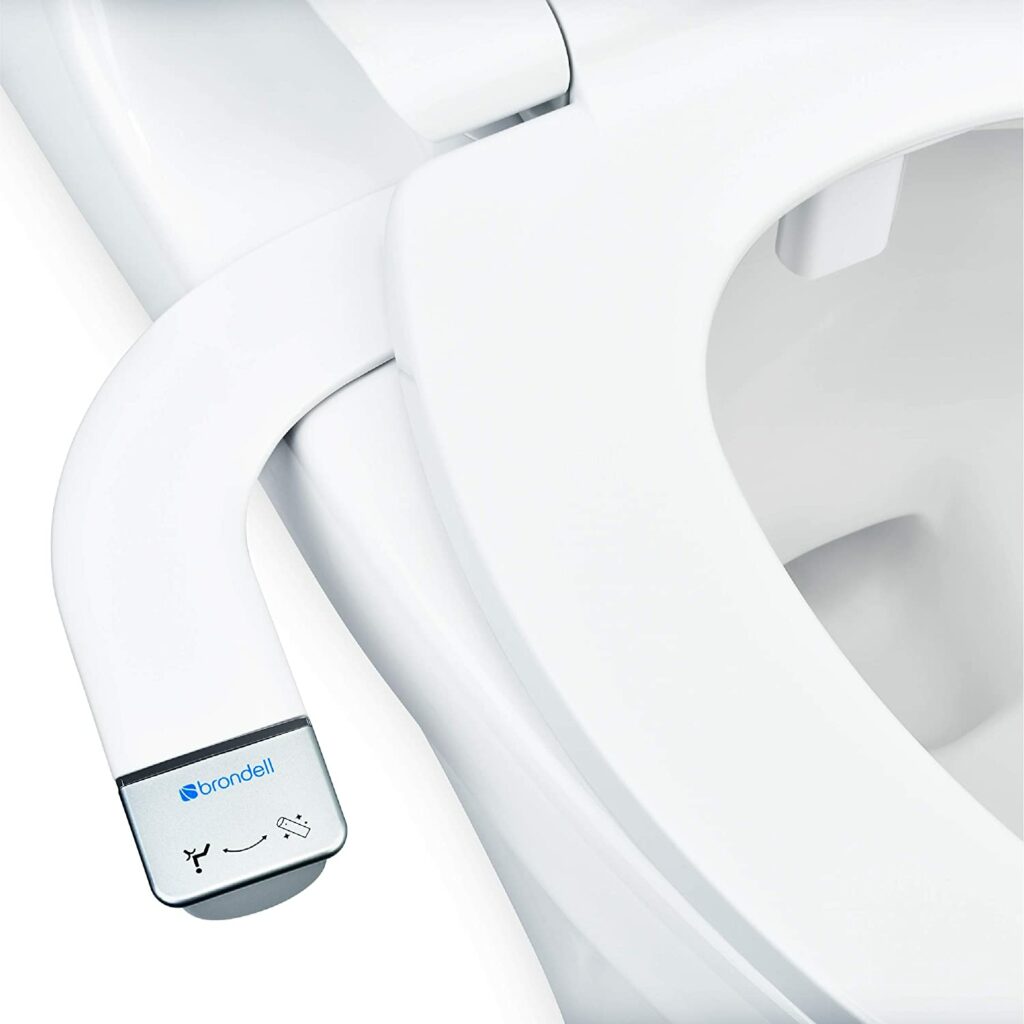 You may not have the characteristic feature of heated warm water, warm seat, LED nightlight, or most related features in a bidet seat. However, this bidet attachment works, especially for the basic need of washing the users on every toilet business.
If you don't want to spend too much purchasing a bidet gift, this bidet is an excellent budget-friendly bidet to check out. For a price below $100, it's a non-electric bidet attachment, which contributes to why it is limited in functionalities.
Its setup and usage are extremely simple, and the appearance gives every touch of chic- there is no buttons or knots as most bidet attachment would have. Instead, there's a clear side panel that houses the controls.
Any downsides? Well, the cold water!
As a non-electric bidet, this is inevitable. If your gift receiver lives in a country where it's freezing most of the year, this bidet might not be the right gift.
Nobody enjoys the shock of cold water down there.
Alternative
As an alternative, you can consider the TUSHY Classic 2.0.
It is also a non-electrical bidet attachment with an interesting modern design like it mentioned above. The installation process is easy, and the water pressure flow is great.
Read more: Guides
Who can You Give a Bidet Gift?
Anyone can receive a bidet as a gift. You can give it to men, women, kids, seniors, pregnant women, and even handicaps. And we are yet to see anyone who shouldn't use a bidet (Expect people allergic to water).
We made a detailed post here, where we talked about the benefits of bidet for both males and females. If you want, you can print it out and attach it to your gift package when handing out your gift.
It might help the receiver understand the benefits of the 'precious' gift you gave them because not everyone knows about bidets, especially in the USA.
Why Bidet Makes a Perfect Gift
We have been mentioning why it's a good idea to give anyone a bidet, but here is why it makes a perfect gift.
It's a unique gift. Unlike other gifts, you don't see people giving out a bidet as a gift too often. It's unique when you're among the few people out there giving it out.
We love food-Yes. However, a bidet is a memorable, long-lasting gift way better than a food gift card!
It levels up an entire bathroom design.
It promotes more personal hygiene.
And lastly, but not least, you don't have to break the bank to purchase it.