The bidet towel holder and hamper or basket are some of the vital bidet accessories many are unaware of because many bidet users don't know it's a thing.
We're often asked how to store or keep a bidet towel in the bathroom, so in this article, I will cover the vital topics of what a bidet towel holder and hamper are, the best ones on the market, and other tips on it.
Keep Reading!
What Is a Bidet Towel Holder and Hamper?
A bidet towel holder is an essential toilet wall hardware for hanging your bidet towel for easy access. It's usually very reachable next to where your toilet is positioned.
While a bidet toilet hampers or basket is a portable basket in your bathroom for storing used bidet towels ready for laundry. You can choose to position this basket anywhere in your bathroom, but its proximity to your toilet is essential.
Are Bidet Towel Holders and Hampers Important?
YES, a bidet towel holder and hampers are important when using a bidet and a bidet towel.
When you don't have a bidet that comes with a dryer, your best response is to get a bidet towel to dry yourself down there. After purchasing a bidet towel, many bidet users don't see the need to include the towel holder or a bidet towel basket in their shopping cart, which doesn't seem right.
Trust me on this, having a bidet towel holder and basket will prevent you from dropping your bidet towel anywhere in the toilet. It helps prevent the contamination of germs in your bidet towel, which can, in turn, spread germs in your private area when used.
Also, check out: Best Bidet Towels on the Market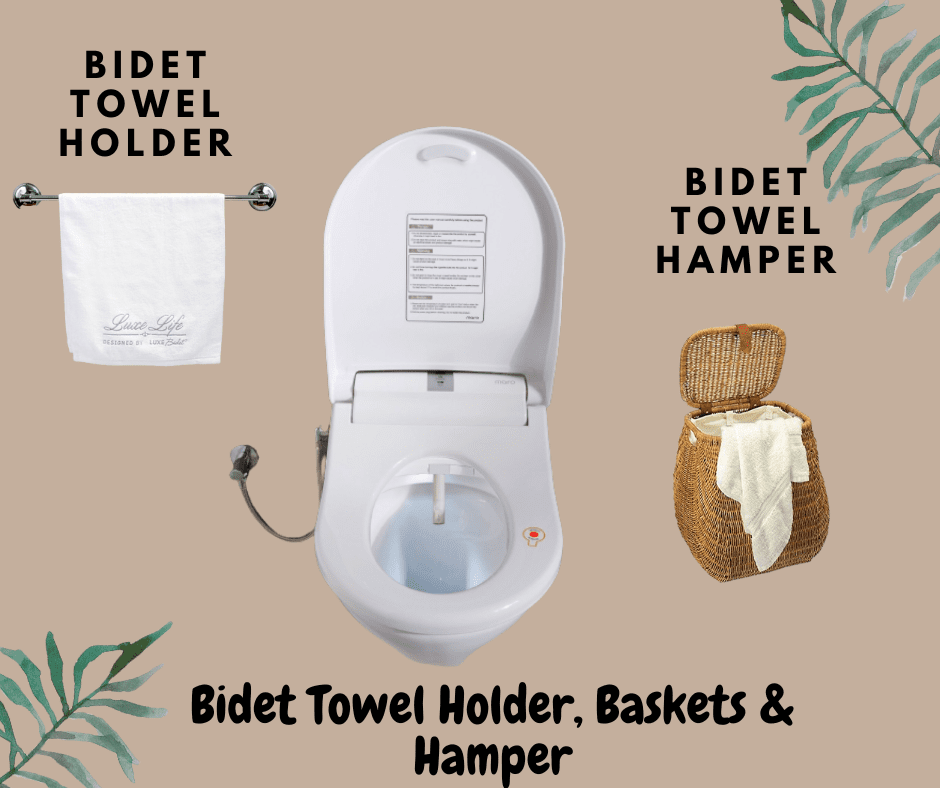 Best Bidet Towel Holder
The best bidet towel holder on my list is the Taozun hand towel holder. I use this, and what I love so much about this item is its minimalist style and the fact that I don't need to drill or screw into the wall of my bathroom to install it, which, in my opinion, is the best way to prevent wall cracks and damage.
Its self-adhesive installation method makes it super easy to install. You just have to peel off the tape and place it on a clean surface.
It's made of SUS 304 stainless steel, which is of great quality due to excellent corrosion resistance, easy to sanitize, and decent value.
It comes in three colors for different selections: black, polished silver, and plain silver to match your toilet color. It has different sizes of 8 inches and 14 inches to choose from.
In my experience, if the glue doesn't hold properly, you can use adhesive glue to hold it strongly.
Alternatives
A good alternative to Taozun on my list is the Wnp Steel Hand Towel Holder. It's likewise self-adhesive. Their quality is the same. However, the difference is that the WNP does not have different colors to choose from; you're stuck with plain silver. Also, it comes in sizes 9 and 15 inches.
Another alternative, I think, worth mentioning is the Nolimas towel bar. If you don't mind drilling holes in your bathroom wall, you can check it out. The good thing about it is that even though I had to screw it to the wall to mount, it is was concealed. The screws were not visible at all. It comes in both brushed nickel and matte black colors.
If you want something different that isn't in a rectangle form, then the NearMoon Towel Ring might be what you're looking for.
This can be good if you fear that your bidet towel may fall off when using either one of the bars I mentioned above.
Made of heavy-duty SUS 304 Stainless steel, the mirror-like chrome finish can give a stylish outlook to your bathroom. To match your bathroom design, you can choose to go with either the matte black, brushed steel, or brushed gold color.
I found its non-adhesive installation process to be quite simple, too, as the company includes screw accessories and a manual to guide you. However, you would like a hammer to make this installation.
Alternative
The JQK all SUS 304 stainless steel towel ring is a perfect alternative to this item. The half-circle design makes it different and less common from the usual designs in the market. You can make your selection by either going for the black, brushed, chrome, gold, or oil-rubbed bronze color.
The TQKAG 8-Piece Bathroom hardware set is a perfect all-in-one combo. If you're renovating your bathroom, instead of going for a single bidet towel holder, you can get this 4-piece set. It's cost-effective.
The set consists of a large towel bar, a toilet paper bar, sponge stands, a bar for a hand towel, and an extra bar that you can use for your bidet towel. I like that there are so many things that come with these products.
It's made of SUS 304 as a solid raw material, and the installation made the screw method, but it's concealed enough to hide any hole from altering your toilet décor. The two color options for selection are black and silver.
Alternative
My favorite alternative to the TQKAG 8-Piece set is this 5-piece bathroom hardware set directly from Amazon. Its design looks almost similar to the TQKAG, and the installation is pretty similar. Made of zinc, its shade ranges from oil-rubbed bronze and polished chrome to satin nickel.
Best Bidet Towel Hampers or Baskets
The best bidet towel hampers or baskets are the EZOWare woven basket, the Sorbus woven storage box, and the EZOWare Plastic Weaving Wicker Baskets.
Their waterproof nature, lid covers, and the ability to not constantly collapse make them ideal for keeping bidet towels or toilet use compared to others on the market.
The EZOWare woven basket is made of polypropylene plastic resin. The Sorbus woven storage is made of polyester and polyester blend, while the EZOWare Plastic Weaving Wicker Basket is made of plastic. I like these materials because all these materials are known to be waterproof.
I recommend that when going for a bidet towel basket, it's best to go for one that is resistant to water to prevent your used bidet towel from soaking up. Also, having one with a lid cover prevents the transfer of tiny toilet germs.
If you don't mind having a bidet towel basket or hamper that's non-water resistant, and without a lid, you can check out classic designs like the mDesign Natural Woven Seagrass, Awekris foldable Storage basket, and the Voten Storage Cubes Baskets.
Best Place To Position Your Bidet Towel Holder and Basket in Your Bathroom
The best location to position your bidet towel holder and basket should be adjacent to your toilet, where it will be reachable.
The bidet towel holder should be next to your tissue paper holder or below it. At the same time, the bidet towel hampers or basket should likewise be next to your toilet but not too close to it to prevent a tiny splash of pee (from men who prefer to pee while standing).
How To Clean Your Bidet Towel Holder
Your bidet towel holder should be treated with adequate care because your bidet towel is an object that goes into your private area. Any germs on your bidet towel holder can transfer to your bidet towel, which will, in turn, spray germs 'down there'.
To clean your bidet towel holder:
Opt-in for a non-harsh detergent or disinfectant, and mix it with water. The water can be very mild-warm water, though you can use cold water if you prefer.
Use a rag, damp it with the mixture, and clean the bidet towel holder.
Then re-clean with plain clean water.
You can use a dash of vinegar to clean it if you prefer. However, it would be best to dilute the vinegar with a higher percentage of water and then wipe it with a rag. Then go a second round with plain water.
DO NOT soak or pour your bidet towel holder into an undiluted vinegar. No matter how solid, original, or strong the metal or material is, a strong vinegar can rust it.
Finally, after re-cleaning with plain water, you can dry it with a clean, dry rag, but normally, you can choose to let it air dry.
How To Clean Your Bidet Towel Hamper and Basket
Depending on the type of hamper you get, the manufacturer always puts the recommended ways to clean it because of the material used in making it. So it's best to stick with those instructions for durability's sake.
However, most times, the cleaning rules include:
Cleaning the hamper or basket with a rag and very mild detergent.
Re-clean with plain clean water.
Then, dry it with a dry cloth.