Are you interested in purchasing a high-end toilet for your bathroom? There are a variety of toilets on the market that, at first glance, seem capable of doing everything from flushing, washing, heating, rinsing, drying, and everything else in between.
The majority of these capabilities are accessible with the press of a button, and some of them are also automatic. If you want your home to have all the latest and greatest conveniences, you should be prepared to pay a significant price for them. Because of this, it is essential to search carefully for the most suitable high-end toilet for your bathroom.
Do not worry; we have got you covered. Keep on reading this Kohler Veil K-5401 review to find out more about this remarkable veil.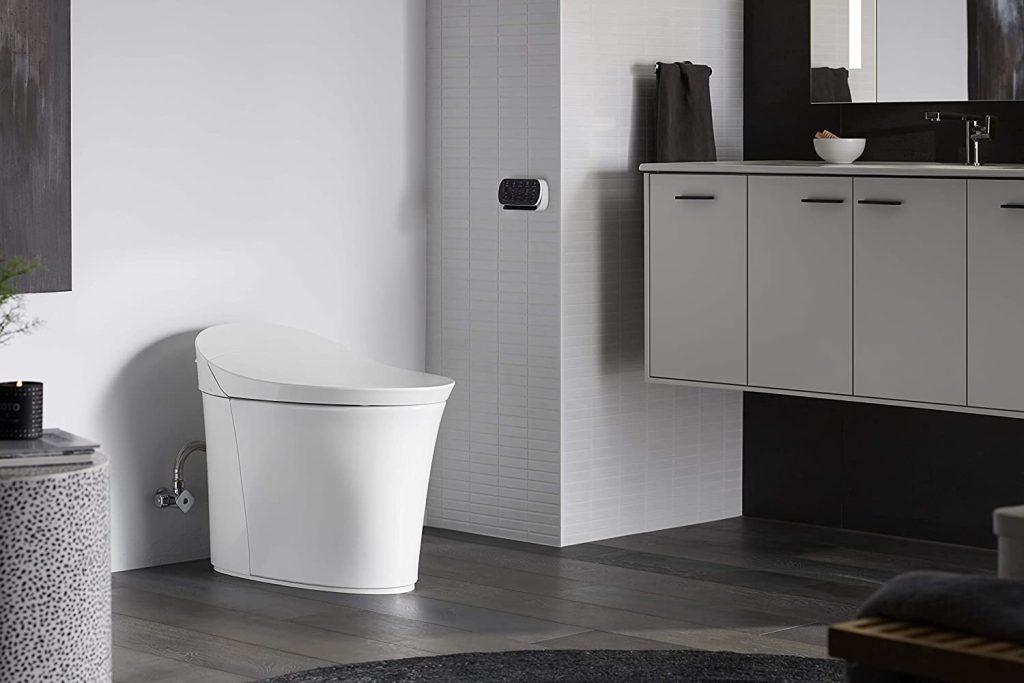 Kohler Brand Overview
The Kohler Company is recognized as one of the most successful and significant privately owned and run businesses in the United States. When it comes to goods for the home, Kohler is a well-known and respected brand name. Their history of invention in plumbing for the kitchen and bathroom during their entire 150-year existence has brought them nothing but praise and recognition.
Great design, according to Kohler, is form and function that are perfectly in tune with their surroundings. Taking this approach necessitates the creation of items that are not only aesthetically pleasing but also possess remarkable functionality, all while consuming a notably lower amount of water.
Making the switch to a toilet that uses less water is the single most effective step you can take to reduce your household's water consumption and save money. In addition, you won't have to make any concessions in terms of performance since Kohler innovations, such as their effective AquaPiston flush engine, are available.
Kohler toilets provide exceptional beauty, elegance, and performance. Every time, their toilets provide a complete and strong flushing experience. The engineers customize each toilet with its one-of-a-kind dynamic flow profile in order to achieve the ideal balance of water speed and pressure.
Sale
This style is distinguished by its streamlined appearance and its elongated, skirted silhouette. It is a toilet that is made up of a single piece and has a design that is simple, ergonomic, and attractive.
This model does not have a storage tank, so it receives its water from an external source directly. This characteristic helps to contribute to its sleek appearance. On the other hand, a water flow of at least 9 gallons per minute is required for the toilet to function accurately. Additionally, a dedicated electrical GFCI circuit with 120V/1800W is essential for this toilet to function properly.
The K-5401 comes equipped with some convenient and high-tech features, such as a warmed seat, an automatic flushing system, a bowl that cleans itself, and a warm air-drying system. To top it all off, it's two inches taller than a standard toilet, so you won't have to stoop as low and will have much more room to stretch out.
Features of Kohler K-5401 Veil
Design
The one-piece, hooded, stretched, long-span toilet from Kohler, the Veil K-5401-0, has a decidedly contemporary vibe. The toilet seems more stylish because of its basic egg-shaped design.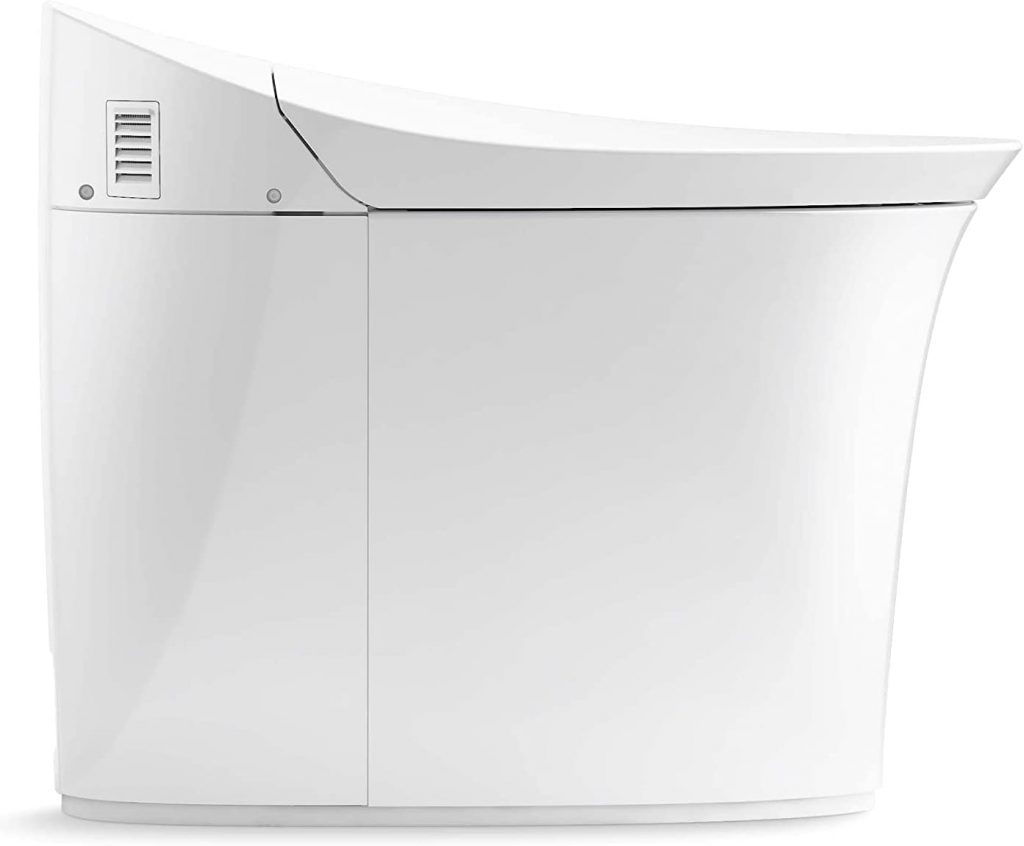 This toilet is incredibly simple to keep clean. There is not a single nook or crack in which bacteria or filth may accumulate. A quick wipe-down with a moist cloth is all that is required to keep the toilet clean. This will ensure that it continues to have a fresh appearance for a good many years.
Bidet
The spray pattern of a bidet wand made of stainless steel may be adjusted, and the user can select from a variety of positions, water pressures, and temperature settings. Also available are water functions that oscillate and pulse. With this function, anyone who has never used a bidet is in for a treat. Additionally, washing the front and back is an option.
Self-cleaning
Your wand's surface will be thoroughly cleaned and sanitized by the self-cleaning feature, which makes use of UV light and devices that electrolyze water. Because of this, it is much simpler to maintain the space's tidiness.
Dryer and deodorizer
If the water spray was not sufficient to complete the task, there is also a system that uses warm air to dry the area. This toilet doesn't need you to use your hands at all. The temperature adjustment feature of the warm-air dryer allows you to heat the air to the level that is most comfortable for you.
And if that weren't enough, a deodorizer will be released by the toilet whenever it is being used, which is the icing on the cake.
Heating setting
The seat is not only heated, but it also has five different heat levels that you may choose from. An alternative that is better for the environment is also available for the Kohler Veil.
If this feature is turned on, the temperature of the toilet seat will automatically decrease whenever no one is sitting there. Users can cut costs on their monthly energy bills, and this also contributes to the preservation of the natural world.
Automatic opening and closing systems
Users have the option to decide whether they wish to make use of this function by turning it on or turning it off. When this feature is on, the toilet will automatically recognize when someone enters or exits the room and respond to their presence as appropriate.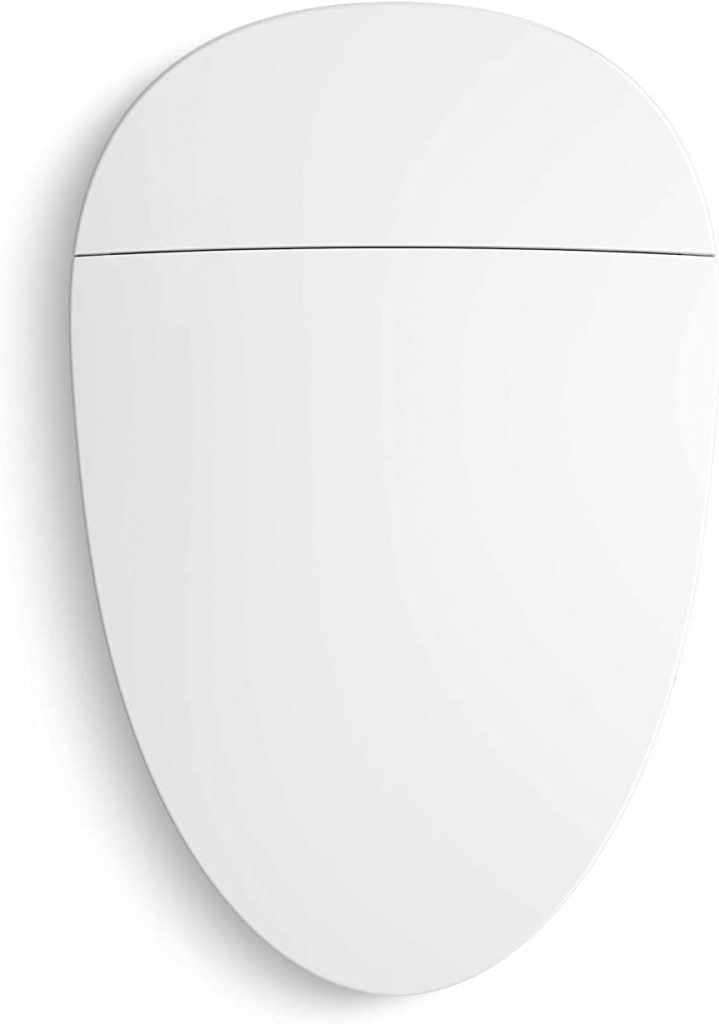 The toilet seat cover will automatically open if there is movement in the area surrounding the commode. Three minutes after a person has used the toilet, the lid and seat of the toilet will automatically close by themselves.
Night light
The Kohler Veil is equipped with a built-in nightlight that functions to direct users in low-light conditions. One may control whether the light is on or off by pressing a button that is located on the side of the toilet.
Flush
To begin, the Kohler Veil provides users with a choice between two distinct kinds of flushes. The flush with the smaller volume utilizes 0.8 gallons of water for each flush, while the flush with the greater volume utilizes either 1.28 or 1.6 gallons of water for each flush.
Additionally, automatic flushes are available with this type of toilet. When this option is turned on, the toilet flushes itself 60 seconds after the user gets up, slides the seat back, or leaves the room.
Emergency flush
During power shortages, this little practical function comes in extremely helpful. If there is a power outage at the wrong moment, you can find yourself without a functioning toilet because it depends on electricity to function. But thankfully, not with the Kohler Veil. For convenience during a power outage, this smart toilet features an emergency flush mode.
Installation
A nearby electrical outlet must be placed since some features require electricity to operate. As a result of this, it is likely going to be necessary for you to engage an electrician in order to install the toilet. 
Aside from that, there is not a significant difference between installing this one and installing a standard toilet when it comes to the installation process. The testing of the water pressure is the supplementary knowledge that is required.
Why Choose the Kohler Veil?
The above list should have made it clear that the Kohler Veil comes with a multitude of convenient functions. Not only does it come equipped with all of these functions, but the majority of those features can be adjusted to your preferences. 
Because of this level of personalization, you will be able to design a toilet that features precisely the functions and specifics that meet your requirements.
The fact that each user may personalize their experience makes this toilet even better, making it ideal for several users. The Veil adds style and contemporary to your bathroom in addition to these benefits.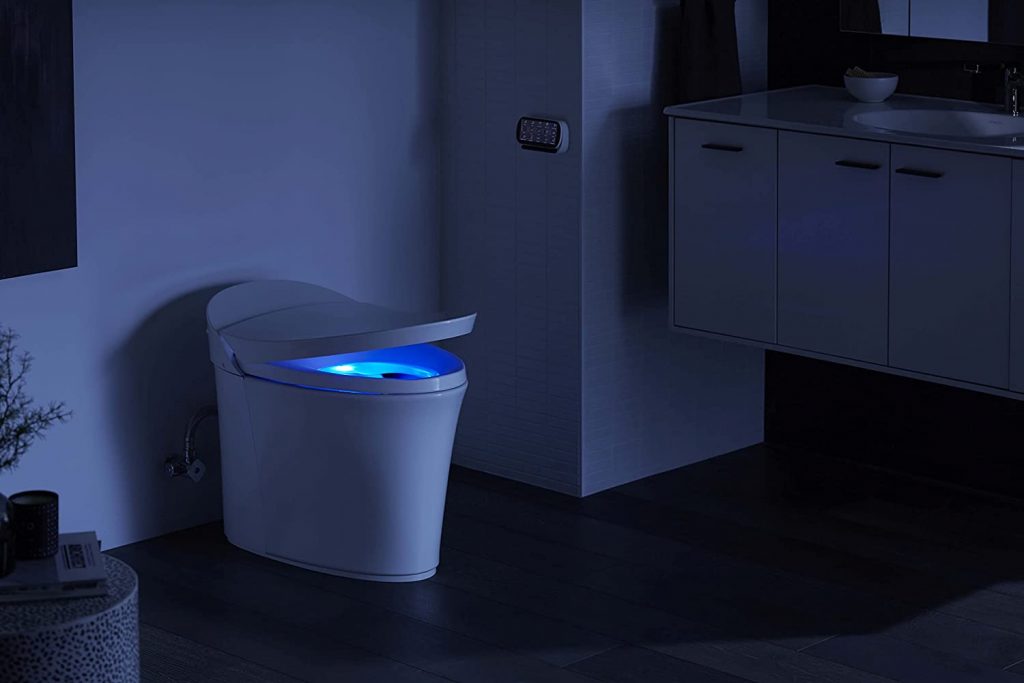 Benefits of Using Kohler
Better hygiene can be achieved with a combination of toilet and bidet
Hands-free operation is available on Kohler toilets. When it detects that a human is approaching, the gadget automatically lifts the cover. As soon as the individual walks away, the lid will immediately close on its own, and the toilet will flush itself.
This is not only more practical, but it also promotes better personal hygiene. There is no reason for more than one person to touch the handle or seat of the toilet.
The functionality of the bidet contributes further to improved cleanliness. The customer has the option of selecting the warm-water cleaning method as well as the warm-air drying method. An easy-to-use touchscreen remote that can be attached to the wall next to the toilet offers adjustments for the water's temperature, pressure, and direction.
Every time it's used, the wand that distributes the water cleans itself, both before and after the process. Additionally, it is subjected to an ultraviolet light disinfection process once every twenty-four hours.
Must Read: How to Use a Bidet Without Making a Mess
Elegant and adaptable design that incorporates luxurious elements
There is a wide variety of design options available for Kohler smart toilets. You have the option of selecting a rounded or angular model, giving you the flexibility to find a design that is congruent with the way you want to renovate your bathroom.
The heated toilet seats on Kohler products are an extra touch of luxury. In addition, the deodorizing seat contributes to the room's overall pleasant aroma. Even a nightlight is incorporated inside the toilet for your convenience. If you wake up in the middle of the night to use the restroom, you won't have to disturb your sleep by turning on the bright lights in the ceiling since you won't need to.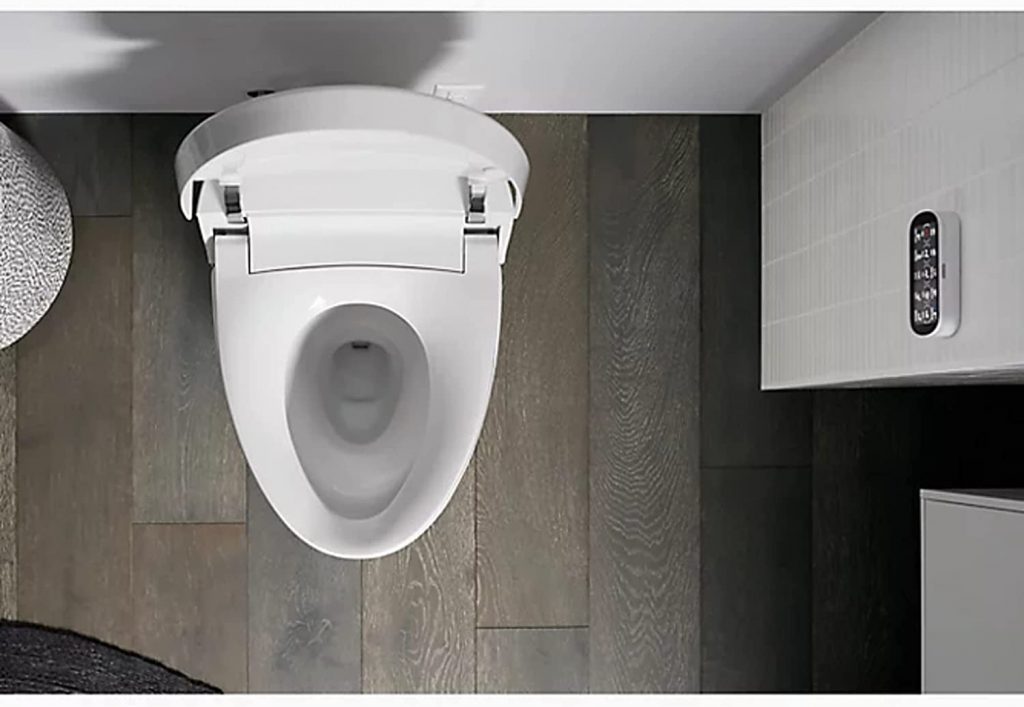 Cautions and Warnings
When this veil is used by or near extremely young children, old people, or anyone unable to take care of themselves, close monitoring is required.
Adjust the temperature, spray temperature, and air temperature of the toilet seat to the appropriate dials for those with sensitive skin, the elderly, or those who are physically disabled.
Only use this appliance for the task that it was designed to perform, as outlined in the user handbook. Do not use any attachments that have not been approved by Kohler Co.
Never use this appliance if there is any indication that it is not functioning correctly or if it has been submerged in water.
Installing or repairing the device is restricted to only those with the appropriate authorization. Do not attempt to repair this appliance on your own since doing so might render the warranty invalid.
Installing this device the right way requires careful attention to detail and adherence to the installation process.
Maintain a safe distance between the cable and any warm surfaces.
If the power line is damaged, the product in question should be replaced by the manufacturer or by trained professionals from the company's maintenance department or other departments with functions analogous to those of the maintenance department. This will prevent the occurrence of any potential hazards.
Related: How to Replace Toilet Seat
Conclusion
The Kohler Veil K-5401 is the toilet you should be looking for if you want your bathroom to have an air of elegance and refinement. It is a high-end toilet that comes equipped with a variety of convenient functions. It is nearly a hands-free toilet and has several automatic functions, both of which will make using the toilet such a delightful experience.
A pleasant experience is provided for customers because of the abundance of features, such as an integrated cleaning system and heated seat, amongst others. Your bathroom will always be clean and ready for visitors with the aid of additional functions, such as the self-cleaning system and automated deodorization.
We hope that you have found our Kohler Veil K-5401 review to be informative and that you now have a clearer understanding of whether or not the price tag of this premium model is justified.