The biggest indoor water usage in single-family houses is toilet flushing, roughly 24% of all household water use. Finding a toilet that conserves water is crucial for this reason.
We are grateful to today's toilet manufacturers for creating toilets that make water conservation while flushing possible. Such toilets come in a wide range, making it difficult to select the ideal one.
Don't worry! We have compiled the list of the best water efficient toilets in the market. These toilets have been selected after extensive research. Therefore, avoid being caught flushing both water and money down the drain. So, with no further ado, let's discover the best brands for water-efficient toilets and save water!
How We Made This List?
Simple cleaning
The simplicity of cleaning single-piece versions is undoubtedly a benefit. There is nowhere for bacteria to hide because the bowl and tank are joined. Anyone who has tried cleaning a two-piece toilet will attest to the time and effort savings.
There is also very little chance of a leak because the bowl and the tank are joined as one unit. You can increase the ease of cleaning by choosing the right toilet.
High durability
With fewer parts, every piece of equipment, including toilets, is more durable. The rubber gasket on a two-piece toilet can eventually leak. You can reduce the likelihood of broken parts over time by choosing a straightforward, one-piece alternative with a few extra parts.
We also analyzed user feedback and warranty options to ensure that the toilet you invest in is reliable and of excellent quality.
Efficiency with water
Water efficiency has two benefits: it helps the environment and saves money. In essence, most contemporary toilets use 1.28 gallons of water per flush while still having enough power. Some toilets may use up to 1.6 gallons, but using more than that is not water-efficient.
It is a frequent misconception that the toilet will be cleaner if it consumes more water. Flushing with a lot of water causes a lot of waste over time. In a typical home, 30% of the water is often used for toilets.
Modern toilets utilize substantially less water while still being effective in preventing any water waste. To guarantee you get an effective alternative, we only selected models that have an EPA WaterSense designation.
Dimensions and required rough-in
The rough-in dimension, or distance from the wall where most toilets will be installed, is 12 inches. Before purchasing a toilet, measure the rough-in in your bathroom in case a 10 or 14-inch model is required. Keeping the proper seat height in mind for your new toilet to accommodate every family member is crucial. Now, let's discover the best toilets!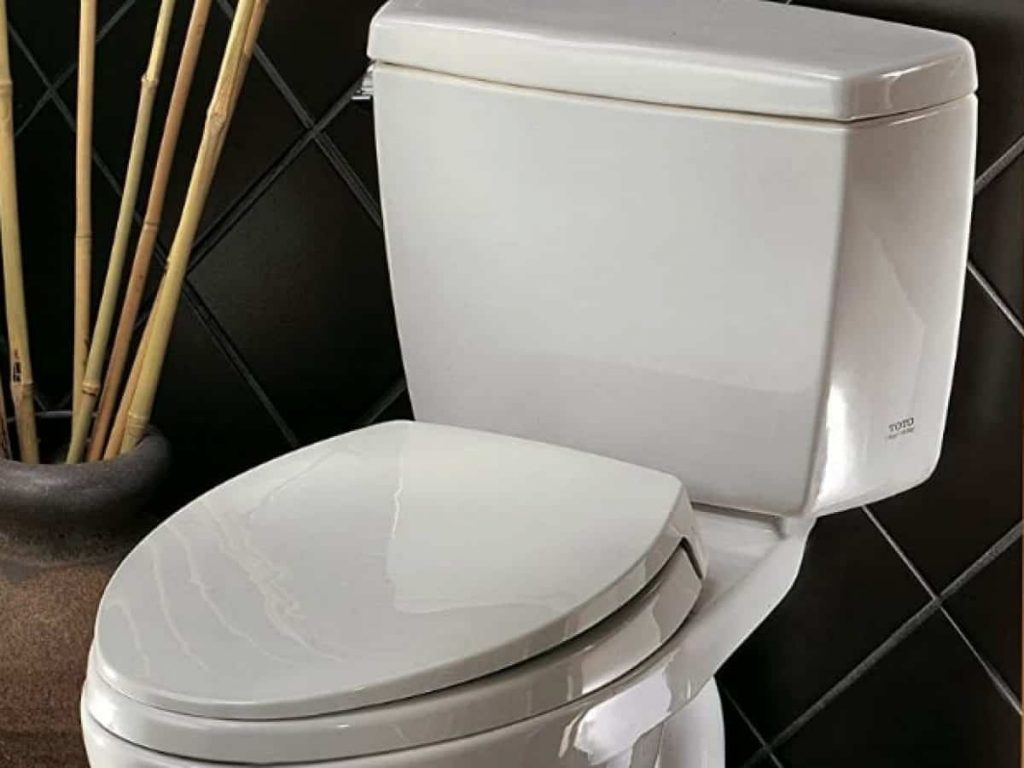 Best Water Efficient Toilets
Best Water Efficient Toilets: Reviews
The WOODBRIDGE T-0019 is first on this list. This item is full of surprises. Therefore, starting our list of the top WOODBRIDGE restrooms is a wonderful option.
You might question what makes this product so intriguing. To begin with, it provides excellent value for your money. Although it is reasonably priced, it appears much more expensive than it is.
It looks fashionable and has a sleek silhouette, so you would anticipate paying more. This one is almost free because there aren't many one-piece toilets with skirted designs in its price range, especially among the more reputable brands.
This product's functionality also greatly enhances its worth. One of its greatest appeals in this aspect is the fact that it is a dual-flush toilet. It is a cost-effective option with ratings of 1.28 GPF on average, 1.6 GPH for full flushes, and 1 GPF for half flushes.
The soft-closing lid that comes with this toilet is another fantastic feature. Even if it might not seem like much, this attachment can elevate your home life to some extent. You'll assure some peace by avoiding having unexpectedly loud noises every time someone uses the restroom by not slamming lids and seats on your excursions there.
To top it all off, this offering includes all the installation materials. This makes it a more practical choice.
Highlights
Exquisite modern design
It is a one-piece toilet with a magnificent modern style. It has a neat, sophisticated appearance and complements various styles, including modern, craftsman, classic, and others.
Simple to clean
The skirting trap method has a sleek appearance and is simpler to clean. It is much easier to clean because it has no edges or grooves than other toilets.
Black button in matte
It has a top button that is classic, stylish, and attractive matte black-plated. The matte black flat excellently complements your home's classic or modern metallic pieces and brings out the sheen of brass and other metals.
Quiet & strong flushing
It boasts a fully glazed flush system and a siphon flushing design, resulting in incredibly quiet and effective flushing. There are no clogs, leaks, or issues with it.
It has the best flush score of 1000 grams for optimal performance. It is also one of the top-rated map-scoring restrooms.
An appropriate height
It is designed with a comfortable height. Most adults find it easier to sit down and stand up thanks to the chair-height seats.
Superior seat
It includes a premium soft-closing toilet seat with a strong stainless steel seat hinge. After years of usage, removing the toilet seat for tightening or cleaning is simple.
Complete package
The package includes a toilet, a soft-closing toilet seat, a water fitting, a high-quality wax ring, floor bolts, and installation instructions. A unique hand wrench tool is also included to make it simple to tighten the bolts in small areas.
Customer experience
Customers appreciate its flush's strength and the dual flush feature, which lets you use less water. The one-piece creates a sleek, fashionable appearance, and the flush is strong. Many noted that this installation is a little difficult, so if you lack experience, think about hiring a professional.
The DeerValley DV-1F026 is the next item on the list, and it has improved flushing efficiency partly because of its highly-glazed self-cleaning surface. The flushing siphoning system is responsible for the other portion. Due to the vacuum it produces, waste can be drawn out of the bowl and into the trapway by the pressure it produces. It follows that a second flush is rarely necessary.
Additionally, the toilet is one-piece construction, and we found that it was free of crevices that would be challenging to clean. Even the accompanying seat may be removed with a push button for independent cleaning. This design also guarantees that the toilet won't leak.
Since it increases comfort, you can use this toilet longer. ADA compliance and a 12-inch rough-in are included in addition to this. It is doubtful that your bathroom will need significant renovations to accommodate the toilet because this rough-in size is the acknowledged norm.
Also included with the toilet is a supply line connector/adapter, allowing you to choose between two supply line diameters. There won't be a need for the connector if it is the typical 7/8″. If it is 1/2′′, however, the connector will assist you in installing by bridging the size gap.
Highlights
Extra accessories
Along with the connector, additional accessories, including a premium wax ring, installation guidelines, and floor bolts, are also provided. You'll need a few additional installation tools to complete the job on your own.
Soft-closing lid
It has a high-end toilet seat with a stainless steel soft-closing hinge. The lid closes softly and smoothly. Soft-closing seat-ins are helpful in the middle of the night because they stop unintentional clattering from waking up everyone in the house.
Modern design
The bathroom has a sleek, small style. Even though it was created for incredibly small spaces, this one-piece toilet looks amazing in any modern bathroom. Water can be conserved by using the toilet's dual flush function.
Seat with push-button removal
Regardless of when you want to change it, their easy-release seat has three phases of operation: click, remove, and install. It was designed for this small toilet.
Customer experience
Customers love that it is water efficient and easy to clean. It looks big but has a perfect size. Its modern and classy look is very well appreciated by the customers online. They also like the one-year warranty of the product.
The one and two-piece toilets from Fine Fixtures are built with the best materials available. The sleek and traditional shapes of the two-piece toilets and the strikingly modern and contemporary forms of the one-piece toilets are sure to offer the most comfort in any bathroom.
You may conserve water using the high-efficiency dual flush provided by the Fine Fixtures Dual-Flush Round One-Piece Toilet. Comparing the R&T cUPC-certified water flush valve to dual-piece toilets, you can save up to 4,000 gallons of water annually.
Additionally, the one-piece toilet has a soft-closing seat that could reduce slamming or other problems brought on by rough seat use. The toilet's glazed surface inhibits the growth of bacteria and makes stains less likely to occur. A 2-inch wide trapway is another feature that significantly lowers the likelihood of clogging or overflowing.
Utilizes at least 20% less water than typical 1.6 GPF toilets. Not only does it have a svelte aesthetic, but it also performs admirably. The effectiveness of this small toilet is increased by the option of partial or complete flushing.
Highlights
Clean-up is simple
Other added features are present. Nothing can enter the porcelain because the interior trapway is fully coated. Additionally, their toilets have a 2″ broad trapway, reducing the likelihood of clogging and overflow. There are so many great things about it that it would be impossible to list them all.
With a soft closing seat
Compared to noisy normal toilet seats, a soft shut seat is a great substitute for maintaining privacy in your bathroom because it creates almost no noise. Families with young children who find it difficult to close seats securely without slipping out of their hands may benefit from these chairs' quiet sound.
Dual flushing
A dual flush toilet uses less water, which lowers your household's monthly water bill. In a normal home, dual flush toilets are thought to save 4,000 gallons of water annually.
Customer experience
According to the reviews, the toilet is a fine piece. Customers like the product and have bought another one for the second bathroom after using it in the first. They are also happy about the installation process, which is very easy.
With comfort in mind, this Deer Valley restroom was created. It includes a seat and wax ring, and has a modern height design. The kit contains floor bolts, the installation manual, and pre-installed water fitting.
These one-piece toilets go well with the contemporary bathroom decor. This elongated toilet will complement your modern bathroom with its stylish back-to-the-wall design; it features an aesthetically pleasing disguise with a smooth-skirted design.
The powerful dual flush function is highly trustworthy and consistently performs well. The toilet provides everything you need for comfort and security in the bathroom and is simple to install and use. Its flush actuator is located at the top of the tank.
The one-piece toilet is 17″ tall from the floor to the toilet seat. In fact, it makes using the restroom more comfortable since sitting or standing requires less effort. Tall folks, the elderly, and those with disabilities can easily use the toilet.
You may connect the supply line, and toilet with the supply line connection (adapter) included with this extended toilet. You could connect your water line straight to the toilets if your supply line size is 7/8″. If your supply line is 1/2″ in size, unscrew the adapter before connecting.
Highlights
A quick-release design
Their easy-release seat toilet has three phases: click, remove, install, exactly where you need it, whenever you want to replace it. It is created for this modern toilet in one piece.
Tornado dual-flush toilet
It is a highly efficient flush; a dual flush toilet with a strong flush system and 0.8 GPF for half flush (adjustable on flush cistern) and 1.28 GPF for full flush (adjustable with floater). There are two water-saving flush options available.
100% rinse area
A trend in toilet flushing is dual cyclonic flushing. In a well-designed elongated toilet, water flushes out of two tiny holes and forms a vortex around the interior wall. The toilet bowl is thoroughly cleaned in all directions by the vortex. In the meantime, it makes life more tranquil.
Soft-close toilet seat
The lid closes softly and discreetly without smashing. High-end soft-closing toilet seats with hinges made of stainless steel can be easily removed after years of usage for tightening or cleaning.
Customer experience
Typically, customers appreciate this water-saving toilet. The Deer Valley dual flush toilet may be installed in less than an hour. It is wrapped carefully to prevent damage during shipping and comes with detailed instructions. The customers also added that although the dual flush option is fantastic, the flush is mediocre and doesn't clean the bowl when pressed.
Horow has always focused on designing and producing bath products. Horow is committed to supplying top-notch modern products in addition to essential things with the help of our most devoted workforce.
They now have a factory creating high-quality products and first-rate after-sales service. More importantly, they have a committed staff who work tirelessly to provide you with ever-improving service.
The mission of HOROW is to "bring beauty into the house." Their one-piece toilets go in with the modern bathroom decor. This extended toilet will finish your contemporary bathroom with a modern back to the wall. It offers spectacular form, understated luxury, and connotation to fulfill all of your bathroom fantasies.
The design blends in well with the background and may be used with almost any type of decor. It is not very eye-catching. For a small toilet, it feels solid and is quite comfortable to sit on. It features a deceptive skirting design that is both attractive and useful. The strong dual flush feature consistently delivers excellent performance.
Highlights
Toilet with ultra-high efficiency
HR-LT010W The most excellent toilet for clog-free performance is an elongated one that produces a quicker, stronger flush. It complies with MaP Source 1000 and EPA WaterSense By IAPMO R&T.
Simple to clean
The glass surface of the elongated toilet is self-cleaning, which streamlines maintenance. It is simple to clean, and it is quite convenient to do it. Compared to a two-piece toilet, it features a compact toilet-skirted design that is simpler to maintain.
Using a siphon
The flush design is incredibly silent. With this very effective dual-flush toilet, you may choose between 0.8 GPF and 1.28 GPF to actively conserve water.
Supply line inlet hose in two sizes
This toilet will come with a supply line connection (it works for a 3/4″ waterline) which will help you connect the supply and toilet. There is also a pre-installed adapter for a 1/2″ waterline. Each toilet has a rapid-release toilet seat to make installation and use easier.
Comfortable soft-close seat
The lid closes softly without a loud bang. A high-end soft-closing toilet seat with a sturdy stainless steel seat hinge can be removed easily for cleaning or tightening after many years of use.
Appropriate height
In fact, it relieves some of the tension associated with standing or sitting when using the restroom. It has a height of around 17″ from the floor to the seat. Tall individuals, the elderly, and those with disabilities could all use it.
Customer experience
We couldn't find a lot of reviews of this toilet online. From some of the reviews we could find, we concluded that this toilet had satisfied most of its customers. It is easy to clean, and the flush is very strong, as its users tell it.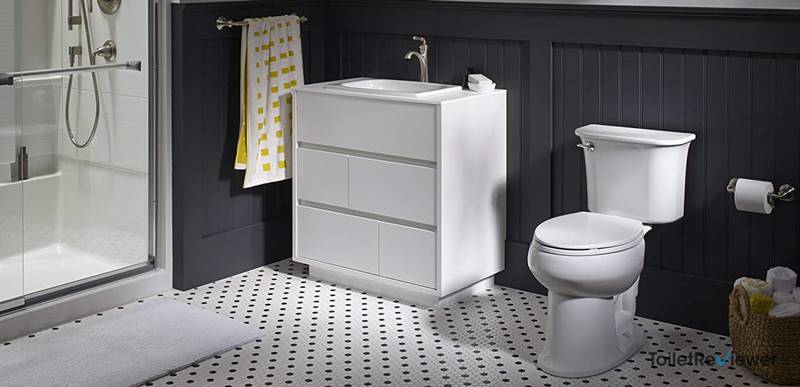 Things to Consider When Choosing the Best Water Efficient Toilets
In order to find the best efficient toilets in the market, you must pay attention to certain factors. Therefore, we have created this guide for your research to be easier. So, here are the factors that you should consider:
Price
Before purchasing anything, price is an important consideration because everyone wants to get a great deal. Don't think buying a dual flush toilet only makes financial sense when it is more expensive. You should constantly evaluate the price range of comparable products to your dual flush toilet before deciding.
Waiting for a sale is always smart if you are not in a huge rush. Always consider your budget and the item's value before making a purchase.
Water-saving capabilities
Water efficiency is crucial for modern toilets. Of course, they still need to utilize sufficient water to remove all that garbage. The tank capacity of any toilet manufacturer must be less than 1.6 gallons.
Today, most people have a tank slightly less than 1.28 gallons, which enables them to receive different credentials. If you place a premium on water-saving features, check for toilets that have received the EPA seal of approval.
There is more to this accreditation than just tank capacity. It ensures that the toilet is functional while consuming the least amount of water feasible for each flush. Some contemporary toilets flush with no more than 0.8 liters of water.
Waste disposal
Every toilet must be excellent at removing waste. It can be inconvenient to have to flush the toilet repeatedly. This is particularly true if the bowl develops brown stains. Look for toilets that have a single-button flushing capability.
Maintenance
Nobody likes cleaning the bathrooms, but it is necessary to do so. Look for toilets that are simple to clean to make your life easier. Your toilet will serve you for a very long time if you can easily maintain it. Plus, you'll get through this disagreeable job much more quickly.
Suitable height
Bowl heights must meet the Americans with Disabilities Act (ADA) requirements of at least 16 inches. They will measure between 17 and 19 inches tall once the toilet seat is added. This norm is generally observed in commercial settings, making them ideal for taller individuals.
On the other hand, if there isn't a very tall adult in your home, you can choose a shorter bowl. We advise between 14.5 and 15.5 inches in height. Remember that toilet seats add an inch or two.
When you use the bathroom, any seat's height will make you feel comfortable or uncomfortable. Although most dual flush toilets include a universal height feature, you must be careful when purchasing a toilet.
That is crucial if you have any physical issues, such as a knee issue. It will be challenging to stand up from a toilet seat that is too low. And you won't feel comfortable on a seat that is too high.
Neutral colors
The majority of toilets are white or beige. However, some come in a wide range of colors to suit any preference. But before you purchase one, think carefully about the color of the toilet. Real estate experts concluded that having a toilet that is a non-standard color can make it more difficult to sell your house.
Types: wall-hung, one-piece, and two-piece
The two main varieties of dual flush toilets are one-piece and two-piece. The two-piece toilets are more frequently used. The bowl and the tank are separate in a two-piece form and must be connected. The less expensive choice is typically the two-piece toilet design.
But more and more households these days are opting for the one-piece style. Cleaning is simpler and has a sleek appearance because there isn't a seam between the tank and the bowl. Additionally, the one-piece toilet type does not require installation or putting together, in contrast to the two-piece arrangement.
The last variety of toilets is wall-hung toilets. This kind of toilet offers a distinctive twist to earlier models and is relatively new to the market. This toilet style requires installation inside your wall and includes a separate carrying tank. If this is the toilet you prefer, you should change your plumbing setup.
Frequently Asked Questions
Are one-piece toilets worth it?
One-piece toilets are usually heavier, easier to clean, and have less space for bacteria to develop than two-piece toilets.
Two-piece toilets can be more easily customized for chosen styles and heights because the tank can be removed. Both designs may come with extras like bidet attachments or energy-saving low-flow features.
What is the length of an elongated toilet seat?
As opposed to elongated toilets, standard toilets are typically shorter. The largest high-flush toilet is designed for hefty people and has a bowl at least 2 inches longer than standard circular toilets. These are created for disabled individuals, tall and hefty people. Due to the elongation, the bowl's rim is oval rather than the conventional round rim found on standard toilets.
The diameter of the bowl between the two mounting bolts and the front of the bowl will tell you if your toilet is extended or not. Extended bowls measure 18.5 inches in diameter compared to 16.5 inches for regular toilet bowls.
What is a dual flush toilet?
The dual flush toilet features two buttons that allow you to regulate the flow of water. These buttons are normally located on top of the tank.
Solid waste is flushed with the full flush mechanism using the second button, while liquid waste is flushed with the half flush mechanism using the first button. Throughout the day, the dual flush function could help you save a lot of water.
This toilet uses at least 50% less water when flushed partially than when flushed completely. While certain models can use as little as 0.9 GPF when used properly, a dual flush toilet typically uses 1.28 GPF (gallons per flush).
Comparatively, the typical single-flush toilet uses 3.5 GPF. By switching to a dual-flush toilet, you'll use less water, lowering your water bill and making your pocketbook happier.
Conclusion
Well, this is the very end of this article, and these were the best water efficient toilets on the market. These toilets are created with a dual-flush system to save water. Finding the best toilet to conserve water might be challenging due to the wide range of brands and types on the market.
However, after reading this post, you will know the best models to choose from and the advantages and downsides of each toilet.