These days, tankless toilets are the newest craze. They're very popular because of their minimal water use and space-saving features. They are well-built, perform well, and offer the same level of comfort as traditional toilets.
After conducting a lot of research, we came up with a list of the best tankless toilets on the market. This listicle is created to help you choose the best model for your requirements. We've also included a buying guide to assist you with your purchase.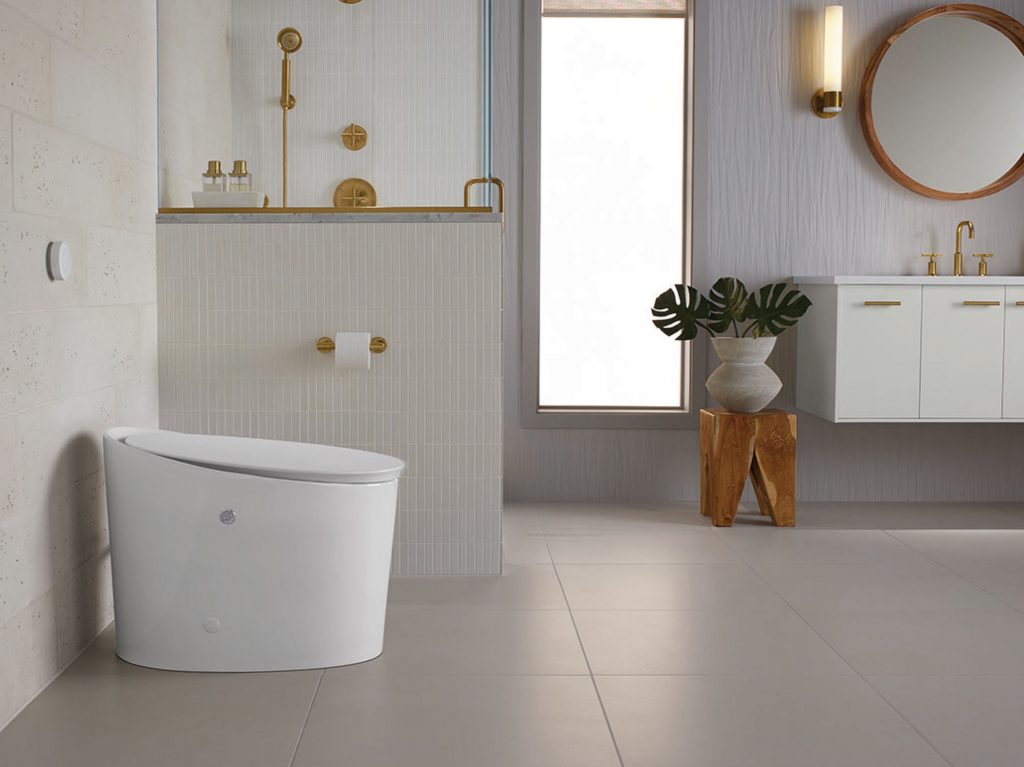 Best Tankless Toilets
Best Tankless Toilets: Reviews
This is the Woodbridge toilet company's top-tier toilet. It has a strong skirted shape with no rough edges or grooves, making cleaning easier. There is no water tank as you might think. Instead, for successful flushing, this smart device should only be connected to a water supply and electricity.
This model features a skirted design, which requires some work to install correctly. The dual-flush system is fully automated for hands-free operation and is incorporated right into the seat. When you approach the lid, it automatically opens and closes.
The built-in bidet allows you to clean yourself hands-free while also providing a gentle water massage that can aid with rectum disorders. The feminine wash mode can be accessed by pressing a button on the remote. After the clean-up, you can change the water pressure, temperature, and dryer power.
Finally, if you don't like how chilly it feels when you sit down, you can warm it up ahead of time. A blue light will appear on the wall when the toilet is ready for the next usage. The remote's major buttons are also located on the sides of the seat, giving you complete control of the remote malfunctions.
Features
The seat will engage the self-cleaning bidet/spray wand for hands-free operation, followed by a forceful flush on your departure. It's also incredibly quiet and powerful, with a Siphonic 1.6 GPF/1.0 GPF dual flushing system that delivers an average of 1.28 GPF for a super-silent and efficient flush.
Its contoured heated seat and strong warm air dryer keep you warm and comfortable early in the morning or throughout the winter season. In addition, the smart toilet features start working as soon as you approach the toilet. To welcome you, the lid instantly opens without your input.
Using powerful air filters, the deodorizer thoroughly cleans the air around the toilet. To remove odors, the air is sucked in and passed through an ionized carbon filter.
The warm glow of the cool blue night light adds to the comfort of your favorite seat in the house. Wireless remotes that are stylish and updated are also available. It can be wall-mounted as well.
The HOROW Heated Toilet is a terrific alternative if you're looking for a great toilet for a small bathroom. It has pre-wet technology, which sprays Microcrystal to prevent waste from sticking to the bowl surface. The Microcrystal and pre-wet combo reduce the amount of water used to clean the toilet bowl.
Silver ions in the toilet promote a healthy toilet environment. The microcrystalline glazing process prevents dirt from adhering, makes cleaning simple, and provides a smooth coating. The toilet's most astounding feature is the built-in battery, which can flush the toilet 2000 times during a power outage.
If you want a lot of confidence in your new toilet, this smart toilet is a terrific alternative. The toilet is simple to set up, and the maker provides a 12-month warranty for further peace of mind. With this coverage, you can make use of all of the smart sanitary features while knowing that Horow will be there to assist you if you run into any problems.
It also has slow-closing functionality, so you won't have to worry about slamming the seat shut accidentally and damaging it or your toilet. Finally, this type offers adjustable water pressure, temperature, and seat temperature, just like the majority of units.
Features
It has a very effective dual-flush that allows you to save water by setting the GPF to 0.8 or higher (1.28) for harder strains. This toilet flush has a fully glazed flush that is both silent and forceful, with no blockages.
It's the ideal finishing touch for any little bathroom renovation. The toilet seat is 26.5 inches long with a rough-in length of 12 inches from the wall to the drain pipe. The width of the seat is 15.6 inches, and the height is 19.8 inches. This little toilet comes at a good height for short or medium-sized persons.
The heated seat is also a wonderful feature. With the touch of a button on the remote control, the heated seat ensures that the seat is warm every time you use it. You can easily preset the settings on the remote.
You also don't need to touch the flush. After you've finished using the toilet, flush it using the foot induction method. The dirt was immediately flushed away by the tornado.
If there is a defect with the toilet seat when you receive it, they offer a money-back guarantee good for the first 30 days and a replacement warranty good for the first 12 months.
When it comes to toilets, American Standard is a well-known brand. Its brand is known for its high standards and style, as its name suggests. Every product in their collection is of the highest quality in terms of craftsmanship and design; thus, there aren't many complaints.
Their American Standard 2548A100.020 Studio S toilet is one such toilet that is both modern and attractive. We can tell this toilet was designed for sophisticated yet contemporary environments by the way it looks, as it differs from other models' designs.
This toilet includes a concealed trap way, various features, elegant looks, and a gorgeous appearance. The Powerflo flushing mechanism provides the necessary energy for this toilet to flush all of the trash and keep it clean.
This toilet also has a unique rim design known as the CleanCurve rim, which ensures that no dirt is hidden. Unlike other toilets with several curves and cuts, this one has none and ensures that no filth is visible. A second canal and a regular water connection through an inlet are included in the American Standard Studio toilet.
Features
The streamlined, tankless design of the American Standard Studio S Right toilet complements the Studio S Collection's contemporary appeal. American Standard is always the best choice if you don't require a specific style and merely want a functional toilet that won't cause you any problems before upgrading to a more current and complex model.
This sleek, low-profile toilet has unique features like PowerFlo flushing technology that other low-profile toilets lack. This durable and water-saving device uses only 1.0 gallons per flush to thoroughly empty the bowl the first time.
Studio S is quieter than other toilets that are the same size. The flushing system on this toilet does not require a battery or electricity, and it connects to a standard bathroom water supply.
American Standard has the most competitive prices. They are far less expensive than other toilets available. American Standard is always a superior choice if you just want a standard toilet with standard features.
In addition, the bowl is at the perfect height to prevent tall individuals from feeling burdened. If people are going to remain there for a long time, they can spread their legs comfortably. It's also the ideal height for people who have back difficulties.
In spite of being less well-known than American Standard, Swiss Madison established a reputation for producing high-quality toilets at lower pricing. The St Tropez is the firm's best-selling model, and it is in the top ten best sellers on Amazon.
The toilet is made even more pleasant by its average height and square bowl shape. This is one of Swiss Madison's most water-saving toilets, with a partial flush of 0.8 GPF and a full flush of 1.28 GPF.
Apart from that, we're impressed with its powerful gravity flush, which effortlessly removes waste. Clogs and obstructions are reduced thanks to the smooth stain-resistant ceramic trap channels. It also makes cleaning the elongated toilet bowl a breeze.
Finally, the spacious bowl and soft-closing toilet seat provide a relaxing experience for users. The soft lid also prevents the seat from slamming shut when you exit the toilet. The designers have used the efficient qualities of Concorde's namesake to produce a tiny version that appeals to all classes. Furthermore, because of its modest size, it may easily fit into a small bathroom.
Features
The smooth trap way design of the Swiss Madison St Tropez not only looks great, but it's also very easy to maintain. This smooth base style is really trendy these days, and you'll appreciate how simple it is to wipe and clean.
The base is not only stylish and appealing, but it is also Comfort Height. A Comfort Height toilet is ideal for taller people and the elderly and disabled. The increased height given by this toilet may be beneficial to anyone who finds standing or sitting on a regular toilet problematic.
Despite being a fantastic space saver for compact bathrooms, it also features an elongated design bowl. Bowls with an elongated shape are about 2 inches longer than round bowls and have additional space for the user to sit on. For many people, having an elongated shaped bowl with a compact design will be a beneficial feature.
In comparison to many other Dual Flush toilets, the St Tropez is even more efficient. The GPF ranges from 0.8 to 1.28, which is excellent and significantly less than the minimum requirement for a WaterSense Certified toilet.
Fine Fixture is a newcomer to the toilet industry. Besides, that fact hasn't stopped the company from producing some outstanding fixtures, though. It features a full bidet, automatic sensors, and a wide range of operation options.
Fine Fixture is quite long-lasting because of its sturdy construction and is just slightly heavier than the previous edition, weighing in at 125 pounds. It is quite comfy because it has an elongated shaped bowl. Also, it's good to mention that it has a dual flush system, which saves a lot of water.
The Fine Fixture wall-mounted toilet is 27.25 x 16.11 x 18.5 inches in size. As a result, if you're trying to free up a few inches in your bathroom, this toilet might be the best option.
This toilet features a self-cleaning coating and a fully glazed trap that avoids clogging when it comes to upkeep. This model also includes a soft-close seat and ultra-thin coverings. Finally, installing this toilet will be a breeze because it comes with a step-by-step installation guide.
This wall-mounted toilet is an excellent choice if you want a modern, minimalist toilet that can easily mix in with any bathroom style. It comes with a soft-close seat, which allows the toilet seat to close quietly and gently. It comes in two patterns: surf and wave.
Features
It has a wall-mounted design with plumbing that is hidden. It goes well with in-wall tanks from other major brands.' With open access to the bolts, installation is as simple as it gets, unlike other designs with hidden bolting, which make installation quite tough.
Fine Fixture toilet models are, without a doubt, the winners in the prize category. It provides the largest selection of designs of any brand.
Its numerous designs make it the greatest choice if you're looking for a specific toilet or something that will work nicely with the bathroom design you're putting together.
Fine Fixture will have a far wider range of options than its competitors. It's also known for its excellent extended toilet designs and two-piece toilet designs in various sizes. This model even comes with a heated seat.
It has various adjustable functions, including adjustable water pressure, temperature, dryer, and seat heat, and it operates hands-free.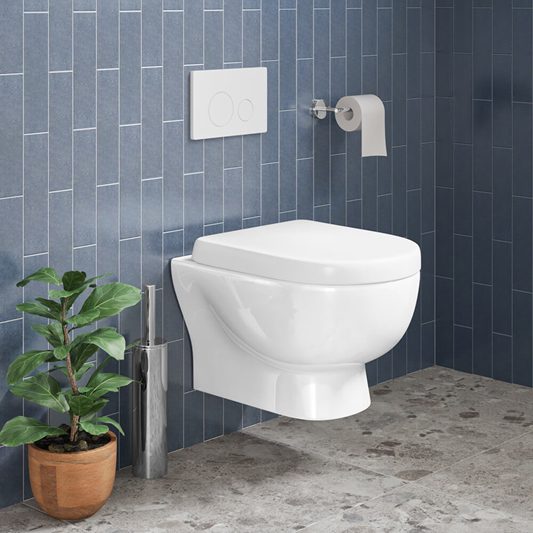 Benefits of Tankless Toilet
Size
The size of a tankless toilet is considerably smaller than that of a conventional toilet with a cistern or tank. Imagine it without the tank to visualize how cool it would appear. Because there is no tank, a tankless toilet can be installed practically anywhere.
Of course, the fixture would need to be connected to the plumbing system, and you wouldn't just put a toilet anywhere. However, the fact that you do not need to account for a certain location for the tank allows you to experiment with the design and layout of the bathroom.
Style
The tankless toilet is unquestionably more attractive and trendy than a standard toilet. If not the aesthetics of the whole house, at the very least, it will improve the look of your bathroom.
Even while it may be too soon to tell whether or not installing a tankless toilet would have a direct effect on the price of your home, there is no question that it will make an impression on potential buyers if you ever decide to put your house up for sale.
Helps in water conservation
The majority of homeowners are seeking strategies to conserve water in their homes. This is because the majority of them have been paying large water bills at the end of each month. The good news is that, in the long run, this toilet can help you save more water. This is because these toilets do not keep excess water in storage.
The tanks can contain up to three gallons of water if you have a regular toilet. You can bet that if there are more toilets like this, more water will be saved. If you have more people in your house, this water is more likely to be used. As a result, purchasing a tankless toilet is recommended.
Fewer issues
It's natural for a toilet to have issues every now and again. Traditional toilets, on the other hand, have a lot of disadvantages as compared to tankless toilets. Occasionally, the valves will fail, and so on.
It's possible that the inlets will need to be serviced from time to time. You may end up causing additional damage if you attempt to repair these parts on your own. Consequently, you should select the tankless toilet, as these issues will be rare. This may provide you with some relief.
No leaks
Tankless toilets don't leak much. As a result, they are more eco-friendly. In most versions, the water supply pipes are usually located under the flow or within the wall. Compared to the traditional ones, they are a superior choice.
Cleaner toilets
Because of the high water pressure, this toilet can flush more effectively than a tank toilet. As a result, your toilet will remain cleaner for a longer period. While a tankless system has its drawbacks, it is not altogether a bad solution.
More efficient
It doesn't take long for the bowl to fill up because these toilets often use an electric pump. If you have a lot of people in your house, this toilet can be quite useful because it can serve a lot of people in a short amount of time.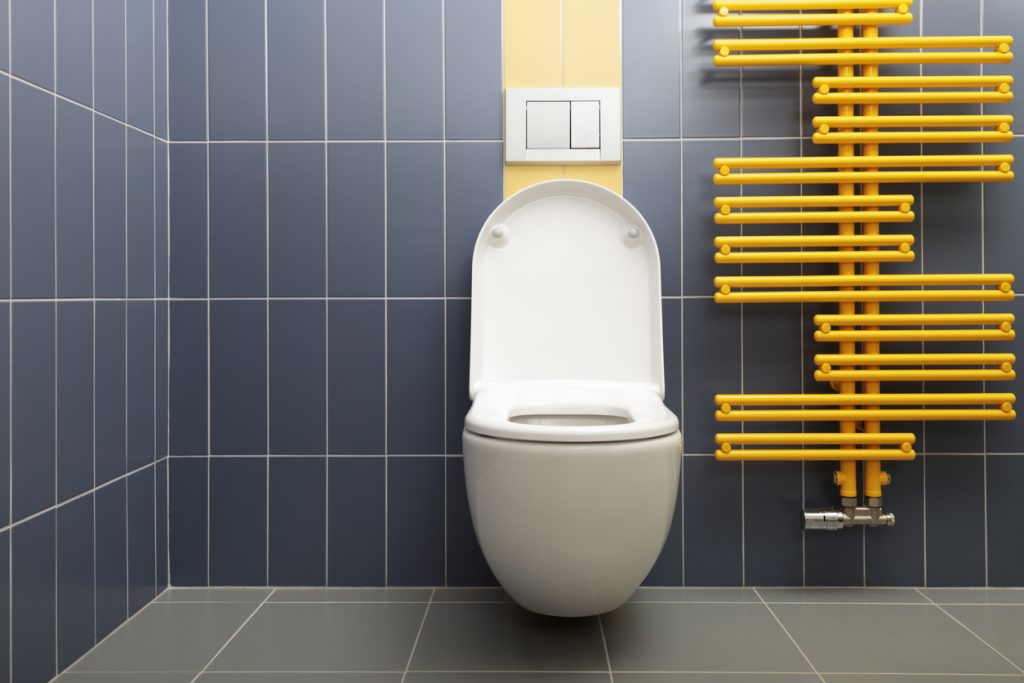 Factors to Consider While Buying Tankless Toilet
Physical measurements
Length and height are the two primary factors to consider when purchasing a tankless toilet. A toilet seat's length is normally around 16 inches, which is considered ideal by most industry standards. However, if the toilet is elongated, you should seek a model with an 18-inch-long seat, which is usually more comfortable but slightly more expensive.
Related: Best Elongated Bidet Toilet Seats
Comfortable units normally have a height of at least 17 inches from the floor to the rim. These are ideal for seniors or people who have back problems. The standard units are slightly shorter, standing 15-16 inches tall.
Related: Best Tall Toilet for Seniors
You should also check whether the dimensions supplied are with or without the seat. You don't want to purchase a toilet that looks to be on the taller side only to find out later that you need a seat riser, which could involve additional time and money to install.
Mounting position
There are mainly two types of tankless toilets. A cistern or a pressurized tank can be installed behind the wall. You can mount either version on the wall or the floor, depending on your bathroom. Wall-mounted units give the illusion of more space in the bathroom, but they need to be reinforced with brackets.
Related: Best Wall Hung Toilets
Floor-mounted toilets can sometimes cause problems, such as debris accumulating between the commode and the wall that you can't reach. Furthermore, some toilets have visible plumbing, which might detract from the overall bathroom appearance.
Power supply
Once a valve has been opened after the lever has been pressed to flush, tank toilets rely on gravity. A tankless toilet, on the other hand, flushes the water using an electric pump rather than gravity and air pressure.
Electric wires are used to build tankless toilets. If you don't have a toilet that can flush both with and without power, you won't be able to flush it when the power goes out. These toilets require a constant source of energy from the house. Also, unless you're handy, hiding the electric pump and connecting to the home's power source could be a challenging task.
Bowl shape
Bowls are generally divided into two types: round and elongated. Bowls with a round form are smaller than those with an extended shape. So, if you have a limited amount of space or need to save space, a round-shaped bowl is preferred, but an elongated form bowl is considered as more comfortable.
Related: Best Round Bidet Toilet Seats
Water supply
A tankless toilet is one that does not have a tank of water waiting to spill into the toilet bowl. When a flushometer is engaged, a tankless toilet is directly connected to a water supply and receives its flushing water.
To clean the waste in the bowl, tankless toilets require considerable water pressure. Many private residences lack sufficient water pressure to flush effectively, necessitating the use of an electric pump to provide additional power.
Flushing power
Many tankless toilets have a tank that has been modified to make them look like they don't have one. Macerator pumps are normally hidden behind a wall. However, they are also used in some toilets. Depending on the design of its tank, your toilet's flushing may utilize more or less water, resulting in increased efficiency but possibly diminished flushing force.
If the intake is large, it will let more water enter through, resulting in faster flushing. For added power, you might want to select toilets with pressured rims. These sorts of commodes have specific markings that indicate their GPF rating. If it has Gmax, for example, it signifies 1.6 GPF regardless of the model.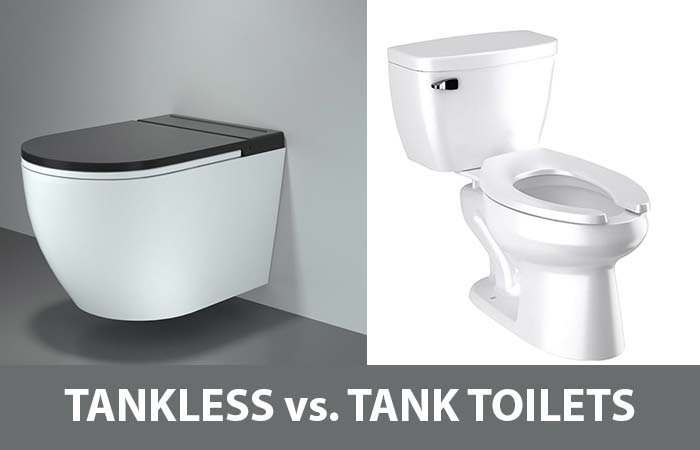 Difference Between Tank and Tankless Toilet
Flushing systems
The flushing system is arguably the most noticeable distinction between tankless and tank toilets. Gravity powers the flushing of tank toilets. The water is pumped into a bowl, where a siphon is engaged to suck the water, solid waste, and liquid waste from the bowl into your home's plumbing system. Thanks to gravity, a tank toilet's flushing system can operate with a low water pressure of 10 PSI.
On the other hand, tankless toilets use high-pressured water to drain waste from your toilet quickly and effectively. An electric pump creates high pressure by rapidly emptying the waste from the bowl, leaving a sparkling clean bowl behind.
Electric pumps are only useful when the water pressure is low. You may not require an electric pump or other mechanical assistance if you already have adequate water pressure.
Water consumption rate
Traditional tank-style toilets from the 1980s consumed approximately 3.5 gallons per flush, which is more than twice the permitted 1.6 GPF water consumption rate. For the early toilet users, that was a complete waste of water.
While both conventional and tankless toilets are required by law to use less than 1.6 GPF, tankless toilets have utilized less. Some tank-style toilets require you to flush twice before the waste is completely gone due to their ineffectiveness. This results in a higher water bill at the end of each month.
On the other hand, tankless toilets can use as little as 1.0 gallons per flush. And, with their strong flush, you can always rely on just one flush to do the job.
Installation
Tank toilets must be installed on the floor since there is no other option. It also has a predetermined height. Tankless toilets can be mounted on the floor or on the wall. Tankless tanks can be adjusted in height when mounted in a mall.
Pipe installation
Tankless toilet pipes are located inside the wall, whereas tank toilet pipes are installed beneath the floor. As a result, tankless toilets are extremely unlikely to produce leaks.
Frequently Asked Questions
What is a tankless toilet?
As the name implies, tankless toilets are toilets that do not have a water tank. The best part about their modern technology is that they're an environmentally friendly and energy-efficient alternative to regular toilets. Because tankless systems use less water, they are better for the environment and your bills.
Traditional water closets account for most of the water consumed within a household; therefore, reducing the quantity of water required to flush can drastically reduce your expenses. Let's take a look at the numbers: a traditional toilet can use up to 7 gallons of water per flush.
You get an impressive figure when you multiply this by the number of times you and others who live or visit your home flush every day. When you use less water, you utilize fewer resources and produce less wastewater, which has additional significance for energy consumption and environmental effect.
How does a tankless toilet work?
This toilet is nearly identical to the traditional toilet. When you click the button or put on automatic flushing, it connects to the water pipe and flushes the wastes. The key distinction is that the tank is concealed behind the wall or behind the bowl.
It is smaller and uses less water than the traditional model. The flushing system can be connected to the water supply line directly. Learn everything, including how to repair the toilet.
Does a tankless toilet have a weight limit?
The regulation specifies that a wall-mounted toilet must have a minimum weight limit of 500 pounds (226.8 kg). The minimum weight limit is increased if you choose a floor-mounted toilet. When performing your research, consider the technical specifications of each product for exact numbers, as they may change depending on the manufacturer or model.
Is it possible to put a bidet on a tankless toilet?
If your tankless tank has easy access to the water supply line, you can install a bidet. The water for the bidet comes from the same water supply line as the toilet.
Conclusion
We are confident that after reading this article, you will have gained some knowledge regarding the best tankless toilet as the most suitable alternative to regular toilet. For your convenience, we created this listicle.
Their performance is definitely great, and with all of the amenities available, these models add a touch of luxury to your bathroom experience. You will have a better experience using these restrooms. We hope you had a great time reading our article so now you can choose wisely.