One of the most often used seats in your home is the toilet; therefore, cleaning it properly requires some thought. Nobody looks forward to cleaning the toilet, but it's a necessary duty if you want to maintain the bathroom looking its best and to prevent bacteria from accumulating inside the bowl.
Consider using disposable toilet brushes because of this. In recent years, disposable toilet brushes have gained popularity. They cost a little bit more than the majority of brushes. However, they include their cleaning agent, so the price is somewhat balanced. It's one of the more sanitary alternatives.
When using a disposable toilet brush, throw away the used portion. Read the article to learn more about the BEST disposable toilet brushes we have chosen for our list.
How We Made the List
Price
Price was a critical consideration for us. Before making this list, we ensured to check the price range of other comparable goods to the disposable toilet brushes on our list. But if you still believe that our list's choices are pricey, we advise waiting for a discount. Prices were taken into account when compiling this list in order to help you plan your budget and determine whether an item is worthwhile.
Customer feedback
Reviews have the power to influence our choice to compile this list and to increase the credibility of a business. We only took into account the products with the vast majority of positive users. The majority of informed purchasers would also read reviews about previous customers' encounters with the disposable toilet brush, which has also helped us decide what to include or not.
Refills
These cheap, disposable wand heads are a perfect option if you want a simple way to keep your toilet clean. On our list, most of the refills for disposable toilet brushes come prefilled with a disinfectant cleanser that becomes active when you submerge it in water.
Additionally, cleaning those hard-reaching areas around the bowl rim is made simpler by the hexagonal form of the brushes on our list. After you're done cleaning, you may quickly get rid of the heads with just a push of the wand's button. Most of the disposable toilet brush packs on our list come with more than 10 refills, so you should have plenty to clean for a few months.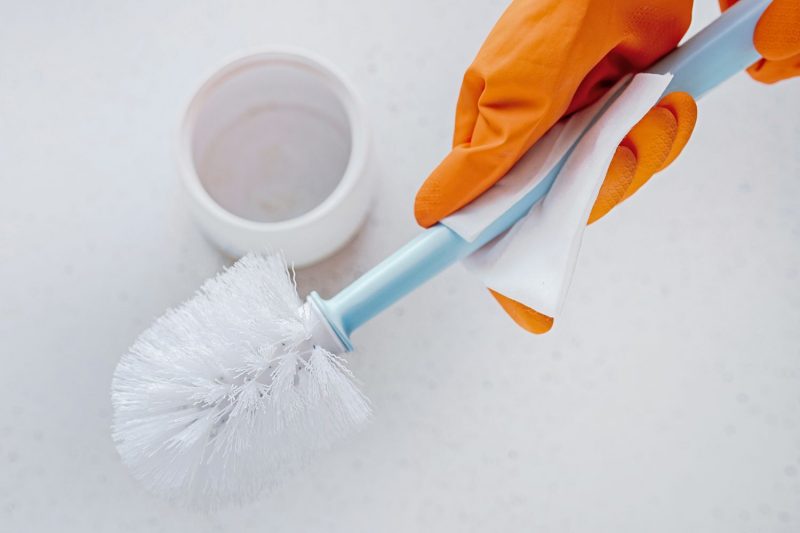 Best Disposable Toilet Brush
Best Disposable Toilet Brush: Reviews
One of the more adaptable toilet brushes on the market is the Hisucbetter Disposable Toilet Brush. It has been successfully used to clean toilets in homes, boats, RVs, and campers without any issues. These design elements allow the brush to clean plastic or porcelain dishes without causing harm.
You'd be astonished at how many choices fall short of this straightforward requirement. The product's design is reasonably lightweight and also caught our attention. Utilizing is much more convenient because of this element. After all, it ensures that your arm won't grow fatigued when removing those awful buildups and stains.
ABS plastic, an impact-resistant engineering thermoplastic, and the amorphous polymer are used to make the brush's handle. Additionally, its 16-inch length is ideal for RV bathrooms. It shouldn't be too troublesome and stays long enough to access those secret locations.
Hisucbetter did a fantastic job ensuring that this product was more than capable of satisfying the needs of a rig owner. 32 sponges with an oceanic aroma are included in the package, extending their useful life before disposal.
This premium sponge brush maintains a flawless shine while protecting toilet glazing from scratches. For the time being, all the sponges have been used; therefore, you will probably need to purchase a holder separately.
Features
The sponge block has a diameter of up to 2.5 inches, which enhances the bond between the sponge block and the plastic construction of the brush head. Since the buckle and brush head are more tightly attached, they won't come off easily. You can use one brush head to scrub numerous toilets if you add a layer of scraping cloth to the sponge block. This material can produce foam when exposed to water.
This toilet wand refill storage caddy is mounted without using any punches. To save space, you can install it in the bathroom's corner or just next to the tank for the toilet. 32 refills can be loaded at once, and they should always be kept dry.
The toilet brush kit is made to offer a simple, workable alternative for toilet cleaning that saves time and labor. It is a fantastic option for people who care about hygiene and routinely maintain the toilet because it helps to clear light toilet stains but does not remove the thick limescale built over a long period.
The toilet wand has a button on it. After pushing it, simply line up the wand with the refill interface, let go of the button to replace it, and then press it once more to eject the refill.
The Clorox ToiletWand Disposable Toilet Cleaning System is the most practical equipment for maintaining a clean toilet. The package is reasonably priced but, in our opinion, is better suited for usage in businesses than at home. Everything you need to get started on your deeper cleaning adventure is included in the kit, including one wand, six refills, and one storage caddy.
Clorox Cleaner is preloaded inside each disposable head. With its strong scrubbing action, this solution's effectiveness and efficiency will enable you to remove even the toughest stains. Additionally, you won't have any trouble getting rid of rust, calcium, or limescale, and the residues will easily disinfect and deodorize.
These toilet wands/replacement heads clean much better than a typical brush, as you might expect. The cleaning head's form is similar to a sponge, allowing you to reach every nook and cranny. Thanks to these disposable parts, you won't have to contact any gross brushes when cleaning.
The Clorox ToiletWand Disposable toilet cleaning system is unique, to put it briefly. Although you won't always have the brush at your disposal, you can always buy new cleaning wands to maintain the toilet as spotless as possible.
Features
These disposable scrubbing pads deep clean and remove stains while eradicating germs to leave your toilet bowl feeling brand new. They come preloaded with a Clorox cleanser.
To clean, swish, and scrub the toilet, these toilet scrub pad refill heads click onto the toilet wand. Conveniently pop off the toilet bowl and discard it in the trash. Any type of toilet, even low-flow ones, can be used with the Clorox ToiletWand System.
The handle uses an integrated molding technique using ABS material, which gives it a stronger structure and longer service life. The buckle switch for unlocking is more straightforward and practical; it is positioned at the end of the handle and is simple to install and remove by pressing.
For a deeper and quicker cleaning to get rid of rust, calcium, and lime stains, the sponge heads' hexagonal form can clean in difficult-to-reach locations underneath the bowl rim and drain.
With the handy caddy that keeps your toilet wand and refill heads for an all-in-one bathroom home cleaner, you can do away with the need to keep a dirty, germ-filled toilet brush.
This disposable toilet cleaning method is frequently used to clean toilets, swimming pools, kitchen sinks, and ground troughs while also fostering a healthy attitude toward your way of life. Excellent cleaning tool for the house, the dorm, and the office.
The Kevinrooty disposable crevice cleaning brush tool kit contains what you need if you're seeking an inexpensive disposable toilet brush. When compared to other toilet brushes, this product's four color options — blue, red, yellow, and a bag containing a combination of all three colors — look amazing.
Unlike most other brushes on the market, you can anticipate that this one won't be an eye pain in your RV's bathroom. But this product's good appearances aren't its sole asset. Most toilet cleaning issues can be resolved by using a toilet brush, but this is not always possible in other areas, like the toilet's tiny crevices.
The best option is a small toilet brush made specifically for gap cleaning. It is a little shiny brush for toilet corners, bath hub corners, and toilet bowl gaps. Remove the stains using a sweeper that the regular toilet brush can't reach.
This product's maintenance procedure also received rave reviews from customers. Its reputation as being simple to maintain stems from its simplicity in rinsing. It will ensure you can easily clean the product of any bacterial or dirt accumulations. Cleaning with the brush does need a little more work, though. To finish the work, users will need to scrub with a little bit more force.
Features
50 disposable cleaning brushes are included in this kit and can be thrown away immediately after use. They are more hygienic because you don't need to clean them again, which also saves you time. Brings you a tremendous deal of convenience.
The flat brush head design is ideal for cleaning the dirt in tea cups, infant bottles, window rails, door rails, keyboards, car air conditioning vents, refrigerator gaps, toilet gaps, and difficult-to-handle gaps. It can also be used as a disposable toilet brush, in contrast to the conventional toilet brush.
The non-woven brush head can get rid of stains in nooks and crannies since it is elastic, gentle, and healthy. More sanitary is the handle's length of 23 centimeters. You can also use the tail to get rid of tough stains.
It is ubiquitous, specifically made for cleaning gaps, and it can clean small portions like the corners of toilet bowls, bath hubs, windows, doors, faucet gaps, keyboards, stove tops, blinds, air vents, fans, and air conditioners.
The old filth is difficult to get rid of. When you think about it, it's extremely dull. This detailing cleaning brush is the nail in the coffin for eradicating old grime.
Look no further than this BOOMJOY toilet brush set for an environmentally friendly toilet brush choice. Its 17.7-inch long body is composed of a combination of stainless steel and plastic, making it robust to grasp and manipulate around the toilet bowl. Its head is made of quick-drying, antibacterial silicone bristles.
Along with a pair of tweezers and a circular storage base, the brush set also includes additional accessories for touch-free debris removal from the brush. According to Amazon reviewers, this choice is well-made and intended to last a long time before needing to be changed.
If used appropriately, any brush in today's world produces efficient results. For effective use, with the help of a firm sponge, you can clean the entire bowl in less time and with less effort. When not in use, this holder conceals the brush within itself.
However, due to the metal clutching, these bristles do rust quickly, so you might need to keep them away from the sun. In addition, it is very durable due to the chrome highlights on this item. You can manually remove and replace the black brush head to lengthen its lifespan.
Features
In comparison to plastic caddies, it is stronger than others. The handle's expanded length makes it easier to operate without getting wet. 16 refills may fit in the caddy, which is large enough to keep them dry in a humid climate.
You can clean every nook and cranny thanks to the wand's distinctively angled shape and the spherical sponges. The disposable brush head's logic reduces the hassle of cleaning.
Easy to replace, push forward to install, pull back to uninstall. Refills can be kept in the system's holder for simple replacement and storage.
Without having to worry about hair winding around the brush head, this cleaning technique may be used on various bathroom surfaces, including mirrors, toilets, washbasins, glass, and floor drains.
Individual toilet brush holders offer convenient, covert storage that keeps floors tidy and dry. The foam base of the bowl brush is non-skid and non-slip, and it tucks nicely next to the toilet. The holder conceals the brush head if closet or cupboard space is at a premium; the handle is comfortable in hand, and the round disc protects hands from splashes.
Traditional toilet brushes cannot compare to the Scotch-Brite Disposable Toilet Bowl Scrubber cleaning system in any manner. The scouring pads are made to go into small spots, such as under the rim, and have a bleach-alternative cleaning solution built right into the pad to boost its already well-known Scotch-Brite scrubbing ability.
Rust and hard water stains are easily removed because of the flexing head design, which maximizes contact with the toilet bowl during scrubbing. The best thing is that because the scrubbing pads are disposable, you can stop washing and disinfecting your special toilet brush.
Simply throw away the spent cleaning pad, and keep the wand in the provided caddy when not in use. Simply snap on a new scrubbing pad the next time your toilet needs to be cleaned, and you're good to go.
The beginning kit includes the wand, a caddy to store it, any refills, and five cleaning pads to get you started. The replacement scrubbers can be ordered in packs of ten. Each is offered separately.
With innovative cleaning equipment, Scotch-Brite has been working hard for many years to make our world a better place. We have every instrument you need to leave your home pristine, from maintaining organization to the most thorough cleaning.
Features
The disposable sponge refill heads on this toilet wand replacement are easily removable for disposal in the trash. It is convenient to use, comes preloaded with scrubbing liquid, and produces cleaning foam when it comes into contact with water.
The toilet may be thoroughly cleaned with the disposable sponge brush head. Each pad doesn't need to be picked up to attach or detach it. It may be simply removed without leaving any stains on your hands and thrown in the trash. There is no need to store soiled toilet brushes to avoid unwanted odors, allowing you to enjoy a nicer bathroom environment.
Push the button on the wand forward to install the sponge brush head, then pull it back to remove it. It is simple to change. Avoid getting your hands rapidly and readily soiled. You can keep the toilet handles and replacement sponge brush heads together in the base. To keep the bottom of the handle dry and keep your bathroom neat and clean, the bottom of the base is made to deter water collection.
The replacement soft sponges and scraping cloths are used to reach deep inside the toilet bowl without scratching the surface. You can also use it to clean bathrooms, sinks, pools, faucets, floor drains, etc.
Factors to Consider While Selecting a Disposable Toilet Brush
Construction
The toilet brush design is one of the first things to consider. Brushes are frequently constructed differently when it comes to the stiffness or softness of their bristles. We'd advise purchasing brushes with stiff-fibered bristles.
Additionally, make sure it is dense and can penetrate curved or concealed sections of your toilet bowl. Reading user reviews should give you an idea of how convenient each brush's structure is.
These tools will demonstrate whether a certain brush is simple to clean with. Then, you can take advantage of their successes or failures. By doing this, you can only avoid writing a bitter review soon.
Brush handle length
Owners of rigs will need to get a toilet brush with a handle that is suitable for their specific circumstances. In other words, you need a choice that isn't excessively long or short. Shorter handles will make it more difficult for users to access the interior of the toilet bowl.
As you may understand, this problem makes the cleaning process considerably more challenging. Additionally, utilizing these shorter brushes would frequently cause water to splatter on your hands or feet, which could get quite disgusting. The cleaning process is demanding since longer brushes require the user to exert more effort.
You'll find yourself working far harder on the task but still not getting the expected outcomes. In any event, we'd advise selecting a brush that is at least 14.5 inches long. Most rig conditions should be satisfied by this measurement. By measuring your toilet bowl, you can assess whether your condition calls for any more inches.
Durability
A high-quality toilet bowl brush will always be resilient and long-lasting. It shouldn't have any trouble withstanding a wet bathroom environment. In other words, extensive use will not cause corrosion or discoloration. The bristles and handle should both be considered when evaluating a model's durability.
Both of these components must be robust and able to withstand a humid climate. We advise considering alternatives composed of more durable materials, such as plastic which is resistant to chemicals. These materials will have no issue delivering outstanding and long-lasting performance.
Flexibility
The adaptability of a disposable toilet brush will significantly influence how convenient it is in general. This aspect mostly concerns the product's handle, which shouldn't be excessively stiff or flexible. A handle that is too soft will use a lot more water, and the cleaning will be subpar.
However, a hard brush can frequently flick or splash water in the user's direction. It would be nice to locate a handle with an average amount of flexibility. Customer reviews will prove to be beneficial in this area as well.
Storage
The brush you choose and its accessories shouldn't take up many areas in the bathroom. Because our restrooms are typically much smaller than residential ones, it is crucial for rig owners. Choosing a disposable toilet brush that can be tucked away quickly would be a wise choice.
This cleaning product is the last thing you want to see when entering your bathroom. It's something that should go unnoticed until toilet cleaning is necessary. Therefore, we'd advise purchasing a small choice that can be mounted on a wall or put in a drawer.
Quality
Any product's quality is crucial since it determines how long it will last. The durability and other attributes make high-quality products worth the extra cost, even though they are typically more expensive than things created from low-quality materials. Therefore, even if it costs a little bit more, make sure to choose the best disposable toilet brush created with high-quality materials.
Comfort
Even though everyone's level of comfort is different, it's crucial to pick the best disposable toilet brush that meets all of your requirements. All of your resources — money, work, and research— will be wasted if you are uncomfortable utilizing a particular product.
Price
When purchasing a disposable toilet brush, the cost is an important consideration. Sometimes a product's features get better as the price goes up, but other times you may get all the greatest and most cutting-edge features for less money. When purchasing once-in-a-lifetime items, preserving a little profit margin is essential.
Types of Toilet Brush Handles
Size
Long handle
If you have trouble bending over, long handles are a great option. It will be higher than a typical brush when not in use, but it will mostly just take up vertical space in your bathroom. You will be able to reach further with this brush as a compromise.
Short handle
Although they are typically simpler to use, in order to reach the toilet effectively, you must bend. These brushes also enable you to use greater scrubbing power due to their shorter handles. Due to the reduced handle length, we do advise using gloves and cleaning after usage.
Another choice point is how to select the material:
Material
Plastic handles
Lightweight and reasonably priced. You should be aware, nevertheless, that this substance is a germ magnet. To prevent any bacterial buildup, make sure to clean the toilet brush handle after each usage.
Stainless steel handles
Compared to plastic, these handles are significantly simpler to maintain. Although it can be heavier and a little more expensive than plastic, the material is also more resilient.
Wooden handles
For a classic, vintage aesthetic, many people prefer wooden handles. If you care about the environment, these brushes are a good option. You should be aware, nevertheless, that not all brushes are made of finished wood.
If you choose a wooden handle for your toilet brush, be especially careful to clean and protect it, as well as your toilet, since unfinished wood is particularly susceptible to bacteria and germs.
Extra feature
Anti-slip grip handles
When cleaning multiple toilets at once or using the toilet brush for a longer period, anti-slip grip handles are frequently more comfortable.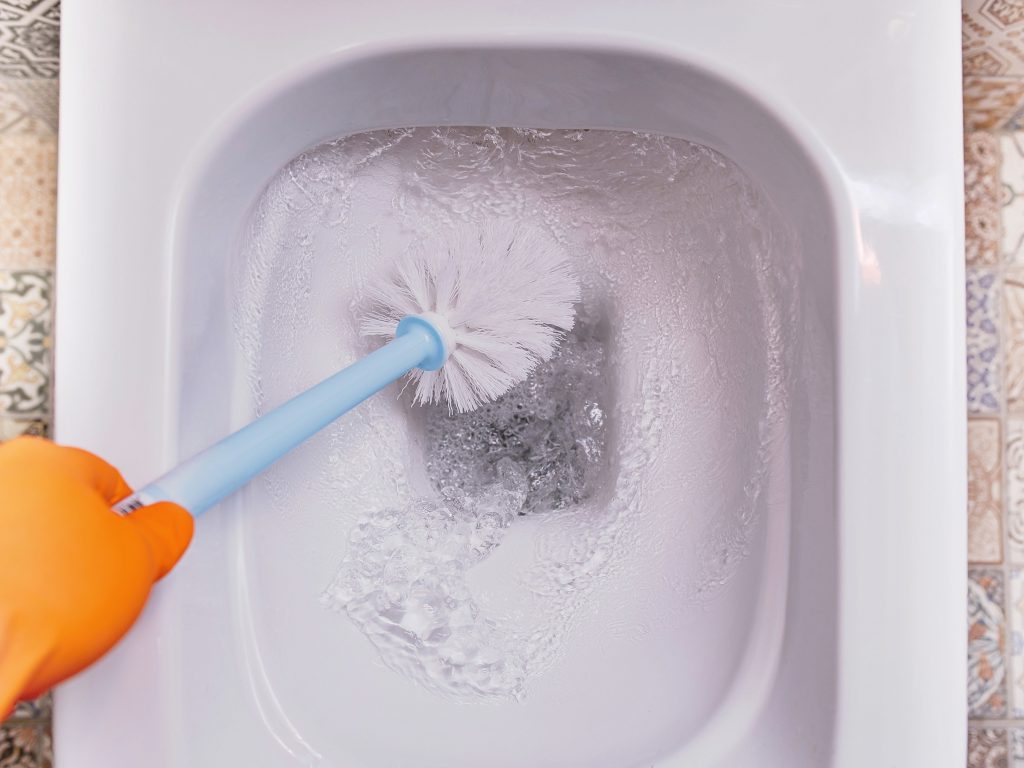 Frequently Asked Questions
What are the benefits of having a decent toilet brush?
Well, having a toilet brush in the bathroom that thoroughly removes all filth, bacteria, and mildew is a wonderful idea. A toilet brush has to get into every nook and cranny to remove germs and clean the area thoroughly.
Why should you purchase goods online?
Online shopping is not a difficult endeavor. You have the chance to evaluate the cost and quality of thousands of disposable toilet brushes right at your fingertips. You won't make any bad purchases by conducting adequate research and following the right advice. Businesses are investing more money in online shopping because it is the future. Online shopping is a smarter and safer option.
How long will the cleaning take?
This task should only take 15 to 20 minutes, depending on the brand of disposable brush you're using. While the disinfectant is working, you can work on wiping off the exterior of the toilet while following the instructions on some cleaners, which call for letting the solution sit for up to 10 minutes.
Related: Best Toilet Tank Tablets
Conclusion
That concludes our reviews on the best disposable toilet brushes available. Due to increased manufacturers' competition, it can be challenging to select the best disposable toilet brush. However, there is a certain approach to selecting the greatest products, and all the previously mentioned aspects can assist you in doing so.
The online market has gorgeous yet practical brushes that are readily available. You may choose the best toilet brush for your home to maintain every toilet's nook clean and hygienic because every brush has its characteristics and advantages. So, take into account these solutions to make your buying simple and less tiresome. As a starting point, you cannot go wrong with any of the mentioned products on our list.