If you or a family has a physical limitation, you understand the importance of having a toilet that is easy to navigate. We've researched to assist you in finding the best toilet for your needs in an ADA-compliant bathroom.
An accessible toilet is a necessary element of some people's homes. Despite this, not every manufacturer takes the time and effort to make this important piece of equipment with the attention that you deserve. While choosing the appropriate product will make your life easier, choosing the wrong one may cause you to become frustrated with a habit you shouldn't have to think about.
On the other hand, the industry responds to this demand by conducting research, conducting trials, and eventually providing accessible toilets. These toilets meet the unique requirements and make it easier for wheelchair users, individuals with malfunctioning joints, and those who use prosthetic limbs.
We've made a point in the guide to showcase some of the best ADA compliant toilet alternatives available and broaden our possibilities.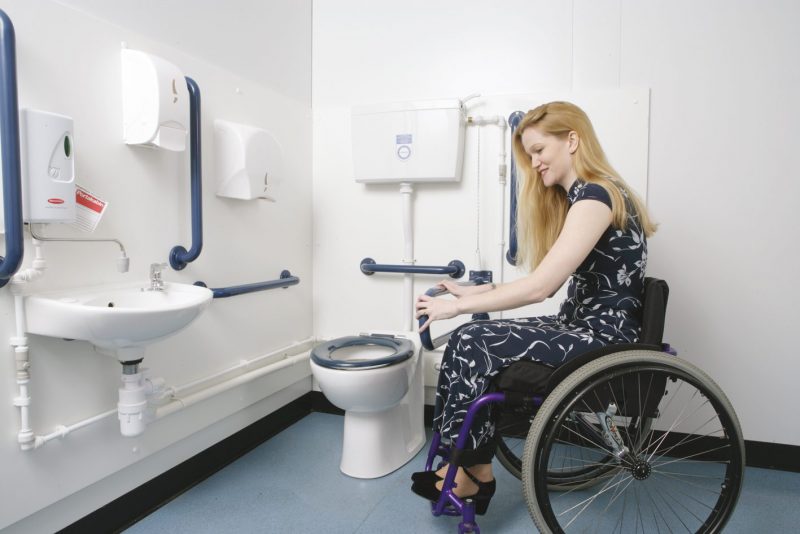 Best ADA Compliant Toilets
The TOTO UltraMax one-piece elongated ADA-compliant toilet has the quality mark of TOTO: "People Planet Water". With its one-piece design, the TOTO UltraMax instantly enhances the look of your bathroom. There are many advantages to a one-piece toilet over a two-piece model, including the fact that it is easier to clean.
They remove a potential hiding place for dirt and debris by closing the space between the tank and the bowl. Two-piece toilets are susceptible to leaks from bolts and gaskets, which is another advantage of the one-piece design. This model of TOTO toilet uses the G-Max flushing technology. Three inches wide flush valves and a huge siphon jet and trapway distinguish the G-Max flushing system from competitors.
When used in this manner, 1.6 liters of water produce a thorough cleaning flush. TOTO's people-centered design is reflected in this version of the TOTO UltraMax, which complies with the Americans with Disabilities Act (ADA) accessibility criteria while retaining the beauty and creativity expected from TOTO. SoftClose seat and chrome trip lever are included in TOTO UltraMax.
Any guest or primary bathroom will benefit from the Bradenton one-piece toilet. The seamless construction of this product, which is made of durable vitreous china, makes it easy to clean and maintain. Its elongated bowl is comfortable, with a slow-closing seat that closes carefully with a modest push. The highly efficient Bradenton is WaterSense certified, so you can save water without compromising performance.
Signature Hardware's 25-year limited warranty applies to every product. The one-piece design creates a more uniform appearance and simplifies installation. Extra comfort is provided by the elongated bowl, which extends an additional 1-1/2 inches in comparison to a circular arrangement. A built-in skirt covers the discharge pathway from view, giving the trapway a smoother and less utilitarian appearance.
Included is a toilet seat that closes slowly. Specifications for the Signature Hardware 948414-12-L are as follows: height 28-1/2″, depth 29″, width 17-1/4″, bowl height 16-1/4″, flow rate 1.28 gallons-per-flush, rough-in 12″.
Fine Fixtures was formed in 2005 by partners Joel Hartman and Joseph Ostreicher to address a gap in the interior design market. There were plenty of cheap, mass-produced vanity sets flooding the market at the time — discount lines that were affordable, readily available, and completely uninteresting
Fine Fixtures was founded to provide stylish bathroom fixtures at a reasonable price. Over the last decade, they've carved out a significant portion of the fixtures industry, appealing to the discerning consumer who values stunning design and a reasonable deal.
Fine Fixtures toilets are made of the highest quality materials and come in one- and two-piece designs. One-piece toilets, with their strikingly current and contemporary forms, and two-piece toilets, with their smooth and traditional aesthetics, will provide the maximum comfort in any bathroom.
The growth of stain and odor-causing bacteria, mold, and mildew on the surface is inhibited by a nice glazed surface. Water flush valve with cUPC certification from R&T. Bowl with a rounded siphon motion. Trapway with a 2′′ completely glass opening. The seat cover should be slowed down. On the bowl, there is a sanitary dam. Factory flushed to the nth degree. The top button is chrome-plated. With 2 cap bolts, it's ADA-compliant.
With a small elongated bowl, the DeerValley one-piece toilet offers a contemporary aesthetic to your bathroom area while conserving space. The toilet is simple to set up and keep clean. Compared to a traditional 3.5-gallon toilet, its 1.28-gallon high-efficiency flush saves up to 16,500 gallons per year without losing performance. The chair height and the elongated seat make it comfortable to use.
Deer Valley toilets are guaranteed to be defect-free for one year from purchase. The flushing mechanism and soft-closing toilet seat lid come with a one-year limited warranty. After-sale support for life is available 24 hours a day, 7 days a week online.
A simple side-press knob allows you to freely adjust the flushing process at any time, providing you with great pleasure. The skirted tramway has a sleek look and is easier to clean. Compared to other toilets, it has no corners or grooves, making the cleaning very easy. With the powerful flush system, it has a high-efficiency 1.28GPF for full flush. A fully glazed flush system that provides super quiet and powerful flushing with no clogs, leaks, or issues
DV-1F52636 Deer Valley luxury features a white contemporary ceramic toilet with a modern comfortable seat height and a dual flush, extended one-piece toilet with a soft closing seat. This toilet is simple to install and can be more convenient.
There are two sizes of supply line inlet hose included with this toilet and a supply line connection (adapter) to connect the supply line to the toilet. If your supply line is 7/8 inch in diameter, you might connect your water line directly to the toilet. If your supply line is 1/2 inch thick, you must unscrew the adapter before connecting it.
Powerful and quiet flushing one-piece toilet, fully glazed flush system has highly efficient dual-flush delivering a super silent and forceful flush – no blockages, no leaks, and no issues. The glazed surface skirting trap way has a sleek appearance and is easier to clean.
Compared to other toilets, it lacks edges and grooves, making the cleaning easy. Visiting the toilet with chair-height seating is more comfortable because there is less strain sitting on or standing up. Tall adults, the elderly, and the disabled will benefit from it.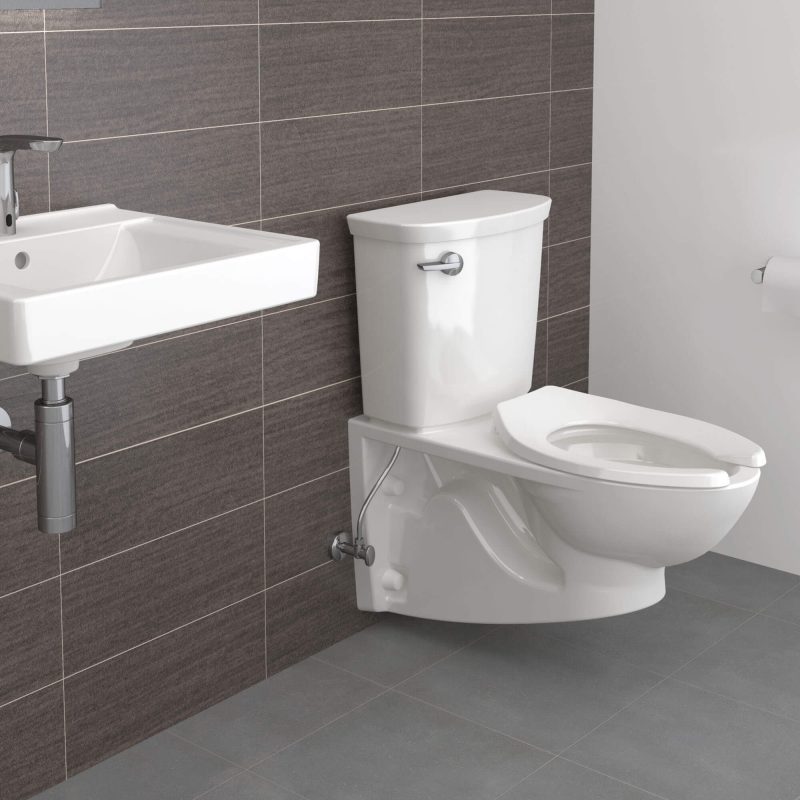 Factors to Consider While Choosing an ADA Compliant Toilet
Are you buying a toilet for a disabled person? You'll need to consider factors like bathroom dimensions and wall structure with that in mind. Also, keep in mind the individual's type of wheelchair and physical requirements. By federal ADA requirements, all public facilities must be accessible to people who use wheelchairs. When shopping for a wheelchair-accessible toilet, keep these things in mind.
Toilet bowl depth
Toilets that hang on the wall come in various designs and sizes. A wheelchair user's clean floor space must be considered while purchasing this toilet style. When the person is inside the restroom, it's much easier to move around and turn around. If you want the footrests to pass below the ball, you'll need to choose a toilet model with a shallower bowl.
Toilet bowl shape
Most people believe that a toilet bowl with an elongated shape (rectangular or oval) is more comfortable than a compact bowl (square or round). With a smaller bowl, you can gain an average of 2 inches of additional area in the front part of the bowl.
Toilet Measurements
It's best to use a tape measure to check how long it is from floor to top of the seat. The top of the bowl, including the seat, must be between 17″ and 19″ above the ground to meet ADA requirements. Although these toilets are marked, they may not meet ADA standards. Only a few of these may fall within the stated range of 16.5″.
The minimum 9″ gap between the floor and any other element in an ADA bathroom must be at least 25″ deep. Because of this, the ADA recommends toilets with undercut bowls. There is a large gap at the bottom of an undercut toilet bowl, making it easier for people with disabilities to get in and out.
Weight capacity
If you have bariatric family members or expect bariatric guests, it's good to check with the manufacturer to see the maximum weight limit for the type you want to buy before buying it. For the most part, wall-mounted toilets with the proper installation can support between 350 and 500 pounds of weight. The weight capacity of some wall-mounted toilet carrier systems is up to 1,000 pounds.
Flushing system
The flush control of an ADA-compliant toilet must be no higher than 112 centimeters from the mounting surface, which is the maximum height allowed. The flush should not be activated with more than 2 kilograms of force. You should also avoid twisting your wrists while flushing. The ADA's flush standards are commonly met by toilets, including a flush valve control to initiate the flushing process. Push-button toilets utilize more than 2 kilograms of power, which doesn't fulfill ADA standards.
Cost of installation
To buy and install a floor-mounted toilet, you'll pay between $200 and $500. A wall-hung toilet can cost anywhere between $1,500 and $2,000 to buy and install. As a result of their complexity and lengthy installation process, they are more expensive than other methods of strengthening less expensive walls. Finally, a bidet might cost anywhere from $1,600 to $4,000, so be sure to factor it into your planning.
Aesthetics
In most cases, you can only find wall-hung toilets in public restrooms. The majority of these prototypes aren't particularly eye-catching. On the other hand, exquisite options are available when installing one in your residence. You must, of course, consider all of your possibilities before making a decision.
Easy to clean
A wall-mounted toilet is a fantastic option if you have trouble bending and reaching low areas or if you despise having to clean behind and around a floor-mounted toilet. Using a mop to clean the toilet space is easy because there is no pedestal base.
Location and type of flush controls
Because the toilet flusher is permanently attached to a certain portion of the toilet, you should consider this aspect while making your purchase. Other than lever-style handles permanently attached to the tank's right or left front sides, buttons installed on the top center of toilet tanks or behind the toilets, foot pedals, and automatic touchless flushers, there are four other flushers to choose from in today's market.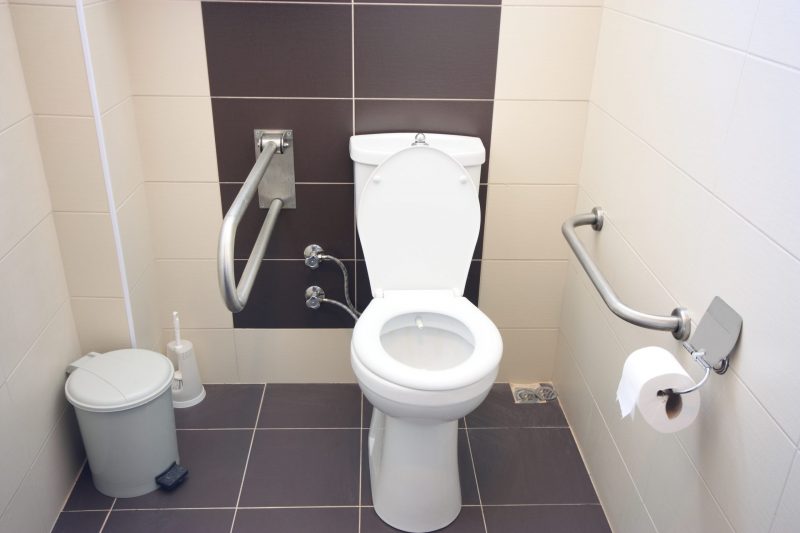 Benefits of ADA Compliant Restrooms
There are many portable toilets on the market in the United States, not simply the basic toilets that come to mind when you think of portable toilets. There are so many possibilities that you'll be able to discover something suitable for any situation. Standard alternatives are available as completely flushing and running water options. There are even portable toilets that are handicapped accessible. These are just a few of the advantages of having a portable toilet at your event.
Easier access
When you make your restroom more accessible, you'll get in and out much more easily. Adding handicap-friendly features to your bathrooms, such as walk-in showers, standing sinks, and even railings can benefit everyone. Designed with accessibility in mind, these appliances are easy to use. They also make the bathroom more accessible and safe, allowing people of all abilities to get their morning routines done quickly and easily.
Inclusivity
Having ADA compliant toilets in your home is great, depending on your event and who is invited or might attend. It makes it easier for those with disabilities to participate in the event and meet their requirements. You should have ADA complaint toilets available if anyone with a disability decides to attend your event.
Family friendliness
At the event, mobility concerns are difficult to forecast, but you'll know if there are any family groups there. Portable toilets that people with disabilities can use are much more spacious. They're great for moms who have to help their kids in the restroom, dads with strollers, or anyone who needs to carry an infant car seat. These bathrooms are large enough to handle any family problems. When there are a lot of families in the area, having a few more accessible restrooms can be a huge assistance.
Improved safety
In the restroom, there are a lot of potential mishaps. Many things can go wrong during your morning routine, from slick floors to dangerous electrics to scalding hot water. You can avoid these incidents simply by making sure your bathroom is easy to use. You can install many handrails to assist people in getting up and staying there. These include non-slip flooring and improved temperature controls for the shower and sink. Alternatively, in any case, a more accessible restroom is safer for everyone in your family.
Easy to clean
There are many corners and hard-to-reach locations in the average bathroom, making it difficult to clean. If you don't spend a lot of time cleaning your bathroom, it's easy for dirt and grime to accumulate. More space and easier access to nearly every element of the room are two benefits of having an accessible bathroom. As long as the sink or toilet is attached to the wall, you can get below it. Cleaning the shower is easier when you don't have a tub lip to hide filth.
Less tripping hazards
The bathroom is a high-risk area for mishaps. During your morning routine, many things can go wrong, including slippery floors, dangerous electrics, and scalding hot water. You can reduce the risk of these accidents by designing your bathroom with accessibility in mind. You can install multiple handrails to help people get up and stay on their feet. There are also non-slip flooring options and advanced temperature controls for your shower and sink. Accessible restrooms are safer restrooms, regardless of how you look at them.
Required Needs of an ADA Compliant Restroom
Space around the toilet bowl
There are numerous considerations of installing an accessible toilet that non-disabled people might overlook. Some wheelchair users, for example, may require the assistance of one or two carers to raise them onto the toilet seat. This implies that there should be enough space around the toilet bowl for the caregivers to move around comfortably. This isn't always the case, especially because many toilet bowls are tucked away in the corner of the room to save space.
An accessible toilet room should have a minimum of 2200 millimeters x 1500 millimeters in size. This is required to account for devices that protrude into the room, such as a baby changing station or a heater, limiting the amount of space available for a wheelchair and several people to move around in.
Easy-to-use facilities
Paddle-style toilet flushes that move down with minimal effort are optimal for those with restricted muscular movement, while taps with grip levels give a similar easy-to-use function. Dispensers with a comparable level grip or heat up when a hand is underneath them are also designed to make life easier for impaired people.
Grab rails
In an accessible toilet, having aid for balancing and moving is essential, and grab rails are ideal for this. They could be in the shape of movable hold rails on the side of the toilet bowl or a permanent grasp rail connected to the wall.
Height adjustable facilities
The height of the toilet bowl, bathroom basin, and soap dispenser, among other things, should be lower than in a regular toilet (or at least height-adjustable). They can be "exactly the perfect height" for someone in a wheelchair in this way.
An alarm system
If something goes wrong while a disabled person is using the restroom on their own, they must be able to summon assistance from the outside.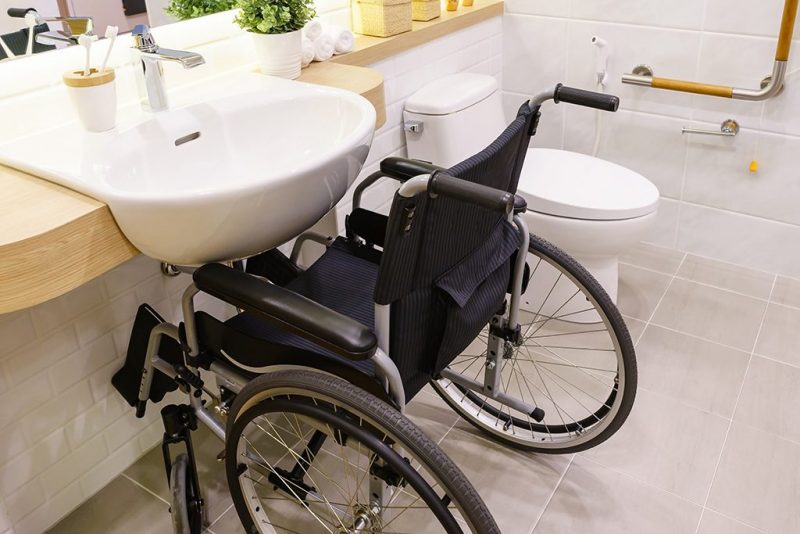 Frequently Asked Questions
What are ADA-compliant toilets?
As you might have guessed, an ADA bathroom is one that is designed with people with disabilities in mind. If you're a business in the process of completing ADA-compliant renovations, you may be interested in learning more about the process. Most of your concerns will fall on the shoulders of your contractor, who should be well-versed in ADA regulations.
The ADA, or the Americans with Disabilities Act, specifies the requirements for making a restroom accessible to people with disabilities. A toilet with the proper dimensions, installation, and turning space is needed to convert a residential bathroom into an ADA-compliant restroom.
What is a comfort height toilet?
So, we've been discussing and comparing various comfort height toilets (also known as tall toilets), but what exactly are they? What sets them apart from regular issue toilets? A comfortable toilet is roughly the height of a standard chair, measuring 17 to 19 inches from the ground to the seat. On the other hand, a standard-issue toilet is 15 inches from the ground to the seat. The ADA-compliant range for any toilet is 17 to 19 inches, established to be more convenient for persons with physical disabilities and the elderly.
In the installation, tall toilets are similar to conventional toilets, save for their height. Of course, you should seek the assistance of a skilled plumber since even minor installation issues can have serious and unpleasant effects. All water connections, including those between the tank and the bowl, must be secure and leak-free.
What does ADA mean?
An ADA label on a toilet shows the 2010 American Disabilities Act Standards for Accessible Design. These design guidelines specify how bathrooms and bathroom accessories should be constructed to accommodate mobility-impaired and disabled individuals. It's vital to remember that if you're picking a toilet for a public bathroom rather than a home bathroom, you're legally compelled to purchase one that fulfills these ADA standards.
When compared to regular toilets, ADA-certified toilets have a few differences. They have a comfort height design for starters, which means the toilet seat is raised 17 to 19 inches from the ground instead of the 15 inches seen on typical non-ADA toilets.
Toilets that are ADA-certified must also feature an easy-to-use lever flush mechanism. Because of these criteria, many dual-flush toilets with a button flush mechanism rather than a flush lever are not certified as ADA-friendly.
What does WaterSense mean?
The WaterSense mark signifies that a toilet meets the 2006 Water Sense Initiative standards set forth by the Environmental Protection Agency. According to this project, WaterSense-labeled toilets must use at least 20% less water per flush than the ordinary toilet.
A toilet must use 1.28 gallons of water per flush or less to be branded with the WaterSense certification, thanks to a federal regulation that went into effect in 1997 and demanded that toilets use 1.6 gallons of water per flush or less. Water usage per flush is computed as the average of a single full flush and two partial flushes for dual flush toilets.
WaterSense-labeled toilets are estimated to save homes roughly 16,000 gallons of water per year compared to non-WaterSense toilets, savings that can be seen on your water bill. It's also worth noting that certain areas, such as Los Angeles, require all companies and people to use WaterSense or more water-efficient toilets to save water.
What is the difference between a macerating toilet and a standard toilet?
The macerating toilet can be installed on the same level as a waste pipe and still work. Macerating toilets are more expensive than ordinary flush toilets, but they are still worth it because separate waste systems' added convenience and cost benefits. This is accomplished by bending the toilet's bottom into the sewer. The waste is subsequently gravity-fed into the sewers or your wastewater system. This is how it seems.
The excrement is ground into a slurry by the macerating toilet. The slurry is then pushed into a drain or other waste disposal system from the toilet. This permits the toilet to be installed at the same level or even lower than the waste pipe. Because a 3-centimeter pipe is standard, the toilet can be placed away from existing waste pipes. This technique eliminates the need for a pipe to descend for gravity to remove the waste.
What does it mean to be rough in?
When it comes to toilets, a rough-in refers to the location of the waste hole in the floor about nearby walls. 30 centimeters is the standard rough size. However, there are various variances. The waste pipe intersects the finished wall. Therefore measurements are collected. For example, the TOTO toilet features a kit that can accommodate a 25 centimeters or 36 centimeters rough-in. The rough-in for macerating toilets is the same as for normal flush toilets. For more details, please see the preceding.
What are one-piece and two-piece toilets?
Toilets are often available in one of two configurations: one-piece or two-piece. One-piece toilets have an integrated tank and bowl, eliminating the unclean crevice between the tank and bowl. One-piece toilets are typically found in higher-end residences, although they are also available in low-profile, low-height designs.
The most popular type of toilet is the two-piece toilet. The majority of home installations use these designs. Mansfield has a wide range of stylish, high-performance one-piece and two-piece toilet designs to suit almost any home décor, from modern to classic.
Which seat should I get?
Even if you have the most costly and advanced model available, it will be useless without a comfortable seat. Most two-piece toilets are offered without a seat, although one-piece toilets usually have one. Although the plastic rim appears to be a simple product, it is a completely different topic that deserves its webpage.
They're available in various colors, styles, materials, cleaning options, and special features. We recommend that you review our expert guide to selecting the ideal seat for you, which can be found above.
Conclusion
Those who have used the TOTO Ultramax toilet have expressed satisfaction with the toilet's height and flushing power. The toilet's color and seat options are also mentioned in positive evaluations. The state of the TOTO Ultramax toilets upon delivery is the most prevalent source of customer dissatisfaction.
We don't normally think about rockets, plants, computers, or entertainment when discussing ways to improve the world. We tend to overlook the importance of the little things that help persons with disabilities lead more independent lives, and the best ADA compliant toilet is the one that they'll need.
Buyers on a tight budget, on the other hand, have other choices. If that's the case, the Signature Hardware 948414-12-L Bradenton one-piece toilet is an excellent choice. Ultimately, all five goods on our list are excellent in their respective fields. You can't go wrong with anything you pick from this list!