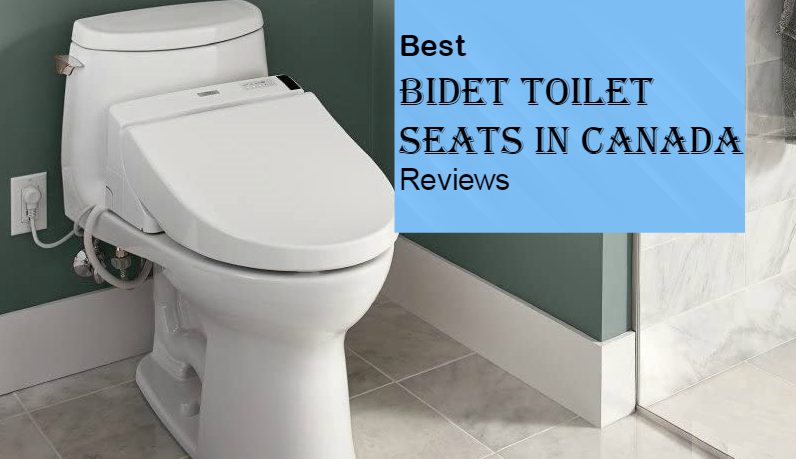 Are you looking for the best bidet toilet seat in Canada? We have got you covered!
The use of bidet has always been rampant in Asian countries, and it's gradually making its way into the US and other countries beyond. Aside from the USA, several countries are also implementing the use of bidet in their toilet routine, and that includes the UK, Australia and even Canada.
In this post, we have compelled a list of the best bidet toilet seats in Canada which varies from different functionalities to styles, prices and specifications. If you are looking to purchase one of the best bidet seats in Canada, this article will ensure you make the best choice.
Best Bidet Toilet Seat in Canada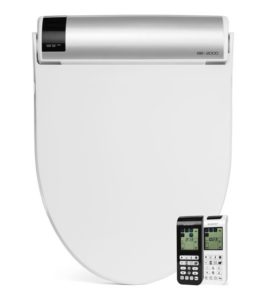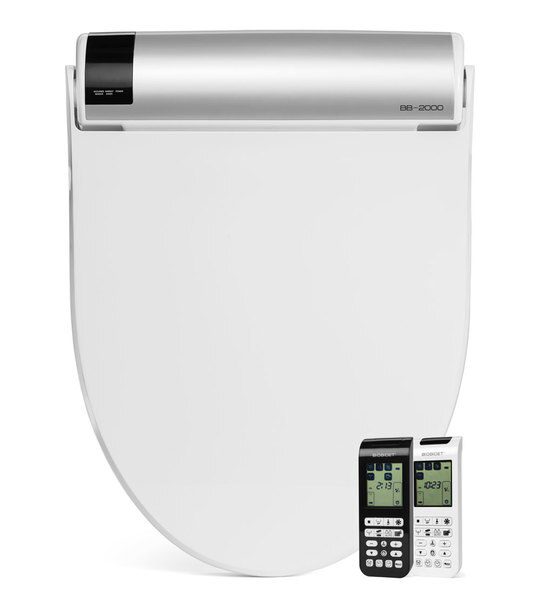 This bidet seat is one of the reputable products from the Bio Bidet Company, which has held a more positive review from satisfied users. What makes it stand out from other bidet seats is for its advanced features.
One of the fantastic features of this bidet is the hybrid heating technology which offers constant warm water during your whole experience of using it. Thus, when using it, you don't have to wait till the water heats up before using it, it runs continuously. This feature is excellent during the winter period when the water can be all chilling.
It also has a 3 in 1 stainless steel nozzle that offers a posterior wash, the feminine, which is very suitable for females and the vortex washes that also increases better hygiene. The HydroFlush technology present in it houses a motor-powered nozzle that is wider and angle sprays.
The nozzle also self-cleans from the inside out, making it more hygienic for the genitals. The available blue led night light present in it helps for night navigation when the user wants to use the toilet. Aside from having a soft-closing lid, it also has a wireless remote control that makes use of batteries, which controls all the features in it.
Pros/ Key Features
Hybrid Heating
Stainless Nozzle
Patented 3-in-1 Nozzle System
Patent Vortex Wash
Wireless Remote
Broader Water Stream
Oscillating and Pulsating Clean
Posterior & Feminine Wash
Bubble Infused Aerated Wash
Exceptional HydroFlush
Nozzle Auxiliary
Night Light
Heated Seat
Warm Air Dry
Effective Deodorizer
Slow Closing Seat
It's power-saving
Cons
No automatic open and close lid
Only images on the remote control without any written words.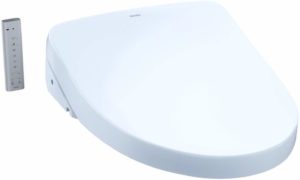 The TOTO S550e washlet is almost similar to the BioBidet Bliss BB2000 because of the advanced technology that makes it a luxurious bidet toilet seat in Canada. It comes with a front and rear nozzle that produces warm water for cleansing.
This nozzle comes with five adjustable temperature and pressure settings for user preference.
The water is heated and also continuous, which makes it convenient for everyday use as it never runs out when needed. While the seat is heated and suitable for cold weather, the nozzle also oscillates and pulsates when in use.
It comes with an air deodorizer that purifies the air and neutralizes undesirable or toilet odours after using the toilet. This air deodorizer also comes with an adjustable temperature setting which users can help set to their choice.
One feature users might prefer in this bidet seat, unlike the BioBidet, is the automatic opening and closing of the lid. That is, the lid automatically opens when a user approaches it and routinely closes when the user is done.
TOTO S550e also comes with Ewater+ technology. What this technology does is to keep the toilet bowl clean after every use continually. Additionally, it also cleans the inside and outside of the nozzle.
Pros/ Key Features
EWATER+ and pre-mist feature
It has an auto open and close seat lid
Headed seat with adjusted temperature
Mountable slim touch-sensitive remote control
Oscillating nozzle in pulsing mode
Rear and feminine wash
Tankless endless warm water supply
White LED night light
Air-dry feature
Soft closing lid
It is easy to use and install
Robust polypropylene
Cons
The price might be too high for some interested buyers
It only has the image icons on the remote control with no written words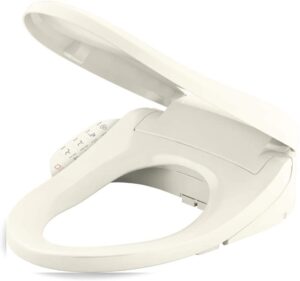 From the Kohler store, this bidet toilet seat is another one of the reputable bidet toilet seat ones can find in Canada. It comes at a fair price even with other improved technology that makes for comfortable use. This bidet seat comes with a heated seat in which the user can adjust the temperature up to five settings, and same the temperature of the warm water which can be adjusted too as users want. The nozzle is made of stainless steel that comes with an automatic UV light that self-cleanses.
The seat can quietly soft-close after your toilet business, and there is also an available LED nightlight that helps with proper navigation when visiting the toilet in the middle of the night. There is a deodorizer which nullifies the odor of the bathroom and also an air dryer that air dries with adjustable temperature. The nozzle comes with a pulsing sensation for effective cleaning. However, if you are looking for a bidet seat with external remote control, this bidet seat may not be for you. Instead of remote control, it comes with a side panel that has all the buttons for the functions.
Pros/ Key Features
Soft closing lid
Comes with an available deodorizer
Oscillating self-cleansing Stainless steel nozzle
Heat seats and warm water provision.
Adjustable temperature for both water, air dryer and heated seat.
Side panel with buttons
LED light night for night navigation
Cons
No remote control but a side panel which can be inconvenient for some users.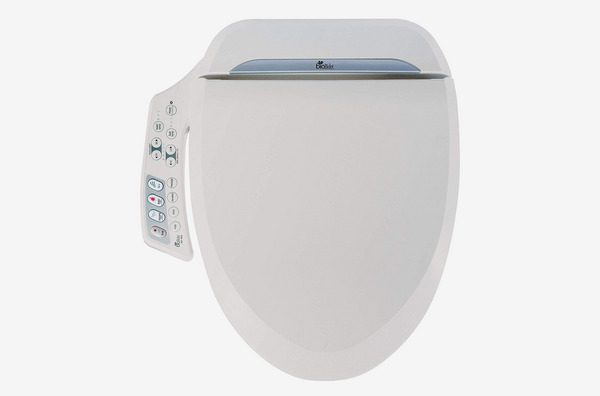 With over one thousand plus reviews on Amazon, the BioBidet Ultimate BB-600 is one of the best budget-friendly bidet toilet seats in Canada. This bidet seat is very suitable for both adults and children alike as it requires little technical usage or cumbersome usage.
To make it suitable for every toilet owner, you can either choose either the elongated or round style to prevent it from not fitting. The seat cover or lid slowly closes with a quick release. The nozzle may be made of plastic but it self-cleanses and can be adjusted to any preferred position.
The seat is heated and produces warm water for users. It also has an inbuilt tank reservoir that stores warm water; thus, there is no shock having the first splash of cold on your butt when you want to use your bidet. It also has an air-dryer to dry the user after using the bidet. Although it does not come with a deodorizer; some users might not mind about this considering how low the price is. Also, it does not come with a remote control but a side panel that houses all the functions. Additionally, with this bidet, you can target either the front or the rear part of the genital when washing.
Pros/ Key Features
Heated seat
Warm water provision
Air-Dry feature
Budget-friendly
Adjustable washing settings
Rear and front washing
Easy installation
Soft closing lid
Cons
There is no deodorizer.
No external remote control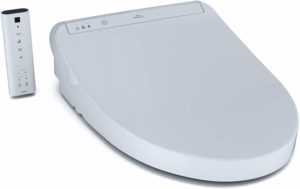 With a high number of advanced, luxurious features, the TOTO K300 bidet or washlet is another classic bidet seat for a Canadian user or those who live in Canada. The K300 is one of the best TOTO products, and with it, you won't be missing much from its luxury model, which is the TOTO S550e. This bidet seat comes with a front and rear wash that makes it very convenient for the users. Also, you can customize the rear or front wash to the setting you want it to be for proper convenience.
If your toilet comes in a round shape, this bidet 'may' not be your go for since it comes in an elongated model only. Aside from that you still get to enjoy an instantaneous warm water flow, which means that you don't have to wait for the warm water to heat up before use as some bidet seat does. Its vital features include a dual-action wand that self-cleanses before and after each use; promoting good hygiene. It is likewise easy to install, so you don't have to call a plumber to do the job. However, if you are on a tight budget, the price 'may' be above the price you set out. Or else you want to consider the features and go with it.
Pros/Key Features
Soft Closing Lid
Heated Seat
Warm Air Dryer
front and rear wash
Adjustable water and heated seat settings
Instant warm water flow
Automatic Deodorizer
PREMIST Cleansing
External Remote control
Self-cleaning wand
Slim Design
Dual nozzle for targeted wash
Oscillating spray
External remote control
Cons
No automatic open and close
No nightlight for night navigation
The price is high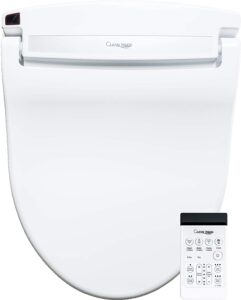 This bidet is an excellent product from the Clean Touch brand. Even though this may not be a famous brand among bidet users, this bidet toilet seat can also be regarded as one of the best in Canada. Its main selling point is that it has all the modern features of a bidet and also comes with a fair price. Importantly, it comes with a 2 Year Limited Canada Warranty that helps with repairs for users within Canada. This model comes in both round and elongated versions with little price differences for users with a different preference. When used with the right model, it likewise promotes the sturdiness and appearance of the toilet as a whole.
As an advanced bidet seat, you should expect features that are present in any high-class bidet of its range. This includes a soft closing lid that warm heats for its users when in use that prevents cold butt. The nozzle comes as a stainless steel nozzle and has a 3 in 1 nozzle that self-cleans, oscillates and also pulses while cleaning. The bidet houses a warm dryer that dries you up after use. Users can adjust the setting of the water flow, the seat heat, the water pressure and the warm dryer temperature to their penchant. With its external remote control, you can easily control every activity of the seat.
Pros/Key Features
Soft closing lid
Two Auto Power-saving functions
Stainless steel adjustable nozzle with five levels
Feminine and Posterior wash
Self-cleaning nozzle
Warm air dryer
Heater seat
Night light
Wireless Remote
Pulsing and massage cleaning features
Fair price for its features
Exclusive Canada warranty
Cons
No automatic open and close
It may not fit all toilet types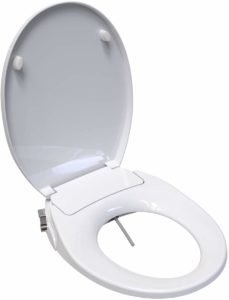 The Saniwise bidet toilet seat is a non-electric bidet seat you can consider if you are on a tighter budget. You may not get all the advanced features of a luxurious bidet seat from this bidet, but with its price, there are useful features you would enjoy as a user. These features are likewise seen in all advanced bidet seats. One of these features is the dual nozzle that has a separate front and rear spray that can be easily adjusted according to preference. Additionally, this nozzle can self-clean, which equally maintains the hygienic process; this particular feature is top-notch when looking for a bidet seat.
The installation process is awesomely straightforward and can be done by any non-disabled adult with no experience of being a plumber nor even contacting a plumber. Also, because of how less automated it is, it is very suitable for teen kids as it has no button for releasing the water but an easy one-lever control.
One feature you will also enjoy on this bidet seat as a user is a soft-closing lid. This feature prevents the slamming of toilet seats after use. You have the option to choose either the elongated or round version depending on the shape of your toilet.
Pros/ Key Features
Fair price for those on budgets
Easy installation
Dual Nozzle for front and Rear wash
Adjustable water flow
Self-washing Nozzle
Soft closing lid
No electricity usage for users who prefer it
Safe for kids to use
Cons
Very Few Advanced Features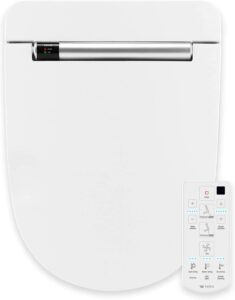 Some Canadian bidet users may not be familiar with the VOVO bidet brand, and that is because they are not very popular like the TOTO, BioBidet or Brondell brand of bidets. Yet VOVO bidet seats have proven to be reliable since it debunks in the market. There are quite a few varieties of bidet seat in their store, and this includes the 4000, 4100, 3100, 6000, and 6100. However, the 4000 model is the best and more advanced from the others.
Whether you are going for the round model or the elongated model of the VOVO VB-4000SE electronic bidet toilet seat, you will equally enjoy its benefits. It comes with a 3-in-1 stainless nozzle that has the posterior, feminine and turbo wash which pulses while washing. These nozzles self-cleans and its pressure can be adjusted according to the user's desire.
The automated smart, eco-friendly energy saving mode aids in power reduction and consumption. Which likewise aids in less tissue paper usage. Considering the features in it, the price isn't high when compared to other top bidet seats in the market. And to top it all off, the installation process is not cumbersome but easy. There is an external remote control for controlling all the features in the bidet seat, making it convenient for users.
Pros/ Key Features
Eco-Energy Savings mode
Price fair for the features
3-in-1 stainless steel nozzle
Self-cleaning nozzle
Heated seat
Adjustable water pressure
Heated automatic dryer
LED nightlight
Deodorizer
Adjustable dry and heat temperature
External remote control
Easy installation
Cons
MAY come with missing parts.
Do Canadians use bidets?
We should have answered this question in the first part of this article; nevertheless, it makes no difference where the answer to the question is placed.
Simply answering, YES, Canadians do use bidets, and there is no law against it in Canada. However, if you feel you still need more information on this, you should contact your local attorney.
Why it seems that few people use or talk about bidet in Canada is because most Canadians are less aware of it. Just like in the United States of America, bidet, bidet seats or sprays are still growing, and with time, its usage will expand in both countries.
What type of bidet can you find in Canada?
In Canada, the bidet toilet seat is not the only type of bidet you will find there. According to preference or toilet types, anyone can find and choose to install any bidet. These include an integrated bidet toilet, bidet toilet seat, bidet spray, bidet attachment and even a portable traveller bidet.
In conclusion, when purchasing a bidet toilet seat in Canada, ensure that your toilet measures or is in-line with the type of bidet seat you will be buying to avoid inconveniences. If you own an elongated toilet, go for an elongated bidet toilet seat and if you own a round toilet, purchase a round bidet toilet seat for proper fitting.