While it's not hard to find a toilet seat cover on the market, it can be difficult to find one that works the way you want. Let's be frank, most covers are too small, even for standard toilets.
Even when you end up with a right-sized toilet-seat cover, it turns out to be too thin and ineffective in protecting you from germs. Any water left on the surface of the toilet seat could easily damage the cover exposing your skin to the germs on the toilet seat.
Once we realized what the buyers were looking for, we researched and reviewed the market's most reputable and lesser-known seat covers. We chose both; reusable and single-use toilet-seat covers that are effective and convenient to use.
Whether you need a toilet-seat cover for your kids' potty training or as a precaution when using shared restrooms, our list has the best toilet seat covers for all buyers. Therefore, let's discover more about the best brands of toilet seat covers and their characteristics.
How We Made This List
Reliability
We prioritized developing a list of seat covers that gets the job done. We looked for reliable products that would protect you from the germs on the toilet seat. Many toilet-seat covers that are advertised as travel-friendly are not safe.

So, we decided to find seat covers that are thick and large enough to prevent contact between the toilet seat and your skin or clothes. Sadly, there are only limited seat covers that are the right size for the purpose.
Quality
A toilet seat cover should be made of a sturdy material so that it can last. Reusable toilet seat covers should be made of a comfortable but durable material.
While you don't require disposable seat covers to last, they should at least be strong enough not to tear away while you are using the toilet. These covers should be water-proof, so the leftover pee or the sprinkles from the flush doesn't seep through the seat covers.
Portability
Since most people intend to use the toilet seat covers at restrooms during travel, we selected compact products that can be carried in a bag, purpose, or even your pockets.
We prefer seat covers that come in a pocket-sized pack or are available with individually packed seat covers. So, any product you choose from our list can be easily carried with you wherever you go.
Flushable
We only add those disposable toilets that are biodegradable and flushable. You should not have to hold them or carry them to dispose of the seat covers. You can get rid of the dirty seat covers by flushing them down the toilet as soon as you are done.
Easily washable
All the reusable seat covers that we add to this list are machine washable. You don't need to spend any extra time cleaning them manually. These seat covers are made of fabric that is fit for machine wash. Now, let's see the best brands!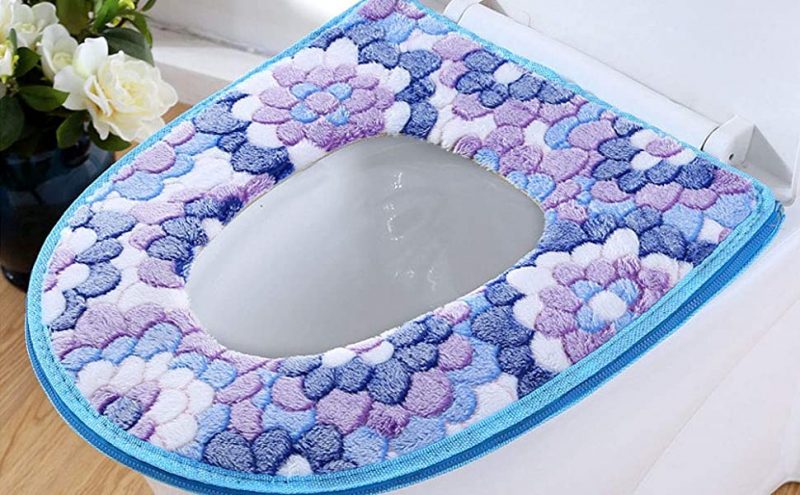 Best Toilet Seat Covers
Best Toilet Seat Covers: Reviews
This portable, disposable toilet seat cover will put your mind at ease when using a public restroom. The biodegradable material makes it completely flushable. But at the same time, these are thick enough to protect you from the disease-causing microbes on the toilet seat.
These are best for carrying with you when you need public restrooms during travel. These are very compact and can easily accommodate in your backpack. These would easily fit in your back pocket.
Features
Very useful for kids' potty training
These are just the right size to cover the entire toilet seat. So, your kid is not exposed to the germs even if they put their hands on the seat. Once your kid is done using it, you can flush it away since these are 100% biodegradable.
Easy to use in public restrooms
These are designed so you can easily use them while on the go. Once you open the package, pull one of the covers, you simply unfold it, disconnect the joints, and lay it on the seat. So, there is no complicated way to use it.
These are easier to carry anywhere you go
With a size of 4.5*3, you can easily fit them in your pocket or carry them in a small bag. These fit anywhere, so you can take them wherever you travel and have these ready when you need to use a public restroom.
This brand has very hygienic, pocket-sized, travel-friendly toilet seat covers. These are 100% biodegradable, so you can flush these out. The extra-large coverage helps avoid getting your skin to touch with the toilet surface.
You can keep these in a diaper bag, purse, or even in your pocket. You can use them to avoid contact in unsanitary public restrooms. Also, these are water-proof and disposable.
Features
Thick and secure covers for protection against germs
These are the best for travel and can help you stay safe when you need to use a public restroom. Thickness adds a layer of protection against microbes present on the seat. These are also water-proof so that the urine or flush water cannot seep through these covers.
The central flap helps avoid slippage during use
A common issue with some toilet covers is that they do not stay in one place during use. However, these Rockland Guard seat covers come with a central flap that can be suspended inside the front of a toilet bowl to avoid slippage issues.
Easy to dispose of once you are done using it
These are 100% biodegradable, so you can easily dispose of them by flushing them off. The virgin pulp material these are made of is safe in the sewer system.
These are very comfortable, stretchable, and washable toilet seat covers that can protect you from all kinds of germs in your toilet seat. You can easily install these on both; round and elongated toilet seats.
An additional benefit is that you don't have to sit on the cold toilet seats during low temperatures. These are made with 100% Rayon, which keeps the seats very soft and warm. Besides the comfort it offers you, you will also find these highly durable.
Features
You don't experience shedding or fading over time
They are made with high-quality acrylic fibers that don't lead to shedding or fading of these covers even with prolonged use. The material is also very comfortable to sit on.
It doesn't slip off when you use the toilet
A common issue with other seat covers is they slip off repeatedly during use. That can cause the skin to come in contact with the seat surface.
However, this toilet cover is installed in a way that eliminates the slipping issue. These seat covers have snaps and a plastic ring firmly attached to the toilet seat.
You don't have to sit on cold toilet seats anymore
These are soft, warm, and very comfortable on your skin. It is common to hate sitting on the toilet seat during winters; these seat covers eliminate that issue. You feel amazing when you have to sit on one of these covers.
This is a premium quality seat cover that can fit all kinds of toilet seats. Made with plush fabric, these are very comfortable and easily washable. The zipper makes it very easy to install and reinstall.
You will find these soft and warm to sit on. These are water-proof and very efficient at protecting you from microbial germs.
Features
You can choose your favorite color and design
The visual appeal of these covers adds to the USP of these products. These are available in several colors and designs and can enhance your bathroom's overall look and feel.
Installation is super easy
You only need to unzip the cover, put the toilet cushion into the seats, and zip it back. A slight adjustment, and you have made the cover. Once you install it, these don't slip off and are convenient to use.
These are easily washable
The material used to make these covers is easy to wash manually and with a machine. Moreover, the quality of the fabric is so good that these covers stay as good as new. The zipper makes it easier to uninstall for cleaning purposes.
Once you wash and dry these, they are properly sanitized and germ-free to use again. If you prefer, you can wash them by hand, but these can also be washed in a machine. Buyers have found these to be very durable.
These are one of the finest disposable toilet covers that are easily one of the best out there. Unlike other thin and unreliable covers that you may find in public bathrooms, these are very thick, sturdy, and offer almost 20% larger coverage.
The soft and sensitive fabric makes you comfortable even if you sit longer. The extra coverage ensures that even your clothes or legs are not exposed to the germs on the seat. It doesn't leave any area of your body exposed to the seat.
These covers have a plain and soothing design. Each cover is individually wrapped, making it portable and easy to carry while on the go. You don't have to carry all the seat covers with you; you can only keep a few in your bag, purse, or pocket.
Features
Ideal for protection from germs in shared bathrooms
While most seat covers are not 100% effective and may leave you exposed to germs, this one has a large size that shields your body from any kind of contact with the germs on the toilet seat. These not just cover the surface but also have plenty of overhangs.
It doesn't let you get wet
These covers also eliminate the common problem of water sprinkles getting through to you. These covers are pretty thick and are made to be water-proof. You can use the flush with these on, and you would still not get wet.
These have sticky tabs that don't leave the glue on the seat
Unlike other seat covers made for travel, these come with high-quality sticky tabs that do not leave glue on the seat. No one wants to hand-pick the glue left on the seat. Fortunately, you don't have to do that with these toilet covers.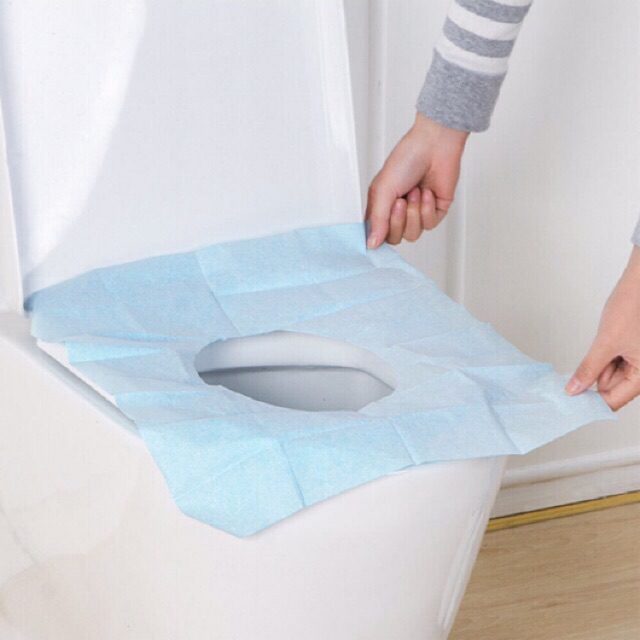 Factors to Consider When Choosing the Best Toilet Seat Covers
There are some factors that you should consider when you search for toilet seat covers in the marketplace. So, we thought to make your search easier and make this guide. Thus, here are the things you should pay attention to:
Disposable or washable
When choosing a toilet seat cover to protect from germs, you can use a completely disposable or washable cover. Some people prefer disposable covers while traveling because a single pack can last a long time, and there is no need to wash the cover.
On the other hand, a washable or reusable toilet seat cover only needs to be bought once. It may be good for your kid's toilet in your home. You only need to buy it once and get it cleaned periodically.
Size
It should at least cover the entire area of your toilet seat, so there is no contact of the body with the seating area. If you are buying it for kids, you may use a slightly larger size so that the kids don't end up with their hands on the toilet seat as support.
A larger seat cover would extend on the sides. This way, even if the kids need to keep their hands on the seat to support themselves, the cover would prevent them from touching the seat and being exposed to all kinds of microbes.
Waterproof
You don't want the seat covers to be wet when you sit on the toilet. Most of these high-quality seat covers are waterproof, so if the toilet seat is a little wet when you place the covers, the water will not seep through it.
Easy to use
While some toilet seat covers are simple places upon the surface of the seat, others may require some minor installation. Make sure that the toilet cover is easy to use. It should not slip away when sitting on the toilet seat.
You may find some reusable toilet seats with a zipper that helps the cover stay in its place without sliding away during use.
Easy to clean
If you plan to buy a washable seat cover, you should check if the material is easy to clean. Most top covers are machine washable and easy to clean for reuse. You may also wash them manually for your peace of mind.
Not all toilet seat covers are washable. Some are disposable and flushable. But it may be more convenient to use a washable toilet cover for your home toilet.
Also Read: Best Self Cleaning Toilets
Quality
Seat covers come in various distinct qualities. Some are strong, water-proof, and soft, while others may wear and tear over a short period. Premium seat covers may be very comfortable and suitable for all skin types.
If you buy a washable seat cover, make sure that it's comfortable to sit on and is made of durable fiber. On the other hand, a disposable toilet cover need not have those qualities but should get the job done. Disposable covers should be water-proof and have good thickness.
Disposable vs. Washable Toilet Seat Covers
You may be unsure whether to choose a disposable or a reusable toilet cover. Disposable toilet covers are the best for travel use. Public restrooms may be brimming with germs, so a disposable seat cover should be easy to carry, use, and then flush off.
It is safer and more convenient to dispose of the seat cover once you use it in a public restroom that several people visit daily. On the other hand, it may be expensive to use a disposable seat cover in your home. A washable cover may be a good solution for your home bathroom.
Since most reusable seat covers are machine washable, you don't have to worry about cleaning them manually. Once you wash and dry them, they are safe enough to be used again.
Disposable seat covers do not need to be installed. They are simply unfolded and placed on the seats. On the other hand, reusable seat covers may have an installation mechanism to properly attach to the seat without slipping.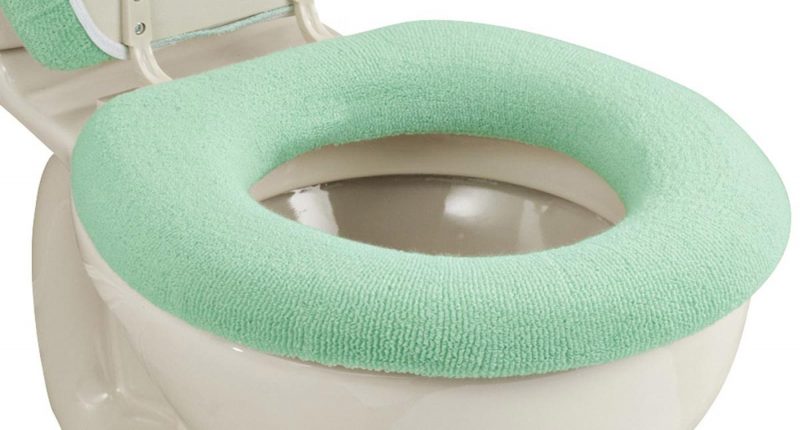 Frequently Asked Questions
When should I use a disposable toilet seat cover?
Using a disposable seat cover is safe when you use a public toilet. This can protect you from exposure to all kinds of germs that a public toilet may have. You can use seat covers in all kinds of shared restrooms, whether in public places, homes, or offices.
Restrooms that several people visit could be thriving places for microbial germs. So, using a disposable toilet cover is safe and convenient for such occasions. These are easy to use, shield you from germs, and can be disposed of easily by flushing.
There may be other benefits of using a cover like they do not let the flush sprinkles wet you, and you don't have to get in contact with the cold surface of the toilet seat during winter. 
Can I flush a disposable toilet seat cover?
It depends on the material of the seat cover. Most brands mention if the seat cover is flushable or not. If it is labeled as a biodegradable seat cover, you can flush it off down the toilet.
If the seat cover is non-flushable, it can block sewer pipes and cause plumbing problems. So, ensure that the brand mentions that it is flushable and biodegradable.
Which one is the best washable toilet seat cover?
A washable or reusable toilet seat cover is great for home or traveling. You don't need to buy the cover repeatedly because these can be washed manually or with a machine.
SENOMOR and WDSHCR are reputable brands for washable toilet seat covers. They use durable, premium-quality material that doesn't exhibit shedding or fading after numerous washes.
Their seat covers are machine washable as well. You can wash them, dry them, and these are ready to be used again. These seat covers are easy to install and effectively shield you from the germs on toilet seats.
How to choose a disposable toilet seat cover?
You should be careful when choosing a disposable seat cover. Some of these are ineffective and don't protect you against toilet seat germs. So, when choosing a toilet seat cover, ensure it's large enough to prevent contact between the toilet seat and your skin.
Since you may want to carry them while traveling, these should be compact and must fit in your bag, purse, or pocket.
These should be thick and water-proof to shield your body from microbes. The waster sprinkled during flush should not seep through the covers. It's best if these are also large enough to hang to the sides and prevent your clothes from contacting the seat.
Which toilet seat covers are easy to install?
The washable toilet seat covers may have different mechanisms to install on your toilet seat. But in most cases, it is not complicated to use them. They may have a certain system to avoid slippage when you are seated.
WDSHCR is easy to install because of its zipper. You can quickly install or remove this cover using the zipper. SENOMOR is also an excellent option if you are looking for easy-to-install toilet seat covers. 
As a buyer, you might want the installation to be quick and easy. But it should also ensure that the covers do not slip off from their place. They should be held tightly in their position when you use the toilet. Slippage can expose skin to germs on the seat.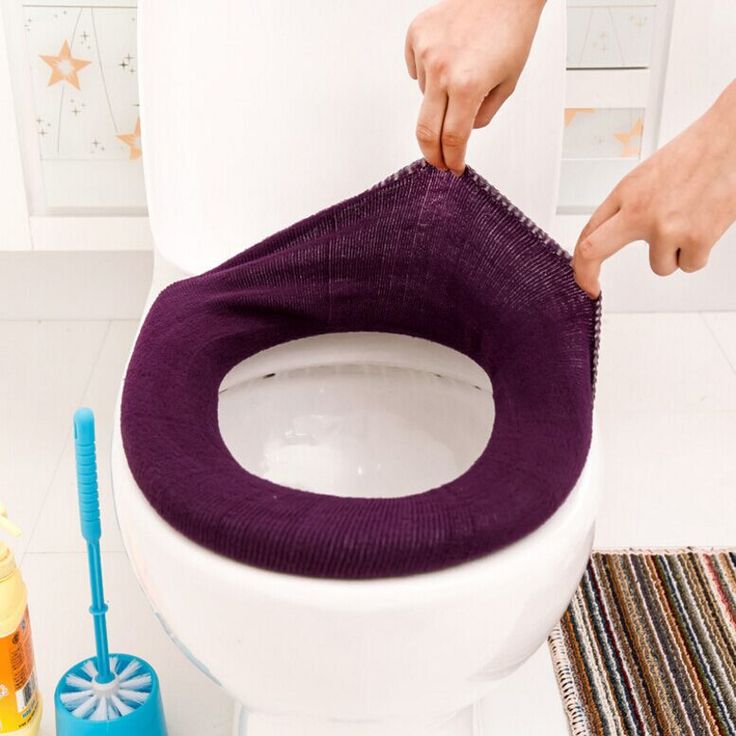 Are toilet seat covers flushable?
Most toilet seat covers are flushable, but some of those decorative ones may not be flushable. You should check for the label that mentions whether the covers are biodegradable and flushable.
What kind of infections can I get from a toilet seat?
A shared bathroom may be full of familiar or unfamiliar microbes. These may bring various types of diseases if you are exposed to them. Some common germs found in restrooms are streptococcus, staphylococcus, hepatitis A virus, E. coli, etc.
Using a toilet seat cover may significantly reduce your exposure to these germs. But you should only use seat covers that are sizeable enough to prevent contact with the toilet seat. It's best if the seat cover hangs on the front and the sides of the seat so even your clothing is not exposed to germs.
When should I use a toilet seat cover?
You should use a toilet seat cover when using a public restroom. These could be at shopping malls, airports, amusement parks, hospitals, or any other place that many people visit.
Using a toilet seat cover in the guest room may also be a good idea when you visit someone. You can also place a reusable seat cover at your house. The toilet seat covers are also used for kids' potty training.
Conclusion
This is it! So, if you have finished reading this article, then you will know about the top products in different categories of the best toilet seat covers. You would know about the most reliable, comfortable, easy-to-use, and carry toilet seat covers on the market.
This article also educates you on the pros and cons of using different seat covers. Since each type is intended for a different situation or use case, you should know the best options for any given case.
From the best travel-friendly seat covers to home use or kid's potty-training seat covers, our list discussed the most effective, best quality, and economical seat covers you can buy.
Before you go ahead with your purchase, you must consider where you need to use these. If you are a frequent traveler, disposable seat covers should be your preference. For other uses, a reusable seat cover could be more convenient.
We hope that this article will make the task easier for you. You can check out the products on our list and compare these to decide which would fulfill your purpose and fit your budget.