Nobody likes spending their well-earned weekend on bathroom cleaning. To be fair, nobody enjoys doing this task. Unfortunately, if you want to maintain a clean and hygienic bathroom, cleaning the toilet is one of those chores that just has to be done.
Nevertheless, we now have self-cleaning toilets thanks to cutting-edge technology that is introduced every year. These toilets require less upkeep and don't need to be scrubbed frequently. For this reason, we have created a list of the top self-cleaning toilets just for you. These top toilets for staying clean can assist you in making the ideal choice, whether you're purchasing a new toilet or upgrading an old one.
With no further ado, let's get started!
How Did We Make This List?
Warranty
Smart toilets are no different from other items in that they make us feel safe. If the toilet you wish to purchase has a limited warranty, you may be able to extend it if the terms and conditions permit. Compared to products manufactured for residential use, devices purchased for commercial usage have a shorter warranty. We make sure that the business you buy from offers excellent customer service, regardless of whether you receive a 10-year or 1-year guarantee.
Controls
Although a self-cleaning toilet should operate entirely on its own, users must be able to make manual changes. Before making a decision, we made sure to evaluate the adjusting settings. We looked for temperature and pressure controls, as well as user-specific memory settings.
The flushing method
The auto flushing technology in self-cleaning toilets is a fascinating feature. The mechanism begins to operate automatically as soon as the lid closes. The sensor activates and flushes away the waste as you move. But we made sure to take into account how long the sensor needs to empty the toilet bowl of waste. We compared the flushing times of different models and evaluated their efficacy.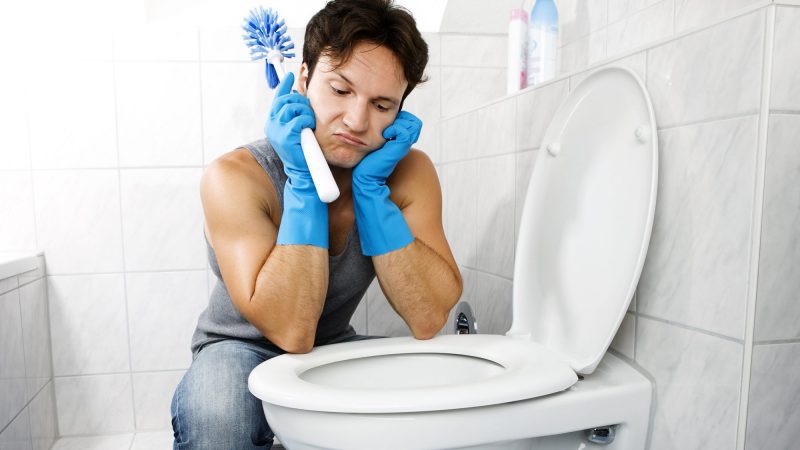 Best Self Cleaning Toilets
Best Self Cleaning Toilets: Reviews
The most well-known brand of upscale toilet accessories is undoubtedly TOTO. If you're compiling a list of the best contemporary, sanitary toilet accessories that enhance bathroom comfort, their washlets are impossible to overlook.
The Neorest 700H toilet is sturdy and long-lasting because it is constructed of ceramic. Since the toilet doesn't have a tank, the electric flushing pump is stored in the bowl. The TOTO washlet cleans both the user and itself, serving a dual purpose.
This is made possible by its front and back warm spray water scrubbing technology, which has five pressure and temperature settings that can be adjusted. Also worth mentioning is that it has the Tornado Flush system.
The standard-height toilet also offers unique features like the PreMist feature and the CEFIONTECT toilet glazing. As a result, the toilet bowl has a surface that is simple to clean and doesn't allow waste to stick to it. You must plug the power outlet into a lower outlet in order to utilize it.
Highlights
Comfortable remote
Convenient and fashionable remote controls let you customize your cleaning preferences while giving you complete control over features and operations. To prevent confusion, this creative remote is made using simple-to-understand graphics. It facilitates access to customized settings for people with limited mobility and aids in helping them regain some independence.
Clean synergy
Their top toilet and WASHLET technologies operate in perfect harmony to raise the bar for daily life. A cleaner bowl is produced by TORNADO FLUSH's dual-nozzle bowl cleaning system, which has a hole-free rim design and produces a centrifugal rinsing action.
The CEFIONTECT coating closes the tiny crevices where waste likes to conceal itself. In order to keep surfaces clean without using harsh chemicals. EWATER+ technology sprays the bowl and wand with electrolyzed water. Users feel invigorated as a result of these and other cutting-edge innovations that produce the cleanest, most hygienic environment conceivable.
Sustainability and efficiency
With their ground-breaking 1G DYNAMAX TORNADO FLUSH mechanism, the RH NEOREST model uses 45% less water than typical 1.6 GPF toilets. That translates to about 11.5 gallons of water saved every day and 4,250 gallons or more annually! Dual flush toilets make conservation simple and improve water usage and financial efficiency.
Awesome design
Regardless of age or ability, TOTO thinks that everyone can benefit from good design. Because of the more controllable height of the toilets offered by Universal Height, everyone can use and enjoy the bathroom. The 700H NEOREST, which can accommodate users of various ages and abilities without the need for further adaption or specialist equipment, complies with the Americans with Disabilities Act accessibility regulations. The pinnacle of TOTO Total Design, which improves the bathroom experience for all generations in the family home, is the NEOREST Collection.
Customer experience
Customers selected it as their top option because it has so many fascinating features, like the ability to customize your experience by offering you various temperature and washing settings. It has a lovely layout. It cleans the air and prevents waste from adhering to surfaces. They really loved its self-cleaning feature.
The ActiClean toilet from American Standard has two pieces. As a result, the tank and bowl are packaged separately. You must specify the delivery information when ordering because they may potentially arrive at different times. Of course, installing a two-piece toilet is simple. Simply start with the bowl, which is mounted on the floor.
This toilet weighs 50 pounds, which is pretty doable even if you install it by yourself. In addition, two-piece toilets are lighter to hoist than one-piece toilets, which are heavier. When purchasing a new toilet, the bowl's style and form are crucial. You will therefore be pleased that this one is oblong. Tall users have a better sitting area, thanks to it.
Of course, you'll need extra room, given how long the rough-in is. As a result, this toilet is a better suit for larger bathrooms. Installing a round toilet in a small townhouse bathroom can be a good idea. This toilet comes with a cleaning cartridge in which there is a cleaning solution that triggers on every flush. There is enough cleaning solution in the cleaning cartridge provided with the toilet that can last for nine months. After that, you can purchase a further supply of the same product for a reasonable price.
The toilet includes a powerful triple cleaning action that you can use when you need to run the deep cleaning cycle. It's time to give the toilet bowl a thorough cleanse with the VorMax jet if you notice any stains starting to build on it.
Highlights
ADA compliant and appropriate height
This toilet is self-cleaning and at the proper height. Senior users will therefore find it comfortable because it is simpler for them to sit on and get up from. This toilet is incredibly pleasant when combined with the appropriate height, or chair height as American Standard calls it. While TOTO refers to theirs as universal height, Kohler refers to theirs as comfort height. All of them indicate that the toilet bowl is between 16 and 19 inches tall from floor to rim. You are free to install this toilet if you must stay in a public restroom. It is ADA compliant because of its height.
Curved clean rim design
The toilet has a Clean Curve rim design, which is another feature worth noticing. This indicates that there is no room for bacteria to hide as the rim doesn't have much space inside of it.
American Standard finished this toilet with vitreous china, as they did with many other toilets they have produced. As a result, it is strong and keeps its glossy appearance for a long period. It is also available in white, which blends beautifully with any bathroom design.
The flushing method
The effectiveness with which a toilet can remove both solid and liquid waste depends on the flushing technology that the manufacturer uses in their toilet.
The VorMax flushing system is included with this long toilet. Even the skid marks are removed as the bowl is thoroughly cleaned. As a result, the toilet can continue to be clean while you wait to run the subsequent thorough cleaning cycle.
A significant amount of water is released through a single jet hole as part of the VorMax flushing technology. As a result, the requirement for the rim's jet holes, which are prone to clogging, is eliminated. Typically, one flush using the VorMax flush technology is sufficient.
Customer experience
The self-cleaning features that come with this option are highly valued by many people who have purchased this toilet. It can greatly simplify and ease the procedure of toilet maintenance. It's a solution that offers a strong, water-saving flush and is simple to install.
The Woodbridge company is a new entrant to the market; it was founded in 2005. The company's products are becoming more and more well-liked by American families thanks to its incredibly effective high-end toilet models and a five-year minimum porcelain warranty.
The bidet seat on T-0008 is detachable. Except for the air purifier, an automated lid, and an automated flush, it delivers all the smart features included in the top-tier model. Instead, it includes a regular water tank that offers a silent flushing action without using any electricity. A 2-year warranty covers the smart bidet seat, and if necessary, a replacement is simple.
Additionally, this type has more accommodating features, such as a 14.5-inch seat and a medium-sized, elongated bowl that will work well for most users. It's a great toilet for improved hygiene and is reasonably priced for the job it serves.
For effective cleaning, the designed toilet can filter water and control water pressure. Moreover, you have access to three different cleaning options, including a forceful pulsing wash, a soft feminine wash, and a strategically positioned posterior wash.
Furthermore, it has an adjustable heating system that guarantees you always have hot water. Not to mention that it has a nozzle to make cleaning the bowl simpler. Additionally, there is an attached LED light for usage at night.
Highlights
Wireless control
An easy-to-use wireless remote control is included with this toilet to make choosing your wash options simple. The Woodbridge T-0008 bidet seat features oscillating and pulsating/massage wash functions with the push of a button, much like any respectable bidet seat.
Powerful flush
The T-0008 flushes the toilet bowl with an extremely powerful siphon jet flushing technology. It can provide a strong but quiet flush with a fully glazed trap way. You should choose this toilet if you don't like noisy flushes.
Comfortable
This Woodbridge toilet, model T-0008, has a height that is very perfect for the users. You may depend on finding a toilet that is high enough for you to sit on without bending your back or knees. However, this toilet will be too high for kids.
Customer experience
This toilet has many good reviews over the Internet. It is loved by its users because of its world-class features. This model is very comfortable as it has perfect dimensions. Its self-cleaning technology is also one of the best, according to the customers.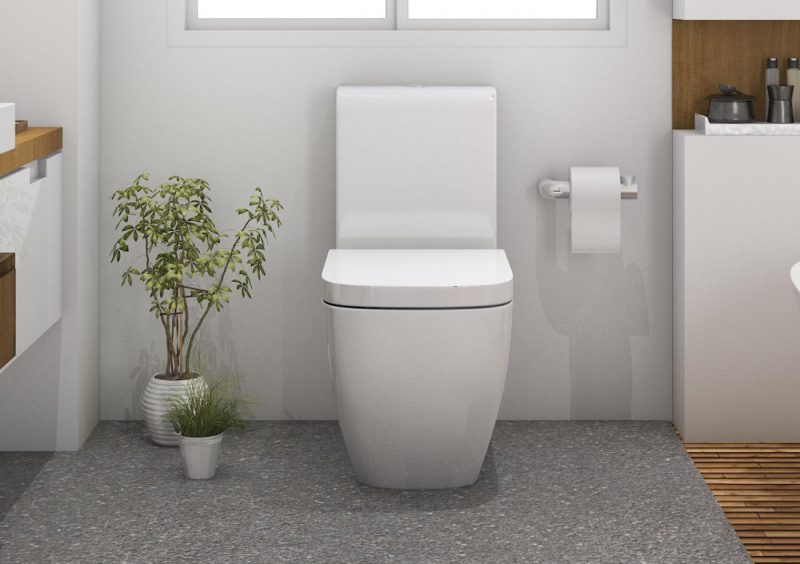 Factors to be Considered While Choosing the Best Self Cleaning Toilets
Height and size
Most toilets in use today are between 17 and 19 inches in height due to ADA restrictions. If you're going to outfit a public restroom, this is very excellent news. It must be ADA compliant in order for everyone to utilize it easily.
For children or those with disabilities, you can also get a 14-inch model, but 15 and 17-inch models are typically sufficient for kids as well. For tall people and those who have mobility issues, a 19-inch seat is also advised.
Additionally, you should take into account dimensions like depth, width, rough-in, and overall height. These characteristics are crucial, especially if your bathroom is small. To maintain the area flexible for movement and keep it far enough from the door, we advise allowing at least 24 inches of space in front of the toilet.
Water usage
Federal law restricts the amount of water used for each toilet flush to 1.6 gallons. This rate is 1.28 gallons per flush in some places because local governments seek to increase water conservation and cut down on global water waste. The EPA's WaterSense program is a supporter of the campaign.
We advise you to abide by local laws not just to protect the environment but also to reduce the cost of your water bills regularly. Buying toilets with a dual-flush system is another smart move because it further reduces water usage.
Flush system
While the technologies that power most flushing systems are relatively similar regardless of brand, we advise you to pick those that are strong enough to flush all the trash with a single button press. You will need to use additional water if you don't make this choice.
If you dislike loud toilets, be aware that a powerful flush can also be quite loud. Dual flush systems, in our opinion, have the best noise-to-power ratio. Different waste types include low-power and high-power buttons, and you may control both the noise level and water usage at the same time.
Heated seat
It is a convenience-enhancing toilet feature. A basic heating feature and one with temperature control are also options. Heated ones are a great option if you live somewhere with cold winters. In the winter, heated seats will keep you warm and relax your muscles. Such a system has to come with a remote control so you can simply choose your ideal temperature.
Odor-removing ability
Everyone likes the lovely smell. No less than a blessing, nice-smelling toilets. We don't like to put in extra work when cleaning or using particular items to purify. The amazing thing about self-cleaning toilets is that they get rid of the unpleasant scent. Although it is not a compulsory function, it can improve the experience in your toilet by getting rid of the smell.
Effect of drying
Think about a system that can dry things either slowly or quickly and has a changeable drying impact. Your bottoms can be effectively dried with the assistance of toilet dryers. You can choose one with a dryer for quick drying. In the cold, this feature may be a bonus.
Automatic flush
This tool can be useful when you're in a hurry. It is also a great feature to keep you from touching contaminated buttons. A wonderful invention in toilets is the automated flushing system. It flushes your toilet on its own, so you can always use a spotless restroom. It senses when you get up or done using it via its sensor and starts the flush automatically. This feature ensures that your bathroom is always clean. Additionally, if you are a busy person, it saves you time.
Using LEDs
Numerous upgraded variants include an LED night light. This light makes it easier to navigate in the dark. Additionally, it improves the aesthetics of your bathroom. The light makes it possible to view the bowl clearly in the dark. As a result, you won't run into many obstacles along the path. These LED lights will not only make your toilet brighter but also use less electricity.
Warranty
The warranty is a crucial component since it gives you the peace of mind you need to install your self-cleaning toilet. It is based on the product's pricing. Some products have a longer warranty period, while others have a shorter one. A lengthy warranty is advantageous so that you may always exchange your goods.
A Self-Cleaning Toilet: What Is It?
As the name suggests, a self-cleaning toilet contains a feature that cleans and sanitizes the toilet bowl without the need for manual scrubbing. To help lower the likelihood of ugly and unclean stains building up, specific cleaning and disinfecting capabilities are typically activated by a button distinct from the flush button or handle. Manufacturers of self-cleaning toilets use various techniques to achieve these outcomes. However, there are several common traits that all self-cleaning toilet devices have, including:
A unique toilet bowl style
Specialized cleaning products and coatings
More forceful water flow
Modern cleaning components
Design of a specialized toilet bowl
Stains typically appear in areas of the toilet bowl where the flushing water is unable to eliminate the waste. If users don't frequently clean the toilet, waste gradually builds up and causes unsightly stains. Self-cleaning toilets have fewer wrinkles and crevices where human waste can collect, thanks to a properly constructed toilet bowl. A non-porous finish glazing is another feature found on many of the best self-cleaning toilets, which helps prevent human waste from entering inappropriate areas.
Specialized cleaning products and coatings
Specialized cleaning and disinfection compounds are also used in all self-cleaning toilets. To prevent waste buildup, these compounds are frequently coated over the toilet bowl. Additionally, a lot of self-cleaning toilet producers include disinfectants that discharge with each flush.
Increased water pressure
Many self-cleaning toilets flush with a little bit more water pressure. Human waste that might adhere to the porcelain bowl in standard toilets is removed by the water pressure on the bowl that has been properly built.
Elements of advanced cleaning
The most cutting-edge self-cleaning toilets have cutting-edge cleaning and disinfecting components like UV lights. On the underside of the rim of the pot of these toilets, there is a little UV light attached. The photocatalytic ceramic cast in the bowl and the cleaning agents in the water interact when the UV light is turned on. All of these cutting-edge techniques result in a tiny deep clean of your toilet with each flush.
Features of a Self-Cleaning Toilet
One of the most recent developments in "advanced toilet technology" is the self-cleaning toilet. The "whole bathroom experience" is said to be improved by toilets that come with a variety of features and traits today.
You can discover self-cleaning toilets with dozens of additional features, such as heated seats, automated open and closure technologies, automatic flushing, deodorizers, and battery or wired power. All self-cleaning toilets we reviewed include some of the characteristics we discussed in the previous section.
Heated seats
Yes, a heated seat is a common feature of self-cleaning toilets that is available to keep you cozy while using the restroom.
Technology for automatic opening and closing
Some self-cleaning toilets have sensors that automatically raise and lower the toilet seat for users who don't like to lift and close the toilet lid. Though it may seem needless, this could be useful in homes with one or more forgetful guys who always forget to close the toilet seat. Additionally, it will reduce the spread of germs from hands touching dirty chairs!
Automatic sanitization
Similar to self-cleaning toilets, many toilets with self-cleaning technology also include automatic flushing.
Electricity vs. batteries
If you want a self-cleaning toilet, you will have to decide between battery-operated and electric models. A separate electrical connection is needed for the majority of "smart" or "intelligent" toilets on the market. Other self-cleaning toilets have simpler mechanisms that merely rely on batteries; the majority of toilets run on four double-A batteries.
Self-Cleaning Toilets: Are They Safe?
Self-cleaning toilets are advertised as a means to maintain a cleaner, healthier home. But regrettably, they might also be causing poor indoor air quality. Volatile organic compounds (VOCs) are released into your home by self-cleaning toilets with built-in deodorizers. Additionally, they may introduce and expand the use of substances that you would not otherwise have in your house. But it's not a very big deal as the deodorizers in the toilets we mentioned should be safe.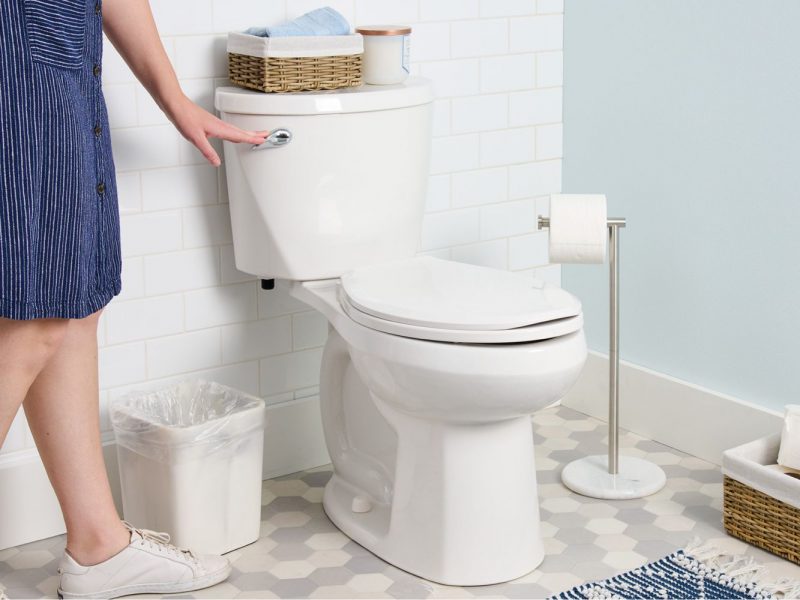 Frequently Asked Questions
What is a self-cleaning toilet?
The definition of a self-cleaning toilet is one that thoroughly cleans the toilet bowl after each use and does not leave a mess behind. Different toilet companies use various techniques to help with efficient waste collection and bowl cleaning. For instance, TOTO includes functions like Cefiontect glazing, Premise, and eWater+ that help keep the bowl clean after every use.
What is the lifespan of self-cleaning toilets?
Toilets that clean themselves need some continual upkeep. The dreaded weekly task of cleaning your toilet bowl can be reduced, but you will still need to replace cartridges or batteries regularly. Despite costing more, there is typically no additional warranty protection even though they should last as long as a standard toilet.
How do self-cleaning toilets operate?
Self-cleaning toilets have a fixture that, with routine cleaning, maintains the sanitation of the toilet. These toilets also feature bidet wands, which clean the user's genitalia by spraying warm water into their rectum. Self-cleaning toilets minimize stains and guarantee straightforward maintenance.
Which one is superior to conventional and self-cleaning toilets?
Self-washing toilets are undoubtedly superior to conventional toilet models and more effective. These contemporary toilets are perfect for hygienic and medicinal use. People who have issues with hemorrhoids are advised to use them. They increase hygiene, eliminate toilet stink, and simplify toilet maintenance, but as you may have imagined, they are highly pricey and extremely environmentally friendly.
How much does it cost to buy a self-cleaning toilet?
Self-cleaning toilets can cost anything from $800 to more than $2,000. The toilet's price is influenced by its brand, built-in features, and design. The most expensive self-cleaning toilets frequently include a built-in bidet. Your tastes and needs will determine everything.
Which method is ideal for measuring a new toilet?
The rough-in, or the distance between the wall behind the toilet and the center of the drainpipe or bolts anchoring the toilet to the floor, should be taken into account while choosing a toilet. The usual rough-in size is 12 inches, although older homes may have rough-ins that are 10 or 14 inches, necessitating the installation of specialist toilets.
In order to establish the size of your new toilet, you should also measure the available vertical and horizontal space. Though they are, as you might assume, somewhat pricey, they are also incredibly friendly to the environment, promote hygiene, get rid of odors from the toilet, and simplify toilet maintenance.
Are there any affordable self-cleaning toilets available?
Yes, there are. Numerous possibilities cost less than $1,000 if you're looking for a cheap toilet with good cleaning technology. The Woodbridge T-0008 toilet and the American Standard ActiClean toilet are two examples.
What type of toilet is best for kids?
Many individuals purchase toilets without taking into account their children. Generally speaking, it's a good idea to take your kids into account if you have any. A bathroom that is appropriate for adults might not be appropriate for kids. Consequently, a compact toilet with a standard height is needed. Additionally, the toilet lid should close slowly to prevent injuries when they get up from the toilet.
Do I have to manually maintain self-cleaning toilets?
Well, self-cleaning toilets are made to clean themselves automatically. To keep the self-cleaning toilet in the greatest condition possible, however, the exterior components should be cleaned by hand.
Is it necessary to maintain my self-cleaning toilet in excellent functioning order?
To be honest, if we have to maintain a self-cleaning toilet, what good is it? Toilets that clean themselves don't need a lot of maintenance. Any blemishes or stains that the nozzles can't remove may require your manual cleaning.
Conclusion
This is it! These were the best self-cleaning toilets. Because of their exceptional features and simple installation, self-cleaning toilets are becoming more and more popular. To buy these self-cleaning toilets, you must spend around twice as much money as you would for conventional toilets. Don't be hesitant to invest because they are a one-time cost for the benefits of automatic flushing, heated seats, remote control, and, most importantly, a comfortable experience overall.