There are so many bidet toilet seats to choose from in the market that makes choosing difficult. If you finally make up your mind to own and install a bidet in your toilet, your first step is to check if your toilet is an elongated toilet or round toilet. This will determine if you are to purchase an elongated bidet toilet seat or round bidet toilet seat.
Based on our experience and research, we have compelled the best bidet elongated toilet seat to make choosing less puzzling for you. Our list consists of what makes these elongated bidet toilets seat the best in the market — coupled with the features and where to purchase them.
In a hurry? Use the tables below to easily navigate and find the best elongated bidet toilet seat of your choice. You can be assured we only choose the best products…
Best Elongated Bidet Toilet Seat
BioBidet Bliss BB2000 – (Overall Best)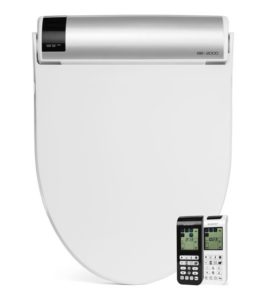 The Bio Bidet Bliss BB200 is the first on our list because it has almost all the features of what an advanced, luxurious bidet should possess for a fair price. If you need a perfectly smart and best elongated bidet toilet seat, then this should be on your top list. It has an adjustable "Clean Surge" stainless nozzle that self-cleans 20 seconds prior and after use, coupled with a pulsing mode for better cleansing.
As an advanced bidet, this elongated bidet seat is equipped with a hybrid heating system, which is an on-demand warm water display. With this, you don't have to wait for the warm water to be ready before use, nor will it release cold water before the hot water as some bidet toilet seat does.
While it has an air-dry and heated seat function, it also has an intelligent seat sensor that detects when a user is about to make use of it. Thus, it prepares itself ready to be used. The soft-close lid is an excellent function to prevent the constant slamming of the toilet lid.
It comes with a wireless remote in a white and black color that functions with AAA batteries. This remote controls all its functions when you don't want to use the screen touch panel by the side of the seat.
You can read our complete review of the Bio Bidet Bliss BB-2000 here.
Bio Bidet Ultimate BB-600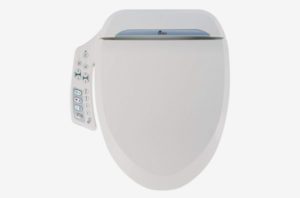 A lower version of the Bio Bidet Bliss BB200 is the Bio Bidet Ultimate bb600. For this elongated bidet toilet seat, you get below the price you will pay for the Bio Bidet bliss BB2000 but with limited features. However, without minding the restricted features, the equipped features can give you satisfaction too.
Though there is no wireless remote, this toilet seat comes with a side control panel that is very visible. Images on the side panel come with written words for easy understanding. The nozzle is dual and oscillates with wide clean and pulsating features, also included is the rear and front features.
While the water flow can be adjusted, there is also an available function of a heated seat and air-dry after washing.
TOTO SW2014#01 A100 Electronic Washlet
If you need the best elongated bidet toilet seat that has the basic modern function of a bidet, then check it out. While you won't get all the features similar to an advanced bidet, it can still get the job done. The installation and usage process can be quick and easy for even a beginner who hasn't used a bidet before. It has the function of a heated seat and also that of warm water supply.
The control panel that houses all the function is placed by the side where it is easily accessed. This makes it suited for those with movement problems. Other great functionalities with this bidet are the soft close lid and the self-cleaning nozzle, which is commonly found in high advanced bidet seats. The spray nozzle has an oscillating feature that moves back and forth when cleaning.
While the Toto washlet A100 elongated bidet toilet seat might have few limitations as mentioned below, it can still be an option when you are on a budget.
TOTO SW2034#01 C100
The TOTO SW2034#01 C100 is a bit updated version of the TOTO SW2014#01 A100. The features included in it are the features many users who bought the TOTO A100 craved for in a bidet seat. While there is a little price increase in this bidet when compared to the price of the TOTO A100, you may not mind considering the lacking features in the previous version.
Read Also; Bidet Etiquette; The Ultimate Guide to Using it Right Anywhere
While still having a desired elongated style, it has all the similar basic features in the TOTO A100, which includes a warm seat, which is excellent for a freezing or cold morning. The nozzle is self-cleaning and also oscillates. Likewise, its control panel stood out by its side without an external remote control for alternation.
The other fun side of this elongated bidet toilet seat is the pre-mist feature. This feature cleans the toilet bowl by spraying water around it. It is perfect for washing out quick dirt before using the toilet. Also, there is an air-dry feature for drying after washing. Adding to this is the deodorizer feature, which helps to normalize toilet odor.
Brondell Swash Non-Electric Bidet Toilet Seat
If your choice of an elongated bidet toilet seat is one that comes with no wiring, no electricity usage, and is also cheap, then check out the Brondell Swash Non-Electric Bidet Toilet Seat. The bidet comes with a water pressure control to prevent messily and rush spray. The nozzle comes with a feature for a rear and feminine wash. Another good thing is that the installation is straightforward, and it is easier to use.
Though there are no advanced technology features that make the modern bidet fun to use, it doesn't require much work to use. With this elongated bidet seat, you can get a warm water supply, but you must connect it to a faucet nearby that supplies heated water.
Bio Bidet SlimZero Non-Electric Bidet Seat
Similar to the non-electric Brondell Swash, the Bio Bidet Slim Zero non-electric bidet seat is an alternative choice. The name compliments the look as it is slim in appearance. Since it is an elementary bidet seat, you shouldn't expect more advanced features. However, there is a battery-powered night light in it. Generally, the usage of this elongated bidet toilet seat requires no electricity. Instead, you make use of the T-Value that is on and off for washing. It also comes with a dual nozzle for effective cleansing.
SmartBidet SB-1000 Electric Bidet
The SmartBidet SB-1000 electric elongated bidet toilet seat is another improved bidet seat that is budget-friendly. It has great features that make using it fun and versatile. This bidet toilet seat comes with a heated seat and air-dry function in which its temperature can be accustomed up to level five or according to the user's preference.
This bidet seat has Skin Sensor technology, that is, it active whenever a user sits on it. Aside from its skin senor features, it is also soft-close, thus no slamming of the toilet seat. To get the perfect wash, you can either make use of the turbo, rear or feminine wash features.
Another feature of this bidet you should know is that it is controlled through its remote control. There is no extra side panel that holds more of the function as the remote control. So it might be challenging to use when the remote is faulty.
However, to get the best functionality, you should consider facing the remote control to the right side of the seat towards the black function board. Though, operating it in a different direction can still work. Two AAA batteries power the remote control.
ALPHA JX Elongated Bidet Toilet Seat
This slim elongated bidet seat is on our best list because it is an improved bidet seat that meets almost all the standards of the one with advanced technology. It has a tankless on-demand water heating supply that gives out warm water when in need. The exciting aspect of this bidet toilet seat is that its operation is quiet; it makes less noise, unlike other bidet seats.
The nozzle is stainless, unlike others in the same price range, made of plastic. It also oscillates and also self-cleans. This nozzle also has the function of rear and feminine wash. There is also a white LED nightlight that shows brightly at the night.
The Alpha JX Bidet Toilet Seat is controlled by a wireless remote control that has written words on its images for easy understanding.
TOTO SW3056#01 S550e WASHLET Bidet Toilet Seat
The Toto S550 bidet seat is the highest competitor of the Bio Bidet Bliss BB2000 in the bidet seat market. This is because these two have all the qualities of luxury at their best. Also, as an elongated bidet toilet seat, it has features such as a tankless water heating system, which means you won't be lacking warm water.
Also included is a heated seat feature and a deodorizer to eliminate toilet odor. Most TOTO products' are known to come with a pre-mist to help wash the toilet bowl before use. This feature wasn't excluded in this bidet seat either.
Aside from the per-mist feature, it also comes with an EWATER+ feature. It is a high technology feature that makes use of electrolyzed water. This EWATER+ technology function is a potent compound that cleans the nozzle and the bowl of the toilet after each use.
It comes with a mountable remote control that is powered by two AA batteries. Just like the Bio Bidet bb2000, the remote control has only an image with no written words on it. The seat has a motion sensor that automatically opens and closes.
It is a great feature, however, if your toilet is small and you are just coming into your bathroom from 12-15 feet away, it can sense you and open. The seat is strong enough to accommodate heavy users weighing up to 350+lbs.
Brondell Swash 1400 Luxury Bidet Toilet Seat
The Brondell Swash 1400 luxury Bidet toilet seat is one of the best products on Brondell Swash's luxurious bidets. It is a flatteringly updated version of most Brondell Swash models and is comparable to both the Toto S550e and the Bio Bidet Bliss BB2000. Equipping it to the standard most home users will prefer, it comes with features to customize your washing according to desires. It is easy to install, without much technical knowledge needed.
The nozzle is dual stainless steel that oscillates and has seven positions for the different angles you can choose to wash from. You can adjust the water and flow that comes out from the nozzle according to suitable temperature and flow. There is also a removable deodorizer, slow close feature, and a blue LED nightlight. The lid is strong enough to hold users of up to 250-300lbs.
It comes with a lithium-powered battery that consists of all the functions of the seat. Images on the battery come with written words for easy understanding; this particular feature beats the Bio Bidet Bliss BB2000 and the TOTO S550e remote control.
How to Install Your Elongated Bidet Toilet Seat
The installation process of an elongated bidet seat is as same as installing every other bidet seat. Though, it depends on the model of the bidet seat you purchase; it is similar.
When you purchase a bidet seat, it comes with a user manual, and it contains a guide on how to fix it. That alone can assist you in installing it. The core point is that you don't need a plumber to do it for you.
However, here is a visual detail guide on how to do it.
Factors to Consider When Buying an Elongated Bidet Toilet Seat
Read Also: The 9 Amazing Benefits of Bidet
Before you purchase your choice of any elongated bidet toilet seat, below are the vital points you should have in mind.
Power outlet
Or else if you are considering buying a non-electric elongated bidet toilet seat, then there is no need for this. However, if you are going for the advanced bidets or electric bidets, this is the general rule. You have to make the provision of a power outlet in your bathroom to plug the bidet seat. Though electronic bidet doesn't consume much electricity but its best if the power outlet is dedicated only for it without no other appliance plugged to it.
Distance from the bolt hole
When you mount your elongated bidet toilet seat, make a distance from the bolt hole to the front of the toilet bowl. The gap could be anything from 18-20 niches, but it depends on the type of elongated bidet seat you purchase. Most manufacturers do put it on their user's manual, and you must keep to it. The reason for it is to prevent the bidet seat from clashing to the tank of the toilet.
In conclusion, whether you are going for the electric type of the best elongated bidet toilet seat or the non-electric one, do have a checklist of the features you want in a bidet. No matter what your budget is, there is always a bidet that meets it.