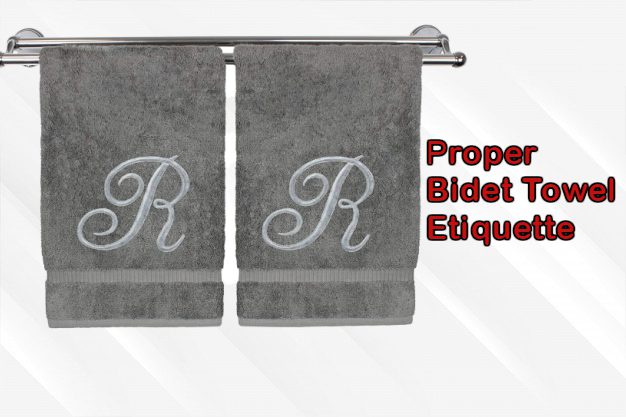 A bidet towel is a good substitute for a bidet air-dryer. Bidet users who use a bidet that does not have an air-dryer can alternate with a bidet towel. To make use of a bidet towel, there is a certain bidet towel etiquette that you are expected to be aware of.
As there are certain bidet etiquettes, there are also bidet towel etiquettes. These bidet towel etiquettes are essential for active use, prevention, and spread of diseases and promotion of good health. Also, the good part is that no matter the type of bidet towel you own, these etiquettes are applicable.
Bidet Towel Etiquette at Home
To use a bidet towel at home, there are certain etiquettes you need to obey or follow. These include:
Have a separate bidet towel for everyone in the house.
Having an inscribed letter or any form of writing that can help everyone in the family identify their little towel.
Washing a home bidet towel can be done daily (depending on the number you own), or it can be done weekly either.
Having different bidet towels with different colors can also help with differentiation.
If you want, you can specifically go for an organic bidet towel.
Bidet towel etiquette for your guest
If you have a bidet in your guest toilet that has no air-dryer, then your go-for is a bidet towel. As a host or hostess, below are the essential bidet towel etiquette.
Never use the same bidet towel for your household as your guest.
You can go for a non-disposable bidet towel if you prefer. However, a disposable bidet towel is the best for visitors. This will prevent the spread of unknown germs or diseases.
Even if the bidet towel you provide for your guest is disposable, it is still best to have a dispatchable basket or litter can to throw them in after use. This helps prevent any form of toilet clogging.
Most importantly, don't hesitate to educate or guide your visitors on how to use the bidet in your home.
Bidet towel etiquette as a visitor or a hotel guest
Below are the proper yet straightforward bidet towel etiquette majors you need to take as a visitor or guest; no matter where you find a bidet with a non-dryer.
You might want to have your little bidet towel wherever you go. However, most times, many people forget to carry this little towel along or even a disposable tissue.
As described above, NEVER use a used or re-useable bidet towel provided in a hotel or your host home.
If you don't know the condition of a bidet towel provided in a host house, it's okay to ask your host.
Don't ever throw a bidet towel into a toilet to prevent clogging. Instead, throw them inside a wastebasket provided in the bathroom.
In a state where a bidet with no air-dryer is available, and no bidet towel is provided, make use of tissue paper. Take one or two rolls of tissue paper and pat dry.
For more information on the proper ways to use a bidet or its etiquette, whether in the home, hotel, or a host place, here is full information or guide on bidet etiquette.