When looking to buy a bidet for your bathroom at home, bidet attachments are among the most reasonably priced, widely available, and simple-to-install options. Customers are increasingly choosing to use a bidet attachment rather than a bidet toilet seat or a full-on bidet.
They enable you to ditch toilet paper and achieve extreme cleanliness without breaking the bank. There are many different bidet attachments on the market. The Omigo Element Bidet Attachment fills this need.
In this article, we have the Omigo Element review for you. Therefore, with no further ado, let's get started!
Brand Overview
Omigo is a relatively new company that burst into the bidet industry with a big flourish. The company is run by the father and son team, Tom and Thomas Lotrecchiano. If you enjoy podcasts, you may have heard one of their ads on your favorite show.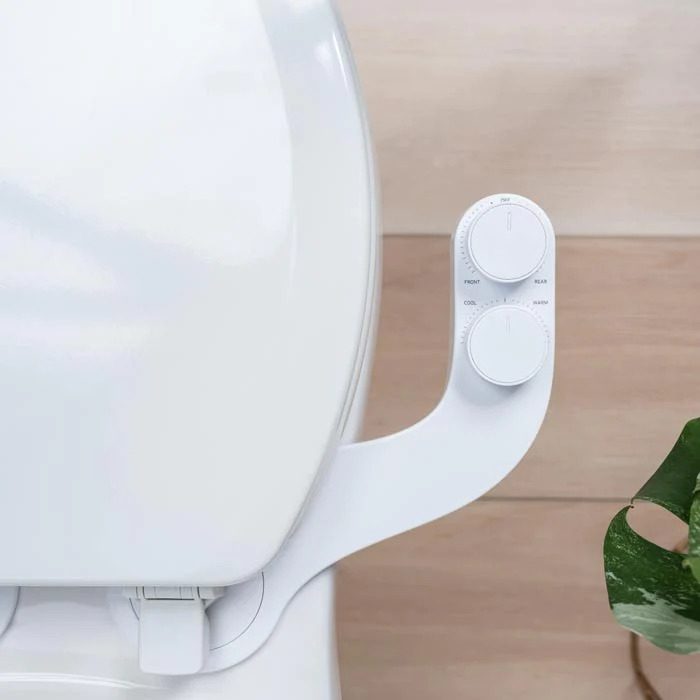 Their easy-to-install bidet attachment fits right under your existing toilet seat and delivers perfect washes with dedicated rear and front nozzles. Elevate your clean routine, and you'll never go back to wiping with toilet paper. Better hygiene, happier you.
Omigo Element Review
Omigo's bidet attachment is called the Element. It arrives in a cheerful blue box with the words "Let's Go!" and "The Future Always Seems Weird at First" written. If you want to let your fellow drivers know that you're living the bidet life, there is also a vinyl sticker for your car.
The T-adapter and water hose are metallic, while the attachment is well-built, thin plastic, and appropriately firm. Water pressure can be adjusted by about a half-turn in each direction, one for the front and one for the back. The directions are simply labeled "front" and "rear," which is a pleasant touch.
This non-electric bidet connects to your existing water line and fastens under your current toilet seat. No special equipment or a plumber is required. You'll probably need a wrench if your water attachments haven't been used in a while.
Remove the toilet seat, turn off the water supply at the base of the bowl, swap out your old water connections for the piping provided in the Omigo box, install the bidet, and reattach the toilet seat. This product can't warm water; however, the Omigo Element+ can do that.
Omigo Element Bidet Attachment Non-Electric Thin Modern...
INTUITIVE FEATURES - Adjustable warm / cold water temperature and water pressure dials
SIMPLE - No electricity or power is needed
DELIVERS PERFECT WASHES - Dedicated rear and front self-cleaning nozzles with intuitive pressure control
This warm water bidet attachment has a slim design that won't interfere with your toilet seat, making it suitable for both round and elongated toilets.
The Omigo Element+ is unique, and has two separate nozzles for the front and rear. With adjustable water pressure and large, user-friendly dials, this attachment is ideal for both bidet beginners and experts.
Its self-cleaning nozzles each retract into an extended plastic barrier that protects them from bacteria in the mix. While the hot water spray on this bidet attachment requires a connection to your sink, the tubing is clear and flexible so that it won't be an eyesore. The Element+, discrete and durable, will meet your bathroom break requirements.
Highlights
Dual-nozzle
The bidet attachment's operation is controlled by a single knob on top of it on the right side. You can rotate it left or right or leave it in the middle to turn it off. At the back of the toilet, right next to each other, are two nozzles controlled by the knob.
When you turn on the bidet, the stream will be positioned differently depending on which option you select because one nozzle is for your back, and the other is for your front.
Easy to use
Since the Element works with your existing toilet seat and uses no electricity, switching to one is simple. Every time you use the restroom, you'll feel like you just got out of the shower and won't want to miss it.
Regarding electricity, the Omigo Element is mechanically propelled and runs on the water pressure in the bathroom.
The Element and the Element+ don't require being plugged into an outlet, unlike other electrical bidet toilet seats that Omigo offers (complete with a remote). For $20 more, the Element+ adds a warm water option.
Material
The parts include a ceramic core internal valve, a premium 7/8″ T-valve, and a durable, braided metal cooling water hose. The body is made of durable ABS plastic.
The Element has an adjustable toilet that fits both round and elongated bowls and is compatible with most standard toilets.
Setting for feminine hygiene
This bidet attachment with two nozzles has a dial setting for selecting a nozzle with a forward tilt angle, allowing for vaginal cleaning. This setting is beneficial for pregnant women or recently giving birth.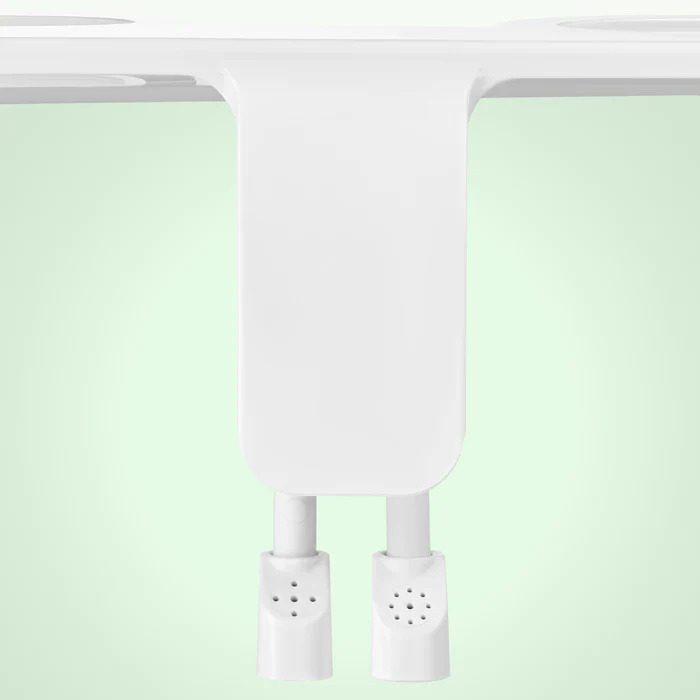 A feminine hygiene setting also aids in cleaning up after menstruation or sexual intercourse. Cleaning the vaginal area with a bidet is gentler and less wasteful than using feminine wipes.
Fits perfectly
The Omigo Element is designed to fit most standard toilets. If your toilet is connected to the water supply by a rigid hose, you may need to purchase a flexible plumbing hose to finish the installation.
Warranty
The Omigo Element and Element+ come with a one-year warranty valid only if the product is used as prescribed in the manual.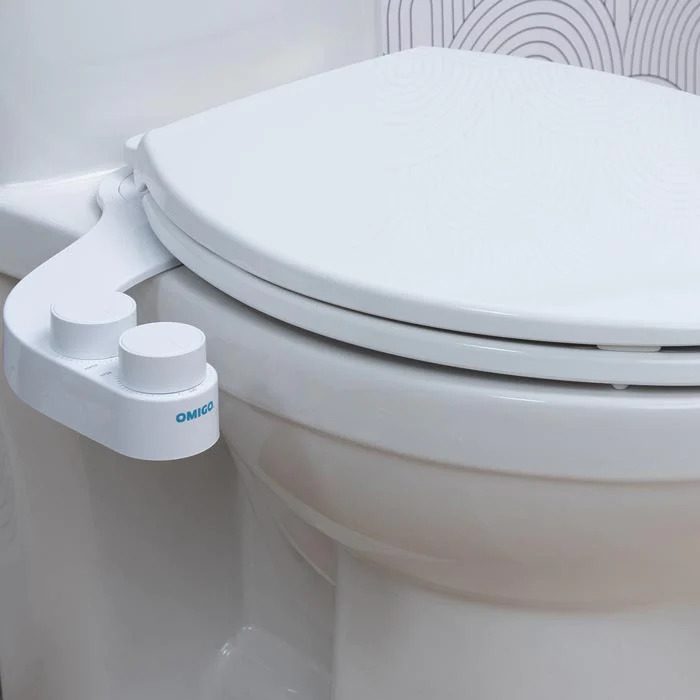 How Does Omigo Element Work
The Omigo Element is a small, straightforward gadget that attaches to your current toilet. Since most bidet attachments don't require electricity, their spraying system is powered by the water pressure in your home's pipes.
With the help of this bidet accessory, you can control the nozzle that receives water from the pipes. Your shower and sink draw water from the same source.
This basic bidet attachment gets you clean using a straightforward setup, and it typically has a dial that lets you control the pressure and turn it on and off. The water flow valve is controlled by that dial, which enlarges the valve's opening to increase water pressure.
If you want a more sophisticated attachment, you can select between warm and cool water with temperature-controlled bidet attachments like the Element+. The water spray uses the same fundamental mechanism. However, the hot water line under your sink supplies the warm water.
The same T-valve that attaches to the supply line for your toilet also attaches to the one in your sink, enabling warm water on demand. The entire system is non-electric, similar to a basic bidet attachment.
Benefits of Omigo
Variety
One of the best things about Omigo is that you can select the best features within your price range. You can select their Luxury Bidet Toilet Seat for maximum comfort or one of their Element bidet attachments for functionality without the advanced features.
Economical and environment friendly
We like how all of Omigo's products have self-cleaning nozzles with front and rear washes. Additionally, whichever option you select, you'll save the environment by using less toilet paper.
Ease to use and easy trial
Though not the most fashionable, the large knobs on the Omigo Element and Element+ are extremely user-friendly. Without having to fumble around, you can easily control pressure and temperature.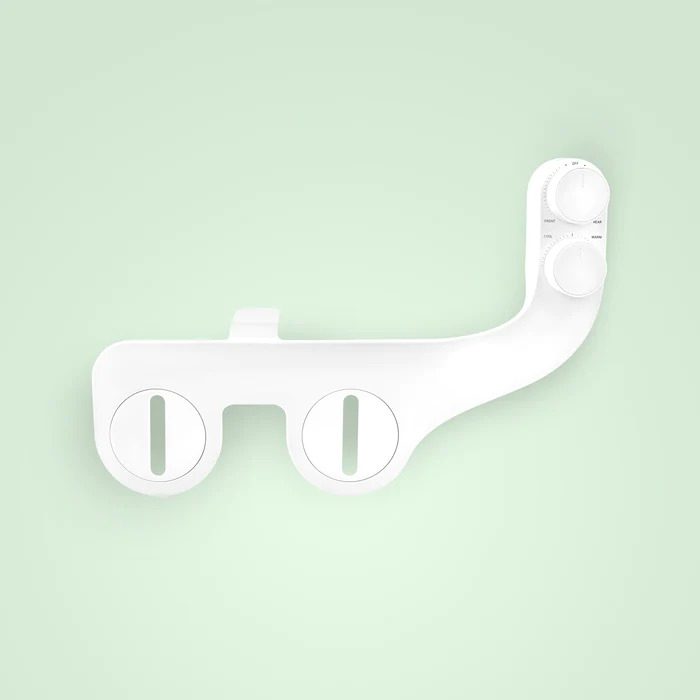 The Omigo Element and Element+ are great options at a reasonable price, with a 90-day trial and free shipping. We just wish it was a little sleeker.
Useful Tips
Make sure the bidet attachment you want is appropriate for your toilet. Not all bidet units are compatible with all types of toilet seats. Most of them do not fit one-piece toilets.
Every time you clean your toilet, clean the nozzles on your bidet attachment. Remember to also clean the area behind the nozzle fixture.
To thoroughly clean the covered area, remove the bidet attachment occasionally. Over time, grime and bacteria accumulate there.
Spending money on a unit with cold and warm water options is unnecessary if you live in a warm climate.
Warnings and Safety
When using a bidet, it might take some getting used to using less toilet paper.
Inform visitors about the advantages of using a bidet and how to operate the specific attachment in your bathroom.
You should carefully read the instructions.
Installation
The installation is quick and simple, and the instructions are extremely clear, so you shouldn't need professional plumbing assistance.
Suppose you can't figure it out on your own. In that case, Omigo has an installation video on its website, a comprehensive help center, and troubleshooting tips to help address the most common issues. Anyways, if you want to install it, you can follow these steps:
Prepare your toilet for installation
Clean the bowl after removing the seat
Turn off the water supply valve, then flush the toilet
Remove the metal hose from the fill valve on the toilet tank
Connect the supply of fresh water
Onto the fill valve, screw the T-valve
Reconnect the metal hose to the T-valve at the bottom
The bidet hose should be connected to the T-valve at the center
Put your element in place
Centralize your bidet
Align the bolt holes on the circular brackets
Tighten the bolts and replace the toilet seat
Final checks and steps
Connect the bidet's metal hose to the bidet
Check for leaks after activating the water valve
Try it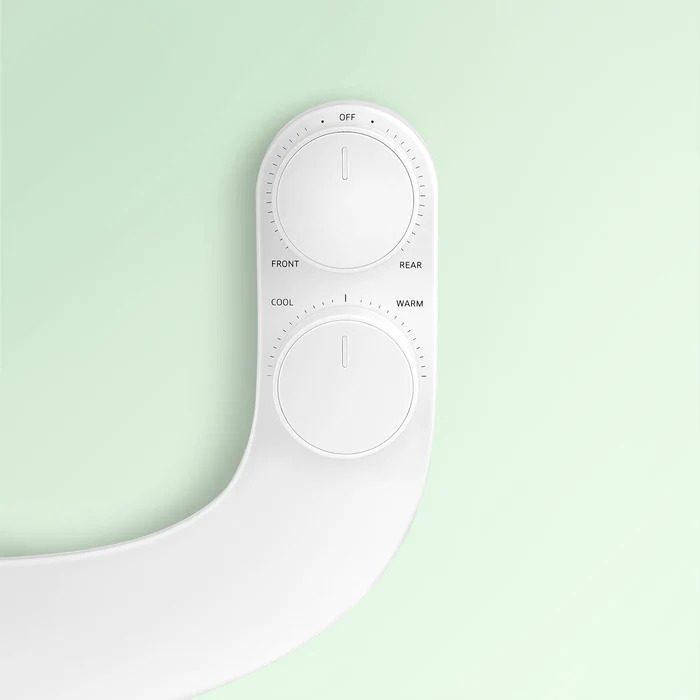 Frequently Asked Questions
How do I get dry?
After washing, simply pat the area dry with a few squares of toilet paper to complete the task. Your use of toilet paper will be reduced by up to 75%.
Is the water used by Element pure?
Yes! The clean water used in your shower and sink is the same. A T-valve is used to access fresh water and brings it right to your Element for a perfectly fresh wash.
Will Omigo fit my toilet?
Element is made to fit most of the round and elongated American toilets and one-piece and curved toilet fixtures. Measure the separation between the bolt holes to be certain. It must be between 5 1/4 and 8″ wide.
Then, to ensure adequate clearance, measure the distance between the center of the bolt holes and the toilet tank. A minimum of 34″ must be available for clearance. You're good to go if you can meet those measurement requirements.
Is an outlet required to use Element?
No! no need for an electrical outlet. The water pressure in your pipes is used by Element, which is mechanically propelled, to function. The Element can be used in homes with low water pressure.
Do the nozzles obstruct your vision?
The nozzles on the Element are covered and retracted when not in use to prevent contamination. Additionally, a self-cleaning system is incorporated so that the nozzles are rinsed before each use.
What distance does the arm extend from the toilet?
Since the brackets are adjustable, your toilet's control arm may extend further or farther than the average 4″ to the right side of the toilet.
How should I maintain my bidet?
You can clean any of their bidets with a soft cloth and regular, mild cleaning solutions. If you ever want to thoroughly clean your toilet, Element is simple to completely remove because it is so simple to install.
Conclusion
This is it! This was the Omigo Element review for you. We have learned how well we can adapt to change due to the pandemic, and what about that? Bathroom bidets and bidet extensions should all become standard fixtures.
These products will continue to exist despite the initial challenge of changing our preconceptions because of the savings you'll realize and the cleanliness you'll have after using one.
This bidet extension is easy to use and has very nice customer reviews. You can go for it without any doubt. Happy shopping!