If the toilet site agitates your sensitive skin and you are looking for a more comfortable and environmentally-friendly option, then a bidet seat might be just what you need. This type of product is easy and convenient to use and is designed to improve your hygiene care. However, if you search on the Internet, you can find plenty of options, which might be a little overwhelming. In this Brondell Swash 1400 review, we get into details about one of the best luxury bidet seats that you can purchase online with an amazing design featuring many advanced features.
Brand Overview
The Brondell Swash 1400 is the 3rd generation bidet toilet seat from the highly-reputed brand with the same name Brondell. The brand prides itself on using advanced technology to introduce unique and top-quality products that will improve the user's daily routine and help them with hygiene care.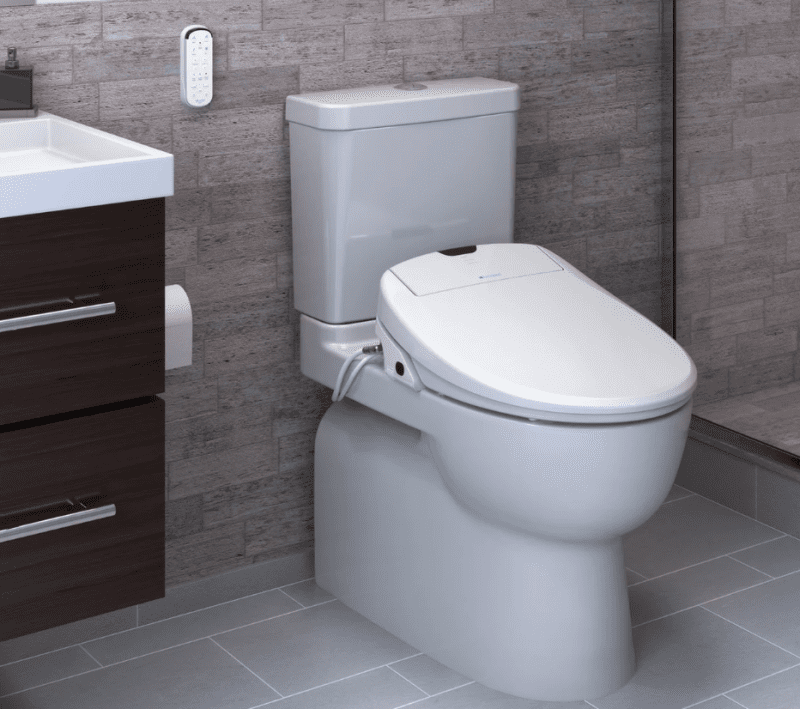 By bringing together technology and science, Brondell has managed to produce award-winning wellness products for the whole family, such as water filter systems, bidets, heated toilet seats, air purifiers, shower filtration products, and more. Brondell values its customer's experience, which is why they are committed to creating advanced and modern devices that contribute to one's healthy lifestyle.
This renowned brand also donates a portion of its sales profit to global environmental causes, meaning that when you make a purchase, you not only improve your hygiene routine but also contribute to the environment. On the brand's site, there is also a blog section where you can find a lot of educational resources on topics such as bidet hygiene, the environment, a healthy home, water filtration, and more.
Brondell S1400-EW Swash Electric Bidet Toilet Seat With...
ATTENTION TO EVERY DETAIL: The S1400 is crafted to offer a luxurious clean for every user, every time; This smart toilet seat offers...
CREATE THE RIGHT WASH: Air-mixing technology & variable pressure settings provide a gentler & more thorough wash for a spa-like experience...
CONVENIENCE & HYGIENE: Programmable remote; LED nightlight; Quiet gentle-close lid; Carbon block deodorizer; Self-clean cycle runs before &...
Brondell Swash 1400 is a high-quality luxury bidet seat that will add a modern look to your bathroom. This product does not only contribute to your home's aesthetic but also has a lot of features that will give you a comfortable cleansing experience. By purchasing the Brondell Swash, you can advance your hygiene without the need to replace your toilet as the product is safe, easy to install, and very sanitary.
This innovative product is an excellent solution compared to regular toilet paper because it is more eco-friendly and cost-effective. The reason for this is that by using the bidet, you will minimize the need for toilet paper, saving the environment and at the same time spending less money. The Brondell Swash 1400 bidet comes with a remote and temperature control and a long power cord of 3.5 feet, so it is easier to reach the outlet.
Features
Modern and elegant design
This luxury bidet is designed to fit well with every North American modern bathroom. Its sleek shape is designed to fit ideally with the toilet seat, and the bidet has a hidden pocket so that the electrical cord and water hose stay hidden and out of sight.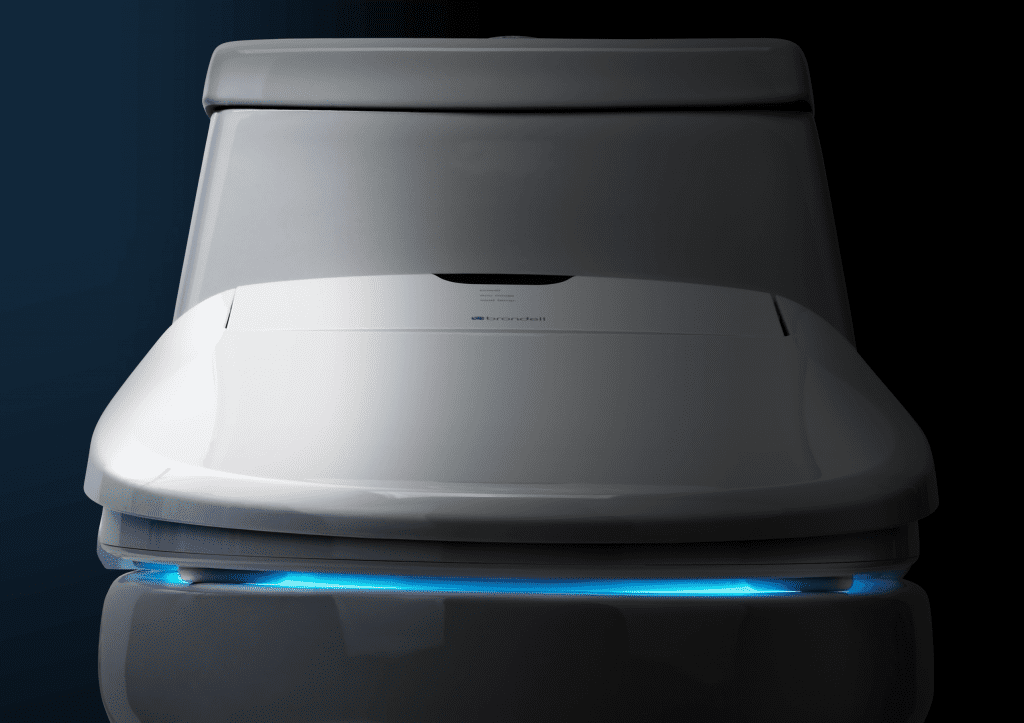 This bidet comes with an elongated swash from 18″-19 ½″ and a round swash with measurements of 16″-17 ¾″. Brondell Swash also has a night light option with cool blue LED illumination light which looks very modern and brightens up the space to help you detect the toilet during nighttime.
Stainless steel nozzles
Instead of industry-standard plastic, Brondell Swash has stainless steel nozzles which are known to be more hygienic as well as long-lasting. The nozzles have seven positions and through them flows fresh and aerated water, making them suitable for both posterior and feminine washes.
Brondell Swash 1400 also enables you to adjust the water pressure and the spray width from being narrow and concentrated to a wide and gentle spray. Moreover, the stainless steel nozzles have an oscillation function that moves back and forth so that it provides you with a comfortable and thorough cleansing experience.
Another incredible thing that we especially like about this high-grade bidet is that the nozzles self-clean after every wash, and they also have a feature for on-demand sterilization. This ensures the bidet stays clean and the nozzles free of germs.
Warm air dryer
To stay comfortable during cleansing, Brondell Swash features a warm air dryer that allows you to adjust warm air temperature. This feature gives a hands-free experience which we like, allowing your hands to stay clean. On top of that, the Brondell Swash 1400 has an endless warm water heating system that gives you warm water with four temperature settings. This is possible due to its tankless, ceramic-core heating system.
Heated seat
With the Brondell Swash 1400, you don't need to worry about getting cold.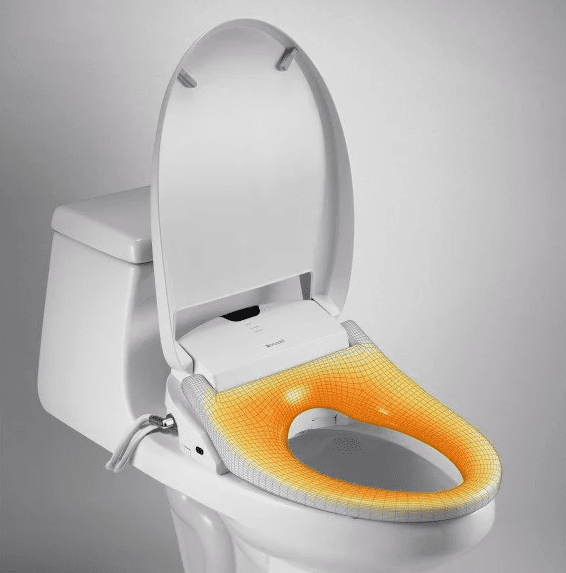 The bidet comes with a heated seat with three different heat levels that you can choose from using the wireless controller.
The heat levels are low, medium, and high, allowing you to be comfortable in any weather. On top of that, there is a skin sensor that detects when you sit on the bidet and starts warming the seat automatically. When it is in a power-saving mode, this bidet product maintains a low temperature and keeps the bills low.
Deodorizer
A lot of people use toilet seat fresheners to ensure a pleasant odor. That said, Brondell Swash 1400 has an active carbon deodorizer that neutralizes any bad odor so that your bathroom stays both clean and refreshed. We were also able to notice that the deodorizer is replaceable, which is a nice touch to the advanced features that this bidet has. Although the carbon-block filter doesn't replace the odor with fragrances, it does clean the air and make it refreshed.
Wireless remote control
In this Brondell Swash 1400 review, we have to mention that this innovative bidet uses advanced technology and comes with wireless remote control. It has a magnetic dock for simple and convenient use. The wireless control has two programmable user settings and a one-touch audio setting. Using this remote control, you can adjust all settings and create your most ideal bathroom experience.
Programmable user settings
Among the advantages you can get from the Brondell Swash 1400 toilet seat bidet is the ability to program user settings. You can save two profiles according to your liking. What programming the user settings means is that you can adjust water temperature, seat warmth, spray width, water pressure, and dryer heat to suit your needs the best. Then, you can access all of these settings by clicking on only one button instead of adjusting them every time.
As there are two profiles, this is an excellent option for couples living together as they can adjust the settings to their liking. If you have guests who don't have their settings, there is an auto option that will give them general wash and medium-level settings. However, as this model can be operated with a wireless controller, everyone can easily adjust all the settings according to their needs and what makes them comfortable.
Measurements
If you are unsure whether the Brondell Swash 1400 will fit well on your toilet, what you can do is measure them. The measurements for a bidet toilet seat are 20.43″ x 15.2″ x 5.75″. It comes in white color for a clean aesthetic and has a voltage of 120 volts. The weight of the bidet is 14.3 pounds and uses 4 lithium metal batteries.
Pros and Cons
How Does the Brondell Swash 1400 Work
In order for the Brondell Swash 1400 bidet toilet seat to work, it requires a power outlet that is near the toilet. Moreover, it requires a cold water connection as it has a tankless heating system that continuously provides you with warm water. The bidet is intended to help you clean yourself after going to the bathroom, and it is an eco-friendly option since you are not using a lot of toilet paper or wipes.
The main benefit you get from such a product is that it replaces the toilet seat while providing you with other cleaning benefits. As the bidet stays on the toilet, you don't need a separate appliance to clean yourself after going to the bathroom. Using the wireless controller, you can start the cleaning process and adjust the settings until you are comfortable and satisfied with the result. After you are finished cleansing, you can select the drying option, but you can also use toilet paper if needed.
Price and Policy
You can purchase the elongated version of the Brondell Swash 1400 bidet for a price of $85 used as new or purchase a brand new one for a cost of $1,025. If you want the round version, you can buy it for a price of $514.99. However, those are not all of the benefits you get from this innovative bidet. Brondel Swash 1400 comes with a 3-year guarantee as it is made from a reliable and well-reputed brand from North America.
Benefits of Using Brondell
As it can be seen in this Brondell Swash 1400 review, the bidet seat comes with a lot of advanced features that make you comfortable when going to the bathroom, help you cleanse, and keep the toilet fresh and clean. It is a much more eco-friendlier version as the need for toilet paper is minimal. The bidet product comes with a lot of installation parts necessary for usage, and it is designed to be simple to use and provide you with a comfortable experience.
By purchasing Brondell, you ensure you are getting high-quality products for hygiene and health as the brand uses the latest technology to deliver science-backed designs that contribute to one's lifestyle. The high-quality products from Brondell are a result of over two years of research, design, and testing.
Additional benefits
Moreover, as a customer-oriented brand, Brondell uses customer feedback and reviews from other users to learn more about what they like and need and uses that knowledge to create innovative and high-grade products for hygiene and wellness. The brand donates to and helps various organizations and people in need and has a lot of useful educational resources on the site about installing the products, wildfire preparedness, and other health-related topics.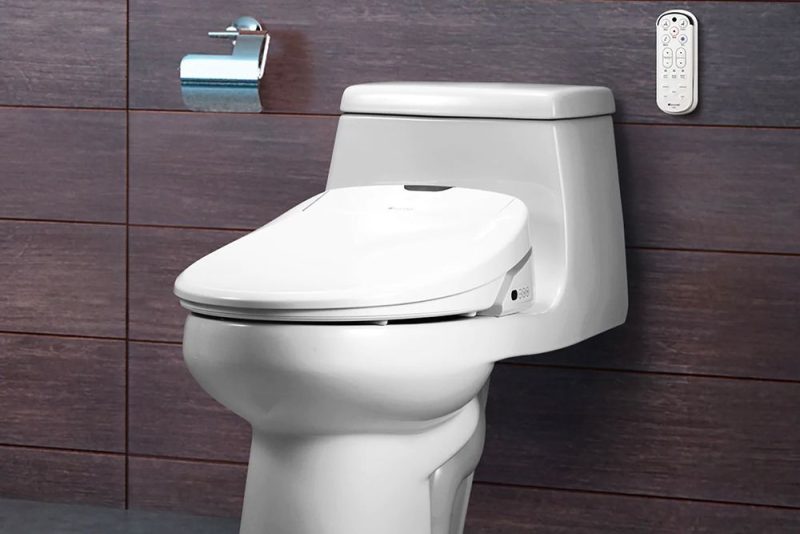 Customer Thoughts
During our review, we also wanted to read as many reviews from customers as possible to determine the feedback from the users and their experience with this luxury bidet product. Many users stated this bidet is a very convenient product that is easy to use and is great for both houses and apartments. Other users appreciate that the bidet is fully-adjustable and washes efficiently, so the need for toilet paper is minimal.
Furthermore, we were able to notice a lot of recommendations for purchasing Brondell Swash 1400 as a lot of users were recommending this product to their families and friends. We also found plenty of positive feedback about the prices and the duration of the warranty that comes with this product. All of Brondell's products are highly rated by numerous customers.
Frequently Asked Questions
Who can use the Brondell Swash 1400 bidet?
This bidet is suitable for every eco-conscious user that wants a comfortable bathroom experience. However, such bidet products are not suitable for children under three years old as they contain small parts.
It is easy to install, so you don't have to look for plumbers, which we find very convenient and simple to use regardless of age or gender. Brondell Swash 1400 comes with installation tools and hardware along with mounting bolts, a remote control wall mount, a T-valve connector, two rubber cone washers, two cable clips, and many more.
This shows that the brand understands the customers and their needs and sends the innovative bidet product along with all the necessary tools, so they don't have to travel to shops and search for essential installation tools.
What is the difference between Brondell Swash 1400 and 1000?
Even though both of the bidet models look similar, they are not the same. The one that we have reviewed in this Brondell Swash 1400 review has additional features such as the hidden pocket which hides the power cord along with the water connection. Moreover, the lids and the designs are different, as the 1400 version is made to fit well with modern bathrooms. In addition, this model includes two programmable user settings and an auto mode which is not the case with the Brondell Swash 1000.
Why should you purchase Brondell Swash 1400?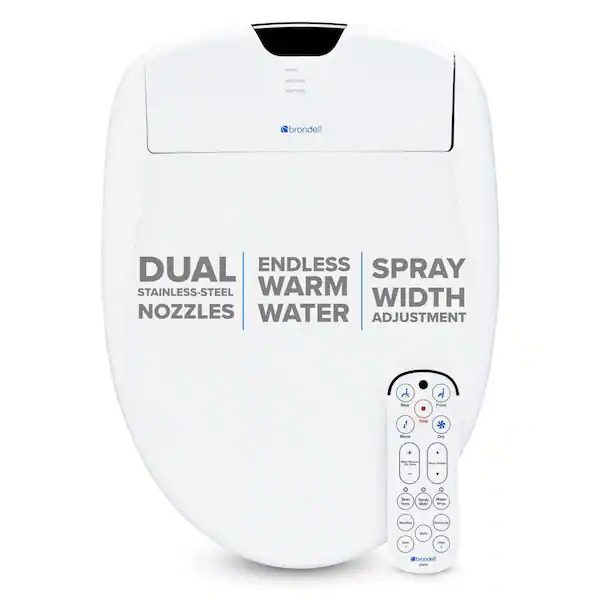 This Brondell Swash 1400 bidet has an incredible design, and it brings excellent value for the price. The creators of this luxury bidet put a lot of thought and care into every component of the product to ensure it is of great quality, effective, and comfortable to use. Given all of the useful features of this bidet, the pricing is very low and competitive on the market. As the brand is constantly developing its products, the Brondell Swash 1400 comes with a lot of advancements over the previous series of bidets created by Brondell.
What types of bidets can you purchase?
If you have decided to purchase a bidet for your home, it is a good idea to get familiar with all of the bidet types. Ever since their appearance, bidets have been a part of many homes and are available in various designs and variations.
There is a so-called 'stand alone' bidet which you can often see when you travel to Europe and Asia. This type of bidet is a separate unit and is completely detached from the toilet seat, and generally, it is mounted on the wall or installed on the floor just like a regular toilet. Such bidets are mainly made from ceramic material and come with a lot of modern features.
Another type of bidet is the toilet seat or built-in bidet such as the Brondell Swash 1400. This variation combines a toilet seat and a bidet in one so that you don't have to purchase other appliances and spend more money. These types of bidets are highly functional and often come with a lot of advanced features, which is also the case with Brondell Swash 1400. Some of those advantages include heated toilet seats, water temperature control, warm air dryers, and many more.
Other types
Besides these two types of bidets, you can also find portable or travel bidets that are designed for people who are constantly on the go and spray or handheld bidets. The handheld version is not portable but a hose that is connected to the toilet plumbing. Some of the designs allow you to choose between cold and warm water so that you have a more comfortable experience.
What are some essential tips to consider when thinking of buying a bidet?
A bidet is an eco-friendly and more gentle version of toilet paper. The newest designs come with a lot of advanced features intended to give the user an advanced cleansing experience and make them comfortable. However, not every bidet model is the same and has the same features.
Therefore, to determine whether a bidet is suitable for you, there are some vital factors that you can take into consideration before you make a purchase. One thing to consider is whether the bidet is simple to install and has all the necessary tools to do it by yourself. If you want a more convenient option, then you can opt for a bidet seat that fits onto your toilet, such as the one that we have reviewed in our Brondell Swash 1400 review.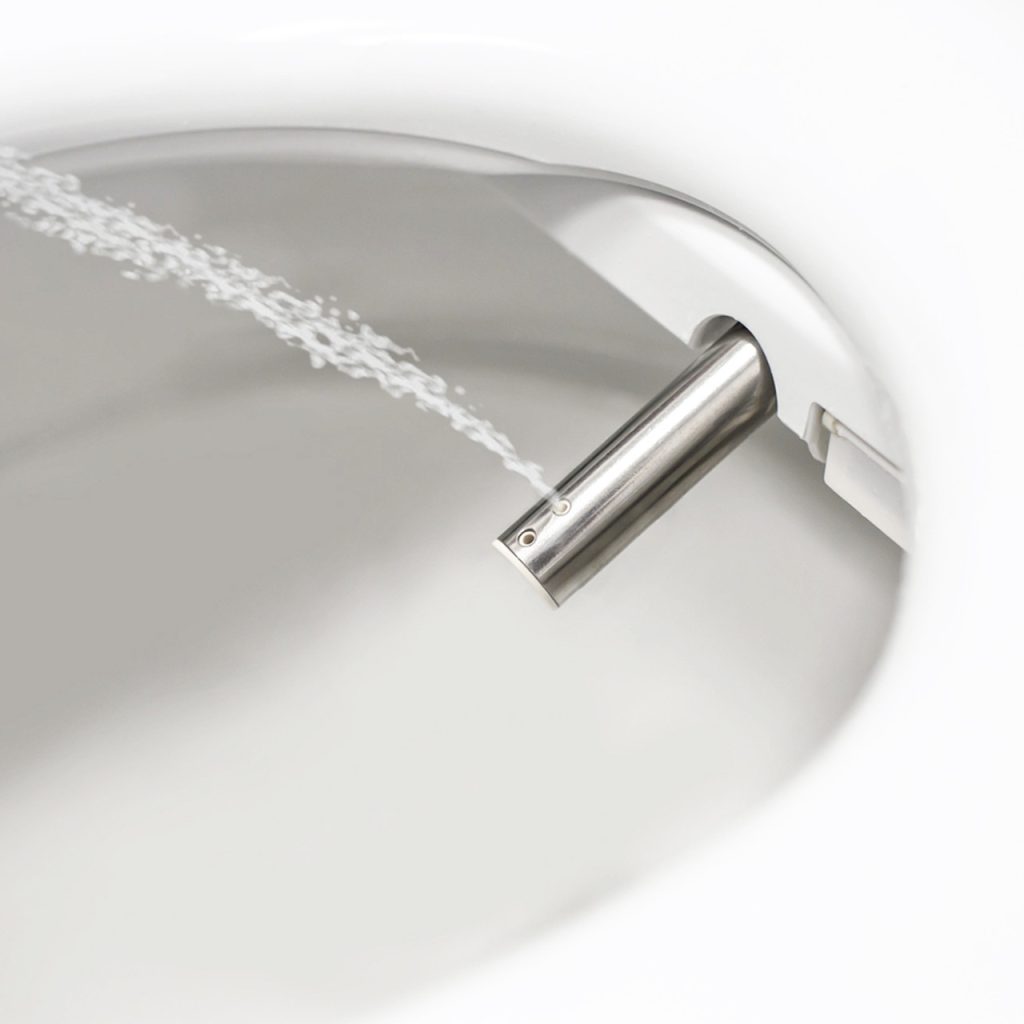 Moreover, you need to determine whether the bidet has a dryer as it is a very useful feature to minimize the need to use toilet paper but is also suitable for people with mobility issues. Most of the bidets come with several washing options, such as gentle feminine wash, pulsating posterior wash, and a turbo wash. Hence, they are very user-friendly, and depending on the needs of your household; you can select a bidet with adjustable functions.
Additional features to consider
Suppose you would like to eliminate an unpleasant odor, you can choose a bidet that has a deodorizer, such as the Brondell Swash 1400. Additionally, if there is a night light, it can also be very beneficial for you to locate the toilet and use it in the dark without having to turn on the lights. During colder weather, sitting on the toilet can be very uncomfortable.
However, built-in toilet seat bidets such as Brondell Swash 1400 have a skin sensor that starts warming the seat once your skin comes in contact with it. In addition, you can also look for other features such as an eco or power-saving mode, so your electricity bill is not very high.
Final Thoughts
The luxury bidet seat known as Brondell Swash 1400 can significantly improve your hygiene routine. It allows you to customize settings and features to make you comfortable and uses a wireless control to adjust them according to your liking. With its programmable settings and auto-mode, such a bidet product is suitable for everyone in the family and can even work well with guests. The Brondell Swash 1400 is simple to install and use, and it is made from a well-reputed brand known for delivering high-grade hygiene as well as wellness products.