Since the 1980s, smart toilets have steadily gained popularity worldwide and can now be found in most homes as a standard installation. People who use these kinds of toilets usually make significant progress in terms of their overall health and the level of personal care they receive due to their usage of the toilets.
In addition to their many other advantages, these toilets are perfect for customers looking for a particularly effective flushing mechanism. Because of this, you ought to be familiar with the BidetMate 1000 Series since it is the most advanced kind of smart product that Bidemate has to offer. Continue reading as we give you our BidetMate 1000 review.
Brand Overview
Where did BidetMate get its beginning? They wanted to clear up any myths regarding this highly approachable and simple restroom component. The idea for BidetMate originated from the desire to provide people in the United States with a more effortless and less expensive method to maintain a clean and fresh appearance without resorting to using paper materials.
What sets their product apart from others on the market is that even before the epidemic deprived people of their toilet paper, they had been considering the benefits of a bidet, trying one out, and talking to other people about it. They worked tirelessly to design a high-tech toilet seat that could be quickly attached to any existing toilet.
Why do they put so much passion into their work? They take great pleasure in dispelling common misconceptions about bidets. It is not a luxury item for the ultra-wealthy; instead, it is a straightforward and reasonable solution to a problem that each of us faces daily. They pursue their goals because they are passionate about bidets.
BidetMate 1000 makes updated, contemporary changes to your bathroom. This bidet is equipped with every conceivable luxury, ensuring that your time spent in the bathroom will be as stress-free as possible. The ergonomic design makes taking toilet breaks at any time of the day a pleasant experience.
Even the most unpleasant visits to the bathroom won't ruin the pleasant aroma the deodorizer produces in the space. A heated seat and water are provided for your convenience so you may relax comfortably and clean up. Moreover, there'ss an anti-bacterial and anti-microbial seat.
The bidet is compatible with all the ADA regulations. This extended toilet seat is not only aesthetically pleasing but also practical, making it an excellent choice for any bathroom. The bathroom is consistently one of the most-visited rooms in the house, so the fixtures you choose need to be able to wow people with both their beautiful appearance and their dependable operation.
You can add immediate beauty to your house, and it is a simple way to make the experience of using the bathroom more comfortable for you and any guests you may have. This bidet features a basic design with clean, smooth lines, offering elegance and beauty to suit a simple, modern decor in the bathroom.
Its dynamic curves and sophisticated appearance make it the perfect choice for those who aren't afraid to take aesthetic risks.
Features of Bidemate 1000
Design and technology
The BidetMate offers a delicate and stimulating cleaning experience for each household member. You can choose several different wash functions, including aerated, pulsed, feminine, power wash, massage, and child wash. There are configuration options for the heated seat, water, and dryer that are both easily adjustable and intuitive to use.
Eco-friendly and budget-friendly
By using less toilet paper, you may help the environment and save some cash. The elimination of paper towels helps to take care of the environment and your plumbing, and the mode that saves energy guarantees that electricity is never wasted. BidetMate gives a percentage of its proceeds to environmental organizations and causes that work toward making the world a cleaner place.
Self-cleaning nozzle
It is not necessary to take water from the bidet after each use; this may be done automatically. Because it has a nozzle that cleans itself automatically, this attachment makes it easy and convenient to clean up after using it.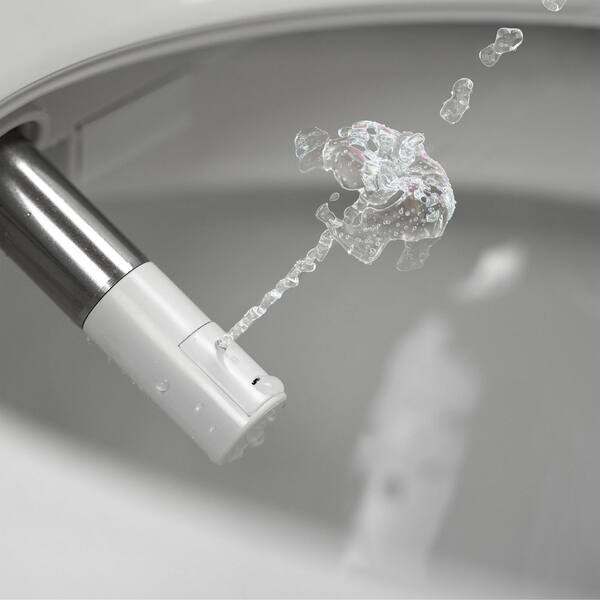 It moves forward and backward thanks to a combination of circular nozzles on each side that spray air and water in opposite directions. These nozzles provide front-to-back motion. Even if you are seated, this will cause powerful streams of high-velocity bubbles that will cover your whole body from head to toe.
Luxury
You should also give some attention to the care of your rear. A self-cleaning nozzle made of stainless steel sanitizes the bidet between usage, and a seat with a soft-closing mechanism ensures that there will be no more loud and sudden slamming.
Health benefits and cleanliness
A sophisticated bidet can clean more thoroughly than toilet paper ever could. Those who suffer from symptoms associated with persistent UTIs, fissures, hemorrhoids, and IBS will find that the calming cleanse is a game-changer for their quality of life. In addition, it may eliminate irritation caused by the harsh drying effects of toilet paper entirely.
3 Years warranty
BidetMate provides responsive and simple-to-contact customer support in the United States. They are concerned about your business matters (BMs) and want you to have confidence in the products you buy from them and how you conduct your other business.
Side panel control
The amount of water pressure may be adjusted using the knob on the side of this bidet. A control knob is a revolving device that, when grasped and spun by a human operator.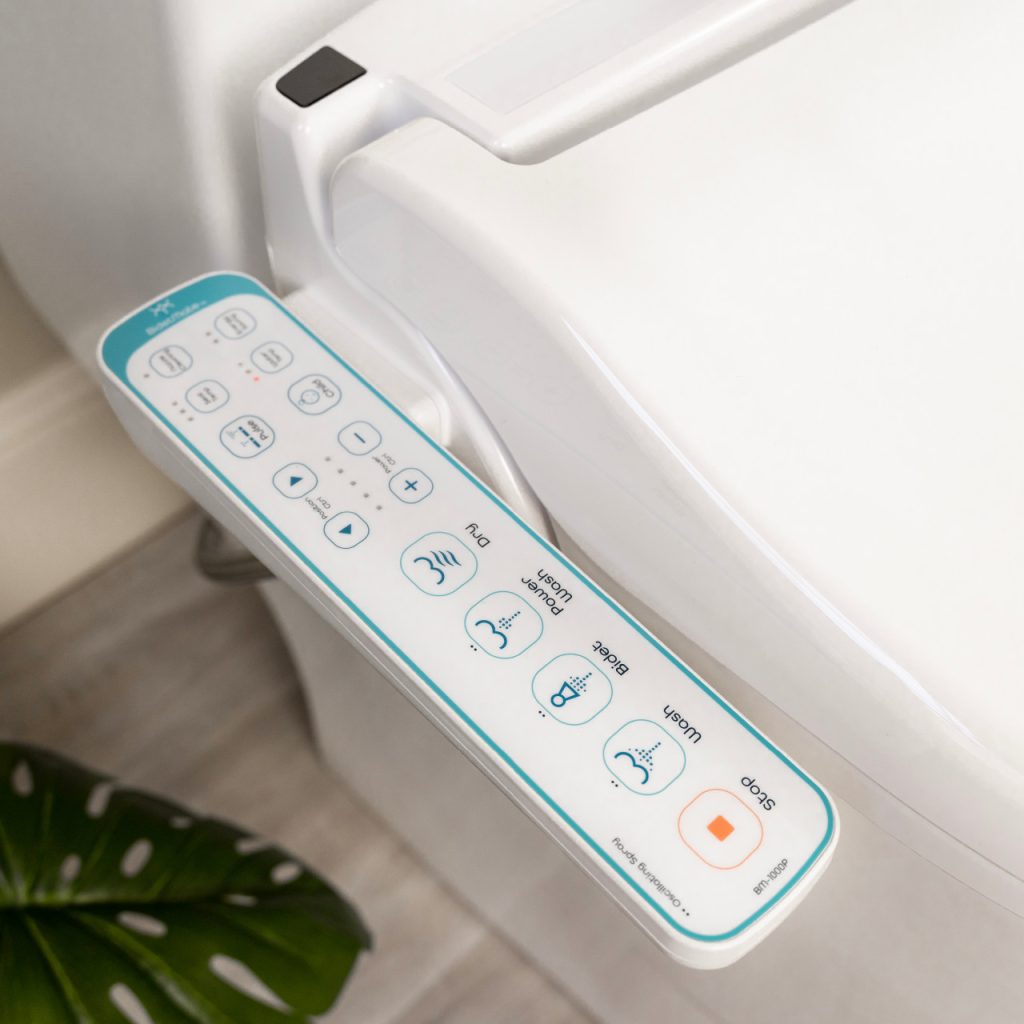 It is used to make manual input modifications to an electrical or mechanical system. These adjustments can be fine-tuned or made more drastic. The bidet may be moved in a controlled circular motion and at specific angles thanks to the knobs on the control panel.
High quality
The components used in producing these alliances are of the highest quality and designed to have a long service life. Additionally, they are constructed to withstand the high water pressure applied to them during use. Attachments for the Bidetmate are made using braided stainless-steel hoses rather than the more common plastic hoses and high-pressure faucet-grade valves with metal-ceramic cores. Additionally, a cold-water t-adapter made of metal is now included with purchasing any model in the Bidemate 1000 series.
Installation
One of this device's most significant benefits is its straightforward installation process. In a nutshell, you need to start by removing the big plastic screws located below your toilet seat, then installing the attachment, and lastly, replacing the seat. Connecting the hose that it will use to distribute the water is a nearly as straightforward process.
Pros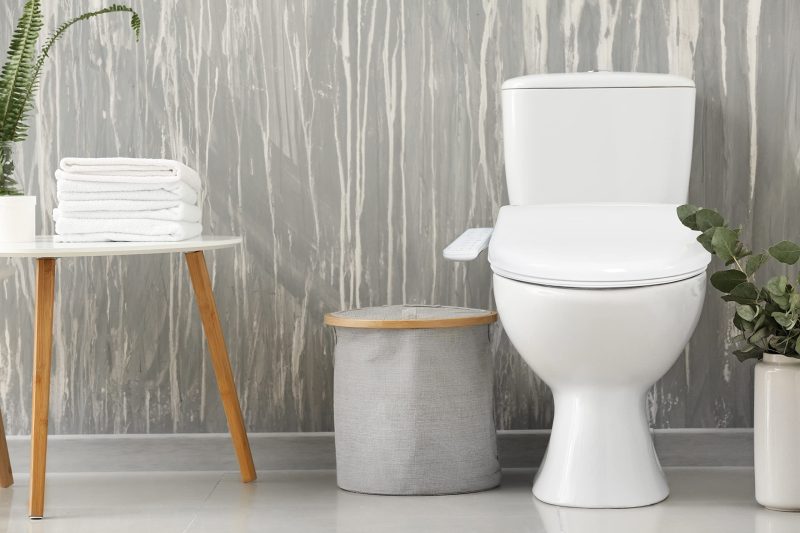 Benefits of Bidemate 1000
Environment friendly
Not only are bidets more environmentally friendly than standard toilets, but they also result in significantly reduced toilet paper usage, which in turn results in fewer instances of tree cutting. You may not only be able to save money on energy efficiency, but you may also be able to save money by purchasing less toilet paper and creating less rubbish waste from the materials used for packaging, all of which will result in savings.
Less plumbing problems
It has been demonstrated that bidets are less likely to become clogged than conventional toilets. The first advantage of switching to a bidet is that you will use significantly less toilet paper once you become familiar with using one. If fewer things are flushed down the toilet, there will be less of a chance that you will want the help of a plumber.
More Sanitary
The use of a bidet is significantly more hygienic and sanitary than wiping oneself with toilet paper, which frequently leaves behind feces residue. Even the messiest of messes may be gently cleaned up by directing a jet of water to precisely where required. In addition, bidets do not need the use of one's hands, which is a significant benefit given that the human hands are the body part responsible for the transmission of the most significant number of germs.
Comfort
The water bidets that can assist you in maintaining better personal hygiene can be adjusted to provide the amount of comfort that is most appropriate for you. The water's pressure, location, and temperature may all be modified and adjusted to produce different results.
Beneficial for women
You can adjust the warm, soft water flow to several different settings, providing the lady with a level of comfort suited to her requirements. Warm water washing is helpful during menstruation and is also an excellent technique for feeling refreshed before and after sexual activity. Warm water cleansing is a fantastic technique that may help reduce the difficulties that might develop after pregnancy, such as rashes, constipation, and the pain and bleeding resulting from diarrhea and hemorrhoids. This cleansing method utilizes warm water. Additionally, it has the potential to assist in the avoidance of infections of the urinary system.
Beneficial for senior citizens and handicaps
Bidets provide several advantages for elders. The fact that older adults won't need assistance when they have to clean up, which will give them a sense of confidence and dignity, benefiting their quality of life. People who are disabled can benefit significantly from using a bidet since it does not need them to use their hands. They can regain their self-confidence once they realize that they are free to use the toilet without waiting for someone else to clean up after them.
What Makes a Bidet Useful?
Bidets are specialized bathroom equipment that directs a stream of water at your genitalia and perineum to clean those areas. They are attached to your home's pre-existing water connection and have a side-mounted remote control. These seats also feature a nozzle that sprays a stream of warm water that cleans the genital and perineal regions. They also come with a drying function, which considerably reduces the demand for toilet paper in a manner that is more hygienic than it would be otherwise.
It is the primary method that many people worldwide use to clean themselves after using the toilet, notably in Europe, Japan, and South Korea. In these regions, it is widespread. Bidets are slowly but surely becoming necessary components of contemporary bathrooms in the United States of America.
Read More: BidetMate 700 Review
Conclusion
With that, we conclude our Bidetmate 1000 Review. In this review, we have provided you with all the information required for you to buy the Bidetmate 1000. The Bidetmate 1000 is an excellent choice for someone looking for a bidet at the starting level because it has many useful functions and is reasonably priced.
In particular, if you do not wish to invest a significant amount of money in a bidet, we believe that you will find the Bidetmate 1000 an excellent investment.