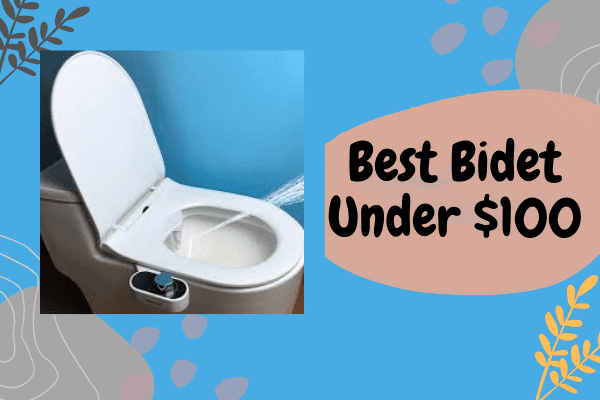 There are good numbers of bidets under the price of 100 dollars, unlike those under 50 dollars. If your bidet price budget is below or a maximum of a hundred dollars, you have a few different varieties of bidets to choose from in the market.
You can get either a functional non-electric bidet seat, a bidet attachment, a bidet sprayer, or a portable bidet at this price. However, you can't get an electric bidet seat, a bidet combo with this price, and also, don't expect these bidets to be highly advanced.
What is the Best Bidet Under $100
The best bidet under the price of $100 is the Brondell Swash S101 bidet seat for round toilets, while its alternative American Standard Aqua Wash bidet seat is ideal for elongated toilets. The LUXE Bidet Neo 320 bidet attachment remains the best bidet attachment, with its alternative being the Zen Bidet Warm and Cold bidet attachment.
Brondell Swash S101: Best Bidet Toilet Seat Under 100
The best toilet seat under the price of 100 dollars is the Brondell Swash S101. It's a non-electric bidet seat with a fair amount of features that can give you a good wash. As it's a non-electric bidet, not much functionality should be expected, except for the essential features that every starter pack bidet should have.
As a non-electric bidet, it does not have an air dryer, so you'll need a bidet towel to dry off after using this bidet.
Features
Easy to Install
The installation process of a bidet can get a bidet user confused after making the hard decision of choosing a bidet from the different types of bidets in the market. The installation process is super easy for this bidet, and you don't need a plumber to do it for you.
Easy to Use
Aside from installation, it's likewise easy to use, and being a non-electric bidet seat contributes to this. To use it, simply turn the round chrome dial by its side to initiate either the rear or the front wash.
The plainness in using it makes it a good bidet for kids too.
Dual Nozzles / Feminine Wash
It comes with dual nozzles that feature a rear wash and a front wash that targets the female front region. As two different nozzles perform this function, aiming for a woman's back or front area won't be a problem.
Nozzle Guard
As it's a low-budget bidet seat, it does not have all the highly advanced wand hygienic features present in high-tech bidets, but the presence of the nozzle guard is also helping.
After every use, its nozzle or wand (whichever one you call it) tucks back into its guard to protect it from pee or toilet splashes.
Adjustable Water Pressure
You can adjust this bidet's water pressure, which includes both the rear and front wash. You can do this through the round chrome dial.
Simple Design
The design of this bidet seat is effortless, so if you want a bidet seat that looks similar to your non-bidet toilet seat, it's an additional plus.
No Electricity Requirement
As a non-electric bidet seat, it does not require you to install an electrical outlet in your bathroom, especially if you don't have one already.
It also requires no batteries to function either.
Soft closing lid
The soft-closing lid gives no room for constant slamming.
What You May Not Like in It
Only Round Model
The Brondell Swash S101 comes in only a round model, which is only ideal for round toilets. So if you have a round toilet, you're good to go.
If your toilet is elongated, you can go for its alternative, which I mentioned below.
Cold Water
Also, the Swash S101 runs out only cold water, but if you want one with a warm water option, go for the Brondell Swash S102. Just make sure you have a warm water supply or sink near your toilet to provide you with warm water.
It has the same features as the Swash 101, but its price is slightly higher.
It's Alternative
An alternative to the Brondell Swash S101 is the American Standard Aqua Wash. It comes only in an elongated model, which can serve if your toilet is elongated. It has similar features to the Swash S101 and also doesn't have a warm water connection option.
If you have a French curved toilet, this bidet seat can fit it. You can also check out other bidet seats that fit a one-piece French curve toilet in this article.
LUXE Bidet Neo 320: Best Bidet Attachment Under 100
The best bidet attachment under the price of 100 is the LUXE Bidet Neo 320. Having used this bidet for a long time before moving to a high-advanced bidet seat, I particularly love this bidet for its decent features.
You should know that there are a lot of bidet attachments in the market that you can get under the price of 100 dollars. The outstanding ones meet every feature of flexibility, durability, easiness, and high effectiveness within these ranges.
For a complete guide on using a bidet attachment, check out this article. For the pros and cons of bidet attachments, this article has good information too.
Features
Sleek Design
The design is smooth without clumsy, unnecessary structures within it. It gives no awkward display to your toilet or toilet seat when installed.
Easy to Use
It's easy to use the Luxe Neo 320 as only what you need to either turn it on or off is to turn the lever or knob control on the side panel. As a non-electric type of bidet, the lever and the knob control panels, the settings you intend to set up in this bidet.
Hygiene Nozzle Features
The hygiene features on this bidet attachment nozzle are what I love most about it.
First, it has a self-cleaning wand or nozzle that cleanses before or after every use. Though this feature doesn't occur automatically, you will have to turn on the 'nozzle clean' on the side panel for this feature to run.
Still, it's a good feature considering automatic self-cleaning nozzles are primarily found in higher bidets.
Secondly, the nozzle retracts back into its safeguarded guard gate when not in use. This protects the nozzle from contact with any possible pee or used toilet water that harbors germs. So you can be at rest when using your bidet.
Warm Water Option
As a non-electric bidet and bidet attachment, many people would believe that having a warm water option for this bidet is not possible, but that's not true.
If you have a hot/warm water supply or sink close to your toilet, this bidet has an option for a warm water connection. This is helpful for those who live in a cold region.
Dual Nozzle/ Feminine Wash
Aside from the rear nozzle for washing the posterior region, a feminine wash on this bidet assists in ideally aiming the female part. You don't have to wiggle on your toilet to get the water on your lady area as a lady.
Also, whether a man or female, don't forget to dry off with a bidet towel after using your bidet.
Water Pressure Control
You can control the pressure of water running out from this bidet through the knobs on the side panel.
18 Months Warranty
The long-time warranty for this bidet creates more opportunities to decide if this bidet attachment suits your desires, especially if you encounter any problem when using it.
Just ensure you head over to the LUXE website to register your Luxe Neo 320 after purchasing it for an extended warranty.
What You May Not Like in it
Installation Process
Even though the company advertised that this bidet attachment is super easy to install, it's not so for some users.
When I installed mine, I had no issue installing it, but some users have complained that the installation process is not as smooth as the company publicized.
So have this in mind if you'll be purchasing it.
It's Alternatives
The best substitute for the Luxe Neo 320 is the Zen Bidet Warm and Cold bidet attachment. It has the exact features of the Neo 320 that you'll have a hard time on which to pick.
Another alternative under the price of 100 dollars that's worth mentioning is the TUSHY Classic 3.0. It doesn't have the hot water option nor a dedicated feminine wash setting like the Luxe Neo 320 or Zen Bidet, but it performs well with the primary feature of washing you and self-cleaning the nozzle before use.
RinseWorks Aquaus 360: Best Handheld Bidet Sprayer Under 100
The RinseWorks Aquaus 360 is the best handheld bidet sprayer under the price of 100 dollars because it's a well-constructed bidet sprayer. As simple as it may look, every feature is well put together for a specific purpose.
These features differentiate it from most bidet sprayers in the market.
As a handheld bidet sprayer, it's very multipurpose, making it suitable for washing down there and spray washing your toilet, washing diapers, and even household items.
Remember, as a handheld bidet sprayer; you will need a bidet towel to pat dry down there after washing.
Features
Easy Installation
Installing it is super easy and won't take more than 30-45 minutes. You can do the whole thing yourself without the need for a plumber. You likewise don't need a tool as every installation material comes with the kit.
Good Quality
Whether you're going for the brass sprayer version or the polymer sprayer version, the material component of this bidet is of high quality. It's made of a heavy-duty strong ABS body, which is impact-resistant and corrosion-proof as it can withstand hard falls and rust.
The hose is also made of high-quality stainless stain that is very flexible even when under pressure from the water rush or flow.
Even the valve cores are made of brass material that can last up to 10 years without you changing it.
360 Dual Thumb Pressure Control
This is the most popular feature in this bidet, making most users fall in love.
Unlike other handheld bidet sprayers with a lever that requires the user to constantly press the lever for the water flow or control the water pressure, this sprayer comes with a 360 dual pressure control.
Without applying pressure to the thumbs when using, you can softly push either side of the control chrome to release out water with ease. You can also raise the spray pressure from a gentle and soothing rinse to a full-force jet spray.
With no need to retain the lever, you can set the dual pressure controls to the preferred pressure level. This makes it easy to aim your rear or frontal region ideally.
Extra 5-inch Extension
The company also included a 5-inch extension that you can add to your bidet to make it longer. It makes it ideal for people with disabilities, plus-size users, or when you don't want the water touching your palm when you wash.
Easy to Use
The way it's made up is straightforward to use and requires no instructions, even for users who haven't used a handheld bidet before.
If you want to see if you aren't missing any steps when using a bidet hose or sprayer, you can check out this article where I gave a step-by-step guide to using a bidet sprayer or hose.
What You May Not Like In It
Of all the good features in this bidet, it does not come with a hot water valve option connection. Though this may not be a problem if you're a user who lives in a hot climate, it might be for users living in a cold region.
It's Alternative
The Brondell Hot/Cold Bidet Mixing bidet sprayer is an alternative to the RinseWork bidet sprayer. What you will love most about it is its provision of a hot water valve so you can easily switch between hot and cold water.
Just ensure a warm water supply is closer to your toilet for easy connection.
Original HAPPYPO: Best Portable Bidet Under 100
There are many portable bidets out there, but one of the best ones is the Original HAPPYPO. It's a portable bidet sprayer that anyone can use either indoors, for traveling, or outdoors when you're on the go.
Features
Easy To Use
It's super easy to use this portable bidet because of its construction. Even kids can use it because of how easy it is to use.
Easy Refill
Filling it with water before use or refilling it is easy.
Travel Bag
It comes with a travel bag that aids with easy transportation and protection.
Water Capacity
The bottle is of 300ml capacity, and this is enough to give you a clean wash. However, if you want something more extensive, you can check out Original HAPPYPO XL, which has an extra 180ml, making it 480ml water capacity.
The only difference between them is that the Original HappyPo XL does not have a travel bag.
No Electricity
There are a good number of portable electric bidets. However, this portable is non-electric. It's very effective for users who want a simple one or in a place where there is no provision of electricity.
What You May Not Like In It
For some users, the water capacity may not be enough.
It's Alternative
An excellent alternative to the Original HAPPYPO is the Brondell GS-70GRN GoSpa. They both have similar features; however, the Brondell GS-70GRN GoSpa is 400ml in capacity, unlike the HappyPo, which is 300ml.
Also Read: Best Electric Portable Bidets
How Much Should You Spend On A Bidet?
There is no particular amount dedicated to being spent on a bidet. The amount you spend on a bidet should be determined by your budget and the features you want in a bidet because its features decide the price of a bidet.
When the price of a bidet you desire surpasses your budget, it's okay to stick to a low-priced one, provided it does the primary feature of a bidet perfectly. Alternatively, you can also increase your budget if the feature you want is something you can't compromise.
Are Cheap Bidets Good?
The price does not entirely determine the effectiveness of a bidet. There are many cheap bidets out there that are good and highly effective. However, you will find them in categories like bidet attachments, bidet sprayers, and portable bidets. It's sometimes challenging to find cheap bidet seats, especially under $50. And for under 100 dollars, there are very few of them in the market.
Also, you should know that when going for a cheap bidet, the features you will get from it are minimal.