Depending on your budget and intended users, various bidets are available. Travel and portable bidets are among the least expensive and easiest to operate. In contrast, bidet toilet seats and combination bidet toilets are more costly and contain various comfort-oriented features.
Continue reading this TUSHY travel bidet review that I have done after using it personally to learn about an eco-friendly and portable bidet. So, let's get started!
Brand Overview
Invented by Miki Agrawal and released in January 2016, Hello TUSHY is one of the premier bidets I have reviewed in the world. In Europe and Asia, bidets are a regular fixture in bathrooms.
TUSHY is a relatable and humorous brand of self-proclaimed toilet crusaders that manufacture bidet attachments and bathroom goods to decrease waste and keep your tush clean. TUSHY is a relatively young e-commerce business in the bathroom market in the United States with many personalities.
TUSHY is aware that it operates in a potentially embarrassing, forbidden, and even humiliating way for some individual's private and intimate space. Nevertheless, it is a shared place for all.
The company is keenly aware of the environmental consequences of restroom use and is determined to eliminate waste. I cannot help but mention that a percentage of TUSHY's profits are invested in constructing community toilets in India, allowing the impoverished to live healthier, more productive, and more dignified lives.
All bidets come with a 60-day satisfaction guarantee, so if you are unhappy with your purchase, you can get a full refund. The equipment and parts of Hello TUSHY bidets come with a one-year warranty. During the given warranty term, Hello TUSHY will replace any damaged parts free of charge.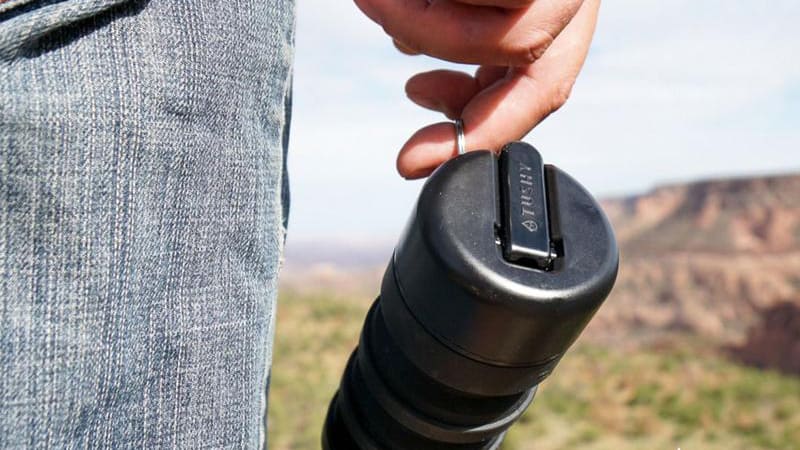 So I bought the TUSHY travel bidet to review it for you and ever since it has been my travel partner. I found that TUSHY Travel is a portable, folding, and inflatable bidet that eliminates the need to bother about storage. It arrived with a discrete carrying bag and a carabiner hook, which allowed me to carry it everywhere, whether going to school, work, or the mall.
The TUSHY Travel has a hinged nozzle with a three-point spout that creates a powerful stream, which is impressive. One more thing I liked about this bidet is that it carries up to 11 oz of water and requires no batteries or charging. This portable bidet is available for $29 in black, white, fuchsia, or teal.
I find it very easy to use. To prepare the bottle, double its height by expanding it, then remove the cap, fill it with water, and replace the cap. After using the toilet:
Grab the bidet.
Raise the spray nozzle to the proper angle.
Press the bottle to produce a strong spray.
Also, I was happy to see a built-in carabiner, which enables you to attach the bottle to a backpack, while the bottle's textured body makes it exceptionally easy to grip for cleaning up after a workout.
To clarify, a portable bidet will improve your experience in a public restroom. When drying off, it will miraculously make the single-ply toilet paper softer or prettier, but you have to dry it by patting it.
Features
Fabulous design and colors
The expandable and collapsible accordion-like style of the TUSHY travel bidet is one feature that attracts buyers and so I was. The bidet's smallest dimensions, as I've seen, are merely 3.50 inches in height and 2.75 inches in width, making it smaller than any other bidet I observed.
Not only does this make the TUSHY Travel more discreet, but it also makes it incredibly travel-friendly, as it requires so little room. It resembles a water bottle, and it was a blessing for me to see that it is available in four colors: black, white, fuchsia, and teal.
Travel friendly
It is convenient for outdoor adventure travel, such as backpacking, camping, and road trips. You never know what will occur in the bush, and finding a restroom along the route can be challenging for all of us.
The further your travels take you from contemporary society, the less probable it is that you will locate a functioning toilet. There is a 50/50 chance that there will be toilet paper if you do find a bathroom. As long as you are comfortable defecating in the bushes, the TUSHY will thoroughly clean you.
Expandable and durable
I have tried many travel bidets. Most portable bidets are difficult to conceal because of their unusual form. However, the TUSHY travel bidet comes as a blessing for all of us. It is collapsible and expandable, allowing it to fit virtually any bag. Additionally, for discretion, it comes with a carrying case.
To clean your derriere, squeeze the bottle until the water is gone or until you feel clean. Most users typically use approximately one-third to one-half of the water in a TUSHY Travel. It's safe for me to say that one-half is also enough.
Once you're done using it, pour out any residual water, replace the lid, and collapse the container back to its portable size. And if somebody asks what it is, you can always say it's a stylish and contemporary water bottle. Additionally, one more advantage I found is its silicone's durability. There are no breaks, fissures, or deterioration.
Requires no battery
The majority of portable bidets on the market are battery-powered or require charging. This is the case due to the capability of the handheld gadget. On the other hand, the TUSHY Travel bidet uses a different method. Instead of requiring electricity, it is powered by a small amount of palm pressure, which I think is more convenient as you don't have to rely on electricity. Essentially, it is a water bottle at the bottom.
The silicon body enables you to adjust the pressure of the stream by squeezing harder or softer. I didn't find many portable bidets on the market that have a way to control the water pressure, but the TUSHY Travel portable bidet makes it easy by putting the power in your hands.
Easy to use
I like how easy it is to use. You just have to open up the silicone to its full height, which is 5.5 inches with the spout down and 7.5 inches with the spout up. After removing the cap and spout made of BPA-free plastic, fill the bottle with water from the sink in the bathroom, and then replace the cap.
The three-holed spout drips a few drops of water when turned upside down; thus, I recommend flipping it back up after using the toilet. Then, squeeze the accordion to direct a laser spray of water directly to the spot you're focusing on during that particular restroom visit.
Travel bags
I could easily carry this TUSHY travel bidet set, as it includes a travel bag that allows the bidet to be concealed and stored in a handbag, backpack, or suitcase. Depending on the size of the bag, a spare water bottle may fit easily for you.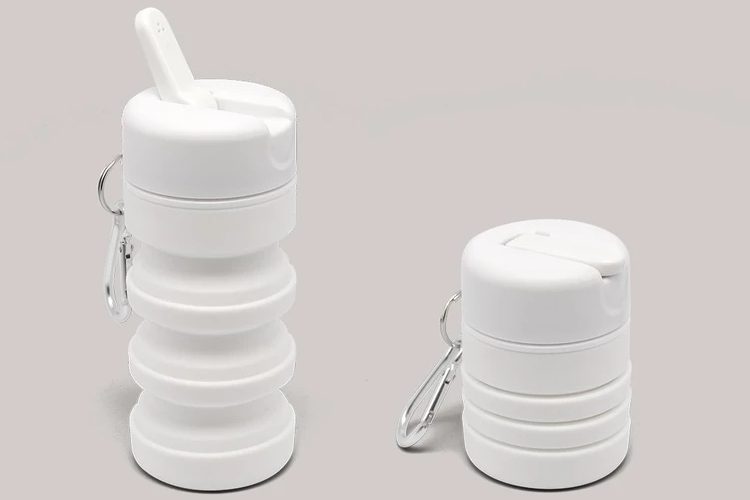 How Does TUSHY Travel Bidet Work?
Using the TUSHY travel bidet is not rocket science; following my instructions, you will be one step closer to getting a cleaner wash after a bathroom visit. Before actually employing it, it is essential to first test it out. Please get acquainted with the device: First, rotate the nozzle to open the bottle chamber.
Once you determine where the water is stored, you can fill it with hot or cold water, depending on your preference. Place the top compartment and close it securely to prevent spills.
Adjust the nozzle's angle, flip it upside down with the nozzle facing the floor, and place it appropriately. You may then begin spraying, but you must ensure that you are clean before ending.
Upon completion, you can dry your behind with some toilet paper, ideally eco-friendly toilet paper. If you feel eco-friendly, you can dry yourself with recyclable toilet paper. That is all there is to know about using the TUSHY travel bidet. However, to get the most out of it, you should still learn how to clean and maintain it properly.
I was moved by the fact that this silicone tube can expand to hold water and contract when not in use. Remember to fill it with water before departing. It can hold up to 11 ounces when fully extended and add some weight to your bag which I think is very impressive. In addition to being collapsible, it takes up minimal space while not in use.
Benefits of Using Hello TUSHY
Hygienic
Similar to other types of messes, it has been demonstrated that water is more effective than dry paper towels for cleaning your butt. You may be able to remove some food from a plate using a sponge, but without water, the dish will never be totally clean.
Similarly, the TUSHY travel bidet is significantly more hygienic than toilet paper. I know that the use of toilet paper does not guarantee hygiene. Fecal germs can remain undetected on your skin, clothing, and bathroom surfaces.
At the same time, washing with water is far cleaner than wiping with toilet paper. Additionally, it expedites the entire procedure and leaves you feeling clean and invigorated.
Additionally, using the TUSHY portable bidet sprayer keeps your hands clean. It is unnecessary to waste wads of toilet paper when a simple spray can do the job and keep your hands away from the danger zone. Your hands, clothing, and surroundings are protected from germs and are less likely to come into touch with them.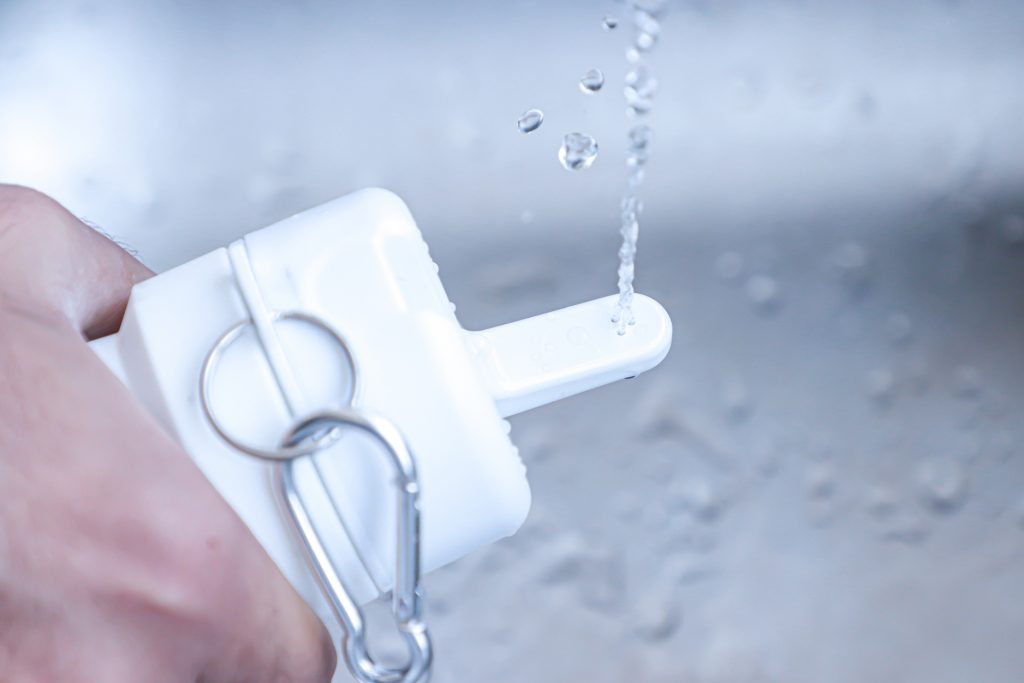 Better control
With this TUSHY travel bidet, I have enhanced control. Since it is not attached to the toilet, I am free to position it however you choose. So, you can receive a better wash from the TUSHY travel bidet by simply repositioning it instead of searching for the optimal angle.
Since it is handheld, there is no need to worry about being confined to a single location. This control allows for a better cleaning because it is portable. This is one of the advantages of the TUSHY travel bidet.
Gentle on sensitive skin
After using the restroom, dried toilet paper can be scratchy on your skin, which isn't the most comfortable way to clean up. If you suffer from skin irritations or other problems, warm water can be comforting, and remaining as clean as possible will make you feel more at ease.
Certain anal and rectal conditions might make it unpleasant to use toilet paper. This is why I think the TUSHY travel bidet may be the best option if you suffer from hemorrhoids, an anal fissure, anal prolapse, or any other ailment in this area.
In order to soothe the rectal area without exerting extreme pressure or rubbing that could lead to more irritation, you can regulate the warmth and strength of the water stream as well as the direction of the water when using a bidet. Air-drying solutions offer a soothing stream of warm air that does not irritate the skin. The residue left behind by toilet paper is a typical cause of anal itching, a common ailment for many Americans.
In many instances, the TUSHY travel bidet helps alleviate anal itching and improves your comfort. Children learning to use the restroom do not need to remember to wipe. If you are physically limited or impaired due to a disability or advanced age, I believe that a bidet may help you avoid skin irritation and other issues.
Eco-friendly
Daily, the average American uses about 57 sheets of toilet paper. This amounts to more than three million tons of toilet paper used annually in the United States, which necessitates the felling of 54 million trees. Even if tree farms are utilized, 50% of the trees required to supply Americans with toilet paper originate from virgin forests.
Moreover, the production of toilet paper takes substantial quantities of water. It takes 3.7 gallons of water to produce the 57 sheets of toilet paper that the average American uses daily.
TUSHY's travel bidet can significantly minimize the toilet paper required in the bathroom, which benefits the environment. When packaging, transportation, and other issues associated with toilet paper are included, the environmental cost of not utilizing a bidet can be substantial.
One cannot deny the fact that the bleaching technique utilized in toilet paper production is extremely detrimental to the environment and human health. Bleaching creates a byproduct called dioxin, which is a material that causes cancer in humans and animals, and chlorine products are also utilized, which leaves poison in toilet paper and harm the environment. A bidet is the most environmentally responsible option.
Related: TUSHY Bidets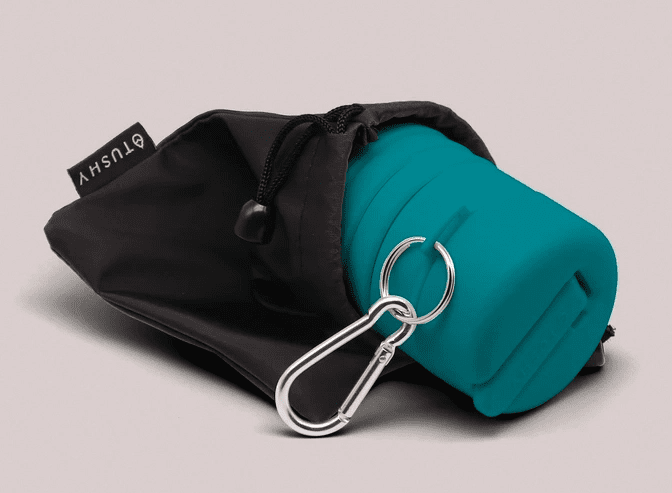 Very portable
The TUSHY travel bidet makes it possible for everyone to always be clean and fresh. Because it is portable, you can take it anywhere. An expanded container and frequent carry travel cases are included for rapid usage.
A boon for frigid mornings, you may fill it with hot water and use it to clean your derriere with a warm spray. To experience a refreshing stream of water, simply open the device, fill the water reservoir with warm water, extend the spray nozzle, and squeeze the bottle.
Because the TUSHY travel bidet not only fits into a small compartment in your backpack but also provides a more effective and convenient personal hygiene cleansing than toilet paper, I recommend it to every traveler for sure. It provides non-irritating, hygienic, warm water washing of vaginal and anal tissues to give the user a discrete form of personal hygiene that is beneficial to overall health.
Convenient for women
Using the TUSHY travel bidet for personal hygiene throughout pregnancy, postpartum care, and menstruation is a pleasant experience. For women's everyday personal hygiene, washing with a gentle water stream is more convenient, healthier, and more beneficial than wipes.
Saves money
Utilizing the TUSHY travel bidet is a fantastic way to save money and the environment. If you do not use a bidet, you may still need to use a small quantity of toilet paper to dry yourself after using the restroom, but you will only need to use a fraction of the necessary amount.
When you purchase less toilet paper, you will save money and minimize household trash, as there will be less packaging.
Reduced movement
Lastly, because the TUSHY travel bidet requires less movement, it gives people who might need help using the toilet the freedom to do it on their own.
This includes those who have just undergone surgery. Additionally, I think they are wonderful for anyone with delicate private areas, such as new mothers.
TUSHY travel bidets may not be as well-known as conventional toilet paper, but they provide certain tactical and environmental benefits. The travel bidet does not necessitate harvesting large quantities of trees, notably the old-growth kinds used for premium toilet paper. The sole natural resource is a clean water supply, significantly less likely to vanish during a global pandemic.
With the travel bidet, you may eliminate feces and other impurities more effectively than with toilet paper, leaving you feeling notably cleaner. Additionally, I must tell you that the travel bidet's water stream is softer on delicate skin than dry toilet paper. Single-ply toilet paper of commercial quality can worsen issues like hemorrhoids and skin rashes, but a bidet is a much better option for many individuals.
Frequently Asked Questions
Should I invest in a TUSHY Travel bidet?
Yes. People who cannot afford a standard bidet or whose bathroom plugs and plumbing preclude the installation of a bidet attachment may find TUSHY Travel a great and economical alternative. People look forward to bringing it with them on their journey after using it regularly for weeks at home.
When is the TUSHY travel bidet most beneficial?
After using a bidet, it can be difficult to return to using only toilet paper. Therefore, the answer is every time you leave your home. It is particularly beneficial when toilet paper, such as camping or trekking, or in locations where bidets are the standard, may not be available.
Are TUSHY travel bidets effective?
The answer is a "yes" that is moderately qualified. Some products perform better than others, like with any other product. Some are more user-friendly, of greater quality, or include unique characteristics.
True, the TUSHY travel bidet requires some practice to get the optimal position for use. A certain degree of talent is required.
This TUSHY portable bidet may not store a great deal of water, but for some, it will suffice, but for others, it will be insufficient. Some people use these at home, but they are designed for use on the go — in the city or on vacation.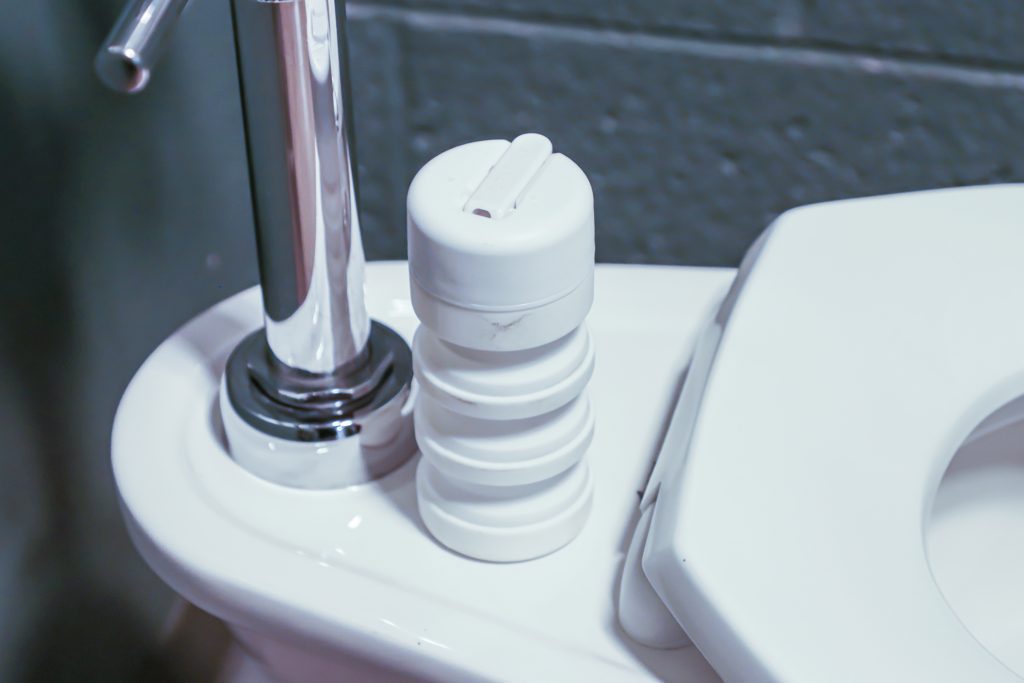 How do I wash a TUSHY travel bidet?
With soap and warm water, the TUSHY travel bidet must be cleaned. This can be done regularly in towns or at home after hiking. Typically, a travel bidet does not require cleaning after each use.
Is the TUSHY travel bidet truly more hygienic than standard toilet paper?
Regarding personal hygiene, travel bidets have a few advantages over standard toilet paper. A bidet washes away feces without wiping, whereas toilet paper can distribute feces into the genital area. A bidet also eliminates feces without the need for direct contact.
Who should utilize the TUSHY portable bidet?
The TUSHY portable bidet is the perfect option for folks who only need a bidet temporarily owing to surgery or the birth of a kid. The item is composed of silicone and is reasonably priced.
It is suitable for use at home or on the road and is a cost-effective option for individuals looking for a bidet they can carry with them throughout the day.
Due to its compact and lightweight design, the TUSHY travel bidet is ideal for camping and hiking, as it requires no more space in your luggage.
If you intend to use the handheld bidet primarily at home, this TUSHY travel bidet would be a better choice due to its unique characteristics.
Conclusion
If you have a TUSHY travel bidet in your bag, you can use the toilet at the office, the gym, or the dirty restaurant you stopped at while driving across the country as easily as you do at home. That is, with the delightful cleansing of a water spray, as opposed to wiping with toilet paper, as is customary in public restrooms around the country.
I hope that this TUSHY travel bidet review has given you a better understanding of what it is and how it functions. HelloTUSHY is a more hygienic and environmentally-friendly alternative to tissue paper. Their travel bidets are easy to clean and simple for people of all ages.
Therefore, do not hesitate to get one now and see the results for yourself!