Although toilet paper was originally considered a necessity, today's advanced plumbing and sanitation systems have rendered it obsolete. Many individuals are seeking alternatives to using toilet paper, especially in light of the current global health crisis that caused people to deplete all supplies. A washlet bidet is an answer.
Bidets are not only environmentally beneficial and hygienic, but the vast majority of the customers will most likely find them to be rather amusing as well. You may install a bidet directly on top of your current toilet so that it takes the place of the seat. TOTO is one of the most well-known manufacturers of toilets. Due to their many years of expertise in producing high-quality plumbing fixtures, TOTO is an obvious choice when it comes to bidets.
Given the variety of bidets available from TOTO, how do you go about making your selection? Do not worry; we have got you covered. Keep reading this detailed TOTO C5 review to make this purchase easy.
Brand Overview
TOTO is a corporation that had its beginnings in Japan but has now expanded its operations around the world. This company places a premium on being at the forefront of technological advancement, maintaining the cleanest facilities possible, creating aesthetically pleasing products, doing its part to protect the natural world, and creating services and goods that make the lives of its customers easier. As a consequence of this, it has developed into a respected name in the business and has become nearly associated with providing an exceptional experience in the bathroom.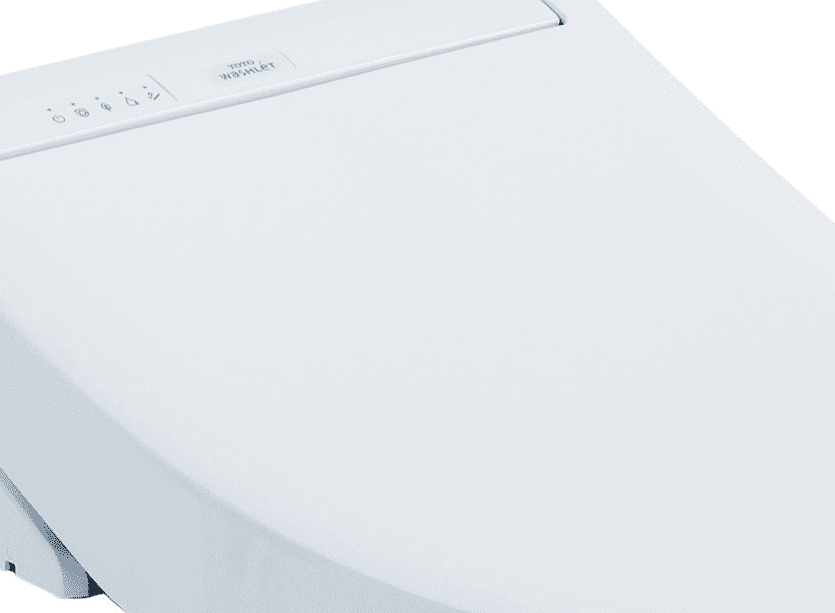 TOTO is a company that, apart from the design of its products, spends a lot of work on being a responsible organization, both in terms of the community and the environment.
TOTO, in particular, has a wealth of expertise in the production of high-quality goods for customers with a variety of different budgets, and the company is perhaps one of the most well-known manufacturers in the whole world. In addition to this, it is a well-established fact that the company's achievements in the sector can be directly attributed to the insightful approach they have taken to the selection process.
What was the brand's purpose?
"Providing a healthy and civilized way of life" – was the objective of the founder of TOTO, and it has been constantly handed on to every employee as the TOTO Group Corporate Philosophy.
This vision has endured for more than a century and now acts as the core of the organization for the TOTO Group as well as the guiding principle for their efforts in the areas of craftsmanship and sales.
They will do all in their power to guarantee that this goal is carried on to subsequent generations by providing customers all over the world with trustworthy TOTO brand goods and services that are safe to use. By doing so, they will "build" an enhanced and more pleasant lifestyle and culture founded around plumbing goods.
TOTO SW3084#01 WASHLET C5 Electronic Bidet Toilet Seat...
A REFRESHING CLEAN FOR EVERYONE - Gentle yet powerful water spray provides an effective clean; Adjustable warm water and pressure settings;...
STEP INTO A LAVISH STANDARD OF LIVING – SoftClose heated bidet seat provides consistent warmth coverage over full seat surface; Air...
CLEAN INNOVATIONS OFFER PEACE OF MIND - PREMIST helps prevent waste from sticking by using the incoming water supply to mist the toilet bowl...
When it comes to drop-in bidet washlets, there is no question that TOTO is still the 800-pound gorilla in the room. Its restrooms may be found at hospitality establishments all around Asia and Europe, including five-star hotels and upscale dining establishments.
TOTO has likewise developed many tiers and pricing ranges for its products. The recently released C5 (which comes with a remote), which is priced at around $700, is the entry-level choice at the industry's current mid-range level, and it is the one that will satisfy the needs of the majority of households.
The previous model, the TOTO C200, has been replaced with the brand-new and improved TOTO C5. Both models have water heating, an air deodorizer, and a PREMIST, in addition to having a wireless remote control. The Washlet has a more streamlined appearance thanks to the C5's smaller profile and the addition of TOTO's patented EWATER+ function, both of which are included with the Washlet.
TOTO's bidet seats are available in two colors: the industry-standard Cotton White, as well as a Sedona Beige, the latter of which is seen far less frequently and is thus generally more costly. There is a conventional size, as well as an extended size, available for the seats.
Specifications
Color: Cotton White
Brand: TOTO
Material: Plastic
Style: C5
Shape: Oval
Item Weight: 15.5 Pounds
Ratings by feature
Temperature Control 5.0
Softness 4.6
Remote Control 4.6
Easy to install 4.5
Design
The TOTO C5 WASHLETS produce an appearance that is both more streamlined and up-to-date. The C5 has a height of 5.75 inches at the back when measured. The C5 Washlet comes with wireless remote control that can be mounted on the wall and features two different sides. The design of this remote control is comparable to that of the K and S series remote controls seen on more expensive washlets. The former C200 remote is replaced by one that is more streamlined and features buttons with a greater contrast for improved legibility.]
Basic wash, dry, nozzle, and user preset buttons are located on the remote's front panel. You may change the seat, water, and air temperatures, as well as activate a cleaning cycle for the nozzles, all from the rear of the toilet.
On-demand wand cleaning
It is not necessary to be using the bidet in order to clean the spray wand because the remote control is equipped with a button labeled "wand washing". You may use this button whenever you feel like rinsing it out.
An air dryer
After you have washed your rear end, the air dryer will finish the job of drying it. It allows you to make use of a much smaller amount of toilet paper than you would otherwise.
An air deodorizer
The air deodorizer performs automated filtering of the air both inside and outside of the bathroom. Your bathroom will always have a pleasant aroma thanks to the filter, which gets rid of any aromas that are offensive to the nose.
The power wire and water hose for the sink are located on the left side of the seating area. The tab to quickly remove the seat and an air freshener vent are both located on the passenger's right side.
To avoid accidental slamming, both the seat and the lid close more slowly. A little push in front is all it takes for them to shut gently on their own.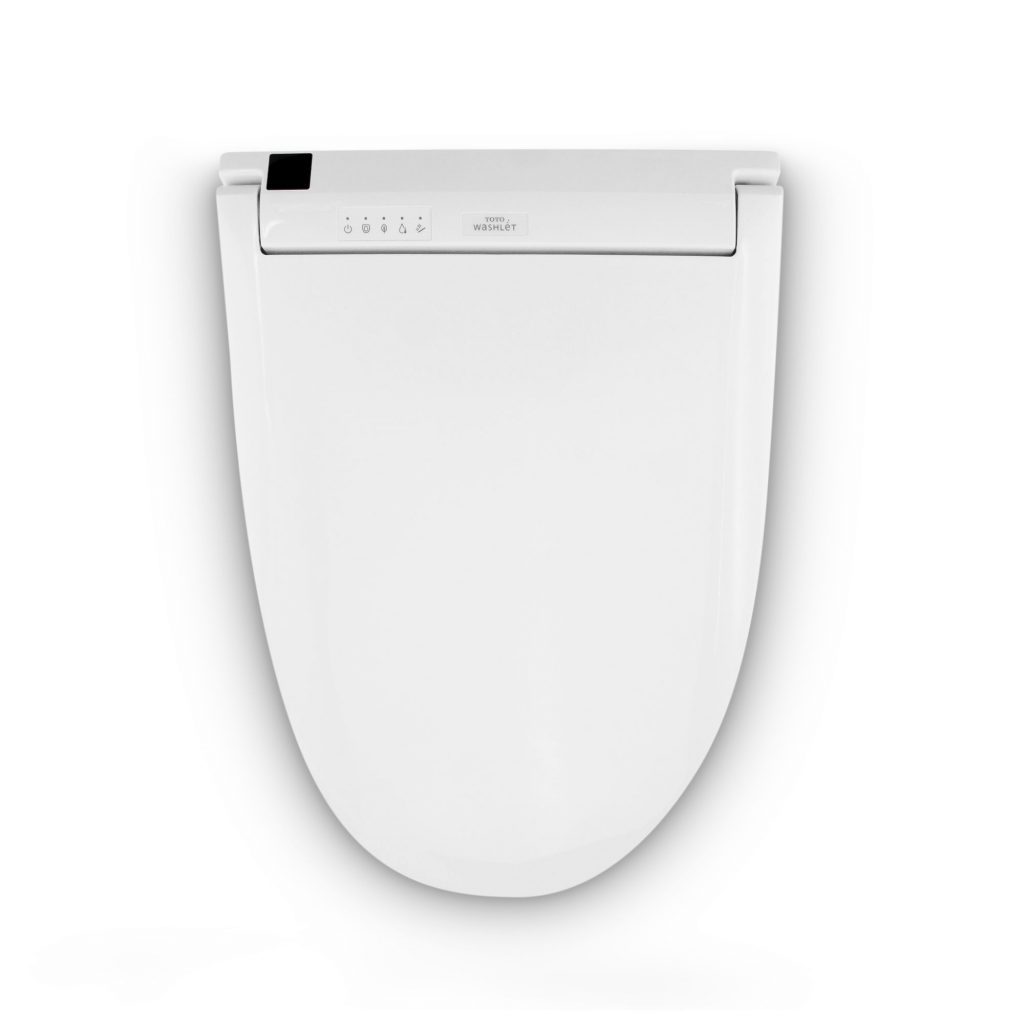 Features of TOTO C5
Profile & color
Despite its larger size, the TOTO C5's design remains streamlined and uncluttered. This is mostly attributable to the warm water tank that is located behind the seat. The TOTO C5 is only compatible with elongated toilet bowls and will not fit on a bowl that is round or circular. The C5, on the other hand, may be purchased in either white or beige, making it suitable for use in a wider variety of bathrooms.
Material
With a shell made of polypropylene plastic and nozzles made of stainless steel, the TOTO C5 has a construction quality that is of the highest possible standard. When it comes to the building of bidet seats, the less expensive ABS plastic is most commonly employed. However, polypropylene plastic is more robust and long-lasting than ABS plastic.
In a similar vein, in comparison to materials such as plastic or aluminum, nozzles made of stainless steel are easier to maintain clean and have a lower risk of breaking or cracking due to the material's high strength and lack of porosity.
Wash and dry settings
The TOTO C5 comes with a variety of wash modes, including front, rear, and soft rear, as well as nozzle oscillation and a pulse wash that adjusts the amount of pressure applied to the water for a soothing massage. Since the C5 is equipped with a tank water heater, the amount of warm water that may be produced at any given moment is between 30-60 seconds. The temperature of the wash stream will gradually get cooler as the tank becomes increasingly depleted of water. It usually takes between three and five minutes for the tank to be refilled and heated back up.
Deodorizer
The air coming from the bowl is cleansed by the built-in deodorizer that comes standard on the TOTO C5, which does not rely on fragrances or chemicals. This is accomplished by the utilization of a fan that draws air from the bowl and channels it through a carbon filter. Even while no deodorizer will entirely remove odors, it performs a remarkably effective job of refreshing the air in your bathroom so that there are no lingering aromas that you don't want.
Customer policy
Every order that is shipped inside the 48 contiguous states of the United States receives free standard delivery, either by UPS Ground or the US Postal Service. They start processing your order within one to two business days. Following the placement of an order, the anticipated delivery time is somewhere in the range of 5-7 business days.
Within the first thirty days after the date of shipment, the company will gladly accept returns on brand-new and unused items. Customers are responsible for paying for their return postage. Returns are only accepted if the item is still sealed in its original packing and has all of its components and attachments. Otherwise, a 15% restocking charge may be assessed.
Nozzle sterilization
When you begin and end your bidet session, the TOTO C5 utilizes sterile "EWATER+" to rinse the wand and nozzles. To ensure that you never run out of EWATER+, the C5 produces it on its own using electrolysis. A lot of people like EWATER+ since it is long-lasting, all-natural, and eco-friendly.
Remote
Plastic with an imitation brushed steel finish is used in the construction of the TOTO C5 remote. It has two sides, and instead of text, it has symbols that describe the different functions. When you touch one of the round buttons, the bidet seat will let off a beep to let you know that it has received the signal. Infrared transmission is used by the remote control for the C5.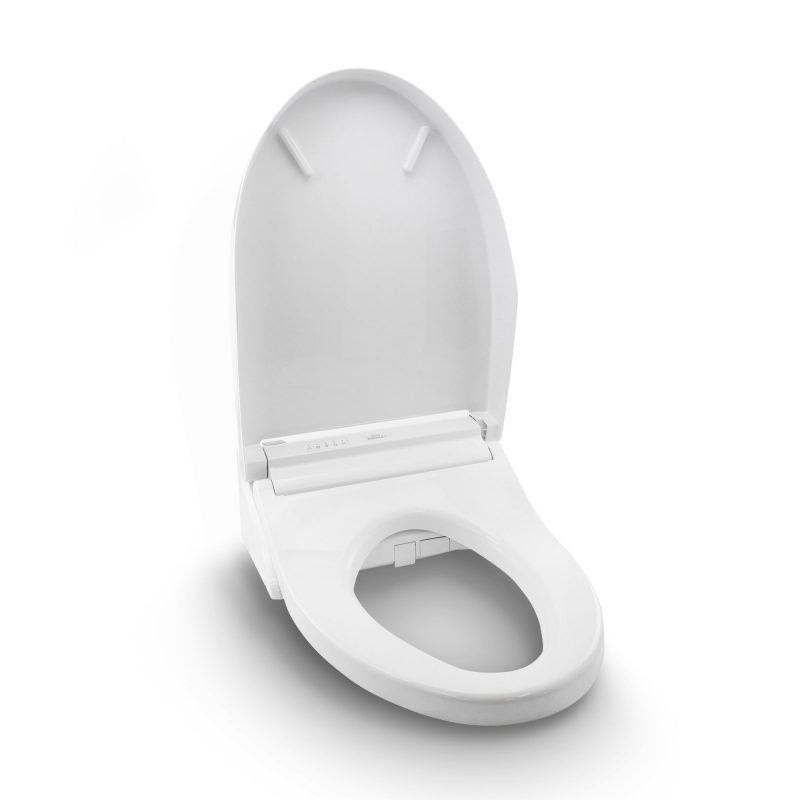 Things to Consider Before Purchasing a TOTO C5 Washlet
Customer feedback
TOTO Washlet C5s are only as good as their quality, making quality the most critical factor to consider. Choose a product that has received overwhelmingly positive feedback from previous purchasers. The higher the average rating that it has received from customers, the more likely it is that it does not have any flaws or problems. The TOTO washlet C5 reviews that can be found on the website of the retailer are the most reliable source for information on the product's quality.
Features
The TOTO Washlet C5 that has all the features you're searching for is the one that will offer you the most value and provide you with the most advantages. There are a wide variety of TOTO Washlet C5 models available, each of which comes equipped with a plethora of one-of-a-kind functions. Be careful to do the research necessary to determine which product meets your requirements the most effective and provides the most comprehensive set of features.
Design
There are several different models of the TOTO Washlet C5 that have a design that is unisex and hence can be used by either men or women. Because of the brand's TOTO Washlet, C5 features an attractive design. You should invest in a TOTO Washlet C5 since it has a compact build and performs admirably.
TOTO Toilets and Bidets
The vast majority of bathrooms throughout Europe are equipped with a bidet, which is a device that sprays a stream of water in order to clean the genital area after toilet usage. And the majority of individuals in the United States make use of flush toilets, which offer the option of sitting down (instead of crouching) while using toilet paper. However, other firms, such as the one headquartered in Japan known as TOTO, have just lately begun to lead a revolution that blends the bidet with the toilet that is used in Western countries.
In 1917, the founders of TOTO saw an opportunity in the sanitary ware market and set out to create a company that could both manufacture and sell its products. As a result of prioritizing customer happiness or "putting the customer first" throughout the years, the company has expanded gradually.
The business intends to utilize the technology it has developed to monitor a person's health in toilets to provide new services, such as advice to assist individuals in making dietary and lifestyle changes that would enhance their health.
How does the TOTO C5 work?
The TOTO Washlet is a device that can be attached to normal flush toilets. It provides users with the convenience of sit-down toilets found in the United States, as well as the refreshing rinsing action of a bidet's water jet after they have finished their toilet.
When it detects that a user is about to approach, the bidet seat will begin to mist the toilet bowl in preparation for their usage. The pre-mist is a patented formulation of electrolyzed water made using EWATER+. Their method converts common compounds found in tap water into sodium hypochlorite (sodium hypochlorite). The bidet seat will spray more mist once the user has finished using it and exited. After an inactivity period of eight hours, EWATER+ will be sprayed.
Benefits of Using TOTO Products
TOTO and Washlet toilets together make the perfect pair
The Washlet offers a degree of personal sanitation and total cleanliness that has never previously been available. Ever since the majority of states began mandating a flush rate of 1.6 gallons of water each flush, it was designed to be used in conjunction with the game-changing TOTO toilet that was introduced at the same time. TOTO came up with a system that is capable of performing exceptionally, one that is superior to the requirements set by the government and one that outperforms the work of other companies.
Reputation
TOTO and its revolutionary Washlet are currently in first place in the business. They are the ones that establish norms. The organization is always coming up with innovative concepts and methods for enhancing the goods in order to ensure that they remain at the forefront of their industry. The Washlet exemplifies the company's commitment to innovation as well as its capacity for creative problem-solving and thinking outside the box.
Variety
TOTO has a wide variety of distinctive options, many of which incorporate today's most fashionable design components. When you are designing a bathroom, you may show off your sense of style by selecting lines that are either traditional, transitional, or modern.
Quality
TOTO ensures that each one of its products adheres to the high standards of design and engineering that the firm has established. The production process is strictly regulated to ensure that every homeowner receives the highest possible level of performance during the product's long and trouble-free lifespan.
Great experience
In place of the conventional toilet paper, which may be scratchy at times, the Washlet, which can be activated with the push of a button, delivers a gentle and soothing cleansing experience using warm water. When you use a washlet, what was previously a routine trip to the restroom transforms into an indulgent experience comparable to that of a day spa.
Read More: Best TOTO Bidets
Hygienic
In contrast to dry toilet paper, washing with water after using the restroom will leave you feeling cleaner. The washlet technology is designed to help you maintain a clean toilet bowl without the use of harmful chemicals. The bowl stays clean because it is sprayed with PREMIST before use and EWATER+ after each flush to keep the bowl from collecting trash.
Price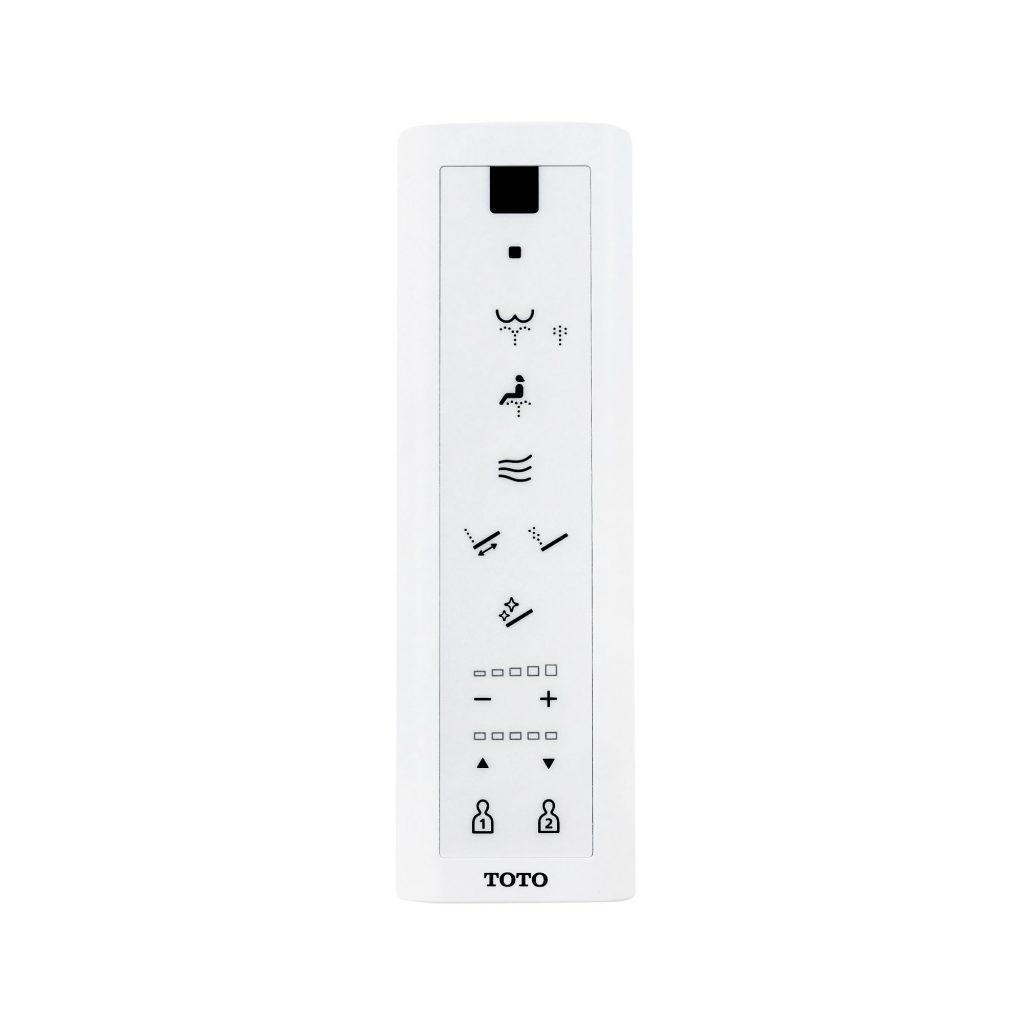 There are several methods to demonstrate that TOTO items are worth their price. One factor that must be taken into account and is of the utmost significance is the level of customer satisfaction that can be attained through the realization that one has contributed to the improvement of environmental conditions while simultaneously reducing the amount of money spent on water and sewage services. Throughout the product's lifetime, there will be far fewer maintenance difficulties, if any at all. This adds to the product's overall worth.
Frequently Asked Questions
Is TOTO C5 considered a modern bidet?
The TOTO C5 is your finest option for a contemporary bidet that combines the most recent advancements in hygienic and user-friendly features. Your bathroom will look more modern as a result of its newness, additional amenities, and other benefits.
How long do TOTO Washlets last?
It is essential to think about how long a Washlet will last before purchasing one because the majority of them are not inexpensive purchases. The answer to this question varies, but if you take care of your Washlet properly, it should last forever. It is not unheard of for a Washlet to continue to function normally for 10 years or more. And by then, it's possible that you'll be interested in upgrading anyhow. In addition, TOTO provides a guarantee that is valid for one year.
Is TOTO Washlet sanitary?
A TOTO Washlet does meet all of the requirements for a hygienic toilet. To begin, there is no danger of contamination from your hands or toilet paper because the experience is completely hands-free. This eliminates any potential for cross-contamination. Second, the spray nozzle has a built-in mechanism that allows it to clean itself. Third, certain versions come equipped with the EWATER+ technology, which uses electrolyzed water to naturally disinfect the bowl. This feature is available on selected models.
Conclusion
This is it. The TOTO C5 has a performance that is above average in most areas and provides various high-end features at a price that is lower than that of the majority of high-end bidets.
The TOTO C5 Washlet is not a high-end model, but it does have several features that are only found in such products, such as an air deodorizer, a PREMIST function, and a nozzle that utilizes electrolyzed water to clean itself. The TOTO C2 is a cheaper option if you like what you see but don't need the user settings and wireless control.