Due to its simplicity of use and hygienic benefits, the bidet has evolved into a fundamental essential for your toilet. Compared to regular toilet paper, bidets are significantly more hygienic and therapeutic. However, if lack of funds is the issue, then you can relax.
There are already hundreds of different bidet brands on the market. Still, we have decided to go with the Squatty Potty ReFresh It Bidet because it stands out among the alternatives that can be found online.
Purchasing a quality product from a recognized company is always safer. So, let's read the review to learn more about the Squatty Potty ReFresh It Bidet review and its features.
Brand Overview
Squatty Potty is a firm that sells ReFresh It Bidet. They started their brand in St. George, Utah, where they were in a bind because one of their family members, Judy, was extremely constipated.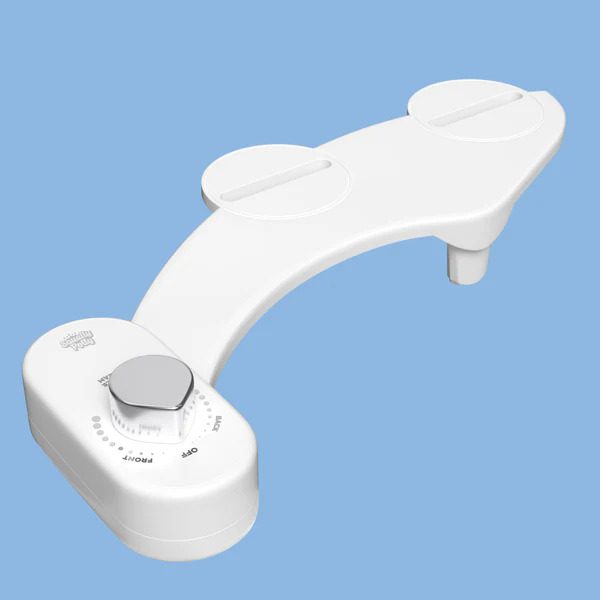 They dreamt of creating a brand where they might assist others with problems like constipation, doing minimal movement owing to arthritis, etc.
The business manufactures its goods, intending to possibly enhance consumer wellness in mind. To do this, they donate a portion of their yearly profits to groups that raise public awareness about issues like digestive health and the drawbacks of western toilets.
Additionally, to demonstrate how confidently and transparently they create their items, they also offer a 60-day money-back guarantee with a no-questions-asked policy if you feel the item is ineffective for you.
Products can be delivered to any location with a physical address and UPS Ground capability. All orders require a processing time of one to two business days. The company will provide free shipping on any order for $50 or more. Overall, the company is taking all reasonable steps to ensure you live a healthy life.
Squatty Potty Refresh-it Dual Stream Fresh Water Bidet...
Simple to Use – This bidet has your back(side)! Reduce toilet paper by using fresh water to clean yourself. Wash your back or front by...
Will It Fit? – Designed for elongated or round two-piece toilets. Squatty Potty refresh-it fits between the toilet bowl and the seat.
Easy DIY Install – Quickly install this dual stream bidet toilet seat attachment in 10-15 minutes with a flat screwdriver and a wrench....
An easy and inexpensive way to wash with water is provided by the Squatty Potty ReFresh It Dual Stream Fresh Water Bidet Toilet Seat Attachment, which mounts under your current toilet seat.
This bidet attachment is entirely non-electric and runs solely on the water pressure in your home. It has two nozzles, one for the female front wash and the other for the posterior wash.
This bidet has a sleek, thin design that sits beautifully under your toilet seat without leaving any space between the seat and the toilet rim. Also, the simple dial operation allows you to customize the wash pressure to your preferences every time.
Anyone can install this attachment in just a few minutes, and it comes with all the necessary parts. When the water is turned on, the retractable nozzle emerges to ensure hygienic operation, and for added convenience, a covert control panel is situated on the user's right side.
You can remove the bidet's pressure reducer valve if the water pressure is too low. The bidet itself comes with a pressure reducer valve already installed. The hose connection to the bidet is where it is found in the cold water input. It can be easily removed from the bidet valve by pulling it out with pliers or a flathead screwdriver.
Specifications
Manufacturer: Squatty Potty LLC
Item Weight: 1.5 pounds
Product Dimensions: 17 x 4.5 x 9.75 inches
Country of Origin: China
Color: White
Material: Plastic
Batteries Included: No
Batteries Required: No
Return: 60-day money-back guarantee
Ratings by feature
Value for money: 4.6/5
Easy to use: 4.5/5
Easy to install: 4.1/5
Softness: 3.6/5
Features of ReFresh It Bidet
Comfort meets cleanliness
The ReFresh It dual temperature bidet offers customizable wash settings for ultimate comfort. The wash nozzle has three different angled positions to ensure accurate coverage for all users, and the controls are simple to operate. You may adjust water temperature and pressure to provide a soft wash or a concentrated stream.
Simple to install and clean
The ReFresh It only takes 20 minutes or less to install the dual temperature bidet. The ReFresh It fits various contoured one-piece toilets and is compatible with all conventional two-piece toilet fittings.
The ReFresh It has a whole body panel and is made of high-quality ABS plastic, making cleaning easy. The ReFresh It bidet attachment is very easy to use and offers the highest hygienic performance and is simple to maintain, thanks to the self-cleaning nozzle function.
Nozzle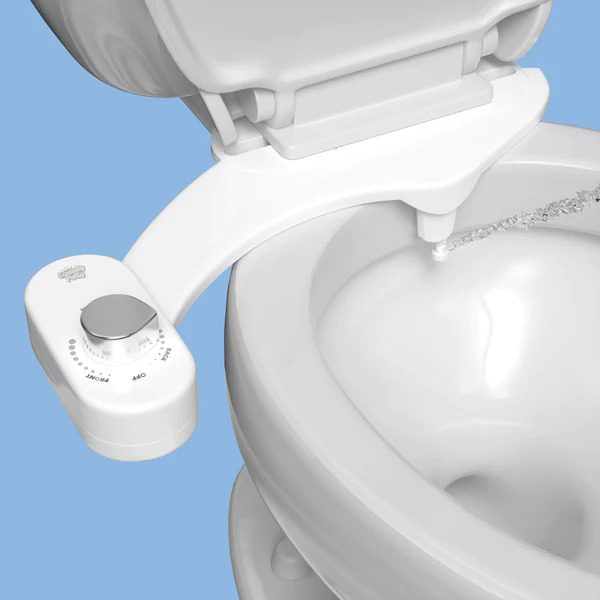 In order to avoid having to shift and reposition your body constantly, the nozzle of your bidet needs to be positioned correctly. ReFresh It is a bidet with a guard to cover the nozzle and keep it free of debris when not used.
The ReFresh It bidet has a nozzle with an angle with an excellent choice if you're using a portable bidet. You won't have to tilt your hands or put your body in an uncomfortable position to clean adequately.
Mechanism
The most important consideration is to select a bidet that is simple to operate. It's important to check that the bidet has a knob you can easily turn while seated. To remain functional, the knob needs to be made of sturdy, corrosion-resistant material, just what you would expect from a ReFresh It bidet.
Portable and travel-friendly bidets require pressure to discharge the water. If you require a portable postpartum bidet, this may be a bit difficult for someone with mobility limitations, but it will be the greatest option.
Pressure
Multiple pressure settings are quite beneficial, especially for postpartum recovery. While using modest water pressure will make cleaning your delicate areas easier, too much pressure may worsen things. So, go with the ReFresh It bidet, which allows you to set the pressure settings manually.
Design
The chic and sophisticated Squatty Potty ReFresh It non-electric bidet is made to go with modern bathroom designs. Its cutting-edge technology and world-class design offer optimum relaxation and improved cleanliness. Upgrade your toilet with the latest cutting-edge technology to make it more aesthetically pleasing and useful.
Quality
A seat must stick to all regulations and requirements and be Proposition 65 compliant to succeed. The bidet itself weighs roughly 1.35 lbs in comparison.
Our impression is that utilizing the lid as a seat is not advised. If you weigh less than 100 pounds, your weight should be okay. The ReFresh It is more durable and has a weight capacity of 178 pounds. Some individuals sit on the lid.
Better for personal hygiene
The improvement of personal hygiene was the main goal of ReFresh It bidets. The best way to ensure you're clean after using the restroom isn't just to use toilet paper. It's the same as not washing your hands but simply rubbing them with a towel to dry. Running your hands under water and then your butt will always make you feel much cleaner.
Before you worry that bidets utilize toilet water and wonder where ReFresh It bidet water comes from, rest assured that it is just conventional tap water. You can trust the water from a bidet if you trust the water from your sink and shower to wash your hands and body.
Non-electric
You know that ReFresh It, unlike other attachments, has no electricity. Because of this, you can use it even if there is a power outage because you don't need an outlet.
Different levels of water pressure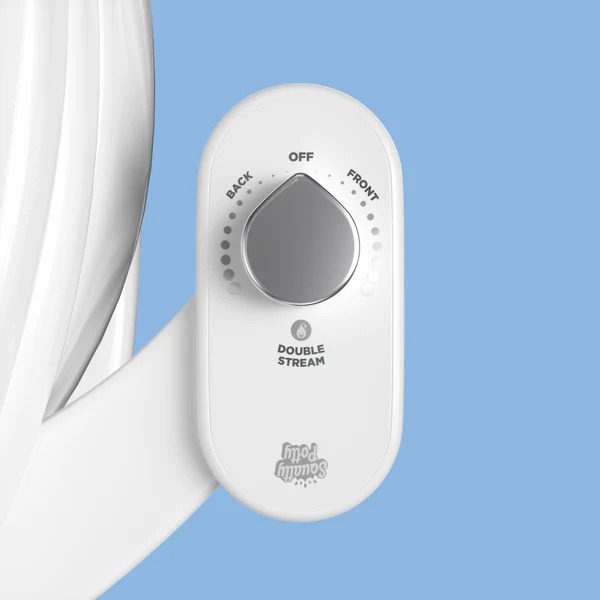 You may choose between low and high water pressure by twisting the knob. It can fulfill the various needs of family members in this way. For instance, your children could choose the lowest setting given their delicate and sensitive skin.
Self-cleaning nozzle
This product has a self-cleaning functionality. When not used, the nozzle will retract into the guard gate to shield it from potential waste splashes. Turning the knob will also allow you to rinse the nozzle by itself. It's important to keep it clean, and this function can help you do that with less effort.
Benefits of Squatty Potty
Installation process
The difficulty of mounting a bidet attachment is undoubtedly the main concern for everyone. The good news is that while they don't all adhere to the same procedure, Squatty Potty ReFresh It bidets are easy to install on your toilet.
You'll note that there are primarily two installation options if you look at how each bidet is installed. With the Squatty Potty ReFresh It Fresh Water Bidet, you won't need to take off the toilet seat.
Most items sold online require a different installation method that entails raising the toilet seat to secure the bidet in place. It's just a preference since both are fairly simple to DIY.
Warranty and brand reputation
Before buying any product, it is crucial to confirm that a guarantee covers it; this rule also applies to the Squatty Potty items. It's prudent to have a warranty even though Squatty Potty has a solid reputation and their products are made to last. The manufacturer gives all its items a 60-day money-back guarantee and repair service after the expired warranty.
Price
Generally speaking, luxury and comfort have a cost. Spending a few dollars on a high-quality item that provides all of this with convenience in your life is a great idea. While Squatty Potty products are more expensive than their rivals, they are competitively priced. Therefore, be careful to spend that money according to your budget and convenience.
Feminine washing system
The Washlet's feminine wash is one of its key components. Do you know it? It is a trait that gives the feminine posture a new angle. The feminine wash sits a few inches more forward than the other Washlets.
You should have a feminine wash option if you purchase the Washlet for use with a regular, usable toilet. Products made by Squatty Potty contain a built-in feminine washing mechanism.
Height
A typical toilet stool measures about 7 inches. The Squatty Potty Bamboo flip height is between 7 and 9 inches. The Original 9″ is available in a 9-inch size. Additionally, the wooden Squatty Potty models have adjustments.
The average American guy is roughly 5 feet 9 inches tall, and females are approximately 5 feet 4 inches tall (CDC source). This implies that most users can use the majority of standard sizes.
Anyone higher than 6'2″ may wish to take into account an 8 or 9-inch model to help them bring their knees up high. The ideal angle cannot be achieved if the stool is too low. Users should aim for a spine-to-thigh angle of about 35 degrees to achieve the ideal position. Your colon and rectum will be even more straightened up, making every bowel movement easier.
Weight capacity
Selecting a toilet stool can be influenced significantly by stability. While Squatty Potty's wooden toilet squat stools are normally the most sturdy, some of the plastic stools may support over 250 pounds.
That's impressive for a piece of plastic. When it comes to plastic toilet squat stools, you should do your study on stability because not all of them are constructed the same. The Squatty Potty wooden toilet squat stool will be the safest choice if stability is a concern.
Easy to use
Depending on your living situation, you'll need to consider how you'll organize and store your toilet stool while it's not in use. Yours will likely end up where it is used, which is the most obvious spot. Unless there is a company, although even then, most of us will end up doing so out of laziness. Because of this, you must choose the Squatty Potty stool that will serve you best.
This is important to keep in mind since you will use your toilet more frequently than you will use your squat toilet stool. Men will undoubtedly stand over it, and women don't have to, even if they choose to use it. Therefore, it must have a level of convenience you can get by.
This is why manufacturers of toilet stools, like Squatty Potty, consider it while designing their products. The products on the website may be seen in the accompanying photo to be quickly torn down and conveniently stowed off to the side. The squat toilet stool is not used and keeps the toilet area neat.
The majority of alternative options will involve a platform that is difficult to tear down. Therefore, if you always want to find a way to go past it, choose Squatty Potty, which has a space for guys to slide their feet under (to get close to the toilet when standing).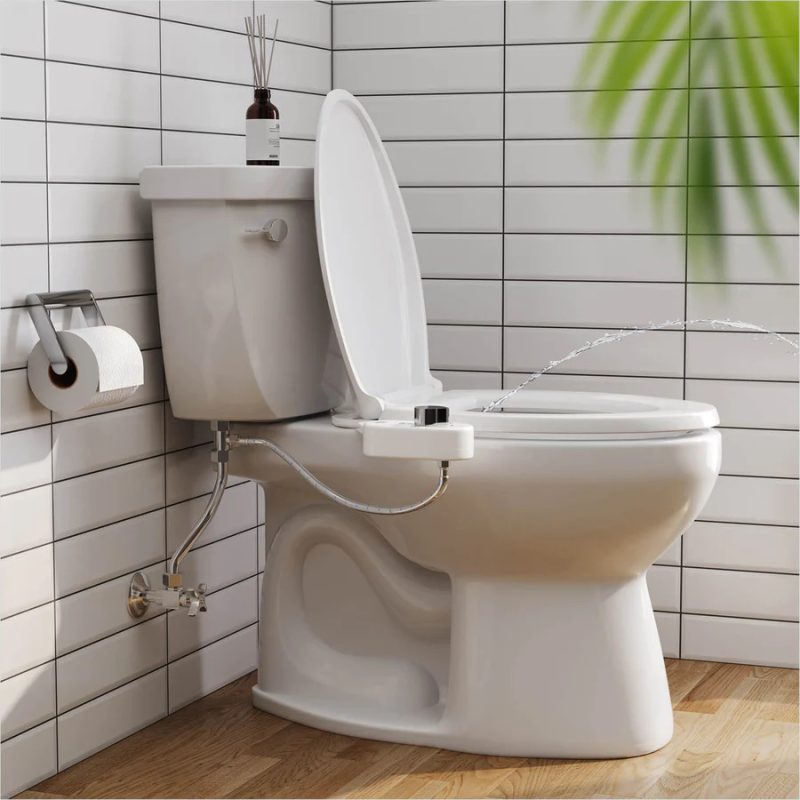 How Does ReFresh It Bidet Work
Your mood might also be affected by a decent bidet. You can locate the system in many restrooms. However, as many restrooms do not have this feature, you must purchase the adapter separately.
A modern solution for comfort and hygiene is ReFresh It Bidet. The water-cleansing system used by the bidet makes you feel regenerated and rejuvenated. It has a placement that may be adjusted for either a feminine or posterior position. The toilet would be connected to a water supply. The strong jet spray is how the water flow exits. And in doing so, you'll achieve excellent cleaning.
The best feature of every modern toilet is the bidet. You need a bidet of the highest caliber to clean your toilet effectively. Additionally, it aids in offering several extra characteristics, including preserving environmental resources and good health.
How Valuable Is the Squatty Potty ReFresh It Bidet?
Okay, let's skip the fantasizing and get to the important stuff. ReFresh It Bidet provides the cleanliness that we desire. You will also have additional financial and environmental advantages from using this technology.
A bidet combo is a fantastic space-saving item. A toilet seat and a bidet seat do not require their own space. Using these pairings, you can save a lot of money on toilet paper.
According to statistics, you might save close to 75% of toilet paper. Additionally, its cleanliness is assured. There is a noticeable difference between using the toilet and after that.
How to Install ReFresh It Bidet
Step 1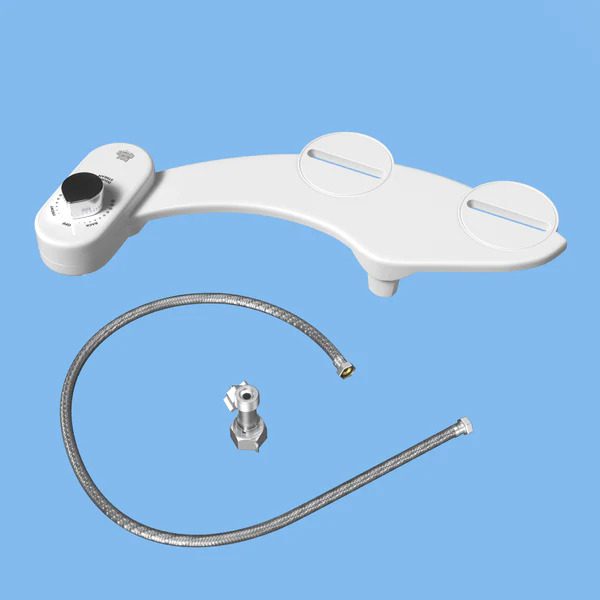 Remove your old toilet seat by lifting the hinge covers and removing the mounting bolts with a screwdriver. The fact that each toilet seat is unique makes this a little tricky. You might require top mount hardware if the mounting bolts holding the toilet seat to the fixture are only accessible from the top.
Step 2
Look for the toilet shut-off valve behind your toilet, near the floor. An oval-shaped valve should connect your toilet tank's supply line to a water supply pipe on the wall at the bottom. This is the shut-off valve for your toilet.
When installing a Squatty Potty bidet(.pdf), be sure to switch off the water supply so that it doesn't flood your bathroom. You should rotate the shutdown valve counterclockwise to turn it off.
Step 3
A T-valve, which has a T shape, should come with your new bidet seat. This will direct water between the bidet sprayer and the toilet. Most parts in this stage should be plastic, so hand tightening should be sufficient to get them snug. Any metal fittings you have difficulties tightening up, use your wrench on them.
Remove the supply pipe from the toilet tank's base by unscrewing it. Have your bucket and towel close by in case there is any water left in the tank that could leak out. Place the T-valve where the supply hose was connected at the bottom of the toilet tank. Reconnect the supply hose to the T-valve's bottom.
Step 4
Two new water supply hoses will be included with the bidet seat. Use those rather than the previous ones. Attach the fresh hoses to the newly installed branch valve (leave one end of each one free).
Step 5
The black brackets should be inserted to align with your toilet's bolt holes, and the bidet's mounting plate should be placed over the bolt holes. The mounting bolts should be threaded through the brackets and then tightened. Onto this fixed plate will be mounted the bidet seat.
Step 6
Once it clicks, slide the bidet seat onto the mounting bracket. To make sure it doesn't move, wiggle it a little. If it does, take the seat out, secure the mounting bracket, and then reinstall the seat.
Step 7
The flexible water supply hose for your toilet should be unscrewed from the fill valve on the tank, not the water shut-off valve. It might drip a tiny bit. Place the bidet T-valve where the water supply hose was connected to the toilet tank. After that, attach the water supply pipe to the new T-base valves using screws.
Attach the white bidet hose's one end by screwing it to the T-valve. Next, secure your bidet seat with the free end of the white bidet hose. Ensure that all connections are secure by tightening them.
Step 8
The toilet seat should be directly plugged into a GFCI outlet in your bathroom. Use an extension cord that the seat's manufacturer has recommended if the cord is too short.
Before you need the new bidet seat's services, take the time to get acquainted with it. Try out the various options and features. Then, savor your labor of love.
Conclusion
With that, we conclude our ReFresh It Bidet review. We covered all the information necessary for you to purchase the ReFresh It Bidet in our review. Only one knob on the side panel makes the operation simple.
The knob aids in altering the feminine and posterior wash modes. Aim for "nozzle cleaning" mode both before and after each use. Always begin at the lowest setting when adjusting the pressure.
But it only connects to cold water, so you may feel rough in the winter. We think that we have covered all the bases in this review and that it must have been quite helpful to you.