Perhaps the most economical bidet attachment on the market is the Luxe Bidet NEO 320. It is ideal for individuals who demand unwavering quality but still need something within their price range. The bidet is the pinnacle of affordability and luxury combined.
A dizzying array of bidet attachment models are available from Luxe Bidet, but NEO 320 stands out. It combines a variety of the features I'll discuss in the review. In addition, I'll discuss the advantages of purchasing products from Luxe Bidet. So let's begin our Luxe Bidet NEO 320 review.
LUXE Bidet NEO 320 - Hot and Cold Water, Self-Cleaning,...
WARM WATER CLEANS BETTER – The NEO 320 features adjustable water temperature. The warm water offers both comfort and a better clean. Keep...
DUAL WASH MODES – The rear wash sprays a stronger flow towards the rear. The feminine wash sprays a softer flow towards the front. The...
HYGIENIC PROTECTION – The guard gate is designed to shield the nozzles for your ultimate sanitary experience. The nozzles automatically...
Brand Overview
This bidet business provides high-quality goods at cost-effective prices. They are renowned for producing modern goods that are simple to install in any bathroom at home. Luxe Bidet is the firm to work with if you want to feel like you have a hotel-level bathroom for the price of a helpful item.
Luxe Bidets offer several functions equivalent to more expensive bidet toilet seat features, even though they are an attachment and not full-fledged bidet toilet seats. The self-cleaning feature, where the nozzle returns to its housing to wash itself off after each usage, is one of many excellent examples of this.
Depending on the model, you may also receive a Luxe Bidet with dual nozzles, which provides a better cleaning experience and more wash options. A hot water option is also available on some upscale bidets, again dependent on the model. However, you would need access to cold and warm water pipes to utilize the Luxe warm water bidet settings fully.
Numerous of these characteristics will vary depending on the model you select. If you're unsure which one to buy, we advise comparing them side by side before deciding which characteristics are most important to you.
Product review
The NEO 320 model is one of the most extraordinary bidet attachments since it has two nozzles that can use warm and fresh water. It promotes cleanliness and comfort for self-cleaning while reducing the need for toilet paper.
It has a more beautiful appearance thanks to a sleek, polished, curved design with chromium-plated water pressure and a temperature control lever. NEO 320 is constructed with a metallic core and high-pressure faucet-quality valves with a t-adapter.
The cold water hose is constructed of steel rather than plastic, and the hot water hose is made of long-lasting polyurethane. Luxe Bidet NEO 320 will undoubtedly last for many years. A hot water hose can be easily cut or trimmed to meet your toilet's measurements using a standard knife.
It is incredibly female-friendly, which is terrific news for all ladies. The Luxe NEO 320 has a feminine wash that offers the highest level of sanitary protection because it has multiple nozzles for both a frontal and backwash.
The frontal or feminine wash is better for monthly cycles because it is kinder than the back spray. Additionally, the user can change the temperature and water pressure with a single touch on the control panel. A movable nozzle guard gate is one of the numerous hygienic features of the Luxe Bidet Neo 320 that ensures the bidet stays clean when not in use.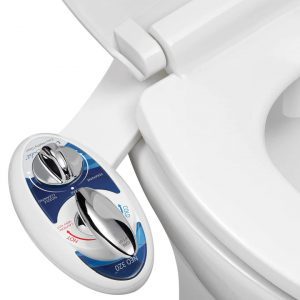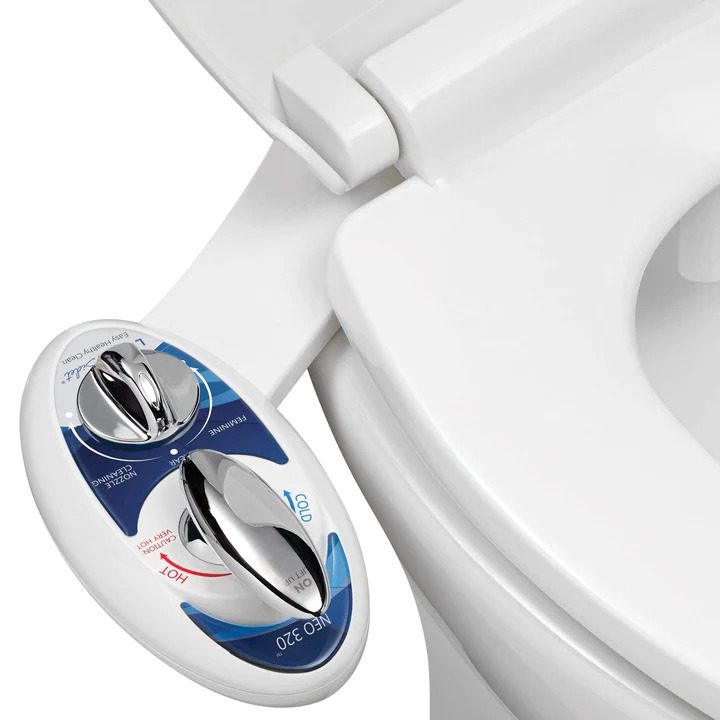 Features of Luxe Bidet NEO 320
Simple installation
You need to turn off the water supply to the toilet, take the seat off, place the bidet on the toilet, check the alignment, and then replace the seat. Remove the bidet hose, experiment with some T-adapters, reconnect it, and repeat the operation with the warm water connection through your sink valve.
The setup is slightly more complicated than we have described here; however, the product includes extensive installation instructions and anticipates no more than 30 minutes per installation. Prepare towels if water escapes from the hose when disconnecting the water supply.
Built to fit the majority of toilets
The adapter enables versatility among different toilet seats. Some seat designs are less suitable than others, leaving a gap in the bowl after installation. Contact Luxe, and they will give you a complimentary bumper if the gap is under one inch.
You could require a new seat if, for whatever reason, the gap is greater than one inch. If you're not sure you'll have a compatible seat, you can still use the bidet attachment with your current setup. In addition, based on reading several other reviews, it doesn't seem like the fit is a typical problem.
Stylish design
Installing the Luxe Bidet NEO 320 is a great way to give your bathroom some glitz. It boasts a modern design and high-quality components to update the look of your bathroom. The seat is safe for the environment and cleans well.
High-pressure valves with steel and ceramic cores are available. Surprisingly, a nozzle guard protects the nozzle and retracts automatically after each wash. It may be manually attached or detached from the seat without any equipment.
Valve high-pressure
The lever-action spray on this bidet allows you to regulate the water pressure. The water will have the same pressure as your residence. We advise slowly pulling the lever until the desired pressure is reached if your water pressure is high. If the gap is less than one inch, contact Luxe to receive a complimentary bumper.
Dual nozzles
The fundamental wash of this style is combined with a feminine element. The feminine component launches water further forward, which applies softer pressure. The owner's manual suggests using the feminine component for monthly cycles, UTIs, and pregnant women in addition to routine cleaning.
Side attachment vs. seat
Bidet attachments can be purchased separately or as a complete toilet seat replacement. The side attachments, such as the Luxe Bidet NEO 320, are typically less expensive, may require less assembly, and are incredibly user-friendly.
However, they don't necessarily have as many features, and most lack options, but Luxe Bidet NEO 320 has many features you can expect from a seat. Although full seats can be costly, they frequently include a wealth of amenities, like warm water, dryers, and occasionally even a heated seat.
Affordable prices
When a high-end bidet is too expensive, yet a cheap model is insufficient, we recommend the Luxe Bidet NEO 320. It costs about $60 and has many of the same features as more expensive, higher-quality versions. The high-pressure valves, metal and ceramic cores, and dual knobs offer a powerful flow of water to the area while being kind to the skin.
Installation is simple and takes only a few minutes. Additionally, the nozzle self-cleans by rinsing itself with fresh water after each use. Although there isn't a trial period, you may register the bidet online to increase its guarantee by up to 18 months.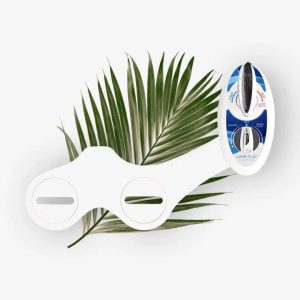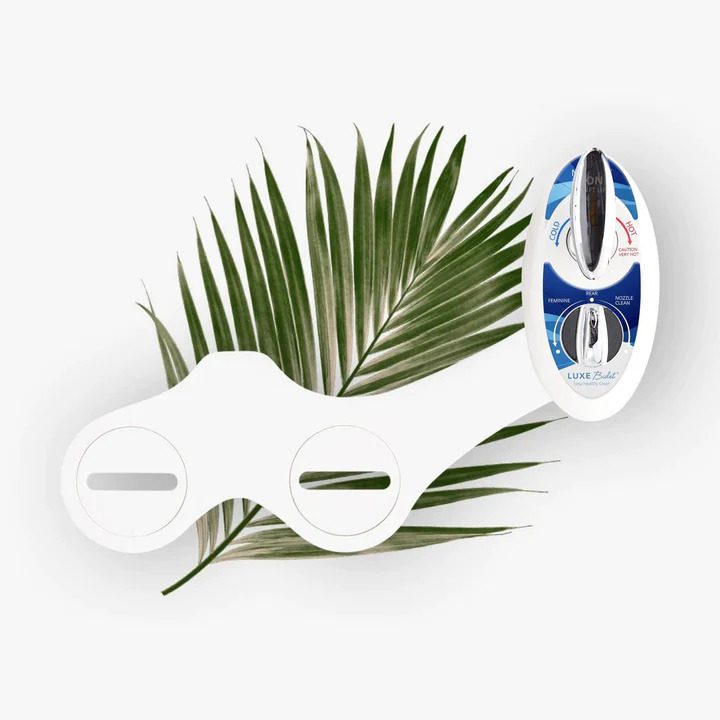 Can reduce the use of toilet paper
Every day, Americans consume millions of rolls of toilet paper or billions annually. Install the Luxe Bidet NEO 320 seat attachment for a cleaner, more environmentally responsible way to clean, and feel good about your washing practices.
Automatic cleaning nozzles
With the flip of a knob, the NEO 320 cleans you and the toilet. Watch how the nozzles self-clean and retract back into the protective casing when not in use by setting the remote to the nozzle cleaning mode.
The healthy bidet
You may immediately improve cleanliness by eliminating the need to use as much toilet paper when wiping, and cleaner hands can result in a healthier home. It's important to remember that the CDC advises handwashing for at least 20 seconds at a time for optimal health, regardless of whether a family decides to use a bidet or not.
Every family member will experience additional built-in health advantages when switching to a Luxe Bidet NEO 320. The bidet features have been demonstrated to relieve stress and even eliminate the period odor.
The Luxe Bidet NEO 320 may assist in restoring freedom to the bathroom routine for persons with arthritis or other mobility limitations. The bidet washlet can clean the most delicate places with the push of a button without any assistance or movement of the seat.
The Luxe Bidet NEO 320 cleanse can provide symptom relief and stop future recurring irritation brought on by wipes and paper. Everyone will experience various health issues "down there" at some point, and the Luxe Bidet NEO 320's soft and clean spray is a dependable approach to help prevent discomfort and soothe the symptoms.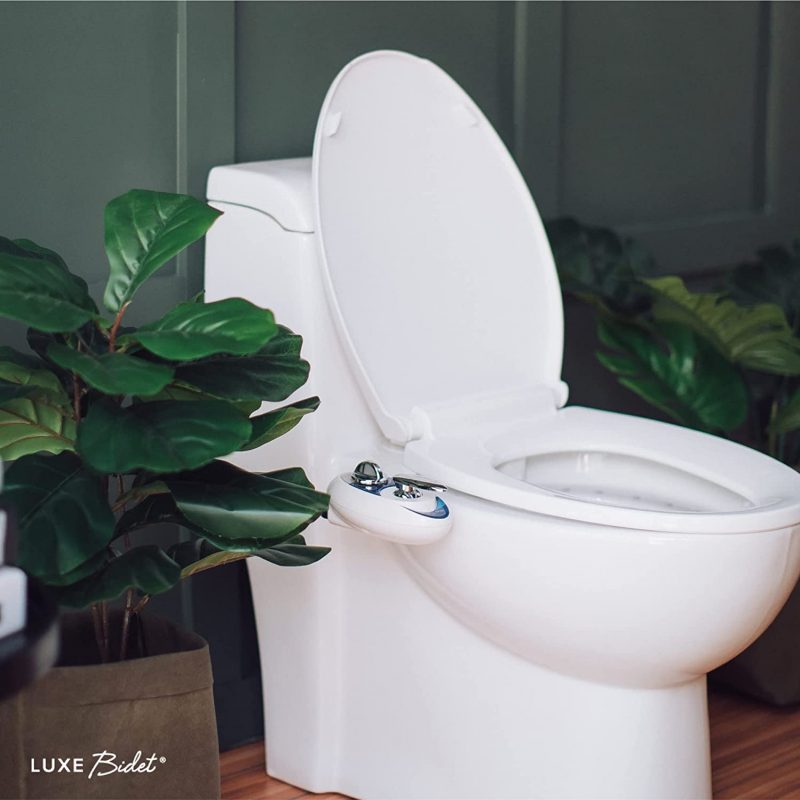 How Does Luxe Bidet NEO 320 Work
A Steel Braided Hose is included with the Luxe Bidet NEO 320. There is a nozzle with a self-cleaning feature at the hose's end. All standard plumbing-size fittings complete the list of items included with the bidet.
A feature of the bidet is its capacity to function without electricity. Its pressure faucet is made of ceramic or high-quality metal. When not in use, its nozzles have the capability of retracting. Upon each usage, the bidet's self-cleaning feature delivers hot water through the nozzles.
The bidet's aim, which is activated by twisting the lever to the right in the wash choice, is one of its most amazing features. You can choose between hot and cold water when it comes to cleaning yourself. The fact that the bidet performs certain tasks makes it valuable to many people.
An additional nozzle on the Luxe Bidet NEO 320 is explicitly designed for feminine cleansing. It features the nozzle needed to perform the typical cleaning task. The bidet is additionally protected from spills while not in use by a splash guard. The bidet allows you to mix your water through tunings and utilize only cold or hot water.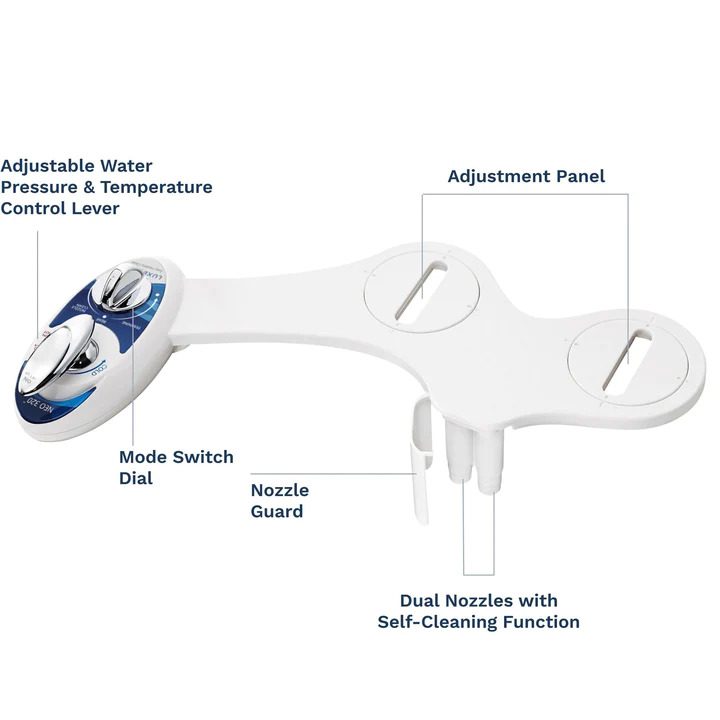 Benefits of Using Luxe Bidet Products
Nozzle type
Luxe offers a wide range of bidet attachments, some of which have two nozzles for a flexible coverage and one nozzle with a wide spray pattern to clean as much as possible. There are alternatives for single nozzle attachments with adjustable angles, so you may put the water stream in a useful position if you choose that option.
Also, remember that the products contain a retractable nozzle with antibacterial qualities for hygiene reasons.
Temperature control
Products with bidet attachments that allow for temperature adjustment and warm water options are available. This will necessitate connecting the connector to the hot and cold water supply lines, which may necessitate running a water line to your sink.
Some people prefer using warmer water, even though choosing a bidet with merely ambient water temperature may give a more convenient setup.
Refreshing clean
The backwash option on the NEO Series bidets sprays a more substantial stream of fresh water for a revitalizing clean. Depending on the model, there may also be a Self-Clean mode and a Feminine Wash option.
Guard gate shield
The Guard Gate Shield, which is put in front of the nozzles of NEO Series bidets, reduces splashback. The retractable design allows the nozzles to remain clean and unnoticed until needed.
High-quality parts
Bidets from the NEO Series are constructed from high-quality components that can bear intense pressure. Every Luxe Bidet is put through a durability test under the supervision of their quality assurance staff.
Smooth slide-in installation
Luxe-Hinge Adjustment Patented plates are made to make it unnecessary to disassemble your toilet seat, making it simple to install and adjust. Transfer the bidet easily between homes or bathrooms.
The luxe bidet promise
Customer satisfaction is crucial to them, and they work hard to ensure you have the best bathroom experience possible. Their industry-leading customer care team is always available on call and prepared to help ensure your Luxe product operates flawlessly in your home.
Shipping & delivery
They offer both domestic and international shipping. To obtain a shipping quote, add items to your shopping basket, proceed to checkout, and input your nation, region, and zip code.
About 1-2 business days after an order is placed, tracking information is supplied through email. Please contact them if you haven't gotten your tracking information so they can look into the shipment's status.
Order changes & cancellations
Before the order's shipment, which usually takes place one business day after the order is placed, you must get in touch with them. You can ask to have your contact, shipping, and billing information changed. Once your order has been sent, they can't change anything.
If you want to change anything about the product you bought, you have to cancel the order and place a new one. Please contact them without delay if you wish to cancel an order.
Replacements & returns
They provide a 30-day money-back guarantee. They are confident you will enjoy your product from Luxe Bidet. If you are unhappy with your Luxe Bidet, they will gladly give you your money back. To initiate the return procedure, contact them and provide your order number.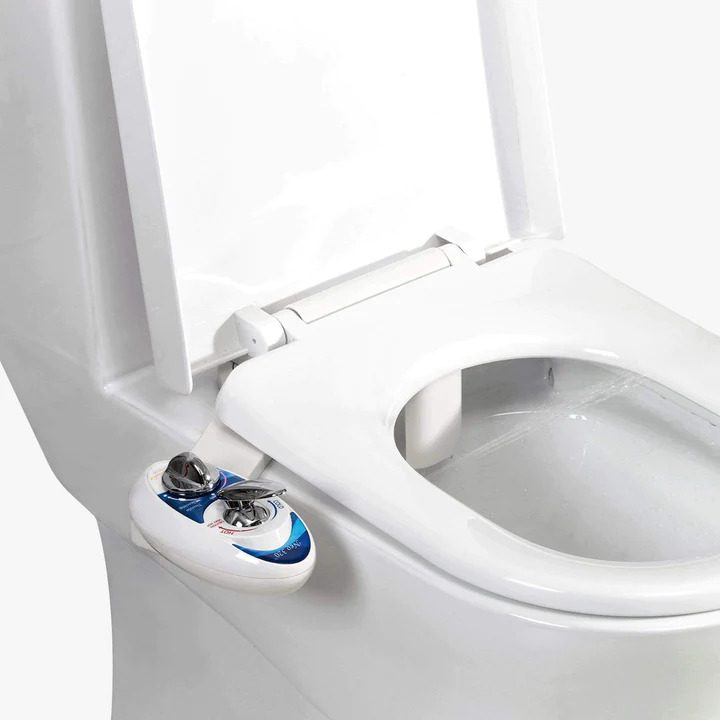 Some Considerations to Keep In Mind About Luxe Bidet
Meets standards of plumbing
The components are compliant with North American plumbing standards. However, certain properties could have fittings of different sizes. If the offered parts do not fit your setup, please contact them immediately for assistance with replacement parts.
Water pressure
The bidet's water pressure is identical to the water pressure in your house. The jet of water coming out of the bidet could feel too powerful if your water pressure is quite high. We advise installing a LUXE Bidet Metal T-Adapter with Shut-Off Valve, which is available on the company's official website.
Mode of self-cleaning
Please be aware that warm water bidets may require a few more seconds to fill up since you must wait for the warm water to pass through your water pipe, much as when you run a bath. We advise running the bidet in "self-cleaning mode" before using the "wash mode" to ensure that the water is warm to prevent a "cold splash."
Compatibility
Most ordinary toilet seats are compatible with Luxe Bidets products, although some seat designs (such as those with a curved inner lip) may cause a gap between the toilet seat and bowl once the bidet is fitted.
Installing toilet seat bumpers will close gaps less than 1 inch wide. The Luxe Bidet toilet seat bumpers, available for purchase on the company's official website, are highly recommended.
You might need a new toilet seat if the gap exceeds 1 inch. We strongly advise utilizing the Luxe Toilet Seats with the bidet attachments for a gap-free installation. The same is available from the official website for purchase.
What Exactly Is a Bidet Attachment?
Traditional freestanding bidets resemble a toilet but perform like a toilet with a built-in sink. Their primary purpose is to give a faucet and spray nozzle for a deeper post-bathroom wash.
Modern bidet attachments are designed to install onto an existing toilet seat and deliver the same functionalities in a smaller package. They are less complicated and simpler to install than a standalone bidet (the majority only need a few simple tools), and many of them have a large number of premium features.
Read more: Luxe Bidet
How Is a Luxe Bidet Attachment Installed
Step 1
To prepare for installing a Luxe bidet attachment, cut off the water supply to your toilet. Next, flush the toilet to remove any remaining water. If this doesn't work, turn off the water supply to your entire house. Then, remove the current toilet seat while being careful not to erode any fasteners.
Step 2
After that, unplug the water supply hose from the fill valve for the toilet tank and install the supplied T-valve in its place. Having a towel on hand can be helpful for this step because there might be extra water in the water supply line. The water supply line and bidet hose should be linked to the T-bottom valves and the remaining side once it has been attached to your toilet.
Step 3
Now place the nozzle of the bidet attachment in the center of your toilet bowl. After that, line up the attachment's top holes with the bolt holes on the toilet. You can reattach your seat using the existing hardware when it has been appropriately positioned.
Step 4
Next, join the bidet hose's open end to the cold water input on your bidet. After that, cautiously open the water supply valve and look for leaks.
Step 5
You can now check the bidet to see if there are any leaks. Prepare to test the bidet by setting it to the lowest pressure setting. Test the bidet by holding a bucket over the sprayer. Make sure the sprayer is producing water. If you discover that even with the bidet set to the lowest pressure, the pressure is still too high, you may need to change the pressure at the water valve.
Your water line's water pressure will correspond to the pressure the bidet's water sprayer produces. Every home has a different water pressure requirement, which must be met at the water supply valve. So we are done. Now you can use your Luxe Bidet NEO 320.
Conclusion
This concludes the Luxe Bidet NEO 320 review. We believe that we have covered everything necessary in this review and that this Luxe Bidet NEO 320 review was useful to you. Overall, the NEO 320 offers excellent value for the price, which is quite reasonable for this kind of equipment.
It is money well spent on an appliance built to last for many years. And you can't go wrong with thousands of verified Amazon buyers giving this bidet attachment the highest rating.