In this Kohler Puretide review, we will discuss why this bidet is superior to the more common practice of using a tissue to clean oneself. However, using tissue results in more waste and is less sanitary.
Puretide is the one for you if you want to implement a clean and sanitary bathroom routine, but you do not want to spend money on toilet bidets since they are too costly and the installation takes too much time.
Do not be concerned; the market offers many inexpensive bidet options that do not need installation, can be attached directly to your toilet seat in a short time, and meet all of the requirements for what a bidet should do. So, continue reading to learn more about Kohler Puretide's features!
Brand Overview
Kohler has a history that dates back centuries, and the company strongly emphasizes enhancing the design, innovation, and sustainability of products for your home and lifestyle.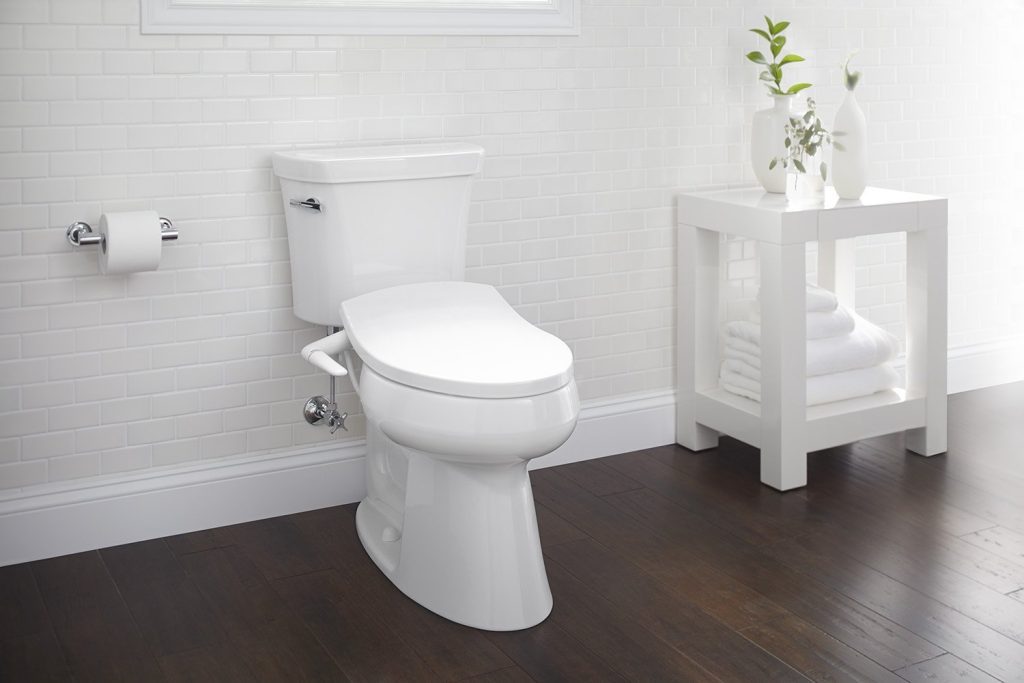 The Kohler brand is renowned worldwide for its artistry and craftsmanship, and all of its industry-leading fixtures, from sinks and faucets to toilets and lighting, exemplify these qualities.
Your home will be improved in comfort, cleanliness, and elegance thanks to the daring design of each product, which also makes a statement.
KOHLER 5724-0 Puretide Elongated Bidet Toliet Seat,...
No Slam Elongated Bidet: Puretide Quiet Close Toilet Seat features a lid that closes slowly and silently without slamming; the side handle...
Shift Prevention: Grip-tight bumpers prevent the toilet seat from shifting during use and add stability; it features an ergonomically...
Easy to Clean Kohler Toilet Seat: Quick release hinges allow for easy removal and convenient toilet cleaning; to clean, simply use a soft,...
With the help of the Puretide cleaning toilet seat, it is simple to upgrade your current toilet to offer a sense of cleanliness and freshness for the user.
Puretide gives the enhanced cleaning of a spray wand that is completely adjustable for position and water pressure, and it does so while maintaining a sleek, low-profile design that is compatible with the majority of round-front toilets.
This toilet seat is cleaned manually, does not need energy or batteries, and can be installed in a few minutes by connecting to the toilet's water supply line.
The Puretide bidet seat makes it simple to bring the feeling of cleanliness and freshness that comes with using a bidet to your existing toilet. Puretide gives the improved washing of a bidet spray wand that is entirely adjustable for position and water pressure.
The seat design is elegant and low-profile, making it ideal for smaller bathrooms. This manual bidet seat may be installed in the toilet in a matter of minutes, does not need power or batteries, and connects to the toilet's water supply line.
The design of the Kohler Puretide bidet seat ensures the highest possible level of cleanliness in the bathroom. If you have one, it will be simpler and easier for you to clean yourself.
Because this bidet seat has built-in cleaning nozzles, you will not need to depend on toilet paper or wet wipes to clean yourself anymore. The bidet seat will do the work for you.
If you have older family members or loved ones who have restricted mobility, purchasing a bidet seat is not only an environmentally responsible thing to do but will also make their life simpler.
Features
We will go over everything you need to know about this bidet toilet seat so that you can get a sense of how it operates and choose whether or not it would be an excellent addition to your bathroom.
Design
Because it is constructed of high-quality plastic and has a sleek, low-profile design, this replacement toilet seat can fit practically any elongated or circular toilet that has a close front and provides a comfortable sitting posture for the user.
Various nozzles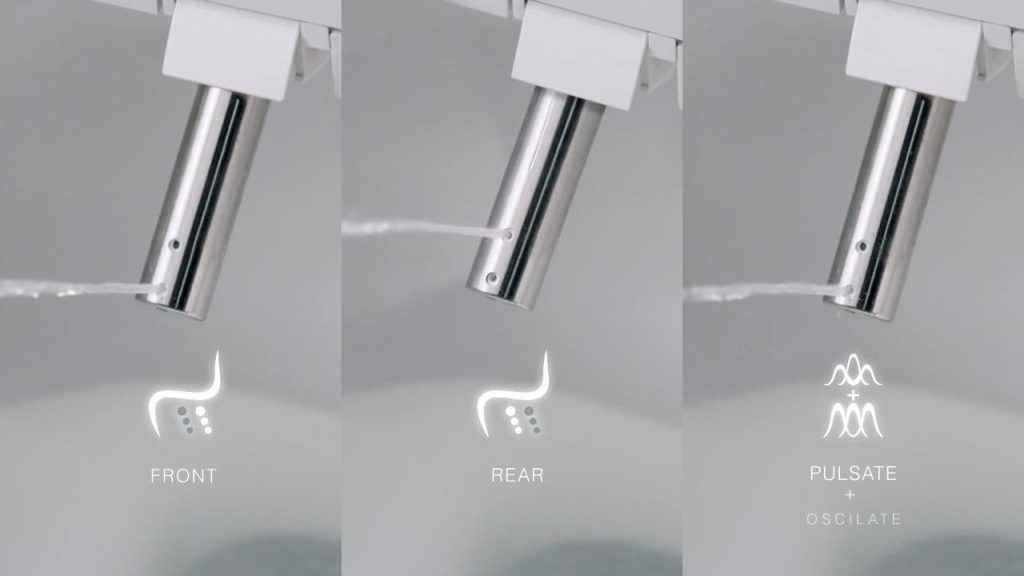 There are three nozzles, each offering a varied spray type, ranging from a light, moderate, to a strong mist; you may switch between them according to your requirements.
You can make use of both the front and backwash. Each time you use the bathroom, the wand will automatically clean itself without your intervention.
Smart lid
Because of the lid's robust construction, it is not feasible for the container to generate a slamming sound when closed. The quiet lid will shut gradually and quietly without making any loud slamming noises.
Quick-Release function
Quick-Release is a technology developed by Kohler that is both straightforward and forward-thinking. It enables the toilet seat to be quickly and easily detached from the toilet, making it more convenient to remove and clean.
You need to snap open the caps and carefully lift the seat forward to be ready for the laborious but meticulous cleaning task you have had to do in the past.
Quick-Attach
Quick-Attach hardware from Kohler provides for a quick and secure installation, so you can get on with the business of enjoying your new toilet seat as soon as possible.
It is as simple as placing the seat in the holes pre-drilled for its installation, placing a wing nut beneath it, and then using a screwdriver to tighten it from the top.
Warranty
The Kohler Puretide model comes with a full year's warranty coverage. However, this coverage is only valid if the product has not been altered by purposefully breaking one of their regulations or while it is being installed.
Installation
The installation of this Kohler Puretide toilet seat is relatively straightforward; all you need to do is connect it to the water supply line in your home. All accessories are included; however, you will need some basic tools to put them together.
Manual function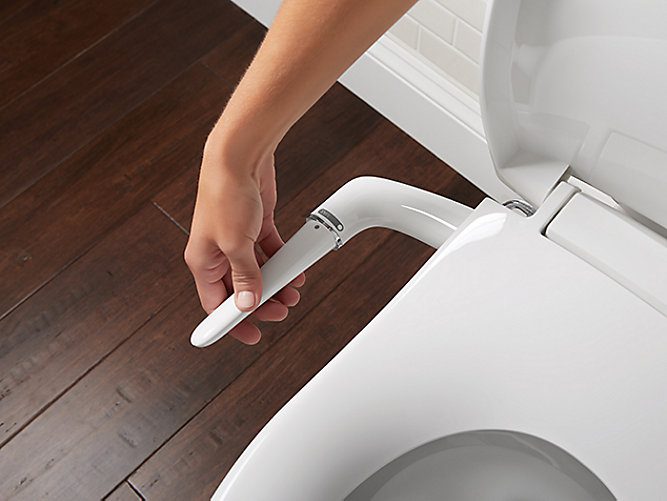 This bidet seat has a handgrip on the side for manual operation, which eliminates the need for additional expenses such as purchasing batteries or paying for energy. Simply spinning or twisting it for a different function enables you to adjust the water pressure and focus the spray on the area that needs to be cleaned.
You can control the amount of water being sprayed and where it is being sprayed without the need for energy, thanks to manual operation.
Simple to clean
Its fundamental and defining characteristic is that it permits the toilet seat to be opened first from the commode, simplifying waste disposal and cleaning without needing additional components.
Remove the covers as quickly as possible and gently pull the seat forward. You are ready to begin a thorough cleaning of the toilet, including any concealed areas, to make stains and germs more accessible to the bowl.
The hinges include a quick-release mechanism that allows for simple removal, making it straightforward to clean, and there is no need to use any tools. Please be aware that the design of the fast-release hinges on this seat is unique compared to other models of Kohler seats.
Budget-friendly
Manual operation results in a one-time purchase, making these bidets quite inexpensive, although they are an accessory attached to your current toilet and work as a bidet. It has a relatively good life span if it is used correctly.
Good gift
Give the gift of cleanliness for special occasions like Christmas, birthdays, anniversaries, and more to make someone's day more special. Moreover, the Puretide is perfect for both male and female use.
Installation
The Kohler Puretide is easy to install. Almost anyone with a wrench and screwdriver can install it. Remove the old seat, attach the new mounting plate, slip the new seat on, and connect the new seat to your toilet's water supply using the t-valve and hose included.
It can be completed in under 30 minutes. Alternative nozzles are provided that will change the spray strength depending on whether your home has very high or low water pressure (most people should be fine with the standard one that comes pre-installed).
With the Kohler Puretide, toilet fit is a key factor. The Puretide is a full-seat replacement. Therefore, it must match the contour of your bowl, unlike less expensive bidets that fit below your current seat.
Make sure you choose the correct Puretide model from the two options, round and elongated. Additionally, although the Puretide fits most Kohler toilets, it does not suit all of them, so be sure to read Kohler's toilet seat fit guide before making a purchase.
There should be numerous toilets other than Kohler that the Puretide will fit. You may not know whether it will work until you give it a try.
Useful Tips
In the event of a leak, a shut-off valve enables you to stop the flow of water to the bidet without stopping the flow to your toilet tank.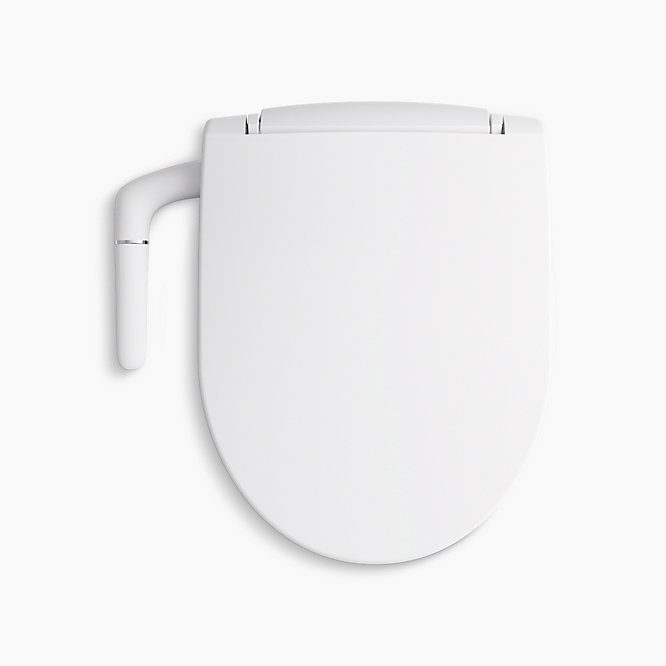 A helpful tip is to replace the standard t-valve with a bidet shut-off switch when installing the Puretide. The reviews for every low- to mid-range bidet we looked at mention leaks often, and the Puretide is no different.
Also, it could be a good idea to proactively turn off the bidet's water if you will be gone for some period during which a leak might cause harm.
Ideal Bidet Toilet Seat
Design
You may choose a form that corresponds with your toilet, but you will probably discover that elongated shapes are more frequent in today's market.
Additional features
Choosing a device with temperature control and jets that can be adjusted for optimal comfort is well worth the additional cost. UV lamps, heated seats, and deodorizers are not strictly required luxuries but are nice to have if you have the financial flexibility to splurge on them.
Remote control vs. screen
An orderly control panel is adequate for day-to-day usage and may eventually be simpler for visitors, even if the remote control is a wonderful addition. Depending on the different settings on the bidet seat, the remote control might be larger or smaller (temperature, pressure, etc.).
Frequently Asked Questions
Is purchasing a bidet a good financial decision?
The quantity of waste created is decreased thanks to the use of bidets, which benefits the environment. You may use a lot of toilet paper, but this helps keep your sewage network clear of clogs and save money.
It also reduces the likelihood of accidents. Using bidets may reduce the amount of time spent on personal hygiene. Cleaning oneself is a more efficient method of sanitation since it does not involve physically removing waste.
Where exactly is the knob located?
The user cannot access any knobs on the device's left side. On the other hand, you are referring to the lever on the right. Applying power in a downward motion on the handle will cause water to spray in your direction.
Simply turning the lever in the other direction will open the spraying mode. As you turn the handle, the spray will become more concentrated.
How can I tell whether a certain toilet seat will fit in my commode?
If you have a round bowl, you will need 3 inches or 7.6 centimeters of space for a bidet toilet seat; if you have an elongated bowl, you will need two to 5 centimeters of space. There must not be any curve or upward slope anywhere in it. Clearance on a standard two-piece toilet commode ranges from 3 to 4 inches (7.6 to 10 centimeters).
Conclusion
A beautiful addition to your toilet, the Kohler Puretide Elongated Manual Bidet Seat is worth a purchase. It does a good job of cleaning filthy areas, is not difficult to use and put together, and comes with all of the necessary hardware already included in the package.
In addition, it has a sophisticated and uncluttered appearance that may transform any bathroom into a space that seems more contemporary and organized.
Hopefully, our Kohler Puretide review has helped you. Best of luck!