Bidets are an excellent substitute for toilet paper; some people may even prefer them. It is an excellent sanitary option in the restroom, particularly for individuals with mobility limitations.
Similar to many items that are better for the environment, bidets are also cheaper. Aside from the initial outlay, purchasing a bidet might save you thousands of dollars in toilet paper costs throughout the lifetime of the bidet.
After using a bidet for a week or two, you will wonder how you ever felt clean without it. You should never be concerned about running out of toilet paper.
In this Dude Wiper 1000 review, we will discuss all aspects of the bidet, including its features and operation.
Brand Overview
A Chicago flat is where four lifelong friends founded Dude Wipes. They developed Dude Products after identifying a toilet bowl-sized gap in the market. Their first product would be single packs of flushable Dude Wipes for travel. Six months later, they began collaborating with manufacturers to develop the finest wipe.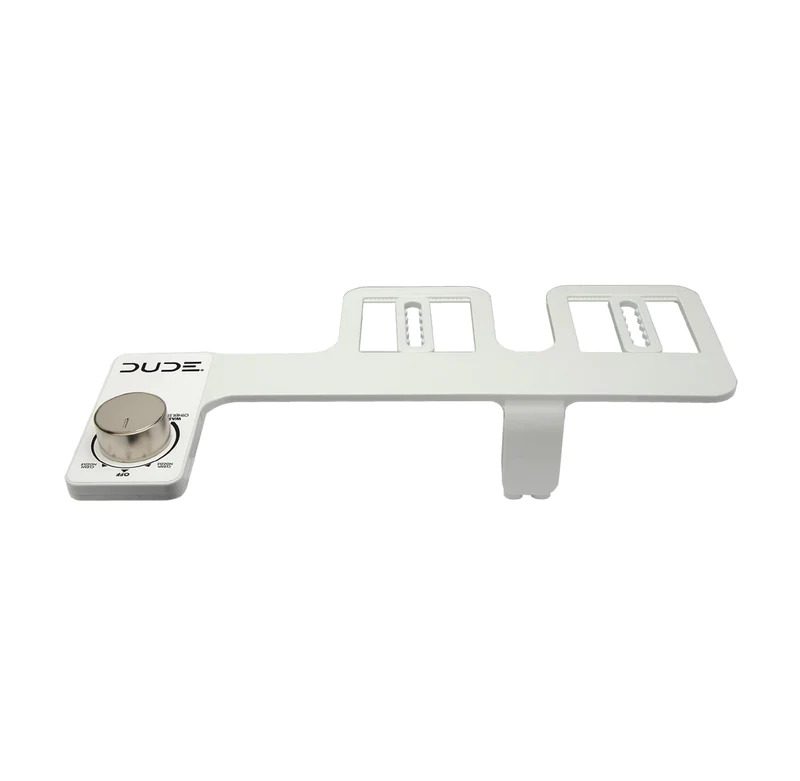 After months of testing, they delivered four pallets of magnificent Dude wipes, and the four began selling them out of their spare bedroom. The mission to save the world one Dude at a time has officially commenced.
The Dudes were just a few months old when they earned the Visionary Award at the Vision 2013 Consumer Products Conference. The Visionary Award is presented to the most inventive consumer product of the year.
Dude Face Wipes are the latest addition to the Dude universe, providing Dudes everywhere with a simple and effective way to keep their money makers clean and fresh on the road.
The Dude Wiper 1000 is not a conventional bidet accessory. Their dual-action blasters are sure to render your privates clean. Finally, an incredible machine that cleanses, refreshes, and eliminates odor simultaneously.
Consider a bidet attachment if you're unsure whether you're ready to invest in a whole bidet seat. You can install the Dude wiper beneath your toilet seat in less than ten minutes, and it is compatible with all regular toilets and most skirted toilets.
It includes a double, self-cleaning nozzle, and you can adjust the pressure using a side-mounted knob and switch. It is fully non-electric and requires neither batteries nor electricity; only a water connection is required.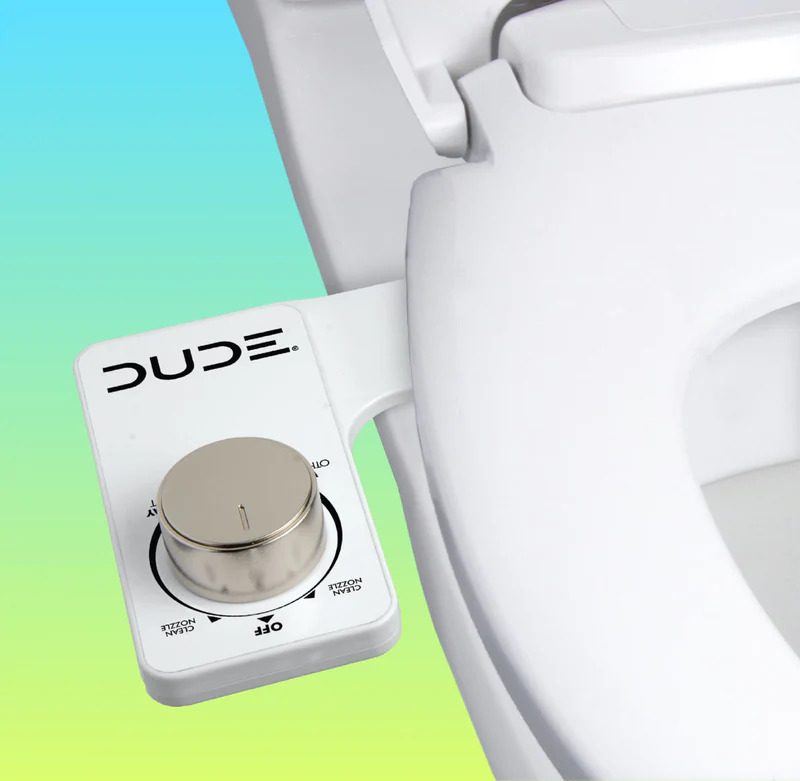 It adapts to the width of your toilet and offers two spray intensities: a powerful jet and a milder mist. A retractable, self-cleaning nozzle performs the dirty work. You may need to slide forward to reach the proper angle, but you will soon be rejuvenated and clean.
Three simple actions are required to install the DudeBidet Attachment: remove the toilet seat, connect the bidet attachment to a clean water source, and replace the toilet seat. No electrician or plumber is needed.
Features
Easy mechanism and installation
If you desire a simple mechanical bidet, this attachment from Dude is an economical solution. This option is designed to fit under the toilet seat, similar to other attachments. It requires a connection to a water source but no energy.
There is only one dial, so there is no need to fiddle with complicated controls. The dial adjusts and cleans the nozzle's pressure. Because the nozzle retracts after each use, the machine is also hygienic for several users.
It is appropriate for circular, oval, and elongated toilets due to its adaptable design. Plus, it's available in two colors. Those who do not wish to alter the appearance or configuration of their current toilet will find the attachment ideal.
Simple functions
The Dude wiper 1000 is for individuals who wish to upgrade their restroom experience. This bidet attachment for the toilet is simple to install and features two retractable nozzles.
Depending on your desired comfort level, you may select from gentle, medium, or hard water pressure settings thanks to the variable water pressure. Set the non-electric bidet to self-cleaning mode to ensure that each nozzle is appropriately cleaned and then retracts back into its protected housing when not in use.
They've included everything you need to install the bathroom bidet in 10 minutes without needing an expensive plumber or electricity. It fits most toilets and assists with cleaning hard-to-reach areas. It can be used by men, women, the elderly, and even those with disabilities, helping them regain their independence.
In addition, it may assist reduce toilet paper usage for a more environmentally friendly washing choice. With the Dude Wiper 1000, you can shower-like cleanliness every time you go.
Self-cleaning nozzle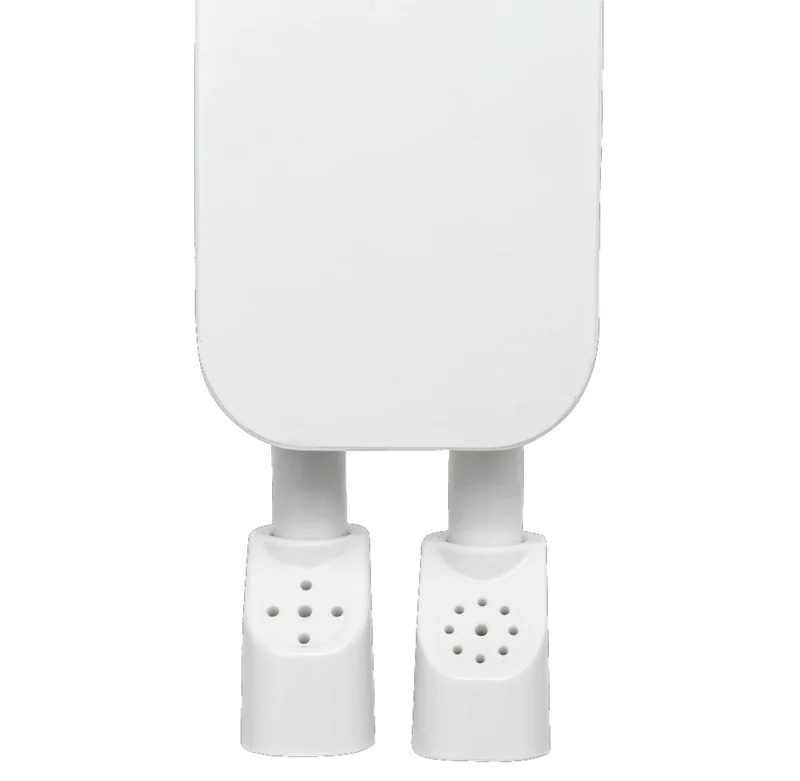 Similar to other sections of your toilet, the seat must be routinely cleaned. The difference here is that you will not have to clean the bidet manually; the Dude Wiper bidet for the toilet cleans you and itself with the flip of a knob. Set the control to the nozzle cleaning mode and see how the nozzles clean themselves and retract into their protective housing when not in use.
Feel like royalty
Made for every budget, every person, and every home, the Dude Wiper 1000 will transform your standard toilet into a porcelain throne and your bathroom into the private spa retreat you've always desired. After defecating, all you need to do is sit back, unwind, and give your posterior the lavish cleaning it deserves.
This bidet is ideal for children, adults, and the elderly. It is safe during pregnancy, menstruation, obesity, and any other condition, regardless of size, shape, gender, age, or medical requirement. Using the same water source you use to brush your teeth in the sink or shower, the Dude Wiper is the cheapest and most convenient way to take care of your privates and live like royalty in the comfort of your own house.
A safer way to clean
Put an end to your bathroom woes with the Dude Wiper 1000, which is gentle to your skin, relaxes you, and purifies your posterior without leaving any traces behind – no more skid marks, paper residue, or soiled underwear. It keeps your hands clean and may prevent the spread of germs, diseases, and infections more effectively than any other method of washing your posterior.
Additionally, this bidet may prevent and dramatically reduce the likelihood of skin irritation, hemorrhoids, UTIs, anal fissures, and other uncomfortable occurrences in or around private areas. Based on medical research, specialists have demonstrated that toilet paper stores many bacteria and is more likely to induce an illness when used to wipe the derriere. This indicates that using the Dude Wiper 1000 after using the restroom is healthy, hygienic, and energizing.
Eco-friendly
Dude Wiper 1000 reduces toilet paper usage by 80%; thus, spraying instead of wiping might help you save money, your health, and the environment every time you use the bidet. It is eco-friendly and sustainable; therefore, there is no better way to lower your carbon footprint and make mother nature happy every time you use the restroom.
This bidet uses significantly less water than a single roll of toilet paper and does not harm any trees. Now that they have experienced the benefits and are aware of the positive environmental implications, Dude customers assert that the Dude Wiper 1000 is a game-changer and a requirement if you want to save money and help the earth.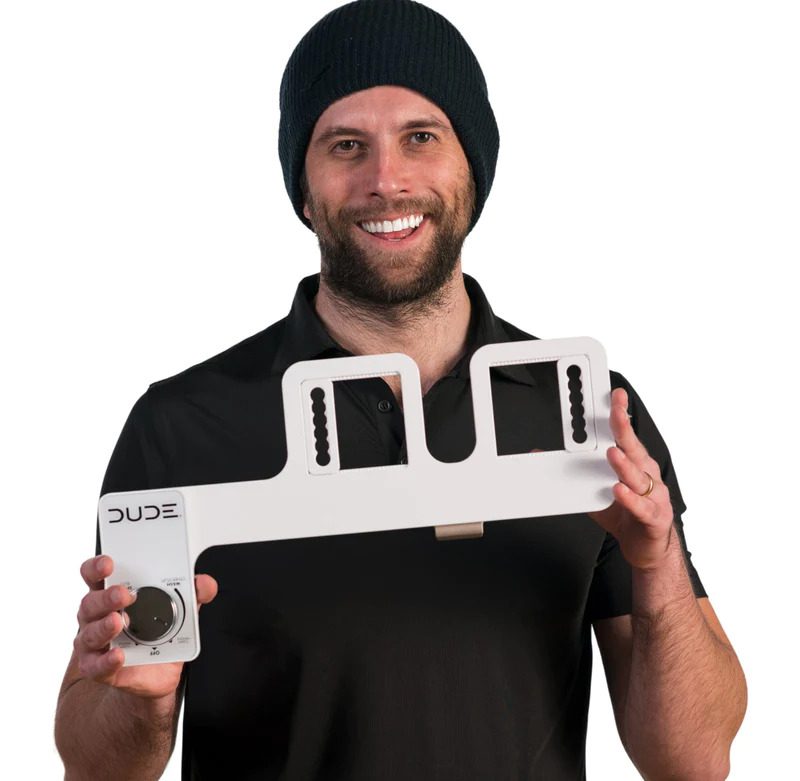 How Does Dude Wiper 1000 Work
Bidet attachments are purely mechanical and operate solely on water pressure. Even retractable wands are not electrically powered. They attach to the underside of your existing toilet seat without altering any pieces.
The presence of feces on bidets is a common issue among those exploring the subject for the first time. The nozzles on the Dude Wiper 1000 are retractable. They only extend if necessary.
In addition, this bidet has self-cleaning nozzles that are rinsed after every use. Self-cleaning wands are less frequent on attachments, but they are still a prevalent feature.
You may ask how a non-electric bidet extends and retracts its components. Depending on the type, the technology varies, but the expansion and retraction of the nozzle on Dude Wiper 1000 is accomplished solely through water pressure and mechanical means.
Benefits of Using Dude Wiper
Hygienic
With not one but two nozzles, one for cleaning and the other for a pleasant mist, the Dude Wiper 1000 has a variety of spray patterns, allowing you to adjust the amount of water required. From water pressure to mist, the experience is individualized and excellently clean. Dude Wiper 1000 is incredibly hygienic, with intelligent self-cleaning and an antibacterial covering for enhanced peace of mind.
Cleaning
The spray nozzle of the Dude Wiper 1000 has a self-cleaning feature. Nevertheless, it would help if you occasionally used a cleaning solution and an old toothbrush to clean the nozzle thoroughly. As the bidet is part of the toilet system, you should often inspect hoses and connections for possible leaks. Additionally, you might invest in water leak detectors to receive real-time notifications in the event of any water leaks.
Doesn't use electricity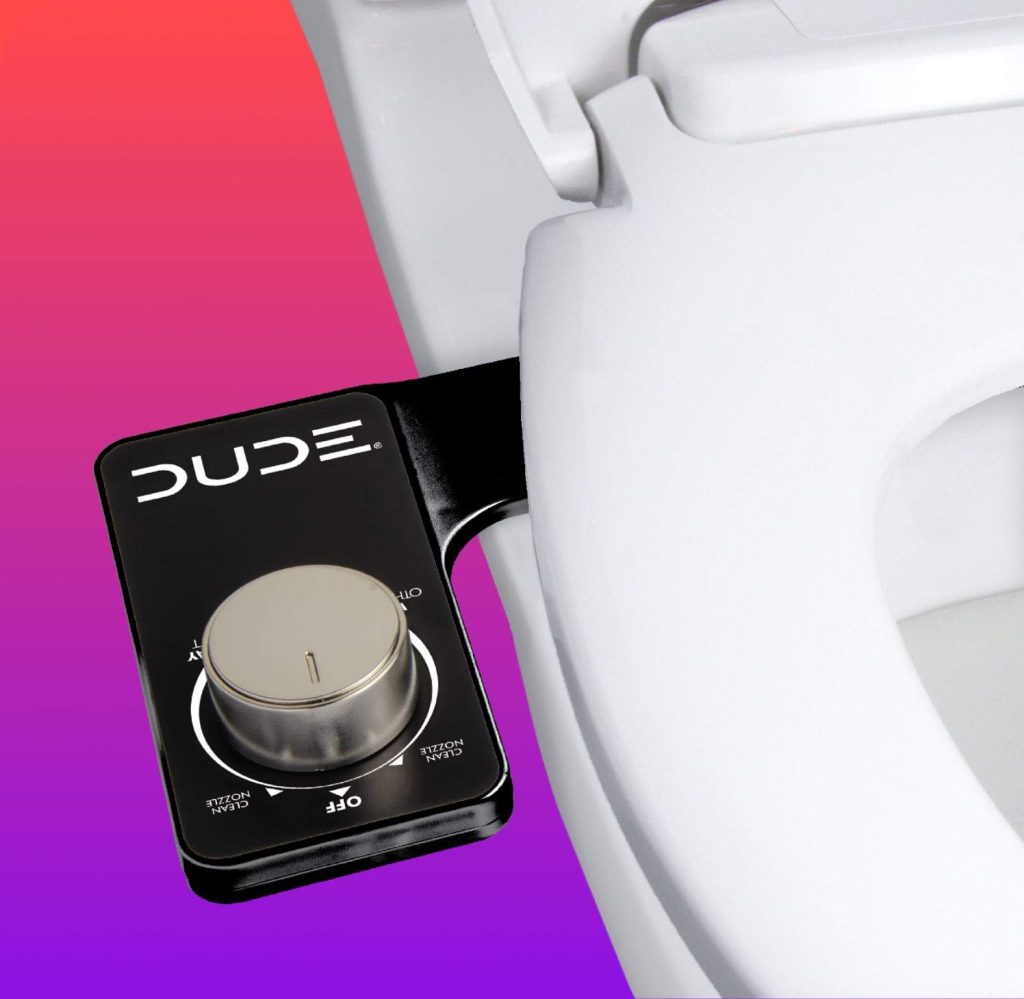 There are numerous advantages to utilizing a Dude Wiper, including the fact that it does not require energy. This means it is less expensive to purchase, and you may save energy and money. In addition, they have a lesser carbon impact because they do not require energy. And if you're worried about your family's safety, it will prevent electrical shock.
As a non-electric device, Dude Wiper will rely solely on its mechanism and water to function. Regardless of your budget, you will be pleased with Dude Wiper, which should endure for many years.
Refund policy
Subject to the following conditions, Dude Products will refund the amount paid for your most recent purchase of Products. Refund requests must be submitted to Dude Products directly. Customers must submit all refund requests within thirty days of Dude Products' date of shipment.
To answer your refund request, the company will reimburse the amount paid for the returned product (minus any shipping and handling expenses associated with the original transaction, which is non-refundable) to the original payment method.
Remember that Dude Products does not offer refunds for returned products damaged due to overuse, lack of care, mistreatment, accident, abuse, or other abnormal use.
Convenient
You need not be concerned about installation. The Dude Wiper 1000 is designed to fit on many standard toilets, so there is no need to upgrade the toilet pan as well. It is compatible with most toilet seats.
We recommend you compare the dimensions of Dude Wiper and your toilet seat to determine if they are compatible with your toilet. As a non-electric bidet, it also contributes to energy conservation. You can make your toilet seat stand out from the crowd by using a variety of hygienic, comfort-enhancing, and sanitary upgrades.
Healthier option
The consensus is that Dude Wiper 1000 is superior to toilet paper. Excessive wiping or wiping with excessive force may result in anal fissures, which are tears in the delicate skin of your rectum that can leave you susceptible to infection.
To avoid harm, a rectal surgeon advises using a patting technique when wiping rather than a swiping motion. However, for most individuals, patting will not suffice because it is ineffective for achieving a thorough clean.
Additionally, some people with mobility or grip challenges find it difficult to wipe, whether due to age, handicap, or pregnancy, so they might benefit from a bidet.
More sanitary
The water utilized by the Dude Wiper 1000 bidet is sourced straight from the existing water line, not the toilet bowl or any other location that may come to mind. Like a conventional toilet seat, you should clean the bidet seat regularly; however, the Dude Wiper 1000 features self-cleaning options. Bidets are more hygienic than toilet paper because they provide a more thorough cleansing.
Different Products That Dude Offer
Dude flushable wipes
The Dude's flushable wipes are manufactured with plant-based fibers and no plastic. In contrast to baby wipes, Dude Wipes are safe for sewer and septic systems and begin to decompose when flushed. They are suitable for the entire family, so say goodbye to toilet paper and welcome to Dude flushable wet wipes.
Dude Wipes are 35% larger than the regular flushable wipe, allowing them to handle any task you may demand. Made with calming aloe vera and vitamin E, they are gentle on your sensitive skin and will make you feel refreshed and ready for the day.
Made with 99% water and plant-based ingredients, Dude Wipes are hypoallergenic, alcohol- and paraben-free. Whether your hands, face, or armpits require cleansing, Dude Wipes will treat your skin correctly.
The Mint Chill aroma has elevated the wipe to an all-new level. The eucalyptus, mint, and tea tree oils provide you with the freshest scent possible.
Dude face and body wipes
With Dude Face & Body Wipes, you can provide your skin with a spa-like experience whenever you like. Non-fragranced and infused with sea salt and aloe, Dude Face & Body Wipes effectively remove grime and oil from your skin while you're on the go. Using provitamin B5 and hydrating lotion, Dude Invigorate Face & Body Wipes wash, hydrate, and energize your skin.
These body and face wipes are ideal for a quick face wash, post-shave, or entire body wipe since they are soft enough for the face and durable enough to remove dirt and stink from the body. Cleanse and revitalize your skin at any time and in any location.
These Dude Wipes are odorless, hypoallergenic, alcohol-free, and recommended by dermatologists; they include 99% water and plant-based ingredients such as sea salt and aloe vera.
You can take the travel-friendly packs anywhere. Never before has maintaining cleanliness and confidence been so straightforward. There is no need for water or a washcloth to maintain your competitive edge.
Dude bombs
Using the all-powerful Dude Bombs, you can keep your bathroom smelling nice and clean. Drop one into the toilet before you sit down, let it rip, and prevent unpleasant odors.
The odor-destroying components of Dude Bomb create an impenetrable barrier that rapidly deodorizes the air and the toilet bowl. Each bomb is infused with a reviving blend of aroma oils that emit the scents of lavender, cedar, lime, and eucalyptus in the bathroom.
Say no to the secondhand stench and leave the restroom smelling nicer than when you arrived. The days of stinky, embarrassing restroom departures are over.
Dude bomb spray
Using the all-powerful Dude Bombs Spray, you can be less worried that your bathroom will smell foul. Pump a few sprays into the toilet before you sit and eliminate this worry.
This unique non-aerosol spray bottle is made entirely of recyclable materials, so it may be recycled indefinitely without harming the environment or diminishing its quality. The Dude bomb spray takes it to the next level with a blend of natural essential oils, such as cedarwood and fir. Instead of obnoxious, overbearing fragrances that give away the crime, Dude Bombs Spray offers a simple, fresh, and clean smell.
Dude powder
This durable deodorizing powder absorbs moisture and combats odors. It is ideal for bringing to the gym, camping, or traveling for fast refreshments.
Immediately after applying the Dude Powder, you'll notice a natural, game-changing difference. This indicates that it is working hard to keep your third pit happy and odor-free for the duration of your dirty, sweaty day. There are three main varieties of Dude powder.
The fragrance-free product contains Vitamin E and Aloe Vera to rapidly refresh skin, absorb moisture, and combat odor. Smell wonderful and tackle the day regardless of where it may take you.
This talc-free Dude Powder is made with a cornstarch base, natural deodorants, and botanicals to keep you smelling fresh. Menthol is integrated into the composition of Menthol Chill.

Frequently Asked Questions
Is it simple to set up Dude Wiper 1000?
Most homes should be able to install the Dude Wiper 1000 within ten minutes. You only need to attach it to the back of the seat and then connect the water line to an inlet; it comes with everything you need.
How is the Dude Wiper 1000 to be cleaned?
The Dude Wiper 1000 has nozzles that clean themselves, but if you want to ensure they are extra clean, you can wipe them down with warm water and a few drops of dishwashing soap. When cleansing the seat, use a nonabrasive cleanser and a microfiber cloth.
How can a person dry themselves after using Dude Wiper 1000?
The bidet is similar to a little shower in many ways, so you can use the same bathroom accessories, such as a bath towel or plain toilet paper, as you would in the shower. Include a tiny towel next to the bidet, especially in your home or for guests, so they can use it if they like. The bidet eliminates the need for wipes, so you can keep using only towels and toilet paper.
Conclusion
Dude Wiper 1000 is an excellent alternative to wiping and makes an enormous difference in how you feel after using the toilet. After converting to Dude, numerous individuals report feeling cleaner, fresher, and healthier. The fact that the Dude bidet is eco-friendly, cost-effective, and promotes toileting independence for individuals who have trouble independently doing it is a bonus.
We hope this Dude Wiper 1000 review has provided helpful information regarding the brand and product. The Dude Wiper 1000 is a manual bidet attachment with two nozzles and self-cleaning capabilities. Essentially, it has all of the necessary components for a toilet seat.