In the United States and other countries, bidets are becoming more and more common. A whole bidet, or even just a bidet seat, can cost anywhere from a few hundred to over a thousand dollars. Many people who would love to use this clean, simple-to-use gadget may not have the funds to do so. Therefore, there are bidet attachments.
Many of the advantages of a bidet are available with a bidet attachment at a much lower cost. But it only accomplishes what its name implies: it only serves as an attachment. It doesn't replace your current toilet seat or function as a full-fledged device. You take out your toilet seat, put the attachment on the bowl, and then put back the old seat and cover.
It is cheap, simple to install, and capable of performing most of the functions offered by its more expensive counterparts. You may read our Bio Bidet Elite 3 review on this page. One of the better attachments available is this one.
With no further ado, let's get started!
Brand Overview
Everyone deserves to use a clean, pleasant bathroom, according to Bio Bidet By Bemis. They set the bar for the industry, advancing bidet technology into an opulent contemporary necessity. They are moving forward with top-notch goods, first-rate client support, and environmentally friendly procedures.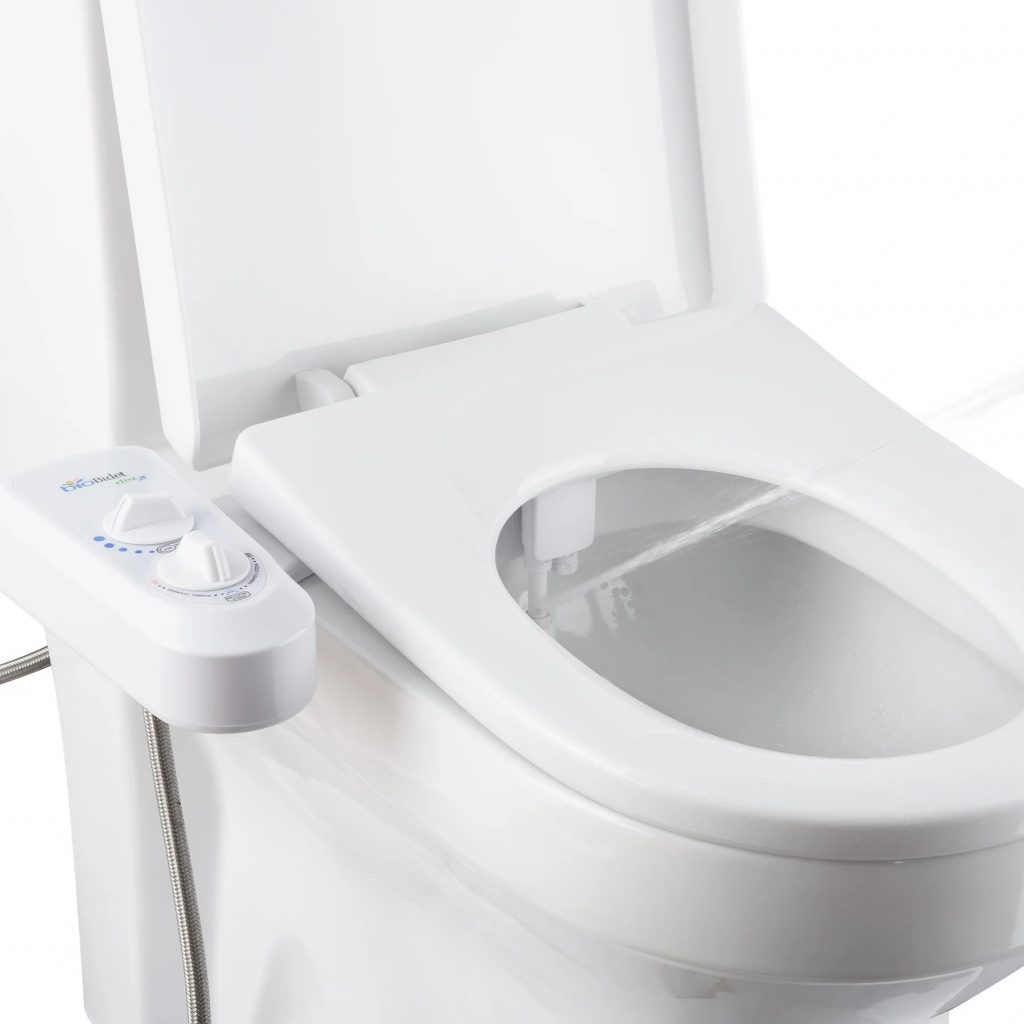 Although highly renowned for its high-quality goods and first-rate customer service, the company's passionate and gifted staff propels it to the top of the North American market. They continue to set the bar higher for kitchen and bathroom technologies with a strong pride in the Bio Bidet product line. They are a diversified group dedicated to cooperating and developing as a unit.
Because they think that everyone deserves to enjoy a clean and comfortable experience, Bio Bidet by Bemis works to revolutionize bathroom elegance. Their industry-leading standards have transformed bidet technology into opulent contemporary requirements, regardless of whether you're looking for a bidet toilet, bidet seat, or bidet attachment.
Bio Bidet ELITE 3 Bidet attachment, 17 1/4x8, White
BIDET YOUR WAY – Easy-to-use control knobs give you adjustable water pressure and ensures a comfortable, personal wash experience
EASY INSTALLATION – Upgrade your bathroom in minutes with a home bidet, no plumber and no batteries required; comes with all necessary...
JOIN THE MOVEMENT - Reduce the need for toilet paper by switching to a universal fit attachable bidet; wash with water and say hello to a...
While promoting better health and cleanliness, picture yourself enjoying a spa-like experience in the privacy and comfort of your bathroom! The newly created Elite 3 is an attachable bidet that is practical, simple to install, and exceeds all industry requirements and expectations. This non-electric, ambient temperature bidet was created with comfort in mind and offers a soothing mist for the feminine wash and an energizing posterior wash.
You can easily adjust the pressure with the new P.S.P.C. (Positive Stepping Pressure Control) to create an experience that blends comfort and use, all while helping to keep your bathroom tidy with a very effective splash guard. The Elite 3 is the first natural water bidet with a dual nozzle and a self-clean feature to facilitate better hygiene, making upkeep quick and straightforward.
The Elite 3 model is distinctive because, in contrast to other manufacturers, it blends quality with safety to create a high-grade item that is made to last with little upkeep. To prevent backflow, the Elite 3 is equipped with a sturdy internal check valve that is U.P.C. (Universal Plumbing Code) approved and made in the U.S.A. T-valve and a high-quality, long-lasting braided metal hose are also included with Elite 3 to facilitate safe, quick, and easy installation.
Highlights
Superior dual nozzle system
The high-quality Bio Bidet Elite 3 is a manual under-toilet seat bidet attachment that is simple to install and operate. This is an excellent option if a manual or natural water unit is needed because of its clever design, simple functionality, and inexpensive price. The Elite 3 effectively cleans the rear and the female anatomy through its dual retractable nozzles.
The dual nozzle of the Elite 3 was specially created to facilitate washing women. However, there is no control to adjust the position or angle, unlike many bidet seats (or whole bidets). However, most women won't have trouble moving around to find the perfect aim.
But men can also use that second water supply, which may be much closer for women. Anyone who has ever had to wash their genitalia, whether after strenuous exercise or after intercourse, may discover that this extra feature is well worth the additional cost.
Simple installation and high-quality supplies
The ease of installation of this machine is one of its main advantages. In a nutshell, you remove the large plastic screws holding your toilet seat in place from underneath, install the attachment, and then replace the seat. Connecting the hose that will deliver the water is almost as simple. Following the directions, shut off the water supply, install the "T" valve, and attach the water supply and bidet hoses. It happens quickly.
Electricity not necessary
There is no need for electrical work because electricity is not necessary. No need to have a plug nearby. However, having no warm water is a limitation common to many bidet attachments. Consider this carefully depending on where you live and the typical temperature of your water source.
Material
It includes a brass inlet and a braided metal water supply hose. So, you can pretty much guarantee durability. In actuality, the materials are all excellent. A brass ball valve and silvered brass pressure control stem are also included.
An already incredible product has been significantly improved in quality due to the engineering transfer from plastic. The lifespan usability of this bidet has undoubtedly increased significantly, and it is less problematic. Naturally, it's crucial to get all the gaskets well in place to take care not to cross-thread anything.
Simple and trustworthy operation
You can anticipate a good function with proper installation and high-quality components. The plastic controls are stable and feel solid. Any leaks are often the result of subpar installation, not defects in the manufacturing process. Elite 3 is indeed a well-made product.
Water pressure modification
The adjustment of the water pressure is quite simple. Turn the knob gently, experimenting to find the setting that best meets your requirements and preferences. The system can support almost any user.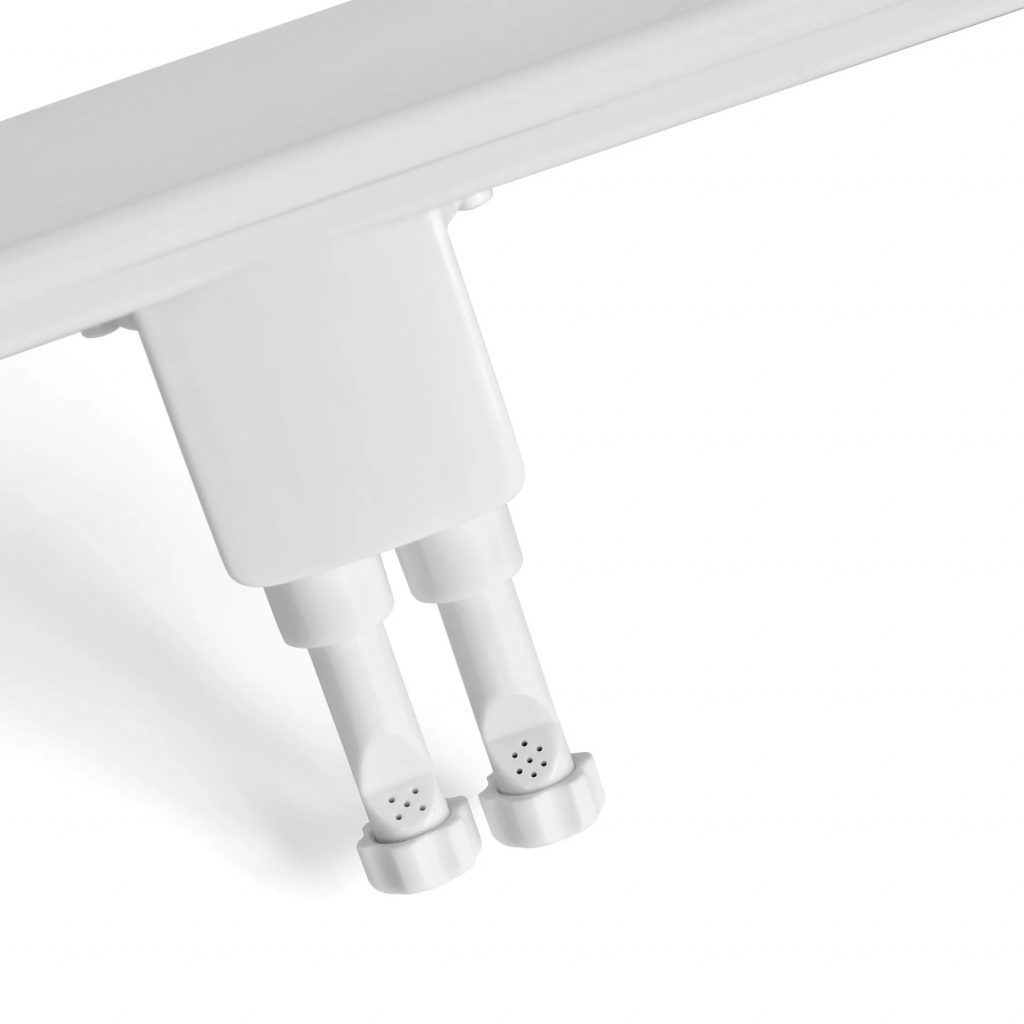 It is also relatively safe and straightforward to operate. Most folks will be comfortable with the angle and posture. But since every person is different, remember that this model does not allow you to change the spray wand's position or angle. The jets, which are a series of holes in the tip, are secured in position.
Easy maintenance
Additionally, maintenance is trouble-free. In our opinion, Elite 3's self-cleaning capability is one feature that exceeds users' expectations. Because the nozzles on this bidet attachment are self-cleaning, you only need to interact with them occasionally physically. A separate nozzle selection/self-cleaning control knob is used to operate the nozzles and the self-cleaning feature.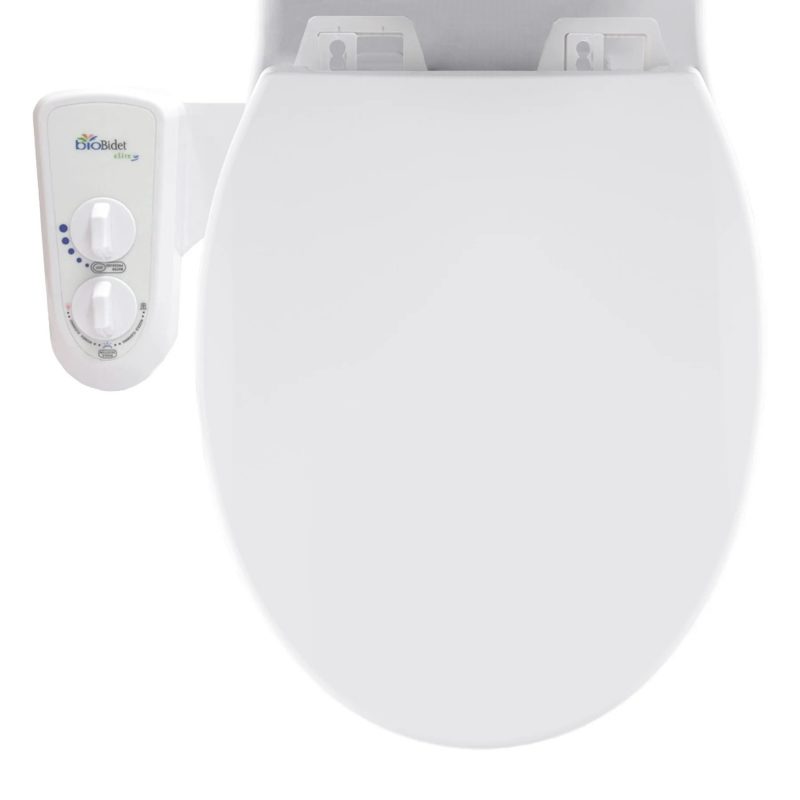 Benefits of Bio Bidet
Better hygiene
You won't have to worry about feeling dirty when you leave the restroom, and you'll always feel clean. No matter what you have in mind, it's a terrific way to get more out of your restroom experiences.
Advanced features and benefits
Early bidets were relatively simple and provided a straightforward solution. Regardless of what you have in mind, they have been modernized to incorporate various features and perks that you may utilize for your fun or cleanliness.
Portability
While some versions are fixed and must be put in your home using the traditional method, others are portable models and can fit on any toilet system. You might be able to do this and maintain your hygiene wherever you are.
Affordability
These bidets offer more functions and advantages than ever before and are also reasonably priced. You should research these and the benefits they may provide for your financial situation. You'll likely be shocked.
Tips To Use Elite 3 Bidet
To clean the nozzle, select the "nozzle clean" option and open the pressure valve.
Opt for the desired nozzle.
Increase water pressure by turning the water pressure knob. Be sure to increase the water pressure gradually.
Avoid using too much water pressure.
Constipation problem? Change the water pressure quickly from low to medium.
When finished, tap the excess water gently with toilet paper to drain it.
No wiping.
To clean the nozzle, select the "nozzle clean" option and open the pressure valve.
Installation
Caution
No connections should be over-tightened. Overtightening the connections and adaptor may harm the components.
Steps to installing the attachment
Disassemble the water hose after cutting off the water supply to the right. Before disconnecting the water hose, flush the toilet to empty the water in the tank.
Eliminate the current seat and lid. You should release the present toilet seat's fasteners on either side.
Connect the supplied T valve to the fill valve on the toilet. Remember that the T valve, not the shutoff valve, will be linked directly to the toilet fill valve. Next, attach the remaining water lines to the attached T valve.
Over the toilet mounting holes, mount the bidet and toilet seat or lid. To safeguard and secure the bidet on the toilet, use the supplied rubber O-rings under the bidet mounting bracket.
Open the shutoff valve, then look for leaks.
Warranty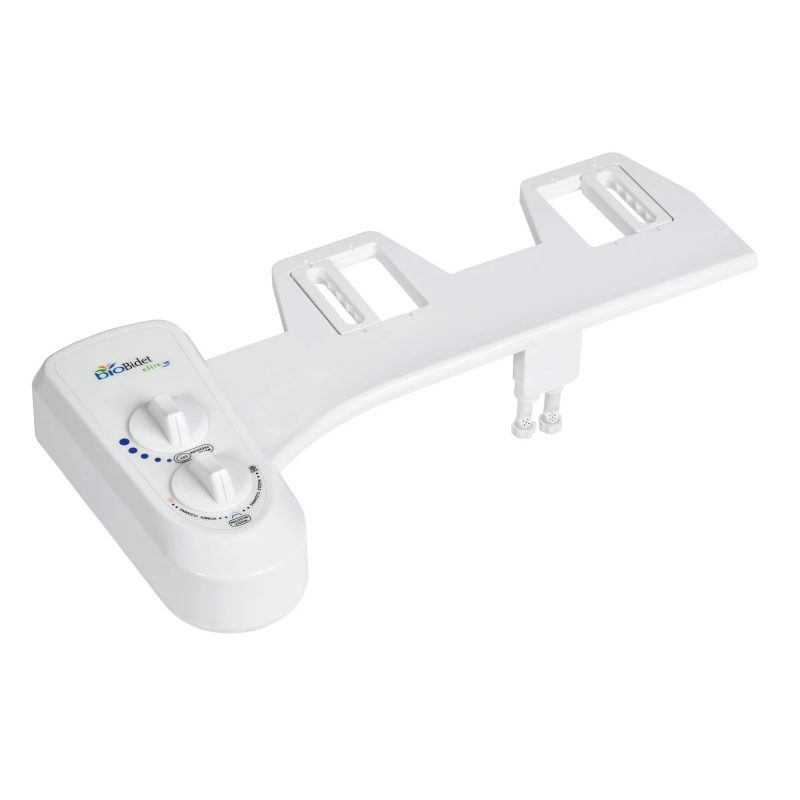 Your Bio-Bidet has a guarantee against manufacturing or material flaws after the initial purchase date for one (1) year. Suppose defective components or a damaged product is returned to them. In that case, at its discretion, Bio Bidet will decide whether to fix it with new or comparable rebuilt components or exchange it for a new Bio-Bidet.
This Bio Bidet limited warranty applies only to flaws discovered during regular use and excludes the following situations:
Failure to follow operating instructions, abuse, misuse, tampering, mistreatment, incorrect packaging by you, or loss of a Bio-Bidet.
Using components or materials that harm Bio-Bidet that its manufacturers do not provide.
Replacement of damaged or discolored parts brought on by oxidation, regular wear and tear, cleaning agents, chlorine, bleach, ammonia, and other chemicals.
You may damage the equipment or malfunction due to improper and careless installation.
Any harm caused by water leaks or breaks to the plumbing, walls, floors, ceiling, and personal belongings. The user must utilize the product at their own risk. Consequently, where the circumstances mentioned above exist, the owner releases the manufacturer and distributor from any claims for damages.
Must Read: Bio Bidet SlimEdge Review
Frequently Asked Questions
Does Elite 3 require electricity?
No. It is a non-electric bidet using water pressure strictly.
Is there a water warming facility provided by the Elite 3 Bidet?
No. It is a natural water bidet and uses room-temperature water.
Does installation require a professional plumber?
All items from Bio Bidet are intended for do-it-yourself installation and require neither special tools nor skills.
Will it fit in my toilet?
Elite3 is made to fit the majority of two-piece toilets. One-piece toilets, however, might be subject to some limitations. If your toilet is a one-piece model, please speak with one of our knowledgeable sales representatives.
How long does delivery take?
Most orders are handled and dispatched via the U.P.S. ground service within 24 hours. Orders will be shipped from nearby dealers in your area, and delivery time should be between 2 and 6 days.
Conclusion
This is it! This was our Bio Bidet Elite 3 Review. This bidet is relatively standard. It reliably performs the necessary essential functions. But their capabilities are constrained. The lack of warm water will be the most significant factor for many bidet consumers to consider.
Neither the bidet attachment nor the water is heated electrically by your home's hot water supply. If you're okay with these restrictions and want to spend relatively little money to at least test whether a bidet suits your lifestyle, the Elite 3 is a good choice.