Although bidets are common in Asia, Europe, and the Middle East, they were until recently unheard of in the United States. Fortunately, we've all learned a few things about the advantages of a gentle water spray to clean our most delicate areas while a toilet paper crisis is in effect.
Bidets are less abrasive than regular toilet paper and have safeguards that make sure only pure water contacts the body. If you haven't felt the crisp, clean sensation of a bidet, you're in for a refreshing treat, we promise.
In this article, you'll benefit from the Bio Bidet BB-1000 review. Before making a purchase, this review explained in detail will give you all the information you require. It is one of the most impressive bidets out there. With no further ado, let's get started!
Brand Overview
In order to introduce the unique smart ways of Eastern culture to the West via smart toilet bidets, Bio Bidet was founded in 2008. The company's president and CEO, Jason Han, set out to "raise the standard of kitchen & bath technology" with this in mind.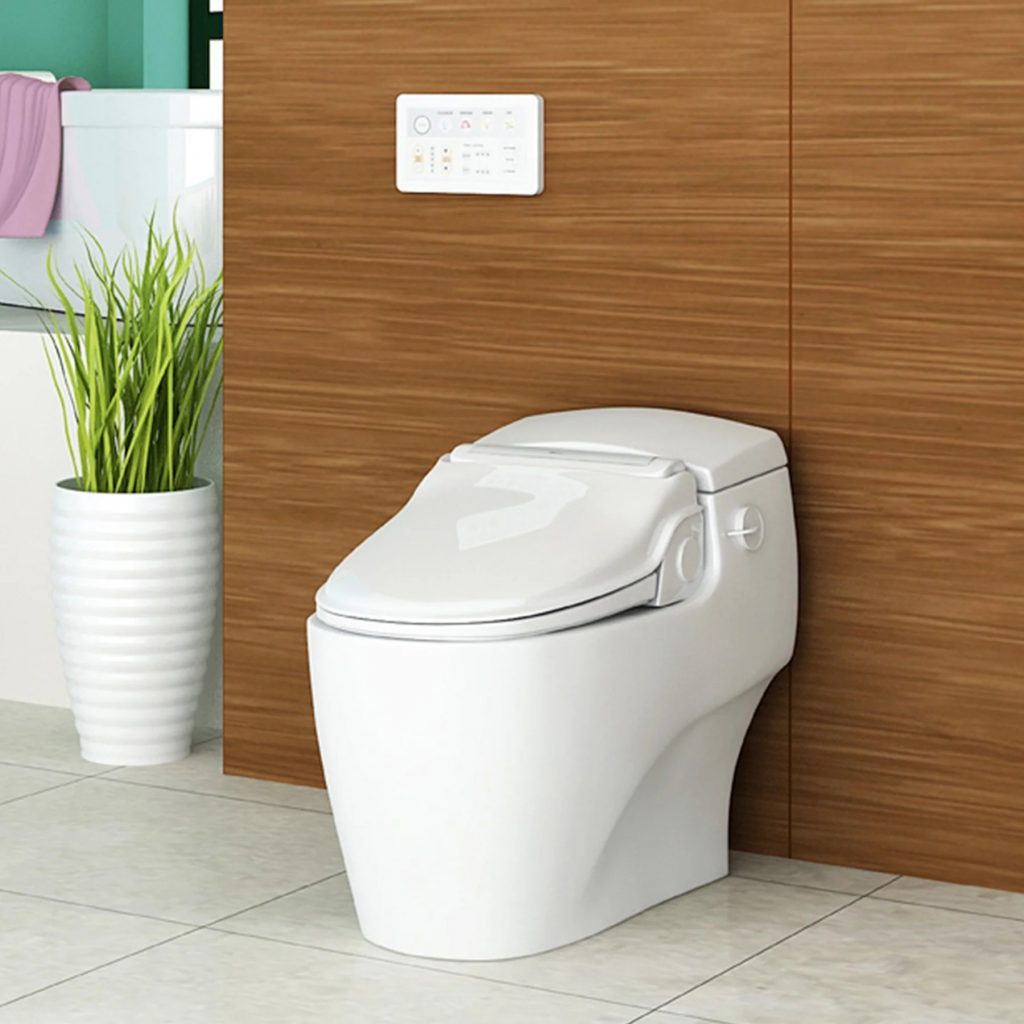 The corporate headquarters of Bio Bidet are situated in Crystal Lake, Illinois, in the United States. This model served as the foundation for Bio Bidet's journey to developing an outstanding brand and reputation. Bio Bidet is well renowned for its high-quality bidet seats.
The company has appeared in a number of major media outlets, including CNN, Vice, The New York Times, Yahoo News, Buzzfeed, and NBC News.
You have to admit that it is quite odd that bidets are not considered "normal" in North America, a country that has made significant contributions to science and technology over the course of the last few centuries.
They continue to set the bar higher for kitchen and bathroom technologies with a strong sense of pride in the Bio Bidet product line. Their goal is to transform the bathroom experience while also advancing with top-notch goods, great customer support, and environmentally friendly procedures.
The Bio Bidet BB1000 is a high-end toilet bidet seat that offers comfort and personal hygiene to the elderly and disabled who struggle to use or leave lower-height toilets or who have particular sanitary needs and problems.
Its soft, pleasant aerated stream is perfect for treating oneself. You may adjust the water pressure, temperature, and even the gentle cycling massage feature with the device's simple remote control.
After cleaning, press a button to activate an adjustable warm air-dry while relaxing on a softly heated seat. Temperature control is a part of both features. Simply take out your current toilet seat and replace it with an over-the-top bidet seat with a shower head.
The BB-1000 has a cutting-edge "smart power saving function". It determines the times of day that are most commonly used to save the most energy. It also has a potent deodorizer that can get rid of up to 90% of embarrassing stink.
Its innovative 3-in-1 nozzle design offers a relaxing pulsating massage in addition to optimal hygiene. The BB-1000 is undoubtedly the most sophisticated and comprehensive bidet seat on the market since it includes the most cutting-edge "Capacitance" seat sensor and "Self Diagnose".
Highlights
Remote control
With a white and gray background, the remote control has a very simple design, and each button has a distinct name. Although the remote lacks a digital display like the majority of other remote-operated devices, we discovered that it is not actually necessary.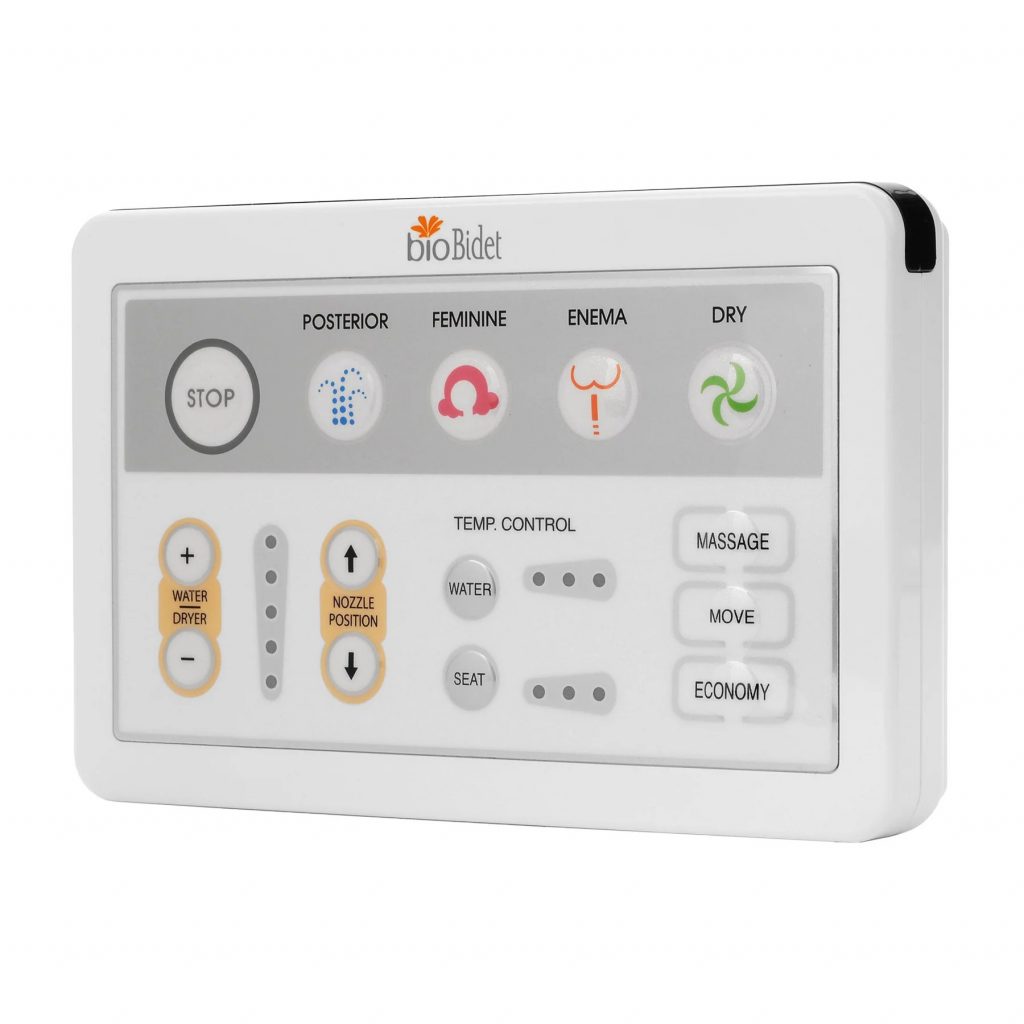 The Bio Bidet BB-1000's remote control is simple to use. Among the bidets we evaluated, it was one of the simplest to operate; we didn't need to consult the user's guide.
There is a wall mounting attachment included with the wireless remote control. The remote can be removed from the mounting device and used that way, or you can just leave it on the wall to operate the bidet. Two supplied AA batteries are needed for the remote.
Luxurious features
The Bio Bidet BB-1000 Supreme electric bidet seat has an adjustable heated seat that provides warmth in the winter and aids in the stimulation of bowel movements. Due to its adjustability, it can be dimmed or turned off entirely in the summer.
The Bio Bidet BB-1000 comes with an excellent deodorizer. Air is drawn via an active carbon filler by the built-in fan. The filter never needs to be changed, and virtually all of the odor produced while using it is absorbed.
Numerous wash options are also available on the BB-1000, including oscillating wash, which swings the nozzle back and forth to enhance coverage. The Bio Bidet BB-1000's pulsating mode provides a massage-like cleaning sensation and can be utilized to aid with bowel movement stimulation.
Infusion of bubbles and vortex stream
Aeration, or the process of introducing air bubbles into the water stream, is what the Bio Bidet BB-1000's bubble infusion feature entails. This enables a larger, more thorough cleaning experience as well as a softer, gentler water stream for the BB-1000.
The Bio Bidet BB-1000 also offers the patented vortex water stream. This strong stream runs in a cylinder-like pattern, making it possible for a stronger stream. One of the most potent enemas features available today is provided by the vortex system.
Sanitary components
One of the most hygienic bidet toilet seats on the market right now is the Bio Bidet BB-1000. It features high-end self-cleaning functionality that runs both before and after each usage, as well as simple nozzle changing. In contrast to many other bidet seats on the market, this self-cleaning procedure uses high-pressure water that is forced through all of the nozzle holes and poured over the nozzle.
No cold water shocks with a tank reservoir for heated water
The BB-1000 tank-type water reservoir is renowned for its continuous stream flow and constant temperature and is dependable and performance-driven. There are no shocks from cold water or changes in the water stream. The tank reservoir is the industry standard for bidet heating techniques and is popular for its efficient use of energy and reliable operation.
Since the water is already heated and kept in the tank, you only get the temperature you want when you choose it, and the water pressure is constant throughout. For the best experience, use the tank reservoir, which combines water flow and temperature consistency.
Construction of nozzles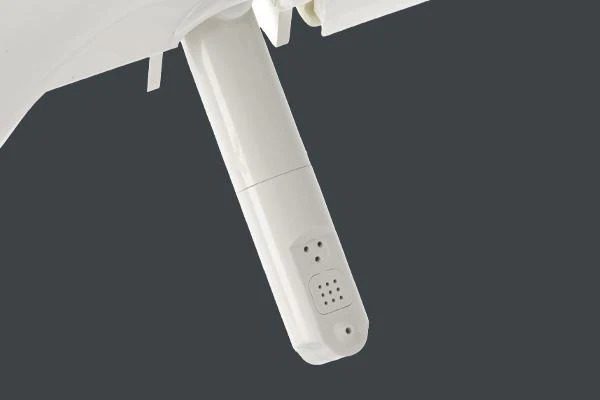 Whether you like a soft feminine wash or a strong posterior wash, the stream is kept consistent with your preferences by the strong built-in motor. The innovative 3-in-1 nozzle system and the superior technology of the aeration method ensure that the water stream is always full and offers optimal cleaning.
The Bio Bidet BB-1000's design dates back more than 12 years. Because of this, it makes use of an antibacterial plastic nozzle, which was previously the norm.
Seat robustness
The Bio Bidet BB-1000 is built to be highly durable, and the material is ABS plastic.
Spraying capacity
The performance of the BB-1000 meets very high standards. The BB-1000, which even outperforms the more recent BB-2000, is without a doubt the market leader in electric bidet spray pressure. This is because of its substantial and powerful pump, which produces extremely high pressure from its internal tank.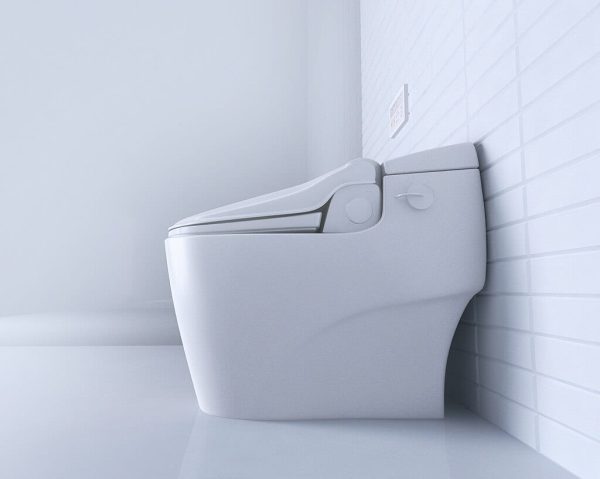 How Does Bio Bidet BB-1000 Work
Bio Bidet BB-1000 comes with a lot of features for its customers. It has a wireless remote which can turn on all of its features with just a touch. It offers three temperature settings for the warmer, which can be turned off in case you want to save electricity.
It also comes with a massager to make you feel relaxed. Features like Bubble Wash, and Enema Wash, make it an exceptional toilet. It also has a deodorizer which makes all the bad smell go away.
Benefits of Using Bio Bidet
Promotions and discounts
We looked far and wide to find a few ways to perhaps save you money in addition to the current sales (which are amazing):
Shipping is free for purchases over $49
To enter the giveaway contest, post a review of your product; each month, a new winner is selected
For exclusive discounts, subscribe to the newsletter; you may also keep up with the company on social media for updates
Customer service
After reading our Bio Bidet evaluation, if you still have any inquiries, you have a lot of ways to contact the company's customer service representatives:
Phone – (847) 458-2334
Email – [email protected]
Live chat on site
Fill out the contact form online
Hygienic
Compared to using toilet paper to clean up, bidets leave you significantly cleaner. In addition to being more comfortable, this lessens the number of bacteria that are left behind and lowers the risk of infection, itching, and pain.
Constipation relief
Many people experience constipation. The Enema Wash setting on some of their bidet toilets and bidet seats will help soften the impacted stool in the colon. The warm water fills the lower colon softly and aids in preparing the stool for movement. The water's pressure will also aid in causing the required bowel movement.
Helps hemorrhoids heal
Hemorrhoids can also be treated with a bidet and Enema Wash. Passing stools will be simpler, and the inflammation will be relieved with a warm water enema. Additionally, it will clean the area without the need for rough toilet paper, reducing inflammation. Hemorrhoids frequently include irritated skin, which warm water soothes.
Aids recovering postpartum mothers
While the cool (or warm) water calms the sensitive area, a gentle feminine wash removes discharge or blood that is frequently observed shortly after labor. With less risk of bacteria spreading in places with tears or stitches, bidets wash waste away without aggravating the vaginal area.
Keeps you clean when having your period
Women can swiftly and completely clean their genitalia when on their period by using the Feminine Wash feature on a bidet. Infections, discomfort, and inflammation can be avoided by washing the outer genitals with the spray. Women who are experiencing inflammation should keep the area clean by often bathing it in cold water to reduce pain.
Warnings and Safety Tips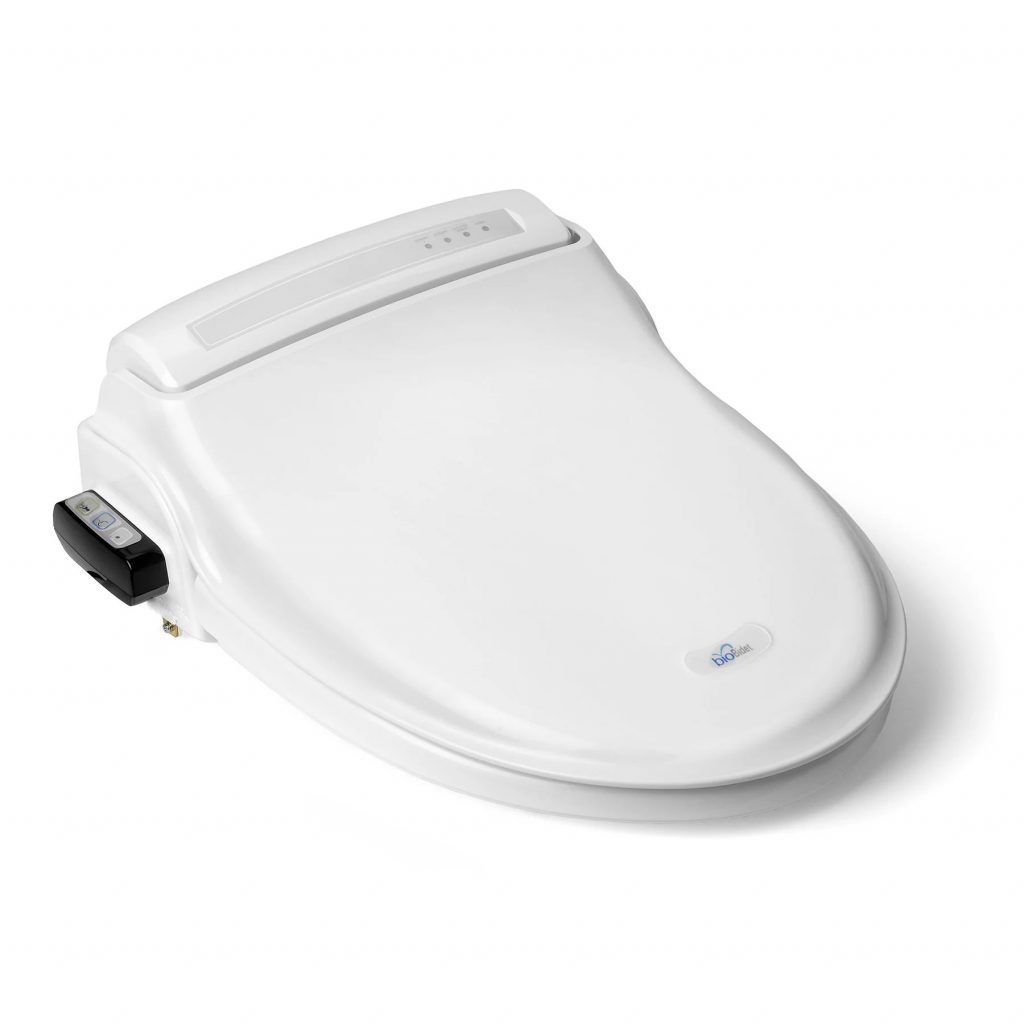 Don't use it while bathing
Unplug immediately if it gets wet
Wait for it to dry before using it again
Don't use it with wet hands
If something falls in the water, don't take it out without unplugging
Always order the product from its official store
Warranty
The Bio Bidet brand offers a 3-year warranty for the BB-1000 bidet. From the date of purchase, this warranty covers the following:
First year – 100% of all bidet parts and brand labor
Second year – 75% of all bidet parts and brand labor
Third year – 50% of all bidet parts and brand labor
Frequently Asked Questions
Where are Bio Bidet goods manufactured?
Bio Bidet claimed the goods were made in South Korea. Due to the brand's recent acquisition by Bemis Manufacturing in 2021, it is unknown where they are made. Most likely, the items are now produced in the USA. In fact, Crystal Lake, Illinois, is where the company's headquarters are located, according to our Bio Bidet analysis.
What is the shipping policy for Bio Bidet?
First, the good news – according to our Bio Bidet review, the company offers quick, free shipping inside the US on orders over $199. Orders are delivered within 1-3 days.
The bad news, though? The company ships its goods only to the United States and Canada. Thankfully, you can purchase Bio Bidet's goods both online and offline.
What is the return policy for Bio Bidet products?
You must exchange your Bio Bidet product within 30 days of buying your bidet and contact the manufacturer by phone or email to start a return. Shipping costs are your responsibility, and you may only return an unused item. Within 48 hours of delivery, you must contact customer support to return your product if it was delivered with damaged or missing items.
Conclusion
This is it! This was the Bio Bidet BB-1000 review for you. With the BB-1000 Supreme Bidet Seat, you have a variety of options for a highly customized, luxurious experience. You get all the standard cleaning options, including pulsating, oscillating, and massage cleaning, along with an integrated deodorizer, a wireless remote control, and other features. Additionally, a 3-year warranty is included. Happy shopping!