There are a lot of portable bidets on the market. However, when considering a bidet for backpacking or hiking, your main aim is to find a bidet that not only meets your needs but also doesn't accommodate extra space or weight in your backpack.
Excess loads can incur unwanted back pain and slow you down, no matter where you're going with your backpack.
In this article, I have made a list of the best portable bidets good for backpacking and hiking.
Happy reading!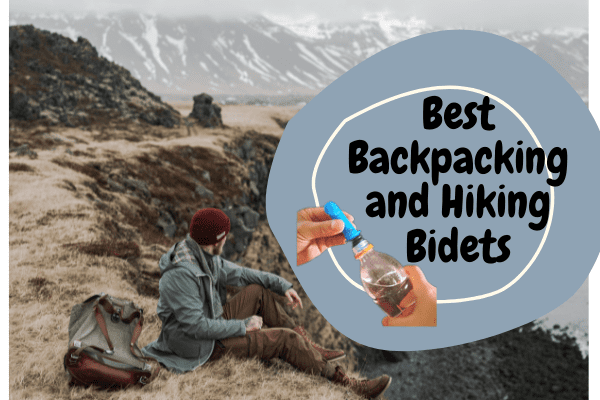 Best Portable Bidet For Backpacking and Hiking
After trying all the products on my list, I inferred that the best bidets for backpacking or hiking are the CuloClean and the UYICOO Portable Travel Bidet. They are both portable bidet 'caps' that weigh very little yet have sufficient water pressure for a clean wash.
The CuloClean portable bidet is not like every other portable bidet out there that comes with a bottle. Instead, it's a portable bidet (as most people will refer to it) or a portable bidet cap compatible with almost all plastic bottles.
It's made of plastic and weighs 12 g, or 0.43 ounces for one piece. One can immediately tell that the quality of the plastic is great just after receiving the product. You can either purchase the one piece or go for the two pieces, which is cheaper.
Since managing the space in your backpack is paramount here, you don't have to worry about the amount of space a bidet bottle will be occupying in your bag.
My favorite part about this is that you are free to fill any plastic bottle with water, and instead of the bottle cap cover that comes with it, you'll use the CuloClean bidet cap.
To make use of it, you will have to squeeze the bottle of water you are using for the water to come out from this bidet nozzle or cap. The water pressure from this nozzle is good but doesn't hurt the skin.
Pros
Highly Compatible
As I already mentioned, it is very compatible with any plastic bottled water with a diameter of 2.29cm to 2.54cm, which is common as our everyday plastic soda bottles.
Very Durable
Made of thick plastic, the material is very sturdy. So it's not something that gets to break when it falls or loses its shape in long-term usage.
Lightweight
Since it's only a bidet cap, it's super lightweight and easy to carry and move about.
More Water
Unlike bidet bottles with certain milliliters of water, the absence of a particular bidet bottle eliminates the limitation of water capacity. With just your bidet cap, you can fill any huge plastic bottle (that meets the cap size) with water and use it as you want, which is amazing.
Easy to Use
It's easy to use by anyone, and that includes kids.
Leakproof
Since there is no bottle with it, water leaking into your rucksack won't bother you.
Discreet
Its small nature conceals the nature of the product.
Cons
Absence of Bottle
As per my experience, the absence of a bottle can also be a disadvantage, especially if you forget to bring or pack a plastic bottle. Without a bottle, this bidet cap is likewise useless.
The UYICOO Portable Travel Bidet is another portable bidet cap on my list that is suitable for both backpacking and hiking. It's lightweight and easy to carry without adding weight. As this is a bidet cap and is similar to the CuloClean, you will also need a plastic bottle for using this.
There are about three pieces in the pack. However, one piece weighs about 20g, which is about 0.7055 ounces. This is about 0.3 ounces higher than the CuloClean portable bidet.
Pros
Discreet
When you throw it into your backpack or purse, no one will know what it is.
Lightweight
As a portable bidet or cap, it weighs less to carry in your backpack.
More Water
Since you're free to choose your bottle size, you have the privilege of using more water for washing.
No Leaking
There won't be any water leaking into your bag since it's just a portable bidet cap.
Durability
It's made of good resilience soft food silicone that will not deform easily, therefore guaranteeing long-term usage. Also, it doesn't lose its shape even when you use it constantly.
Different Compatibility
You can choose to use any plastic soda bottle, provided that the bottle mouth is between 21mm and 25mm.
Cons
Absence of Bottle
You will need a plastic bottle of water.
The AVAbay Portable Bidet Cap is another effective one making its place on my list with good water pressure. What makes this one stand out is the six holes in the nozzle that run like a little shower in your private area when in use.
However, unlike the CuloClean and the UYICOO portable travel bidet I reviewed above, the AVAbay weighs higher.
Features
Easy to Carry
It's easy to carry about anywhere.
Good Quality
It's made of plastic yet it's of good quality.
Compatible
Unlike the others, this portable bidet cap doesn't specify the bottle cap size that should fit. Instead, it comes with three different O-rings. To fit into any plastic soda bottle, you can add the O-rings to the bidet nozzle. The O-rings range from 0.86, 0.9, and 0.94 inches.
Enough Water
The absence of a specific bottle gives room for more water.
No Leaking
No leaking inside your backpack since there's no plastic bottle.
Cons
Weighs More
Compared to the UYICOO or the CuloClean portable travel bidet caps, the AVAbay Portable Bidet cap weighs more. It weighs 2.08 ounces, which is 1.65 ounces more than CuloClean and 1.38 ounces more than UYICOO.
These weight comparisons might seem small to you, but they're highly essential considering you're backpacking or hiking.
No Bottle
The absence of a plastic bottle will always be an issue with portable bidet caps.
If you don't want to opt-in for portable bidet caps, I have added for you the Tushy Travel Bidet.
Unlike the first three portable bidets I reviewed above, this is a collapsible and expandable portable bidet that weighs 5.3 ounces without water. It can hold 11 ounces of water.
The good thing I loved about it is that you can hook it onto your bag with its carabiner and only put water into it when you want to use it.
Features
Very Discreet
Whether you choose to hook it outside your bag or pack it inside, the collapsible feature makes it very discreet. It's difficult for anyone to tell exactly what it is till you expand it.
Easy Mobile
It's easy to carry about, and it comes with a pouch too.
Available Water Container
Compared to the other portable bidets I mentioned above, you don't have to go about looking for a plastic bottle.
Water Capacity
As I previously wrote, the water capacity is 11 ounces (325 ml). It can be enough to give you one round wash.
Cons
Liable to Leak
Nothing is more annoying than having a leaking bottle in your backpack as a backpacker or hiker. Even though this bidet is made of silicone, I still noticed some leaks as if there is a puncture.
More Weight
Since it weighs more than others (above), it might weigh more on your backpack.
How To Use a Backpack or Hiking Bidet
Using a backpacking portable bidet is very easy. According to my knowledge and experience, let's learn this.
Before you start your 'toilet business,' it's best to fill your portable bidet with water first and have it close by.
When you're done with your 'toilet business,' wipe first with tissue paper to remove excess feces.
Then aim with your bidet to either your rear or front area.
Squeeze your plastic bottle for more water pressure or to control it.
DO NOT let the bidet touch your skin. Take it inches away from your skin as you aim. By doing this, you're preventing contamination of the nozzle and your skin.
Read more: Best Bidets
Do You Need Soap?
If you first use tissue paper before using your portable bidet, you may not need to include soap.
On the other hand, there is no rule guiding this: you can choose to use a bar of soap if you want to when washing with a portable bidet, and you can also choose not to.
What matters is your preference and the availability of water at that moment because including soap might require more water to remove the soap lather completely. If your hiking location is where there is more availability of water, then you're in luck.
How Do You Dry Off?
You'll need a bidet towel to dry off after using this type of bidet. Don't omit to dry off. It helps you to prevent walking around with wet pants.
Can I use a Water Bottle Only as a Bidet?
Yes, you can use a water bottle only as a bidet without any issues, and you don't need a portable bidet cap either. So far, you put clean freshwater into your bottle; you're free to use it for your private areas.
However, instead of just pouring water from the bottle differently in your private area, you will have to incorporate the use of your hand as you pour the water. As far as I know, whether or not you use tissue paper before washing with water, you'll do this.
The reason you need your hand's assistance is that no nozzle perfectly aims either the rear or front region. So merely pouring water there won't clean anything.