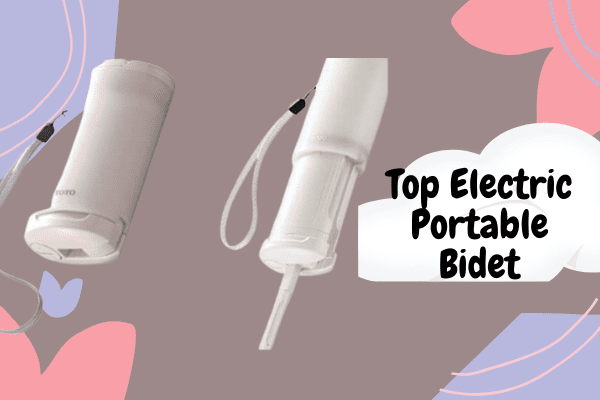 For one reason or the other, not every portable user enjoys squeezing a bidet bottle for water pressure, so they opt for a portable electric bidet.
Both non-electric and electric portable bidet makes it easier to maintain cleanliness down there whenever you are on the go. There are many portable bidets in the market, both manual and electric.
Most bidet users prefer the luxury of doing less work when using a portable bidet.
So, in this article, I reviewed the best electric portable bidets available based on their effectiveness and performance.
Check Out: 3 Best Portable Bidet for Backpacking and Hiking
Best Electric Portable Bidet
The best electric portable bidet is the Mighty Rock Meidong portable bidet; the durability and price speak well for it. If you want a luxurious purchase, your go-to is the TOTO Travel Handy Washlet, while this generic Portable Travel Bidet can be a good option if you're on a budget.
5 Best Electric Portable Bidets
TOTO Travel Handy Washlet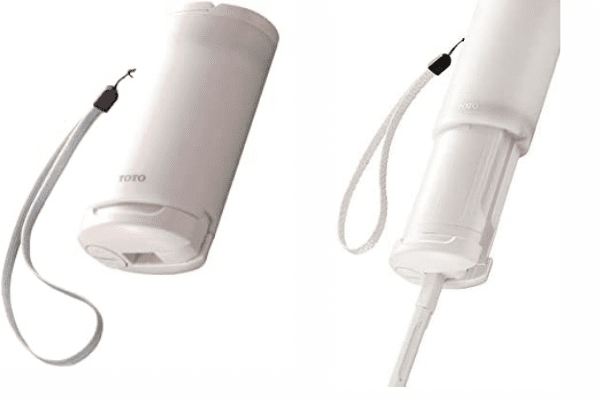 The TOTO Travel Handy Washlet is a portable bidet from the popular TOTO Company. Unlike their major bidet production for US users, this product is made in Japan. It has different model numbers that can sometimes get users confused about which to get.
There are the YEW300, YEW350 and HW300 models. From what I have learned so far, I believe these numbers are merely market product numbers and hold no importance to what the content is all about.
If you get either of the models, their colour is the only difference between them. Their weight, function and water capacity are all the same.
Features
Design
The design is very minimalistic and very much concealed. Unlike most portable bidets that reveal what it is and make some people look at you weirdly when you bring it out…Lol
This one totally hides everything. Also, it's very lightweight.
Battery
It's not rechargeable but powered by one AA battery. This makes it effective when you're in the woods or anywhere there is no electricity.
They do not include the AA battery in the package, so you will have to buy it yourself.
No Squeezing
As a portable electric bidet, you don't need to squeeze it to bring out water or for water pressure. You only need to push its button, and the water will rush out.
Water Pressure
It comes with two water pressures, both high and low. The water pressure may not be too strong, but it can get the job done.
The water pressure is also contributed by how charged your battery is, so endeavour to charge or change your battery after using it for several washes.
Travel Bag
There is a carrying pouch for easy mobility.
Warm Water
This bidet does not warm up water or heat water for you (I'm yet to see a portable bidet that does this), but its water tank is designed to handle warm water without being faulty. So feel free to add either cold or warm water.
Easy To Use
In general, this product is easy to use. Just fill the water reservoir with either cold or warm water whenever you want to use it (no need to store water in it), and extend the wand. Set the different washing to your desire, and push the button for water to flow.
Cons
Japanese Manuel
As a Japanese product, every instruction in the manual is written in Japanese. It can be very frustrating if you don't understand or can read the language.
However, don't worry because you can find the English version on the TOTO website here. Aside from English, there are other languages there.
Water Capacity
The water capacity is only 180ml. This can give you one round of wash but won't be enough to go for a second round.
Also Read: Best Bidets Under $50-For Every Bidet Types
Insolife 2nd Generation
If you need a rechargeable electric bidet seat, the Insolife 2nd Generation could be what you're looking for! Aside from being a rechargeable bidet, it has many features that you'll likewise enjoy as a user.
Features
Rechargeable
This is a plus because it removes the need to constantly change batteries, unlike when you're using a portable bidet that requires either an AA or A battery.
According to the company, they stated that this bidet could go on for 60 uses on a single 1.5-hour charge. So it would be best if you charged it up when you intend on using it on a long journey. Also, it auto shuts off after 3 seconds when the water runs out; this feature saves the battery from running out.
Design
The design of this bidet is also 'discreet', and it's likewise easy to carry anywhere.
Different Water Holes
The water holes in this portable are my favorite feature of this product.
It comes with three different water holes that vary from fourteen holes, seven holes and one hole. This gives the water different spray ways for enough targeting.
Water Pressure
You can customize the wash pressure setting to either strong or soft, as you prefer.
Water Capacity
The water's capacity is 400ml. Depending on how you wash, this can reach for two washing rounds.
Warm Water
You can use warm water with it.
Able To Alternate Bottle
If you feel the water capacity won't be enough, you can use any plastic bottle of any water capacity. However, importantly, the bottle cap MUST be 28mm to fit in perfectly. Failure to do this can result in leaking.
Easy To Use
You just need to push the button to use it, and the washing will automatically begin.
Cons
Being Rechargeable
As much as being a rechargeable bidet is an advantage, it can also be a huge disadvantage. This can be a huge challenge, especially if you're in a place with no electricity.
Even when the company did promise that it could go on 60 uses on a single 1.5-hour charge, still, we can't completely trust the strength of the battery.
Not saying it can happen, but this is a case of 'what if'.
Battery Not Changeable
As the battery is rechargeable, you can't change the battery when it's damaged. This makes the bidet somewhat completely useless.
Hibbent Portable Bidet
The Hibbent Portable Bidet is another rechargeable battery-powered portable electric bidet you can look out for. ACCORDING TO THE COMPANY, its USB power charged has a battery duration of around 100 cycles.
Features
Good Design
The design is good with easy to carry about. It's easy to pack into a portable structure.
Rechargeable
If you don't want to keep changing batteries on a portable bidet, the rechargeable feature is a good option. The USB is a standard port.
Dual Function
It has a good functional dual washing mode of both high and low spray. The cycle time for the low spray is about 60 seconds, while for the high spray, it's 30 seconds.
Also, know that as a rechargeable electric portable bidet, the battery strength will always determine the strength of the water.
Warm Water
Feel free to pour warm water into its tank.
Adjustable Angle
The wand pole of this portable bidet can be adjusted to 180 degrees, making it easy to target the rear region and the female region. This makes it more favourable for females.
Able To Alternate Bottle
The company provided a bottle adapter that you can use to connect to a larger bottle or volume container for more cleaning.
Note that the alternative bottle you should be looking out for perfect fitting is a short-threaded one and not high-threaded.
Cons
Being Rechargeable
As mentioned above, being rechargeable does not guarantee complete effectiveness. It's difficult to use this type of bidet in a place where there is no electricity. Or else if you bring a power backup.
Water Capacity
The water capacity is only 165ml which is very low.
Battery Not Variable
The battery is not changeable when damaged.
Alternative
A good substitute for this bidet is the iFealClear Portable Bidet, as they both have comparable features.
Mighty Rock Meidong
The Mighty Rock Meidong portable bidet is a well-made product that has seamlessly served its purpose even though it's not rechargeable.
Features
Well Designed
The general design of this portable bidet is very well-thought-out, and it's highly portable, making it easily mobile.
Aside from the design, the durability is of good quality, as testified by its many users.
Battery Powered
You don't need to recharge this portable bidet, as it requires two AAA batteries to function. The battery can be changed or charged (if you use chargeable AAA batteries) whenever you feel it's running low.
This feature makes it perfect for the woods or outdoors without an electricity supply.
Two Washing Mode
It comes with two washing modes labelled 'H' and 'L'. The "H" mode is for a strong wash, while the "L" is for a gentle wash. They are both designed with good washing pressure to meet your different needs.
Hot Water
You can put warm water in it as the plastic reservoir is built to accommodate it.
Nozzle Adjustable Pole
You can adjust the nozzle pole to 180 degrees to freely accommodate your posture and targeting. As mentioned above, the 180-degree adjustability makes it flexible for women to reach the upper region.
Additionally, the water spray is also stable.
Rotatable Nozzle
As the adjustable nozzle pole, the nozzle is rotatable, too, creating more room for targeting.
Carry Bag
It comes with a carry bag.
Easy To Use
Making use of it is not a complex task. To use, you start by removing the cover and filling the tank with water, then turn it upside down. Point it to the direction you want to wash and press the H or the L key to start washing as you desire.
Cons
Water Capacity
The water capacity is not much as it only holds 185ml of water. And it does not have an option to put alternate bottled water either.
Alternative
The alternative to Mighty Rock Meidong is this generic Portable Travel Bidet. It's an accurate replica of the Mighty Rock Meidong bidet and comes at a lower price.
As I mentioned, it's a generic product, so it does not have a product name. It can be a problem if you want to speak to a customer care representative and there won't be any.
Aside from that, the features are exactly the same as the Mighty Rock Meidong.
Upgraded TENSURELIN Electric Portable
The Upgraded Electric Portable from TENSURELIN is another portable electric bidet worth mentioning. It's their new upgrade, a rechargeable one with a non-removable battery.
Features
Adjustable Nozzle Pole
Like some bidet mentioned here, you can manually adjust the nozzle to 180 degrees for operative targeting for males and females.
Rechargeable
The battery to this bidet can be recharged with a USB charging line and can go around 100 cycles. There is a waterproof guard gate that protects the charging port to prevent dust or debris.
Extra Large Bottle and Alternatives
This upgraded version of this portable bidet is a great product because it comes with an extra bottle directly from the company. This is perfect for extra water because the original bidet tank only carries 165ml of water.
Additionally, you can go for your own choice of plastic bottle water and fix it to the bidet using the available adapter available in the product kit.
Just ensure that your bottle is short-threaded. (Check the picture I posted above of what a short-threaded looks like.)
Two Water Pressure Models
You can set the water pressure to 'HI' (which means High) or the 'LO' (which means Low). The 'HI' gives out strong water while the 'LO' is soft. This setting makes it easy for your operation.
Warm Water
Both bottles that come with it can handle warm water.
Easy To Use
It's easy to use. Remove the cover and pour in your warm or cold water. Then upturn the bidet and press the L or H button to wash.
Bag
The extra-large bottle and the bidet come with a pouch for easy mobility.
Cons
Rechargeable and Non-Removable Battery
This bidet is not ideal for where electricity is not available. And since the battery is not removable, any damage to it likewise damages the bidet.
Things To Know When Using A Portable Electric Bidet
The Water Pressure
You should know that just because a portable bidet is electric does not mean that the spray pressure will be jet-like, similar to an electric bidet seat.
Though most of them come with good water pressure, it won't be anything like that of an electric bidet seat. If you own or have used an electric bidet seat before, you will understand better.
This difference is inevitable.
Also, a low battery can contribute to low water pressure. A higher capacity or fully charged battery provides higher water pressure and more washing time. Ensure you charge or use a good battery before using your bidet.
Bidet Towel in Hand
You will need a bidet towel after using a portable electric bidet. Have one in hand, ready, to prevent going about with a wet bum.
For Every One
Lastly, one of the beautiful things about owning one of this type of bidet is that it's perfect for everyone. Anyone, including the elderly, male, female, and even kids, can use it because it is super easy to use.
Though, it can be challenging for a disabled person who finds it difficult to hold or grab things. For them, the best bidet will always be a bidet seat with remote control.