One of the coolest things about the new modern bidets, unlike the traditional ones, is that you can get one at a low price.
In this article, I have done the research for you; I will be listing the best bidets under $50, and that's because we understand if you don't want to break the bank buying a bidet.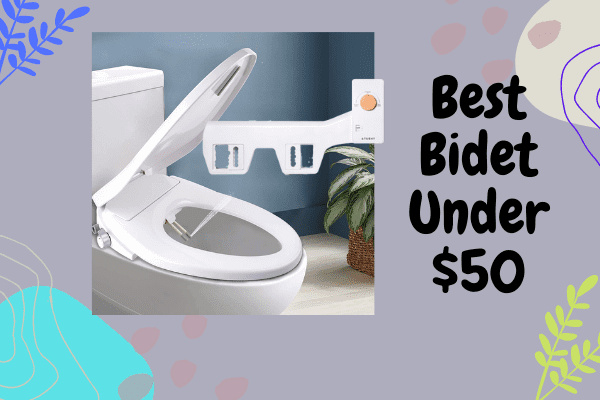 What Is the Best Bidet Under $50?
Overall, the best bidet under 50 dollars is the BUTT BUDDY bidet attachment. It's very easy to install and less complicated to use as well. If you're a lady and particular about a female wash option, you can go for the BUTT BUDDY DUO.
Best Bidet under $50 – Overall Best
As I mentioned above, overall, the best bidet under $50 is the BUTT BUDDY bidet attachment (Check price on Amazon). It may not be among the most popular bidets or names on the bidet market, but users are always guaranteed a good gentle, clean wash on every use.
If you don't like cumbersome or bidet attachments with many buttons or knots, this is another bounce point for getting the Butt Buddy. It's a product with a silky, modern look, stainless steel attachments and high-pressure valves.
For females who want a specific wash, the Butt Buddy Duo (another product from the same company) is a better option, and it likewise performs appealing well. The price is exactly similar to that of the Butt Buddy so that you won't be going over your budget.  
Pros
Universal Fitting 
The Butt Buddy bidet attachment is designed to fit a good number of toilets in every household, thereby bridging that gap that most users experience when finding a bidet attachment that fits perfectly to their existing toilet.
Easy Installation 
Any handy person can install it as it's super easy to install without the need for a plumber.
Self-Cleaning Nozzle
Nothing completes a bidet like a hygienic nozzle option. The Butt Buddy bidet attachment is a self-clean that keeps the nozzle clean, so you don't have to worry about germs trapped on your bidet nozzle. As sanitary bounce protection to this, the nozzle is also retractable. This helps prevent you from spraying toilet waste on it.
Adjustable Water Pressure
You can adjust the water pressure to your desired force, subject to how you want it.
Cons
The Female Wash Option
It's good that the company made an option for a lady's wash feature as a different bidet, but it would have been better if they had combined it as a single bidet attachment. Having this feature as a separate bidet attachment can sometimes get you confused about the option to go for.
Butt Buddy Duo Hygiene
The Butt Buddy Duo does not have a self-cleaning feature but only a retractable nozzle. The retractable also serves as a hygienic option as it prevents toilet substances from touching the nozzle. Though a self-cleaning would have been a bounce.  
Alternative 
An alternative to the Butt Buddy is the Clear Rear bidet attachment. As the name implies, this bidet is not only used for washing your rear. It also has a feminine wash built all-in-one within it. It falls in the same price range as Butt Buddy. It's easy to install and use too.
Best Budget Bidet Under $50
The Betterway bidet attachment (Check Price on Amazon) is your best option if you're at a budget price. Many may know Betterway produces good bamboo toilet papers but are unaware they produce quality bidets, too.
Even with its short price, you will have good features available on every entry-level bidet attachment. With it, you can kick start your journey of using a bidet.
Pros
Aesthetic Design
The seamless bamboo design of the Betterway bidet attachment always attracts many users to the product, even before checking out its functions. Since we are most times used to seeing white colored bidet attachment, a touch of its bamboo print can give a different yet interesting change to your toilet.
Levels of Pressure Control
It comes with six pressure control levels that you can easily set to your preference. You won't feel that forceful splash of water on your skin.
Great Hygiene Setup
To be certain your hygiene is guaranteed, it comes with a self-cleaning that you can initiate on the chrome-plated knot. You can do this before or after every bidet use. In addition to this, the nozzle also retracts after use to protect the nozzle from any form of toilet splash.
Easy Installation
It's easy to install. No need of calling a plumber. Betterway provided an easy-to-follow printed manual and even a digital installation guide to make things easier for you.
Easy to Use
This bidet is also a good family bidet whereby the parents, with the little kids, can use it as it's easy to use. You have to turn the knot on the chrome plate to use it.
Cons
No Feminine Wash
A feminine wash is mostly among the basic features of every entry-level bidet, but it's not available in the Betterway bidet attachment. This does not mean the nozzle won't wash you clean and leave you fresh; it will.
However, for female users who are precise about having a feminine wash for more targeting on the lady's area, then this could be lacking.
Alternative 
An alternative to the Betterway bidet attachment for a budget purchase is the Veken Ultra-Slim Bidet attachment.
It has a clean, beautiful design. It's easy to install and has a feminine wash, unlike Betterway attachment. The water pressure can be adjusted as preferred; however, the nozzle does not self-clean. It has a nozzle guard that protects the nozzle for germ spray.
Best Bidet Under $50 Worth Mentioning
The Brondell Thinline SimpleSpa SS-250 bidet attachment (Check Price on Amazon) has a perfect combination of being affordable and elegantly looking that instantly makes a toilet looks eloquent and gives users a memorable experience.
Therefore, I can't afford not to mention this product… 
The Brondell Thinline SimpleSpa SS-250 bidet attachment comes with a dual nozzle that targets both the front and rear areas when washing. It makes it a great option for ladies.
However, if you are a male user and don't need a dual option or front wash, you can go for the lower SS-150 model, which comes with a single nozzle.
Both models are pretty much under the price of 50 dollars.
Pros
Dual Nozzle
The dual nozzle consisting of both rear and front wash makes it a great choice for targeting the lady area.
Eloquent Design
The design of the Brondell Thinline Simplespa is very classic.
Easy to Install
The installation process of the Brondell Thinline SimpleSpa SS-250 is quite easy too. You don't need more technical knowledge to get it done.
Easy to Use
The sleek structure of this bidet attachment makes its usage very easy. You simply need to press the buttons on the surface to initiate the wash.
Pressure Control
You can easily design the water pressure you desire to suit your skin.
Cons
Nozzle Don't Self-clean  
The dual-nozzle of the Brondell Thinline SimpleSpa SS-250 does not have a "nozzle cleaning" function like the Brondell Thinline SimpleSpa SS-150 model does. However, both nozzles always withdraw into nozzle guard when the bidet is not used. This nozzle guard provides extra cover for the nozzles when retracted.
Alternative 
A good alternative to the Brondell Thinline SimpleSpa SS-250 is the LUXE Bidet Neo 120. Unlike the SimpleSpa SS-250, the Neo 120 comes with a self-cleaning nozzle and a nozzle guard to protect your nozzle. The nozzle retracts to this guard when not in use or after use.
On the other hand, the Neo 120 does not have a dual nozzle or feminine wash for properly targeting the female area but only a posterior wash. You would find a feminine option in the LUXE Neo 180, which is higher in price than the Neo 120.   
You can also control the water pressure from either high to low from the knot.
Best Handheld Bidet Sprayer Under $50
The Rinse Works Aquaus 360 bidet (Check Price on Amazon) is the best handheld bidet sprayer for the price of $50 because of its unique features and advanced design compared to others in its category. To make it easier for a user to control and use, this bidet head uses a rotatable switch rather than the lever pull control in most bidets.
It comes with a 5-inch extension arm that creates an 11-inch long spray head. This permits you to clean your backside from the front with less struggle effectively. This feature also makes it quite useful for plus-sized users and caregivers.
It comes with a leak-proof brass valve in the spray head, and according to the company, this could hold up for years. To make it easier to reach for while sitting or using the toilet, the t-valve is constructed so that the shut-off change faces forwards rather than backwards.
Pros
Multi-Purpose Use 
Every member of the family can use this bidet. Also, it's not restricted to washing only the private areas. You can use it for diaper wash, bathroom wash and a few other bathroom functions.
360-degree Switch
The 360-degree switch makes it very easy for you to switch on and off the water pressure, unlike other bidet sprayers where you're required to pull the lever constantly.
3 Extra Heads Different Spray Patterns
The company included extra three interchangeable spray heads for user preference. The two spray pattern sizes and a 5" inch extension for a long spray reach of 3" to 11" inches so you can easily rinse under your front and back bottom areas with ease.
Three years warranty 
Even when they promised a steady product, the company still provided a three-year warranty for customers who purchased the product.
Cons
Self-Duty
Like anything you should expect from a handheld bidet sprayer, you may not be able to target down there properly if you're new to using a bidet hose.
Check out this article where I explained how to use a bidet hose easily.
Alternative 
An alternative to RinseWorks Aquaus 360 is the Purrfectzone Bidet Sprayer. It's a stainless steel bidet sprayer that has received many different positives over the years. It has jet spray features that rush with force while the soft spray adjusts the water pressure to mid-spray. It's also quite lengthy, easy to install and multifunction.
Best Traveler Or Portable Bidet Under $50
There are a lot of portable bidets under the price of 50 dollars on the market, and this is because of the nature of this type of bidet.
That being said, the best traveler or portable bidet under 50 dollars is the Original HAPPYPO XL Portable Bidet (Check Price on Amazon), and the reason is its extra capacity.
One huge problem portable bidet users face is the less water capacity on most portable bidets. On the other hand, the original HAPPYPO XL Portable Bidet is among the portable bidets that hold more water capacity.
Pros
Extra Volume
As mentioned earlier, it comes with an extra 50% volume for more water intake. This volume of water is enough to get you cleaned even if you didn't use tissue paper. It's 500ml.
Good Water Opening
The opening size is wide enough to bring a good amount of water.
Easy To Squeeze
The bottle comes in an oval-like shape. This makes it easy to squeeze the base for more water pressure.
Cons
No Travel Bag
Like most companies who produce similar products, the company did not provide a handy bag for a traveler bidet and a bottle of this capacity.
Alternative
A substitute for the Original HAPPYPO XL Portable Bidet is the Brondell GS-70BLK GoSpa Travel Bidet. It's a 400ml water capacity, a difference of 100ml from the HAPPYPO XL. And unlike Happypo XL, it has a travel bag for discreet and easy handling.
What is the Best Bidet Attachment Under $50?
As mentioned earlier, the BUTT BUDDY bidet attachment and the Clear Rear bidet attachment are still the best in the bidet attachment category. Both bidets have great noticeable features that make them stand out from others that fall in this price range.
Any Bidet Seat Under $50?
Getting a bidet seat under the price of $50 is highly difficult because many factors are considered when producing a bidet seat. You can get a non-bidet seat within this price, but adding a bidet feature will increase its production cost. This is why it seems as if bidet companies don't consider this price.
As much as you may not want to hear it, it's difficult to determine the durability of a bidet seat under the price of $50. Some of them don't last long; they end up breaking.  
If you're still interested in a bidet seat under $50, well, you might want to check out the Uni-Green Manual Bidet Toilet Seat (Check Price on Amazon). There are good features in it, even with that incredibly low price.
Pros
Dual Nozzle
It has a plastic dual nozzle targeting rear and front feminine area.
Seat Doesn't Slam
The seat and lids close quietly and slowly without slamming hard on the toilet.
Easy installation and Easy Handling
The installation process is very easy without much complication. The hinge allows for quick release, allowing the seat to be unfastened from the toilet for easy removal and convenient cleaning, quick attach part for fast and easy installation.
Easy to Operate
The side lever pulls allow for quick use.
Cons
Design 
The d-shape design, which is just below the price of 50, is for toilets with the d-shape. If you have an elongated toilet or a round toilet, it may not fit.
Durability
Because of the price, the durability of this product is not really certain.
Alternative 
A possible alternative to the Uni-Green Manual Bidet Toilet Seat is the Retrolife Bidet Toilet Seat. It likewise comes with a self-cleaning double nozzle and a soft closing lid. And just like Uni-Green the durability is uncertain.
Wrap-Up
In conclusion, instead of buying a bidet seat under the price of 50 dollars, it's best to go for a bidet attachment or handheld bidet sprayer. A quality cheap bidet attachment or bidet sprayer can serve you more in a very long time.
That being said, you also should not expect many features in these low-priced bidets. If you're still on a budget but still want to level up, you can consider bidets under the price of $100.