Bidets are used in bathrooms worldwide, but in the United States, this plumbing device still hasn't been accepted. Americans, for whatever reason, prefer to clean themselves with toilet paper and wet wipes rather than water.
However, an increasing number of individuals are warming to the bidet. Bidets are a safer and more effective way for elders to freshen up after toileting.
In this article, we have compiled the list of the best bidet for elderly. With no further ado, let's get started!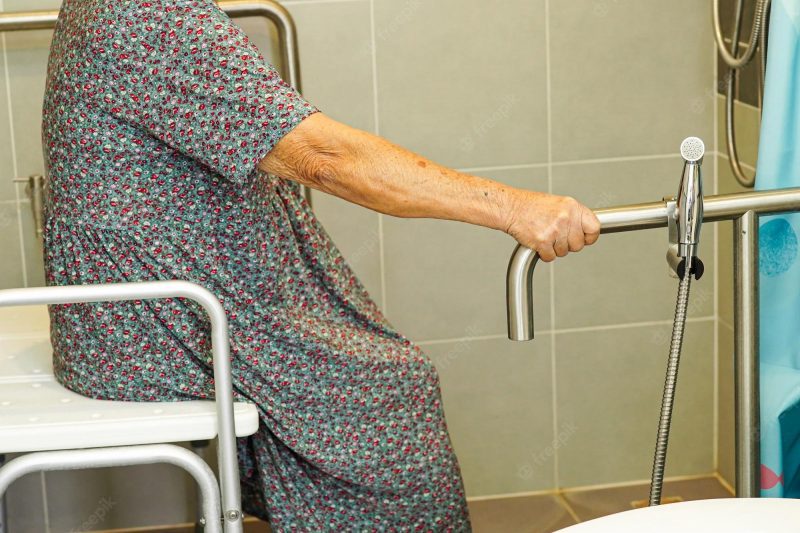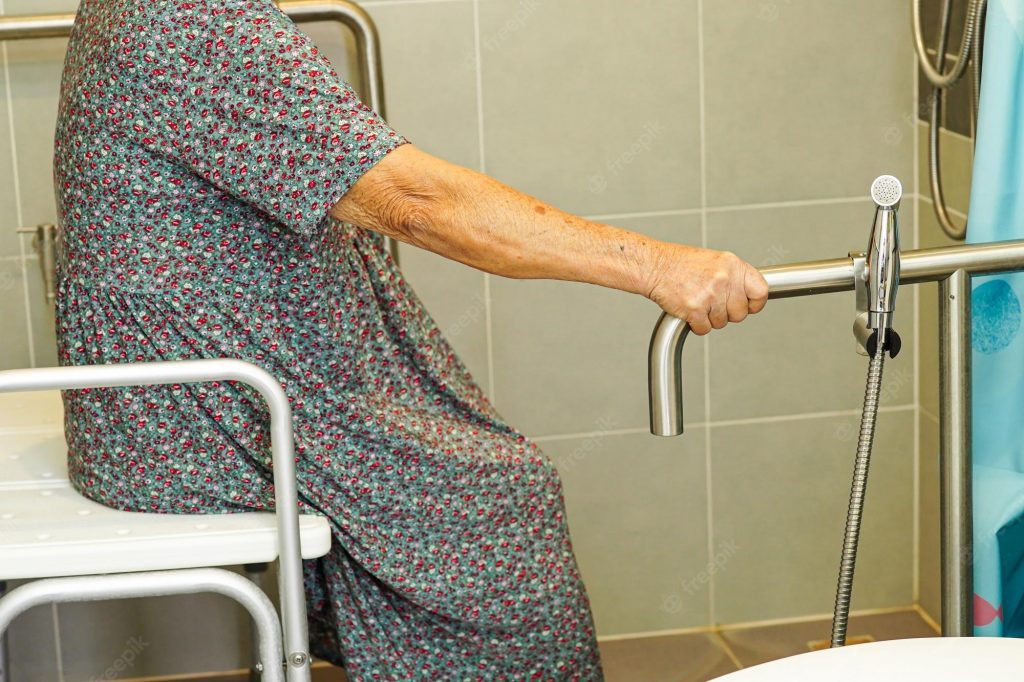 How We Created This List?
Here are the factors we have considered to create the list. So, let's look at them.
Warm water spray
We considered this factor one of the most important while creating the list. For rear-end cleansing, most bidets generate a cool spray of water. This is because most bidets spray a stream of water by separating the toilet's water line, allowing the bidet to use an additional water line. Your bidet will not use warm water because your toilet's water line does not.
Some bidets, on the other hand, have a warm water option. One of two methods can be used to accomplish this:
Warm water can be obtained from the sink
Some bidets allow you to connect your bidet to your sink's water supply. Because you have warm water in your sink for washing your hands, you may also divert it to the bidet. This is only possible if your toilet is next to the sink and the warm water bidet attachment hose is installed.
A reservoir of heated water
Certain high-end bidets don't require a warm water sink line and instead contain a warm water reservoir that heats the cold water from the toilet line. This feature is only accessible with electric bidets because the bidet water heater boils the water using energy.
Warm water is a game-changer for some bidet users, but for many others, it is superfluous, and regular cold water is highly delightful!
A nozzle that cleans itself
Almost every bidet features a self-cleaning wand, which allows the bidet's wand (where the water shoots out of) to pour water over itself, cleaning and removing residue.
We kept in mind that this does not negate the need for frequent washing; you'll still want to occasionally clean it with a bathroom cleaner.
Customer experience
This is another significant point that we considered. The customers' reviews of these toilets are crucial. Experiences tell us about the pros and cons of real-life users. That is how we picked the best bidets in the article.
Best Bidet for Elderly
Best Bidet for Elderly Review
Omigo is a relatively new company that significantly impacted the bidet sector. Tom and Thomas Lotrecchiano, father and son, oversee the company. If you listen to podcasts, you may have even heard one of their commercials on one of your favorite shows. Brondell bidet seats are produced from the same factory that makes Omigo bidets.
The Omigo is a bidet seat that replaces your old toilet seat with an electric bidet. It attaches to your toilet's water line and an outlet to offer you a heated stream of water for cleaning your nether regions after using the toilet, followed by a stream of warm air to dry you off. It has a wireless remote, eliminating the need to twist and spin to reach inconveniently placed controls.
The Omigo Luxury Bidet Toilet Seat is simple and easy to use. The majority of the buttons on the remote are self-explanatory, with labels such as "front" or "rear" to indicate which nozzle to use, plus and minus to modify pressure and temperature, and up and down to alter nozzle location.
You simply sit down on the seat as you usually would use the restroom. After you've finished your chores, select your remote settings and press the "Let's Go!" button to start the stream. When you are through cleaning, hit the "Stop" button to stop the machine. A complete washing and full dry takes about 90-120 seconds.
Highlights
Easy to clean
The Omigo toilet seat has many unique characteristics that set it apart from other toilet seats on the market. The Omigo offers separate front and back nozzles, seven nozzle locations, four water temperatures, three spray widths, three pressure settings, and on-demand oscillation, which is essential for a good and comfortable cleaning.
Air-dryer
It also has a heated seat ideal for the winter and a warm air dryer that lessens, if not eliminates, the need to use toilet paper to dry yourself off. A carbon air filter deodorizer is also included to keep your bathroom feeling fresh.
Safety sensors
The Omigo comes with a nightlight and a safety sensor, which prevents the bidet from operating if there isn't skin contact with the seat. The Omigo Bidet Seat has a self-rinse nozzle before and after each use and on-demand silver ion cleaning for convenient maintenance.
Heater
The heater is powerful enough to provide an endless supply of warm water for cleansing and warm air to dry you off. It may also swiftly heat the seat, ensuring not to wait when you are ready to do your business.
Customer experience
Customers love this bidet. These bidets are very comfortable when it comes to satisfying the comfort of the elderly. They have been shortlisted in almost all the best bidet for seniors lists. We found excellent reviews about this bidet online.
The Brondell Swash LE99-RW is an easy-to-use electronic bidet toilet seat with high-quality features seen in bidet seats that cost hundreds of dollars. This spherical bidet offers a sanitary bathroom experience.
The heated seat and air dryer also reached high temperatures. Born and raised in San Francisco, California, Brondell manufactures many helpful home products. Designed for excellence, they aim for creative thought, a pioneer spirit, and a maverick attitude as a proud Mark Cuban company since 2005.
Installation should take less than 30 minutes and requires only a flathead screwdriver. However, you may need a wrench as well. We love how the seat fits the toilet bowl without moving and looks beautiful on the toilet. However, the lid may tilt forward and isn't ideal for long periods of sitting.
Our only gripe with the controls is that they are situated on the seat, which means you have to turn to your right to see them. There isn't a remote control. Individuals with mobility difficulties may find this problematic.
The only drawback we discovered was that it should have stronger water pressure. Most people will find the LE99 to be powerful enough for their needs. More sensitive individuals will like the gentler end of the five pressure settings.
Highlights
Warm air and water dryer
A warm air drier adds a touch of luxury to the extended warm water cycle supplied by innovative hybrid heating technology. The dimensions of this elongated bidet seat are 20 8″ X 16″ X 5 7," and it will fit most elongated toilets.
You can have all the high-end features you want with the Swash LE99; stainless-steel nozzle experience.
Strong and soft wash modes are available
For superior cleaning, the front and rear washes are naturally aerated, with a pulsed or oscillating spray option.
Steel nozzle
The self-cleaning nozzle is fully encased in stainless steel and has five nozzle positions for improved hygiene and durability. You can get the ideal wash every time with five different water temperature and pressure settings.
Customer experience
This product has loads of positive customer reviews on the Internet. Elderly people said that they had never experienced a bidet, so the initial maiden voyage was a 'woohoo, ahhh' moment.
Customers have talked well about the quality of this bidet. They said that it was easy to set up with straightforward instructions.
TOTO's WASHLET is a high-tech electronic bidet toilet seat that mounts quickly on your existing toilet. It uses cutting-edge technology and creativity to improve cleaning while providing the highest level of personal comfort.
The adjustable spray on the TOTO WASHLET allows you to enjoy a warm water rinse that cleanses and refreshes you more efficiently than harsh toilet paper. After a restroom break, you feel cleaner and more comfortable than you have in the past.
You'll feel cleansed, energized, and ready to take on the day's next task every time you use WASHLET. Look for yourself as well as the environment. WASHLET helps you live a clean life.
The price of this bidet is rising, which would be OK if it weren't for the installation troubles. Despite this, it is a fantastic bidet with a lot of features. You can use oscillating and pulsating wash functions, for example. The water is also heated promptly and continuously, ensuring you never have an unpleasant cleaning experience. It also has a soft-closing cover, as you might expect.
Highlights
Refreshing
A gentle but forceful water spray cleans effectively. It offers adjustable warm water and pressure settings and a dual-action spray with an oscillating option that provides a refreshing clean every time.
Opulent standard
The SoftClose heated bidet seat provides even heating throughout the entire seat area. With its strong air filter, its air deodorizer neutralizes bathroom odors. It also includes an adjustable warm air dryer for simple cleanup.
Clean technology innovation
PREMIST prevents waste from sticking by misting the toilet bowl before each use with the incoming water supply. The wand self-cleans automatically with EWATER inside and out, an improvement over the C200.
Unique
The simple remote control allows customers to regulate and customize the water washing parameters. Luxury and cleanliness are at your fingertips. It comes with two user memory settings for fast access.
Customer experience
According to many WASHLET consumers, TOTO electronic bidet toilet seats are reliable, with high-quality design for long-term benefits. Many customers claimed that its installation is simple, and you can do it yourself. Customers also said that they have very excellent customer service support.
Brondell's Swash EcoSeat bidet is a sophisticated non-electric. It has fewer features than the other Brondell models because it is non-electric, but it has many more features than its non-electric competitors. The Brondell Swash EcoSeat is the most environmentally friendly and feature-rich seat available.
You get the best of both worlds with this seat. Both Rear Cleanse (also known as Posterior Cleanse) and Front Cleanse are available on the Brondell Swash EcoSeat (also known as Feminine Cleanse).
The Brondell Swash Ecoseat provides complete control over the water pressure when utilizing either of these wash settings, giving you complete control over your wash cycle.
A built-in water filtering system is also included with the Brondell Swash Ecoseat. This is a feature that only a few high-end bidet seats have. It is unheard of in a non-electric bidet seat.
The Aerated wash is also available on the Brondell Swash EcoSeat. This wash cycle incorporates air into the stream of water, making it softer and gentler without compromising the wash's quality. This is ideal for anyone who needs a little extra compassion while washing their clothes.
Highlights
Simple and quick installation
The design is well-thought-out, and the installation is straightforward. Simply remove the old toilet seat, insert a mounting plate, and secure the new seat. Turn off the water, flush the toilet, unhook the water supply hose from the bottom of the toilet tank, connect it to the provided diverter valve, connect the diverter valve to the toilet tank, and turn on the water.
Many features
The EcoSeat comes with two spray wands, one for the front and one for the back. The wand is retracted and hidden from view in its typical position. One of the wands extends and begins spraying when the control button is pressed. It will continue to spray until you press the "Stop" button (or if you stand up).
The bidet controls are positioned on the right-hand side of the seat. You can choose between front wash, rear wash, and off with the three-button controls. The buttons may also be used to alter the position of the two sprayers and set the water pressure to one of three settings.
A weight sensor is included in the seat to ensure that the unit only sprays when someone is seated. The device is powered by a battery (which requires 4 AA batteries).
Eco-friendly
Every day, old-growth forests are cut down to make toilet paper. Switching to a bidet reduces your reliance on toilet paper, resulting in a more sustainable bathroom—and a better overall experience.
Customer experience
Customers noted that the EcoSeat is simple to clean and can be washed the same way as a regular toilet seat.
The wands and filter, they believe, are the only extra factors. The wands can be taken out by hand and cleaned with a moist towel, according to them. The diverter valve has a water filter. They appear to be satisfied with the product as a whole.
Over the years, the BB 1000 has been a reliable unit. Despite the availability of newer models, the BB 1000 continues to deliver excellent functionality at a reasonable price.
Bio Bidet is known for its high-quality bidet seats, and this is the type that helped the company establish a strong brand and reputation.
The Bio Bidet BB 1000 appears rather attractive from the front and top. The back-to-front slope of the lid is mild, and the lid tapers out along the sides for a lovely finish. A little Bio Bidet logo can be found on top of the lid toward the front.
When seated, the mini-control panel is on the right side of the device and can be utilized to perform essential bidet functions without using the remote control. There are three buttons: a rear wash, a feminine wash, and a stop button. The buttons on this tiny panel face up towards the sky, which we appreciated.
The unit is 18.7 inches broad according to manufacturer specifications, including the mini-control panel. However, if the control panel is removed, the body is closer to 16 inches wide. The round seat model is 19.4 inches long, while the elongated seat model is 20.6 inches long.
Highlights
Wireless remote
The remote control has a simple design with clearly labeled buttons on a white and gray background. While the remote lacks a digital display like most other remote-operated devices, we discovered that it isn't necessary.
The Bio Bidet BB 1000's remote control is simple to use. It was one of the simplest bidets we tested to operate, and we didn't even need to consult the user's instructions.
Functions
A three-way, single-pocket nozzle powers the bidet when it is in use. At the tip of the nozzle, there are three distinct spray exits. The spray outlet on top is for posterior wash, the center spray is for a feminine wash, and the bottom spray is for turbo (high pressure) wash.
You can adjust the nozzle location to your liking. You can also change the water's temperature and pressure.
Extra features
A slow-closing seat and lid are also included in the bidet. The bidets we reviewed included air drying features, but only the Bio Bidet BB 1000 had five separate settings that can be customized.
A built-in air deodorizer, heated seat, and a self-cleaning mechanism that rinses the wash nozzles before and after each usage are also worth mentioning. When not in use, the Bio Bidet BB 1000 has an energy-saving mode that reduces energy use.
Customer experience
Customers have shown love for this bidet online. It is one of the best bidets for seniors. They love how easy it is to fit this bidet and how comfortable it is to sit on it. Its build quality has been appreciated a lot of times as well.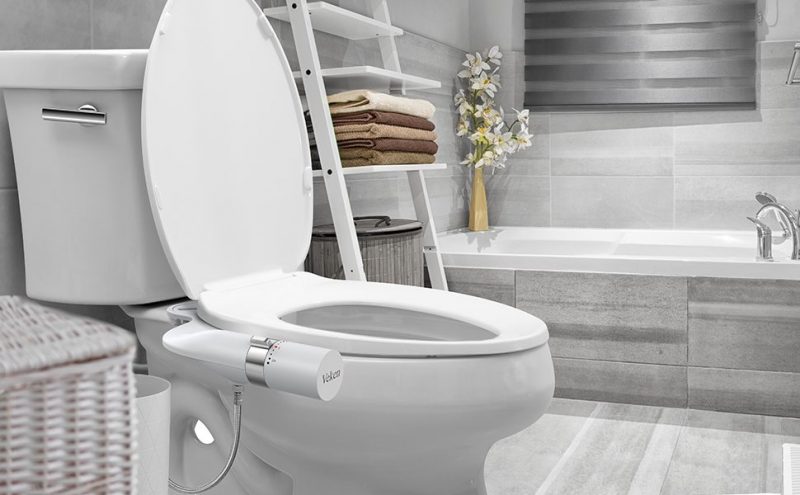 Factors to Consider When Looking for Best Bidets for Seniors
Dryer
For most bidet users, dryers are an unnecessary extra because air drying takes much longer than wiping. On the other hand, a dryer might be a handy tool for elders.
Reaching around and wiping can become a challenging gymnastic maneuver for the elderly; in fact, it is one of the first motor skill motions that old seniors lose, and one of the main reasons many seniors choose to move to a senior care facility.
A dryer eliminates the need for reaching and wiping, potentially helping some elderly stay in their homes longer. Many higher-end bidets with warm air dryers also allow you to modify the dryer's warmth so that it is exactly right.
Heated seat
Heated seats aren't required, but they are a pleasant perk, especially if you live in places with harsh winters.
Optional water streams & pressure controls
Water pressure is controlled in some way in all bidets. You may control the pressure of the water stream on most bidets by turning a knob or dial.
On the other hand, some higher-end bidets include additional water stream options, such as a pulsing or oscillating stream that goes back and forth for more thorough cleaning. For maximum customization, certain bidets allow you to change your water stream's exact position and angle.
Seats that close softly and automatically
Some higher-end bidets offer a soft-close feature that stops the toilet seat from generating a loud pounding sound when it closes after usage, though it is not as popular.
Other high-end bidets even can open and close the toilet seat without using your hands! This isn't a vital feature for most people, but it could be beneficial for those with weak hand dexterity or severe arthritis.
Feminine wash
Most bidets have only a single jet of water aimed toward the user's backside. Some bidets, on the other hand, include a feminine wash option. These bidets are designed for women and produce a water stream towards the user's front.
Pre-misting
Pre-misting is a less common feature, usually available mainly in higher-end models, although it can be beneficial. The bidet coats the toilet bowl in a light water mist before usage, known as pre-misting. The slippery surface prevents waste and residue from clinging to the toilet bowl and gathering, saving seniors time and effort.
Night light
A night light is included with higher-end bidets, which illuminates the toilet at night. This can be a valuable feature for certain elderly who can't always see the rim of the toilet bowl in the dark. However, various self-install night light choices, including third-party toilet bowl night lights, are available.
Benefits of the Best Bidets for Seniors
Going to the bathroom can become risky and stressful when older persons lose the strength, flexibility, and balance required to safely use the toilet. This can result in poor hygiene, urinary tract infections, and falls.
With 90% of seniors in the United States wishing to age in place, developing strategies to help them become more self-sufficient while simultaneously boosting their safety is critical. Bidets help by assisting in the following ways:
Eliminating the hassle of wiping improves hygiene.
Improved cleanliness may help prevent urinary tract infections (UTIs).
No more wiping with paper to protect fragile skin.
Reduces the chance of falling – no more bending or twisting to clean up, allowing you to retain your strength for safe sitting and standing.
Making it less of a bother for the elderly to use the restroom.
A bidet makes it much easier to keep those critical parts clean without convincing them to take a shower or bath for less independent older persons or those with incontinence.
Frequently Asked Questions
What exactly is a bidet?
Bidets are a hands-free method of cleaning the perineal area after a bowel movement. A wand placed under the toilet bowl sprays a little stream of clean water to clean the region. They are more popular in Europe and Asia but are gaining attraction in the United States.
Your senior won't have to stop and twist to wipe their behind with a bidet. The bidet will clean itself, and all they have to do now is pat the area dry. It is hygienic and mild on the skin of senior citizens.
What's the difference between a bidet that's powered by electricity and one that isn't?
Non-electric bidets are cheaper. These bidets don't come with many bells and whistles – they usually have a cold water stream and pressure control, and that's about it.
Warm air dryers, heated toilet seats, and a reservoir of warm water are all included in electric bidets (with all these features requiring electricity to work). Electric bidets, on the other hand, must be connected to an electrical outlet to work effectively.
Because most bathrooms in the United States aren't equipped with an outlet beside the toilet, you'll either have to deal with a clumsy extension cord or hire an electrician to install an additional outlet next to the toilet.
What is the best way to use a bidet?
It is dependent on the bidet type. If the toilet has a bidet attachment, utilize the bidet controls to turn it on for a post-business clean. Some bidets feature pressure and temperature settings, which you may modify by finding the appropriate button or dial. You may need to press a stop button or adjust the dial to stop the water.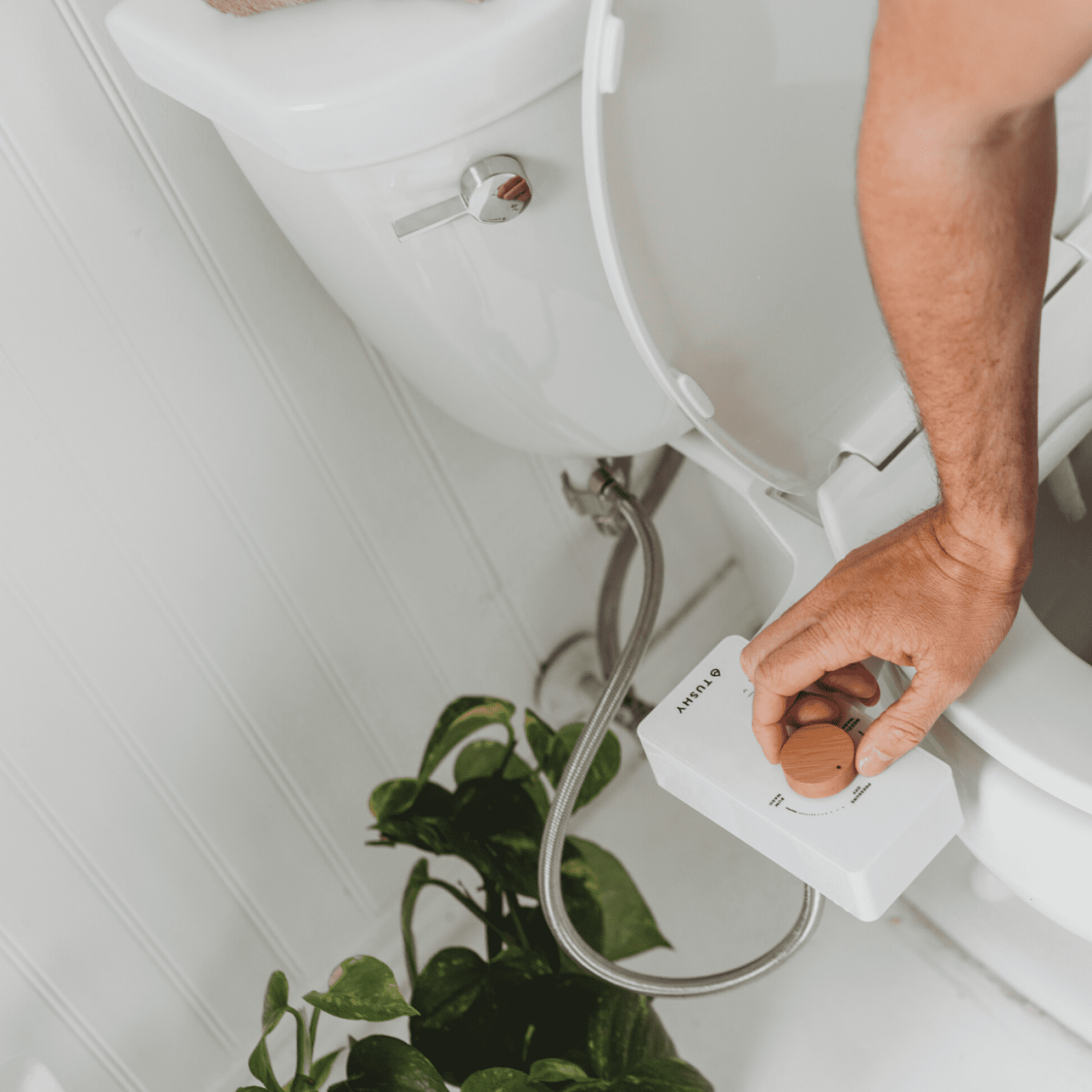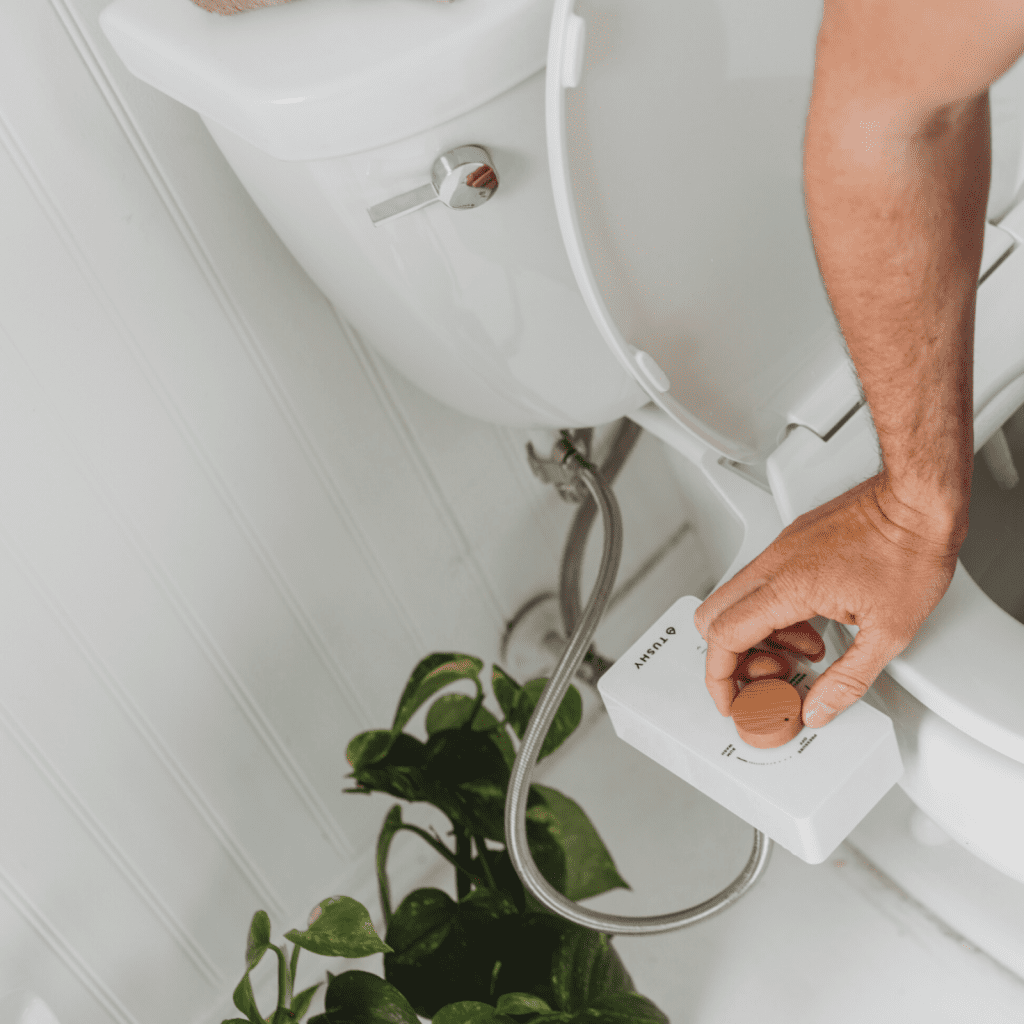 When purchasing a bidet seat, what factors should I take into account?
While most bidet seats function similarly, some have features like heated seats, heated water streams, and air-drying systems. Built-in nightlights and remote controllers are other appealing features.
You should also consider your toilet's design (round or elongated) and the bidet seat's electrical requirements. Others run on batteries and require a nearby GFCI outlet.
Is my bidet going to fit in my toilet seat?
Bidet toilet seats come in two shapes: round and elongated, just like toilet seats. The best way to figure this out is to measure from the center of the bolt holes where your current toilet seat is fastened to the front lip of the bowl with a tape measure.
The front lip of most round toilets is around 16.5 inches from where the seat attaches to the toilet. The length of an elongated toilet is 18.5 inches. Many bidet seats are available in both forms, so you should have no trouble finding one that fits your toilet.
Conclusion
This is it! These were the best bidets for seniors in the market. All the bidets mentioned above are of excellent quality. All the older people can select any of the mentioned bidets without any doubt. These bidets can help seniors to live an easier life.
So, choose the best bidet now!