Toilets play a far more important role in your life than you realize. One thing is for sure; you can't live without them. Wear and tear, or sometimes, accidental damage can cause you to look for a new toilet. A new toilet can also enhance the look and feel of your bathroom.
Toilets are not very cheap. These are substantial investments, and you need to search for the best toilets for your bathrooms.
The number of brands and wide range of models certainly make it hard for you to pick one. But our review of the best value toilets in the market will reduce your work.
We have hand-picked only the best quality toilets with modern design and state-of-the-art features from all the major toilet brands.
A toilet is not just about comfort; it is also a matter of aesthetics. Sitting on a porcelain throne, you should feel like the money was well spent. So, let's discover the best toilets and their characteristics without more ado!
How We Made the List
Brand reputation
We only considered brands with a long track record of selling high-quality products. But our priority was to choose brands that have evolved with time to offer the latest features. We rejected outdated products and only listed the ones that use innovative technologies.
Water-efficient flushing
Before listing a product, we checked if the toilet is WaterSense certified. The flush should be powerful, quiet, and water-efficient. We preferred dual-flush over single-flush. Most of the newer toilets are very efficient at water conservation.
Style
The toilet should have a decent look. We prioritized clean and modern-looking toilets when making this list. However, we considered any toilet with good features as long as it didn't look outdated.
Performance
We relied on third-party customer reviews to determine if a toilet works seamlessly. There should be no clogging or leakage issues with the toilet. It should have a powerful flush that clears all the bulk waste to empty the bowl.
Low-water consumption should not mean inefficient flushing. There should be no trace of the waste left on the sides of the toilet bowl. We preferred toilets that have a quiet flush that gets the job done. You should not need to repeat the flush to eliminate waste.
Warranty
There should be at least some form of warranty on the toilet's body and the components. Most brands offer a limited warranty of one year or more on the toilet. This helps secure your investment and can be very helpful in accidental damage.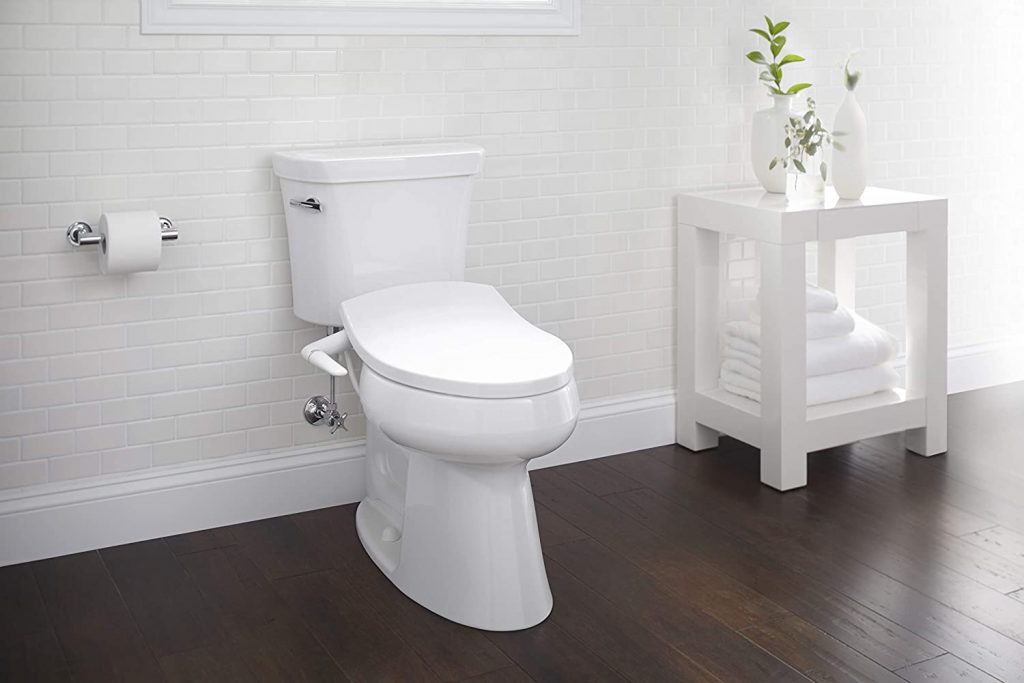 Best Value Toilets on the Market
Best Value Toilets: Reviews
DeerValley DV-1F026 Dual Flush Elongated Standard One...
✅【MODERN DESIGN】: Modern standard one piece toilet,sleek ADA height design---stylish, nice, great, terrific lines perfectly suitable...
✅【EASY TO CLEAN】: Toilet glazed surface is self-cleaning, simplifying maintenance. It is very easy to reach for cleaning .Elongated...
✅【Siphon Flushing】: Highly efficient one piece toilet allows you to proactively conserve water by selecting 0.8 GPF or higher(1.28gpf)...
This one-piece toilet has a sleek design, white finish, and terrific lines suited for any modern bathroom. The comfortable height and elongated seats make it one of those pleasant porcelain thrones for sitting.
These come with an efficient flushing system to conserve water and prevent clogs. The flush is super-quiet, and you will not face any leakage issues with these toilets. The dual flush also contributes to water conservation.
Product Features
Very durable and easy-to-install toilet
The skirted design and the minimalistic look make it the perfect fit for your modern bathroom. But, the one-piece configuration makes it easy to install and survives wear and tear for longer. These toilets are also easier to clean and have a sleeker design.
The super quiet but powerful flushing system
Most people desire a toilet with an effective flush that doesn't make noise. You get that with this model by DeerValley. It uses a highly-efficient siphon flushing that operates quietly and also saves water. It is potent and will not face any clog issues with this toilet.
You get an all-in-one package
Besides the toilet, you get a pre-installed soft closing seat, flush valve, floor bolts, and a high-quality wax ring. Since this is a one-piece toilet, it is very easy to install the toilet. It comes with a supply line connector to make the entire process seamless.
Additional features
The glazed surface and one-piece design simplify maintenance.
These have a highly-efficient dual-flushing.
These toilets have a clean and stylish look.
The toilet has an elongated shaped bowl.
A soft closing toilet seat is also included.
These are comfort height toilets.
Sale
Kohler K-3999-0 Highline Comfort Height Two-piece...
Comfort height elongated toilet bowl with a seat height comparable to that of a standard chair, comfort height toilets make sitting down and...
12 inches rough in. Water sense toilets meet strict EPA flushing guidelines, including using at least 20 percent less water than 1.6-gallon...
29 to 1/2 inches (74.9 centimeter) x 18 (45.7 centimeter) x 31 to 1/4 (79.4 centimeter); Seat post hole centers: 5.5 inch
This is a very innovative two-piece toilet from Kohler. The brand has a solid reputation, and this is one of the most comfortable toilets it offers. The elongated seat and right height make it convenient for longer durations.
It also boasts an advanced flushing system that eliminates clogging and conserved water. This toilet is WaterSense certified, which means that it consumes less amount of water for every flush. This toilet may save up to 16,500 gallons of water annually.
Product Features
Very comfortable toilet for all age groups
It has a seat height almost similar to a standard chair. This lets you sit comfortably without straining your knees. The large, elongated bowl provides a larger surface area for greater comfort. You also don't need to push your knees apart when sitting.
Class five flushing is very powerful
Its powerful bulk flushing feature gets you the best-in-class bowl cleanliness. The large flush valve allows the water to release rapidly, and you get maximum water flow with the direct-fed jet. The swirling flush is made to be quieter but more efficient.
WaterSense guidelines to save up to 20% of water
This toilet has a high-efficiency flush that saves a significant amount of water. However, it conserves water without sacrificing flushing power, and you will not experience clogging or other issues with this toilet. But, it uses minimum water to clear bulk waste.
Additional features
It is about the height of a chair.
This is WaterSense certified and saves water.
An elongated water bowl is very comfortable for sitting.
Class five flushing is quiet but removes bulk waste efficiently.
It is a two-piece toilet.
Kohler is a reputable brand for toilets.
TOTO CST243EF#01 Entrada Two-Piece Round 1.28 GPF...
Clean, modern two-piece round bowl and tank set | Toilet seat is not included
Product dimensions – 26-5/8" D x 14-3/8" W x 30" H | Flush valve – 3-Inch Flapper Style | Rim size – 22-7/8" D x 12" W x...
ADA, WaterSense, CALGreen, and CEC compliant
It is a modern-looking, two-piece toilet with powerful flushing. TOTO is a very old Japanese brand that excels in making durable, clean-looking, and efficient toilets. It is a compact and cost-effective toilet for small bathrooms.
This is a WaterSense certified, CALGreen, and CEC compliant toilet; it has dual flushing and performs a powerful flush. Its Universal Height makes it suitable for a wide range of users, and the height is just suitable for all kinds of people, from children to adults.
Product Features
Innovative flushing is powerful and conserves water
This toilet comes with an E-max flushing system, which uses a combination of an extra-large siphon jet and a wide 3" valve to offer a powerful and consistent flush. It also saves water but without sacrificing efficiency.
The toilet is WaterSense certified, saving up to 20% water. The gravity flush is also relatively easy to use and clears waste effectively.
Round bowl toilets easily fit smaller bathrooms
The round-shaped bowls tend to require smaller areas and thus can be accommodated in smaller bathrooms. The compact size allows you to place it anywhere inside the bathroom. This TOTO model is also very comfortable despite the round-shaped bowl.
Universal height suits a broad range of individuals
While the comfort height toilets are best for taller people, short or medium height users may prefer a universal toilet. This is perfect for bathrooms attached to the common area.
If more than one person will use the toilet or if the toilet is meant for a kid's bathroom, this is the perfect toilet. It is not very high, but most individuals can comfortably sit or stand to use the toilet.
Additional features
It uses the floor-mounted installation type.
This toilet uses 20% less water to clean the waste.
It is a two-piece toilet.
The toilet is made with Vitreous china.
It has a round bowl.
This toilet uses E-max technology for efficient flushing.
This is an excellent choice if you are looking for a two-piece toilet. American Standard is one of the best brands for toilets. Its round-shaped bowl makes it a good fit for smaller bathrooms.
The EverClean surface stays clean and prevents the growth of bacteria and molds that cause stains and odors. It's also a popular choice for those looking to save water. It is an ultra high-efficiency toilet with WaterSense certification, and it only uses 1.1 gallons per flush.
Product Features
Ideal size for small or medium bathrooms
This two-piece toilet can be easily accommodated in your small bathroom. It is a normal-height toilet designed for people of all ages. The round-shaped bowl makes the toilet more compact; you can also use it in smaller bathrooms.
EverClean coating ensures a clean surface
Toilets that have EverClean surfaces require less time to clean. These kinds of toilets stay clean even after years of use. Anyone who used an American Standard product with an EverClean surface would notice the difference. These do not stink and are much easier to clean.
An EverClean surface inhibits the growth of bacteria, mold, and mildew and thus prevents stain and odor. These mirror-like surfaces help make your bathroom look clean with minimal effort.
Impressive flush mechanism
It is an ultra-high-efficiency toilet (UHET), which requires very low amounts of water to flush the waste. It is also WaterSense certified and saves up to 20% more water than other toilets. However, it doesn't compromise the flush performance.
Additional features
The toilet has a round front, and a siphon jetted bowl.
The toilet meets EPA WaterSense criteria.
It has a powerful, dual-flush system.
The toilet has a standard height to suit all age groups.
It is made of Vitreous china.
This toilet has an EverClean surface.
WOODBRIDGE T-0019-CH TOILET, WIth Chrome Button
✅ [LUXURIOUS MODERN DESIGN]: Luxurious Modern Design one piece toilet , Clean, sleek look and compliment with different styles like modern...
✅ [EASY TO CLEAN DESIGN]: The skirted trap way creates a sleek look and makes cleaning easier. Compare to other toilets, it has no corners...
✅ [CHROME BUTTON]: A timeless, sophisticated and flattering Chrome-plated top button is included, the flat of chrome will bringing out the...
This toilet is packed with all the modern features and comes with a sleek, modern look. The skirted trap way makes it stay clean. This one-piece toilet has a clean and luxurious design. But it's not just the looks; the toilet offers the comfort of any high-end toilet.
It has a Map Flush score of 1000 gms, making it a very powerful toilet. Though the flush is extremely quiet, it is potent enough to eliminate clogging. It meets the WaterSense criteria and is highly efficient at conserving water.
Product Features
Looks clean and stays clean
One of the advantages of skirted trap ways is that there are no corners or groves that may collect dirt. These toilets look way cleaner even if you don't spend much time cleaning them. If you prefer toilets that do not require much time to stay clean, this one is right for you.
Very powerful but silent flushing
The noisy flush can be very annoying for most people. The good thing is that this toilet is quiet yet very effective in clearing waste. You don't experience any clogging or leakage with this toilet. This toilet has a fully glazed siphon flushing that works well.
You don't need to purchase extra parts
When you buy this toilet, you receive the complete package. You get floor bolts, the wax ring, a high-end soft closing seat, and pre-installed water fitting with the toilet. You also get an additional unique hand wrench tool to tighten the bolts, making installation very easy.
Additional features
This one-piece toilet has a sleek and modern design.
A chrome-plated button is included on the top.
It has a flush score of 1000 gm.
This toilet comes with a skirted trap way.
It has a full glazed flush system.
The toilet has a comfort height that's almost the height of a chair.
It has an elongated shaped bowl.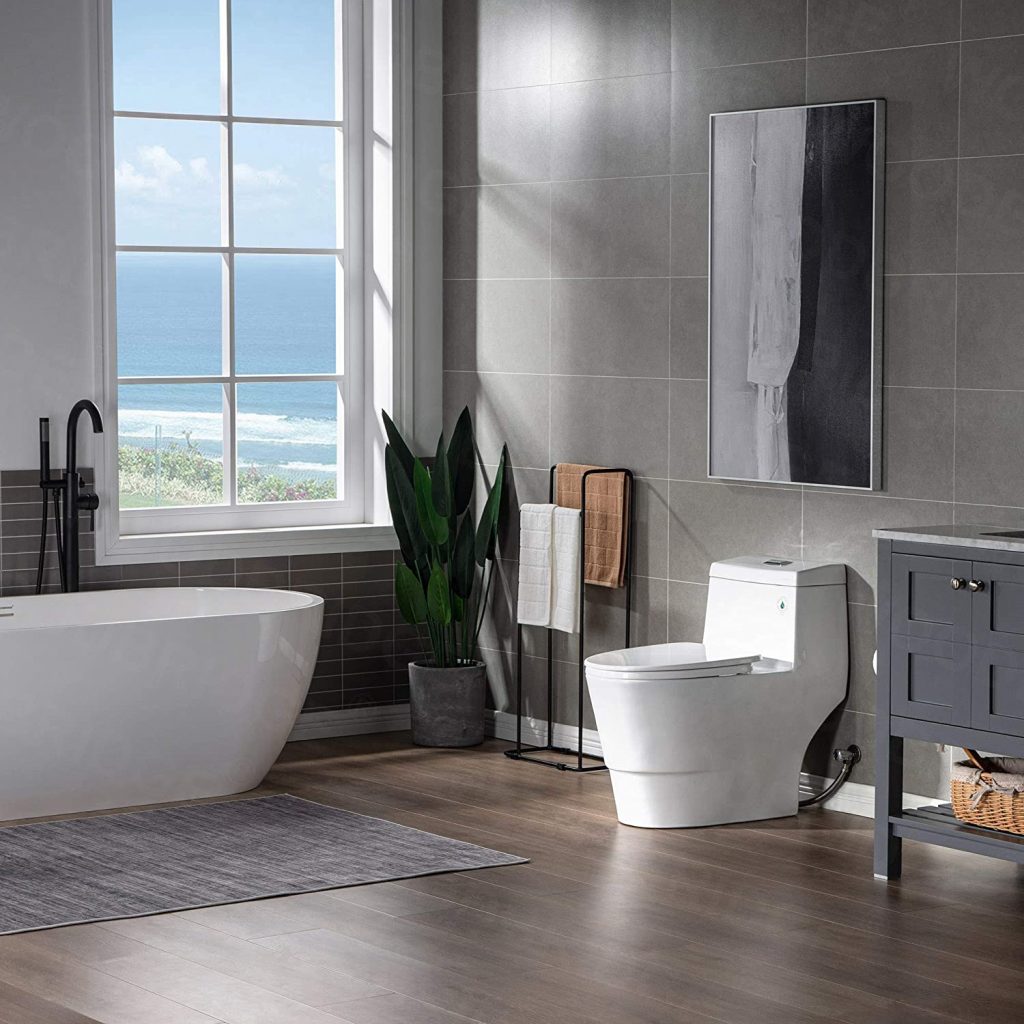 Factors to Consider When Looking for the Best Value Toilets
The right type and style
The first step in choosing a toilet is to decide what type you prefer. Every type has its upsides and downsides. This decision is made not just for the aesthetics of your toilet but also based on what is more convenient for you.
Do you prefer a one-piece toilet or a two-piece toilet? The one-piece toilet is more compact, durable, and easy to install. The two-piece toilet is less durable, but it is more affordable. The bowl shape is the next decision to make.
Who doesn't want a more spacious and comfortable toilet? But, you must measure the bathroom size to ensure that it can accommodate toilets with a longer rim. Toilets are available in various bowl shapes; you can choose from small, round-front, or long, elongated front bowl shapes.
The flushing system
A more efficient flushing system makes it easier to keep your toilet clean while conserving water. Some poor-quality toilets consume heavy amounts of water to do the job. Another factor to look into is the noise it makes. No one prefers a noisy toilet.
You may find toilets with a single or dual-flush system. A dual system has two separate buttons to clear poop and pee, and a single flush system uses the same amount to flush all waste. This will result in heavy wastage of water. You must prefer toilets with dual flush.
There are also high-efficiency toilets in the market. These are suitable for water conservation as they have a low gallon per flush consumption. You can expect your water bill to drop when replacing your current toilets with HETs.
Warranty
Some toilets are more durable than other toilets. If a brand is confident about the robustness of the toilet, they may offer a warranty on the chinaware and the mechanical parts. It's a good idea to secure your purchase by opting for toilets with a long enough warranty.
Brand reputation
The brand matters quite a lot when buying a toilet. You may go with an older, tried, and tested brand or choose an innovative newcomer. We would recommend that you find a brand that is both reliable and innovative.
There are thousands of toilet brands all over the world. So, choosing some of the best ones is not going to be an easy task. You must pick the available ones in your country and have a solid reputation. Also, you should prefer the ones with modern and relevant features.
Toilet height
You will hear a lot about the right height or comfort height toilet. Most brands are making higher toilets, so these are easy and comfortable for taller individuals. This also reduces the pressure on the knees and is convenient for those with knee joint pain.
However, these toilets may not be ideal for shorter people or kids. So, before choosing the toilet height, you must be sure who will be using the toilet. You should prefer the right toilets if most users' average height is high.
Soft-close seat
You should also consider what additional things are provided with the toilet. Some major brands offer a soft closing seat along with the toilet. The seat quality varies from product to product, but it will save you the additional expense of buying a seat.
Most buyers prefer the soft closing seat as it doesn't make noise and is very useful. Many top brands provide a high-end soft closing seat when you buy a toilet.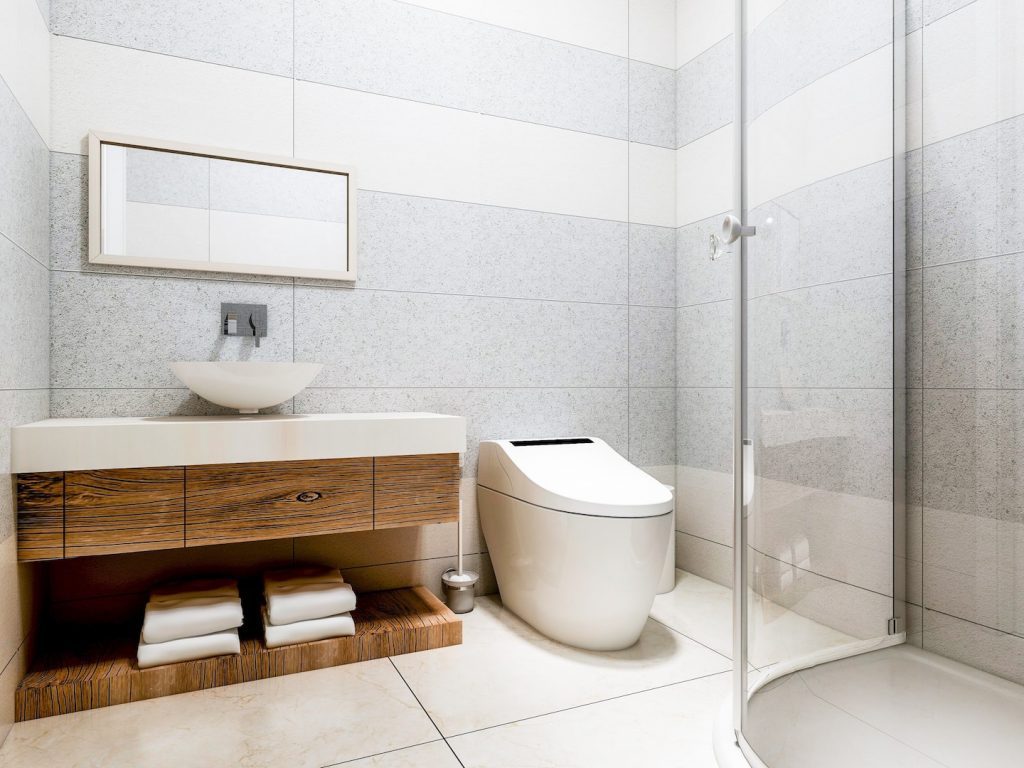 Different Types of Flush Systems
Gravity flush
When a toilet relies on the weight of the water to create the flushing pressure, the technology is called the Gravity flush. These flush systems contain minimum moving parts and are one of the quietest flush systems.
Pressure-assisted
Though the basic mechanism is similar to gravity flush, it also uses an air-filled balloon to create pressure on the water. This increased pressure pushes the water at a high rate, even if the amount of water is low.
Pressure-assisted toilets don't require large amounts of water to create the necessary pressure. Such toilets help you save water as their gallons per flush are quite low. But these toilets tend to be louder than the gravity flush toilets.
Dual flush
These flush systems are becoming increasingly popular due to their water-conservation capability. A dual flush uses two different amounts of water to clear away the excreted matter.
While other flush systems use 1.6 gallons to clear all kinds of waste, a dual flush uses the same amount for a 'full' flush but only 1.1 gallons for a 'partial' flush. You use the' partial' flush feature when you simply need to clear the urine.
Tornado flush
These flush systems use a distinct mechanism to create a centrifugal action for efficient cleaning. Instead of the traditional rim holes, these flush use two large nozzles to release water into the bowl. This results in a cyclonic action, thus creating a more powerful flush.
Frequently Asked Questions
Which type of toilet is the best?
The most important function of the toilet is to flush effectively with low water consumption. There should be no clogging or leakage. Apart from this function, the toilet should be comfortable for sitting. The surface area and the toilet height should be ideal for the user.
Several other factors make a toilet better than the competitors. Its design, ease of installation, durability, water-saving capability, and other features are considered when choosing the best toilet for your needs.
What toilet brand is the most reliable?
There are several great brands, each with its unique strengths. American Standard, Kohler, TOTO, DeerValley, and WOODBRIDGE are some of the most reliable brands of toilets. These offer modern products with the latest features and durable components.
Choosing the right brand can help you avoid issues like leakage, clogging, bad odor, etc. Each of these brands has a vast range of products. You need to be sure of your needs before you start looking for a toilet to buy.
What is the best flushing toilet that I can buy?
When looking for the best flushing toilet, you should look for a flush with a low water consumption that is effective in clearing all kinds of waste. It should remove all the waste in a single flush. You can look for WaterSense certification to ensure that it's a water-efficient toilet.
The toilet may use gravity-assist, pressure-assisted, or vacuum-assisted flush technologies. All basic toilets use gravity-assist technology. One upside of this technology is that it's very quiet. It's also the least expensive one.
Vacuum-assisted is the latest technology only present in recently launched products. It is only available in a few high-end models.
What features to look for in a toilet?
You must consider various factors like size, design, style, installation type, flush system, etc., when choosing a toilet. Of course, you must prefer a reputable brand to ensure its quality and durability.
The modern features make a toilet more comfortable and efficient. The flush should consume less water to do its job. But, a single flush should be enough to clear the waste and prevent clogging. A powerful flush clears bulk waste at once, leaving no trace of waste material. 
Most users prefer one-piece toilets because they are easier to install and more durable. However, a more affordable option is a two-piece toilet. If you get a warranty and are not concerned about the installation process, you can save money going with a two-piece toilet.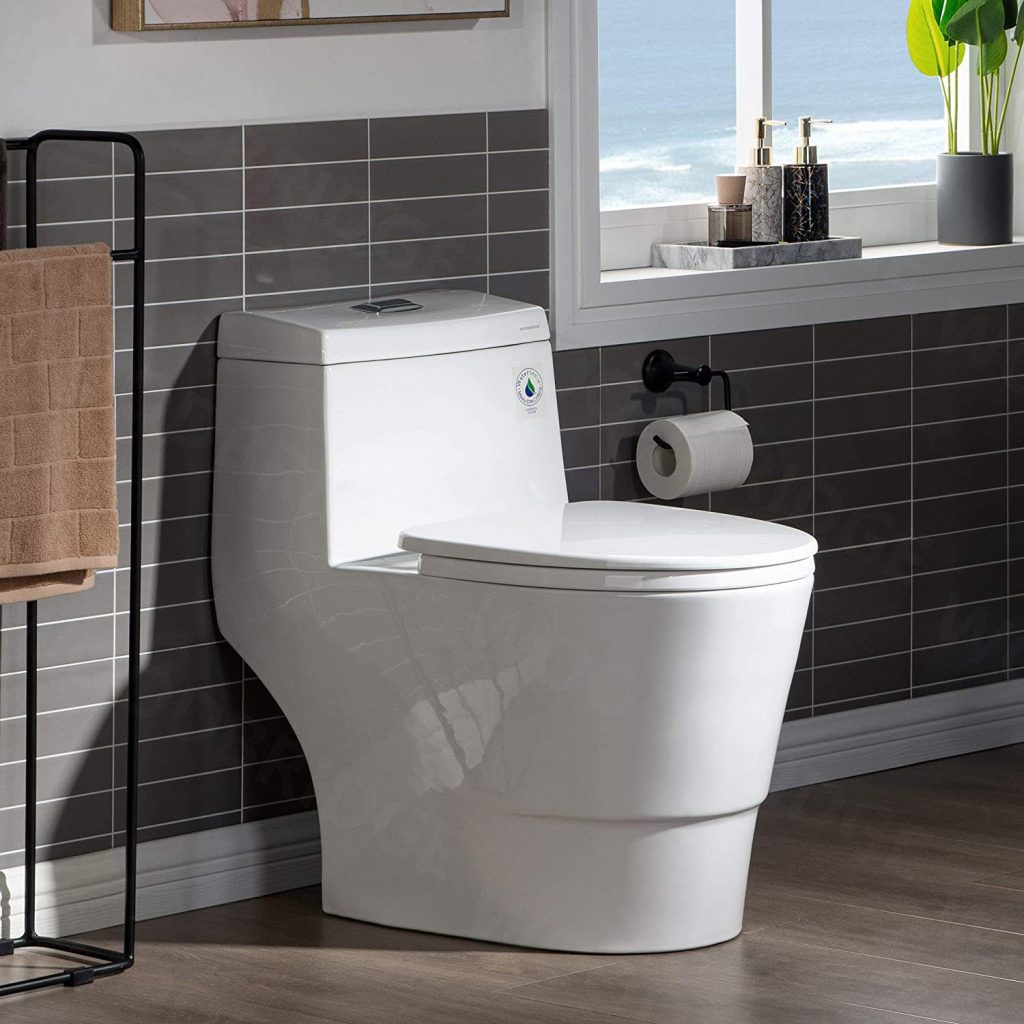 Is a round or elongated toilet better?
An elongated toilet has a greater surface area and may feel more comfortable to the user. The larger area also helps prevent the chance of a mess. But, a round bowl makes the toilet more compact and can be easily accommodated in smaller bathrooms.
The elongated bowl is also seen as more attractive. These are also easier to use for people with mobility issues. But an elongated bowl may feel too crowded if your bathroom size is very small. This could even prevent the bathroom door from closing properly.
So, if the bathroom size is small or you are getting the toilet for kids, a round-shaped bowl may be ideal. This is a matter of taste and also depends on individual preferences.
How do I choose a suitable toilet for seniors?
You should prefer ADA-certified toilets when buying for seniors. These have measurements that are right for older people. These are comfort-height toilets, which means they are taller than average toilets.
These have the height of a regular chair so that you don't have to squat too much when sitting on the toilet seat. However, the height should not be too much so that the feet are left hanging in the air. The feet should rest flat on the floor, so the legs don't become numb.
What are the benefits of a two-piece toilet?
Contrary to popular opinion, two-piece toilets do have several advantages. The two separate components make it easier to transport the toilet. As individual units, these are lighter and thus easier to maneuver. This size and weight advantage also simplify the installation process.
Another upside of a two-piece toilet is, in case of damage, you only need to replace one component and do not need to buy a new toilet. The two-piece toilet is also typically more economical than the one-piece toilet.
What is a WaterSense toilet?
WaterSense is a certification that the Environmental Protection Agency provides in the USA. Only high-efficiency toilets can get this certification after rigorous third-party lab testing. Only toilets that save up to 20% more water than the standard toilets can qualify for this certification.
This certification also considers the flushing performance apart from the water-efficient flushing action. So, a WaterSense-certified toilet has powerful flushing but low water consumption for every flush.
Conclusion
Making the right choice when it comes to toilets is never easy. It is an important investment and one that matters to you every day. This review is intended to help you know the best market options.
We looked into all the best brands for toilets to select a range of toilets with the most relevant features. We only considered brands with a solid reputation. Each of our selections has unique strengths and all the significant features for you.
We have tried to cover all kinds of users with our selection so everyone can find something that works out for them. There is no ideal toilet for everyone. We know that the requirements vary from person to person, so we have tried to ensure that every user will benefit from this review.
Once you know what you need, investing in the right toilet for your home is not hard. There are many excellent choices in the market. You can save on your water bill if you choose a water-efficient toilet. Choosing a good design will also improve the look and feel of your bathroom.
This review will help you choose the best value toilets from the top brands. After our detailed review of various toilets, you can choose the ideal toilet for your bathroom.