TOTO is a prominent manufacturer and developer of toilets and toilet technologies globally. TOTO has been making and marketing high-quality toilets for more than 100 years, having been founded in 1917. This brand is built to impress, with a focus on style and performance. All of its goods comply with CALGreen, ADA, and CEC laws and will give you a pleasurable experience.
You'll have to think about things like configuration possibilities, water usage, and flushing systems while choosing from the numerous TOTO toilet kinds and designs. High-end restaurants, stadiums, airports, hotels, and millions of traditional houses all have these toilets.
Whether you're a professional plumber who installs toilets for a living or you're doing your first toilet installation, all of the toilets in our review will give your bathroom a modern style while being simple to maintain.
How We Made the List?
Bowl type and design
Bowls are available in both round and elongated shapes. The elongated forms make sitting simpler, while the round ones fit well in most bathrooms' available space. All of the toilets on our list have elongated seats.
Cleaning
Although the majority of high-quality toilets are built of porcelain or ceramic (which allows waste to slide out smoothly), this does not mean they are easy to clean. When cleaning the toilet bowl, the quality of the finish always influences how much weight you'll have to deal with.
When putting together the list of these TOTO toilets, we looked to see if the ceramic had a protective finish known as CEFIONTECT. The glaze prevents solid waste particles from acquiring a grip on the surface of your bowl, keeping it cleaner for longer.
Although not all TOTO models would have this unique feature, we did our best to select most of the toilets that featured CEFIONTECT glazing.
Flushing
The majority of these TOTO toilets have two flushing options. Instead of the conventional flapper found on most toilets, there is a specific flush valve that delivers a precise amount of water to the toilet. You have the option of flushing at a higher or lower volume and whether to flush solid waste or liquids.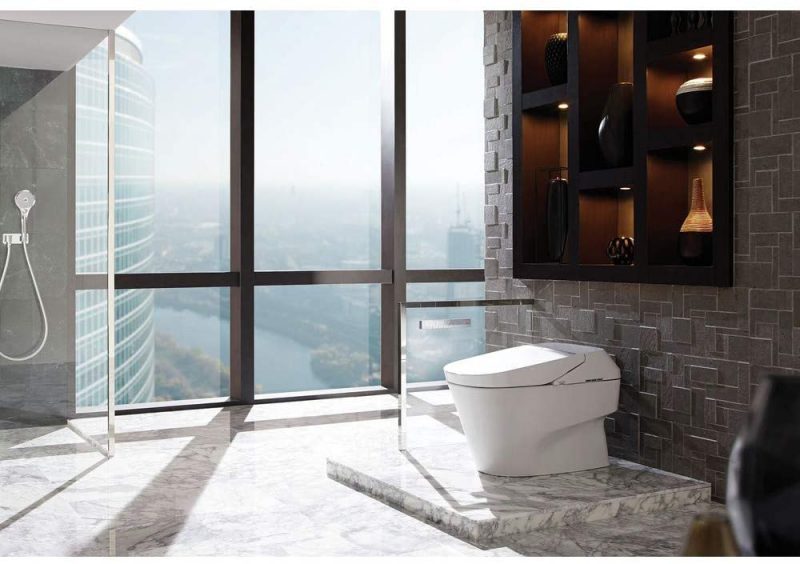 Best TOTO Toilets
Best TOTO Toilets Review
The TOTO Carlyle II is a stylish toilet with easy-to-clean contours and no concealed dirt traps. It's a universal fit toilet, commonly known as a comfort height toilet, with a seat height of 17 to 19 inches from the ground (17.25 inches).
The fact that it uses only 1.28 gallons of water per flush is its major selling feature (GPF). A toilet must use less than 1.6 GPF to receive WaterSense certification, thus making it a WaterSense certified toilet. This low water volume can help you save hundreds of gallons of water each year without sacrificing flush power, which can help you save money on your water bill.
CEFIONTECT glazing is a special coating put to its bowl and drain that prevents waste material from clinging to the surface and minimizes friction as the waste travels through the drain, preventing blockages.
In terms of installation, if you want to install this model yourself, it shouldn't be an issue. It's important to note that this type is a one-piece toilet that weighs roughly 110 pounds. When it comes to price, it is on the higher end, costing roughly $1085 on Amazon. As a result, the TOTO Carlyle II is a toilet worth thinking about for your bathroom.
Features
The most significant benefit of utilizing the TOTO Carlyle II is the significant water savings you will experience, especially if you have previously used a regular toilet. In the same situation, the TOTO Carlyle II would consume around six gallons per day, for a total of only 2,190 gallons per year and a savings of nearly 7,000 gallons, many times the total you will need in a year.
It employs the Tornado Flush technology, which uses dual nozzles to provide a centrifugal washing action that aids in removing debris from the bowl and impurities from the drain. It also eliminates the pores under the rim that can go unnoticed in other versions, allowing mold and germs to grow.
The bowl of the TOTO Carlyle II is quite small, but it complements the product's overall appearance. It has been designed to be as effective as feasible regarding water distribution.
Because of its small shape, it's a little difficult to scrub, but it features an ever-clean design that keeps the toilet clear of residue even after months of use. Although a little difficult to brush, the toilet's bowl design provides for a free flow of water and prevents dust accumulation.
Any homeowner seeking a compact one-piece toilet with a beautiful, modern design will appreciate the TOTO Ultramax II. It quickly disposes of even heavy trash thanks to the huge siphon jet and dual nozzles that provide a powerful stream.
This method may appear to use a big volume of water at first glance; however, this is not the case. The water consumption of this model is 1.28 gallons per flush. This unit is a one-piece design with a slim tank and an expansive bowl. The toilet is designed and sized in an ergonomic and well-thought-out manner.
Furthermore, it is coated with a wonderfully smooth CEFIONTECT glaze, which prevents waste from sticking to the surface and allows for easy cleaning. With a rough-in size of 12 inches, it will fit in practically every bathroom. Because the toilet is universal in height, it can be used by both children and the elderly.
Overall, the TOTO UltraMax II is a fantastic option that blends a sleek design with exceptional performance. You won't have to worry about leaks due to tank misalignment or loose bolts because it's a one-piece toilet. It costs $799 on Amazon and has received positive feedback from buyers.
Features
The design of the TOTO UltraMax II is fantastic. It is elongated but also streamlined, giving the design an elegant, smooth, and curvy appearance. And it's reasonable to say that everyone can appreciate the appropriate placement of the curves.
The flushing system of the TOTO UltraMax II is what sets it apart. The double nozzles deliver such incredible force that it guarantees a clean bowl and that no residue or the chance of unsightly blockage will be left behind.
The TOTO UltraMax II is excellent in cleanliness and a flush force because the trap route is far larger than most toilets. The Sanagloss coating of the trap way is well-known for not allowing stains, bacteria, or even watermarks to stick.
The SoftClose function on the TOTO UltraMax II is unique. Never again will you have to worry about your seat slamming shut as you stroll away half asleep. It is designed to gradually slow down as it closes. Not only that but the seat's design is tailored to provide the maximum level of comfort.
TOTO's stamp of excellence is reflected in the TOTO UltraMax ADA-compliant toilet. The TOTO UltraMax ADA is a modern, one-piece design that instantly improves the look of your bathroom. This TOTO UltraMax ADA model boasts a comfortable extended bowl form that is ideal for adults, as well as a comfortable seat height.
When it comes to toilet seats, this UltraMax model has a soft closing seat constructed of sturdy plastic. It prevents the bowl from being damaged and prevents irritating pounding. When it comes to installing this toilet, it's simply because it comes pre-assembled. It only has to be connected to the existing plumbing.
It has a comfortable seat height that is also ADA-compliant. As a result, it is simpler to sit on for adults and seniors, and it promotes a pleasant sitting posture. Finally, when it comes to cleanliness, maintaining a healthy lifestyle is critical.
Because of its smooth one-piece design, cleaning this TOTO UltraMax ADA version is easier. Although this toilet does not have a CEFIONTECT glazed surface, it is quite easy to clean.
Finally, TOTO's G-Max flushing mechanism is used in the TOTO UltraMax. A 3″ wide flush valve, extra-large siphon jet, and big trapway are all included in the G-Max flushing system. With 1.6 liters of water, this dependable combination produces a powerful cleansing flush.
Features
This toilet is a floor-mounted model, which is the most prevalent variety. The floor-mounted design means it will be bolted into the sub-floor of your bathroom. It's also worth noting that the rough-in is 12 inches.
This toilet has an exposed trapway, which makes installation easier than hidden trapway toilets. While we appreciate how easy TOTO exposed trapway toilets are to install, we also appreciate the elegance of toilets with hidden trap ways.
The TOTO UltraMax ADA toilet is a one-piece design. One-piece toilets have a single tank and bowl that is designed and manufactured as a single unit. The seamless connection between the tank and the bowl eliminates the small gap that attracts dirt and bacteria and is difficult to clean.
The TOTO UltraMax ADA is an elongated toilet. A toilet with an oval-shaped bowl that is longer than a regular bowl is known as an elongated toilet. A soft close seat is included with the TOTO UltraMax ADA. The annoying sound of a toilet seat slamming hard against the bowl every time the toilet is used is eliminated with soft closed toilet seats.
Some homeowners may consider the TOTO Vespin II to be an expensive model. However, the one-year limited guarantee, CEFIONTECT glazing, and SanaGloss finish make this a top-of-the-line choice for home use.
It's a long-lasting toilet with multiple layers of antibacterial protection and a simple yet elegant design. Another appealing aspect is the low amount of maintenance that is required. It uses Tornado Flush, which is an extremely efficient method that uses no more than 1.28 GPF.
Its two-nozzle design generates strong water pressure, effectively clearing the sidewalls and pushing waste out. It also qualifies the toilet for EPA WaterSense certification, which enables certain households to get water bill rebates.
Another unique design aspect is the use of skirted traps, which decrease the number of areas where trash and filth can accumulate. Some users, however, may be disappointed by the lack of a dual flush option.
However, the economic 1.28 GPF rating helps to compensate for this. Furthermore, the Vespin II universal seat height makes it suitable for people of all ages. The seat, however, is not included in the set and must be purchased separately. It's quite simple to install, despite being a two-piece set.
Features
The TOTO Vespin II has a skirted base for simple cleaning but lacks the dual-flush system found in some TOTO models.
The Vespin II toilet features an extended bowl and is around 16.1 inches tall without a seat. So, with the addition of a seat, you may bring it up to ADA compliance. It has a 2⅛-inch wide buried trapway for improved Tornado flush performance, and the design team covered it entirely in CEFIONTECT glazing.
The TOTO Vespin II is a regular 12-inch rough-in toilet that may also be ordered as a 10 or 14-inch rough-in toilet for an additional fee. It also comes in five different bowl colors, nine different material trip lever colors, and two different trip lever positions.
The Vespin II has gotten a lot of positive feedback for its space-saving design and elegance. Customers like its Sanagloss finish, strong flush, and skirted style because they make the toilet easy to clean.
The TOTO Eco UltraMax is an excellent solution for environmental conservation in addition to addressing most of your modern toilet demands. This TOTO toilet is ideal for people who live in areas where water is scarce.
Instead of utilizing diffusers and deodorizers to mask the stench of pee while conserving water, this dual flush one-piece toilet may be installed. It only uses 1.28 GPF when flushing waste, making it a little more cost-effective than other solutions.
Aside from that, the toilet's smooth ceramic finish is another way it saves water. Because of its smooth texture, you won't need any more water to remove trash and waste particles from the bowl. A single auto flush is sufficient to flush all waste down the drain, leaving you with a sparkling clean bowl.
When you click the chrome buttons atop the toilet tank, it uses a dual flush system with a 3-inch flush valve that shoots out a tornado flush. This toilet guarantees comfort thanks to its elongated toilet seat and 17-inch height, which provides additional comfort when sitting on it.
Features
The SoftClose seat on the TOTO Eco UltraMax is a rare find in most toilets. This is a significant financial saving and eliminates the hassle of attempting to find the ideal seat. Utilizing cutting-edge technology, the SoftClose seat is comfortable and practical.
A big flush valve with a diameter of 3 inches is used in their revolutionary flushing system. Because of the increased breadth, it has a 125% higher capacity than standard 2-inch valves. As a result, the TOTO Eco UltraMax features a lightning-quick flush time.
Rather than two distinct portions that must be joined together, the TOTO Eco UltraMax is made up of one complete piece. Although this toilet appears to be very hefty, the lack of connections gives it a smooth appearance and makes it easy to clean. This is especially helpful if you hate cleaning the bathroom.
The TOTO Eco UltraMax has a one-year guarantee covering any defects or acceptable breakages. This toilet will almost probably outlast its warranty and will be a wonderful addition to your home for many years to come.
The TOTO Drake is among the most popular and best flushing toilets among TOTO toilets and throughout the industry. It's a two-piece, dual-flush, comfort-height toilet with two pieces. It not only has one of the most powerful flushing toilets, but it also has a modern style, is reasonably priced, and the CEFIONTECT glazing prevents waste from sticking, making it very easy to clean.
TOTO's G-Max flushing system is used in this toilet. A toilet flush valve is a hole at the bottom of the tank where water flows out of the tank and into the bowl. The toilet trap, which is also called the trapway, is the S-shaped hole at the bottom of the toilet bowl where waste leaves the bowl and goes into the drainpipe. As a result of this design, water is dropped into the bowl faster and with greater power.
This extended toilet is space-saving, measuring approximately 28.75 x 16.5 x 29.44 inches. Because it has a no-hole design rim, the TOTO Drake stays cleaner for longer. It's easier to move because it's only 94 pounds and has slim dimensions. You can lift, move, and install the TOTO Drake without much assistance.
Features
The most impressive thing about this model is how well it flushes. The TOTO toilets' G-Max flushing mechanism has the capability of cleaning any waste in a single flush. It uses a gravity-fed system with a huge flush valve (3 inches wide instead of the standard 2-inch component) that discharges a lot of water.
This variant has a computer-engineered fully glazed trapway to help eliminate all waste in a single flush. It was created to maximize cleaning power while minimizing the possibility of clogging. This glazed trap passage also helps to keep it cleaner by preventing dirt build-up and discoloration.
With its beauty and timeless form, the TOTO Drake will help make any bathroom appear spectacular. It's also ADA-compliant, which means it may be used in public restrooms in the workplace.
This toilet has a high-profile tank design that looks great and takes up less room than some other elongated bowl toilets on the market. The lids are additionally locked to prevent tampering with the flushing system.
The TOTO Drake II is a great choice in water-saving toilets because of its high quality and effective solids flushing. The TOTO Drake II toilet's first feature you'll notice is its attractiveness.
Its distinctive, appealing design will undoubtedly enhance the overall appearance of your bathroom. But keep in mind that the utility, quality, and performance are just as crucial as the appearance.
Dual Cyclone flushing technology, often known as the tornado flush mechanism, is used in the TOTO Drake II toilet. Vigorous spinning water flows into the bowl and is created by the double cyclone flushing mechanism, resulting in a more effective flush. This technique is capable of removing up to 800 grams of waste.
Also, this toilet reduces clogging. It has a large trapway that ensures it won't clog up quickly. Furthermore, the smooth gloss on this trapway makes it difficult for anything to attach to it. Finally, this toilet is relatively easy to set up. You may well be able to install it yourself if you believe you can complete all of the steps in the manual and have standard hand tools.
Features
TOTO Drake II employs TOTO's Tornado Flushing system, which is undoubtedly one of the most powerful and water-efficient flushing systems available.
The TOTO Drake II is a two-piece design that combines a high-profile tank with an elongated bowl for a sleek, free-flowing look. Drake II has a smooth, glossy look thanks to TOTO's SanaGloss or CEFIONTECT finish, which makes any bathroom look modern and attractive.
The TOTO Drake II toilets are built of a durable and long-lasting vitreous china material. This implies you'll be able to use this toilet for a long time before needing to replace it or even fix a broken portion.
Another feature that distinguishes this toilet from others is that it requires very little water per flush. The Drake II only requires 1.28 gallons per flush.
The TOTO Drake II two-piece toilets are much easier to install than other more difficult toilet models on the market. This is due to a normal 12-inch rough-in from the finished wall to the waste pipe's midpoint.
The Drake II toilets with SanaGloss surface come with a one-year limited guarantee in addition to great features and performance.
Pros
Product of excellent quality
Environmentally friendly
High flushing capacity
Elongated comfort bowl
Cons
Priced higher than entry-level two-piece toilets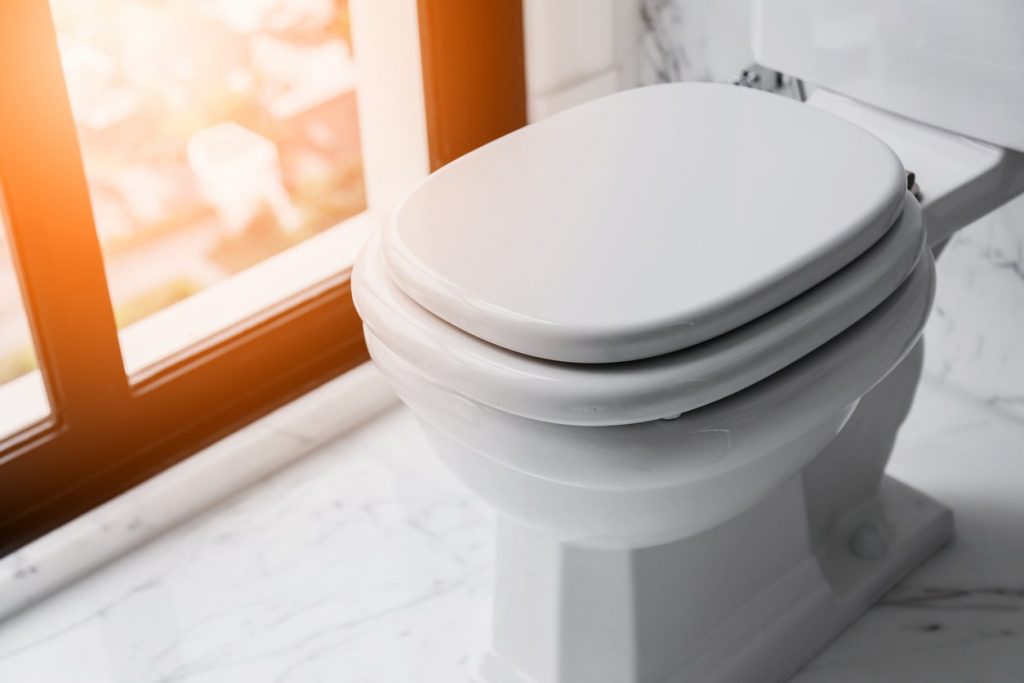 Factors to Consider While Buying TOTO Toilets
Size of the flush valve
The flush will be of higher quality if the valve is larger. To conserve water and money on water bills, you might want to consider purchasing a TOTO low-flow toilet. When it comes to flashing out stubborn waste, the issue arises. Low-flow toilets may not be able to flush out enough water to remove such trash.
To combat this difficulty, it would be preferable if you had extremely powerful flush valves. When selecting a TOTO model, you should inquire about the flush valve size. Most TOTO toilets have 3-inch flush valves, which perform well in removing the most stubborn wastes that might otherwise stay in the toilet bowl.
Flushing systems
Although Tornado flushing is ideal, it is only available on higher-end models. They are more expensive than the standard rimmed bowl type with G-Max and E-Max flushing systems. Of course, the rim's drawback is the hidden holes, which make cleaning much more difficult. Nonetheless, flushing power and bowl rinsing efficiency are unaffected.
The G-Max and E-Max flushing mechanisms are available on the less expensive toilets. The flushing capacity is the difference. The G-Max is used with single flush toilets that use 1.6 gallons every flush, whereas the E-Max is utilized with single flush toilets that use 1.28 gallons per flush. The conventional flapper flush valve or the flapper less flush tower are both used in its design.
Trapway design
TOTO designs its water channels and trapway using computer simulation of water flow speed, directions, and volume to enhance flushing power. The siphon must begin immediately when the water flow speed reaches its maximum. This is why the trapway design is so crucial because it is the siphon creator.
The size and design of the trapway have a direct impact on the pulling power, which impacts flush efficiency. As a result, designing a TOTO toilet necessitates a great deal of precision. Specifically, the trapway. Its dimensions, glazing, and weir position (which influences the trapway design) must all be exact. A minor mistake would result in a less-than-ideal flush.
Every TOTO toilet, regardless of its height, length, breadth, or flush capacity, has a computer-designed trapway for optimal flushing force and efficiency.
Design
Some toilet seats are two-piece designs, while others are one-piece designs. Both scenarios have benefits and drawbacks. While 2-piece variants are less expensive, 1-piece ones are easier to clean and have a more appealing appearance.
Some models have a skirted form that is quite appealing to the eye, but they are more expensive. Make a note of these details before you go to buy one.
Seat
The seat is an essential component of the toilet, and TOTO has ensured that it is of a uniform height to accommodate everyone. While the usual height may be too low for some, this is a few inches taller and can also be used by others with limited mobility.
Some of the seats include a molded design and a mechanism that automatically opens and closes the lid. For physically handicapped people, these can be utilized in toilets.
Frequently Asked Questions
Are TOTO toilets any good?
TOTO toilets are simply some of the best toilets in the world. While many TOTO toilet options are pricey, they come with high-quality features that are uncommon in traditional toilets. TOTO is usually a suggested model to consider if you ever want to invest in a reliable toilet.
How should a TOTO toilet be cleaned?
A TOTO toilet may be cleaned in the same manner as any other toilet. Metal brushes, harsh chemicals, and steel wool cleaners such as bleach should all be avoided because they can destroy the CEFIONTECT coating. To restore the luster of your TOTO toilet, use a gel-based toilet bowl cleaner, a plastic bristle brush, and a soft cloth.
What is the typical height of TOTO toilets?
Standard TOTO toilets are around 15 inches tall from the top of the seat to the ground. There are two types of toilets available from leading toilet dealers and manufacturers: universal height and standard height.
Toilets that are comfort height or universal height are taller, measuring 17 to 18 inches from the top of the seat to the floor. Universal height toilets are believed to be more comfortable, making them more popular among homeowners, particularly among the elderly.
How can you stop a TOTO toilet from running?
A running toilet can sometimes be resolved by simply clearing any excess debris from the fill valve. It's a good idea to give your valve a thorough cleaning before replacing it – this may be enough to fix your running toilet and save you money on a replacement valve. If this doesn't work, you'll probably have to replace the fill valve with a new one.
Conclusion
Your toilet is most likely the most important and frequently used thing in your home. So, if you don't want to be disappointed, we strongly encourage you not to compromise on this purchase. TOTO has built a reputation for producing the best toilets on the market.
Everything is there according to your current wants and most exact criteria: one-piece, two-piece, wall mount, Drake, Eco, and so on. The manufacturers making these toilets are constantly updating their technology and offering cutting-edge features.
On that point, our comprehensive guide to the best TOTO toilets comes to a close. We hope it has provided you with sufficient information and aided you in selecting the one you desire.