The toilet is one of the most crucial things every individual must deal with daily. When it comes to using the toilet seat, however, it can be problematic for heavy or obese individuals.
The toilet seat you purchase should be compatible with your weight, and if you're on the heavier side, you may want to ensure that you purchase one that makes you feel as safe as possible. You want a chair on which you may sit comfortably and without concern that it will shatter under the weight of your body.
This article outlines what to look for when selecting the best toilet for heavy person. It analyzes some of the highest-rated options available on the market within their respective categories.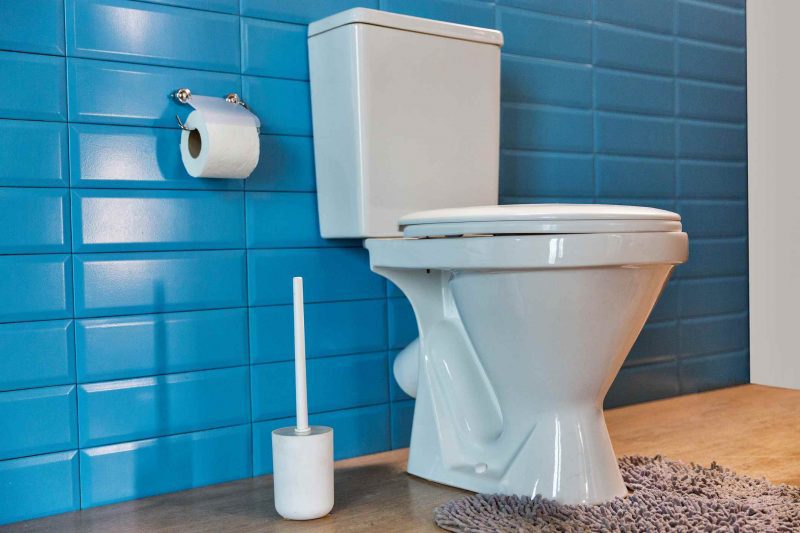 How We Made the List
Toilet seat material
Plastic and wood are the most commonly used materials for heavy-duty manufacturing seats. We added only those brands in our list that offer high-quality toilet seats along with the toilet.
You will predominantly discover plastic seats when searching for the greatest big toilet seats. In addition to being inexpensive and available in various colors and styles, they are also simple to maintain.
Wooden toilet seats are robust and can resist scrapes and structural damage. Most people prefer them because they are warm to the touch, particularly in the winter, making them a more comfortable alternative to plastic seats.
Mounting style
When it comes to mounting style, it seems reasonable that you would choose the most durable. There will be floor-mounted toilets installed. The base helps to make it stable and increases its weight capacity. Other mounting options are typically created with aesthetics in mind rather than with weight capacity in mind. In our list of the best toilet for a heavy person, we have added only the most durable toilet brands.
Weight capacity
When compiling our list of the top toilet seats for heavy people, we also considered the maximum weight capacity of each seat. Regular toilet seats may likely break under the weight of a person who is obese or overweight.
Fortunately, if you are fat and want a toilet seat that is safe to use, the ones on this page will provide the necessary support in comparison to other toilets. The typical weight capacity of toilet seats is approximately one thousand pounds, sufficient for bigger individuals.
Best Toilets for Heavy People
Best Toilets for Heavy Person Review
Designed and constructed by the Convenient Height company, the toilet, and its creators are unquestionably committed to creating knee-friendly sanitary facilities. Possibly the first of its type, the concept behind this 20-inch porcelain throne was to facilitate both sitting and standing.
This bowl's width and length correspond to toilets with normal height. This provides an extended silhouette and a tall physique without compromising legroom.
Those planning to renovate small bathrooms need not hesitate to include this tall toilet in their designs. Because the dimensions are comparable to those of normal toilets, it is not necessary to go to considerable lengths to locate replacement seats and components.
The two-piece toilet has an enormous metal flush handle and a flush actuator that should last without maintenance for many years. The twin flush valve enables water conservation.
When less waste needs to be flushed, the handle is raised, resulting in a flush volume of 0.9 gallons. When additional waste is flushed, the flush handle is depressed to discharge a 1.5-gallon flush. It also has a slow-falling lid, so you will never be surprised by a toilet seat slamming shut.
Features
This toilet bowl features an extended shape immediately apparent upon inspection. The distance between the bowl's back wall and the front rim is approximately 27 inches. There is a noticeable height difference, but the Convenient Height toilet is the same length as most ordinary compact toilets.
This durable toilet is crafted from vitreous china, with a protective enamel coating that imparts a gleaming sheen. A properly maintained toilet can survive for years or even decades. Except for the unimpressive plastic grip, every component is covered with vitreous china. The manufacturer has since replaced the plastic handle with a metal one, as we have learned.
The bathroom fixture maker Kohler is well-known. Even if there are numerous less expensive alternatives, they offer fairly priced high-end products. The Highline is one of their premium toilet models, and it is available in various heights and rough-in options to meet the needs of a variety of consumers.
The Kohler K-3999-0 is an additional superior high-seat heavy-duty toilet that would be ideal for obese individuals. It has an elongated toilet bowl rather than an oval one, which is ideal for obese bodies. In addition, the bowl's comfort height design makes it easier to rise after using it, as its height is comparable to that of a chair.
The Highline's flush is a distinguishing characteristic. This toilet uses a small quantity of water, but its class five flush effectively removes waste and keeps the bowl clean. In contrast to most modern toilets, which include dual-flush mechanics, this toilet has only a single flush.
This long-lasting toilet is made from vitreous china and has a fantastic appearance. This toilet comes with a one-year warranty.
It's a two-piece toilet with an oval-shaped bowl. The total height will be around 17 to 18 inches if a seat is added. This is taller than most toilets and is a fantastic height for anyone who has trouble bending to go down or getting off a toilet that is too low.
Features
This model features a comfortable height design. ADA-compliant and suited for a larger range of adults, a comfort-height toilet meets ADA requirements.
It is approximately two inches taller than a conventional toilet, making it ideal for the elderly, the overweight, the disabled, those recovering from surgery, and anybody else who finds it difficult to use a small toilet seat.
This Kohler model's installation is simple and quick. In reality, most people should be able to install this toilet without requiring special training. The lifting and placement of the toilet tank and bowl is the only component of the installation that may provide a challenge.
The DeerValley DV-1F026 dual flush elongated standard one-piece toilet is a heavy-duty modern standard design with sleek construction suited to contemporary bathrooms. This toilet is ideal for heavy people.
Compared to a two-piece toilet design, it is easy to maintain and use. We observed that the toilet's one-piece construction lacked crevices that would make cleaning difficult.
Even the supplied seat may be removed with a push-button so it can be cleaned independently. In addition, this design guarantees that the toilet is leak-proof.
The DV-1F026 comes with everything required for setup and operation. The toilet seat will not crash shut due to its soft-closing feature. It attaches to the bowl with beautiful chrome hinges, enhancing the aesthetic of your bathroom.
The secret trapway adds to the abundant appearance. This skirted design conceals the snake-shaped piping for a more refined appearance. It also eliminates nooks and crannies, allowing the glazed surface to be wiped clean with a single swipe.
The 1.28 GPF dual-flush toilet is strong, silent, and prevents clogs. This device is very simple to install and comes with a supply line adaptor that makes connecting to the waterline straightforward.
Features
It has a premium toilet seat with a soft-closing hinge made of stainless steel. The lid gently and softly closes. Soft-closing seat-ins are convenient in the middle of the night since they prevent unintended clattering from waking everyone in the house.
The package includes a toilet, pre-installed soft-closing toilet seat, pre-installed flush valve, premium wax ring, floor bolts, and installation instructions.
The toilet features a modern and compact design. Despite being designed for extremely compact areas, this one-piece toilet looks great in any contemporary bathroom. The dual-flush function is perfect for conserving water.
The American Standard Colony one-piece toilet is easily accessible for cleaning. This low-profile one-piece toilet features an accessible rim height and an expanded shape to provide maximum comfort for heavy individuals.
This is one-piece construction, so there are no gaps between the bowl and the flush button. Additionally, it is quite compact and takes up less space in your restroom. The distance between the bottom and the top of the tank is somewhat more than 26 inches. If you need the toilet to fit beneath shelves or a counter in the bathroom, this toilet may be an option to consider.
One of the best toilets on the market is the American Standard Colony one-piece right height toilet. It appears off-white, which has been beautifully finished and looks stunning. This item is quite sturdy, and its smooth surface makes it easy to clean.
Specifically, it incorporates a 2-inch fully glazed trapway and a 3-inch flush valve that produces a highly forceful flush while using only 1.6 gallons of water. The slow-close seat and lid technology do not make noise when opening or closing the lid.
With its side-mounted metal trip lever and slow-closing seat, this unit receives top marks for aesthetics and functionality. If cost is not a concern, the Colony one-piece right-height elongated toilet should be considered.
Features
Unlike conventional toilets with a separate tank and bowl, this large and tall toilet has a one-piece construction that prevents the accumulation of filth and bacteria in the little crack under the bowl. In addition, you can install a bidet with ease on this toilet, making it an excellent choice.
This high-efficiency toilet's value, pricing, and performance are outstanding, with optimal flush performance using 20% less water than a 1.6 GPF toilet. This toilet has a 16-1/2-inch rim height for improved comfort and convenience.
This Colony toilet is a good option for small bathrooms and compact places because its round front design conserves space.
As with the other American Standard toilets described in this article, this elongated toilet is equipped with a power-wash rim that scrubs the bowl clean. Users also enjoy that this toilet conserves a great deal of water; therefore, using this toilet will save you money on your water bill while also conserving the environment.
Feel liberated and unrestricted with a toilet that lacks a tank and lid and can support up to 2,000 pounds without breaking or laboring. Due to the spaciousness and length of the front seat, you won't feel constricted or struggle to find comfort.
It is slightly different from standard toilets, but the increased weight capacity may make it worthwhile to test. The height of the toilet bowl without the seat is 17 inches.
Large and tall individuals may require a seat riser. The standard toilet seat has an open front but can be replaced if necessary with a bigger seat.
The installation appears straightforward, assuming a minimum rough-in distance of 10 inches from the wall. This Amazon-sold model includes a flush valve, so the required tools are minimal, from a measuring tape to an Allen wrench.
Features
Finishing porcelain with vitreous china makes it more stain-resistant, easier to clean, and more lustrous. This model is covered by a one-year warranty, although that does not influence its longevity. This toilet can survive for many years with the proper care and maintenance, as outlined in the product manual.
Right Height bowls raise the seating height by an additional 1-1/2 inches above the ground for a more comfortable, easier-to-enter seated position. This characteristic is favored by men, taller ladies, and the elderly.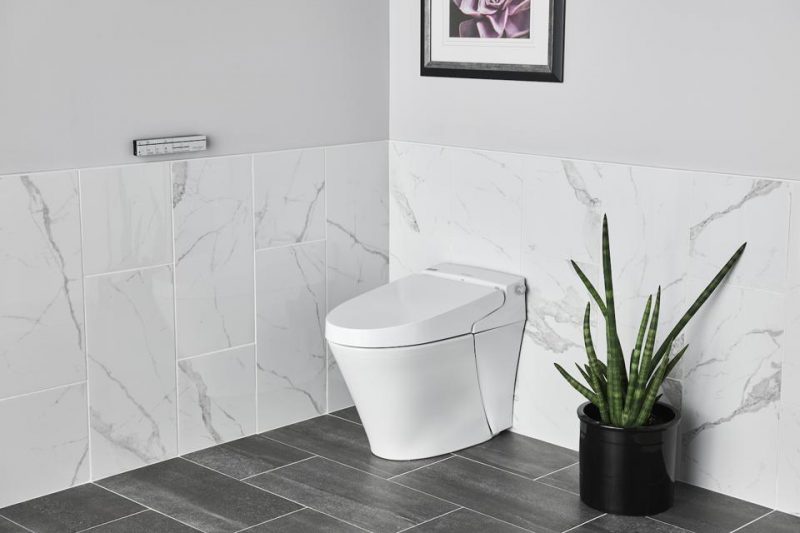 Factors to Consider Before Choosing the Best Toilet for Heavy Person
Weight capacity
Regarding safety and durability, weight capacity should be one of the most crucial determinants when selecting a toilet. However, you cannot be satisfied with a toilet that weighs the same as or close to your body mass.
The weight ratings for toilets (and the vast majority of other objects) are specified as "static weight", which indicates that they can support that weight without movement or velocity. When seated, you can exert 1.5 to 2 times your weight on the seat for a brief period. Therefore, purchase a toilet with a sufficient weight capacity seat.
Seat material
The seat material must be inspected. Although most or nearly all types of seats are constructed of plastic, the quality of the plastic must be ensured. It is environmentally friendly and resistant to stains, scratches, bacteria, and many other things.
Since it is common knowledge that a product's material determines its quality, durability, and other characteristics, the material is an essential component. Therefore, before selecting a seat, you should have considered the material.
Comfort
Every toilet seat should be comfortable to sit on, but when a heavier person is seated, the design of the toilet seat becomes significant. It will need to be larger than typical seats to support a larger posterior, but it should also have a comfortable, ergonomic design.
Additionally, these seats are typically a bit thicker. Not only to provide them with additional strength but also to increase their height. These extra-large pieces can add between 1.5 and 2 inches of height to a toilet, making it simpler to sit down and stand up.
The American Standard Valve Elongated Bowl could be what you need if you seek an open-front toilet seat. A toilet seat with an open front makes it easy to clean and wipe. The opening in the front of the horseshoe-shaped seat facilitates access.
Hinge quality
Low priced brands typically use hinges made of plastic with only two contact points, allowing them to slide laterally during usage.
This is dangerous and can result in the hinges breaking apart when least expected. Since the hinges of such an inexpensive seat are unlikely to support gentle lowering, the lid may potentially slam down onto your seat. In contrast, more expensive seats may feature pneumatically-controlled steel hinges that allow a gradual lid-lowering motion.
Durability
How long your toilet seat will last is also significant because if you select something of great quality, you won't have to replace it continually. This method would allow you to save money simultaneously.
It would be best if you chose something durable and long-lasting so that it does not wear out rapidly. You may wish to read reviews before purchasing to get an idea of how they are from individuals who have already purchased them.
One-piece or two-piece toilet
One-piece and two-piece toilet variations are available for heavy individuals. A one-piece toilet for a hefty person includes the toilet seat and the flushing tank as a single item. Two-piece toilets consist of a separate tank and bowl.
One-piece toilet reviews will inform you that one-piece toilets for hefty individuals are heavier but easier to install. The installation of two-piece toilet seats for heavy individuals will necessitate the purchase of additional parts.
Regardless of whether you opt for a one-piece or two-piece toilet design, there are several factors to consider. The trapway employed in the construction of the toilet must be considered. It can be both visible and concealed. The type of trapway you select affects the toilet's valve and water flow.
Flush technology
There are various innovations within the flushing technology industry. Even among a toilet's components, we know that the flushing system serves the most crucial purpose. There are two standard flushing systems: pressure-assisted and gravity.
The pressure-assisted flush mechanism comps water into the bowl by compressed air. It utilizes both water and air under high pressure. Consequently, when a toilet is flushed, the waste is sucked up with considerable force by the compressed air. This system is fairly noisy and costly, but it is more water-efficient and uses less water.
The gravity flush method is the more prevalent and basic option. This method has a flush valve that relies on gravity to generate flushing pressure by utilizing the water's weight. A siphoning operation completes the flush after the waste goes through an S-shaped trapway.
This system is less expensive and has a far quieter flush. The dual flush system, which utilizes water-saving technology, is a novel invention within flushing systems. There are two flushing choices available.
Pricing
Additionally, it would be best if you analyzed the price of the seat you intend to purchase to ensure that you can afford it. Always establish a spending limit before purchasing so you do not have to worry about overspending. You only need to ensure that you can find something worthwhile.
Color
The color of a toilet allows it to complement the style of a designer bathroom or provide a splash of vibrancy to a neutral plan. Most of the time, the color of a toilet is determined by the possibilities offered by a particular product and its compatibility with the existing bathroom decor.
Color is ultimately a matter of personal opinion. However, most popular toilet brands offer neutral hues. If variety within a particular brand is essential, choose a range of neutral tones, and you're likely to find one you love.
Height
The primary reason you're acquiring a comfort-height toilet is to make it simpler to stand up. Thus the height will be your top priority. Following the Americans with Disabilities Act requirements, comfort height toilets are typically between 17 and 19 inches in height. Some toilets can be even taller, and we have a couple on our list; however, the difficulty with taller toilets is that they may not be suited for youngsters or shorter individuals.
When acquiring a new comfort toilet, it is recommended to test it by sitting on it. You do not want your legs to dangle off the edge, especially if you tend to sit for lengthy periods since this might impede circulation and produce numbness in your legs.
Advantages of Toilet Seats for Heavy People
Extremely comfortable
A heavy toilet seat may be the most comfortable if you are overweight. They are spacious and comfortable due to the incorporation of additional support features.
Some have an ergonomic shape that makes them appropriate for plus-sizes, the elderly, and the physically impaired. The revolutionary architecture of toilets for overweight individuals makes them exceptionally durable.
The high-impact ABS or stainless steel hinges used (in some cases) also hold up well under heavy loads. Consequently, they break or crack infrequently.
Furthermore, once installed, extra-large toilet seats are quite stable. Certain types, for instance, feature huge stabilizing bumpers to help grasp the bowl and prevent seat movement.
Long-lasting durability
As with other heavy-duty home furnishings, a toilet seat is normally constructed from the highest quality materials and is resistant to wear, chips, and stains. Indeed, many toilet seats designed for heavy individuals use injection-molded plastic components of commercial-grade durability.
Frequently Asked Questions
What is a bariatric toilet?
A bariatric toilet is designed to seat a person with a larger build or greater weight than typical comfortably and effectively. This toilet will typically include a unique heavy-duty seat with gripping handles, padding, and strengthening. Safety and proper support are the two most critical aspects in the design of a bariatric toilet, which is intended to facilitate a person's use of the toilet.
In addition, the toilet may have a comfortable backrest, padded armrests, and detachable components to facilitate entry and exit. Bariatric toilets are situated higher than standard toilets to facilitate movement and cleanliness maintenance without stress. When an ADA-compliant restroom is required, a bariatric toilet may be useful.
What is the length of an elongated toilet seat?
Standard toilets are typically shorter than elongated toilets. The greatest high-flush toilet for heavy individuals has a bowl at least 2 inches longer than ordinary round toilets. These are designed for the comfort and convenience of disabled persons, tall people, and heavy people. As a result of the elongation, the bowl has an oval rim as opposed to the typical round rim found on regular toilets.
To determine if your toilet is elongated, measure the bowl's diameter from the two mounting bolts to the front of the bowl. Standard toilet bowls are 16.5 inches, whereas extended bowls are 18.5 inches in diameter.
How much weight can a standard toilet hold?
The ordinary toilet can support up to 1,000 pounds. However, how a toilet is installed, its general design, seat shape, and riser height impact its stability and comfort in use.
Larger adults may require a toilet with a higher seat height and an upgraded seat with padding, reinforcement, and ergonomic support. Sitting on an oval-shaped, extended seat may be more comfortable than a round one, and it can add to the weight support and stability of a toilet.
What is a dual flush toilet?
The dual flush toilet has two buttons, typically on top of the tank, allowing you to control the amount of water dispensed. The first button, which operates the half flush mechanism, is for liquid waste, and the second button, which operates the full flush mechanism, is for solid waste. The dual flush function may conserve substantial water throughout the day.
This toilet consumes at least 50% less water with a partial flush than it does during a full flush. A dual flush toilet uses an average of 1.28 GPF (gallons per flush), while some types use as little as 0.9 GPF when operated properly. In comparison, the standard single-flush toilet utilizes 3.5 GPF. Adopting a dual-flush toilet will reduce water consumption, lowering water costs and making your wallet happier.
What is a single flush toilet?
As previously mentioned, single flush toilets are the most prevalent form of toilet. They are common in older homes and most buildings, including modern ones. The name of these toilets is derived from the fact that a single pull of a lever or push of a button empties the cistern and flushes the waste away.
Which is better, dual flush or single flush toilet?
Dual flush toilets offer two flushing options, half and full, whereas single flush toilets offer just full flushing. This indicates that single flush systems are more water-intensive than dual flush systems. Single-flush systems are often inexpensive and simple to operate and maintain. Alternatively, dual flush systems are more expensive to acquire, install, and maintain.
What is the height of the tallest toilet?
From the base to the bowl of the tallest toilet, at least 19 inches must be measured. These elongated commodes have a sturdy toilet seat to accommodate heavy individuals. These toilets are great for exceptionally tall people and those with back or knee problems. They are also appropriate for the elderly and disabled.
Conclusion
The best toilet for a heavy person is carefully created to handle a larger frame and greater weight and will make your time in the bathroom ecstatic. They include a toilet seat and flush, as well as various other fascinating features that may appeal to you.
Due to the vast variety of brands and models available on the market, finding the ideal toilet for a hefty person can be difficult. However, after reading the reviews by us, you will be aware of the best models to pick from as well as the pros and disadvantages of each toilet.