When the toilet is clean, the bathroom is also clean. Because flushing the toilet creates a spraying effect, bacteria have a greater chance of spreading from the toilet to other regions of the bathroom. You should try to clean your toilet no less than twice every week, but if there are more members in your home, you should clean it more often.
We have compiled a list of the best toilet cleaners available on the market, which eliminate all types of bacteria, stains, and debris that may be present in your toilet bowl. We have completed the research on your behalf! Simply take a seat, put your feet up, and choose the cleaning solution that corresponds to the messiest task in the home. Let's get started!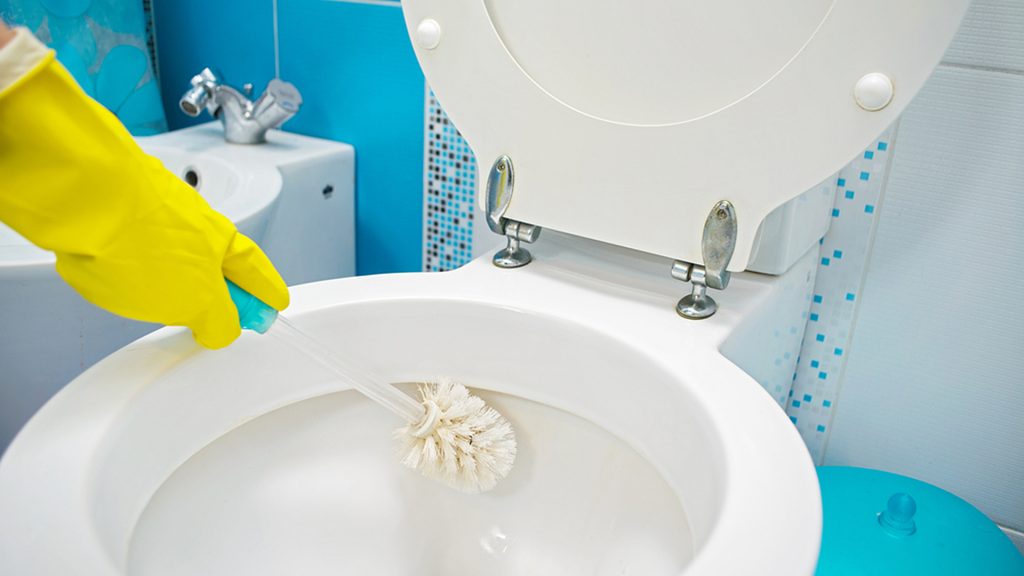 Best Toilet Cleaners
Our Reviews of The Best Toilet Cleaner
Sale
Clorox ToiletWand Disposable Toilet Cleaning System -...
Toilet Cleaning system: Add this toilet bowl Cleaner to your cleaning supplies includes 1 toilet wand, 1 storage Caddy, 6 original...
Disposable sponges: These toilet scrub pad refill heads click onto the toilet wand to Swish, scrub and clean The toilet bowl and...
Disinfecting cleaner: Preloaded with Clorox cleaner, these disposable scrubbing pads deep clean and remove stains while eliminating germs to...
An easy method to quickly clean a toilet is using the Clorox Toilet Wand disposable toilet cleaning device. One wand, six original refills, ten refills with the aroma of Rainforest Rush, and a storage caddy are included in the starting set to help you get going on a deeper clean.
Each reusable head is packed with Clorox cleaner and has a 4x more intense scrubbing action to easily remove rust, calcium, and limescale, destroy bacteria and clean difficult stains while disinfecting and deodorizing. Comparative lab testing shows that the toilet wand cleans more thoroughly than a brush.
This all-in-one system is made so that you get a brand new cleanup sponge every time you clean without touching the gross brush. The sponge-like cleanup head is designed to get through every nook and cranny requiring cleaning and microbe control while also killing 99.9% of pathogens like Staphylococcus aureus, Salmonella enteria, rhinovirus type 37, and Influenza.
With the Clorox Toilet Wand throwaway toilet cleaning starting set, you can easily clean your toilet with a single swoop.
Features
Include this toilet tank cleaner in your cleaning supplies and eliminate 99.9% of germs and viruses. It comes with a toilet wand, a storage caddy, six original disposable refills and ten refills that smell like Rainforest Rush.
To wash, swirl, and scrub the toilet, these toilet scrubbing pad refill heads snap onto the toilet wand. Conveniently pop off the toilet tank and discard it in the garbage. The Clorox ToiletWand System is designed to work with any kind of toilet, including the low-flow types.
These disposable scrubbing pads thoroughly clean and remove stains while eradicating germs to leave your toilet tank feeling brand new. They come preloaded with a Clorox cleanser.
Products for cleaning bathrooms with the handy caddy that keeps your toilet wand and refill heads for an all-in-one bathroom cleaner, you will not need to keep a gross, germ-filled toilet brush.
For a deeper and quicker cleaning to get rid of rust, calcium, and lime stains, the sponge heads' hexagonal form is clean in difficult-to-reach locations below the tank rim and drain.
Scrubbing Bubbles Fresh Brush Toilet Bowl Cleaning...
Scrubbing Bubbles Fresh Brush Starter Kit is the only toilet cleaning system with flushable pads for a convenient clean
Toilet bowl cleaning system powers through the toughest stains
Each Starter Kit includes a 19 inch handle, 4 pads and a stand
The Scrubbing Bubbles Fresh Brush Starter Kit is the one toilet cleaning system on the market that includes flushable pads for an easy clean. When it comes to bowl games, you need to be at the top of your game. Because of this, Scrubby puts you in full potty mode and provides you with a whole toilet toolbox.
Each Starter Kit consists of a stand, four pads, and a handle measuring 19 inches. When you are done, just flush the used pads down the toilet. Easy-peasy cleaning! Complete defense for the tank and a brush that can be flushed? This is an innovative approach to cleaning.
It also has a surfactant and lactic acid in it. Keep your eyes, skin, and clothes away from the substance. Do not combine with any other kind of cleaning products. Immediately pour a large amount of water over affected areas of the skin or eyes. Seek medical care if the irritation continues.
Features
This wand for the toilet tank comes with four pads that may be disposed of in the usual manner by flushing them down the tank. The pads' built-in cleaner exudes an aroma reminiscent of zesty citrus, and the wand comes complete with a holder that can be used to store it when it is not in use.
First, open the package by cutting along the dashed line and then tear out a toilet cleaning pad from the stack. Next, you will need to move the blue button on the Fresh Brush handle away from you, in order to completely open the jaws.
Position the jaws so they are aligned with the pad, take hold of the pad, and then move the button closer to you until you hear a click. After that, activate the cleaner by submerging the pad in water and swishing it around.
Scrub the tank thoroughly making sure to get beneath the rim as well. Then move the blue button away from you, which will release the pad into the toilet and allow you to flush the used pad away. Put the wand away in the wand stand.
Instead of bleach, this Lysol liquid cleanser cleans your toilets using hydrogen peroxide, a chemical that is generally safe in tiny amounts. It disinfects and eradicates 99.9% of germs and viruses. Additionally, it is available in a four-pack of 24-ounce bottles to thoroughly clean your toilets for months.
The cling gel application, which adheres to the edges of your toilet tank and prevents run-off, is its best feature. It performs excellently soaking and producing a thin lather that readily penetrates and removes filth. Results showed that minor toilet ring stains and discoloration were promptly removed following brushing.
You may access the dreaded bottom of the toilet rim with the help of an angled and pointed bottle spout. In contrast to other toilet tank cleaners, it also has a lovely aroma that freshens and deodorizes, with wonderful titles like "Ocean Fresh Scent," and the scent fades away after many hours. One of the finest bathroom necessities for keeping things germ-free is a toilet cleaner.
Features
This well-known product offered by Lysol is an excellent choice for cleaning the tank of a toilet, and it is highly recommended. It is manufactured using a potent formula that is based on hydrogen peroxide (there is no additional chlorine bleach), and it emits hundreds of tiny bubbles to efficiently penetrate and remove deep and persistent grease, soapy residue, hard water, and other substances.
It is effective against 99.9 percent of the germs and viruses found in bathrooms, and it leaves toilet tanks appearing clean and brand new.
This gel solution not only eliminates stains but also eliminates odor-causing germs that may cause your bathroom to have an unpleasant stench. In its place, your bathroom will have a delightful, invigorating perfume that is reminiscent of seaside freshness.
Place the bottle just above the toilet and wait for the thick gel to cover the whole tank as well as the rim before you begin scrubbing it clean. This product is really easy to use, even for regions that are often difficult to reach, thanks to the tilted top of the container.
Iron OUT Automatic Toilet Bowl Cleaner, Repel Rust and...
Best on Rust: #1 Heavy-Duty Rust Stain Remover Brand
Specifically formulated to repel rust and hard water with every flush of your toilet
Convenient rust stain solution; Long-lasting formula prevents rust stains from forming in toilet bowl for up to 45 days
With each toilet flush, the Iron OUT Automatic Toilet Bowl Cleaner, the #1 brand of rust stain remover, works to prevent rust and hard water stains. For up to 30 days per pill, the potent, long-lasting composition effectively removes rust and prevents the growth of new stains.
This potent but secure mixture will not damage septic systems, plumbing, internal toilet parts, or toilets. Before inserting a pill, wipe the toilet tank with Iron OUT powder or liquid spray. Put a pill in the tank and let Iron OUT ATBC take care of the rest.
Summit Brands, a family-owned company founded in 1958, provides cutting-edge, highly efficient, and environmentally friendly home cleaning products. Iron Out, a multipurpose rust stain remover, was the first product distributed by Summit Brands.
Since then, the company has expanded to provide a broader range of specialty cleaning products under the OUT, Glisten, and Plink brands. Their objective is to provide top-notch cleaning solutions that meet customer demands and deliver guaranteed results. They are category leaders in numerous consumer areas.
Features
With each toilet flush, the Iron OUT Automatic Toilet Bowl Cleaner will protect against rust and hard water stains. It was developed expressly for this purpose. It is possible to clean the toilet tank with Iron OUT powder or liquid spray before putting in a pill.
This step is optional. Put a tablet into the Iron OUT Automatic Toilet Bowl Cleaner, and it will take care of the rest of the cleaning for you.
Iron OUT is the most effective solution for removing rust and is part of a comprehensive series of heavy-duty rust removal products designed to eliminate all types of rust stains found inside and outdoors.
Just drop a tablet into your toilet tank and let Super Iron Out do the rest of the job for you; it is designed to prevent rust and hard water stains from forming with each flush of your toilet.
At least 45 days of protection against new stains are provided by each tablet of the concentrated composition, which works to both prevent and remove existing stains.
Sale
Instant Power 1806 Toilet Tank Cleaner, 16 oz , White
REMOVES STAINS: Put less elbow grease in cleaning your bathroom toilet tank; Thanks to its strong citric acid formula, Instant Power's...
EFFICIENTLY CLEANS: Clean out your toilet tank with little effort; Instant Power Toilet Tank Cleaner eliminates the need for scrubbing but...
PROTECTS YOUR TOILET: Don't worry about damaging your toilet tank and bowl; Our flush cleaner is safe to use but effective against stains,...
Avoid allowing your bathroom's toilet tank to get clogged with hard water deposits and another buildup from repeated exposure to water. Utilize the Toilet Tank Cleaner Instant Power. Cleaning the toilet bowl is just as important as cleaning the toilet tank.
The accumulation of debris may harm toilet parts and make the toilet tank seem unclean. Instant Power's flush cleaning quickly removes the buildup of potentially harmful deposits, such as calcium and rust, that may compromise a toilet tank's moving components. The powerful citric acid mixture cleans your toilet tank of hard water and other stains.
Your toilet tank fills up with buildup as a result of frequent contact with water, including hard water deposits. The accumulation of debris may harm toilet parts and make the toilet tank seem unclean.
With the help of Instant Power Toilet Tank Cleaner, buildup and other deposits are quickly removed, leaving you with a clean toilet tank and extending the life of toilet parts!
Features
Instant Power's Toilet Tank Cleaner can remove hard-water deposits and other stains in your toilet tank thanks to its powerful citric acid composition. You will not have to put as much effort into cleaning your bathroom toilet tank anymore thanks to this product.
Instant Power Toilet Tank Cleaner allows you to clean your toilet tank with less effort. This cleaner eliminates the need for scrubbing, yet still, it thoroughly cleans and deodorizes your bathroom toilet tank.
Don't worry about the flush cleaner causing damage to your toilet tank or bowl; not only is it completely risk-free, but it also effectively removes stains while extending the useful life of toilet components.
Remove rust, hard-water stains, and other tenacious filth while eliminating unpleasant odors in the toilet; every flush leaves a fresh and enticing citrus aroma behind.
This toilet tank cleaner does not include any harsh chemicals, acids, or caustics, which means that it is safe to use on your toilet tank and pipes. It is also effortless to use; you only need to pour the entire bottle of cleaner into the toilet and let it sit there for the night.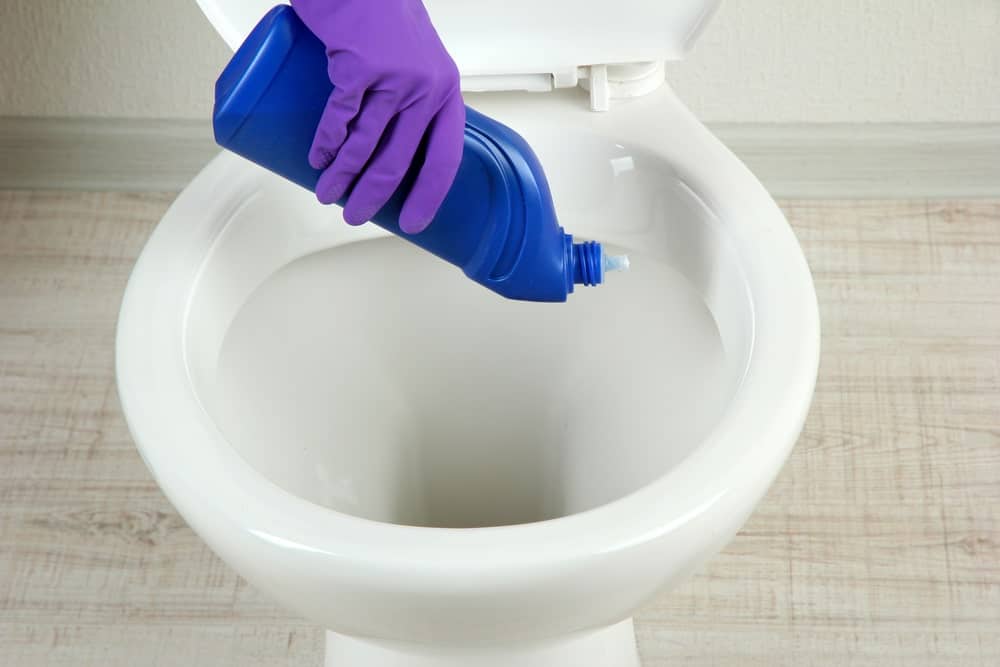 Types of Toilet Cleaners
There are many options when it comes to cleaning products for toilet tanks. To determine which one is most suitable for your needs, let us examine the perks and drawbacks of each option, starting with the fact that some are simpler to use than others.
Liquid
The majority of cleaning products are liquids. They are simple to use, but you will need a toilet brush to do part of the cleaning for you. To clean the toilet tanks with a liquid cleaner, just spray some of the cleaners beneath the rim of the tank and let it drip down into it. To remove stains, use the brush that comes with your toilet.
Tablet
Tablets are a convenient method for cleaning the toilet tank. You may place them in the tank, and then each time you flush, a small piece of them will drop down into the tank, helping to keep the toilet clean and smelling lovely.
There are also ones that need you to place them at the bottom of the water. This bubble up and scrub the area at the bottom of the toilet tank. They are not as effective as other methods for cleaning the whole tank.
Automatic
Attachments that clean the toilet bowl automatically may be placed within the tank. When you flush the toilet, it will release some kind of cleaning agent. These are helpful to use in between more in-depth cleanings.
In addition to imparting a pleasant and energizing aroma, they are effective in removing stains and debris at the surface level. Perfect for hosting friends and family!
Read More: Best Self Cleaning Toilets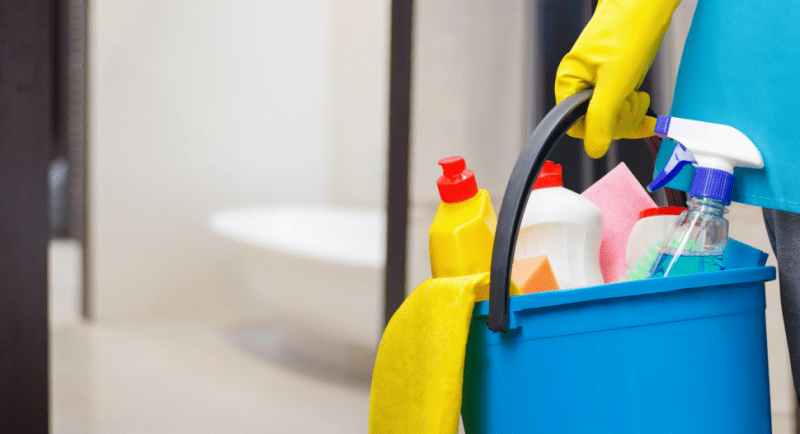 Factors to Consider When Buying Toilet Cleaners
The most effective solutions are decided by their kind, simplicity of use, aroma, cleaning effectiveness, lifespan, and other qualities offered by leading manufacturers, according to our study on the most popular toilet tank cleaners in their respective categories.
Gel-based, liquid, pill and toilet cleaning methods were among the most often searched for when looking for the best solutions. Regardless of whether they're chemical-based or entirely natural, all of the aforementioned top selections are efficient at cleaning the inside of a toilet and take little effort or upkeep to function well.
Depending on your cleaning requirements, this list offers solutions that disinfect and deodorize while removing the calcium, limescale, soap scum, rust, stains, and hard water deposits. You can either go hands-on in the cleaning process or let the product do the job for you.
How can you choose which of the several alternatives available on the market is the right one for you when there are so many to choose from? Take a look at these most essential constituent parts. It will assist you in putting priority on the things that are most important to you.
Purpose and Performance
What is the toilet tank cleaner's primary advantage over other similar products? Do stains come off after using it? Tackle odors? Help with the accumulation of hard water? Always make sure you are aware of the function that the cleaner serves.
If you do not take precautions, you run the risk of purchasing an item that is incapable of performing the functions you need.
Smell
Do you want the cleanser on your toilet tank to have a scent? If so, would you say it is natural or synthetic? To your health and the health of the environment, synthetic scents are not preferable. Essential oils are used in the creation of natural fragrances, making these fragrances far less harmful to the environment.
We use a cleaning that has no aroma to it. It neutralizes odors, making the restroom smell clean without leaving behind a solid after smell or residual aroma.
Category
When it comes to toilet cleaners, there is no such thing as a one-product-fits-all solution. Some individuals may favor the ease of a toilet wand with a throwaway cleaning head that is already preloaded with cleaner, while others are more partial to the tried-and-true method of using liquid toilet cleaner and a toilet brush.
There are also tablets and gels available that may help keep your toilet fresh in between more thorough cleanings. These can either be placed within the toilet tank or attached to the inside of the toilet bowl.
Look for cleaners that are designed particularly for the issue that you are having with your toilet. For instance, rust or hard water residues are best treated with a cleaner designed exclusively for rust. Tablets, liquids, and automated dispensers are the primary forms. Gels and single-use cleansers made of different materials are also available.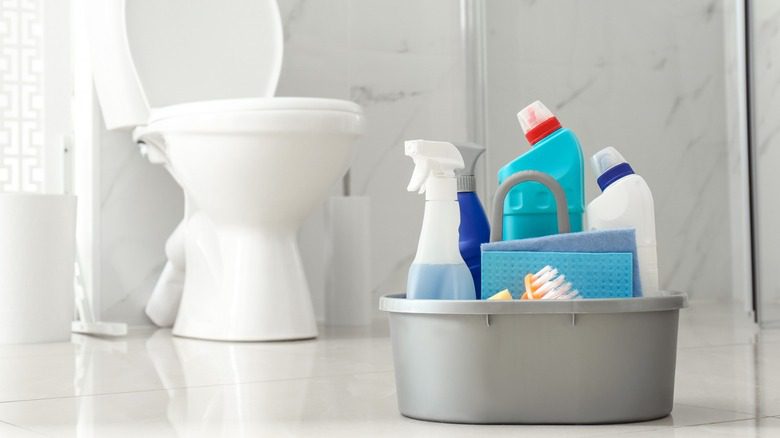 Non-allergic
If there is a member of your home who suffers from allergies, you will likely need to exercise a greater degree of caution when selecting a cleaner, and you might want to get a hypoallergenic cleaner. In most cases, this is the more obvious one to choose. They will not be as big of a hassle as you may expect if any at all.
Pocket-friendly
Finally, you should think about your financial plan. There is a wide range of costs available for toilet bowl cleaners, even though they are not too costly. Natural toilet tank cleaning products tend to be more expensive, and it is often more cost-effective, in the long term, to purchase liquid cleaning products in larger quantities.
Components
While several components, like bleach, are fantastic for eliminating stubborn stains and disinfecting the toilet, a person who has kids or animals would not want the exposure to the scent of chemicals and might avoid using them in the cleaning process.
In addition, although certain gels and pills may be alright to use in toilet tanks and septic systems, some may not be suitable. Make sure you read the cleaner bottle labels to be certain the cleaner is appropriate for your lifestyle.
Lifespan
Toilet cleaners can have varying shelf lives, particularly pills and gels. Tablets and gels may have a shelf life that ranges from one week to many months. Make sure you read the label to find out how long they last and how often you need to change them. This information will help you plan accordingly.
Type of stain
Possibly, some kinds of stains need specialized treatment that can not be found in conventional cleaning products. For instance, the majority of cleaners can remove limescale accumulation, but they can not manage rust.
This is because limescale is a fundamental kind of buildup. Read the product label to confirm that your cleaner is effective against the particular stains you are dealing with.
Concepts to Be Aware of About Toilet Tank Cleaners
Cleaning, sanitizing, and disinfecting have different purposes
Cleaning generally refers to the removal of any stains that are visible, such as dirt, soil, and hard water stains. Houses with hard water—water with a high mineral content—may produce limescale accumulation and discoloration, which can be particularly difficult to remove.
The strong substances like hydrogen chloride or sulfamic acid, often included in toilet bowl cleaners and designed to remove hard-water stains and limescale, may be harmful to septic systems and should only be used in well-ventilated settings.
Sanitizing, as opposed to cleaning, is utilizing a chemical cleaner to lessen the number of germs on your cleaning surface. No amount of sanitizing can get rid of viruses.
However, disinfecting works. You may eliminate or render inactive germs and viruses by disinfecting a surface. Depending on the product's recommendations, cleaners that include chemicals potent enough to kill viruses must be allowed to settle and stay moist for 10 minutes or more.
It is necessary to check labels to ensure that products containing chemicals like bleach, citric acid, or quaternary ammonium may have disinfectant characteristics.
Cleaners for toilet bowls – are they safe for septic systems?
The existence of bacteria is required for a septic system to be able to decompose waste as it moves through a septic tank. This degradation of waste is vital for the system to function properly.
If you often use cleaning solutions that are antibacterial or disinfectant, you run the danger of eliminating these beneficial bacteria, which may throw off the natural chemistry of your body and throw off the equilibrium.
All of the items that we evaluated claim that they are "septic-safe;" however, the EPA states that this word should not be used for marketing reasons since it may be used unreliably and is not certified by the EPA.
The Environmental Protection Agency (EPA) suggests that folks who use septic systems cut down on the number of home cleansers they use if the bottle has the warning "Danger," "Caution," or "Warning." This includes cleaners that include bleach, ammonia, and hydrochloric acid.
Can toilet tank cleaner be used to clean surfaces in the shower?
Covering a big area with insufficient ventilation, such as a bathtub or shower, with toilet cleaner may be hazardous due to the corrosiveness of many of the chemicals used in producing toilet cleaners.
Instead of allowing your toilet cleaner to do double duty, seek sprays and formulations that expressly name themselves bathroom, tub, or tile cleaners when cleaning showers, tubs, and sinks. This will ensure that you get the best possible results.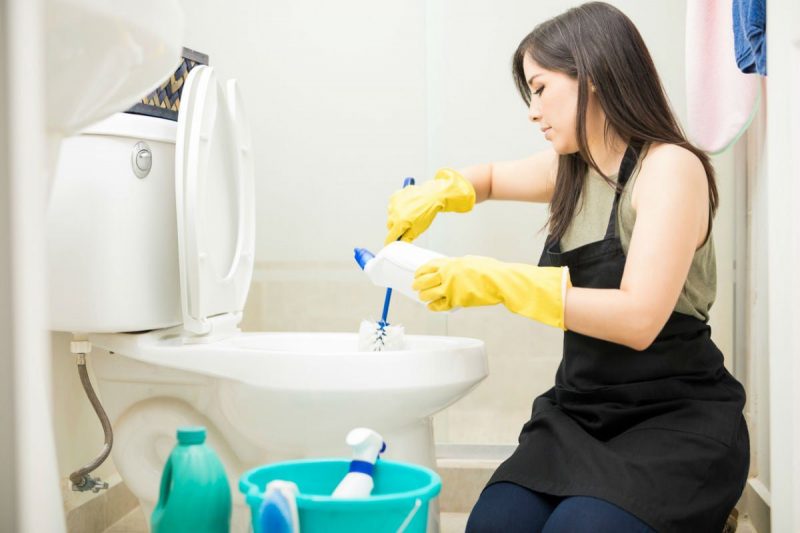 Frequently Asked Questions
Is using toilet tank cleansers safe?
Because they do contain potentially harmful compounds, they must be handled with extreme care before being put to any use. You might also use plant-based products as an alternative, which include natural components and fewer or no hazardous compounds altogether.
What is the proper technique for utilizing toilet cleaning fluid?
You can press the liquid onto the regions that need cleaning, including the sections that are located beneath the rim of the toilet pan. To achieve a shining toilet, you should wait about twenty minutes, scrub it with a toilet brush, and then flush it once you are done.
Are bleach pills hazardous to use while cleaning the toilet tank?
Yes, since they can potentially deteriorate the rubber seals, which in turn might create leaks and other problems, the use of toilet cleaning products is strongly recommended.
What constitutes a toilet tank cleaner's active ingredients?
The active ingredients in toilet tank cleaners include sodium hypochlorite, a common bleach that cleans and whitens toilets; surfactants, which make stains on surfaces easier to remove; sodium hydroxide and solvents like benzyl alcohol and limonene, which remove grease stains from toilets; and acids like formic or citric acid, which break up the particles in stains.
Can you clean other surfaces using toilet tank cleaner?
Cleaning other areas using a toilet tank cleaner is possible, but you should proceed with care. As a result of its formulation, which is intended to do the heavy lifting for you, it is too powerful for grout, fixtures, and certain tub and sink surfaces.
In order to establish whether or not your cleaning product may also be used in locations such as showers or sinks, you should carefully examine the components and the recommendations that come with it.
Does cleaner for toilet tanks expire?
Yes. It is reasonable to anticipate that your toilet tank cleaner will serve you for around two years. Even though the container may not have a marked expiry date, the quality of all items deteriorates with time, making them less useful.
If a toilet tank cleaner is less effective, it cleans the tankless effectively and less effectively implies that it leaves more germs behind. If you use your toilet tank cleaner once a week, you should be able to use it all up before it expires, so there is no need for you to be concerned about that.
Conclusion
With the help of the best toilet tank cleaner, you will be able to remove all traces of filth, grime, hard water buildup, and other unpleasant substances. These cleaning products are very efficient and useful in a wide variety of settings and contexts.
Do you like natural things? We have got it. What about something suitable for septic systems? No issue. Our suggestions might be of assistance if you are looking for anything to remove tough stains.
When selecting a cleaner for the toilet bowl, make sure you do not overlook the most important aspects. This comprises the kind, performance, fragrance, septic safety, and budget, among other considerations.