It is fairly typical to make a mistake when selecting a toilet brush. The choice of a toilet brush is based on several factors, including the size of the toilet, the substance used to produce the toilet bristles, whether or not it includes a holder and more.
This is why we considered compiling a list of the best toilet brushes currently available. Some of these have stainless steel handles, while others have silicone bristles.
We have covered everything to get the best item that meets your demands and budget. In addition, if you like to conduct your research on toilet brushes, we will also offer you a buying guide that you may use as needed. So, let's get started!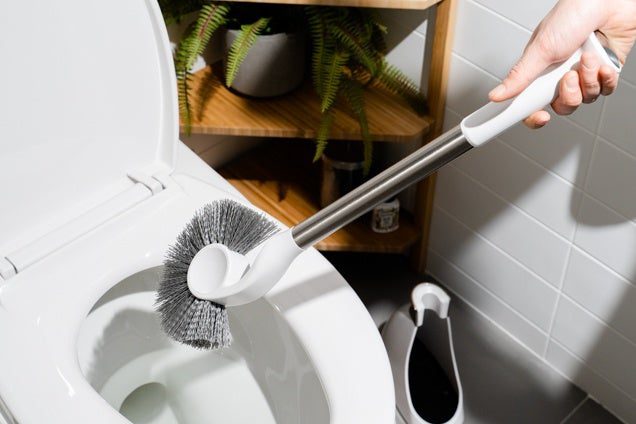 How We Made the List
Information
Now and again, new products are released to replace outdated ones. This item has probably been changed, and perhaps new features have been added.
Does the maker no longer support goods that are marketed as being excellent, such as the toilet bowl brush holder? We aim to highlight goods from a restricted group of reliable sellers—if not more.
Availability
Different types of toilet brushes are available from numerous offline and online retailers. After reading this evaluation, you should thoroughly understand these tools, allowing you to choose the best one. Like the ones on our list, many different brands and types of products are available online.
Natural and synthetic bristles
Weighing the advantages and disadvantages of natural versus synthetic bristles was crucial before choosing the products listed. Animal hair, such as horsehair or boar bristles, is typically used to make natural bristles. They can keep moisture and soap better than synthetic bristles since they are often more absorbent.
They may also demand more work to complete the task and are more prone to break down over time. Nylon or polyester are typically used to make synthetic bristles. They are more resilient but less absorbent than natural bristles.
As a result, if you're searching for a toilet brush that will endure for years, they might be a better option. The toilet brush that best suits your demands will ultimately be the greatest option. So, before creating this list, we thought about what was important to you.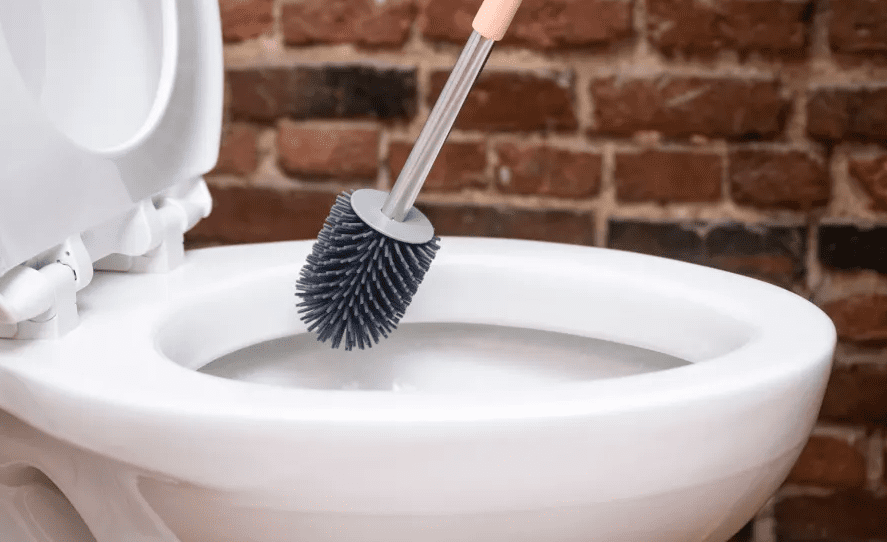 Best Toilet Brushes
Best Toilet Brush Reviews
The washable brush head on the BOOMJOY is constructed of chemical-resistant TPR and dries faster than regular bristles. The brushes have a rounded shape that allows them to fit into every toilet crevice and remove stains with little force. Because TPR is a durable and dependable material, you won't need to worry about changing the brush anytime soon.
You can use a damp cloth or light soap and water to clean the BOOMJOY's aluminum handle. Every aspect of the strong handle provides a pleasant grip. What's best? This brush for the toilet bowl features an original invisible tweezer design. The top of the brush handle can be removed to reveal tweezers for picking up hair or other small debris.
The brush is designed to fit into a premium thicker base that is strong enough to prevent leaks when not in use. The BOOMJOY is offered in white, gray, white/black, green, purple, pink, and white.
Also available is a two-pack that saves money. Compared to the OXO Good Grips, the BOOMJOY is one of the more affordable choices, but the brush in no way compromises quality for cost.
Features
Scrubs and eliminates stains on the surface easily and without leaving scratches; less prone to wear and strain; solid. Rusting is prevented by the improved aluminum rod material.
The BOOMJOY Toilet Brush Head's bristles are constructed of widely spaced synthetic-rubber spikes, which gives it a cleaner sensation than the other brushes while also making it easier to use.
Adding tweezers that slide into the handle's top is a clever design decision that lets you cleanly remove any ugly items left behind.
Due to its height of 16 inches, this item may be difficult to store in a bathroom cabinet. However, due to its thinness, it may be readily hidden under a toilet. Furthermore, the brush cannot be replaced because it is screwed onto the rod permanently.
Furthermore, the holder prevents bacterial growth and water outflow. One feature of the holder might be how it looks. When cleaning your toilet, this type of holder frequently topples over. Therefore, BOOMJOY created it with a low center of gravity so that it may still function even after a challenging blow.
The brush lasts a very long time and is constructed from high-quality silicone. It should be simple to use for washing. The brush handle has a highly ergonomic shape for pleasant cleaning.
The second product on our list is Sellemer, which rightly won this place because of its scrubbing strength. It scraped dirt easily and slid cleanly beneath the toilet rim thanks to its long, flexible, flat brush.
The Sellemer toilet brush not only performs a fantastic job cleaning the entire bowl but is also pristine after being rinsed off. Consider the Sellemer Toilet Brush if your regular toilet brushes routinely remove hair, toilet paper, or other stray debris from your toilet.
Generally speaking, we discovered that silicone bristles require a little bit more effort to scrub than plastic bristles, but this brush still did an excellent job. The Sellemer takes up little space on the floor, but it also arrives with a sticky tape that lets you stick the flat, rectangular holder to the wall, which saves even more room.
Like the BOOMJOY, the Sellemer is built of scratch-resistant bristles manufactured from ThermoPlastic Rubber (TPR). These brushes efficiently remove stains with little force and swiftly dry afterward. Additionally, the brush has a comfortable plastic handle that makes cleaning simple.
Features
Use soft TPR bristles to protect the toilet's surface while having a powerful cleaning capacity. The brush maintains optimum cleaning since neither it nor its shape ever wears out.
A secure holder and a special circular center of gravity prevent it from toppling over and falling. The base's open design allows for optimum ventilation and helps to keep it clean.
This toilet brush has a soft head that can reach into tight spaces and a comfortable grip—designed for thorough cleaning in tight spaces, including beneath the rim.
The Sellemer toilet brush and holder are simple to install without using any tools. With a pair of self-adhesive wall hooks, you can put your bathroom accessories on the wall to save even more space. Additionally, the toilet brush may be positioned on the ground, providing you with extra placement options.
The handle is composed of high-quality PP material, sturdy, comfortable to hold, and resistant to rust and corrosion. Cleaning is made simpler and takes less time, thanks to ergonomic grips. Thanks to the long handle toilet brush, your hands won't get dirty when cleaning.
The flexible toilet brush is constructed of silicone, durable and lint-free, won't wear out or change form over time, and provides excellent cleaning. Industrial-grade TPR bristles will give you a revitalizing cleaning experience while being safe for the toilet's glazed surface.
With the help of this trusty brush, keep your toilet dry and clean. Its modern style fits busy households. The holder is always kept firmly in place thanks to the non-skid base, and because of its stand-up function, it is always accessible.
You can be sure that every last bit of filth or grime has been cleaned from the plumbing fittings in your home thanks to the robust bristles' trustworthy design, which is made for deep cleaning in difficult-to-reach spots.
This sleek, storage-friendly design is simple to store when not in use and will fit into your little bathroom space. The warm, traditional style blends in with any decor plan and is ideal for guest rooms and half- or full-baths.
The Nacena Toilet Brush and Holder do the job like no toilet brush. This toilet brush requires only four simple steps to assemble and can be assembled within seconds. Take the handle and splash guard, and screw them onto the brush's pole's smaller end. Take the toilet brush head and screw it onto the pole's bigger end.
Features
Depending on the circumstance, you can decide whether to install a spherical, detachable stainless steel cover. Cleaning the toilet can stop sewage from splashing on your hands, and it eliminates the need for gloves, making it more convenient. You can clean comfortably, thanks to how good the stainless steel handle feels.
The TPR material used to make the brushes increases friction with the toilet bowl surface, making cleaning the bowl easier. Because the bristles are flexible and soft, you can easily clean tight spaces like the flanges, under the rim, and other difficult-to-reach places. It reduces cleaning time and is more effective because it avoids tangling hair and other stains. Just rinse with water to clean up.
The stylish brush kit's rounded base maintains its stability each time you remove the brush to scrub your toilet bowl and replace it properly: strong disinfection, thorough brushing from 360 degrees, and simple toilet cleaning.
It is suitable not just for residential use but also for commercial, medicinal, and industrial purposes. Although they are certain you will enjoy their product, you can return it for a full refund of your money within 30 days if you are not satisfied.
Unquestionably, this is among the greatest toilet brushes available. It is strong, useful, and made to eliminate all severe stains. The brush is tapered to access all the corners and angles effortlessly.
You will speed up the stain removal process thanks to the strong bristles. This brush's handle has an oval cross-section, which makes it easy to hold and keeps the brush from spinning in your head.
Its flexible neck allows it to reach beneath the rim and eliminate all stains. When you elevate the toilet, the canister automatically opens and discreetly stores the brush when not in use. The water can evaporate thanks to the drip tray's ventilation slots.
The air circulation keeps your bathroom hygienic and clean by preventing mildew growth. The brush has two types of bristles. The softer fibers will keep your bowl spotless, while the stiff ones are made to scour and remove stubborn stains from the rim.
When you finish cleaning, the brush will gather the least amount of water due to its design. The brushes are interchangeable and available in various colors to match your bathroom's decor. It prevents your hand from touching the mess, ensuring that your toilet bowl will be clean.
Features
The base may collect water droplets from the brush head to ensure a spotless bathroom floor. Since the brush head is not in contact with the base's bottom, it may be kept dry. The toilet has no odd scent and is secure and hygienic due to the base's optional sealing.
The flat brush head may be bent to properly meet the rim's angle, reaching under the rim. By bending the brush head upward, the brush head's tip is made to clean the toilet bowl's edge more effectively.
The toilet brush and holder are easy to tuck away since they fit into small bathroom spaces. Their compact, space-saving design keeps your toilet brush hidden and offers hygienic storage.
Soft, thick, and bristles are long and can clean very fast. Your toilet will be spotless in only a few swipes with this brush. A stainless circular splash guard shields your hand from the water and cleaning agents. This is the simpler, quicker method to maintain a clean, healthy restroom.
Thanks to the innovative canister design, the toilet brush can be kept close at hand. The brush head has tough bristles and a tapered design for deep cleaning; all you need to do is lift the brush, and the canister door opens automatically. The handle is pleasant to grasp.
Our list's final item comes from Nacena. It has a strong-bristled brush that thoroughly cleans difficult-to-reach areas for a stunning bathroom. When not in use, the brush rests in its holder for discreet storage.
The Nacena Stainless Steel Toilet Brush has a sleek, modern appearance. It has a canister and an integrated handle cover. Since the brush head is replaceable and tapered, it is a long-term option to maintain your bathroom hygienic and tidy.
This brush has a stainless steel handle and a special magnetic grip collar that allow for vigorous use and drip-free transport. The brush is kept inside a thin, dome-shaped cover on the container. It aids with brush concealment, and the bathroom is left spotless and glossy after usage.
As a result, this is the ideal addition to your home to keep the bathroom clean, hygienic, and beautiful. It has a molded cover fastened to the handle and close enough to the brush to pick up some water splatter and bacteria. Although it is inexpensive to replace when necessary, this is not good for the environment.
Features
This toilet is outfitted with a dense, flexible TPR brush head that has a rounded form to clean all of the toilet's corners and even reaches areas under the rim to scrape stains for a spotless bathroom.
The toilet brush is made of 304 stainless steel, stronger than regular stainless steel, and less prone to corrosion. Additionally, the cover always shields your hands from splashes when cleaning the toilet.
Pour cleaner into the holding canister after using it, clean the brush, prepare for the next use, and maintain a clean atmosphere in your bathroom. The heavy-duty canister holds drips and prevents stains in your bathroom.
With a 14.54-inch handle that is long enough for cleaning work and easy for daily cleaning, this toilet bowl brush and holder help you avoid using dirty water when cleaning your toilet and keep your hands clean.
The toilet bowl brush's sturdy, strengthened PP base won't topple over. The small size doesn't take up a lot of room, and the beautiful style goes with any bathroom decor.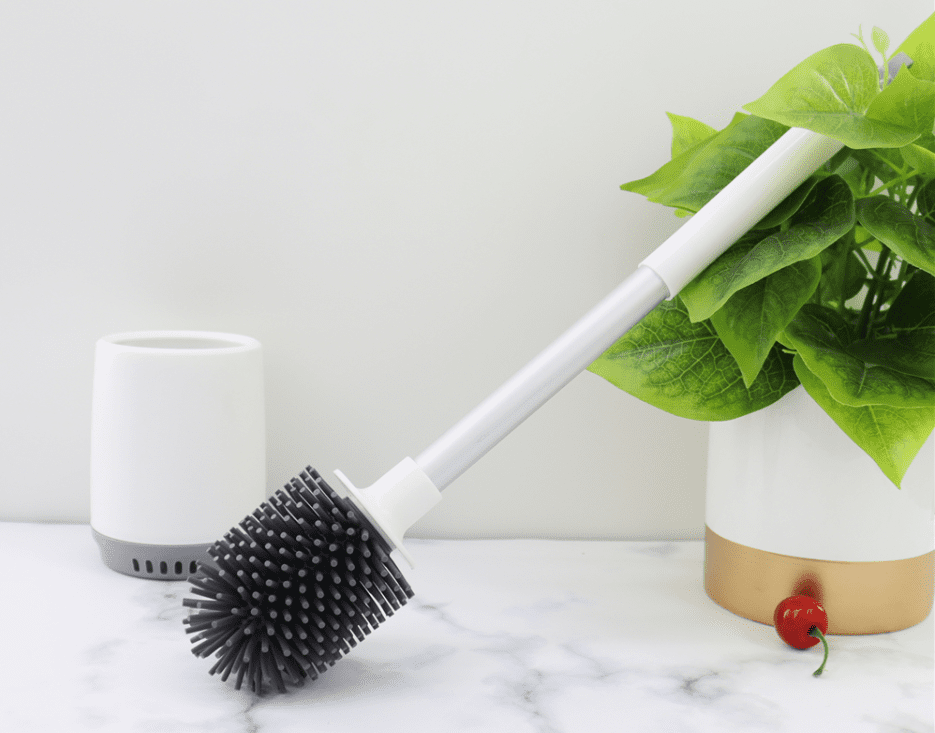 Factors to Consider While Choosing the Best Toilet Brush
Cleaner type
The three primary types of toilet bowl cleaners are wands, liquids, and capsules. Wands frequently have single-use heads that have already been saturated in the cleaning solution. The solution is released as soon as the heads touch the toilet water.
Cleaning solutions in a bottle are applied directly to your toilet. Tablets are easily used because they are flushed down the toilet after being placed in it. Wands and liquids often involve more work, although they are frequently more efficient and less expensive than tablets.
Stain type
Some stains need specialized treatment that you can't get with conventional cleaners. For instance, while most cleaners can handle simple limescale accumulation, they could struggle with rust. Read the product description to be sure your cleaner will remove the specific stains you are experiencing.
Related: Best Toilet CleanersBest Cleaners for Toilet Seats
Holder
Because it keeps your brush hidden and accessible whenever you need it, the holder is important. Ensure your brush is kept upright in the holder so you can access it easily. In order to reduce accidents, it must also be stable.
When not in use, a storage caddy or holder will keep your brush out of your eyes and can be stored in a cabinet or closet. Some holders have openings or slots that increase airflow, enabling your brush to dry more quickly.
To stop the formation of bacteria, you can also choose a brush holder that keeps your brush up and away from the base. Consider the holder's appearance as well because certain styles might enhance the appearance of your bathroom.
Size and weight
The size and weight of an object can have various effects on use. Look for a bathroom cabinet at least 15 inches short if you want to place your brush and container there. They will now be able to fit in contemporary cabinets.
Look for a container with a weighted base to ensure that it won't be unintentionally tipped over. On the other hand, since non-weighted bases are often much lighter, you might want to choose them if you want something that can be easily moved around.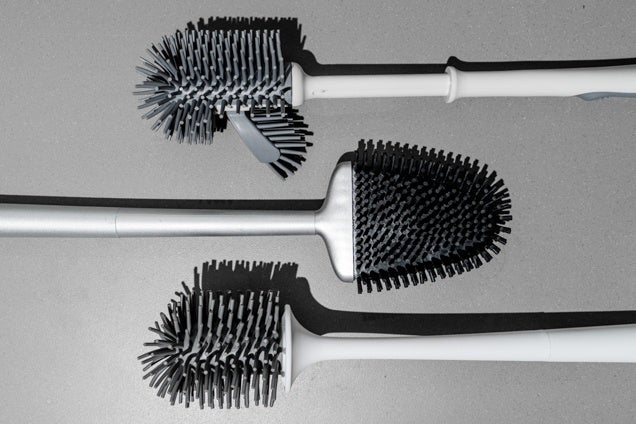 Brush material
It is wise to pay attention to the material used to create the brush because it greatly affects how long it will last. Make sure the plastic is high-quality if you choose to use it. The plastic of poor quality snaps easily when put under pressure. Additionally, it is very likely to melt if used with too hot water.
Pay attention to odor control
No matter what chemicals you use, bacteria will always stick to the toilet brush when you clean the toilet. When these microorganisms feed on the bristles, they release a gas that causes you to wrinkle your nose. Select a brush that contains antimicrobial treatments for effective odor control. This prevents the growth of offensive germs on the brush.
Check other extras
Every brush has a different set of supplementary features. Some have bristles that don't become soiled easily, while others have a unique grip that greatly increases maneuverability.
Other brushes are available with anti-slip handles to keep the brush from falling off your hands. Check the product description from our review and highlight any unique feature that might make cleaning easier for you to decide what other features you might prefer.
Price and reviews of the product
Bathroom cleaning brushes can range in price from reasonably cheap to rather expensive, depending on your budget. There are various reviews, but ultimately you must decide which product is best for you.
The cost and product reviews are the most crucial factors to consider when selecting a toilet brush holder. The toilet brush holder's size and shape must also be considered so that it may easily fit in your toilet.
The toilet brush holder's material must be considered because you need to know if it will hold up to repeated use. You need to select the best toilet brush holder from the many different models on the market.
Size of the bathroom
Size does matter when it comes to toilet brushes. A toilet bowl brush should be large enough to reach every crevice of the toilet bowl while also being tiny enough to fit comfortably in your hand. The brush head should also have flexible, soft bristles that won't harm porcelain.
Choose a toilet brush holder that complements the design of your bathroom from a range of sizes and designs. If you have a toilet that is particularly challenging to clean, think about buying an electric scrubber. Even the worst filth can be easily removed with these battery-operated tools.
Choose a toilet brush with a long handle if the toilet is difficult to access. Whatever toilet brush you use, ensure to completely rinse it after each use and allow it to air-dry to prevent mold and mildew formation.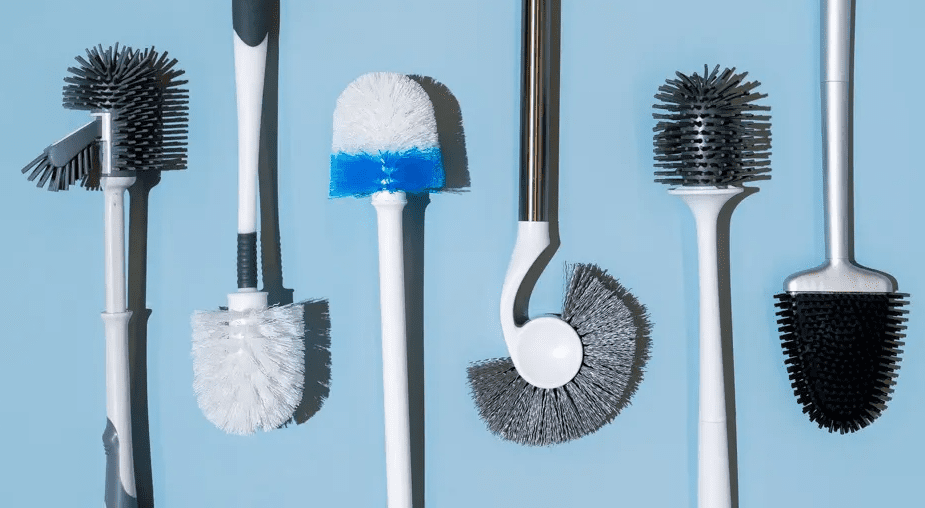 Types of Toilet Brushes
Bristled
Toilet brushes with bristles are made of synthetic materials like plastic or nylon. Animal hair was once used to make them, although that is no longer a widespread practice. Although they are still widely used, bristled toilet brushes are less hygienic than silicone toilet brushes.
However, because they can eliminate difficult stains, many people prefer them. The brush, however, requires more work to clean.
Silicone
Despite being relatively new on the market, silicone toilet brushes dominate the industry. They receive high marks from users for being more hygienic, cleaner, and less drippy and untidy than bristles alternatives.
In addition, while being relatively new and substantially more hygienic than bristles brushes, they aren't very pricey.
Electric
A bristle toilet brush is comparable to an electric toilet brush. However, it rotates or vibrates the head using electric power to get outcomes quicker. It eliminates the need for hard scrubbing and elbow grease in your toilet cleaning regimen. The electric strength of the brush can flick up dirt and bacteria; thus, they might not be more hygienic.
Commercial
Toilet brushes are crucial if you own a business, whether a hotel, cafe, or movie theater. You can easily choose a bristles brush because it's cheap, but a silicone one will be a pleasant present for the cleaners. But remember to change the brushes out frequently.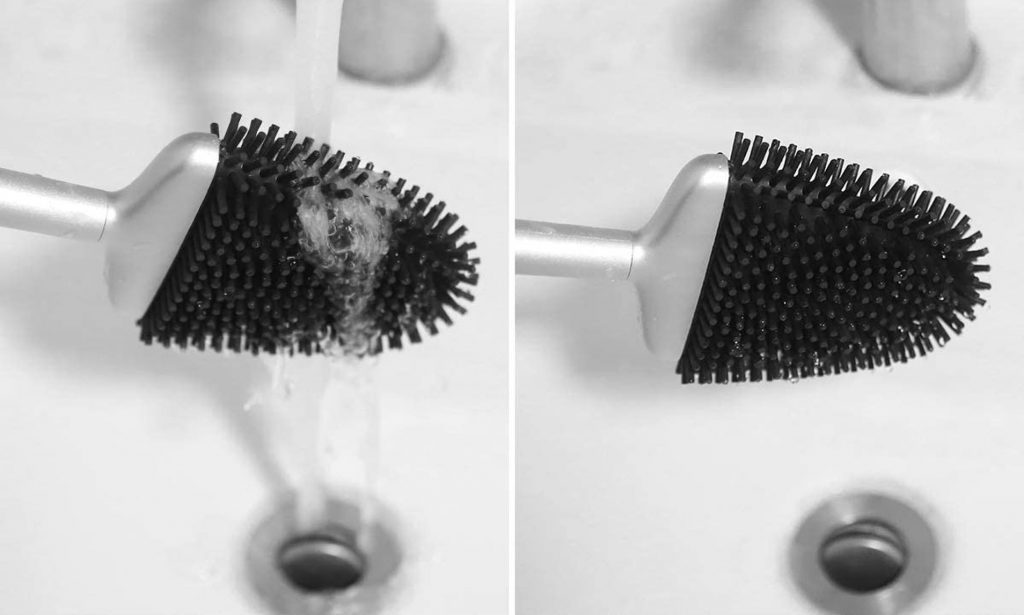 Frequently Asked Questions
Why is a toilet brush necessary?
Toilet brushes have always been used to wipe the bowls growing up. It was a necessity in every home as a cleaning tool. However, a fresh argument has recently been raised: refrain from using the toilet brush.
So, if you've come across this argument, realize it's only a matter of personal preference. A flat silicone toilet brush or a pair of plain rubber gloves are suitable substitutes. You can avoid all that effort and foul feelings with a toilet brush.
Additionally, the brush's hard bristles clear biological waste and stains easier than the alternatives. You need not spend as much time scrubbing, either. The design of the toilet brush encourages an efficient method of operation. Therefore, with it, you may finish this unpleasant work quickly.
Furthermore, these toilet brushes help prevent germs and bacteria in the bathroom. A cleansed toilet will stop the spread of unhealthy bacteria and illnesses. Consequently, individuals will live in a healthier and safer environment.
How often should a toilet brush be changed?
Every six months, generic plastic bristle brushes should be replaced because this is when the bristles often start to fray and deteriorate. If your toilet brush is of superior quality or doesn't otherwise exhibit evidence of use and abuse, it may last longer.
Is it better to use silicone toilet brushes?
Silicone bristles are preferable for cleaning and hygiene. They are cleaner and less likely to harbor germs, making them more hygienic. They will endure longer since they are also more sturdy.
How can I clean my toilet brush?
Spray the brush with a cleaner so that it drips after cleaning the toilet, and then after a few minutes, rinse it with hot water. You can soak the brush for an hour before rinsing it in a pail of hot water diluted with bleach for a thorough cleaning.
Conclusion
Purchasing the best toilet brush will dramatically reduce the time you spend cleaning your toilet bowl. Every dirt particle that could encourage the growth of harmful bacteria will be scrubbed and cleaned with a good brush.
To ensure your toilet is spotless, it can access all the nooks and crannies under the rim. Using a strong and dependable brush can keep your toilet clean and stop the spread of unpleasant odor. Ensure that the brush you purchase has a reliable holder that will keep it stored and accessible.