Most toilets, especially the old ones, tend to get clogged very often. So, besides a toilet brush to clean stains, you may also need to keep a plunger to clear clogs when they happen.
Instead of buying a brush and a plunger separately, getting a combo that comes with a storage unit may be a great idea. One of the advantages of getting a combo is that storage is designed for both brush and plunger and is compact enough to be kept near the toilet.
You can get an entire set of brushes, a plunger, and a container that may also have an aesthetic appeal. These are quite portable and are much more convenient to store or carry your cleaning tools from one bathroom to another.
But shopping for the best toilet brush and plunger combo for your bathroom may be slightly complicated. Because you need to consider all three things when making the buying decision.
My review will help you select the best toilet brush, a powerful plunger, and suitable storage in a single set. Cleaning toilets is going to get easier as you follow my guide based on my own experience to order the best toilet brush and plunger combo on the market.
How I Made This List
My list is based on several factors, including performance, longevity, and the product's value. I also took into consideration the style of the brush and plunger combo, as well as the holders that come along with this combo.
I started this process by selecting the top-rated toilet brush and plunger set on the market. Then I checked out customer reviews and discarded those with significant flaws or negative feedback.
I also compared the rest of the products and chose the ones with the best specs. Then I selected the five best toilet brush and plunger combos for my final list. Besides looking for a high-quality plunger and brush, I also considered the functioning and design of the holder.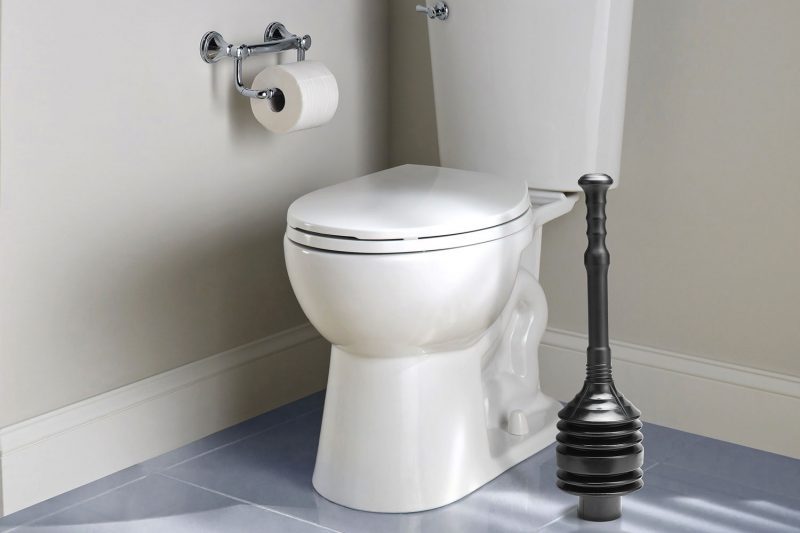 The Best Brush and Plunger Combo
The Best Brush and Plunger Combo: Reviews
It's a brush and plunger combo that doesn't disappoint you, even after a long time of use. This set has a small footprint and is suitable for small spaces. Besides being an effective toilet cleaning tool, I found that it is also a sleek-looking product with an aesthetic appeal.
The best part is that the canister has doors that open on their own when you take out the brush or the plunger. The canister doors stay open until you put the items back. With a touch-free opening, I didn't have to go anywhere near the dirt canister.
Besides its nice look, the brush has tough, long bristles that make cleaning very effective. Let me tell you what makes this set the perfect cleaning tool for your toilet.
Performance
You get a well-tapered brush head with solid blue bristles. It makes the brush efficient in removing tough stains and cleaning under the rim. The handle offers a nice, comfortable, and secure grip. I also noticed that the plunger works great even on low-flow toilets.
The brush head features durable bristles. The compact canister is ideal for small bathrooms. Its doors open and close automatically when the brush or plunger is removed or replaced, and I loved this feature.
Design
It's a modern-looking brush and plunger set that makes cleaning your bathroom very convenient. This product is available in white, and the brush has blue bristles. According to me, this compact but modern-looking canister will suit any décor. I also loved how the contoured handles looked.
This set looks very neat in your bathroom. It goes well with all kinds of toilet interiors. For me, this toilet could handle the majority of plumbing issues, so I rarely has the need to ring my plumber.
Highlights
It is made of plastic, so you don't get rust issues
Canister doors open and close automatically
The brush and plunger handles offer a secure and comfortable grip
Quite durable products
The set has a high-quality brush and plunger
The set looks very stylish
Sale
Eyliden Toilet Plunger and Brush, 2 in 1 Toilet Bowl...
【Compact & Convenient Storage】2 in 1 Toilet plunger and brush combo with individual holder provides simple and discreet storage that...
【Efficient Plunger】The suction cup is made of high-quality TPR, the soft and elastic toilet plunger creates an ultra-tight seal around...
【Durable & Deep Cleaning】Sturdy-bristled brush, Classic hemispherical brush head design will cover the rim of the toilet and deep cleans...
If you are looking for a stylish-looking and high-quality brush and plunger combo, this one could be an amazing option for you. Its sleek design may contribute to the aesthetics of your toilet. One of the main things I noticed is that these are compact enough to be unobtrusively tucked beside the toilet.
The brush has sturdy bristles for cleaning difficult stains without scratching or marking the toilet. I found the plunger to have an ultra-tight seal and was powerful enough to clear even the most stubborn clogs.
These are made of durable materials and are very suitable for intensive cleaning. At first, its looks made me a bit deceived, but it turned out to be very well-built and durable.
Plunger and brush meant for tough cleaning
Some stains cannot be dealt with most brushes. But this shatter-resistant plastic brush with nylon bristles worked fine for me for almost all kinds of stains. The brush is designed for 360-degree cleaning and even covers hard-to-reach corners of the toilet.
The sturdy bristles make cleaning hassle-free. The added angled bristles also allow you to easily clean under the rim. The plunger is very reliable in cleaning tough stains. The ultra-tight seal created by the soft and elastic plunger helps unclog your toilet.
The holder helps keep the floor clean
I loved the fact that its storage is designed to keep the brush and plunger dry after use. This helped me to avoid messing with the floor. The plunger locks into the holder, so I didn't have to carry a dripping plunger from one room to another.
The handles offer a comfortable grip for deep cleaning
I could easily clean the toilet without getting my hands or clothes dirty because its brush and plunger have very long handles.
The contoured handles also offer an easy grip, so I could clean the toilet at all angles without straining myself. The handle material is also quite strong and durable, so it didn't break even after a long time of use.
Highlights
The flange cup is effective against tough clogs
The compact design doesn't waste your bathroom space
The round head of the brush helps clear under the rim
The brush is made of shatter-resistant plastic and nylon bristles
The suction cup is made of high-quality TPR
The long handle helps avoid splash
The round brush head helps with 360-degree cleaning
Clorox Toilet Plunger and Bowl Brush Combo Set with...
TOILET PLUNGER AND BOWL BRUSH SET: Includes a plunger and toilet bowl cleaning brush as well as a coordinating caddy for convenient access...
HEAVY DUTY PLUNGER: Flange cup clears even the toughest clogs, and the long handle with comfort grip provides additional leverage for highly...
TOILET CLEANING BRUSH: Durable large round bristles makes cleaning hard-to-reach areas under the rim quick and easy, and it also features a...
This good-looking toilet plunger combo is also very efficient in keeping your toilet spotless and functional. The large round bristles helped me eliminate the stains from the toilet, including the hard-to-reach spaces under the rim.
I also liked that the brush has spaces between the blades, so no debris sticks in the brush. I found that 4 to 6 swipes are all that you need to do the job.
My favorite part was the flange cups, as they would get rid of the toughest clogs. The long and narrow profile helps with fast and effective suction on modern toilets. This plunger is also quite sturdy. Also, the handle held up under vigorous use for me, unlike several other toilet plungers.
The ventilated storage keeps the brush from sitting in a puddle of water. This allowed me to have quick drying, which in turn detered odors and bacteria.
The free-standing caddy offers convenient storage
The caddy has a compact build, and the plunger locks into it to easily carry it from one room to another. It offers discreet storage; I didn't have to carry a dripping plunger across the room and create a mess. Its no-slip base is another convenience that I noticed.
Its color and design are meant to blend in well in any bathroom. This combo is ideal for small spaces. Also, the absence of a sideways door in the caddy allows you to place this set very close to the toilet wall.
The ergonomic design makes these cleaners stand out
I found the design of this set so simple that it doesn't look out of place in any bathroom. The handles have a comfortable grip that provides additional leverage while cleaning. The grip handle didn't let the brush or plunger slip out of my hand even once.
Easy cleaning
The high-quality plastic is quite durable and can withstand intensive daily usage. It has a sturdy handle and fits nicely in the caddy. Also, the plunger was easy to put in and pull out of the caddy for me. Whether it's an old toilet or a new one, this gets the job done. It made cleaning my toilets less complicated.
Highlights
A free-standing caddy holds the brush and plunger when not in use
This heavy-duty plunger can clear the toughest clogs
The plunger locks into the caddy to carry easily
The compact size helps with discreet storage
Very useful for toilets that get clogged very often
The caddy helps avoid a mess when taking this to another room
These are very reliable toilet cleaning tools designed for ease of use and to clean impossible-looking stains in the toilet. While using the large round brush, I did not miss any spots while cleaning under the rim. No matter how hard I cleaned, it didn't scratch the surface, which was very impressive.
If you are looking for a brush to clean the biological debris and stains more easily, this set is your best bet. The brush has good stiffness to help scrub away the grime. Also, it's a lasting brush that keeps doing the job whenever you need it. Another advantage I found was its large cleaning head with crimped bristles.
The plunger has an extended flange for a tighter seal. This is engineered to work on all kinds of toilets, including the low-flow ones. In my experience, the rubber head and grippy handle made it easier to battle the blockage in my toilet.
The low-profile caddy makes for efficient storage
The caddy is small enough to be kept in any sized bathroom. I personally loved keeping this set between the toilet and bathroom vanity. These are designed to look nice and indeed, they looked very neat next to my toilet.
The rubber grip handle makes it comfortable to hold these
The best part is that I didn't have to turn my hands at uncomfortable angles to ensure all sides of the bowl were cleaned. The rubber grip handle makes navigating the entire range of toilet bowls easy without straining your hand.
Most users like how easy it is to use
The build and design of these tools help clean with less physical effort. I found its grip to be quite comfortable and secure.
The long handle allows me to do the cleaning without the splash. Although it may look like a traditional brush and plunger, I couldn't doubt its cleaning capability. The extended rubber plunger gave great results, even for older, low-flow toilets.
It surprised me how effective the brush was while cleaning under the rim. The compact size and easy storage add value to this product. People who had to discard several toilet plungers eventually will find this effective in clearing blockages for sure.
Highlights
The brush and plunger come in a coordinating caddy
These have a rubber grip handle
Both have a long handle
The brush has a round head to clean all areas of the toilet
The caddy has a small profile
MIBIO Toilet Plunger and Brush, Bowl Brush and Plunger...
【No Rubber Smell Plunger】The toilet plug rubber uses an environment-friendly material called TPV which has no unpleasant rubber smell.
【Powerful Suction Toilet Plunger】The rubber suction cup is commercial-grade. The small mouth can be easily recessed into toilets, shower...
【Long Ergonomic Handle】Long ergonomic handle will not splash on your hand when cleaning the toilet, convenient and effort saving.
The high-quality material and the ergonomic design make this a must-have plunger brush combo for toilet cleaning.
It's not just a good-looking toilet brush; it also hits all the right marks in performance. You can use it to scrub the bowl effectively. Looking at its long handle and all-around brush bristles, I can say that it is a competent toilet brush. 
The plunger is made with TPV, which rids you of that unpleasant rubber smell you get with most other plungers. The commercial-grade suction cup creates an ultra-tight seal. This results in a powerful force to remove clogs. For me, the extended rubber is also not too stiff.
The brush handle is long enough to keep your hands clean but short enough to let you work around the bowl. The thick and deepened thread on the handle keeps it from breaking during rigorous use.
The breathable ventilation holder prevents water accumulation
The caddy lets the bristles dry out after use. It allows for automatic evaporation, so I didn't have to deal with a dripping brush when I set out to clean the toilet in another room.
Another advantage I found on this set was that the narrow caddy can fit in the tightest spots. It's a good choice if you are short on floor space.
A reliable set to clean all kinds of toilets
Several factors made this a trusted brush and plunger combo for me, even for toilets with tough stains or blockages. These tools can pick up substantial grime without losing much water.
When I used it, the breathing storage allowed it to dry off between uses, so I didn't end up messing up the bathroom floor while cleaning the toilet. I very much liked the way this caddy works and that it's very portable.
Get easy access to all areas of your toilet
With this brush, I could easily access the hard-to-reach areas and found that it is also suitable for frequent cleaning. These products are made durable, and the handle is firmly attached, so it didn't come off ever.
It let me get under the lop of the bowl to scrub out the grime I couldn't see. It covers a wide enough area that I took a very short time to eliminate the grime while using it. You may scrub firmly with this brush to make sure you are lifting any stuck bits of gunk from the surface.
Highlights
The plunger has a strong rubber suction cup
Both; the brush and plunger have long handles
The plunger cup is made of odorless TPV material
The plunger provides strong pressure to remove stubborn clogs
The brush is capable of 360-degree deep cleaning
It has a replaceable brush head
The holder has a tray to capture any drips and keep the floor dry
How to Choose a Toilet Brush and Plunger Combo
Brush head features
Most brushes have a tapered or round design to cover all the areas of your toilet while cleaning. Toilet brushes come in different qualities; therefore, some are more durable than others. According to me, you should look for a brush made of high-quality material with a well-designed brush head.
The brush head should have firm bristles to clean tough stains. But it should not be too hard that it scratches the toilet. You must prefer a brush that allows you to clean under the rim with ease.
Size
As per my experience, the holder should be compact, so it doesn't occupy too much space in smaller bathrooms. A low profile also gives you the convenience of storing the tools next to the toilet seat or behind it.
Design
If you care about your bathroom like me, you must also pay attention to the look and feel of this brush and plunger combo. The holders or storage unit comes in various designs, with some aesthetic appeal.
Some of these toilet brushes and plunger holders may even suit the decor of your bathroom. You can choose the ones that go well with your bathroom fixtures.
Handle
You should always look at the kind of handle a brush or plunger has. It should have a comfortable grip and be long enough to keep your hands clean. Some handles have a different handle material for better grip, while others may have a different shape to give you a secure grip.
The handle should also be made of strong material so it doesn't come off during rigorous cleaning of the toilet. Make sure that the handle doesn't make it difficult to clean the toilet at different angles. 
Storage
The toilet brush and plunger combo come with varying types of storage containers. These allow a convenient way to store and carry cleaning tools. These prevent you from messing up the floor due to a dripping plunger or brush.
Some brands provide a storage caddy with the brush and plunger combo. A caddy occupies minimum space and is easier to use. You can easily put in or take out the brush or plunger without getting your hands dirty.
The storage usually has compartments to store the brush and plunger separately. Many of these storage units are made to look good while kept next to your toilet.
These containers may also have a system to store water dripping from the cleaning tools and may have ventilation so the brush and plunger may dry off after use, which has been of great help to me.
Material
You must prefer these to be made of either high-quality plastic or silicone. A brush with metal parts should be avoided as it can become rusted after some time. Also, the plunger should have a high-quality material that doesn't give off an unpleasant rubber smell.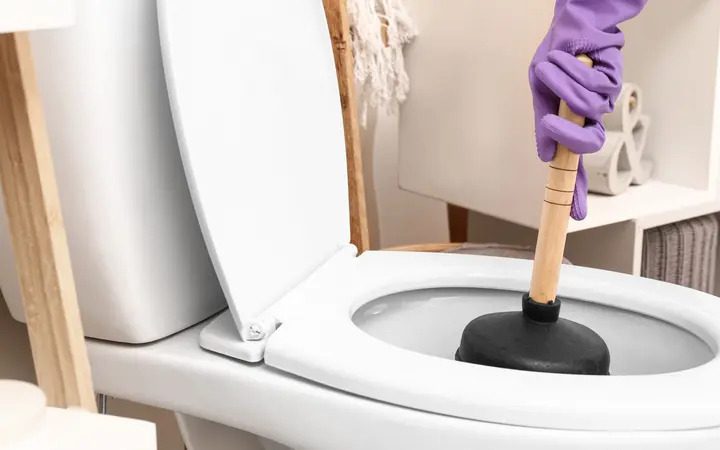 Frequently Asked Questions
What kind of toilet brush is the best?
Toilet brushes are available in different qualities. Some have high-quality plastic and nylon bristles; others could be cheap plastic that isn't very durable. The brush design is another important factor that decides how effective it is.
According to my experience, a tapered or rounded brush head could make cleaning the hard-to-reach areas more convenient. The grip on the handle should also be made to avoid slipping. When holding the brush to clean at different angles, it should not be uncomfortable.
Related: Best Toilet Brush
What type of plunger is the best?
Plungers work by creating a vacuum within the drain. This vacuum is used to unclog the toilet. The shape of the plunger cup should help create a tight seal so it can clear the clog.
A standard plunger has a rubber cup at the end of a straight handle. A flange plunger also has a soft rubber flap, which fits inside the toilet drain opening to create a strong suction to clear the clog.
Also, make sure that you buy a plunger with a good grip. It should be comfortable to use so that you don't strain yourself while trying to remove a blockage. A flange plunger is the best type of plunger to use in a toilet.
What is the difference between a cup plunger and a flange plunger?
A flange plunger looks quite identical to a cup plunger but also has a soft, smaller cup that extends down the bottom. This extended cup is called a flange, and it is designed to fit inside the toilet drain and create an ultra-tight seal.
Besides creating a stronger suction, a flange prevents the toilet water from entering the plunger or turning inside.
A cup plunger is mostly used to unblock sinks, while a flange plunger is meant to unblock the toilet drain. Although a toilet plunger may be used to clear clogs in a sink or shower drain, it may be unsanitary as the toilets' germs can spread to the sink.
What kind of toilet brush can clean under the rim?
You can look for a toilet brush with tough but flexible bristles and a round brush head. Brushes with a tapered head are also very efficient at cleaning tough stains under the rim. OXO, Mr. Clean, Clorox, Eyliden, and MIBIO are some of the best brands for toilet brushes that I have reviewed.
They create brushes with sturdy handles and very comfortable as well as secure grips. You may also like the canister or caddy provided when you shop from one of these brands. These containers are designed to avoid any dirty water from dripping on the floor.
What is the proper use of a toilet brush?
You should use a good quality toilet brush to clean under the rim of the toilet seat, around the edges of the bowl, as well as down in the drainage hole of the toilet. You should focus on scrubbing any stained areas, flush the toilet, and rinse the brush.
You can also use a toilet cleaner or disinfectant spray to make cleaning more effective. A toilet brush essentially helps to clean all the areas of a toilet that are not easy to access. So, you must use a brush with a round or tapered head to access hard-to-reach areas.
What is the best material for a toilet brush?
Most toilets have bristles made of nylon or silicone. The nylon bristles are more affordable and are also great for scrubbing. Although silicone bristles are easier to clean, they are not very efficient at scrubbing. Silicone bristles also tend to be more expensive.
High-quality, durable plastic should be the best material if you are looking for an affordable toilet brush. In my opinion, Silicone brushes may be a good option, but those can be costly. I don't see the point in buying a costly toilet brush.
What type of brush and plunger holder should I use?
The toilet holders may come in different styles of types. The main purpose of these holders is to store both brush and plunger in one place and to avoid making the bathroom floor unclean. However, some of these have a ventilation and water collection system to allow the brush to dry.
If the brush doesn't dry soon, this could lead to odor-causing bacteria and mildew in the brush. The holder should have a proper drainage system so the brush remains dry after use. It should also prevent the water dripping from the brush from messing up the floor.
Conclusion
If you want to keep your toilet clean and functional, buying a toilet brush and plunger set is an absolute must. But at the same time, you don't want a low-quality brush or plunger that is ineffective or non-durable.
A good-quality brush and plunger set could save money and help you keep your toilet clean. When you buy this combo, you may also get a useful container that helps you store the cleaning tools nicely and neatly without wasting the bathroom space.
Any toilet needs these tools to be clean and hygienic. Some of these brush, plunger, and container sets are designed to contribute to the décor of your bathroom.
Choosing the right product may make cleaning more convenient and enhance the look of your toilet. So, I have reviewed the best toilet brush and plunger combos that offer several benefits.
My review will help you know about the latest toilet cleaning products that are more comfortable to use and are great for deep cleaning every area of your toilet. These are also very affordable, so you don't have to rethink investing in a cleaner.