Cleaning the toilet can be made extremely simple by purchasing a toilet brush and holder from the market. The most fantastic brushes may also improve the functionality and cleanliness of your bathroom. Although you can buy cheaper brushes for a few dollars, some are worth a little bit more money and some even provide a more cost-effective choice with replacement brush heads.
Whatever you're looking for, it can be helpful to evaluate a few buying tips, brush kinds, and features to locate a toilet brush that fulfills your demands in terms of cost, design, and other factors.
That is why we built this list to give you the most incredible goods on the market. You can use the information provided to help you choose the best toilet brush and holder according to your needs.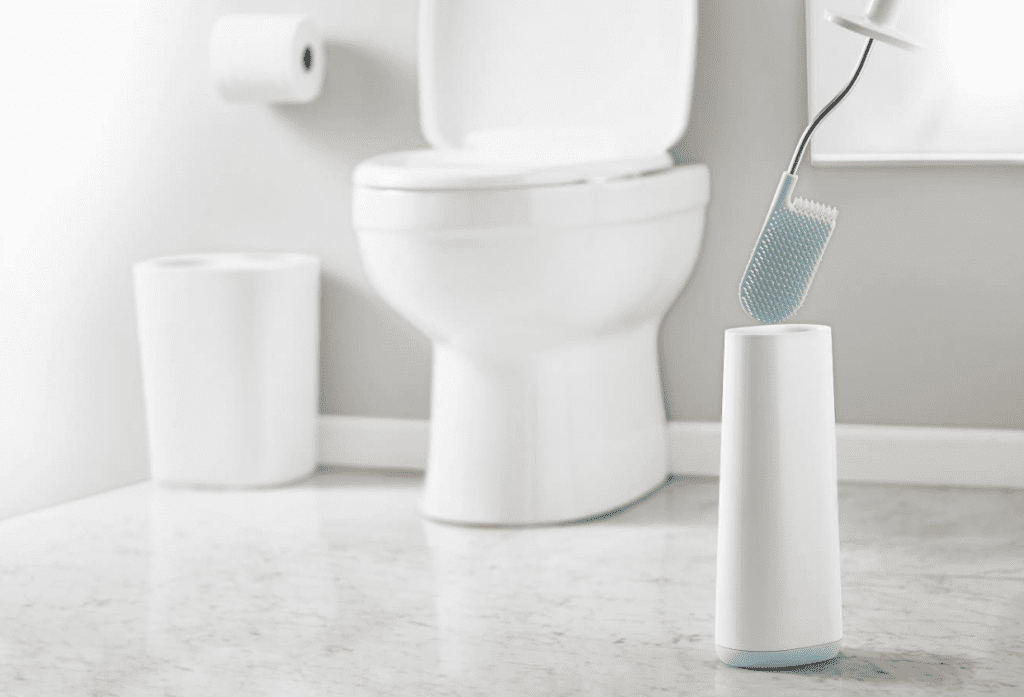 How Did We Make the List?
Material
Since many toilet brushes are made of plastic, they are affordable for people of all income levels. You can pick a plastic brush that matches your toilet and decor style because they come in various forms, sizes, and colors. However, some plastic materials may hold onto bacteria if they aren't disinfected.
Although stainless steel brushes are more expensive, they are less likely to contain unwelcome bacteria since they are simple to clean. Almost all brushes made of different materials have been covered on this list. So that you can make a better-informed decision, our list will give you access to a broader selection of brushes.
Brush design
The most common brush design has bristles that can scrub your toilet from all directions and rotate 360 degrees. These kinds of toilet brushes make up the majority of the items on our list. These are simpler to handle because you don't have to twist the brush much.
An angled brush is the most acceptable option if you want to clean your toilet's hard-reaching corners. Thanks to the tilt, your hand won't have to enter the toilet bowl too deeply when cleaning. Some brushes also include bristles that are pointed upward to assist you in thoroughly cleaning beneath the toilet rim.
Style
An ugly toilet brush may ruin your bathroom's aesthetic if you like to keep it looking decent. These types of toilet brushes and holders have been added to the list. Some toilet brushes include storage bases that allow you to conceal the brush and make it blend in with your decor. Additionally, you may get toilet brushes with decorative handles and stands that make them appear more like decorations than cleaning implements.
Value of the brand
Why would you buy a subpar brand that falls short of your requirements? There is a greater possibility that it won't be trustworthy. A well-known brand prioritizes reputation maintenance above everything else.
The best toilet brush and holder companies stand out from the competition because of their distinctive qualities. Therefore, we hope one of our listed items will satisfy your needs.
Details
You can always measure the quality quantitatively when you have access to numbers. The business we've added strives to produce more valuable goods than usual while maintaining a healthy balance between the toilet brush and holder.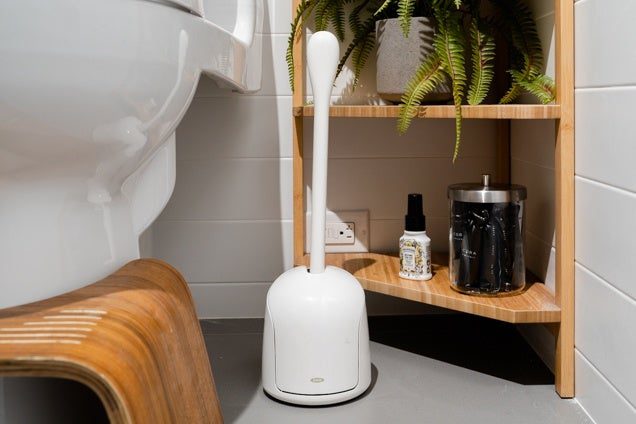 Best Toilet Brush and Holder
Best Toilet Brush and Holder Review
The first item on this list is the Jiga Toilet Brush. The bathroom toilet brush's handle and canister feature a sleek finish and are made of sanitary, rust-resistant stainless steel. When you wish to use the brush to clean the toilet, you can simply pull it out of the case. The brush rests comfortably in the stainless steel canister.
This cleaning tool, which has a tapered brush head and firm white bristles, makes it possible to thoroughly clean under the toilet rim and any other difficult-to-reach areas. Thanks to its odd shape, you may securely grip and hold the handle, even with damp hands.
By eliminating dirt and debris from these difficult-to-reach areas, you can keep your toilet appearing clean and brand-new. The stainless steel component makes these staples resistant to rust and corrosion. The simple, unobtrusive design allows this toilet brush holder to blend in with any bathroom's aesthetic.
When not in use, the holder conceals the brush inside so you can place it right next to the toilet without paying too much attention. Jiga Toilet Brush, in essence, maintains things tidy, hygienic, and straightforward. The cost is also quite appealing. It ranks among the gorgeous toilet brushes without a doubt.
Features
Your bathroom and toilet will always look their best with the help of this stainless-steel toilet brush. The brush set's stainless-steel construction is fingerprint-resistant.
This bathroom brush won't rust for years because it is made of excellent 304 stainless steel. No need to worry about whether any cleaner or liquid remains in the holder. A toilet brush can retain its elegance over time. This toilet brush is matte-finished rather than made of glossy steel so that it won't reflect bright light.
The shape of the toilet brush handle has been lengthened, and it has a cap to keep unclean water from getting on your hands while you clean. The handle of the toilet brush is rust- and waterproof. It may help keep your bathroom tidy.
You can quickly and thoroughly clean your toilet with a giant brush head constructed of soft, flexible, robust, and thick bristles. They advise washing the toilet brush with water right after usage.
Before shipping, every toilet brush with a holder is thoroughly inspected and tested. If there is ever a quality issue, kindly contact them, and they will resolve your issue within 24 hours.
The toilet brush is not only handy, but it also has a sleek, contemporary appearance. Your bathroom's appearance will be upgraded by the silver chrome design. Extremely ideal for bathrooms in both homes and businesses.
The mDesign toilet brush is discrete, stylish, and has a simple design that complements almost any setting. Only be aware that you cannot change the brush head. There are no vents in the holder to allow the brush to dry out in between applications, so you might want to clean and sanitize the brush and holder frequently.
This is a fantastic choice if you're searching for a traditional toilet brush and toilet brush holder. It features a design that occupies little room and is available in many colors, including white, black, marble, and bronze.
The brush holder is constructed from sturdy, rust-proof polycarbonate. Additionally, it is shatter-resistant, which will be helpful if a member of your family accidentally knocks it over. This specific brush features a chic body and bristles that improve the look of your bathroom.
Additionally, the small structure saves a lot of room. Its deep, thick brush head cleans just as effectively. You'll be able to scrub the bowl clean in no time. The firm bristles are flexible enough to reach concealed spots readily.
A disc mounted close to the brush head keeps water from splashing on you. However, many people might find the handle to be a touch too short. However, this mDesign toilet brush is made of superior plastic. As a result, it is a sturdy and practical brush for your bathroom.
Features
The circular brush head's bristles are made with soft, flexible, and dense PP material to ensure a thorough cleaning. Because the PP bristles are neither too hard nor too soft, they perform better than TPR or silicone brush heads. Additionally, they don't harm ceramic toilet bowls in any way.
A compact form fits into small bathroom spaces and is simple to tuck away. The sleek, contemporary style complements any design and is ideal for guest bathrooms, full bathrooms, and powder rooms. You can use it in a house, an apartment, a condo, a dorm, a cabin, an RV, or a camper.
If unsatisfied, they guarantee they'll replace the brush or give you a full refund. Whatever the cause, don't be hesitant to let them know.
If you want a toilet brush with an ergonomic handle, a helpful brush head, and a vented brush holder, then a mDesign toilet brush is an option. They assess not just the cleanliness of your toilet or bathroom but also the cleanliness of the toilet brush itself. The design is elegant & straightforward and goes with almost all toilet themes & styles.
With a height of just over 15 inches, the AmazerBath Toilet Brush and Holder have a small enough form factor to fit neatly inside most bathroom cabinets. Firm bristles on the brush make it perfect for complex cleaning tasks, and the brush head easily screws off to make replacement simple. It is fantastic that it comes with a vented design to help dry the brush fast.
When cleaning a toilet, this longer brush may also benefit those with back problems or other movement limitations, such as arthritis. The AmazerBath Toilet Brush and Holder Set is a multi-use brush with a fast rotating speed that cleans with little user effort. Regular brushing can help you keep your toilet spotless with little effort.
Although we appreciated the product's lightness, we discovered that the base is not weighted and could topple if placed in a location with a lot of foot traffic. You probably won't be able to fit third-party brushes in the future because the container was made specifically to match the provided brush.
Features
The toilet bowl cleaner brush is composed of high-grade ABS material that is flexible, robust, and simple to clean. The toilet brush never loses shape or wears out, maintaining flawless cleaning. Equipped with a dense, flexible PP brush head that has a rounded form and can reach all corners of the toilet to scrub stains for a spotless bathroom.
The base's vent design quickly dries any remaining water on the toilet cleaning brush, giving you and your family a cleaner, more hygienic bathroom.
With a handle length of 15 inches, the ergonomic toilet cleaner allows you to reach every part of your toilet, even the grooves, and clean it properly without using additional cleaning products.
Your floor should not become stained if you use this toilet brush and holder set. A secure holder is simple to set up on the floor to hold the toilet brush and prevent slipping. The smooth arc pattern at the bottom shields the bathroom floor from scratches.
The toilet brush set comprises a few simple elements that you may put together in only one or two minutes.
This quick-drying silicone toilet brush by Sellemer comes in a tiny, easy-to-store holder. It is a fraction of the cost of most of our other recommendations, making it a fantastic option for small bathrooms or confined places. It contains flexible, bendable, and simple-to-rinse silicone bristles.
They maintain their shape and cleaning effectiveness for a very long period and do not distort like regular bristles. The brush holder is easily placed inside the holder, freeing up extra space in your bathroom, and is vented to enable the silicone brush to dry fast.
The brush is kept out of contact with water draining away thanks to a drip tray in the holder, which also keeps your floor dry. The Sellemer Toilet Brush might be best if you want more scrubbing strength. It could take some getting used to if you are used to a toilet brush with stiff bristles or conventional bristles.
This toilet brush doesn't need to be permanently installed or drilled, which is another plus. This cleaning tool might be one of your most-used ones around the house at a low cost, especially if you're interested in a multi-use tool.
Features
The solid bristles and distinctive round-shaped toilet bowl brush may clean your toilet 360 degrees in-depth and eliminate even the toughest stains, making restoring it to new conditions simple.
The toilet brush handle is composed of durable, waterproof PP silicone. The handle can be entirely joined, preventing sewage from entering. No issue with rusty handles. Reduce the number of times you replace toilet brushes because of rust.
The toilet brushes with the holder are finished with a 16″ long extended length ergonomic brush handle that makes handling it simple. Additionally, an ergonomic brush handle can make it simple for you to clean the corners.
Sellemer Toilet Brush is useful for cleaning bathtubs, sinks, washbasins, and toilet bowls. The silicone bristles on the Sellemer Toilet Brush provide greater friction than those on conventional toilet brushes, requiring less effort and time to clean ceramic items.
Not only is the toilet brush holder small to conserve space, but the concealed toilet brush is also attractive and conceals the brush head. The best bathroom option is the concealed toilet brush since it has built-in drainage to catch drips and runoff.
Please contact them if you are unhappy with any of their products. They will offer you an appropriate solution and ensure your shopping is enjoyable.
It's vital to keep your bathroom's lines clear of blockages, which is why the BOOMJOY toilet brush and tweezers come in handy. The tweezers help remove hair and debris from the quick-drying brush head. The bottom of the base has been thickened to prevent tilting.
The holder has no cover, which is not ideal, given the small size. You can wash the brush head and the base if you discover that odor is a problem. Due to the absence of changeable brush heads, you must replace the entire set after a period of use.
This tool will save you so much frustration, whether you are a housekeeping manager at a luxurious resort or you have a moldy toilet. To completely clean all residues, a brush composed of a material that mimics rubber gets up into and between the water outlets under the rim.
Also, the brush is as clean as new. The BOOMJOY thoroughly cleans. The nice aspect is that it requires little physical effort! Cleaning could be challenging at first, but it will be much simpler after you get the hang of it.
Features
These brushes are soft but dense and robust, never collect hairs, and are not dangerous to ceramic tiles since they are built with gentle TPR bristles. The maximum contact surface reaches every dead corner compared to a regular toilet brush. It easily removes corner stains and penetrates deeply into pipes and grooves. You may thoroughly clean confined spaces with this toilet brush for gleaming bathrooms.
The clean tweezers are neatly concealed in the top of the brush handle on this toilet brush. You can just take out some tweezers and pick up any hair that has stuck. It maintains optimal cleanliness and comfort in your bathroom.
The brush head is intended to reach all corners of the toilet bowl and dries rapidly after each cleaning. When you're finished, place the brush in the strong polypropene (PP) base without worrying about spillage.
It is made from a sturdy, long-lasting aluminum rod that is soft on your toilet bowl. The container makes storing and accessing your brush simple, and the soft bristles are ideal for removing tough stains. It enables quick and thorough drying of the bristles after usage. It might stop dirt and grime from accumulating.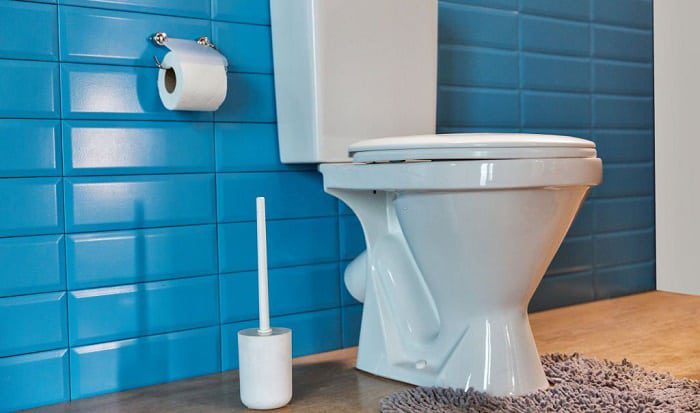 Factors to Consider While Choosing Toilet Brush and Holder
Scrubbing head
Just as crucial as the bristle quality is the design of the scrubbing head. Many standard toilet brush designs can't reach every crevice in a toilet bowl, necessitating the use of additional instruments to clean it thoroughly. A robust and well-made brush is the finest choice for a cleaning equipment investment.
The bristles, however, are different between electric and disposable brushes. Electric brushes are easier to maneuver and don't require as much power, allowing you to reach areas that a typical brush wouldn't ordinarily be able to reach.
For single usage, disposable brushes frequently have a general shape and a softer head. Selecting the best toilet brush for your needs will be made more accessible by looking at several scrubbing head options.
Brush holder
Your toilet brush holder is just as crucial as the brush itself. The holder should have enough airflow to promote speedy drying and odor management. Additionally, think about how much area you have for the holder on the restroom floor. A wall-mounted option might be your preference.
Size
The size of toilet brushes doesn't vary greatly; however, the measurements may vary depending on the brush's actual shape. Round brushes frequently require more storage space than narrow brushes, which can fit in a slim, narrow container (usually 4 inches in diameter).
Choose a narrow brush if your toilet is very close to a wall or if you want to conserve space. Weight is something else to consider, particularly if you have to relocate your toilet brush from one bathroom in your house to another.
Reusable vs. disposable
The more environmentally friendly choice is a reusable brush because it stays in your bathroom and needs frequent cleaning as you use it. Most consumers want reusable brushes that will last long enough to feel like they have received their money's worth.
Disposable brushes are helpful, nevertheless, for several reasons. They are preferred when you require a way to dispose of the brush after the job is over or for quick disposal before relocation.
Price
From less than $5 at your neighborhood grocery store to far over $100, toilet brushes range in price. You should buy a reusable toilet brush for your home around twice a year. It is entirely up to you how much money you feel comfortable spending on this bathroom cleaning gear.
It's vital to remember that the brush's cost does not necessarily indicate how effectively it will clean your toilet bowl. Disposable toilet brushes will also increase costs when you need to purchase replacements.
Material & durability
Whether you want to admit it or not, the bathroom is more harsh and humid than the rest of the house. There is heat, humidity, and other things. A toilet bowl brush will eventually rust and deteriorate in such a location. Perhaps this is the reason why you should consider durability to be a key attribute.
The materials used in something's manufacturing significantly affect how long it might last. Either plastic or stainless steel toilet brushes are available. Despite stainless steel's unmatched lifespan, we do not suggest it if your bathroom is still humid. Select high-quality plastic instead.
Handle material and length
The toilet brush handle can distinguish between a decent brush and a superb brush. The handle should be flexible enough to allow you to scrub without being in the way. The cleaning procedure can be hampered by handles that are too long, too short or that bend at an awkward angle.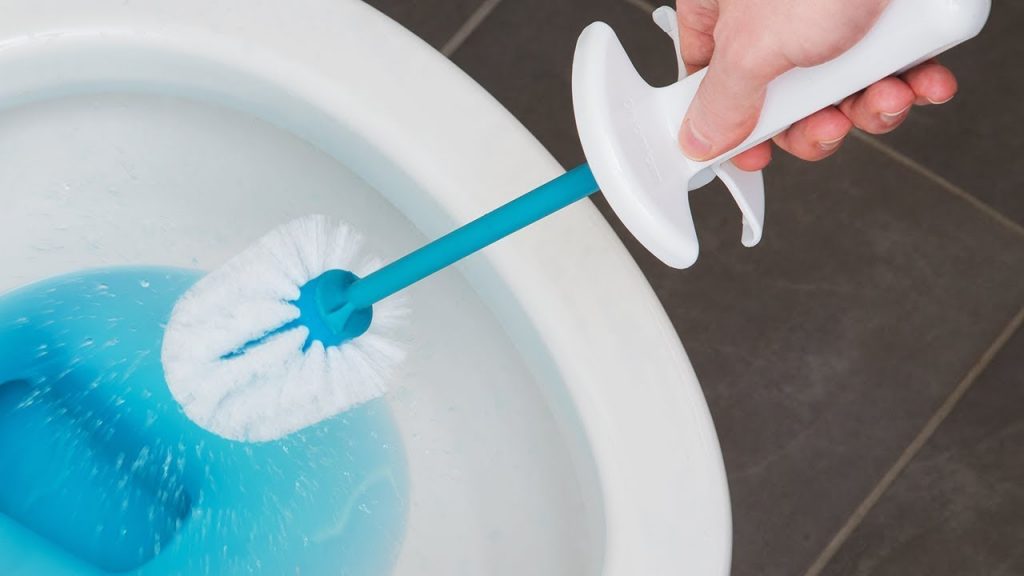 Frequently Asked Questions
Does the toilet brush holder make a difference?
While most brushes offered a consistent level of cleaning, the holder or canister containing the brush was what helped some of them stand out from the competition. Have you ever thought about the variety of toilet brush holders available and how they affect the lifespan of your brush?
You have your towering canisters, which are visually appealing but offer little or no ventilation. Both wall-mountable solutions and open-top storage containers are available. There are now fixes for all your issues if you've been left dirty by a brush holder that overturned, pouring weeks-old, pooled toilet water on your floor, or if you don't have enough floor room even to store a toilet brush.
When should a toilet brush and holder be cleaned?
The toilet brush and holder should ideally be cleaned and disinfected at least once a month. The brush holder should only require a thorough cleaning once a month if the brush is allowed to dry completely before being reinserted. However, you must clean the holder at least once a week if the brush is not cleaned or allowed to dry after each usage.
How is a toilet brush cleaned?
You can clean a traditional toilet brush by soaking it in toilet cleaning in the toilet bowl, then flushing to rinse it, or by soaking it in a bucket of hot water with bleach or bicarbonate of soda. Add the last spritz of antibacterial spray to complete.
Although it is theoretically possible to clean silicone toilet brushes in the dishwasher, there are many reasons why this may not be appealing. As long as all plastic components are removed, you can boil them because silicone can survive considerably higher temperatures.
Most users find that a hot water rinse followed by an antibacterial wipe works best, but you can also use the same methods with a conventional toilet brush.
What should you avoid in your search for a toilet brush?
It makes sense to avoid using toilet brushes that are too big to tuck below the toilet or next to it. Move on if a toilet brush's base appears less stable than ideal. The brush tipping over and spilling water over the bathroom floor is one of the worst things that may happen when you put it back into the base after usage.
Also, believe what you know. You probably have used or owned a toilet brush at least once. Remember the characteristics that did not serve you well when considering your selections.
Is it a good idea to use toilet brushes?
Although there are differing views on the internet, it can be challenging to clean your toilet bowl without one. The idea of keeping a dirty, germ-filled brush around the house is the main objection; thus, disposable brushes are a possibility, although they raise environmental issues.
Overall, we believe using toilet brushes is an excellent idea, exceptionally if you choose a more hygienic silicone design. In addition to being less gross than a disposable brush, it is also more environmentally friendly.
Will the toilet brush clean beneath the rim of the bowl?
Some of the products mentioned above include designs that make cleaning toilet rims easy. There are some simple workarounds if your standard brush isn't made to perform well with rims. Consider putting a paper towel soaked heavily with white vinegar under the rim. While cleaning the remainder of your toilet, let this sit. Then scrub it with a little cleaning brush.
Conclusion
This concludes our review of the best toilet brush and holder. Although this is most likely your least favorite household duty, you should not ignore it. To maintain the utmost cleanliness in the bathroom, treat yourself to a high-quality toilet brush.
The best suggestion is to pick one with guaranteed sanitary features, such as silicone bristles and ventilation in the base. You can choose a different product from those provided, but you will need to conduct your own research.
You can take advantage of the buying guide that we have provided in this article. We sincerely hope our information was helpful and enabled you to make an informed purchase.