Any toilet brush's primary function is to scour dirt and germs out of the toilet bowl. However, you might not know how many different toilet brush selections are available now.
The very best toilet brushes have to be capable of fully removing stains from a toilet bowl. However, how can you pick the best brushes when there are so many possibilities available?
So, no need to worry! We have compiled the list of the best toilet bowl brushes on the market for you. Without further ado, let's get started!
How We Made This List
Bristle
The toilet brush is valuable because its bristle is of high caliber and durability. TPR or polypropylene bristles are incredibly strong and will survive for a very long time, even under heavy use. Additionally, they are scratch-proof, protecting your toilet bowl from damage. You might wish to research bristles that are naturally quick-drying as well. We went with the brush that had the nicest bristles.
Handle
When cleaning the toilet, you grasp the handle, which also holds the brush head. You need a handle that won't break easily since occasionally you might need to use a bit more effort when cleaning toilets. The handles may be made of plastic or stainless steel, depending on the brand.
In addition, cleaning a toilet bowl can be a messy process in which dirty water can quickly spray on your hands. Some manufacturers even include shields on the handle to prevent spills from getting on your hand. So, we select the top toilet bowl brushes based on necessity.
Simple to clean
To avoid using a dirty brush that spreads germs, your toilet brushes should be simple to clean. We looked at enclosed brush holder systems where you may combine bleach and then submerge the brush when finished. You can take out your brush and let it air dry after a few hours.
Quick-drying
We made sure the toilet brush had dried completely to prevent unpleasant odors. We select brushes that include a drip-catching holder so that the brush can dry. Some toilet brushes don't have the open backs that most do to promote airflow.
Price
Although they are not expensive to purchase, pricey toilet brushes are available. Choose any of those options based on your budget. The brushes we've chosen for this article won't break the bank.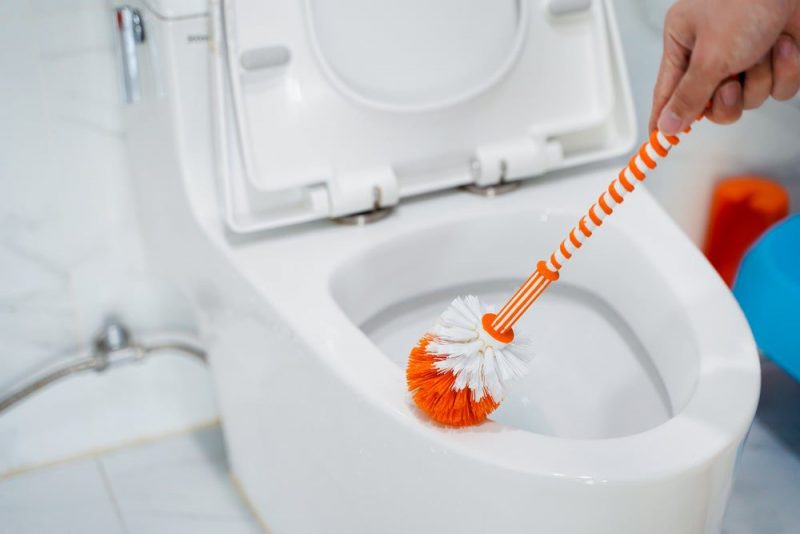 Best Toilet Bowl Brush
Best Toilet Bowl Brush: Reviews
The OXO Good Grips Compact Toilet Brush is a high-quality item with a safe, comfortable grip and a tapered brush head with strong, rust-free bristles for cleaning tucked-away spots, and a tapered brush head. We especially like the storage canister's included ventilated drip pan, which swiftly evaporatively disposes of used water.
Due to its 17-inch height, the storage canister, while incredibly helpful in preventing water from evaporating, may not fit in all bathroom cabinets. Additionally, you'd be better off waiting for the liquid to evaporate as there is no simple way to empty this storage canister without producing a mess. The top item on the list of bathroom necessities is a decent toilet brush.
The handle can be held securely and comfortably. Additionally, the brush has easy access to the bowl's bottom and rim. To clean the deeper corners, though, you might not be able to because the brush head is not angular. The canister-like holder can be used to keep the brush after cleaning is complete.
But first, be sure to give the brush a thorough drying. There is insufficient ventilation and breathability in the holder. As a result, water that may flow out will collect at the bottom. Both the floor and the holder may become stained.
Highlights
Superb design
The stand is just as well constructed as the toilet brush itself. It looks discrete and organized when closed, totally concealing the brush when it is inside. Simply pick up the brush and separate the two halves to open it. Additionally, it has a bottom drip tray that is wipeable and ventilated so that any extra liquid can evaporate.
The brush's handle
Since it is substantial and can get into nooks and crannies, the blue section serves as the toilet scrubber. The fact that the waste is not confined makes you feel relaxed. Like the brush, we adore the handle. It effectively hides the toilet brush, and we believe this is partially due to the way the tapered brush head holds the brush bristles in place.
Performance
This Oxo good-grips toilet brush has strong blue bristles and a well-tapered brush head that will effectively remove any difficult stains from your toilet bowl. It works wonders for cleaning beneath the rim, and thanks to the handle's ergonomic design, you may use it effectively whenever you need to.
Customer experience
Overall, this product by OXO is excellent. Customers adore the way it appears, how it functions, and lastly, how much it costs. Customers often remark on how simple it is to use.
Customers typically don't like plastic bristles, so we looked for toilet brushes that were simple to wash. We are pleased to have discovered a silicone-bristle toilet bowl cleaner brush. It includes a flat, flexible brush head that allows you to clean the toilet bowl on all sides. The toilet brush is the pinnacle of proper hygiene!
It is a reliable instrument for cleaning a dirty toilet. As you move around the bowl, the dirt is kept covered by the brush's pattern. Toilet water splashes are nothing to be alarmed about.
Since you won't have to strain to keep it dry and clean, it is the most hygienic toilet brush available. Because of its hanging holder and ventilated bottom, this one drains beautifully and swiftly.
You won't see any unpleasant stuff because nothing sticks to it. It is a little toilet brush that fits in a small space between the toilet wall and the bowl. Therefore, it fits in small bathrooms. No damp, filthy brush heads will be present for sanitary reasons.
It won't tangle with hair strands either. As a result, clogged shower drains can be cleared with its help. All of its components, excluding the brush, are composed of plastic. As there is no metal, there cannot be any rusting.
We have nothing negative to say about this product. Nevertheless, we don't appreciate waiting for its availability because it occasionally runs out of stock, despite our impatience. Only products of this caliber and effectiveness will ever be in demand.
Highlights
Simple to clear a dead corner
The flat brush head may be perfectly bent to meet the rim's tilt and reach underneath. By bending the brush head upward, the brush head's tip is made to clean the toilet bowl's edge more effectively.
Base ventilation slots
To ensure a better drain, the holder's interior has a drip slot. The ponding water problem has been significantly resolved because it no longer leaks from the base's bottom.
No tangles problem
Hair and other filthy foreign things are harder to entangle in larger bristles. To get rid of the hair, simply give the brush a good rinse.
Strong and rust-free handle
The handle of the toilet brush is composed of durable, waterproof PP silicone. Sewage cannot enter the handle if the handle is fully linked without any holes. You will have zero issues with rusty handles.
Customer experience
Users claim that this Sellemer bathroom toilet brush is the best silicone brush available. They assert that they can swiftly and easily clean the toilet without exposing themselves to a lot of dirt.
BOOMJOY Store is an Amazon seller with more than 1,437 customer reviews in the past 12 months. On Amazon, this vendor has a significant following. In order to determine that this is a skilled team-run Amazon firm, we reviewed a lot of customer reviews regarding their store. This denotes that the seller is a top seller due to the volume of sales they have generated.
The task is made simpler and easier than ever with the BOOMJOY Toilet Brush. It is a cutting-edge stainless steel rod and plastic base toilet brush made of silicone. Soft, stretchable, and flexible describe the silicone bristles. except for the bristles, its silicone brush head resembles a conventional one.
Although you'll need to scrape with greater force, the flexibility lets you thoroughly clean your toilet. The bristles effortlessly access even the most challenging, deep spaces. Additionally, they barely scrape the surface. These are not even broken or torn. Therefore, you are free to use it regularly and roughly as you see fit.
Additionally, washing the brush head is simple. The residue doesn't adhere to the surface as it does with conventional brushes. Everything is removed, giving the brush head a brand-new appearance.
But before storing the brush, let it dry. There is no drainage system in the brush holder. As a result, the water collects at the bottom and possibly even leaks out. Additionally, the toilet brush has a covert tweezer attachment that you may use to remove any stuck hair or garbage.
Highlights
Simple to clean
If the brush head becomes dirty, it is simple to clean. Dirt and debris will simply run out when you rinse it with hot water. The head dries extremely quickly, preventing the growth of mold and mildew.
Great caliber
Enjoy the rust-resistant, dependable, and sturdy stainless steel brush pole. After each use, wipe this down with an antibacterial cloth for utmost cleanliness.
Aluminum rod & TPR bristle
Reduces the likelihood of wear and tear, is tough and resilient, and quickly scrubs and eliminates stains from the surface of the stool with just minor scratches. Rusting is prevented by the improved aluminum rod material.
Washable brush head
No areas for stains to hide, and the brush head dries quickly after cleaning the toilet, so it won't get dirty.
Customer experience
Make the change and stop looking back! Customers like it because it is much simpler to maintain than a conventional bristles brush. Simply shake it out, let it air dry for a few minutes, and then put it back in the holder so it won't leak muddy water.
The Bath Bliss Toilet Brush Set is an aesthetically pleasing way to display and keep track of your toilet brush. The brush and the elegant storage container are both unobtrusive and will serve as a lovely touch to the majority of different bathroom decors. The handle and canister of the bathroom toilet brush both features a rust-resistant finish that is smooth to the touch and is manufactured from a material that is resistant to corrosion.
A long-lasting bristle brush with a rounded head and a design that allows it to be concealed while the product is not in use is also included in the set. You can give the toilet a thorough cleaning with the bristles' 360-degree round design, and the slim handle makes it easy to access those areas of the bowl that are otherwise inaccessible.
When you remove the brush from its holder, the toilet brush holder's lid will automatically open, and it will then close again when the brush is replaced. When the brush is stored in its holder with the lid on, it prevents the spread of any scents that may be present. The use of this toilet brush will help maintain the cleanest appearance in both your bathroom and your toilet.
Highlights
Brush head rotating at 360 degrees
The form of this brush head, which is round, enables you to clean those hard-to-reach locations, removing dirt and debris so that your toilet always looks clean and brand new.
Stainless steel
The greatest possible appearance will be maintained in both your bathroom and your toilet by using this toilet brush made of stainless steel. The brush set does not pick up fingerprints because it is made of stainless steel. The opening on the top allows air to circulate the brush, helping to keep it dry and also providing support, allowing it to stand up straight.
Fashionable design
This toilet brush holder has a design that is unobtrusive and straightforward, making it suitable for use with any kind of bathroom decor. You may keep the holder right next to the toilet without it being too visible because the brush is hidden inside the holder when it is not being used.
Automatic lid closure system
The lid of the brush holder can be closed on its own when not in use. The lid pops open when you remove the brush and remains in that position. The top will then automatically close behind the brush as it is reinserted. There is no need for you to be concerned about your hands contacting the lid.
Customer experience
This brush is great according to the customers. They say that it's so much better than the plastic ones. They love that it looks and stays clean. They also liked its functionalities and the automatically closing lid.
The Nacena Toilet Brush and Holder is a toilet brush unlike any other in that it is both fashionable and durable. It has a traditional-style plastic brush head and a long stainless steel rod. It also has a stylish base holder. In the construction of NACENA, premium-quality materials were utilized.
The ride is made of 304 stainless steel, while the base is thicker PP plastic. The set is strong and long-lasting when used together. Therefore, you can use it frequently and intensely without having to worry. The return on this investment will be years!
The Nacena Toilet Brush and Holder have a non-slip ergonomic extended handle that is easy to hold, and the bristles are made of soft and durable material, which facilitates cleaning.
Additionally, the thick and dense brush head gives you the ideal instrument to easily remove even the toughest stains. An iron ring also exists to stop the contaminated water from splashing.
The grip could be uncomfortable due to the lack of wrinkles and grooves. The Nacena Toilet Brush and Holder, however, has a rich profile that makes it worth every single penny when you examine its qualities as a whole.
Highlights
Has a hidden toilet scrubber
The brush head inside the base is concealed by the metal cover, maintaining the base's aesthetic beauty and keeping hands from becoming drenched in filth.
Strong bristles
Deep clean the toilet with a strong-bristled brush, including inside the pipe and under the rim. The brush is convenient to store and has its holder.
Handle made of stainless steel
To prevent corrosion and rust, it is not permitted to soak in toilet cleaning. Rinse with fresh water after usage, then quickly dry before maintenance.
Stable base
The sturdy base of the toilet bowl brush is made of high-quality PP that has been thickened. The attractive design complements any bathroom decor, and the small size doesn't take up much room.
Quality control
Please feel free to contact us if you have any queries regarding our products; we will do our best to help.
Customer experience
This product has very few reviews online. From the few reviews we found, customers seemed delighted about the product. They were happy with the company and the product's quality. Its bristles, being soft and durable, are very much appreciated by the customers.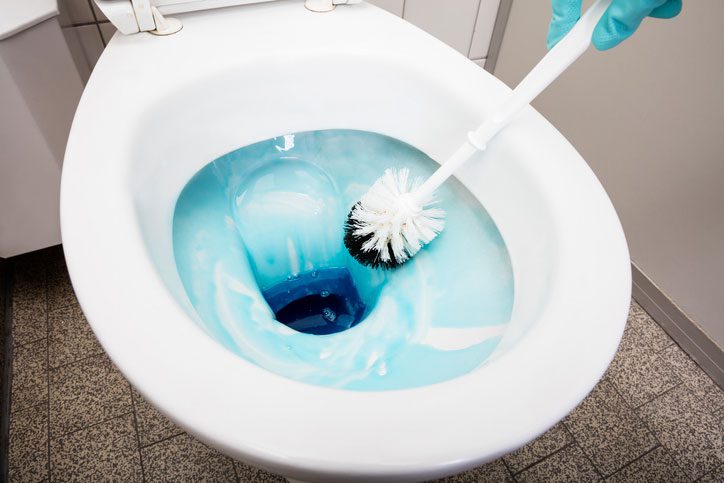 Things to Consider When Choosing the Best Toilet Bowl Brush
Toilet brush varieties
If you've always believed that there is just one kind of toilet brush, you're mistaken! Different varieties of toilet brushes exist, and they differ from one another in terms of construction and styling. The following are some of the most typical brushes:
Traditional hard toilet brush
Silicone toilet brush
Mop-style toilet brush
Electric toilet brush
Disposable toilet brush
Scrub brush
All of these have various advantages and disadvantages. For instance, a silicone toilet brush takes a long time to scrub because of how soft it is. However, it enables you to access any angle.
A similar restriction applies to an electric toilet brush when it is charged or linked to a power source. Additionally, a disposable one harms the environment. So, before making a buy, properly evaluate each.
Bristles quality
The toilet brush's bristles are the most crucial part. It is what will make cleaning the toilet easier and more convenient.
In case you're unaware, the hair-like structure sticking out of the brush is called a bristle. The rigidity, thickness, and quality of these vary. Toilet brush bristles typically come in two varieties: hard and soft.
The tough ones are upright and firm. These complete the task quickly when used in conjunction with the appropriate amount of pressure and cleanser. These bristles, however, do not bend, making it difficult to thoroughly clean the bowl's rim and corners.
A soft toilet brush will be useful in this situation. You might need to spend a bit longer scrubbing, but you won't need to be concerned about germs being left behind. Each corner of the toilet bowl gets cleaned because of the flexibility of delicate bristles.
The bristle thickness is another factor to think about. Whether they are rough or soft, spend money on thicker brushes because they will be stronger. Brushes with thick bristles won't snap or come loose easily.
Handle size
When looking for the best toilet brush, many people overlook this element. Your experience and the cleaning's quality are both influenced by the handle's length.
The amount of pressure necessary to clean does become less with shorter handles. It does, however, make it difficult for you to fully clean the toilet's interior. A short handle also increases the likelihood of water splashing on you.
Therefore, we always advise everyone to purchase a toilet brush with a longer handle. 14.5 inches should be the bare minimum.
Composition of the handle and total length
The handle of a toilet brush might be the deciding factor in whether or not it is a decent or fantastic brush. The handle needs to be sturdy enough to assist you in scrubbing, but it also needs to be flexible enough not to get in the way. The task of cleaning can be made more difficult by handles that are either too long, too short, or that bend at an unexpected angle.
Accessories
When investing, make an effort to secure a contract that benefits you completely. Why limit yourself to a toilet brush? You can choose the toilet and plunger set, which is offered for the same cost.
Similar to this, some brands include extras like holders and replaceable heads. Cleaning will be easier and more convenient thanks to these items.
Storage
Most people concur that the toilet-bowl brush shouldn't be the bathroom's main attraction. Thus it's important to have a discrete, convenient brush. All of the toilet brushes we evaluated had their own storage, so when selecting our top options, we took their holders into account.
Related: Best Compact Toilets for Small Bathrooms
Head design of the toilet brush
You may need a toilet brush head that can reach under the toilet rim depending on the parts of your toilet that tend to accumulate the most grime. Choose a brush with a shape that makes it easy to fit into awkward spaces, such as one with a curved head or long bristles.
Price
Before purchasing anything, price is an essential consideration because everyone wants to get a great deal. Don't think that the best purchase to make for your silicone toilet brush will only be when it costs more. Before making a choice, you should constantly check the price range of comparable products to your silicone toilet brush.
Waiting for a sale is always a smart move if you're not in a huge rush. Price should always be taken into account when making a purchase, so be aware of your budget and whether the item is worthwhile.
Workability of Silicone Toilet Brushes
Don't overlook silicone-bristle brushes; there are several advantages to using them. They dry more quickly and are simple to clean, which prevents the buildup of bacteria and stale, germy water on the brush and in the holder.
Silicone is also adaptable in terms of size and shape; two of the brushes we tried had flat, almost paddle-like shapes with silicone bristles that could bend and glide up under the rim.
When you're through, silicone is also simple to clean and doesn't collect up as much dirt and hair as a conventional brush does. Additionally, silicone is less likely to break and shed than some types of conventional bristles.
However, cleaning ability is what matters most in the end, right? And despite all the great advantages silicone has to offer, we finally preferred classic nylon or plastic bristles because the majority of the silicone products we tried took more work to get a truly thorough clean.
Frequently Asked Questions
How long should a toilet brush be kept?
To ensure that the brush is utilized to its best extent and minimize waste, it is vital to preserve it for as long as you can. Some recommend replacing a toilet brush every six months. However, depending on how frequently it is used, it may need to be replaced less frequently or more frequently. Simply use good judgment and change the brush or brush head when it is no longer performing as intended.
How should the brush itself be cleaned?
There are some fundamental guidelines for cleaning a toilet brush, even if every product is different. We advise soaking the brush and holder in a vinegar-water mixture overnight before putting them in a bucket with equal parts water and vinegar.
Make sure the bucket is big enough to fit the toilet brush and holder completely submerged. Put on gloves and take out the brush and holder after soaking them for the entire night.
What alternative exists to a toilet brush?
These tools make cleaning up quick, simple, and effective. However, if you choose another option, you can either use gloves or silicone flattened brushes. Most individuals put on heavy rubber gloves, acquire the necessary cleaning supplies, and scrub the entire area.
Conclusion
This is it! These were the best toilet bowl brushes on the market for you. They are essential to maintaining a clean, germ-free toilet. These days, bowl brushes come in a variety of features and variations. This makes it challenging to select the ideal product for your toilets. The strength and caliber of the bristles and handles should be taken into consideration when selecting a suitable product.