If you have difficulty getting up from a standard toilet because of any difficulties, a tall toilet can improve the quality of your life. Tall toilets are also a good option for older people who might fall or get injured when trying to sit on a regular high toilet.
However, many companies produce tall toilets, and since they're not cheap, you better consider a few things before purchasing and choose wisely. For that reason, we've chosen five brands that make the best tall toilets for seniors.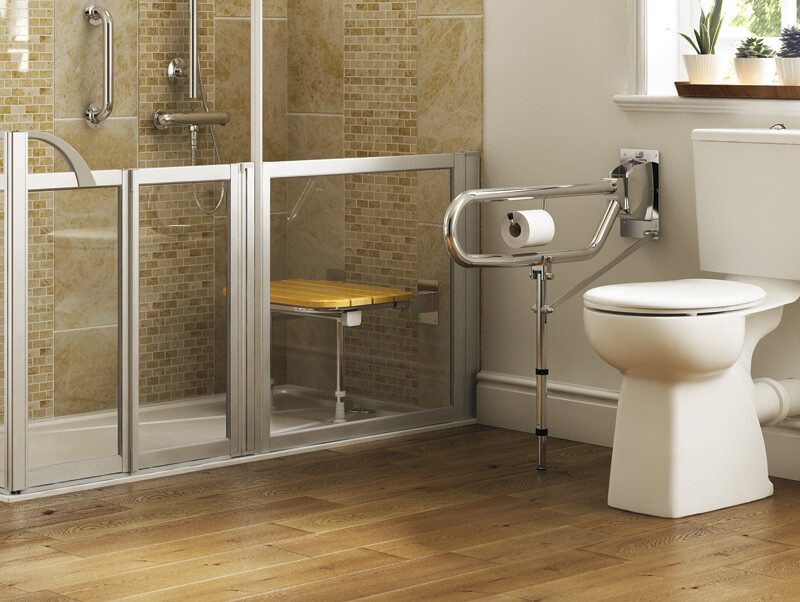 How We Made This List?
Comfort levels
The comfort levels greatly influence how simple and practical it is to use the toilet. Assuming that an uncomfortable toilet is a significant annoyance given its intended usage is acceptable. As a result, we ensure the toilet is comfy before we make a decision. We examined the toilet's height, size, and design to do that.
Since for this article, we were looking for the best tall toilet for seniors, we only picked toilets with universal height (between 17″-19″) or extra tall toilet bowls (20″-22″).
Choosing between a large, medium, or small toilet is another critical decision.
Shape and size
The toilet's size and shape may appear inconsequential but play a vital influence. It evaluates whether or not a toilet is appropriate for a specific bathroom.
As we mentioned in the previous point, the size and design of the toilet can also affect how comfortable it is for you. Toilet bowls of more extended size, also known as elongated toilets, are another requirement for ADA use. They're typically easier to use for older people or those with mobility issues. Elongated toilets are also considered more "hygienic" due to their larger surface area, making them easier to use with less mess.
Ease of maintenance
The simplicity of maintenance is another crucial element that might make a difference. In addition to effort and chemicals, cleaning and maintaining a toilet also uses a lot of water.
A toilet that needs little maintenance or is simple to clean is also incredibly practical because it requires minimal physical effort to maintain. Additionally, it suggests that you can use it for a long time with little maintenance, lowering its cost.
Water efficiency
Water efficiency is undoubtedly one of the most important issues we consider when choosing the best tall toilet. In this regard, the EPA has established the maximum toilet flushing volume at 1.6 gallons. As a result, we searched for toilets that flush with 1.6 gallons or less of water.
On the other hand, we tried to find out if a toilet is WaterSense certified. If a toilet is WaterSense certified, it means that it complies with EPA water efficiency criteria, which will lower the water bill.
Dual flush
Dual flush toilets feature two buttons to perform two different kinds of flushes. One button is for liquid waste, while another one is for solid waste. In addition to the previous water efficiency factor, this is a pretty advantageous feature since it can save up to 67% of flush water.
Noise levels
Nobody wants a noisy toilet in their bathroom since it is both annoying and quite inconvenient. Therefore, when choosing the best tall toilet, we made sure that it flushes quietly or as quietly as possible.
Poor water flow in the bowl is frequently the cause of the noise. Therefore, if your toilet is noisy, it may be a symptom of bad design. Additionally, it can be pretty noisy if a hard toilet seat slams against the bowl.
Best Tall Toilet for Seniors
Best Tall Toilet for Seniors Review
The creator of Convenient Height set out to develop, design, and manufacture a product that would be useful to a large number of people. The company thinks that fall prevention and toilet and bathroom safety are more crucial than most people realize. Therefore, they engineered the first 20-inch toilet bowl model after years of trial and error.
Convenient Height never stops improving, and that's what makes them distinguished and successful. Since the first manufacturing batch in 2016, Convenient Height Co. has improved the world's first original Tall Toilet every year. They make minor alterations based on research and user input, including minor changes to the bowl construction and the addition of a new heavy-duty seat.
Convenient Height has worldwide shipping and offers a refund policy. If you need a return, you can call or email customer care, and they'll arrange everything so their UPS driver can come to your address and collect the boxes. The company's shipping and return policies apply to both U.S. and Canadian customers.
Features
Convenient height
The 20-inch toilet bowl height is unquestionably this product's best feature. The toilet seat is included in the purchase, and it is a two-piece kit. The height is an impressive 21 inches when the seat is added.
Taller people, senior persons, and people with mobility challenges, such as arthritis patients, can benefit from this toilet's added height. The simple process of sitting and getting up involves the hamstrings, glutes, and other muscles. Even though these may look like daily routines, not everyone can carry them out without difficulty.
Elongated design
This toilet bowl has an extended shape that is immediately noticeable at first glance. Around 27 inches separate the front rim of the bowl from the back wall. Although there is a prominent height difference, the Convenient Height toilet has the same length as the majority of conventional compact toilets.
Dual-type and powerful flush
The flush lever can be raised and lowered depending on how much water is needed. The force of the flush increases proportionally as a result of this elevation and a siphonic flush system that relies on gravity. Additionally, all materials are successfully flushed down the toilet each time with tremendous intensity. Plungers can take a break because a superb flush eliminates a less-than-excellent issue.
Signature Hardware is a brand that offers distinctive embellishments and eye-catching statement pieces for every space in your house. Their products are not only expertly produced but also long-lasting, thanks to a focus on form and function.
Signature Hardware was established in 1999. The company is located in northern Kentucky, but its products are well-known worldwide. They want to ensure their customers are satisfied, so they stay focused on providing the latest and high-quality products, as well as top-notch customer service.
The regular ground shipping inside the contiguous United States is free for purchases over $99. Shipments to locations beyond the contiguous United States, such as Alaska, Hawaii, the Florida Keys, islands with or without bridge access, and Canada, are subject to an additional fee.
The company will require your order number and billing ZIP code if you want to return your item. Inform them if a product is defective or has been damaged during shipping.
Features
21″ bowl height
The Bradenton two-piece toilet has a tall bowl that is 21 inches high. The toilet has a 20.5-inch bowl height from the floor and a 21.75-inch seat height when the seat is installed.
This kind of toilet is more comfortable to sit on and simple to get up from; you can also rest your feet on the ground. For those who have trouble standing from a low position, such as the elderly or disabled, a comfortable height toilet will likely be the best option.
High-quality materials
This gloss-enameled porcelain elongated bowl toilet has a classic look that complements a variety of bathroom designs. It has a chrome flush handle on the front left side of its tank and your choice of seat.
This toilet is also WaterSense certified, which means it saves water without compromising effectiveness.
Elongated design
Compared to a spherical form, the elongated bowl extends out an additional 1-1/2″. Along with being simpler for men and kids to use and leaving less mess, elongated bowls are also more "hygienic".
The longer bowl size is also necessary for ADA use, and people with mobility limitations typically find it simpler to use the longer, wider bowl. The Brookdale bidet seat is also compatible with the toilet. To avoid unintentional slamming, the toilet features a slow-closing lid.
The mission of American Standard is to make people's lives at home, at work, and throughout the globe healthier, safer, and more beautiful. American Standard has changed the standards' rates by consistently innovating to enhance the quality of daily life. For more than 150 years, the company has been spreading its love for plumbing, and there are no challenges that they can't solve.
Among its high-quality fixtures, fashionable faucets and sinks, whirlpool tubs, and other equipment for the bathroom and kitchen, American Standard is a well-known plumbing and building products brand in North America.
American Standard efficiently delivers its well-designed and water-saving products to a wide variety of residential and commercial customers. They ship the order within 24-72 hours after its confirmation, and you'll receive your purchase within 7-10 business days.
Your items are covered by the return policy only if you purchase from the brand's official website. American Standard accepts returns of products up to 30 days from the date of purchase.
Features
Comfort height
The Champion 4 toilet's height is 16.5 inches. You will have a total seat height of 17.5 inches if you add the additional height from the seat.
Even though the Champion 4 is not a tall toilet, it has a comfortable height. Comfort height toilets are particularly convenient for elders and tall individuals to use since they allow for simple sitting and standing. They are known as chair height toilets since you don't have to stoop too low to use them because their height is similar to that of a regular chair.
Water-efficient
The Champion 4 MAX toilet is a high-efficiency toilet that uses 1.28 gallons less water per flush than a regular toilet, which uses 1.6 gallons.
With the ability to push masses that are 70% larger than what regular toilets can move, the Champion 4 is nearly impervious to clogging. It may have a low flow flush, but its performance is anything but weak.
Elongated one-piece toilet
American Standard Champion 4 includes an enlarged toilet bowl. Because they provide a larger surface area to sit on than a circular bowl, elongated toilet bowls are consequently more comfortable to use.
The Champion 4 features the same proprietary, EverClean additive on its surface, just like other American Standard toilets. Mold, mildew, and bacteria that produce odors cannot thrive because of the antibacterial properties of the EverClean ingredients. As a result, your toilet will continue to look clean and newer for a long time.
The company TOTO began in Japan but swiftly spread over the world. This company places value on embracing technology, pursuing the highest level of cleanliness, putting aesthetic designs in place, contributing to the environment, and creating items that enhance the lives of its customers. As a result, it has earned a solid reputation in the field and is now practically synonymous with a great bathroom experience.
In addition to its product design, TOTO is a company that works hard to establish itself as a socially and environmentally aware business. Its products have numerous practical and ecological benefits.
For every product bought from TOTO, you can make a warranty registration on the company's official website. Depending on the product, TOTO offers a one-year, three-year, or lifetime limited warranty.
Features
Universal height toilet
Many people find it simpler to sit down and stand up thanks to TOTO's Universal Height toilet, which is taller than a typical toilet. Models with Universal Height can satisfy the ADA height requirement.
From the floor to the seat, universal height versions range in height from 17 to 19 inches. As a result, it is simpler to sit and stand up, and the pressure on the joints is eased.
Powerful dual flush system
Drake bowl uses TOTO's G-Max flush technology. Compared to a typical system, this has a broader valve. More flush power is provided by the siphon jet and the larger valve. The glazed, computer-designed trap trail moves quietly despite its power. The Drake flush is more powerful than the 1.28 GPF used by many modern toilets, using 1.6 GPF instead.
Even though the 1.28 GPF system is said to be more energy-efficient, the dual flush feature of this toilet makes up for the fact that it has a more powerful full flush that will perform a better job of eliminating difficult stains and mess.
Stylish and modern design
The chic design of this toilet complements any bathroom's decor. The extended bowl offers more room for comfort. The toilet features a left-hand trip lever and accommodates 12-inch rough-in installations.
The smooth CEFIONTECT ceramic surface of the TOTO toilet increases the possibility that waste will flow directly down and off the bowl. Flushing establishes an efficient barrier that not only removes waste but also maintains the toilet cleaner for extended periods with a reduction in the need for chemical cleaners. And what's even better, you can complete your purchase by adding a TOTO SoftClose seat or upgrading to a WASHLET bidet seat.
Toyo Toki K.K. was the company's original name that was created in 1917, but it soon changed to TOTO, LTD. It provides the market with environmental and practical items for every kind of customer.
The company was founded on a commitment to develop and provide people with comfortable living options while considering the environment's condition and its resources. TOTO is a company that gets its motivation from trying to improve its customers' lives. It has altered people's perceptions of what a good bathroom should and can be after over a century in the business.
One of their key initiatives is spreading sustainability awareness among individuals and groups in society. In keeping with this, TOTO has further donated goods to disaster-affected regions as part of bigger reconstruction efforts. Additionally, TOTO is actively involved in several Habitat for Humanity projects.
Features
Universal height toilet
This Entrada model's Universal Height design by TOTO enables a more comfortable seat posture for a variety of customers. Instead of the typical 15 inches of a regular toilet, "comfort height" or "proper height" toilets have 17 to 19 inches high bowls.
A two-piece and elongated design
The TOTO Entrada two-piece elongated 1.28 GPF Universal Height toilet provides an elegant and contemporary high-profile design. Tank-to-bowl hardware, toilet bolt caps, and a bowl-to-tank gasket are all included with the Entrada bowl and tank set.
Just like any other TOTO product, the Entrada bowl's surface is coated with CEFIONTECT glaze. This kind of surface prevents the toilet from limescale, mold, and waste matter.
E-Max flushing system
The Entrada uses TOTO's E-Max flushing system, which has a big trapway, extra-large siphon jet, and a 3″ wide flush valve. With just 1.28 liters of water, this dependable, highly effective mixture produces a strong cleaning flush.
A left-hand chrome trip lever is included with this Entrada model. The Entrada complies with ADA regulations, the EPA WaterSense standard, and CEC and CALGreen regulations in California.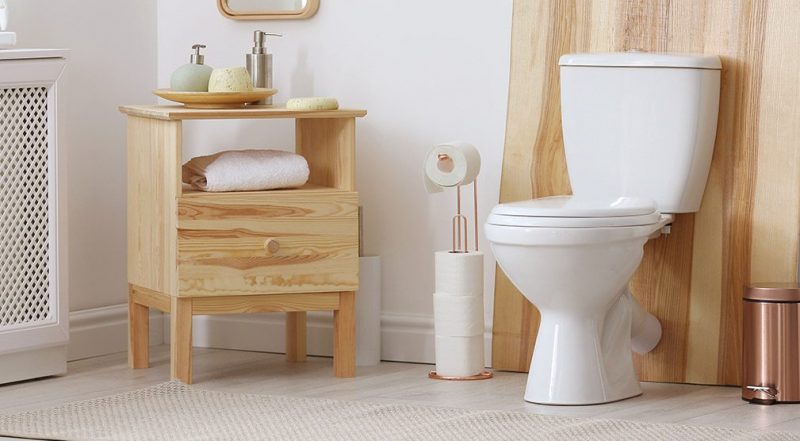 Factors to Consider When Buying a Tall Toilet for Seniors
Toilet dimensions
In addition to the toilet bowl height, some other comfort height toilet parameters are quite significant to note down when purchasing a toilet. Most people often don't give much thought to a toilet's overall height, but they do care about its length and width.
These measurements are crucial, particularly if your bathroom is small. Sometimes just one inch can determine the door opening, or another situation is if there is a small distance between the toilet and sink in the bathroom.
Knowing the toilet's measurements in advance is crucial because round-front toilets are more compact than elongated toilets. So, if you have a small bathroom, you're forced to install a round one.
Type of toilet bowl
Toilet bowls can be either round or oval, which is an extended shape. A round toilet bowl is approximately 16.5 inches long, whereas elongated toilet bowls are 18.5 inches long.
Round toilets are more space-efficient than elongated toilets, yet extended toilet bowls are more pleasant. It's always a good idea to pair an elongated toilet with a comfortable height toilet.
Water consumption
Different toilets use water more efficiently than others. The days of purchasing toilets with 3.5 gallons every flush are long gone. Nowadays, toilets flush with 1.6 liters of water or less.
Your water bills will naturally go down, and the environment will benefit from a toilet that uses less water and can flush effectively. Every toilet marketed in the US is required to have a flush volume of no more than 1.6 gallons. The laws are even more rigid in the state of California. A rating of 1.28 liters per flush or less is required for every single toilet sold.
Flushing power
You should also consider the toilet's flushing performance. To provide toilets with a strong flushing force while yet using less water, toilet manufacturers are constantly developing novel flushing methods.
Except for occasionally occurring defective models, the majority of contemporary toilets currently available on the market flush rather smoothly. Check the size of the flush valve and trapway on the toilet to get an idea of how it might flush.
A wider flush valve implies that water is poured into the toilet bowl more quickly, creating a greater force that causes the waste to exit the toilet trap with greater force. The shape of the toilet bowl and toilet flapper, in addition to the flush valve and trap size, affects how effectively a toilet flushes.
Type of flushing system
You will have to select a single flush, dual flush, gravity flush, or pressure-assisted flushing toilet when purchasing a comfort height toilet, or any other toilet for that matter.
A single flush toilet only uses a specific volume of water each time it is flushed. On the other side, a dual flush toilet allows you to choose between utilizing 2 different amounts of water. There is a low water consumption setting for flushing liquids, and there is a high water consumption setting for flushing solids.
Toilet design
There are several different styles of toilets, including one-piece, two-piece, skirted, and non-skirted. As a buyer, you should determine whether you choose to purchase one design over the other.
One-piece toilets are more compact and streamlined since the toilet tank and bowl are constructed as a single unit. However, they are cumbersome and challenging to install and carry. More often than two-piece toilets, they break during shipping.
The tank and bowl of two-piece toilets are made of separate sections and are only joined together after installation. One of the boxes may arrive before the other because they are transported in separate packages.
Toilets with skirts have a hidden trapway and a smooth surface that is quick and simple to clean. However, they require more work to install than toilets without skirts.
Color
The majority of people prefer white toilets, which are what most toilets are. Since dirt is visible on a white toilet, the color makes it easier to maintain the most significant levels of hygiene. It is always simple to have a toilet in white because porcelain, the substance from which toilets are constructed, is also white.
Other colors are also available for toilets, but black is the most popular one. More individuals are purchasing black toilets, which look fantastic when styled with other bathroom fixtures, like a black toilet and sink set.
Some brands have black comfort height toilets. It wouldn't be a bad idea to go for a black toilet, but keep in mind that black toilets cost more than white ones.
The cost
Even with comfort height toilets from the same manufacturer, toilet costs differ from one to another. There is always a danger that if you choose the cheapest toilet, you will end up calling your plumber every few days.
Even if it is not necessarily true that the most costly toilet will serve you the best, you should conduct an extensive study before deciding on a specific kind of toilet. There are reasonably priced toilets that are nicely manufactured.
Don't forget to check what it includes and what it does not include when thinking about purchasing a particular toilet. Some toilets come without the necessary fixtures, including the seats, bolts, wax rings, and water supply lines. The overall cost will undoubtedly be greater than stated if you include the cost of these additional things with the toilet's original purchase price.
Frequently Asked Questions
What does an ADA-approved toilet mean?
Any toilet that measures 17 to 19 inches from the floor to the bowl's rim with the seat is an ADA-approved toilet. Include the 12-inch rough-in from the wall as well. The new toilet that senior citizens use has a comfortable height of approximately 16 1/8 inches from floor to rim.
What makes the tall toilet more comfortable?
Tall toilets have a height between 15 and 19 inches, or the height of a chair when measured from floor to rim (top of the seat). This makes the toilet more comfortable to sit in and easier to stand up for people with disabilities, older or tall people.
The tallest toilet, which can reach a height of 20 inches, is produced by Convenient Height. Due to its pleasant qualities, it is well-liked and has received numerous favorable reviews since its release.
Is there any difference between "chair height" and "comfort height" toilets?
Toilets that are Comfort Height, also known as Chair Height toilets, and are at least 17 inches high. A chair's height and the height of Comfort Height toilets are the same. This is merely a name that various businesses have used.
Conclusion
We concluded that comfort height toilets are beneficial to people who can't use or are not comfortable using a standard height toilet. Read through the reviewed toilets and choose the one that fits the most your or your loved ones' needs.
After reading this article, you should already know that the best tall toilet for seniors should be comfortable to sit on, should have a good flush, save water, have an aesthetic appeal, and have a reasonable price. Also, you should make sure the toilet is installed properly so it won't cause some serious bodily harm to older and vulnerable people.