Not sure if a smart toilet is the best purchase you should make? Or perhaps you've already decided to buy one but know you're searching for the best smart toilet? This article holds all of the essential info that'll make things clearer for you and show you the best smart toilets on the market, the advantages that you'll gain, and learn how to recognize the best ones out there.
Smart toilets have taken over the market with the speed of light. And also they look very cool and futuristic. Having a smart toilet is normal in Japan, and slowly but surely, the same thing will happen in the rest of the world. And they're not as new as you might think. They first appeared in the early 80,' and more and more people want to have one.
Since you're reading this, you're probably one of those people. And you're right to want one because owning a smart toilet will make things a lot easier and more fun. So let's start.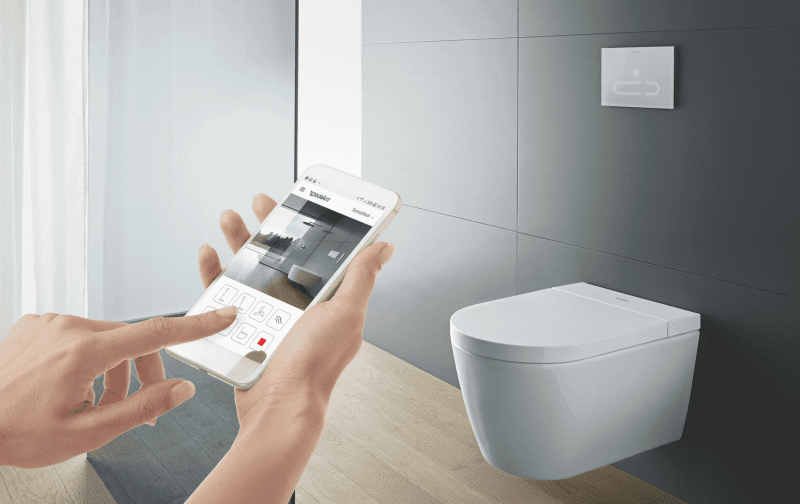 How We Made This List
When we were searching for the best smart toilet, we implemented the following criteria, which has made our selection a lot easier. We checked how complicated the devices are to operate, compared the prices, and made sure that they all have a remote control. We also went through the customers' reviews and read plenty of them to ensure that they were satisfied with the product they've chosen to use. So now, let's see why these criteria were so important.
Toilets that are easy to use
Even though all of the smart toilets are pretty easy to use and everyone can quickly learn how they function, we tried to select the most straightforward and uncomplicated toilets on the market. They absolutely do everything themselves, and no effort from your side is needed, not even for their cleaning. This can be especially beneficial for the elderly because they won't have to do absolutely anything. The toilets have an automatic flushing system and night lights, so they're highly practical. They also come with a user manual, so everything that you'll need to learn is included in it.
Prices
As the popularity of smart toilets rises, also rises their prices. And they can't be a bit expensive, which is no wonder considering the smart technology they use. The prices of some toilets can be very high. Some of them can even cost more than a whopping $5,000.
That's why we looked through many of them, and we selected those that are cost-efficient and affordable but at the same time provide the most common and useful features that smart toilets are known for.
Remote controls
A smart toilet can have a built-in control panel or remote control. Some smart toilets even have both of these things. We wanted to select the toilets that also come with remote controls because when you have a remote, you'll never have to touch the toilet again.
Everything you want to set and every command you want to give, the remote will allow you to do it precisely. For example, if you want to adjust the temperature or something else, there's no need to go next to the toilet and press the button. You can do that from a distance with the help of your remote control.
Customer reviews
Reading the users' comments helps to form a reliable opinion about a product and learn what you can expect from that product. Reading the positive reviews and seeing the customers' satisfaction can help decide to buy a product, or the lack of those can indicate some red flags.
Reading the customers' reviews was the surest way to assure ourselves that these toilets really deliver what they promised. So, we read many of them. The customers simply love them and their features, writing that they have lots of fun using them but that they also find them to be very practical.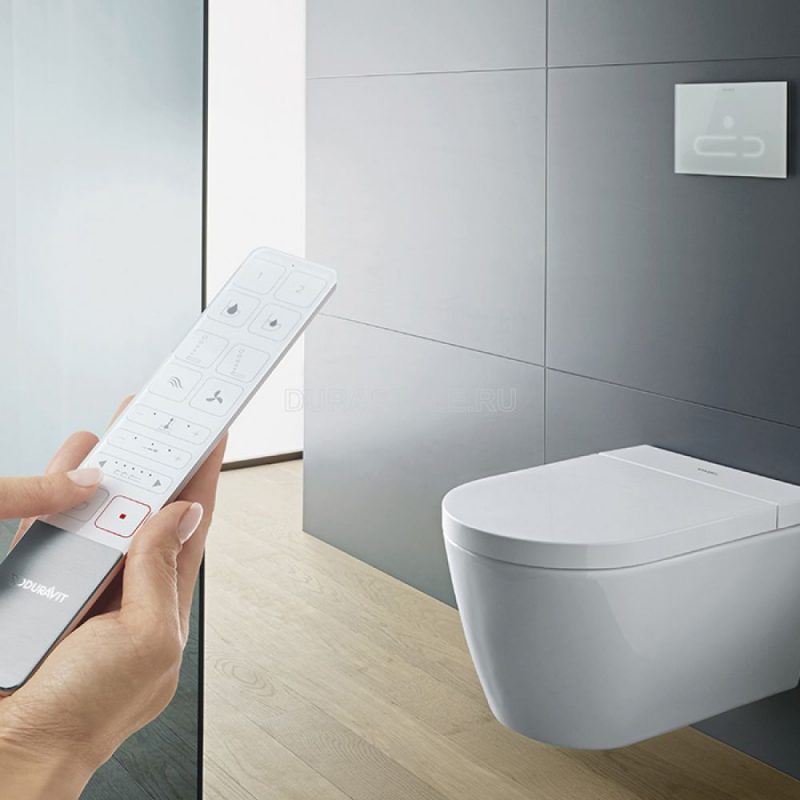 Best Smart Toilets on The Market
Best Smart Toilets Review
VOVO is a Korean corporation that manufactures eco-friendly products. One of those products is the VOVO Styement smart toilet, which has become one of their most sold products. Its convenient and cool design has won the German iF Product Design Award.
The measurements of this smart toilet are 30 x 29 x 19,5 inches, and its weight is 107,8 pounds. It's very simple to install and very simple to use. The VOVO toilet comes in 6 different styles and forms, and the price varies based on the form of the toilet you want to purchase. You can even ask to return this toilet, which is free from any shipping charges. The only criteria are for the item not to have been used. This smart toilet comes together with an installation guide and also comes with a warranty from the manufacturer that lasts for two whole years.
Highlights
Excellent auto dual water-saving automatic flushing system, which detects the movements when the user sits down.
The toilet uses UV LED sterilization for the bowl.
It has a warm air drier that has 3 adjustable temperatures.
A seat that heats by using a wireless remote and can be adjusted to three temperatures.
Automatic deodorization eliminates any unpleasant odors.
Works without a tank, directly supplying the water from the pipe.
It comes with a night light LED that makes it very easy to use in the dark.
cUPC, cETLus certified smart toilet.
Fine Fixtures is a brand that makes very stylish bathroom elements and sells them for very affordable prices. You can find their elongated smart toilet and bidet, a two-in-one product, among their sinks, bathtubs, faucets, and many other elegant products.
This toilet's measurements are 28.75 x 15.87 x 22.62 inches, it weighs 100 pounds and it has an elongated shape. It connects to the floor just like a standard toilet, and it comes together with a wireless remote.
With its minimalistic and small design, this is the perfect smart toilet for small bathrooms. You can choose between two different patterns, Wave and Surf, and this review is directed to the Wave smart toilet. It's made from ceramic and comes in white color. The best part about it is that the shipping is free of charge.
Highlights
The water temperature is adjustable, and it has 6 different levels for adjustment.
The water pressure is adjustable, and it has 5 different levels for adjustment.
The seat automatically opens and closes.
The cover of the toilet opens and closes automatically, thanks to the built-in smart sensors.
The seat warms up and has 6 level adjustments of the heat.
It has a rear and front soft cleanse.
It has a wand that cleans itself before and after its use.
The flushing is automatic, but it can be controlled by the remote control or by using the manual side button.
It has a night light function that makes its use easier at night.
It has an indicator that lights up to notify you when the batteries are low. The batteries should last you for a minimum of one year.
The following smart toilet on this list is the EPLO toilet which measures 27.2 x 16.1 x 19 inches and has an elongated form. This toilet is made from ceramic and plastic and weighs 83 pounds. This toilet has a tankless, thin, modern design and a smart bidet. The EPLO smart toilet also has an LCD that shows the water temperature, seat temperature, and ECO indicator, and it also has a side button control and remote control.
The multi-function remote control and the options for controlling the temperature make this smart toilet an amazing purchase. It's so easy to install it, even yourself, thanks to the installation manual that you'll get. Together with the EPLO smart toilet, you'll also get an instructional manual.
Highlights
It has a convenient LED night light.
It has a foot sensor that enables half flushing.
It has a variety of washings: feminine wash, rear wash, nozzle self-cleaning, and a mobile wash.
Amazing deodorization and air purification feature that not only gets rid of the odour but also converts the harmful particles into oxygen, keeping the bathroom fresh.
It has a pre-wetting feature that makes the bowl cleaner.
The seat can be heated by choosing one of the 6 levels of temperature adjustment.
It flashes itself automatically and has 6 levels of water temperature.
Six levels of seat temperature to prevent overheating.
Six levels of wind temperature provide fast drying.
Woodbridge makes and sells top-quality products intended for bathrooms, showers, and kitchens. This review refers to their smart toilet B-0960S, but they also have many other smart toilets, smart bidet toilets, toilet seats, parts, and many other products.
The Woodbridge B-0960S smart toilet has a modern and sleek design. Its measures are 27.5 x 15.63 x 19.13 inches, and it weighs 114,8 pounds. The toilet has an oblong form, and it's tankless. It comes with a 1-year warranty making you feel more secure while you're using it. It can also be used as a bidet, and the numerous innovative features it brings make it very convenient and loved among users. So, without any further ado, let's see what else this smart toilet from Woodbridge can offer you.
Highlights
You can control the pressure of the water and its temperature.
Flushes the moment you walk away from it.
The ionized carbon filter takes care of odors.
It has a silver-ion antibacterial nozzle providing you with the highest levels of hygiene.
The seat can be warmed up using six adjustable temperature levels.
It also has six adjustable wind temperature levels.
It has an auto-flushing system but also can be flushed by pressing the button located on the side or by using a remote control.
Detects movement, so the lid auto closes and opens.
Ikifly is a brand that offers everything you might need to decorate your home. They have all kinds of appliances for your bedroom, living room, kitchen, and even your bathroom. The product that stands out the most from the wide variety of goods from Ikifly is its smart toilet.
The Ikifly smart toilet measures 15.63 x 25.59 x 19.29 inches, and even though its use is pretty simple, it comes with a user manual. This toilet is a comfortable and safe toilet, which has 10 core safety protection system, which includes:
V0 inflaming retarding protection
Water temperature protection
IPX4 anti-water protection
Bubble protection
Seat temperature protection
Drying temperature protection
Anti-dry heating protection
Overflow rate protection
Anti-freezing protection
Power leakage protection
Highlights
There are four levels to adjust the water pressure.
There are four levels to adjust the water temperature.
There are 5 levels for adjusting the nozzle position.
It has a rear wash, front wash, child wash, feminine wash, soft wash, strong wash, massage wash, and constant temperature wash.
It has a human and foot sensor that recognizes when someone is approaching, so the lids open.
Has an automatic flush that's quiet but pretty powerful.
It has an air filter that allows cleaning of the air and eliminates the unpleasant smell.
The last but not least smart toilet in this article is the Tangnade toilet; that's very simple and has a modern design. This toilet measures 26 x 16 x 20 inches and has an elongated form, with an advanced bidet and a lid that softly closes. It's made from Acrylonitrile Butadiene Styrene and weighs 85 pounds.
The Tangnade smart toilet has an auto flush, purifies the air, and heats the seat. An interesting thing about it is the fact that it's antibacterial which means it successfully kills the bacteria, so it's very safe to use. The tank of this toilet is built into the body, and it uses a lot less water for flushing compared to a regular toilet.
Highlights
HD LCD shows the water temperature and the temperature of the heated seat.
It has a night mode with low light illumination.
Cleans and purifies the air.
The nozzle is self-cleaning.
The manual buttons on the side make it easy to be used without the remote control.
You can adjust the water temperature.
It has a memory function that will memorize your habits and implement them in your next use.
It has an automatic, built-in energy-saving system which saves water and electricity.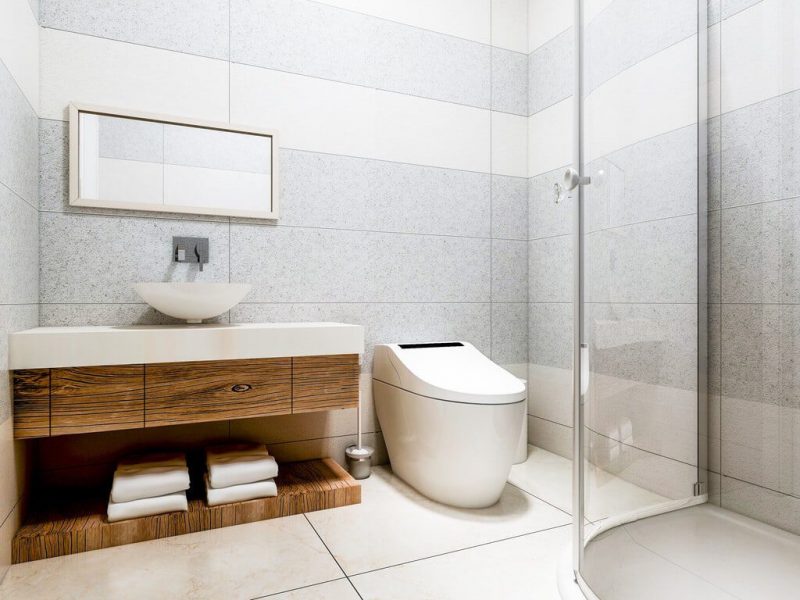 Buying Guide for Choosing the Best Smart Toilet
It's probably your first time buying a smart toilet, and the choices can sometimes be a bit overwhelming. This small buying guide can be very beneficial and can significantly help you recognize and purchase the best smart toilet for you. In it, you'll find the most important factors to which you must pay attention before selecting and buying a smart toilet. Also, you'll learn what the advantages of having a smart toilet and using it in your daily life are.
Factors to consider when buying a smart toilet
If you want to be able to choose and purchase the best smart toilet on the market, there are some factors that you must pay attention to. So, let's take a closer look at why it's so important to check the size of the smart toilet, the existence of remote control, auto-flush, night light, the warranty, and the existence of customer support.
The size
As mentioned above, smart toilets come in different sizes. So, the size is a crucial thing to pay attention to. A small bathroom needs a compatible and practical toilet, while if you have a large bathroom, you can easily go for a bigger one. See where you want to put it and what size will be the most convenient one.
You don't want to pay for something which will ruin the look of the whole bathroom. Keep in mind that if your bathroom is small, setting up a smart toilet with a water tank is a big no. Also, it's better to purchase a toilet with remote control because toilets with control panels on the side take up more space.
Heating seat
Always check whether the seat warms up. This feature gives comfort and a more enjoyable experience when using a smart toilet. You have no idea how satisfying it is to sit on a warmed seat, especially when the winter comes. On some toilets, you can adjust the heat yourself, and on some, the heating is done automatically. Either way, it's very pleasant to be able to have this feature and enjoy it.
Night light
Imagine waking up at night in a hurry to use the bathroom while you're still sleepy. You need to turn on the lights in order to avoid bumping into things in your house, especially in the toilet. Falling asleep again is more demanding, and you probably know the feeling, as everyone has experienced this.
That's why checking if the smart toilet you're planning to buy is essential to come with a night light. Some toilets' night lights need to be activated with a remote, and some automatically light up. No matter how the night light gets turned on, having it, it'll make things easier.
Related: Best Lighted Toilet Seat
Warranty
When buying a product, no matter the type of the product, having a warranty for it makes you feel safer that there will be a solution if something goes wrong with it. So keep in mind to always check this. Some smart toilets come with a 1-year warranty and others with a 5-year warranty. See for yourself if the offered time frame suits you before buying the toilet.
Customer support
Having a smart toilet is a pretty simple device to use. They all come with manuals, so you'll get the hang of it in one or two days. But, even though they are very simple and do everything themselves, you might have some questions about their maintenance. That's why it's good for the brand to have reliable and knowledgeable customer support representatives which you can quickly and easily reach out to.
Advantages of owning a smart toilet
Even though smart toilets look futuristic and are very cool, they bring a lot of advantages that, believe it or not, will make your life easier and smoother. Their use isn't time-consuming, and their maintenance is almost non-existent. So let's see what exactly you can expect to get from buying one.
Smaller than the typical toilets
Usually, most smart toilets are smaller compared to standard toilets, so they take up less space in your bathroom. Also, the fact that they're tankless makes them even more space-saving. So, you'll have a very practical thing that takes a very little space, which is excellent.
Temperature adjustment
Being able to control the temperature is a big bonus that smart toilets bring with them. You'll be able to control the water temperature and the seat's temperature, adjusting it just enough to make sitting on it an enjoyable experience. Even the temperature of the air dryer can be easily adjusted.
Less use of water
You may ask how smart toilets contribute to water-saving? And the answer is very simple. Smart toilets know how much water is needed for flushing, so they do that by using the precise water amount. Smart toilets are built to be eco-friendly. They use less water than a standard toilet, so if you're eco-conscious and care about the environment, a smart toilet is just the right choice for you.
Auto flush
When you have a smart toilet that auto-flushes itself, you don't have to worry if you forget to flush it yourself, and it'll always be clean and ready for another use. Especially if you live with someone who often forgets to flush the toilet, this option will be very useful for you and also for everyone else, considering that there's no danger of germs being transferred everywhere.
Heated seat
You know the unpleasant and uncomfortable feeling of the cold plastic on your skin, especially when the weather is cold. Having a smart toilet will make that feeling a thing of the past. Almost all of them have heat warmers that even come with adjustable temperatures, so you set the temperature that suits you the most. Because of that, there's no doubt that you'll really enjoy this feature.
Touch-free
Because the lid of a smart toilet automatically opens and closes, there's no need to touch the toilet, so having a lid that opens and closes itself soundlessly makes things a lot easier.
The built-in sensors know when a person is done using the toilet, so the flushing is automatic. Also, having a remote control will help you control the smart toilet from far away or adjust the heat or the temperature, so there's absolutely no need to touch it.
To sum up, automatic closing and opening of the lid and the touchless flushing are great options, especially for kids, elders, or the disabled, and this makes the use of smart toilets more hygienic and effortless.
Frequently Asked Questions
Can I benefit from having a smart toilet?
Of course that by having a smart toilet, you'll gain lots of benefits, and those are the following:
Because the smart toilets can be used without touching them, they're incredibly hygienic. Some models even clean themselves.
If you're an older person, the features such as auto flushing, night light, and heated seat will be a real game-changer for you.
The use of a smart toilet will save you a lot of time, especially when you're in a hurry.
They're sustainable, use less water, and require less, if not at all, toilet paper, enabling you to reduce your carbon footprint.
You'll feel more comfortable, and going to the bathroom will become a very enjoyable experience.
Will I be able to install a smart toilet?
If you know how to install things, installing a smart toilet is very easy. With a bit of help from the installation manual, you'll be able to do that very quickly. But, if you don't know how to do it or you're not so confident to do it yourself, don't worry because every plumber will know how to do that. When it comes to installation, smart toilets are pretty similar to regular toilets, so there won't be any problems with the installation.
What can a smart toilet do?
A smart toilet can do many amazing things that'll enhance your experience and make things simpler, faster, and a lot easier. Smart toilets are very functional products. They have plenty of sensors that indicate when someone is approaching or leaving, so the seat can be lifted up.
Automatic flushing is another thing that a smart toilet can do, so you don't ever have to question yourself whether you flushed the toilet after your use or not. Environmentalists love smart toilets because of the moderate spending and water saving. A smart toilet can even control the seat's heat, allowing you the best possible experience.
How does a smart toilet know when to flush?
The physical sensors that a smart toilet has, register when someone is getting closer to it or standing up and walking away. A smart toilet senses when someone is getting closer, so it knows when to lift the lid, as well as it senses when the person is walking away, so it knows when to close the lid. Also, a smart toilet senses when the person is standing, so it knows to flush as soon as you walk away from it. It also knows when to heat up the seat, so using all of this impressive technology makes the use of a toilet even more effortless.
Related: Best Dual Flush Toilets
What are the most common features that smart toilets have?
Different brands have different prices on their smart toilets, and usually, if the smart toilet has more functions, the price will also be higher. But no matter the cost, most of the toilets usually contain the following advanced features.
Night light
Warming of the seat
Auto opening and closing of the lid
Auto flush
Deodorizer
Conclusion
Smart toilets are the future, and soon enough, everyone will want to have one in the bathroom. Purchasing a smart toilet is totally worth it, and it's all thanks to the features and the advantages it brings. Even more, you use the toilet on a daily basis, so it'll totally pay you off investing in one.
Now that you've seen exactly how practical a smart toilet can be and how many advantages it can bring with it, there's really nothing stopping you from purchasing and treating yourself with one. This article showed you the most affordable ones with the same features as the most expensive ones, which are also very easy to use, durable, and made from the highest quality materials possible. So include this fantastic product in your daily life, and soon you'll be wondering why you haven't bought it earlier.