Having a well-kept bathroom with all the conveniences you require raises the value of your home. As a result, you must choose the best toilet seats for your bathroom.
Remodel your bathroom to match the rest of your home, and involve your family to ensure your bathroom's comfort and appearance. Many toilet seats have great features and functionalities. These are incredibly well-made and durable.
Furthermore, the seat helps in the management of all significant factors, such as weight, durability, comfort, convenience of installation, high-quality hardwood or plastic material, and cleaning ease. It is also simple to set up and reasonably priced. 
When preparing an article about the best Slow Close Toilet Seats list, we considered variables such as dependability, ease of use and performance. A built-in feature, the ability to work, and other features were essential considerations for several consumers while seeking the Slow Close Toilet Seat. Let's look at some of the factors we considered while choosing the best slow-close toilet seat brands.
How We Made The List
We all spend a significant amount of time in our bathrooms, which are essential to our homes. We don't realize how much time we spend on our toilet seats. There aren't many additional functions on toilets besides opening and flushing, but choosing a suitable toilet seat significantly impacts your health.
Since you cannot overestimate the value of a toilet seat, choosing the proper one is essential. With that in mind, here are some things to keep in mind when selecting toilet seats:
Price
While examining these companies, we discovered that quality and cost aren't always linked. Even though we don't consider the cost factor when evaluating product performance, we understand that it can significantly impact your decision on which model to buy.
Weight
A Slow Close Toilet Seat is best viewed in conjunction with its design, which is why we assigned this feature the same weight as the design decision. A slow, closed toilet seat that is less cumbersome for consumers to use also enables them to keep up with their work. As a result, you'll be able to achieve even greater productivity levels.
Comfort
You wouldn't want to use a toilet with an uncomfortable seat. Many elements influence the comfort of a toilet seat, including its shape and the material it is made of. When it comes to your bathroom, it's all about the toilet seat.
Toilet seats with an extended shape, rather than round ones, are often more pleasant. The level of comfort provided by the toilet seat is also influenced by the material used to construct it. A more user-friendly material is used to construct some toilet seats, resulting in increased comfort.
Appearance
We also considered the toilet seat's aesthetics when making our choice. Choosing a toilet seat matching the rest of the bathroom's decor is smart.
Sound
An often-overlooked facet of the equation is this: Keep this in mind when looking for a new toilet seat. Having the toilet seat slam shut after each use might be a nuisance if you have children or are a light sleeper. Use a toilet seat with a soft closing mechanism or cushioning to keep things quiet. In addition to minimizing noise, a soft-close toilet seat reduces the time it takes for the lid to close.
Reputation
For some slow-close toilet seat brands, profit is more important than quality. Other businesses value reliability and, as a result, have built up a solid reputation for their dependability. And the toilets we have reviewed have a great reputation in the toilet industry.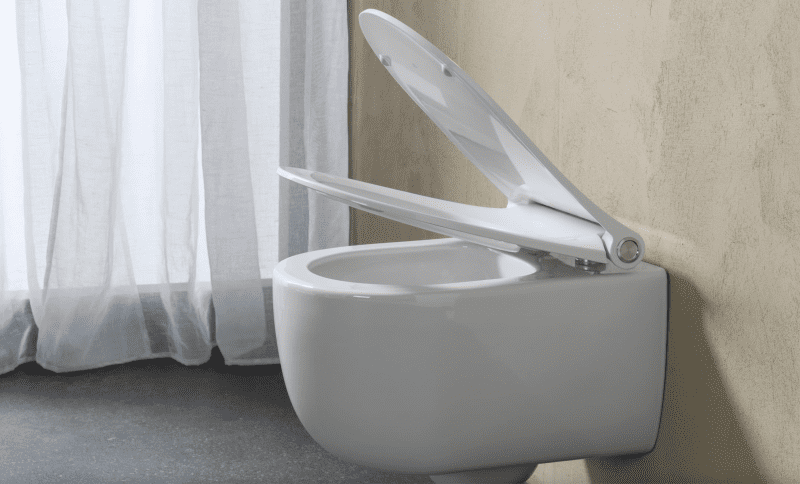 Best Slow Close Toilet Seats
Best Slow Close Toilet Seat Brand Reviews
With their round shape and white color, these extremely sturdy and comfy toilet seats give your bathroom an upscale appearance. Its streamlined form aids in damage prevention makes cleaning simple, and swiftly kills all bacteria and germs. Outstanding features on Delta toilets include mounting gear and non-slip bumpers, which make installation simple with essential household tools.
This toilet seat has a round design and is white. Its outstanding quality contributes to its strength and durability. It is light and soft-closed because it is constructed of sturdy solid plastic. You have stability from its thick bumpers.
If you use the Delta Slow Close Toilet Seat function properly, you can use it for a long time without any cracked or damaged parts. It is made to lessen the irritating slamming sound when you use something quickly.
Highlights
This toilet seat has an easy installation method that even you can use. It requires a few nuts and bolts, as described in any simple instruction book. Therefore, non-slip bumpers provide comfort without the risk of slipping. It fixes firmly and eliminates the possibility of the chairs slipping, shifting, or moving.
Highly resistant to stain, fading, and peeling thanks to its high-quality substance and lovely finishing. Its extended and circular features offer you comfort at a modest cost.
Customer experience
This is an excellent choice for people seeking affordable toilet seats with essential, attractive design elements and a long-lasting product. It surpasses toilet seats due to its gentle closing characteristics and simple installation.
Additionally, this is made by a well-known manufacturer of toilet accessories and is relatively inexpensive for everyone. You can pick from a diverse variety of these options depending on your requirements.
This elongated shape is ideal for bathrooms in terms of style and functionality. This is convenient and comfortable to use and easy to get started. Oval-shaped and composed of high-quality plastic, this Kohler toilet seat model adds elegance and beauty to the bathroom's decor. There are no other Kohler models with this quality at this price point. Therefore its low price makes it appealing.
This toilet seat is designed with a hinge mechanism that is fast and comfortable to close. You don't have to hire a plumber to set up your gear; you may do it yourself. The short, connected bolt makes installation a breeze. When it comes to cleaning, having a quick-release system makes it more accessible.
Highlights
This toilet seat has no slamming issues. It does its job well. Sit in the toilet without worrying about your butt shifting to the corners. Other than that, it's a beautiful addition to any room, provides comfort, and is a breeze to clean. Additionally, it is easily adaptable to both one- and two-piece toilet configurations.
Among the most excellent advantages of this Kohler toilet are its quiet operation and the absence of any squeaks. After using the toilet, try to keep the lid from slamming shut. More trustworthy, long-lasting, and functional products are what Kohler aims to provide their customers with this seat.
Customer experience
You should buy this if you're looking for a low-cost toilet seat that's easy to use and doesn't slam shut, as it's quiet and doesn't make a sound. You can enjoy a peaceful and comfortable environment with this toilet seat, which is both valuable and easy to use.
This Mayfair toilet seat is another excellent option. Designed for domestic usage, this is a conventional slow-closing toilet seat. We've already learned that this is crafted from only the finest wood. In other words, you know it will last a long time because of this. If you have an elongated or round bowl, you can buy this for it.
Mayfair, a well-known name in the industry, produces high-quality products for the bathroom and kitchen. You'll love the Mayfair toilet seat's whisper-close hinges, which keep the seat quiet when it's closed hard. Additionally, its STA-TITE mechanism is highly secure and robust, and the elegant and gorgeous finishing of wood material makes it stain and scratch-resistant.
Mayfair has put a lot of effort into the design of this particular toilet seat and includes a feature that makes installation a breeze. This seat below the bowl is attached from the top, so no bolts are needed. This eliminates the need for bending during installation, making it accessible to the general public.
Highlights
The seat also includes a precision set fit that can be changed to ensure that the seat fits the bowl accurately, which is another noteworthy feature. Fastening bolts maintain the seat firmly in place, preventing any sagging.
This hardwood chair is protected from fading and staining by a special coating. There are two functions for the seat and the lid's whisper-close feature. No fingers will get caught, and it does not smash down either.
Customer experience
Those looking for a low-cost choice with high-quality features and the latest technologies, including the Mayfair toilet seat's close whisper feature and others, might consider this model. Leaping trust is the only way forward.
There's a reason why Mayfair's cushioned toilet seat looks so similar to this Bemis one. Mayfair was founded by Bemis, the world's largest manufacturer of high-quality toilet accessories, and has since become a vital part of the firm. This Bemis toilet seat is trendy and exquisite for a fraction of the price.
At a reasonable price point, Bemis is the name for you if you're seeking elegant and functional toilet seats. This one is simple to put in and much simpler to take out. Hardware constructed of non-corrosive metal and proven to endure a long time is supplied.
A built-in LED night light is included in the Bemis toilet seat, which can be turned on and off manually so that you may plan your nighttime routine. The bathroom has a calming effect on the mind and body.
Highlights
Your toilet can't come undone because of the STA-TITE fastening system. It's a breeze to install this way. You can accomplish this all by yourself. The wrench is the lone exception. Easily adaptable to various toilet models, this is perfect for any household. It will remain stable and crack-free for an extended period because of the additional grip given by the bumper.
Customer experience
It is possible to set the seat temperature on this toilet and all the other features. It's available in circular and elongated forms, so there's a model for any bathroom. It is non-corroding hardware that won't need to be changed for a long time. But despite this, the toilet seat lacks particular features and appears more industrial than other toilet seats.
Centoco, one of the most popular brands in the United States for toilet seats, has provided us with the 900SC-001 Elongated Wooden model for our fifth spot. With their top-of-the-line goods, they have dominated the market for polypropylene plastic injection molded chairs ever since.
Polypropylene covers a solid wood core in Centoco's safety-close toilet seat. To ensure that it does not fracture, peel off, or flatten under typical circumstances, it has been weight-tested to 300 lbs. With its slow and silent shutdown, it's safe for children and pets alike, and it's also easy to clean.
As a result, it is one of the most hygienic and low-maintenance options available today. A scratch-resistant high-gloss surface, which can tolerate harsh chemicals and cleaners, is also included in the seat's design.
Highlights
This item has a lot to enjoy because of its aluminum hinges and crossbar. It also comes with corrosion-free mounting hardware that ensures the seat stays in place and can withstand any impact. As a last benefit, because it is non-porous, you won't have to be concerned about germs and bacteria.
Customer experience
There is no slamming or harsh closing in any of these Centoco imports. This is the greatest toilet seat tool we've found if you're on a tight budget yet still want high-quality features. Many users are happy with this toilet seat because of its easy functionality and durability.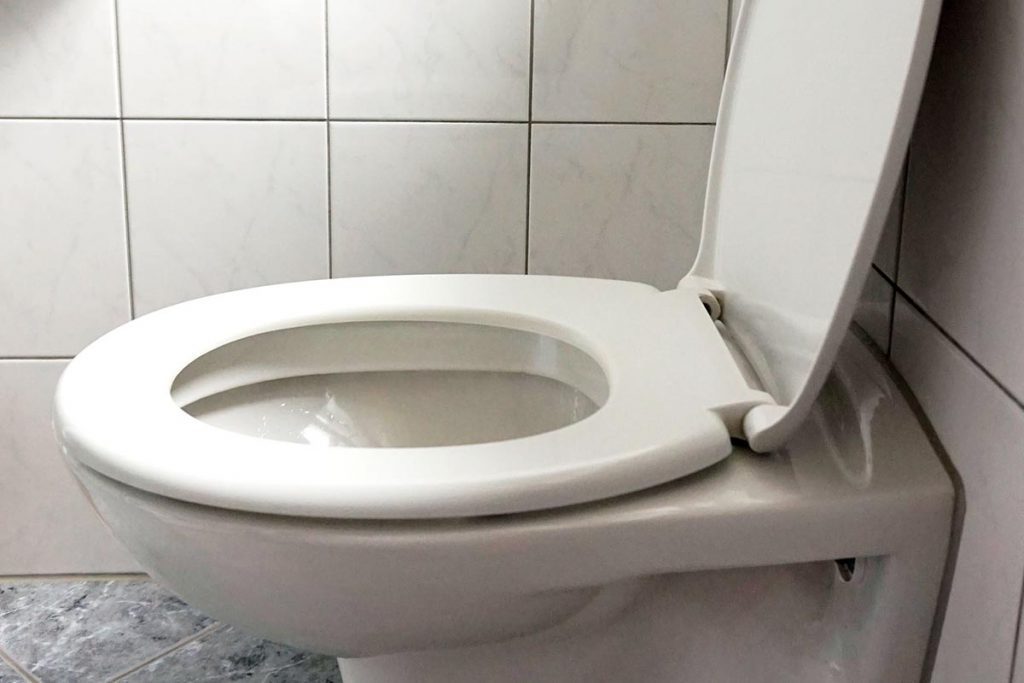 Factors You Should Consider While Choosing Slow Close Toilet Seat Brands
By now, you've sifted through the top choices and understood how difficult it is to choose one. Size, comfort, and other qualities will all need to be taken into consideration when making this decision. We've outlined the most important considerations to assist you in making your final decision. We hope this helps you choose the best one for you.
The right materials
Plastic or wood are the most common materials for toilet seats. Plastic toilet seats are inexpensive, easy to clean, and available in various colors. However, wooden seats are more expensive. They are also comfier in the winter. In contrast, hardwood seats tend to stay longer because they are scratch-resistant and hard to break, but they may require more upkeep in the long run due to their greater longevity.
Look for durability
A more robust toilet seat is more expensive up front, but it can save you money in the long run. Wooden seats, as previously said, are extremely long-lasting and can be used for many years. Some plastic seats are more durable than wooden ones, depending on their quality. Before purchasing, it's a good idea to check customer reviews to ensure that the seat is built to last. Consider purchasing a more robust chair if you plan to use it for an extended period.
The appearance
When purchasing a toilet seat, some individuals don't give a second thought to how it looks. However, if the overall look of your bathroom is crucial, numerous solutions are available. Most toilet seats are white, but there are a variety of colors available to fit your toilet and bathroom decor. To further enhance comfort and aesthetics, some seats feature built-in LEDs.
Ease of installation and maintenance
Generally speaking, most toilet seats may be installed in less than a half hour. A simple seat should require two bolts and some elbow grease; some even come with an easy-to-install mechanism that does not require any screws. A bidet attachment, for example, can complicate the installation of a toilet with many additional features.
Ease of installation affects more than just maintenance. For example, toilet seats that are simple to remove and reinstall can be cleaned thoroughly. In addition to the installation, your seat material affects how much maintenance you'll have to do. The non-porous nature of plastic and the fact that harsh chemicals won't damage it make it easier to clean than hardwood cabinets.
Size of seat
You need to know what size you're getting before you buy. Some chairs are so small that they won't be able to fit people with larger bodies. An extended variant is preferable to the spherical one for heavier persons, typically smaller. Before making a purchase, make sure the seat is wide enough by comparing the sizes. You don't want to be uncomfortable at any point in the process.
The right fits
You must double-check the product's compatibility with your current toilet bowl before purchasing it. Now, if you're purchasing both simultaneously, there won't be a problem. Measure and compare the sizes of the two bowls if you intend to put them on top of an existing one. Round and oval are two of the most popular shapes, and you will likely find a perfect match. If you have a custom-made toilet bowl, this may be a problem.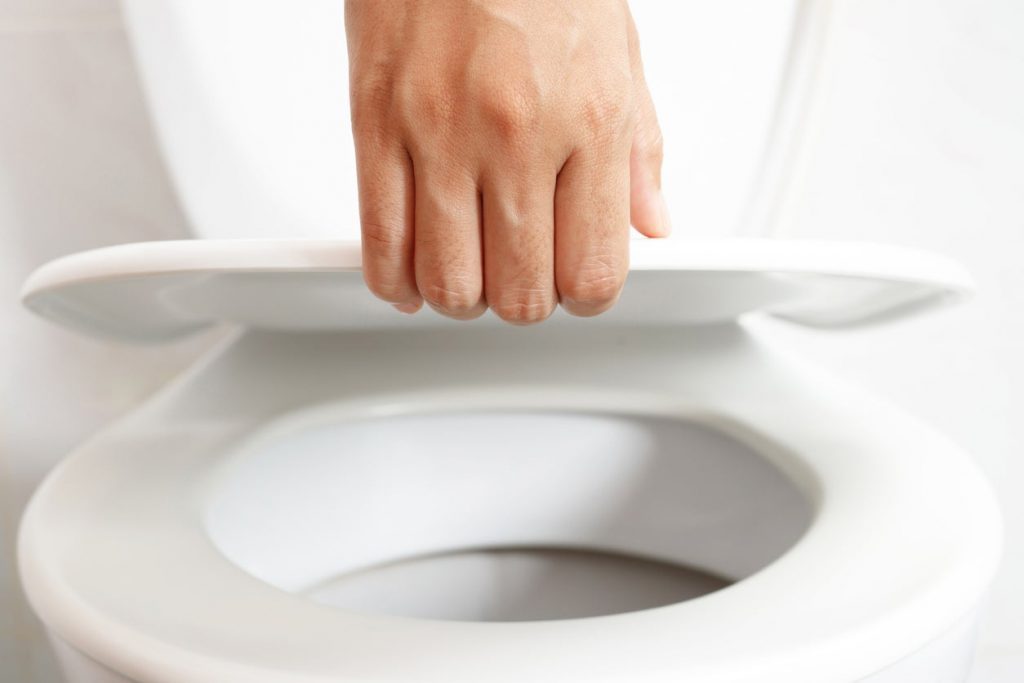 Benefits of Slow Close Toilet Seats
No more slamming
A slow-close toilet seat has various advantages. With a gently closed toilet seat, you won't have to worry about a seat slamming shut ever again. When the seat hits the stool, it makes no noise, so it's safe for kids and adults who aren't paying attention. This allows others who may be sleeping in the middle of the night, to avoid being awakened.
Safer with small children around
Furthermore, a seat that cannot be slammed shut is more secure. If you have a child or pet who likes to drink from the bowl, this is extremely important!
Keep things cleaner
Additionally, slow-closing toilet seats are better for hygiene. This is because closing the seat requires less squeezing and manipulation. Many models now come with removable toilet seat hinges, which means fewer "dirty" hands will grab the lid.
This type of toilet seat hinge is also referred to as a "lift-off" hinge because it makes it easier to clean around the hinge area. All of us can agree that it's a tough one!
Helps get your toilet lids closed
Is it simply because it's more convenient and less time-consuming? As far as I can tell, that is a lot less labor. Alternatively, it may be because the idea itself is pretty intriguing. If you haven't used a slow-close seat in a while, you'll like the novelty of it. In addition, the coolness factor alone might end many marriage disputes!
Better quality seats
Additionally, the hinges aren't your average toilet seat hinge, beyond the fact that they can be used to close the seat of your toilet progressively. Most of these items are made to a higher standard than your typical toilet-seat design.
The hinges are therefore of more excellent quality, which means they are more long-lasting. Ensure you get a high-quality model that will serve you long. The hinges of low-quality toilet seats are designed to keep the seat in place even after it has been tightened.
Slow and quiet closing system
When we're short on time, we're more likely to rush to the bathroom. During these bathroom times, there is a certain tension and urgency. In contrast, when the toilet seat begins its trip of closing before or after usage, we are unlikely to lose our patience.
It has a calming effect on a busy encounter since it is slow and silent. It's therapeutic to gaze at this primary but efficient object while slowly reclining. It gives us hope that being quiet and the patient might have its benefits.
Reduces the risk of injury
When using a toilet, there is a slight risk of injuring yourself. Traditional fast-closing toilet seats might snag your fingers. We usually let go of the fast-closing toilet before it finally finds itself in a downward position to avoid our hands becoming tangled or squished.
Related: Best Toilet Seats That Don't Move
Easy cleaning
For easier cleaning, most of these chairs have a quick-release system. We prefer to use a restroom that has been recently cleaned and has a pleasant scent. Slow-closing toilets have made cleaning a breeze.
Types of Toilet Seats
Toilets have come a long way in the last few years. The design of toilet seats has evolved along with urinals and commodes, which is quite a bit. There are three primary sorts of toilet seats, and there are a plethora of designs to choose from.
Round toilet seats
These are the most common and most frequently used toilet seats. They're inexpensive and commonly found in private residences. Round toilet lids, around 16.5 inches in diameter, save on storage space and can be purchased at most sanitary supply stores.
Elongated or oval toilet seats
Commercial restrooms like restaurants and workplaces are the most common places for elongated toilet seats. To assure the user's comfort, the 18-inch models are available. They cost a little more than the round toilet seats.
U-shaped or open toilet seats
It is most commonly used in public restrooms, where multiple people frequently use the same commodes simultaneously. The U-shape of the toilet seat keeps a man's genitals away from the seat and prevents urine drops.
Frequently Asked Questions
What is an excellent toilet seat to buy?
The finest toilet seat for you will rely on your personal preferences. BEMIS 7300SLEC 000 Toilet Seat is a good option if you're on a budget and don't need extra bells and whistles. The 5 toilet seats mentioned above are the most acceptable option if you're looking for the most value for your money.
A good toilet seat should have a long-lasting finish, be simple to install, and have non-slip bumpers, among other things. Before making in-depth comparisons, it's a good idea to zero in on a few brands that fit your criteria.
Are plastic or wood toilet seats better?
In the case of wood vs. plastic, there is no right or wrong choice. You should weigh the advantages and disadvantages of both wood and plastic before making a final decision. Plastic is more durable than rigid polypropylene, but moldable wood is more trustworthy. Similar to wood and molded wood, plastic has a broader range of color possibilities.
To save money, use medium-strength plastic, which is less expensive than high-strength plastic. For this reason, you should avoid sacrificing vital elements of the toilet seat, such as the bumper and quick-release hinges.
What is a Slow Close Toilet Seat?
When you push down on a slowly closed toilet seat, it slowly closes on its own. To explain why it takes so long to close, it has tensioned hinges built in. As a result, the toilet seat will close slowly and without the usual thud.
You can engage its closing mechanism by lightly tapping it. As soon as this is complete, the seats and the lids will drop down and close. Soft-close toilet seats are fantastic because they are so quiet when they close that you will barely hear a sound when they do.
How do Slow Close Toilet Seats work?
Using hinges in the bearings of the toilet seat, slow-close toilet seats can close softly and quietly. It is possible to slow down the closing of some hinges. For the toilet seat to work correctly, you must replace the hinges.
How often should I change my toilet seat?
The quality and frequency you use your toilet seat will determine how long it will last. The toilet seat should be replaced every few years as a standard sanitary item. With harsh or chlorinated cleaning chemicals, toilet seats age faster than other bathroom parts. Dirt and bacteria are attracted to the porous surfaces. If this occurs, you should install a new toilet seat right away.
Conclusion
You must pay special attention to your toilet seats since they have the power to make or break your day. Toilet seats in round, oval, or U shapes are available in various sizes and shapes. In addition to the standard possibilities, other materials such as plastic or stainless steel are available.
Before making a final decision, examine the essential features such as shape, material, and how the toilet seat will be mounted. Soft-closing, quick-release, and lighted-back toilet lids make it easier to open with your hands. Whatever your preference is, you'll find it on our list of the best Slow Close Toilet Seat in 2022.