The usual height of most toilets makes them inaccessible to individuals with mobility impairments. Getting the best elevated toilet seat is the only way to avoid the issue and improve everyone's experience on the toilet.
These raised toilet seats raise the toilet to a comfortable height while lessening the distance between the user and the toilet. It adds height and makes standing and sitting easier, bringing comfort and relief.
At some point in our life, we will undoubtedly require the assistance of one of these devices. How does one determine which option to choose? We have compiled a list of the six best raised toilet seats on Amazon in this article. Stay with us for more information.
Best Raised Toilet Seats
Best Elevated Toilet Seat Reviews
The OasisSpace Stand-Alone Raised Toilet Seat provides enhanced comfort and convenience. Compared to conventional models, the device's unique ratio gives greater support and balance.
The seat comprises injection-molded plastic and has a splash guard with no base. The baseless guard's function is to ensure that waste enters the toilet system directly.
Adjustable between 20.5″ and 27.5″ in height. Its rail handle height is adjustable from 28.5″ to 34.5″ in height. The seat can accommodate up to 300 pounds of weight.
For those healing from knee or hip replacement surgery or with balance or lower body strength problems, toilet safety frames provide handrails on both sides of the toilet to aid in sitting and standing. They have no impact on the toilet seat and do not alter the bathroom experience for those who do not require this safety feature.
Due to its design and legs, the raised toilet seat from OasisSpace provides some of the best possible stability. The back legs contain suction cups that may be fastened for secure and steady use. The seat has anti-slip surfaces, making it significantly safer and more comfortable than alternatives. Additionally, this model comes with a padded toilet seat for enhanced comfort.
Features
This freestanding bathroom safety frame offers a secure support for individuals to sit on or rise from a toilet. It is easy for assisted living facility caregivers to clean. Each exterior leg is topped with a non-skid, non-slip tip to ensure safety and security.
Their elevated toilet seats comply with the most stringent medical bathroom toilet rail standards. The stable safety frame and elevated toilet seat make us extremely safe to utilize. It is simple to assemble in 10 minutes, and anyone can install and comprehend its operation, making it far faster than the competitors.
The frame is made of aluminum, which is resistant to corrosion. This tiny toilet safety rail can support up to 300 lbs. For improved support, toilet seats for the elderly and disabled are padded with soft rubber.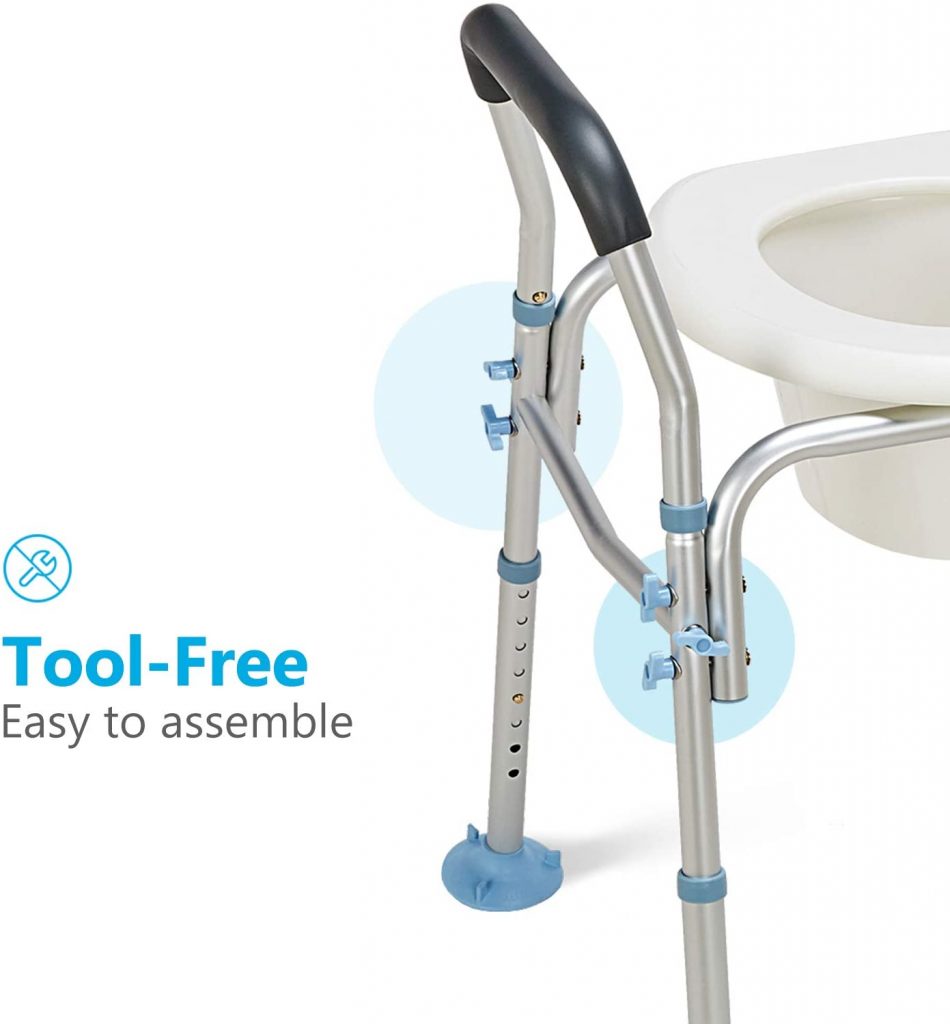 This AUITOA 4-in-1 Raised Toilet Seat provides a sufficient height and superior support and security. Installation is easy and requires no special equipment.
It functions as a bedside commode chair, toilet safety frame, shower chair, and an elevated toilet seat with arms and back. It is a four-in-one toilet seat designed to accommodate a variety of purposes.
This multipurpose device is a helpful alternative for elderly individuals with limited strength and mobility. It can be used as a safety rail, as a freestanding item, or in conjunction with a toilet to provide an elevated seat. The innovative design offers greater stability than a conventional model would.
Although the seat of the AUITOA is quite durable, it is rather lightweight and portable. Additionally, it contains a range of user-friendly features. Each leg is capped with a non-marking, non-scratching, firm rubber cap to prevent slipping and leave no traces on the floor.
Its ultra-plush padded seat further protects against falls and slips for the elderly and physically challenged. The toilet seat's height is changeable to accommodate your demands.
It holds up to 300 pounds. Adjustable between 18 and 22 inches in height. The width of the backrest measures around 19.3 inches to provide comfort for your back.
Features
Individuals who suffer from knee or leg pain can easily alter the chair's height. To provide comfort for your hip and thigh, the seat cushion has a thickness of 1.6 inches and is the right size for most toilets.
With sturdy back support, the stresses on the back and spine are alleviated, providing relief for the body. The backrest removal is optional. Detach the back of the toilet seat by pushing the pins.
When used as a bedside commode chair, the toilet seat is complemented by a high-quality basin. And when you only require a toilet riser or safety frame, fold the basin and leave it behind.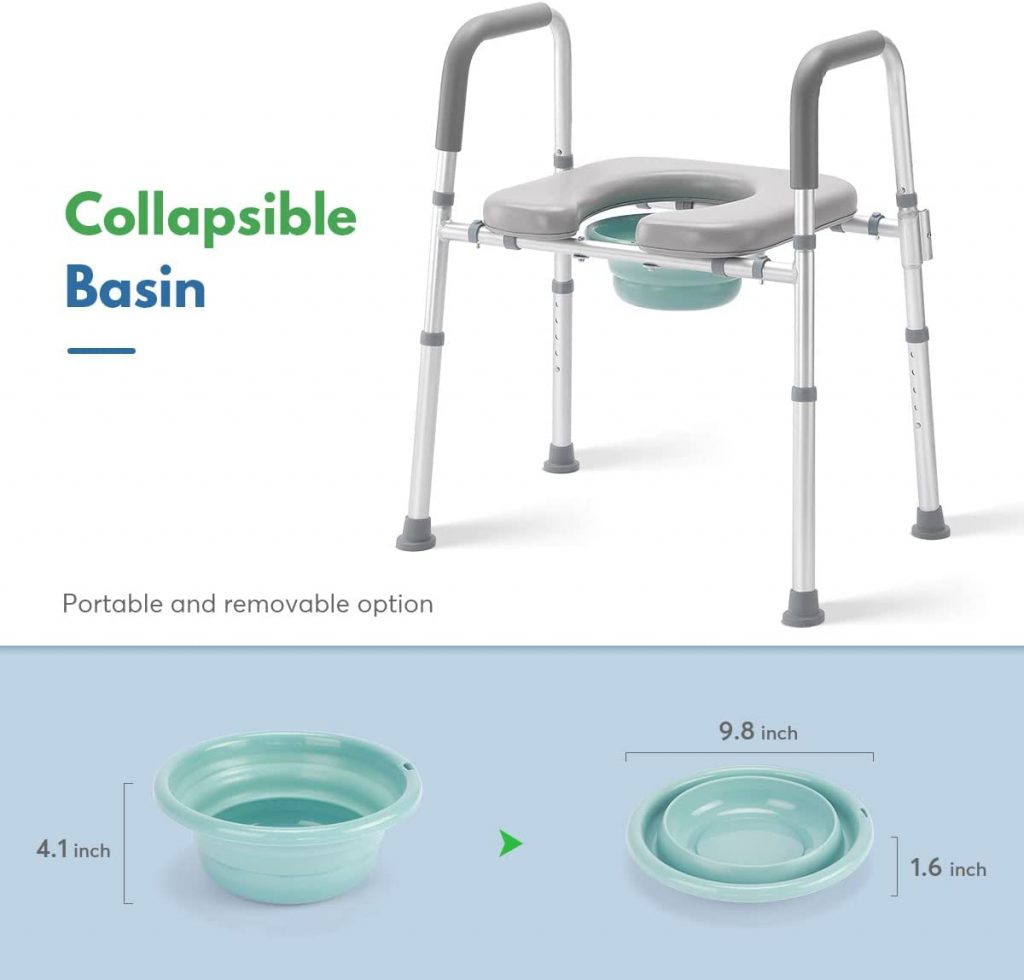 The Bemis Raised Toilet Seat is fantastic for elderly individuals with restricted mobility. The durable composite seat connects easily to your existing toilet seat and adds 3 inches to your height. You are not limited by the sort of toilet you have since you can choose between conventional and elongated styles.
This design accommodates individuals weighing up to 1000 lbs. Slip-resistant rubber pads attached to the underside contribute to the object's stability. The apparatus is lightweight and easy to lift for cleaning.
It can be placed on top of the original seat after removing it. The toilet seat has a universal design, allowing it to be used in virtually any toilet size or style. The model is straightforward to clean and sanitize.
It is durable and stable due to its injection-molded plastic structure. There is no need for tools throughout the installation process, making it simple.
Features
The seat height is raised by three inches to facilitate sitting and standing without bending for individuals with limited mobility due to back, hip, or knee conditions. It is straightforward to clean. In addition, it prevents the seat from crashing down while it is not in use.
A 1,000-pound test was performed on a durable, solid plastic seat. The extra-wide seat gives the user additional support and fits in practically all restrooms.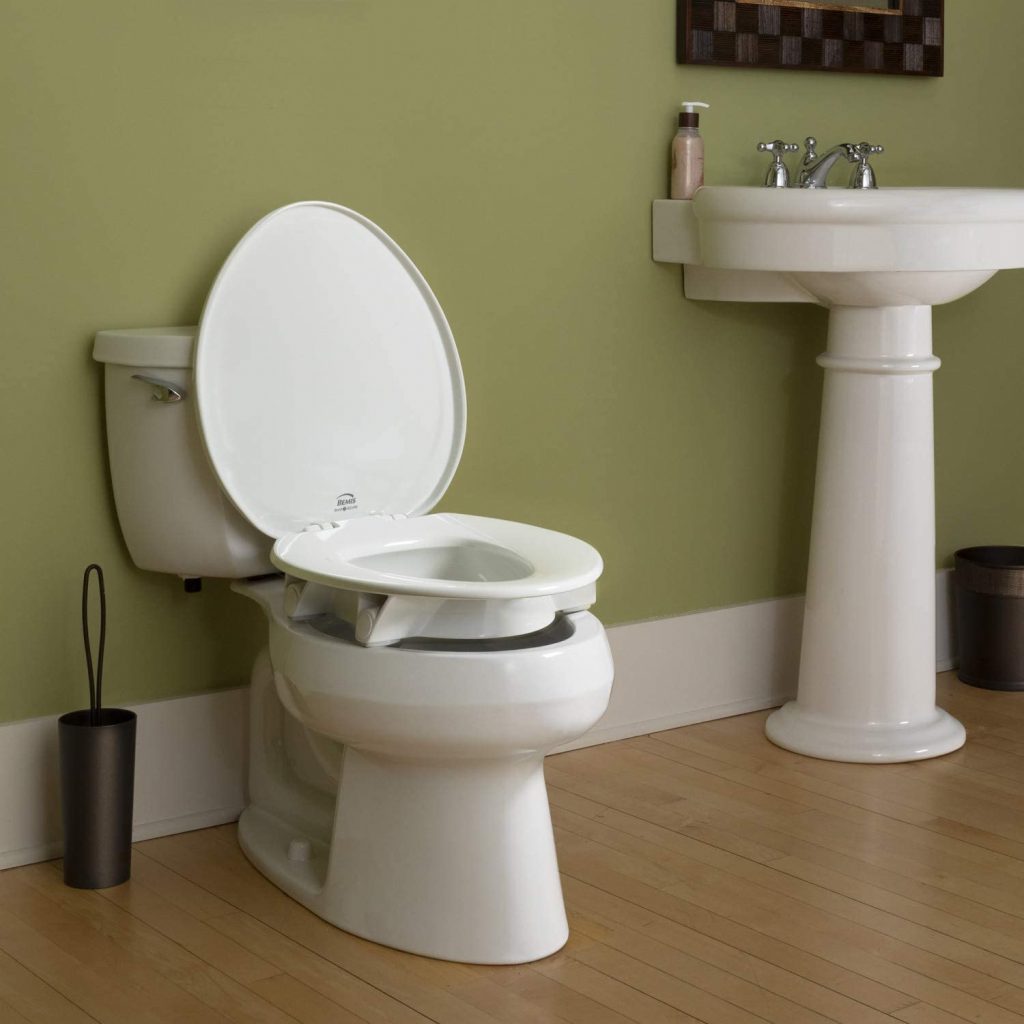 The Carex elevated toilet seat with armrests is ideal for those who have difficulty bending or sitting. Attaching the elevated toilet seat to the bowl decreases the distance between the toilet and yourself by 3.5 inches. This lightweight, elevated toilet seat features integrated hand handles and is simple to clean.
In addition, these handles are cushioned for comfort. These handles include a soft comfort grip for non-slip standing and sitting support. With their assistance, seniors might feel more secure and independent.
The handles are simple to install or remove when they are not in use, and there is ample space between them to suit various sizes and weights. This design provides a dependable seat riser with a strong composite seat construction.
It can withstand up to 250 pounds. The seat is robust, smooth, and contoured plastic for user comfort. Installation is easy and requires no special equipment. In addition, this model is simple to clean and sanitize.
This incredibly lightweight seat is extremely simple to carry to the desired position. This seat may be quickly installed and detached if you travel for an extended period.
Features
There are no needed installation tools. The toilet seat hardware kit enables simple installation and removal on virtually all toilets in seconds. This elevated toilet seat may be readily disinfected using common cleaning agents.
This toilet seat riser gives the aged, the disabled, and those recovering from an injury or surgery trustworthy support and safety, allowing them to sit and rise from the toilet with ease and comfort.
This toilet riser is constructed of heavy-duty, lightweight, and simple-to-clean molded plastic to accommodate up to 250 pounds for safety and functionality.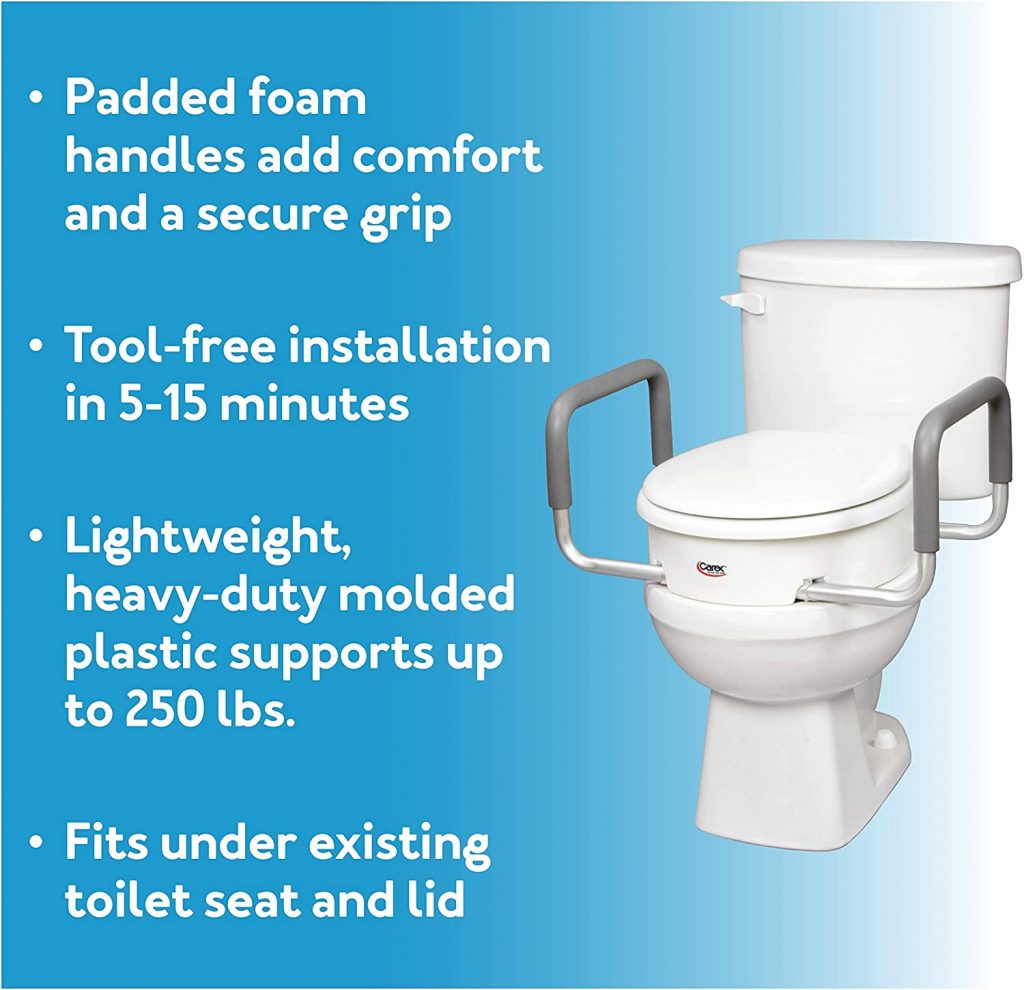 The Savanah Raised Toilet Seat with a Lid is designed to make sitting and standing from the toilet simpler. The elevated toilet seat provides the required height for individuals to sit and rise from the seat without difficulty or additional help.
This clamp-on safe elevated toilet seat is constructed of high-quality, long-lasting plastic and can support up to 420 pounds without difficulty. It lifts the toilet seat by four inches and is slick and curved to promote balanced weight distribution and optimal stability.
It is a portable solution that is easy to relocate and transport as needed. In addition, it is one of the few alternatives that come with a lid. Additionally, it is simple to clean and sanitize, which is vital for any toilet-related item.
The device is straightforward to install and easy to use. Moreover, it is a cost-effective option with a good design for enhanced comfort.
It is simple to fit into the majority of elevated toilets due to its universal dimensions. When placed properly on a toilet that is compatible, the seat is stable and does not wiggle. You must first remove the original toilet seat before clamping the elevated seat to each side of the toilet bowl.
Features
This toilet seat raises the toilet seat off the ground to prevent bending and enable persons to use the restroom on their own securely. It is composed of lightweight plastic and slopes gently downhill toward the front, making it simpler to mount and off.
The two L-shaped brackets can be adjusted to accommodate standard-sized toilets and are secured to the toilet with a locking mechanism. The fully-sealed white plastic is simple to clean with a hard-surface cleaner and may be installed and removed with minimal effort. Its maximum weight capacity is 420 pounds.
The Carex toilet seat riser can support up to 300 pounds and adds 3.5 inches to your toilet's height. In addition, it is compatible with the majority of ordinary elongated toilets and can be cleaned the same way a regular toilet seat can be.
It features a seat that rests atop the bowl. The elongated shape is broad to provide the user with improved comfort. Slip-resistant rubber pads attached to the underside contribute to the object's stability. The apparatus is light and simple to lift and clean.
The seat riser is highly transportable so that you may always receive the necessary support. This toilet is designed to avoid trips and falls, so there's no need to worry about falling.
This is excellent for persons with deteriorating joints, surgical procedures, fatigue, and pain. The increased height reduces the likelihood of falls and eliminates the issue of restricted mobility.
Seniors and caregivers alike will like the fact that this seat is easy to install and requires only 3-easy steps for installation, despite being secure. The raised seat allows for easier access to the remainder of the toilet, allowing you to keep a hygienic bathroom.
Features
It is a toilet seat riser that attaches beneath your existing toilet seat to increase your comfort. It is compatible with many extended toilet basins. It increases the height of the toilet seat by roughly 3.5 inches and is extremely comfortable. The toilet seat facilitates sitting on and rising from the toilet for the elderly and disabled.
The toilet seat can be placed in under two minutes, thanks to the 3-step installation process. It is suitable for individuals weighing 300 pounds or less. It provides peace of mind when using the toilet, as it is quite stable and secure.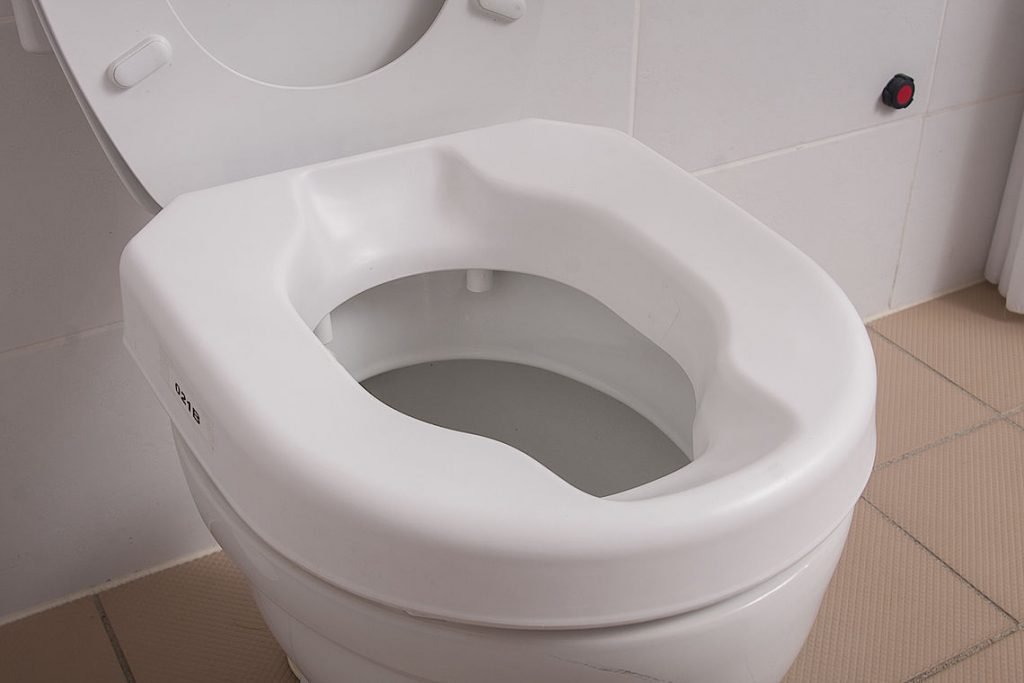 Factors to Consider Before Buying a Raised Toilet Seat
Specs
The effectiveness of a product will likely be determined by its specs. The seat height of most products we examined was between 3 and 5 inches, suitable for the average-sized individual. Additionally, consider the arm or handle dimensions, if present. In addition to the additional support, they can provide you with an additional 5 inches to make getting up and down simpler.
You can find raised toilet seats with or without legs, making them freestanding. The former benefit is that they frequently allow you to change the overall height of the gadget. It can readily make a product usable where it would not be without this addition. It enhances the adaptability and versatility for various particular settings and mobility concerns.
Additionally, determine the seat's measurements, particularly the width of the interior. Although the majority range between 17 and 18 inches, you can also find thinner and broader options. Much relies on the type of toilet they fit. The maker specifies whether or not the item is compatible with standard or extended fittings. If you notice a height restriction, we recommend measuring your existing one to be safe.
Handrails and width
Handles or support arms affixed to a raised toilet seat can provide additional security and stability when transitioning between seated and standing positions; nevertheless, certain persons may require a greater grasp. Many elevated toilet seats with arms feature textured grip surfaces so that the user can safely and pleasantly grab the support arm when moving.
When installing any safety assistance, safety and comfort should always take precedence. The ability to grasp the support arms or grips of a raised toilet seat is crucial. The diameter of the handle should be comfortable for the user to grasp.
If the handle is too large, the user may not be able to grab it, and if it is too little, they may not be able to grip it either. The simplest approach to determine this is to have the user test the supports before installation by placing their hand around them.
Read more: Best Japanese Toilets
Padding
Those who are susceptible to pressure ulcers may benefit from elevated toilet seats with padded covers. For instance, sturdy plastic pads are recommended for the majority of users, whereas a rubber toilet seat is a good fit for a toilet seat. This toilet seat type is lightweight and portable.
Presence of lid
There are raised toilet seats with lids that can be purchased. This is preferable from a sanitary standpoint. Lifted toilet seats are mounted under the lid, which can be raised or lowered using bolts. The seat must be removed in order to raise or lower the lid.
Weight capacity
Because each toilet seat can sustain a particular amount of weight, this is a crucial consideration. The normal capacity for a raised toilet seat is between 250 and 300 pounds.
A bariatric model may accommodate up to 1200 pounds of weight. Before making a purchase, you must confirm that the elevated toilet seat can support the user's weight.
Removal and installation
Some products are designed to replace the existing toilet seat. Others are removable so that others may also use the bathroom. We like models that can attach without requiring a great deal of effort. Security is a major worry. For best safety, it must fit well without the risk of falls, as fall raises the likelihood of recurrence and harm.
Removal is another crucial consideration, especially if you or a family member are the only ones who require this substance. Regardless of the model you choose, we recommend you or your caregiver regularly inspect the fit to ensure its safe use. On our list, you will also find portable ones that you can bring with you when traveling, which increases their worth.
Material
Numerous products have seats made of molded plastic, making them less expensive and providing a simple way to clean the item. Additionally, the curved design enhances comfort. Frequently, they have a metal frame that offers additional strength and security. Aluminum provides strength without additional weight. They may be utilized without help, making them a sensible option for individuals who live alone.
Stainless steel variants may also be available. This can make them more burdensome to use while enhancing their resilience. However, they are a sensible option if you require a permanent solution for an assistive gadget that will facilitate your independent living.
Locking mechanism
A toilet seat raiser with a locking mechanism will ensure the seat's stability and prevent sliding. Purchase a toilet seat with a locking mechanism for the elderly and those with limited mobility.
Read more: Best Japanese Toilet Seats
Types of Raised Toilet Seat
Standard
A typically elevated toilet seat can be placed over a regular toilet and can either have a locking mechanism or none at all. Those versions with a locking mechanism will feature either a bolt or a clamp to secure the seat. The elevation levels will range between 40 mm and 150 mm in height.
Raised toilet seat with arms
It is similar to a regular toilet seat but with additional arms on the side to offer disabled or elderly users more help when rising and lowering themselves onto the toilet seat.
Portable raised toilet seat
These raised toilet seats are often constructed of lightweight material, such as rubber, and may be placed over the toilet bowl and removed when not in use. This makes it simpler to transport when required.
Raised toilet seat with lid
An elevated toilet seat with a lid is still another type. The lid may be opened and closed as needed, comparable to a regular toilet seat, and is an overall more hygienic solution.
All the versions mentioned above can be found in various heights and locking systems. The height or elevation can range between 40 mm and 150 mm.
Installing Raised Toilet Seats
Most elevated toilet seats are easy to install and require few or no tools. Depending on the model, you must set and lock the gadget over the toilet. In this manner, it will not move while in use.
Here is what you should do if your toilet seat is elevated and has handles:
Insert the cushioned arms into the side slots of the gadget. Ensure you hear the click of the buttons if it has any to confirm that the arms have been secured.
Once the arms are in position, lift the toilet's lid where you will install the gadget. The device should be positioned directly over the toilet and not over the lid.
You've placed the elevated toilet seat on top of the toilet. Now, you must lock the seat to the toilet by turning the lock found on one side of the gadget.
With the lifted toilet seat secured, you can now enjoy your newfound restroom independence and freedom.
Read more: Best Smart Toilets
Frequently Asked Questions
What is a raised toilet seat?
The objective of both a raised toilet seat and a toilet lift is to increase the height of the original bathroom toilet. Even though they sound identical, there are minor distinctions between them.
Most toilet seat lifts are adjustable and have some form of a frame. They can be raised or lowered based on the individual's needs and are typically put over the top of a toilet instead of sitting directly on the toilet.
An elevated toilet seat functions similarly to a booster seat for the toilet. You put it directly beneath your existing or preferred toilet seat, and you've gained a few inches. The majority of raised toilet seats are constructed from a single piece of plastic and are therefore not adjustable. Most increase your seat height by 3.5 inches, while others boost it further.
Seniors who have difficulty lowering themselves onto standard toilets can benefit from raised toilet seats. Increasing a senior's height reduces the amount of bending they must perform and the danger of falls and accidents.
What distinguishes an elevated toilet seat from a commode?
A raised toilet seat increases the height of a regular toilet to make it more accessible. A commode, or commode chair, is an item that conceals a chamber pot. Those whose health has worsened to the point where they cannot reach the bathroom are typically prescribed commode chairs.
If it is unclear if a raised toilet seat or a commode has been prescribed, it is essential to confirm with the physician. Many toileting assisting gadgets are non-returnable, and you don't want to be stuck with anything that could endanger a loved one.
How tall must a raised toilet seat be?
Depending on your preferences and demands, the usual height of a raised toilet seat ranges from 2 to 6 inches. The size of the elevated toilet seat will vary based on factors such as your height and the height of the toilet.
Your safety and comfort are further factors to consider while deciding on the height. Avoid selecting a model that raises you too or insufficiently from the ground. Since you will be seated on the chair for an extended period of time, it is vital to select a size that makes you feel safe and at ease.
Consider your feet if you do not know what constitutes a safe and comfortable raised toilet seat. While seated, place your feet on the ground. The size is appropriate if you can rest your feet without experiencing any pain or discomfort.
Read more: Best Japanese Bidets
What is the price of a raised toilet seat?
Depending on the features chosen, the price of a raised toilet seat can vary. For instance, variants with arms or grips often cost twice as much as a standalone seat.
A standard elevated toilet seat can be purchased for as low as $20. One with additional capabilities may cost $100 or more.
A raised toilet seat may reduce the need to purchase a complete replacement toilet with a taller height, which is a cost-saving measure.
How long must a patient utilize a raised toilet seat following surgery?
Every individual is different; however, most physicians recommend utilizing an elevated seat for six to ten weeks after knee or hip replacement surgery. It is especially crucial to use a higher toilet seat after hip replacement surgery, as bending at the hip, a natural feature of sitting on a low toilet seat, is restricted for several weeks after surgery. Until your doctor releases limitations on certain motions, it's usually preferable to continue using a higher seat.
Conclusion
Raised toilet seats are a fantastic technique to alleviate pain and discomfort for those who are old or suffering from leg or joint pain. A raised toilet seat with cushioning is a good starting point if you're unsure which assistance would be most beneficial for a user. It offers safety and comfort and can be supplemented with a toilet frame if considered essential in the future.
There are a variety of elevated toilet seats to choose from, each with varying heights, seat forms, features, and installation requirements. Measuring is essential for determining the seat height you require and the available space for additional support, such as frames or armrests.
All of the best raised toilet seats on our list are high-quality products, so you can select whichever one you want.