One of life's necessities is having the most excellent portable toilet you can afford and fit in your car. There are simply instances when no public restrooms are available. Other times, parking your car would be impossible if you weren't completely self-sufficient.
You should start by looking for a portable camping toilet that is simple to use, simple to store, and simple to clean. It should also have the right dimensions for your specific situation. These days, portable toilets have a ton of extra functions.
The good news is that we have already done all the legwork for you because this can occasionally be a little complicated to choose from out of so many options. Compare all the extremely great features of the best portable toilets for camping by looking at the list below. Thus, let's discover more!
How Did We Make the List
Capacity
The portable toilet's capacity was one of the first features we evaluated. You won't need to empty it regularly if it has a higher capacity, but when it is time to dump it, it will be much heavier.
We believe that most of the tanks on our list of reviews are 3 to 5-gallon tanks, and we advise emptying them much sooner when convenient to prevent weight problems. For rapid garbage disposal, some people prefer to empty it after each usage. On our list, there are a few models that support that.
Odor control
If you wish to keep your toilet nearby, odor control will be crucial. A brand that controls odor is one you should seek for. With firmly sealed lids, the majority of the products on our list do a fantastic job of keeping smells outside of your tent. A slide valve could also be used to manage odor.
Fresh water reservoir
There must be a freshwater reservoir for the flushing process to have a toilet that flushes. Usually integrated into the seat, the tank has a separate compartment from the waste tank.
The two tanks on many models, including those on our list, can be separated to make it simple to dispose of trash without spilling the reservoir. Side clamps secure the two compartments so they cannot separate by accident.
Maximum weight allowance
Before buying a portable toilet for camping, consider the toilet's maximum weight capacity. Finding a suitable model can be difficult if you weigh more than 200 pounds because many portable toilets have weight limits.
Even several models that advertised a 300-pound weight capacity had trouble holding my 230-pound physique. Anyone would prefer not to experience a portable toilet fall under them.
If possible, we advise testing the model before buying it or reading internet reviews. We tried to include models with a limited maximum weight capacity in our reviews.
Also Read: Best Toilet for Heavy Person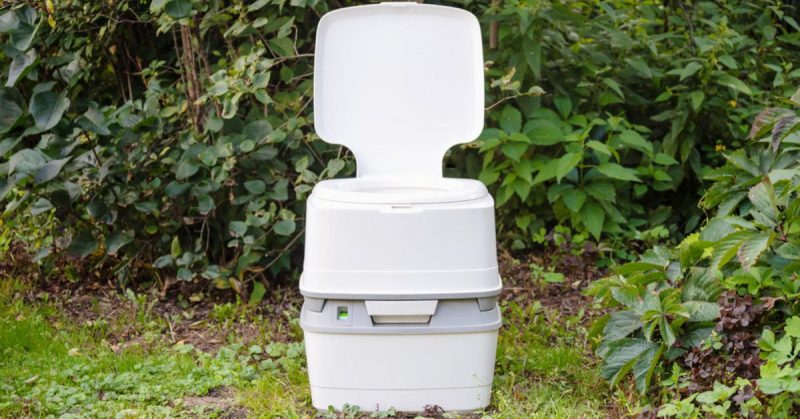 Best Portable Toilets for Camping
Best Portable Toilets for Camping Reviews
Portable toilets are a product that few people appreciate until they are required. That might be one of the reasons why so many of SereneLife's customers have praised the portable toilet. Issues with portable toilets can include things like being too heavy, too short, or too challenging to clean adequately.
This portable toilet from SereneLife will allegedly solve all of these problems and more. Many of the functions that most people anticipate from a portable tank are included in this device. This contains the standard dimensions, weight, and features required for outdoor use. The portable toilet has dimensions of 16.5 x 14.6 x 16.9 inches and 11.2 pounds.
A hose must be inserted into the aperture to clean the water tank thoroughly. You must be careful when cleaning to avoid splashing yourself because the waste tank lacks a second revolving vent.
The sliding valve that closes the hole at the bottom of the bowl is controlled by a pull-out lever. The valve should be shut off when the toilet is not in use and when it is being emptied. The valve needs to be opened before using the toilet.
Features
The three-way nozzle is made to drive waste more effectively from the bowl into the tank when the toilet is flushed. It captures and eliminates waste that would otherwise stay in a single nozzle design.
The 5.3-gallon extra-large tank can retain more sewage than ever, saving you the trouble of changing it frequently. With confidence, flush it up to 120 times; the waste tank level indicator will alert you when it needs to be emptied.
It contains a floor fastener kit available separately that enables you to anchor the portable toilet to a stable surface. The floor fastener's benefit is preventing the toilet from moving over a smooth floor. When using the toilet on the ground, no such gear is required. However, it can be very useful for individuals that use it in vehicles like boats, trucks, etc.
The general design of the portable tank, especially its height, is another distinguishing aspect. To be more compact, most portable tank designs typically sacrifice height. This is especially true if you keep these items in your home or car when they aren't in use. Serenelife has created a portable toilet that can be readily stored in most cars, boats, and storage spaces.
You might not need something quite so heavy and huge if you're going camping in a tent for fishing; a tent that folds flat would work just fine. A fantastic portable toilet created by Zinyeme may be the ideal toilet for you in such a case.
The plastic cylinder component can support up to 400 lbs once assembled, which is remarkable considering how thin it only packs down to 8 cm. This portable toilet can be folded for easy storage and reduced space. Its excellent load-bearing capacity and light weight are its main features.
This is the ideal portable folding toilet for traffic jams, camping, touring, biking, hiking, backpacking, fishing, boating, and other outdoor activities, as well as for emergencies and lengthy road trips. A toilet bag can completely enclose the toilet seat, eliminating the need for post-use cleanup. Using toilet replacement bags will address all of your difficulties.
The Zinyeme staff also aims for complete client satisfaction. If you have any problems with the product, you can contact them, and they will be happy to help. The delivery package includes one portable toilet, 12 toilet paper rolls, a water-proof carry bag, and an instruction booklet.
Features
The portable toilet is simple to assemble and takes only a few seconds to assemble. Twelve plastic bags are included with the box. Additionally, it works with 6 to 8-gallon bags for simple cleanup and hygienic maintenance. When finished, simply remove the bag and discard it. To clean and remove it, spray it with water or use a faucet.
It is extremely durable and comfortable because of its construction quality, including a density board and water-proof ABS. Up to 400 lbs. can fit on the toilet.
This fold-up portable toilet is ideal for use while camping, in heavy traffic, on a long road trip, while hiking, fishing, or at the beach, among other places.
The TPS Power Sports Camping Toilet is easy to move, light, and simple. The strong toilet flushing system provides a clean and hygienic flush. The portable camping toilet has a carrying handle that makes it simple to move and doesn't need external hookups.
It may fit in any storage place thanks to its small size. The big 5.2-gallon tank with the flush-and-dry camping toilet can flush up to 40 times in one use. The camp toilet also features a 6.3-gallon extra-large waste tank that retains the waste until you get a chance to dispose of it.
You can easily move it by hand, in the car, or using a carrying bag. This restroom can be used anywhere, at any time, whether on a long or short trip. It is an outstanding tool for camping, sailing, touring, hunting, fishing, and other outdoor pursuits.
The toilet's soft, comfy seat and lids are made of high-quality, environmentally friendly materials. Thanks to water sealing technology, the toilet can be used as a standard toilet. Once the fresh and waste water tanks are separated, the toilet can easily empty and clean. It works well as a portable toilet outside.
Features
Take this portable toilet with you when you go camping or traveling; it offers a quick fix for any last-minute bathroom demands. The portable toilet may be stored anywhere because it is small and doesn't take up much room in the trunk.
It contains a 5.2-gallon toilet tank, which is bigger than most toilet tanks on the market, unlike other portable toilets. Additionally, it can flush up to 40 times with fresh water in a single use, allowing you to use it longer before emptyings. Due to the detachable waste holding tank, it is simple to clean and empty.
High-density polyethylene, a resilient material, was used to build the portable toilet, making it leak-proof. The tight sealing quality stops odor from escaping and trash from leaking. For scented air, add liquid chemicals to the freshwater tank.
Functional cover design allows you to transition between modes of use, making it incredibly useful. The portable toilet can be used as a portable seat with storage, trash can, tiny stool, storage box, indoor toilet for the elderly, vomit bucket for pregnant women, etc., and an outdoor toilet.
Playberg is a company with a long history that specializes in outdoor accessories. From portable toilets to hiking equipment, they manufacture everything. The Playberg portable restroom is a decent product for what it accomplishes. Its dimensions are 15.5′′ W x 18′′ D x 9′′ H when folded and 17′′ W x 16′′ D x 14′′ H when unfolded.
It is simple to store away because no section is longer than two feet. However, you can have some difficulties if you're a large person. Although a portable toilet's compactness is undoubtedly a benefit, larger persons might not be able to use it comfortably.
The lid on this toilet is removable, which makes it very simple to help keep odors. So, there are no actual concerns about a big odor problem emerging. The integrated toilet paper holder is one feature that will stand out for you.
Even though it is not necessary for a portable toilet, we felt it would provide a pleasant touch. It's not too difficult to dispose of the waste, either. Playberg suggests using an 8-gallon toilet waste bag. A waste bag of this size will make cleanup simple and quick.
Features
The PLAYBERG's simplicity of use is a major selling point for many campers. When it comes time to dispose of waste, a portable toilet's removable bucket is the most practical feature. Also, this model went one step further by including a lid that can keep odors within.
Comfortable carrying slots on both sides of the toilet and allowing you to move it from place to place comfortably is another unique feature of this toilet. These can also be used as toilet paper holders by inserting the included metal wire bar.
This product is adored and has something to offer by so many sailors, campers, and van lifers. The material, according to many, is so strong and resilient that it can support more than 220 lbs. In addition, they claim that even after years of use, the material remains just as strong and resilient as on the first day.
This portable toilet can be a great, simple, and effective backup toilet for your RV or your home. Additionally, if you're seeking a cheap toilet for a camping trip or a quiet car ride with little children, this one can be really useful.
The stainless steel, foldable Blika portable toilet is perfect for boating, camping, and other outdoor activities. It is intended for those who appreciate high-quality materials.
The Blika portable toilet is offered in a 16.5-inch size, which is appropriate for everyone; it is appropriate for the entire family, including young people, seniors, and toddlers.
This straightforward toilet can be used outdoors, in a private bathroom, and beside the bed. The Blika portable folding toilet was created using cutting-edge technologies. Legs are made of stainless steel with sturdy rubber stops to keep them from slipping.
The Blika toilet also functions as a stool, which is a cool feature. No one will even notice that there is a toilet there if you simply cover the seat. It's not ideal that the stainless steel frame can support 350 lbs at once.
Many of the other toilets can support 50 pounds or more weight, but none of them are as light as this one. It's crucial to remember that this toilet does not include any trash bags; you must purchase them individually. With the Blika portable toilet, 8-gallon trash bags are advised.
Features
You will feel the most comfortable and relaxed using this portable toilet made of stainless steel, which has a soft seat and the ideal chair height. This portable toilet for camping is appropriate for long car rides, building sites, winter fishing, trekking, outdoor living, gatherings, park events, and camping.
This 4.4-pound folding toilet seat has a stainless steel frame and is rust-resistant and durable. Long-lasting durability is made possible by the SOFT, cushioned seat's wood core. This portable toilet seat can support 350 lbs of weight, making it perfect for people of all ages.
Toilet bags will be held in place by a detachable plastic ring when the plastic ring is placed on the seat. The Blika portable toilet is ideal for use with 8-gallon replacement toilet bags. To keep it clean, rinse the seat with water after use or wipe it down with paper as necessary.
The portable toilet seat is made to be both light and portable. This toilet seat may be folded and transported in your car's storage or compartment. It doesn't occupy much room in the storage.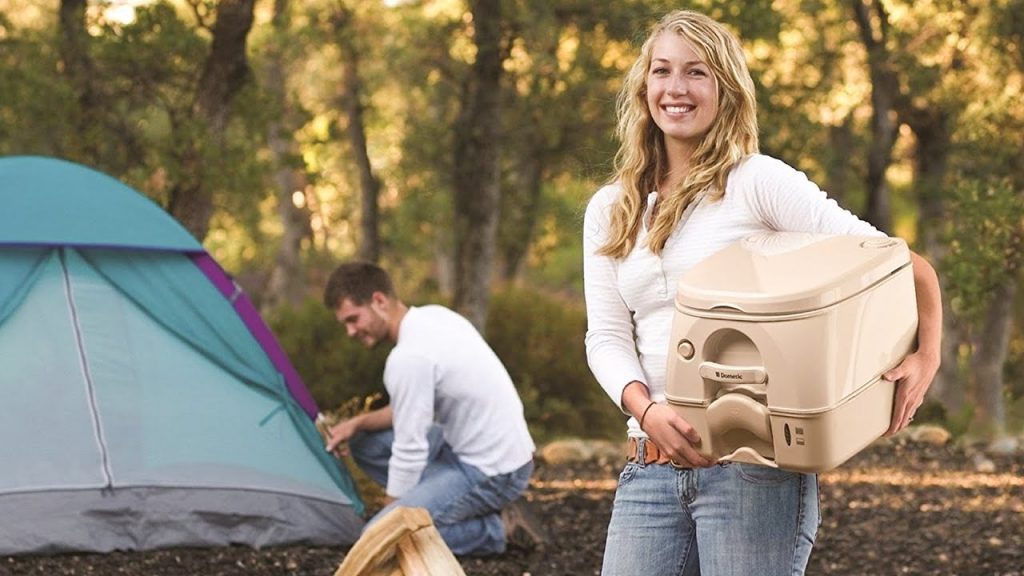 Things to Consider When Searching for the Best Portable Toilets for Camping
Weight and portability
The best portable toilet for you may depend on how you like to camp. Any portable toilets mentioned here are suitable if you often merely drive to the campground and walk there for ten to 15 minutes. Even the heavier toilets are worth considering if you won't be carrying one for long periods.
However, you will have to give up convenience for weight if you decide to hike for hours and miles until you discover the finest location to spend the night beneath the stars. You need a portable toilet that you can carry for the entire distance without stopping for a break every 15 minutes.
The larger toilets have one benefit, though—typically, you can remove the seat from the tank so that two people can handle the various components. This makes carrying a 14-pound toilet for hours of hiking considerably more convenient, especially if you're hiking in a company. Everyone won't get too worn out carrying the parts since you may alternate.
Tank capacity
The flushing tank and the garbage tank make up the majority of portable toilets. To avoid emptying the waste tank every time someone uses the restroom, you should look for an appropriate alternative with a larger waste tank.
You don't need to get the largest toilet available to ensure it has ample capacity. Some alternatives offer the ideal balance of huge waste tanks that make trash disposal simple and compact size.
Flushing mechanics
A toilet's flushing mechanism has a lot of influence. You need a practical flushing system with a visible and easily accessible handle, especially for portable toilets used when camping.
The water flushing tank is also significant in this situation, with a manual flush being the best choice. Choosing the most expensive solutions to acquire a practical flushing system is unnecessary.
Related: Best Dual Flush Toilets
Customer reviews
Typically, online sites have a reviews section. Customer reviews and even product images are included in this section. The best course of action is to browse these reviews to be able to find the best-rated toilets. You may understand from these reviews how the product will benefit you.
You can find even the advantages and disadvantages of these reviews. Check the website's rating to find out if the seller is providing the portable toilet buckets the way other buyers expected.
Ease of use
Do you require a comfortable location to sit and relax? Or do you prefer to rough it? Pay close attention to the seat measurements. Smaller toilet seats can be too small for some people to use comfortably.
Verify how simple it is to dump the garbage and remove the holding tank. Even though portable toilets for camping have separate holding tanks, emptying them can be a little riskier than simply tying up a waste bag with cat litter or bio gel and tossing it in the trash.
Benefits of Portable Toilets for Camping
Suitable for travel
As mentioned throughout the article, they are necessary for hikers, campers, and tourists. To help you understand, picture having a toilet wherever you are. A bathroom is always helpful, whether in the woods or on a remote section of the road.
It seems like you are always carrying a toilet with you. We are all aware of how stressful it may be to need to use the toilet but have nowhere to go. The answer to that problem is this product, of course. It has tremendous functionality, is simple to use, and is reasonably priced.
Saves water and energy
They have an advantage you might not have anticipated: they are environmentally friendly. Using a portable toilet instead of a regular one saves environmental resources because they consume less water and energy.
We all understand how crucial it is to live sustainably, so why not purchase a product that has a significant positive impact on the environment? You'll understand that using a regular toilet to flush wastes a lot of water and electricity.
Odor control
Additionally, portable toilets provide a solution to one of the most significant issues: odor. Their design keeps the smell within and deters flies and fleas from hovering around it. Odor is one of the greatest issues in developing nations. Particularly because of the high rate of open defecation. This problem is greatly resolved by keeping the portable toilets fresh.
Right disposal of waste
As previously said, modern portable restrooms have proper waste separation in mind. It is possible to separate the components into chambers that serve various tasks thanks to good and environmentally friendly designs.
In underdeveloped nations, waste disposal is a significant problem. Inadequate waste management leads to environmental contamination and can occasionally create several health risks that are more difficult to treat. Portable toilets are necessary for better waste disposal in locations with a significant risk of this type of pollution.
Cost-effective
For outdoor events, renting portable toilets is more feasible than building additional facilities. Additionally, you won't need to worry about applying for the proper permits to construct restrooms in public locations that will only be used sometimes.
Great backup toilet
Although you may use a portable toilet in an RV, there are many situations in which you might need a portable toilet. When the electricity goes out, and water is no longer pumped to your home, or if there is a natural disaster such as an earthquake or storm, these toilets can be utilized as a backup.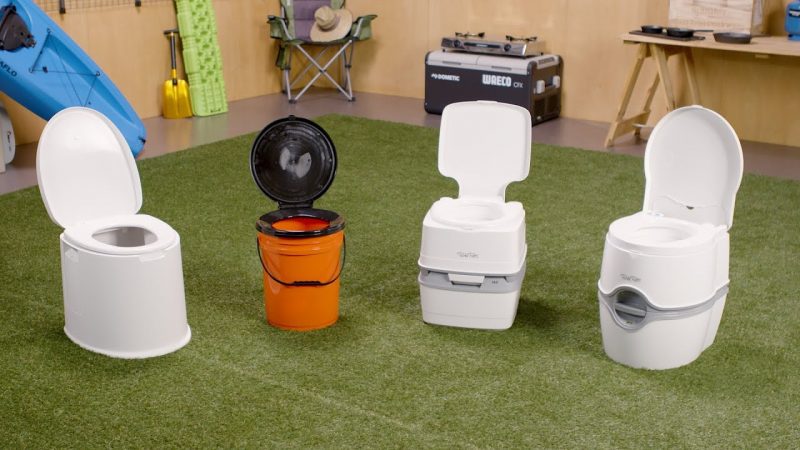 Frequently Asked Questions
What's a portable toilet for camping?
Your solid and liquid waste is collected in a portable toilet for camping. These toilets are designed for campers without an RV or trailer with an interior bathroom. They can be installed whenever, anywhere, and emptied directly into the dump station entrance of any RV park or campsite.
Do I need to purchase a portable toilet in a particular size, shape, or color when going camping?
Most likely, you're unsure what dimensions, shapes, or colors to consider while selecting a portable toilet for camping. Consumer products include a vast range of items, and new products are constantly being developed to improve our lives.
It's crucial to wait until you find something that satisfies your functional and esthetic requirements before settling on it when searching for the ideal item that fulfills all your wants, including size, color, shape, etc.
How you intend to use this product should be your top priority. Numerous forms and sizes are available depending on the product's intended usage. Make sure the size and shape are suitable. Making the right color choices will also benefit your environment and way of life.
Related: Best Chair Height Toilet
Where can I unload a portable toilet?
You can wait and use the sealed waste portion of a conventional gas station restroom to empty a portable camping toilet. The use of compostable waste bags that can be buried underground is permitted with some toilets.
Is a portable toilet used for camping the same as a regular toilet?
While camping, you can simulate the experience of using your home toilet thanks to all the features, including odor avoidance and a thorough flushing mechanism. A toilet paper holder and comfortable sitting are offered some options, just like at home.
What is the cheapest portable restroom for camping?
The features and quality of a portable toilet for camping affect its pricing as well as its availability. The least expensive portable toilet for camping on the market is a $10 model, which can be purchased online. Although the portable camping toilet is affordable, it could not live up to expectations in terms of quality.
How can I avoid typical errors when using a portable toilet while camping?
You will likely make blunders the first time you use a portable toilet while camping. Before making any purchases, you must pay special attention to color descriptions. Always read client testimonials.
When looking around for a new product that will help you, it is crucial to take the time to consider all of the small particulars of a portable toilet for camping. Before buying the greatest products, make sure to read reviews.
Conclusion
When it comes to camping portable toilet choices, you have a lot of options. It might be challenging to select the best solution for the job given the vast amount of options available online.
And we assure you, it's a crucial task! Having a top-notch portable toilet for camping can make a big difference when you need to use the toilet while in the great outdoors.
To avoid being dissatisfied after purchasing a product, it is crucial to determine whether or not it will live up to your expectations.
If you want to find the best portable toilets for camping, look no further than the products listed above. They will provide the highest quality and quantity of performance. While they will function efficiently, their quality is what counts. You will be more than just a happy customer if you choose any of the listed products.