Who does not like going on a hike or getting away from the city occasionally? It is a wonderful experience, particularly if you have a recreational vehicle (RV) so that you may set up a camping spot or simply relax next to a lake. But what about the facilities, such as a bathroom, those basic but necessary conveniences that contribute to your sense of well-being?
When going on a trip, having access to a toilet that works will undoubtedly come in handy. The portable nature of today's utilities makes them ideal companions for outdoor activities like camping and fishing and longer journeys.
So do you want an efficient way of excreting in the woods without making a mess? If yes, then read our review section along with the buying guide. Now let's get started!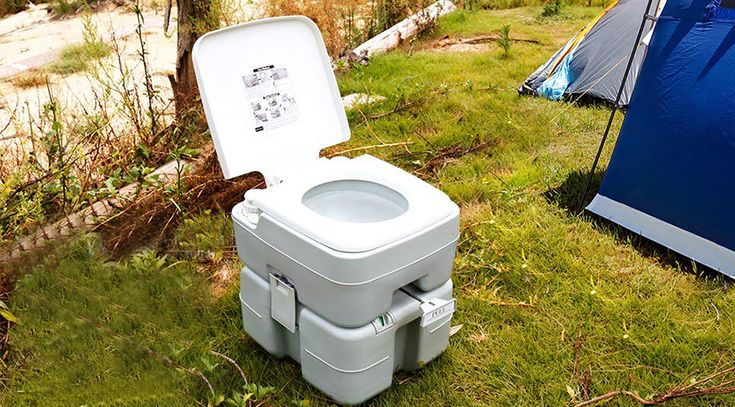 Best Portable Potty for Camping
Best Portable Potty for Camping: Reviews
This portable toilet set gives you the freedom to go whenever and whenever nature calls, making it ideal for situations such as going on a memorable camping vacation in the woods or traveling with the family.
The portable toilet with a traveling case offered by SereneLife is not only ideal for use during outdoor or indoor activities, but it is also an excellent choice for use in the event of an emergency.
It can flush more than 50 times and can hold 3.2 gallons of clean water. In addition, it contains a waste tank with a capacity of 5.3 gallons that stores trash when the flushing process has been completed. You may flush it as many times as you want with complete peace of mind since the waste tank level signal will tell you when it is time to clean it out.
Also, SereneLife's portable toilet is enough in size to provide comfortable sitting while being sufficiently small to fit in the trunk of your vehicle. Because it is 37 by 41 by 35 centimeters, you can easily bring it along with you wherever you go.
Features
When it comes to emptying the toilet container, SereneLife's portable potty has a design that has a spinning emptying spout that enables you to do so in a way that is both rapid and discrete. This helps us avoid making messes that are not required. In addition to that, the drain valve includes two seals to ensure that any unpleasant odors are contained.
This leak-proof cassette toilet is constructed from high-density, premium-grade polyethylene to create a portable toilet that is resistant to corrosion. It is designed for use in RVs.
You are welcome to bring this compact, portable toilet with you everywhere you go. You can use this portable bathroom with ease both indoors and outdoors, making it perfect for use on boating excursions with friends as well as camping, caravan, or trailer holidays with your family.
When you are camping or checking out a well-known tourist attraction, you may put an end to digging holes and shorten the distance you have to go to reach communal facilities. This is quite easy to get to in order to dispose of it quickly, making the SereneLife's portable potty a great choice for camping.
The Zinyeme portable toilet is newly redesigned and is identical to the one that is presently installed in your house. In comparison to the smaller and more antiquated elongated portable toilet, Zinyeme toilet is taller and broader, and the seat itself provides greater space for sitting. The Zinyeme portable toilet is built to last and has a weight capacity of up to 400 lbs.
Because it can be folded up, the portable toilet is ideal for camping, hiking, backpacking, beaches, riding, catching fish, boating, marine, traffic jams, target shooting, outdoor living, construction sites, long road trips, and anywhere else. It is great in emergencies in which a bathroom or restroom is required at any time.
Features
It is feasible to use the Zinyeme's portable folding toilet kit not only as a toilet for the open air, a campers lavatory, a transportation lavatory, or an interior lavatory for elderly people, as well as a puking plastic container for pregnant women; however, one can also use it as a stockpiling and seat combination, such as a garbage can, a small tool, and storage box.
Both using and cleaning the toilet is a relatively simple process. Simply lay a bag with a capacity of 6-8 gallons inside the toilet, and then lower the seat to keep it in place. When you are done, remove the toilet bag from its location and discard it.
Because of the outstanding structure, which incorporates a waterproof ABS and a thickness board, the item is both very durable and pleasant. The toilet can handle up to 200 kg.
When hiking, on a long road trip, stuck in traffic, going hiking or fishing, or visiting the beach, this handy toilet that packs into a portable unit is the best option.
Do you want a portable toilet that can always meet everyone's needs? The revolutionary fish scale design of the TRIPTIPS retractable portable toilet allows you to flexibly change whatever height you choose from 3.2 inches to 13 inches in 8 stages. Men and women of any age may always reach a suitable height for themselves.
Simply pull and turn clockwise to begin using right away! Before seating, be certain that all buckles are securely fastened. Simply turn it counterclockwise and press it to a disc for convenient travel after usage.
The 2.75 lbs. weight of this foldable toilet is compact and light. With the waterproof handy bag, transporting is simple. It fits conveniently in backpacks, suitcases, and automobiles.
The toilet has exceptional stability and longevity thanks to modified ABS plastic, 70 secured buckles, and non-slip bases. 380 lbs is a far higher load capacity than comparable models. Consequently, the company constantly strives to provide its users all across the globe with a travel toilet that is secure, portable, and pleasant.
Features
TRIPTIPS is the ideal portable toilet for campers who want a highly portable alternative to go to the outdoors that does not take up room but yet gives the comforts of home due to its incredibly portable design.
The cover's functional design enables you to transition between many modes of usage, such as a camping toilet, a folding stool, a storage box, a side table, or a garbage can. It is not only the ideal portable toilet for camping, trekking, long journeys, fishing, boating, traffic jams, and other similar situations, but it also has many other applications.
But in addition to that, it is a fantastic indoor portable toilet for both adults and children. The TRIPTIPS folding portable toilet may be utilized not only as a toilet for use when camping in the great outdoors but also as a trash can, a foldable stool, a storage box, an interior toilet for the elderly, a puking bucket for pregnant women, and many other things.
This lightweight folding toilet weighs just 1,2 kg total. It can be folded, and it comes with a handy bag, making it simple to travel, conserving space, and providing convenience.
Take the coziness of home with you wherever you go. The LIONALP portable toilet chair is ideal for outdoor activities such as hiking, camping, and more. It works well for people camping out, at music festivals, and construction sites.
This foldable camping toilet is constructed of high-grade anti-rust stainless steel, and despite its light weight of just 3,36 kg, it can hold up to 400 pounds! Folding it up, storing it, and transporting it are all simple tasks, yet it maintains the greatest possible quality and durability throughout.
This is the only camp bathroom seat on the market with a built-in anti-slip ring designed to retain your bag and avoid spills or mess; this seat is designed to be used in outdoor bathrooms. Simply lower the ring, place the compostable liners or any waste bag larger than 8 gallons inside, and you are done!
The seat has a width of 16.7 inches and a height of 17.3 inches, making the toilet suitable for both children and adults. The outdoor toilet seat offers a pleasant sitting surface in addition to anti-slip rubber grips, allowing you to position the chair in any location.
Features
LIONALP guarantees complete satisfaction to every one of their clients. To guarantee that LIONALP's clients get the absolute finest product possible, each of their foldable toilets is made using materials of the highest possible quality and is subjected to a thorough inspection process.
You get in touch with LIONALP if you are unhappy with your purchase for any reason; this will allow them to provide you with the positive shopping experience that you deserve.
Other than that, the waste receptacle may be either a biodegradable bag or a bucket, and it is included with the foldable toilet seat that you will be using. It has a comfy seat with an anti-slip ring that has been designed to keep your waste bag in place so that there are no spills.
Because it can hold up to 400 pounds and has broad rubber feet for stability, it is an excellent choice for campers of varying heights and weights. The majority of users, including older children, will find that it is at an appropriate height for them.
The tremendous support offered by this toilet seat is provided by a heavy-duty frame made of stainless steel and an integrated strap for holding toilet paper rolls.
With a portable folding toilet seat, an inner ring, a seat cushion, and portable toilet bags, the Vytei portable toilet is created with your health in mind.
When not in use, the Vytei portable toilet may be kept in your house, garage, boat, camper, or trailer. It is lightweight and easy to use, weighs only 3.55 pounds, is made of stainless steel, is sturdy and durable, and can support up to 250 pounds.
When using a Vytei portable potty, secure the appropriate plastic bag with the inner ring. You do not need to tidy up the sundries after every use; you can just rinse the seat with water or wipe it down with paper towels to keep it clean.
With a weight-bearing capability of up to 250 lbs, this portable toilet seat is appropriate for use by people of various ages. This adult potty chair is always prepared for all types of situations, whether you are out camping, fishing, using public restrooms, or driving.
Features
There is no question that the Vytei portable camping toilet has the most space-efficient design for storage. It is a stool with a cover that can be taken off to expose a hole in the middle. If you place a bag on top of it, you may use it as a toilet. Because the hole is not very big, some careful placement is necessary.
The toilet is ideal for unexpected situations or lengthy automobile journeys, as well as outdoor activities such as hiking, mountaineering, fishing, outdoor living, parkland festivals, camping, and more.
It is also possible to use it for persons who have trouble with their legs and feet since it may be moved into the shower area and used there as a stool. It has a carrying capacity of around 250 pounds, weighs approximately 3,55 pounds, and can be folded up and neatly stowed in your vehicle, house, garage, boat, or trailer for convenient storage and travel. It is appropriate for usage in any setting or situation.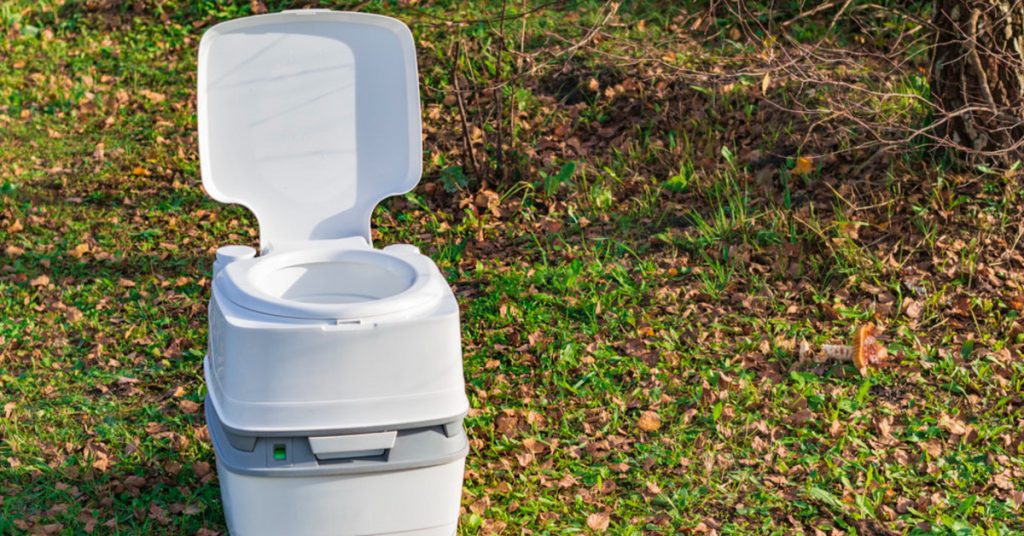 Buying Guide for the Best Portable Potty for Camping
There is a wide variety of styles, configurations, and constructions available for use as portable toilets when camping. In addition to that, other considerations need to be taken into the account, such as the capacity of the toilet and the flushing mechanism.
Let us take a more in-depth look at the most crucial considerations that need to be made while selecting the best portable potty for camping.
Dimensions
Some portable toilets may be somewhat cumbersome when camping; hence, a more space-efficient solution is required. It is a winning combination if you can find a porta potty that is not just compact and small but also has enough room inside for a significant number of people to use it.
Ease
You ought to seek a portable camping toilet that is ideal for use by all of the members of your family, and that has either a universal seat or one that can be switched out. Comfort when sitting is more crucial than you would believe, and it mostly depends on the dimensions of the seat and the materials used.
If you want to go with plastic, go for polyurethane plastic since it not only eliminates odors but also makes things more comfortable. A mixture of HDPE and other materials will also be an environmentally responsible option.
Water capacity of the tank
The large bulk of portable toilets consists of at least two critical parts, namely a rubbish container and a flushing container. These are the only two essential parts. If you don't want to clean out the waste tank every time a person uses the toilet, you should look into purchasing a model that has a greater capacity for holding waste.
Some of the available choices provide the optimal balance of portability and storage capacity, making removing and disposing of garbage simple.
Smell
We suggest not purchasing a bucket toilet for your portable camping potty if you want to use it inside your camper, RV, or vehicle. There is just no way to eliminate unpleasant odors unless the waste is removed after each usage.
Privacy оptions
Let us face it using the restroom at a campsite is never going to be one of the highlights of your trip, unless, of course, you are already sporting one of them.
In all seriousness, however, there are methods to make the encounter more private no matter which portable toilet option you select for your next camping trip. These include Zinyeme's portable toilet, pop-up privacy tents, and whole portable bathroom systems.
Mechanisms of flushing
The mechanism that is utilized to flush the toilet may either make or ruin a toilet. In particular, when it comes to portable toilets for camping, you need a flushing system that is easy to use and has a handle that is both visible and easy to get to.
Additionally playing a significant part in this scenario is the water flushing tank, with a manual flush proving to be the most helpful of the available options. To get a user-friendly flushing system without breaking the bank, you need not go for the most costly one.
Weight Capacity
All of these portable toilets for camping have a max weight restriction, and for the most part, that limit is around 300 lbs. Some portable camping toilets have a lower weight restriction than others, but there are also a few toilets that can carry up to 500 pounds.
You should look for a toilet that is designed to accommodate someone of your size, but you should still double-check the weight capacities of any goods that you are considering purchasing.
Related: Best Toilet for Heavy Person
Price level
There is a wide price range for portable toilets, starting at $30 for a toilet seat that comes with a bucket and going up to several hundred dollars for a high-end camping toilet that has a flushing mechanism and a large container.
How much of an investment are you prepared to make on a portable toilet so that you may go camping? Keep in mind, though, that the portable toilets that are less expensive and do not have a waste tank need you to use waste bags in conjunction with them.
These may be purchased in packs of 10 for anywhere between $15 and $25, on average. If you expect to use your toilet relatively often, it is more cost-effective, in the long run, to get a more expensive flushing toilet now rather than waiting until later.
Waste disposal method
The cleaning process for bucket toilets is the most challenging. If you are less on cash and do not mind cleaning your portable toilet regularly, this kind of toilet is an excellent choice.
Continue with transporting a composting toilet only if you have the necessary funds and room in your car to do so. Your life will certainly become less complicated as a result, and you will not have to clean it as often either.
You won't have to bother about the odor at all if you have the financial means to get a portable chemical toilet; the only thing you need to keep in mind is to dispose of the trash or waste in the appropriate areas. Lastly, if you can afford it, you will not have to worry about the smell.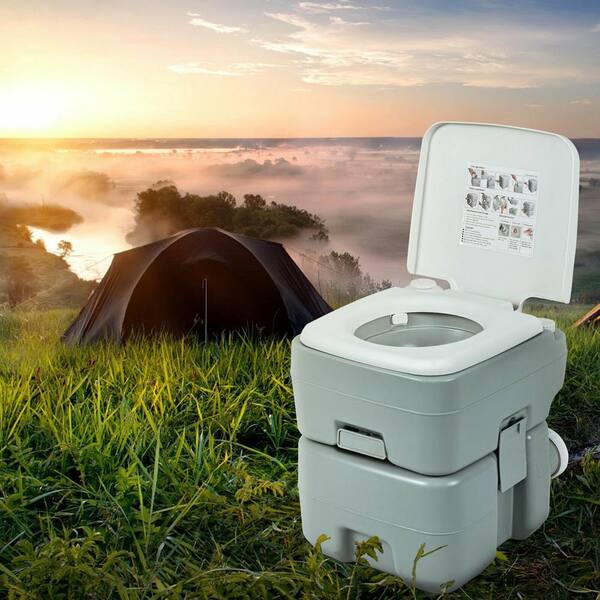 Different Kinds of Portable Toilets
Although there is a wide variety of portable and camping toilets available, the ones we discuss here can be broken down into only a few fundamental kinds.
Bucket toilet
Camping toilets often consist of little more than buckets, and these are no exception. When the toilet is not being used, most are equipped with seat attachments and very well-fitted covers to prevent smells from escaping.
You can get away with using an ordinary bucket that has a rubbish bag attached to it instead, however, if you can get rid of the waste right away.
Portable lavatory flushable
This style of portable toilet is equipped with a flusher, so any waste that is produced will be sent down from the bowl into a storage tank below. Some flushers are powered by batteries, while others must be manually operated.
Portable toilets for children
This child-sized version of a portable toilet was created exclusively for kids and is often used throughout the process of potty training. In most cases, they are built out of plastic and have a folding design. There are other products on the market that are referred to as "training potties" or "travel potties."
Portable toilets
Because this form of a portable toilet can be folded down to take up very little space when stored, it is an excellent choice for use in automobiles. It also works well as a toilet when you are out in the wilderness.
Urinary catheters
These pee funnels are designed for those who have vulvas or those who find it difficult to urinate in a container or on the side of the roadway without pulling their trousers down. Funnels facilitate the process by producing a tight seal around the vulva, which facilitates the flow of urine into the apparatus and out the spout.
How to Care For and Clean a Portable Toilet
It is the easiest thing in the world to use a portable toilet, and we all know how! But not everyone understands how to clean up the mess you caused the night before or properly dispose of trash. If you follow these portable toilet instructions carefully, you can keep your portable toilet clean and functional for a very long period.
Where to throw the trash/waste
This is the most important stage, and planning is key. We all like spending leisure time outside or on family vacations to breathe in some fresh air and clear our minds, but it is important to do it in a way that is kind to the environment.
Do not, under any circumstances, dump the waste from your portable toilet outdoors. For ourselves and others to enjoy the environment, we must preserve it and contribute to it.
If you plan a weekend camping trip, there will likely be a designated area for disposing of your trash. We advise that you locate this area and make sure that the access routes are nearby before setting up your tent.
Finding out when the time of day fewer people are disposing of trash is another great piece of advice since it is unpleasant to wait in a long queue while holding a bag or box of rubbish.
Preparing to flush your portable toilet
The initial step in cleaning your portable toilet is to get a good pair of plastic gloves. Avoiding contact with potentially dangerous or bacterial-filled objects is essential.
Most portable toilets come with two tanks: one for waste and one for water. Wherever feasible, we advise utilizing two-tank portable toilets since they are much simpler to clean.
After putting the gloves on, you must unlock the lock that separates the waste and water tanks. Transport the tank carrying all of the trash to an approved waste disposal site after removing it.
Although the tanks are made of lightweight material, we advise cleaning them before they fill up rather than waiting until the tank is full if the unloading place is extremely far away or difficult to access.
Cleaning the septic tank
To get rid of any residue stuck to the walls, we suggest adding water and shaking the tank.
The use of a high-pressure hose will make this operation much simpler. Until the water leaving the tank is completely clean, repeat the process.
Applying disinfection solutions also is a smart idea if you want to clean your tank completely; just be certain to dispose of any water that contains detergents or other chemicals at the designated chemical disposal location.
Refilling the flush tank
If you are cleaning the tank because you will not be using it for a long time, you should ensure that it is completely clean and dry before putting it away until you need it again.
Nevertheless, if you wish to use it again, it is recommended that you leave it out in the open with a little amount of water so that you may mix it with a cleaning agent or get rid of the unpleasant odor.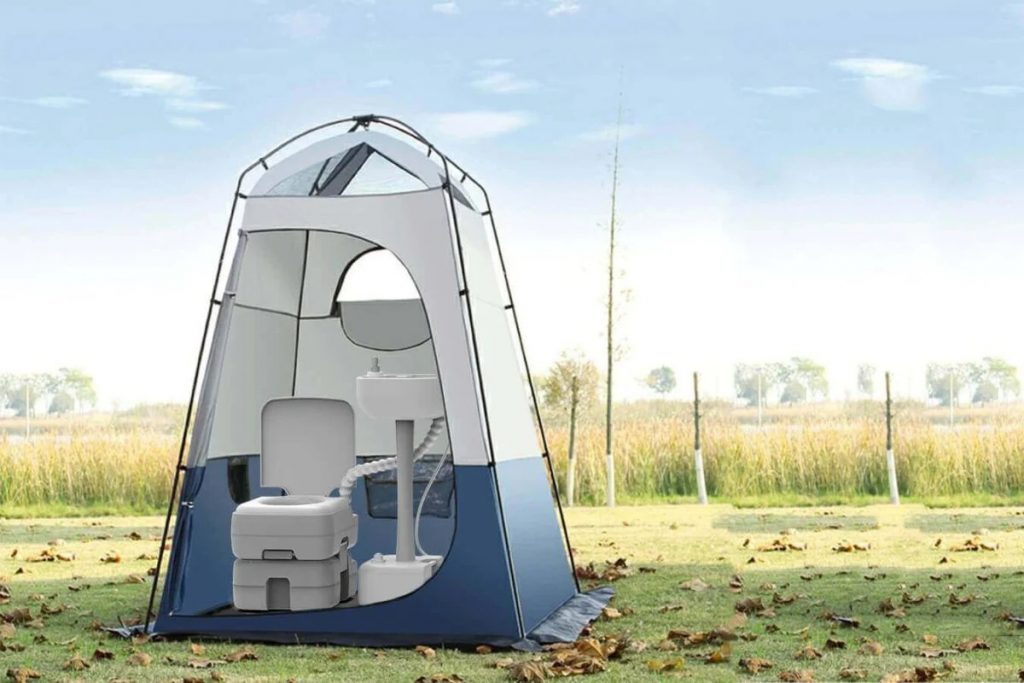 Frequently Asked Questions
Is a portable toilet for camping similar to a standard toilet?
You can replicate the experience of using the toilet in your own house by camping with a toilet that has all the functions, such as odor control and a complete flushing mechanism. Some of the alternatives include a setting that is both comfortable and convenient, such as a holder for toilet paper.
Do portable toilets used for camping always smell bad?
Using high-quality materials that do not absorb smells and locks on the waste disposal lids helps ensure that camping toilets do not have an offensive stench. In theory, removing the waste compartment should not cause any unwanted scents to be released into the room.
Conclusion
No difference what sort of camper you are; attending to one's personal needs is something that occurs numerous times each day. Because there are so many portable potty options available, you are sure to find something even though the absence of a portable toilet may transform an otherwise enjoyable camping trip into an unpleasant one.
We hope this article has assisted you in finding the best portable potty for camping as per your requirements. A few of the portable toilets on the list are even appropriate for a complete household.
It is ultimately up to you to decide whether you wish to go with a full-scale detachable toilet or simply a seat that can be combined with disposable waste bags. Both options are available to you. Best of luck.