Do you want to make some changes in your household and have greater comfort than ever before? Do you look forward to finding the best toilets and making your bathroom a more pleasant place to spend some private time?
You can definitely find the best luxury toilets in the following article, chosen by considering rigorous criteria for efficiency and quality.
Intelligent toilet systems are nowadays used to ease the way of living and provide people with greater comfort and convenience than before.
These excellent smart toilets can serve as the perfect option to maintain a clean and safe bathroom environment for every family member. From that point on, many vendors provide these toilet systems and claim they have the best luxury bathroom gadgets.
However, the following six luxury toilets offer many smart performances and have the best quality.
Today is when you should finally invest in quality, convenience, and pleasure, even in your bathroom area.
Select one of the following luxury toilets and have a better and more pleasant bathroom experience within your home. You and your entire family completely deserve that.
How We Created This List
Your bathroom is probably the most important area within your home. It is used every day by all family members and provides relaxation, cleanliness, and functionality.
In fact, every person spends significant time in the bathroom, and for that reason, it is always the most sensitive area that must be well-chosen to have greater functionality.
From that point on, we compiled a list of the best luxury toilets in order to provide you with the most comfortable and efficient toilets on the market, while our final decision was impacted by considering several important criteria:
Modern design
Every family aims to have a modernist bathroom nowadays, so that was the primary factor that we considered when compiling the following list.
We have chosen only the top-rated luxury toilets with sleek, minimalistic, and modern designs for every household.
Quality materials and guarantees
The quality materials and guarantees were one of the most significant factors considered when compiling this informative luxury toilet guide.
We considered each toilet system to be made from marble or ceramic materials, ensuring the durability and safety of these excellent luxury toilets.
You can also rest assured that by choosing one of the following six alternatives, you will also be provided with a guarantee for the materials they are made from.
Easy installation and maintenance
It is always well-known that for installing a toilet, it is best to hire a professional to do that instead of you.
The intelligent toilet systems we have chosen for you come with an easy and simple installation that you can do yourself or contact a professional.
These excellent toilet and bidet systems have instructions manuals in order to ease your job and save you money for expensive and long-lasting installation processes.
Prices
We firmly believe that luxury toilets should always be affordable for every pocket. For that reason, we provide only price-friendly smart toilets, suitable and convenient for every person.
Even though these toilets come at a higher price than the standard toilet seats, they have a reasonable price on the global market.
By choosing one of the following luxury toilets, you can always gain the best quality and exclusive design, and you can also save money.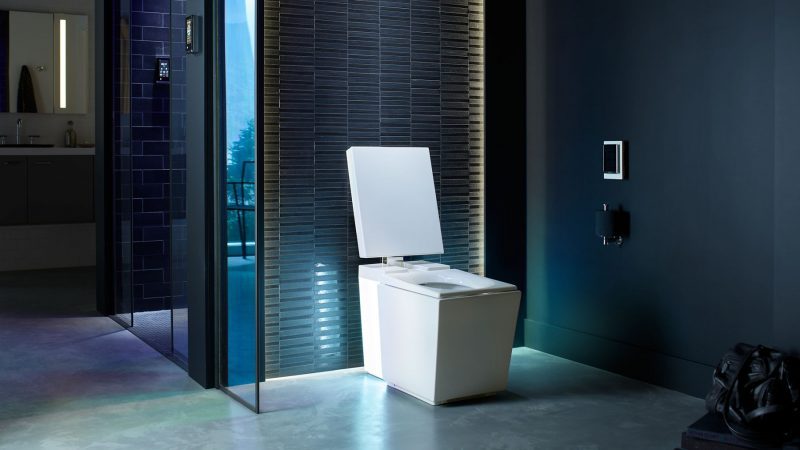 Best Luxury Toilets on the Market
Best Luxury Toilets: Reviews
If you're interested in bringing up the advanced technology and comfort in your bathroom, it is time to take a look at one of the best toilet seats available on the market today.
The renowned KOHLER company has created the KOHLER Veil intelligent toilet, made from high-quality porcelain and elongated shape.
This intelligent toilet is one of the most prevalent toilet seats among US citizens that comes with great comfort and excellent compatibility in each place.
The excellent Veil has a minimalistic style and the great comfort of personal cleansing. The white color of this intelligent toilet seat makes this bathroom product more favorable and compatible for each household.
With excellent customer feedback and positive reviews, the KOHLER Veil is something that you should always consider.
Highlights
Performance
Before ordering this exclusive and modernistic toilet seat, you should know that KOHLER Veil has compatible dimensions such as 26.13 x 17.25 x 21 inches.
It is a floor-mounted, not a hung wall toilet, excellent for those who want greater stability and the best compatible look.
The luxury KOHLER Veil toilet offers great comfort and chair-height seating and appears to be a compact, streamlined toilet with an integrated bidet.
One of the most significant reasons why we chose the excellent KOHLER Veil is that this luxury product offers an automatic flush, while the toilet always flushes on its own when you stand up.
It also comes with an automatic open and close lid, so you can expect it to work when motion is detected.
The exclusive KOHLER Veil is always the perfect recommendation as it comes with greater antibacterial safety and protection. You can always set your preferences for instant cleansing with hot water.
KOHLER has proven that advanced technology is important for greater comfort and safety for each household.
The excellent Veil intelligent toilet seat has flowing and balanced curves and integrated cleansing functionality, while the ergonomic design is always the best feature of this compact bathroom product.
Price
You can find the excellent Veil from the reputable KOHLER brand on its official website for $4.498.
This excellent bathroom item comes at a higher price, but it is a lifetime investment in your comfort and health.
Have you ever wondered what is lacking in your household? If a certain thing does not come into your mind, we can guess that you surely want to have some greater comfort when you're in your private mode or in the bathroom.
Every person has used ordinary toilet seats in the past few years until significant technological innovations emerged in the global marketplace.
Nowadays, you can entirely enjoy the best comfort and excellent convenience from a toilet seat by choosing the renowned VOVO Stylements brand.
It offers one of the best electronically-operated toilet seats available on the market for a compatible price and high quality.
The reliable VOVO Stylement has developed a unique piece of technology into a suitable and intelligent toilet seat with excellent user reviews and compatibility in each household.
Highlights
Performance
Choosing the intelligent VOVO Stylement TCB 8100B can improve your bathroom experience by having a South Korean high-quality toilet bidet with excellent performance. 
This bathroom item comes with available self-installation, which is easy and will take you only several minutes of your precious time.
The intelligent toilet From VOVO Stylement provides excellent functionality and automatic dual flash. This advanced toilet seat has a sensor that can detect motion and provide hands-free operations.
Despite the high-quality stainless steel, this smart toilet provides a heated seat, warm water, and a warm air dryer for maximum comfort. The premium bidet from VOVO Stylement features a self-cleaning nozzle with auto deodorization.
By choosing this intelligent toilet, you can also save water and money as this renowned company's excellent, intelligent toilet system cleans the inner bowl with direct water supply from the pipe without using any stale water.
This TCB 8100B toilet seat from VOVO Stylement offers an eco-friendly design, so you can reduce toilet paper and water usage with the excellent cETLus and cUPS-certified intelligent toilet.
The innovative technology item from VOVO Stylement comes with an available LED light from the inner bowl, making this toilet seat comfortable for nighttime use. It also offers smooth close performance, unlike many other toilet bidets on the market.
Price
The excellent VOVO Stylement TCB 8100B toilet seat is available on the official page of this renowned South Korean brand.
It has a lower price than other similar bathroom items in the US area, and it is always worth having it in your household.
The advanced piece of technology from VOVO Stylement costs only $1.990 and provides great comfort and convenience for every house.
When discussing the best household gadgets and items that will contribute to a better and more comfortable life, we must mention that your bathroom is the place where you should feel more relaxed and spend some private time.
Among millions of available household gadgets nowadays, the best option is to choose an advanced technology toilet seat and gain comfort in every moment spent in the bath.
Regarding your budget, comfort, and overall satisfaction, we chose the excellent VOVO Stylement brand once again to be on the list of the top-rated luxury toilets in this area. This excellent Korean company offers the extraordinary TCB 090SA toilet bidet for each household.
Suppose you want to gain overall comfort in the bathroom by using advanced technology innovations.
In that case, it's time to take a profound look into the TCB 090SA model from VOVO Stylement and see why this intelligent toilet seat is favorable among millions of people globally.
Highlights
Performance
One of the most significant reasons people love this intelligent toilet bidet is that the excellent TCB 090SA has a smooth, minimalistic, and modern design. It is a suitable piece of advanced technology, compatible with every house, taste, and performance.
The VOVO Stylement toilet seat has an auto-open and close lid with auto flushing. This means that the intelligent system of this bathroom gadget will differentiate between full flush and small flushes by detecting the right time the person has been seated.
Choosing the amazing TCB 090SA gives you the best comfort as this intelligent toilet seat is heated and can be adjusted to three temperatures, suitable for every person. It also comes with an excellent opportunity for auto deodorization to remove unpleasant odor.
One of the most significant features of this intelligent toilet system is that this TCB 090SA type provides a tankless system.
The pipe is connected to the system to provide clean operations with a direct water supply. This excellent toilet seat also has an available LED light for convenient nighttime use.
The VOVO Stylement has developed an advanced technology toilet system, which is highly recommended for maintaining the best hygiene in your home.
This intelligent toilet seat is recommended for its hygiene properties since it offers a self-cleaning nozzle that automatically cleans itself.
Price
This intelligent toilet system is available on the renowned VOVO Stylement page for an affordable price of $1.990.
We kindly recommend you do not hesitate to order this toilet seat as it is a wise lifetime investment for greater comfort in the bathroom.
Each of you spends a lot of time in the bathroom and always must look for greater comfort from that point on.
When discussing the best comfort in the bathroom, we must mention that toilet seats should always be convenient in order to have the best compatibility and avoid irritating feelings throughout your private time.
Nowadays, you can find the best luxury toilets that deserve your complete focus and attention. The amazing WOODBRIDGE intelligent toilet is one of them, with a high reputation and excellent user reviews.
The popular WOODBRIDGE brand provides an intelligent, compact, elongated, dual-flush wall hung toilet seat with excellent bidet wash functions.
The intelligent toilet from WOODBRIDGE is a luxury bathroom item with many available advanced technology performances and one year warranty for material defects.
This oblong-shaped intelligent toilet has a luxurious look and modern design, and it is a highly-recommended item for each household.
Highlights
Performance
The excellent WOODBRIDGE intelligent toilet is made from marble, and it is a wall-mounted toilet seat, excellent for people who want to have a unique item in their bathroom with a modern design and great compatibility.
It has dimensions of 23.88 x 15.63 x 44.9 inches, meaning that it will not take much place in your bathroom, no matter how large it is.
This oblong-shaped toilet seat with brilliant performance involves an installation manual, meaning that you can install this bathroom item on your own in several simple steps.
Moreover, this intelligent toilet is available with a comfortable bidet seat with an excellent hygiene wash, hot air dryer, heated seat, unlimited warm water, and gentle massage functions.
This WOODBRIDGE intelligent toilet has a concealed design, a water tank, a career system, a seamless look, and waterway connections.
This intelligent toilet system is always the perfect option as it has easy maintenance access. You won't need to cut the wall for access. There is an excellent front panel with a flush actuator for easy access to this intelligent system.
This excellent toilet system contains marble stone flush plates, durable and resistant to abrasion and mechanical damage.
According to overall positive feedback for this intelligent seat, we can say that you can gain overall user satisfaction by choosing the WOODBRIDGE intelligent toilet.
Price
The excellent WOODBRIDGE intelligent wall-hung toilet is available on this renowned brand's official, reliable page for an affordable price of $2.199.
We must admit that this intelligent system is more expensive compared to other similar products. Still, it is completely worth the money, as it is made from high-quality marble materials and has a one-year warranty.
Your house is the place where you should feel most comfortable and safe during your everyday activities.
Since modern technology innovations have emerged all over the global marketplace, there are also the perfect options for having greater comfort in the bathroom.
One of the best luxury toilets is now available for every person who wants to find excellent comfort in everything they do.
Fine Fixtures appears to be a popular name on the market and a company with a tradition and experience in developing the most efficient home gadgets for every individual.
Made from durable ceramic materials and lightweight, the excellent Wave™ from Fine Fixtures is one of the most popular intelligent toilet systems, suitable for every taste and performance.
This piece of advanced technology appears to have a smooth and modernistic design and high compatibility for every bathroom.
Stay focused and discover why millions of people globally are satisfied with the renowned intelligent toilet system from Fine Fixtures.
Highlights
Performance
This luxury Wave™ toilet system has an elongated shape and includes toilet and bidet components.
It is white, while the ceramic materials make this intelligent system more durable and favorable among millions of users globally. It has 28.75 x 15.87 x 22.62 inches, making this great toilet and bidet compatible with each bathroom.
One of the most significant features of this intelligent toilet is that you can always adjust the water temperature and select the right temperature level among five different adjustment options.
It is also a perfect option as it provides superior flushing technology that allows a person to choose between 1.28 and 0.9-gallon flush.
The excellent Wave™ system from Fine Fixtures is always the best option as it also provides an auto-open and close seat. The seat can be heated as long as you want to use this toilet, especially in winter. 
The luxury Wave™ provides a warm air dryer with an easily adjustable temperature for every user.
This premium quality toilet system is always the best option as it provides a convenient option for self-cleaning, while the wand is always cleaned before and after using this system.
Price
You can always find this comfort toilet and bidet on the official page of the excellent Fine Fixture brand.
This intelligent toilet comes at an affordable price of only $1.249. Unlike many other smart toilets, this system has an attractive price and comes with an offer you shouldn't miss out on.
When discussing the best luxury toilets, we must mention one of the most popular and modernistic toilets for every household, the excellent Toto Washlet.
This toilet system has an elongated shape, comfortable for every household. It is one of the most favorable household gadgets among millions of users globally for its sleek and luxury design.
Washlet appears to be Toto's award-winning toilet and bidet, allowing people to enjoy complete comfort and convenience when spending time in the bathroom.
You can simply have the best-advanced technology bathroom gadget with many available performances and smart systems by choosing this excellent product. Keep your concentration high and see why Washlet is one of the best options for a luxury toilet.
Highlights
Performance
One of the most important features that hooked our attention is that the Washlet toilet is developed to conceal the water supply and power cords for seamless integration.
Designed for every household, the excellent Washlet appears to be the smart way to introduce the Toto technology into your everyday living.
The excellent Toto Washlet appears to be a two-piece elongated toilet system, making every bathroom more inviting.
It is good to know that the Washlet and toilet technologies work together perfectly to provide users with the most comfortable bathroom experience ever.
This innovative system has auto-open and close lids, while the EWATER + option creates complete peace of mind by cleaning the inside and outside areas of this luxury toilet seat. 
This advanced toilet system contains an automatic air deodorizer, neutralizing the odor with powerful filters.
Moreover, this system always provides a more pleasant bathroom experience than other similar gadgets on the market.
Price
The excellent bathroom gadget from Toto is available in the official store of this renowned manufacturer.
It comes at an attractive price to many other similar luxury toilets on the market, while people can easily find it for a price of $1.193.
By choosing this luxury item, you can always have the best comfort and bathroom experience by using the latest technological innovations and the smart bathroom system of the excellent Toto Washlet.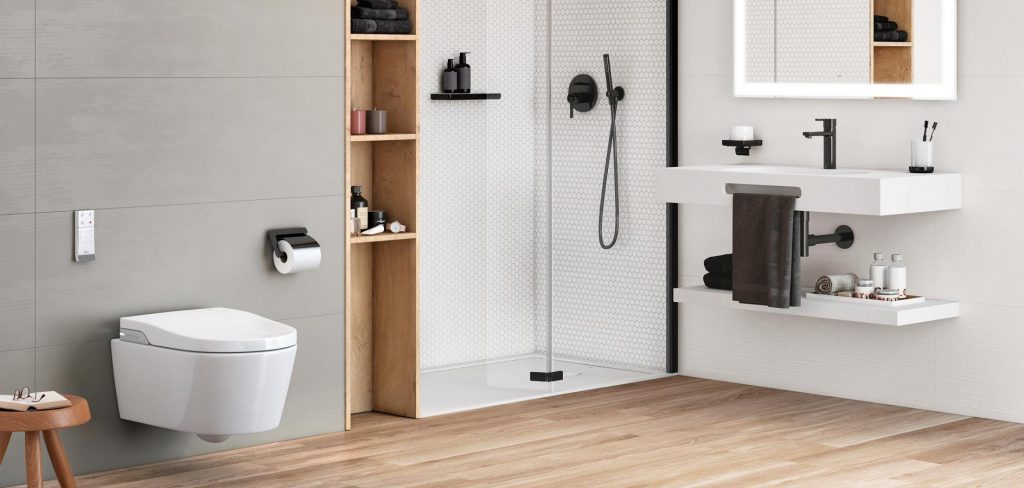 Buying Guide for the Best Luxury Toilets
Look, color, and style
Many people would choose a functional toilet no matter the look, design, or color. However, if you're a person who wants to have a modern bathroom, you should always consider these factors when buying a toilet. 
Before selecting your best pick, always consider if the color, size, and design fit your bathroom look. You and your family spend a significant time in this household area and make it worth spending that period.
Flush strength
Imagine that you can find a cheap toilet without the right flush strength. Always ask yourself this question in those situations: is it worth it? Well, sure, it isn't.
Nobody likes to struggle with a toilet that clogs up frequently, so you should always consider a dual flush toilet for the best comfort and convenience.
Installation types
When discussing installation types, you always have two available options:
Floor-mount toilets
It is good to know that most luxury toilets come with a floor mount installation type, meaning that the toilet is attached directly to the floor in your bathroom.
This installation type is very common among the world population, and millions of people are satisfied with this installation type.
Wall-mount toilets
The excellent wall-mount toilets are trendy for the clean and modern look they provide to the bathroom. These toilets are mounted to the wall and have a modern appearance rather than being positioned on the floor. 
It is good to know that these luxury toilets will take less place, but they are more expensive and have a more complicated installation process.
You should always consider these two types and see what option suits your bathroom design, pocket, and comfort.
Water usage
Water usage is one of the most significant factors that people should consider every time they buy a luxury toilet system. There are hundreds of available toilet systems that use WaterSense systems. 
It is known that these systems usually save more water than the standard ones, so your decision should always be made by considering the water usage of the particular toilet system you want to buy.
The shape of the bowl
Generally, luxury toilets can come in two shapes such as elongated and round. It is good to know that round toilets are usually smaller and thus easier to fit in many tight places and small bathrooms.
These toilets usually cost less than elongated toilets, meaning that you can always consider this type as a good option for your household.
On the contrary, elongated toilets have a more oval shape, and they are over two inches longer than round toilets.
For the reason that these toilets are bigger, they tend to be more comfortable, but more expensive as well.
If comfort is more significant to you than the cost, elongated toilets are the perfect option to consider when seeking the best luxury toilets.
Frequently Asked Questions
Is it wise to buy a smart toilet?
Of course, it is wise to buy yourself a smart toilet with many available functions. Nowadays, smart toilets are featured as having the best flushing mechanism, so you can always move from the toilet seat and wait until this intelligent system flushes automatically.
Smart toilets usually come with greater comfort and convenience and are a perfect option for people who enjoy modern designs and home luxury.
Are smart toilets pricey?
Yes, smart toilets tend to have a higher price than standard toilets. When smart toilets first emerged on the market, people were buying them for a price of up to $8000. Nowadays, these toilets have a more affordable price starting from $1000 and above.
What are the best luxury toilets on the market?
According to the excellent feedback they have, we can say that all Vovo Stylement's toilets, Woodbridge intelligent toilets, and Toto Washlet alternatives are the most efficient and highest quality luxury toilets on the market.
You can always consider these exclusive toilet systems and have greater comfort in your bathroom.
Conclusion
The most significant area of your entire home is your bathroom-we're sure you're all aware of that fact.
From that point on, having a luxury and smart toilet is always a good idea for people who want to enjoy home luxury, great convenience, and comfort.
Choose your favorite product from the previously-mentioned luxury toilet systems and enjoy spending the best time in your bathroom.