Modern toilets are available in various designs, sizes, and levels of complexity, as well as a variety of seat forms and height options, to provide the most comfortable experience possible. Automatic flushing systems, heated seats, and even built-in deodorizers are all options for modern, high-tech toilets.
One of the top toilet brands is Kohler. They provide some of the world's best toilets. In this post, we've produced a list of the best Kohler toilets to assist you in making your decision.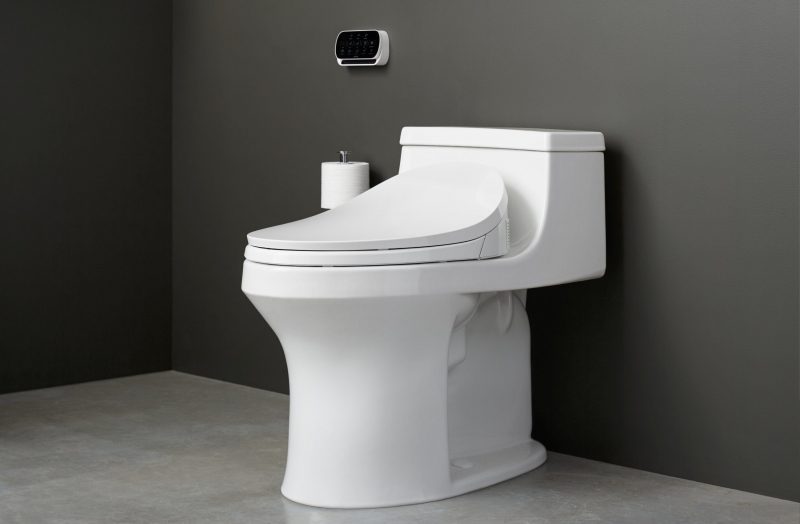 Best Kohler Toilets
How We Made the List
The fact that the company has been around since 1873 is already a significant accomplishment in and of itself. The organization places high importance on adaptability, variety, and hearing input from customers. Because of this, every merchant, plumber, and industry expert acknowledges that it is now the greatest toilet brand.
The organization is equipped with a helpful support staff that is always there to assist you with any plumbing problems that may arise. In addition, they have a helpful online support center that will give you sufficient information to address frequent toilet issues.
It offers a diverse selection of toilets to meet your requirements in that regard
Each commode is designed to comply with ADA standards for comfortable height
The modern aesthetic showcases the most recent developments in technology
It offers products that are strong and long-lasting at costs that are reasonable for customers who are concerned about their finances
The manufacturer tries everything it can to provide toilets that clean themselves
Inventions made by the brand and ecologically responsible technologies
Features
Kohler's Class Five Flush
The Class Five flushing mechanism that comes standard in all Kohler toilets is the company's signature product. The building of the flushing system is ingenious and includes cutting-edge technology as part of its design. The primary objective of this design is to remove the possibility of clogs and jams occurring due to an obstruction in the trapway.
AquaPiston
AquaPiston is an efficient means of sidestepping clogging and blockage problems. Replace your outdated flapper valves with this well-designed fixture, consisting of a strong canister and a pressure pump. The piston assists the flushing tank's gravity flow, which helps provide a sufficient amount of water pressure in the system.
Flushing the toilet produces water that swirls down the toilet bowl in a 360-degree circle. The waterfall-like motion guarantees the water is thoroughly flushed before it goes down the drain.
As a consequence of this, you may clean the bowl with just one flush of the toilet. In addition, the piston's tight structure lessens the likelihood of water leaking out and being wasted.
Maintenance
One of the few manufacturers that include a service section on their website is Kohler, one of the few names in the industry. You will be assisted in locating replacements and missing components for your existing models through the self-help portal. This will assist you in locating a toilet that is an exact match for your toilet and help you do the process in less time.
How to Install Kohler Toilets
You are required to put the toilet seat cover on the seat of the toilet.
You must thread the bolt through the upper portion of the toilet seat and then press the wing nut from the underside of the seat up to where it meets the bowl.
The butterfly nut may be quickly connected or detached from the bolt as necessary.
When the bolt is inserted into the hole, the tapered top of the butterfly nut will engage the bolt threads and prevent further movement.
Use a screwdriver to further secure the cap.
Complete the installation of the toilet seat by attaching the cover to the hinge.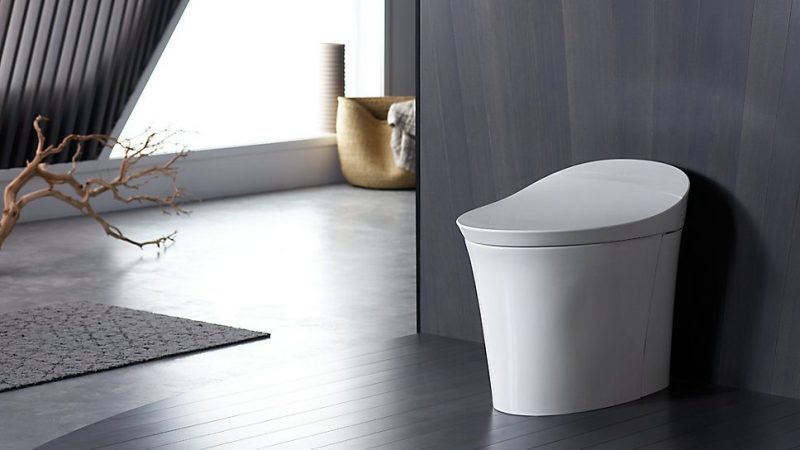 Best Kohler Toilet Reviews
The K-3819 Memoirs Stately toilet is a two-piece toilet manufactured by Kohler that has a stunning appearance. This is a toilet that is made up of two separate pieces and has an enlarged bowl. It is equipped with a Kohler height function, indicating that it has a height comparable to that of a chair. This makes sitting down and standing up simpler for all users.
This model is a winner all the way around, thanks to its comfortable height of 17 inches. People of tall stature and older family members will appreciate the higher height's convenience. This is because compared to conventional height toilets, typically approximately 15 inches, it is much simpler for children to get on and off the seat.
In addition, the assembly of this model, which is composed of two separate pieces, is rather simple. Because of everything said above, purchasing it is a wise investment for your house.
Water flows through the AquaPiston canister in a manner that ensures that no waste will ever return. When cleaning the bowl, this toilet model gives the finest coverage of any of the others on the list since water goes around the whole bowl in a full 360-degree rotation.
The Memoirs is a one-of-a-kind breed, though, and it possesses many design peculiarities to render it a prominent highlight inside the bathroom in addition to being so full of flare. It will be distinctive in the same way the designer bathrooms on the list are but without any of the expertly arranged flowers or buds.
Features
Comfort
The Comfort Height toilets offered by this company have seating at chair height, making it simpler for most people to sit down and stand up after using the facility.
Flush
The canister flush valve offered by Kohler delivers a powerful punch to clear clogs while preventing water waste. The flushing technology implemented in this model's flushing system is primarily there to ensure that the flushing system is superior and more powerful. Because the valve is large enough to allow water to be released in the form of a swift stream, it will be able to prevent dirt from collecting in your bowl.
Stylish
This toilet has the additional benefit of imparting a charming appearance to older bathrooms effortlessly. Simply replacing your outdated toilet with this brand-new model will allow you to take pleasure in a freshly remodeled space that is also respectable and fashionable. In addition, this toilet can be purchased in various hues, allowing you to select one that best complements the design of your bathroom.
Water efficiency
Using just 1.28 gallons of water every flush, this toilet saves you a lot of money on your water bill! A typical toilet uses 1.6 gallons of water every flush, which is far less than this one, making it more water-efficient and ecologically friendly, as well as more cost-effective for the consumer.
Price
Compared to other toilets that are functionally equivalent, this model may be considered quite extravagant regarding the cost. It is usually preferable to spend a large sum of money all at once rather than pay smaller amounts over a longer period and have an unreliable toilet. This is something that we have already mentioned.
Customer experience
This model continues to be a client favorite and sells out each year; it features an innovative design that is constructed based on a system that uses less water.
If you're looking for a chair that's easy to get in and out of, go no further than the Kohler Comfort Height chair. Comfort and design are at the forefront of the Memoirs toilets.
A trip lever made of chrome is what initiates the flushing process. The fact that the bowl is shaped like a bowl, the height of the seat, and there is a trip lever all indicate that it complies with ADA standards, as stated by Kohler.
Spend less on your monthly water expenses and more on your favorite alcoholic beverages. Because it only uses 1.28 gallons of water each time it is flushed, this toilet has earned the WaterSense certification for being an exceptionally water-saving model. Most regions in the United States are eligible for refunds on their water bills upon achieving this certification.
Features
Flush
During the flushing process, the single flush canister technology employs the force of gravity in conjunction with a tank, bowl, and trapway that have been meticulously developed to produce a powerful and effective siphon.
The 3:2 ratio of the canister flush valve improves flush performance. It prevents warping and degradation, while its sturdy construction offers 90% less exposed seal material than a normal 3-inch flapper flush valve, providing leak-free performance.
Style
The Memoirs series was designed to reflect the stylized lines of historically significant furniture and architectural architecture. This collection was inspired by classic design styles. Every single element contributes to its status as an enduring and iconic piece that is elegant but not in the least bit inaccessible. The angularity of its lines is reminiscent of crown molding.
Customer experience
The customers loved this product. They loved the style and flush of this toilet the most. It does not clog like the older water savers, is easy to clean, and has an extremely comfortable height.
This is another product that conserves water and has been built to perform reliably for many years. Consequently, if you want to invest in a high-quality model capable of withstanding both moderate and heavy use, this one will serve your needs admirably.
One of the first things we noticed about the one-piece design was its size. In other words, this is a great alternative if you have a small bathroom and are looking for a compact model.
Aside from that, it is much simpler to clean and maintain, which, to be very honest, is a godsend for busy homes. Despite its plain appearance, though, it is equipped with a strong AquaPiston flushing mechanism that removes waste without a hitch.
In addition, the 360-degree flushing system guarantees a thorough and effective cleaning while simultaneously reducing the amount of water that is used. But if that isn't enough to persuade you, let's simply point out that San Souci has the WaterSense certification, which is a label that proves how efficient it is.
The price is a significant drawback, and as a result, it might not be the best choice for customers who are conscious of their budgets; nonetheless, the product's characteristics make it a worthy investment for those who are ready to pay the asking price.
Features
Flush
During the flushing process, the AquaPiston single flush canister technology employs the force of gravity in conjunction with a tank, bowl, and trapway that have been meticulously developed to produce a powerful and effective siphon.
The canister flush valve's 3:2 ratio maximizes flush efficiency and resists warping and degradation. Additionally, the canister flush valve's sturdy construction contains 90 percent less exposed seal material than a normal 3-inch flapper flush valve, which guarantees leak-free operation.
WaterSense certified
Kohler has formed partnerships with various environmental organizations, one of which is WaterSense, to contribute to improving environmental conditions on a global scale and strengthen its position as a pioneering company in terms of adopting eco-friendly business procedures. The low-flow technology used in many faucets and toilets manufactured by Kohler allows for reduced water consumption without compromising the quality of the products' operation.
Customer experience
Customers seem to like this product very much as it is comfortable to sit. It has good reviews on the web. The customers appreciate its quality and style.
The Kohler Santa Rosa toilet is an excellent option to consider purchasing if you want a commode that exudes luxury and refinement but is still within your budgetary constraints. The bowl of this one-piece toilet is enlarged, and the seat is elevated to a Comfort Height for the user's convenience.
Thanks to the comfortable height style of the one-piece toilet that is simple to clean, you feel at ease when using it. The seating height is adjustable to accommodate users of varying heights and ages.
Sitting on it while releasing oneself will be a pleasant experience for the vast majority of grownups, particularly the elderly and people with knee difficulties.
Using only 1.28 gallons of water every flush, this water-saving toilet has a forceful flush without the need for further water use. Even though it only has one flushing mechanism, this lavatory can be converted into a dual-flush model by depressing the lever halfway and then releasing it; in this configuration, it consumes just 0.5 gallons of water every flush.
Water flows freely from all sides of the bowl thanks to AquaPiston's canister, which makes cleaning easier. Unlike normal toilets, the canister design provides a guarantee of leak-free operation.
Features
Seat
The ideal height for sitting, which can accommodate most people and makes it simpler to sit back down and get up again after usage, is its most advantageous feature. Consequently, if you want a more comprehensive model for use in your house, we strongly advise that you get this one as soon as possible.
Flush
It comes with a quiet close seat, which eliminates the annoying sound of the seat falling. In the meantime, the AquaPiston canister permits strong and efficient flushing, which means that the bowl may be cleaned with just one product use.
WaterSense certified
The WaterSense program of the EPA has established some very stringent requirements for the performance of toilet flushes, and this model satisfies those guidelines. If you are seeking water-saving goods that are also effective, a good place to begin your search is with the WaterSense label.
Customer experiences
This product has received a lot of appreciation and good ratings because of its comfortable height and style. Customers are happy because they do not face any trouble while using Santa rosa.
The Tresham series takes its cues for its edgy, neo-traditional design from the understated beauty and functionality of Shaker-style furniture. The Tresham Comfort-Height one-piece toilet features an attractive trim that is reminiscent of architectural molding and provides a unique spin on traditional elements of Americana culture. Complements not just the Tresham collection but also a wide range of other styles, from traditional to contemporary.
The revolutionary AquaPiston flushing technology by Kohler enables a cleaning that is complete on all sides and gets into every nook and cranny. Compared to an older 3.5-gallon toilet, a cutting-edge 1.28-gallon flush setting enables considerable water savings of up to 16,500 gallons per year. This is accomplished without reducing the toilet's ability to flush waste effectively.
Even though it takes up the same area as a round-front bowl, the sleek, elongated bowl provides a more comfortable experience. The Glenbury Quiet-Close seat with Grip-Tight has a handy unlatching system that enables hassle-free removal and cleaning and a silent closing mechanism. The Comfort Height feature included in this model provides seating that is at a chair height, making it simpler for most people to sit down and stand up.
Features
Easy to clean
Toilets that are one-piece combine the tank and bowl into a single, streamlined, simple, clean unit. It is easier to keep the toilet clean than it would be with a two-piece type due to the bowl's design, which has fewer nooks and crannies. In addition, it has a fully skirted trapway, which means that the sides of the toilet are completely smooth and level. This function makes cleanup much easier and has a visually pleasing appearance.
Simple to install
The Tresham one-piece toilet has a cutting-edge trapway installation method that may be found in the product. This method eliminates the need for caulk during the installation process by securing the toilet to the floor using anchors. The typical 12″ rough-in does not require drilling or special installation tools, and it is simple to do on all different floors. Additionally, there are kits on the market that can allow rough-in installations of 10 and 14 inches.
Customer experience
It has a novel structure built on the foundation of a method that consumes less water and is characterized by its unique design. Most specifically, the customers liked this toilet's design and the way it flushed. It does not clog like the earlier models of water savers, it is simple to clean, and has an exceptionally comfortable height.
Buying Guide for the Best Kohler Toilet
Configuration
When we consider configuration, we are referring, for the most part, to the two distinct variations of toilets, known as one-piece and two-piece versions, respectively. The second kind is the more common one, consisting of two distinct components: the bowl and the tank.
They are often more cumbersome, and they need to be cleaned and maintained on a more consistent basis. On the other hand, one-piece versions combine the tank and bowl into a single structure. Due to this integration, these models often have a more compact footprint than their two-piece counterparts.
Size
The shape and measurements of your toilet greatly impact the level of comfort it provides when you are seated on it, in addition to the amount of room it requires on the floor. The most common descriptions for the forms are "elongated" and "compact."
Two inches of floor space is saved when using a compact toilet instead of an extended one, making them an excellent choice for people with small bathrooms.
However, many individuals find that oblong, elongated bowls are the most comfortable shape to use while eating from them. There are also hybrid bowls available, which have the shape of a compressed oval and are designed to maximize relaxation while minimizing the amount of room they take up.
Design
After determining the kind and the extent to which it may be installed, the next step is to select a design that is optimal for the area in question and the overall aesthetic. In this respect, Kohler offers the entire range of possible options. Among the possibilities made with characteristics like color, form, height, and so on, you can select the one that is most suited to your needs.
Flush
The next thing that you should consider is flushing mechanism. Most of the models on our list have earned the WaterSense certification, so you can anticipate exceptional efficiency throughout the lineup.
However, you should also seek flushing that is forceful and has a high clearance, as this will guarantee that there will be no blockages in the process of cleaning a large amount of debris. On top of that, you'd want the flushing motion to be completely silent so that you don't have to deal with awkward gurgling sounds.
Height
The toilet seat height is the most important factor in determining how comfortable you are when sitting on the toilet bowl. This may seem like an obvious point to make. As a result, you don't want to get anything wrong when picking the best alternative. If you aren't certain, the safest approach is to go with the higher model because it can accommodate the most people.
On the other hand, if you are significantly shorter than the typical person, you could want a lower seat so you do not have to climb up too high. Check the product specifications for the seat height no matter what you decide to purchase and experiment to find the optimal setting.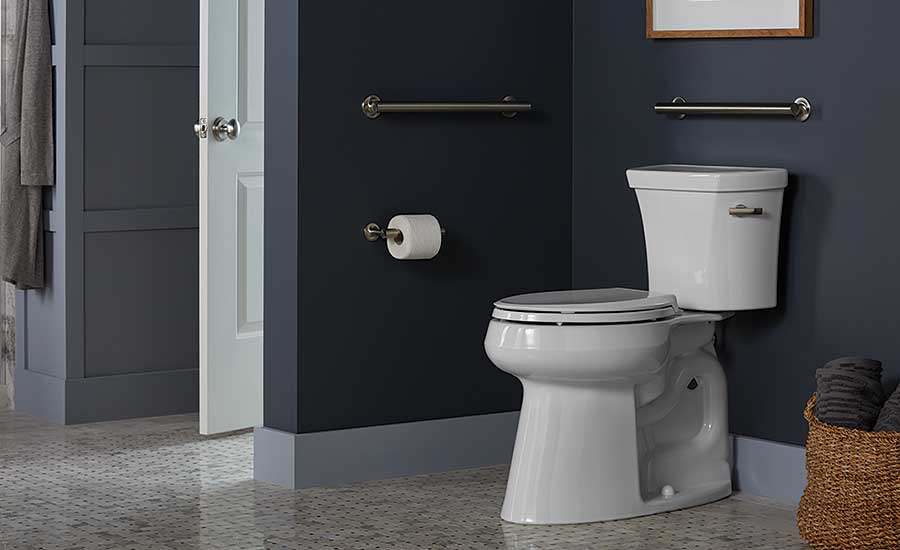 Frequently Asked Questions
When getting a new toilet, how should you measure it?
The rough-in, the distance between the wall behind the toilet and the center of the drainpipe or bolts that secure the toilet to the floor, is the most significant parameter to consider while searching for a toilet. Although the usual rough-in size is 12 inches, older homes may have 10- or 14-inch rough-ins, necessitating specialist toilets. Measure the available space on both the vertical and horizontal axes to get an idea of what size toilet you'll need.
How should a new toilet be installed?
Remove your old toilet and repair or replace the flange before installing your new toilet (if needed). The next step is to test-fit your new toilet by laying it on top of the flange to confirm that the bolts line up with the holes in the base and that it is level. Replace the wax ring on the horn, install the toilet, secure the screws, and connect the water supply line.
How do you unclog a toilet the most effective way?
A plunger can clear most toilet blockages, but you'll need a toilet plunger (also known as a flange plunger or closet plunger), not a cup plunger. To unclog your toilet, place the plunger at an angle in the bowl, fill it with water, and then place the cup over the drain opening in the bowl's bottom. From here, use quick thrusts to dislodge the impediment using the plunger. You can usually remove most clogs with five or six thrusts if you have a good seal.
When it comes to toilet cleaning, how often should you do so?
Cleaning a toilet, including the bowl and seat, once or twice a week is recommended for sanitary reasons. If you have a large group of individuals utilizing it, you may need to clean it more frequently.
Are there multiple colors for Kohler toilets?
It varies by model. Some models come in various colors, while others are limited to only a few.
What is a Kohler toilet's price range?
Kohler toilets are available at a range of prices depending on the style. Kohler toilets range in price from $250 to $600 for floor-mounted toilets. Wall-mounted and intelligent toilets, for example, can range in price from $900 to $4500.
What is the most popular Kohler toilet in general?
Santa Rosa, in a nutshell. It has the highest number of positive reviews of any Kohler toilet available. On any site where you may buy it, it is consistently the most popular and best-selling toilet. Kohler's website is included in this.
Conclusion
These were the best Kohler toilets. Because of its reliability and its ability to cater to your requirements, customers have consistently ranked the Kohler brand as their preferred option for many years. As you can see, Kohler has a vast selection of beautiful toilets. All the toilets in this article have received good marks for performance and efficiency. We hope that this article will help you in making a good decision.