Japanese toilets are known for their futuristic design, cutting-edge technology, and improved sanitation. Hygiene is a frequent trait among Japanese people, as it is promoted in Buddhist and Shinto traditions. One of Japan's tourism attractions, according to legend, is its toilet seats.
A Japanese toilet may help you improve the aesthetics and convenience of your bathroom area by providing a variety of smart functions that redefine daily bathroom use. Our review provides detailed information on the brands offering the best Japanese toilets. We'll also supply you with a buying guide and some advantages of the Japanese toilets.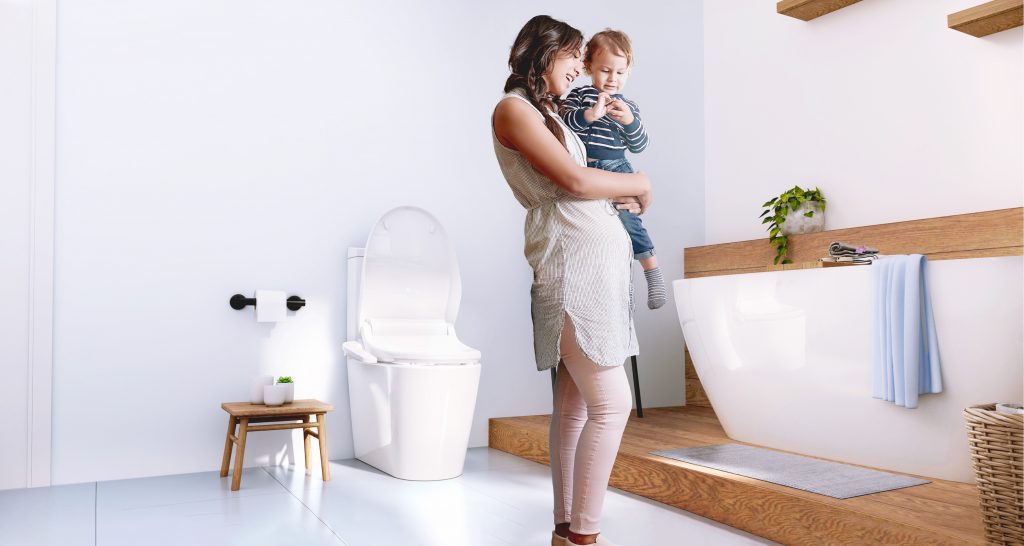 Best Japanese Toilets
Best Japanese Toilets Review
Sale
TOTO MS989CUMFG#01 NEOREST AH Dual Flush 1.0 or 0.8 GPF...
Universal Height and ADA Compliant
Required: 120V GFCI outlet located within 4 feet of toilet.
TOTO CEFIONTECT ceramic glaze gives the bowl a lubricious quality that prevents particles from adhering to help keep the toilet bowl cleaner
The Toto NEOREST AH Dual Flush is praised for its functionality and straightforward design. This toilet includes a detachable remote and a sensor that opens the toilet seat as you approach it, making it look like it's from the year 2050. This is a wonderfully luxurious smart toilet.
This toilet also has an "auto-cleaning" feature that cleans itself whenever the toilet seat closes, preventing germs and bacteria from accumulating. This feature alone makes this toilet worthwhile. Toto is a well-known toilet manufacturer in Japan.
You may be confident that any Toto toilet will be of the highest quality and performance. It allows you to enjoy a more comfortable restroom experience in the privacy of your own home. This toilet also advertises that it is so easy to install that anyone can do it.
This TOTO dual flush toilet has an excellent Cotton White finish that gives your bathroom a clean, fresh appeal. It comes with a 3.94′ power cord and a 12″ rough-in. It comes with a 3-year home warranty and a 1-year commercial guarantee from TOTO. It proudly displays the cUPC mark, informing buyers that the product is safe and sanitary.
Features
The EWATER+ function is a powerful technique for removing microscopic bacteria and dirt without the use of chemicals or cleaning products. It works straightforwardly. After the unit has been used for 25 seconds, EWATER+ pre-mists the bowl with tap water. The TOTO washlet electrolyzer releases tap water, converting common compounds in tap water to NaOCI, which has qualities similar to household bleaches.
TOTO's Tornado Flush is a strong and exciting new technology. The TOTO AH creates a forceful siphon by releasing a cyclonic rinse from its two 3″ inch velocity release nozzles, which clears the toilet of any waste or buildup. Tornado Flush is the epitome of power and all anyone could want from a single flush.
The TOTO Neorest AH comes with an auto-opening/closing lid as standard. This Auto Open/Close feature is only available from a few models on the market, and it allows you never to touch the surface of your toilet again while still offering a pleasant experience.
It works by using the sensors on the washlet. When a user is within one foot of the TOTO AH, it detects this and rises. This feature can be set only to raise the lid or both the seat and the lid.
WOODBRIDGE LT611+SWHT611+FP611-WH Wall Hung Toilet,...
✅ [All-In -ONE PACKAGE ]: Package Includes wall hung soft closed smart toilet bidet, Wall Hung Toilet Concealed Tank system and rough in...
✅ [COMFORT BIDET ] : Comfort bidet seat with hygiene wash, heated seat, hot air dryer, water heater, unlimited warm water, with...
✅ [CONCEALED DESIGN]: Water tank, carrier system, waterway connections, mounting hardware are totally concealed for clean and seamless...
If you've been in the market for toilets recently and are interested in getting a lot for little money, you've likely heard about Woodbridge. They are a well-known maker of toilets that are well-made yet do not cost nearly as much as they should.
Fortunately for budget-conscious individuals, they manufacture a very good low-cost bidet toilet combo with many high-end features. You get a lot of adjustability with the bidet function, so you don't feel cheated by not paying thousands more on a bidet toilet combo. There are many water pressure settings available.
The toilet itself is lovely and elevated, making it comfortable to use. You can comfortably sit and stand up. For those cold winter evenings, the seat has a warming feature of five different temperature settings, so you don't have to struggle with a cold bottom while doing your business. The seat has been lengthened to accommodate various body types and weights.
You can't beat the price of this bidet toilet combo, which comes with a slew of convenience features and personalization options. There aren't many that are less expensive and those that don't come close to matching Woodbridge's capabilities.
Features
When you're finished, take the hand-held or wall-mounted wireless remote control and begin selecting your favorite wash functions. The back of the seat will have a retractable nozzle that can be adjusted to provide posterior and rear wash functions with warm water.
After you've finished cleansing, a warm air drier will begin blowing warm air all over your back and front until you're dry. The warm air dryer's temperature can also be changed.
After you've been washed and dried, all you have to do is get up and leave. The bidet seat will wash the nozzles on its own, followed by a forceful flush of the toilet.
A strong deodorizer with carbon filters pulls in the air, cleans it, and leaves the bathroom feeling fresh to take rid of any residual scents near the toilet.
White Marble Stone Slim Flush Plates are long-lasting, resistant to mechanical damage, impervious to moisture and temperature changes, abrasion, and scratches, and do not fade even when cleaned frequently. The button's ultra-thin mounting and unique performance features provide a high level of aesthetics while also assisting in keeping the toilet clean.
Sale
VOVO STYLEMENT TCB-090S Smart Bidet Toilet, Made in...
💧 AUTOMATIC DUAL FLUSH - Smart seat sensor that detects the user to distinguish between small flush and large flush, providing hands-free...
💧 HEATED SEAT / WARM WATER / WARM AIR DRYER - Premium bidet features with self cleaning stainless steel nozzle with auto deodorization
💧 WIRELESS REMOTE CONTROLLER / AUTO DEODORIAZATION – Smart remote controller to perform posterior, feminine, and turbo wash functions...
In the category of "all-in-one-toilets," VOVO is one of the most inventive brands. This implies that the toilet, flushing system, and bidet are all contained within the same unit. The key advantage of VOVO is its ease of installation, which results in cheaper overall expenses.
The flushing system is included within the system. As a result, no additional flushing tank is required. The equipment is stable and reliable. The flush is regulated by maintenance-free solenoid valves rather than the pump. Also, VOVO was able to design and manufacture this trend-setting and future-oriented method thanks to extensive study.
The VOVO all-in-one toilet's main benefit is its simplicity of installation. Only a 1/2″ water connection and a nearby electrical outlet are required. There's no need for a toilet tank or any other pre-wall work. It's so simple to set up that anyone can do it.
It is a high-end toilet that may be used in any home. It comes with a sophisticated LED remote control, and when you approach the toilet, the lid automatically opens. We must mention that this product is certified by the cUPC and ETL.
cUPC toilets can only be installed in government buildings since these certifications are among the most severe in the US and Canada for plumbing safety, from water usage to back-siphonage hazards.
Features
The product is made of high-quality components and has a long-lasting construction to ensure its longevity and dependability. It is also suitable for persons of all ages and fits both Universal design and ADA requirements.
The LED night light gently lights the inner bowl, making it more convenient to use at night. It has an environmentally friendly power-saving mode that can be checked via the LED display on the product's main body.
It has an automated deodorizer to remove odors and a built-in warm air dryer with three temperature settings.
For your convenience, the wireless remote control is mounted on the wall. With ease, attach and detach.
Premium bidet contains a self-cleaning stainless steel nozzle that uses the incoming water supply to spray the toilet bowl before each use, preventing waste from sticking. Before and after each usage, the self-cleaning wand cleans the interior and outside.
Sale
WOODBRIDGE White Luxury, Elongated One Piece Advanced...
✅ Include WOODBRIDGE one-piece toilet and luxury bidet seat. Bidet seat fits the toilet perfectly
✅ Modern design: sleek, low profile skirted elongated one-piece toilet, comfort height, water sense, high-efficiency
✅ Hygiene: posterior wash, feminine wash, pulsating wash, adjustable water pressure, hygienic filtered water
The Woodbridge White Luxury Bidet Seat Toilet may catch your interest with its broad list of features. It is intended to provide significant convenience to users and can be especially useful for individuals with disabilities that make the use of the toilet a bit challenging.
The Woodbridge White Luxury Bidet seat toilet is a smart toilet with everything you need. Unlike a smart bidet seat that simply takes care of the bidet seat, this one will also flush the toilet and open and close the toilet seat for you. Other duties, such as washing up, are also made easier using this product. It contains a bidet and a warm air dryer, so you won't need to use toilet paper.
While the luxury features are wonderful, one aspect of the Woodbridge Smart Toilet that we truly like is the LED illumination. Nothing is more annoying than needing to use the restroom at 2 a.m. and having to turn on a bright bathroom light. The LED-lit seats provide a soft glow to help you find your way around and allow you to use the restroom quietly.
While this modern smart toilet is not inexpensive, it is a great investment for people seeking sophisticated functions and enhanced comfort.
Features
Many of its users like how quiet it is when in use and how effective it is in flushing. Despite this, you're less likely to have leaks, clogs, or flushing issues with this model.
The set includes a feminine wash, posterior wash, and pulsating wash options in bidet functionality. You'll also get hygienic filtered water and adjustable water pressure levels. This unit's integrated bidet is made exclusively for the Woodbridge One-Piece Toilet.
A tankless, skirted trapway design toilet gives your bathroom a small and ultra-modern appeal. Hands-free operation is ensured by automated functions like flushing and lid opening and closing.
You may customize the seat heat with five different temperature settings based on your comfort and preferences. Water heat, spray direction and mode, and water pressure level is all adjustable, ensuring the effectiveness of cleanups while also ensuring your comfort.
An adjustable warm air dryer adds to your comfort and eliminates the need for toilet paper. An LED night light, a touchscreen remote control, and an automatic deodorizer that can be hung or used as a mobile device are among the other useful features.
Sale
WOODBRIDGE B0980S Intelligent Smart Toilet, Massage...
✅ [AUTO OPEN & CLOSE]: Smart toilet features begin as you approach the toilet. The lid automatically opens hands-free to welcome you
✅ [AUTOMATIC FLUSH]: the seat will activate the self-cleaning bidet/spray wand and follow by a powerful flush on your departure for...
✅ [TOTALLY HYGIENIC]: Posterior wash, Feminine wash, Pulsating wash, Adjustable water pressure, hygienic filtered water
The Woodbridge B0980S is a one-piece dual flush extended toilet with an integrated bidet seat that is compact and functional. It's a tankless toilet with an automatic flushing system for a hands-free experience.
Compared to other products with similar features, it is quite inexpensive, flushes effectively, and is also very appealing. As you enter the bathroom and approach the toilet, the lid of the toilet seat will automatically open, eliminating the need to use your hands. All you have to do now is take a seat in the comfortably contoured heated seat and get down to business.
When you're finished with your business, take the hand-held or wall-mounted wireless remote control and begin selecting your chosen wash functions. The back of the seat will have a retractable nozzle that can be adjusted to provide posterior and rear wash functions with warm water.
For maximum comfort, the temperature and pressure of the warm water can be adjusted to your preferences. The pulsating and oscillating wash actions fully clean and relax you. When the nozzle goes back and forth quickly to clean a larger surface area, it is called an oscillating wash function. To generate a massage experience, pulsating wash functions use alternating powerful and soft water jets.
Features
It's worth noting that the bidet seat functionalities of the Woodbridge B0980S will require an electrical outlet next to the toilet. If you upgrade from a conventional toilet to this toilet, you will notice a little rise in your power cost.
The model provides sanitary filtered water. For further versatility, the machine includes several programmable options, including water temperature and pressure, dryer temperature, and a heated seat.
Low-pressure operation technology is included. A built-in 0.09 MPA dynamic low-pressure start-up program is appropriate for locations where current pressure-type flushing toilets can't fully work due to low water pressure.
A heating function is available to make your seating experience as warm and pleasant as possible. This function will always be appreciated during those late-night treks to the restroom during the cold winter months.
Once the user has been washed, there is also a drying function to freshen them up before leaving the toilet bowl.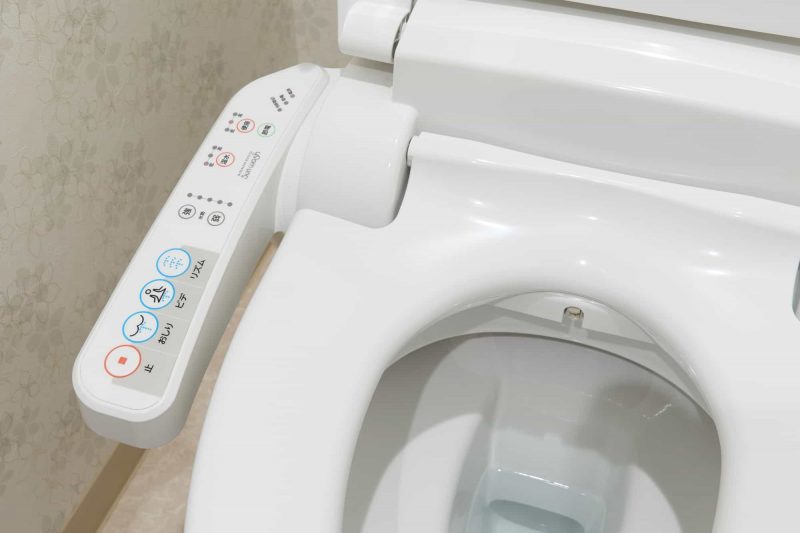 Factors to Consider While Buying Japanese Toilet
Features
The secret to choosing the best Japanese toilet for you is simply to choose one that offers the qualities you want in a toilet. These toilets are going to need a remote, and you'll be glad they do!
You may easily discover a unit with a heated seat, an automatically opening and shutting the lid, or even a LED feature to greet you in the middle of the night, depending on which model you're looking into.
However, several of the characteristics are more detailed than those. If you live in a home with both men and women, for example, seek a bidet with a completely adjustable front and posterior nozzle. This ensures a pleasant cleaning experience for the entire family.
Shape
Round and elongated toilets are the two most common shapes in Japan. While round seats were popular a few years ago, elongated seats are now the preferred option. These seats are more comfortable, have a more attractive appearance, and are easier to use with a bidet.
There are still bidet attachments available for toilet bases that have round seats, in case you are adamant about keeping that preference. While these seats take up less space, they are becoming less popular, so you should be aware that you may have trouble locating attachments for them in the future.
Height
A standard toilet's rim is 14 to 15 inches off the ground. There are also toilets with rim heights ranging from 17 to 19 inches that are marketed as "comfort height" because the additional height makes them relatively easy to sit on and stand up from.
Find an ADA-compliant toilet if you or a member of your household has limited mobility, as these toilets have rims that are at least 16.5 inches above the ground, making them more accessible.
Power and Efficiency
For household toilets, the federal standard limit is 1.6 gallons per flush. Toilets used to use up to 5 gallons per flush just a few decades ago. Needless to say, technology has changed as a result of the new restrictions.
However, more water per flush does not always imply a more powerful flush. While it's vital to think about this number, it's also important to think about how often you'll need to flush. A weak flush isn't simply a waste of water; it can also make cleaning your toilet bowl more difficult and cause waste build-up.
Noise Level
If you plan to install your new toilet in a location where noise will be a problem, such as next to your bedroom or the nursery for your child, you will consider how noisy it will be.
Gravity-flush toilets are generally the quietest, and some toilets have specially designed fill valves to make them even quieter. In addition, selecting a lid with a soft-close mechanism that does not slam shut when it is closed is beneficial if noise is a concern.
Appearance
After you've worked out the technicalities, you can consider how your new toilet will look and how it will match your bathroom. White is the most frequent toilet color, but you can also get black, gray, brown, and even bright hues like pink or yellow.
You also have options regarding a toilet's tramway and the pipe bends underneath the toilet bowl. If you select a model with visible trap routes, you will be able to see the bends and will need to clean them. You could wish to pick a toilet with disguised or skirted trap ways, which hide these curves and save you some time when cleaning.
Drying System
Isn't it wonderful to have a bidet with a fantastic spray system? After that, you'll have to dry out the excess moisture. Almost all bidet toilet combos incorporate a drying system to make this simple and comfortable.
Air drying removes the need for toilet paper, but it also makes the process more comfortable. This could be due to the pampering sensation that such devices provide. This approach will not only save you money on tissue paper, but it will also keep you from chafing.
Self-Cleaning Nozzles
Bidet users are increasingly concerned that the equipment may harbor and spread germs. This is only feasible if strict cleanliness standards are not followed. The bidet and wand must be kept clean at all times.
As a result, a device with self-cleaning nozzles is essential. Some of the best bidet toilet combos have sterilizing options in addition to effective self-cleaning technology.
Read more: Best Japanese Bidets
Benefits Of Japanese Toilet
Comfort
You'll realize the difference a soothing spray of warm water can have in your comfort if you've ever tried to wipe while you have stitches, hemorrhoids, or any medical problem down there. Most bidet toilet seats have several settings, including a gentle massage mode that is very relaxing when you're experiencing discomfort "down there."
Eco-Friendly
In a single sitting, the average person consumes 9 sheets of toilet paper. That's a lot of squandered natural resources, not to mention the amount of money you're flushing down the toilet at the same time.
When you consider the bleaching agents and other pollutants used in the processing and manufacturing of toilet paper, it's clear that a toilet with a bidet is a much greener choice for personal hygiene than a few hundred rolls of toilet paper every year.
Warm Toilet Seat
One of the lesser-known advantages of choosing a toilet with bidet attachments is that you will never again have to sit on a cold toilet seat.
Many modern Japanese toilet designs incorporate a built-in seat warmer, ensuring that your butt is never frozen in the middle of the night. Switching to a Japanese toilet seat, toilet bidet seat, or toilet bidet attachment could be enough of a cause.
Enhanced Personal Hygiene Functions
You can enjoy more hygienic cleansing after toilet usage with a built-in bidet. The Japanese toilet bidet has a remote-controlled shower stream, and some models have a "woman shower" function designed exclusively for ladies. These improved cleaning functions can be especially useful for people who have limited mobility.
LED Light
Are you having trouble finding the toilet in the middle of the night because the main light is too bright? A night light is often included in smart toilets to help you find the toilet in the middle of the night. This adjusts the light levels in response to the surroundings.
Read more: Best Smart Toilets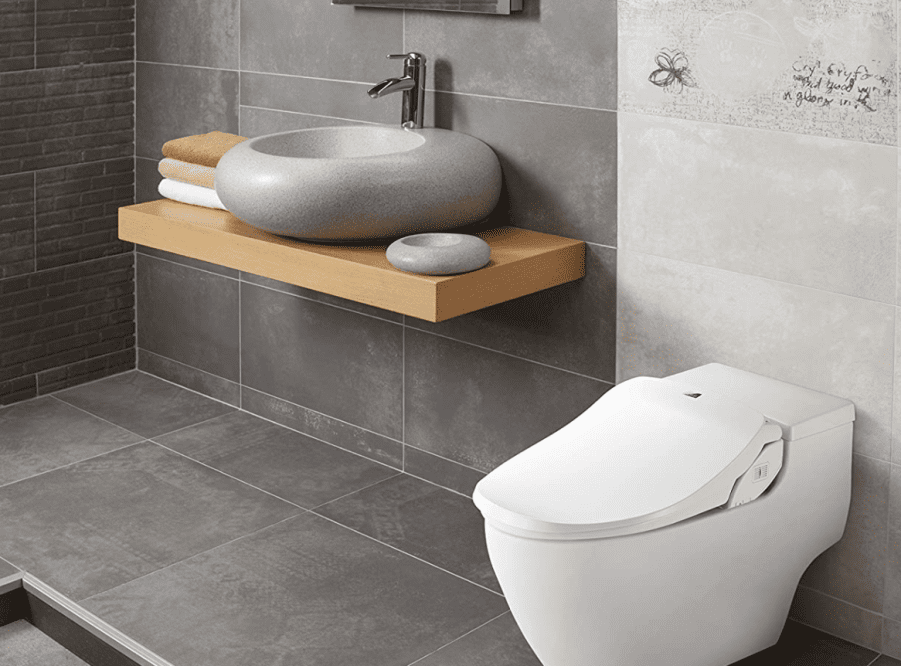 Types Of Flush Systems
Gravity Flush System
The most common type of toilet flushing technology is gravity flushing. It is highly influenced by all other flushing systems. The natural force of gravity is used for flushing the toilet. When water flows from the tank above the bowl into the bowl itself, it creates a force that causes the toilet trap to siphon waste out of the bowl.
When the bowl fills with water, the pressure inside it exceeds the pressure in the trap and the drainpipe. Water and waste are sucked into the drainpipe and down to the sewage lines as a result.
Pressure-Assisted
Pressure-assisted flushing systems are similar to gravity flushing systems, but they have an additional mechanism that pushes water even harder into the toilet bowl. When the water in the toilet's ceramic tank starts to refill, a plastic tank housing an air-filled balloon is compressed.
When the toilet is flushed, the balloon's compressed air fills the bowl with water at a rate that is much quicker than what a gravity tank could achieve. This enables a system to use less water while maintaining the same level of effectiveness as a gravity flush system or to use the same amount of water more efficiently.
Pressure-assisted toilets are noisier than other flushing systems due to the extra force exerted during the flush. Some folks may choose a system that is slightly less powerful yet runs quietly.
Dual Flush
Due to their environmentally friendly design, dual flush systems are increasingly gaining popularity. They let you use more or less water, depending on the waste you need to flush. On the same toilet unit, two levers or buttons are provided, allowing you to perform a "full" or "partial" flush.
The full flush operates like any other toilet, removing a mixture of solid and liquid waste with about 1.6 gallons of water. A half flush, on the other hand, is for liquid waste only and uses 1.1 gallons of water. Because of its excellent water-saving qualities, many countries have adopted the dual flush system and require its installation in new buildings.
Double Cyclone Flush System
Toto invented the double-cyclone flush technology, which is included in the majority of their toilets. Water from the tank enters the bowl by two sideways-facing nozzles at the top of the bowl. As a result, the water spins in the bowl like a cyclone, cleaning, washing, and flushing the toilet very effectively.
Keep in mind that the cyclone was created because the water was pouring into the bowl in the wrong direction. The outwards nozzles cause the water to affect the surface of the bowl, creating a vortex that cleans it.
Read more: Best Flushing Toilets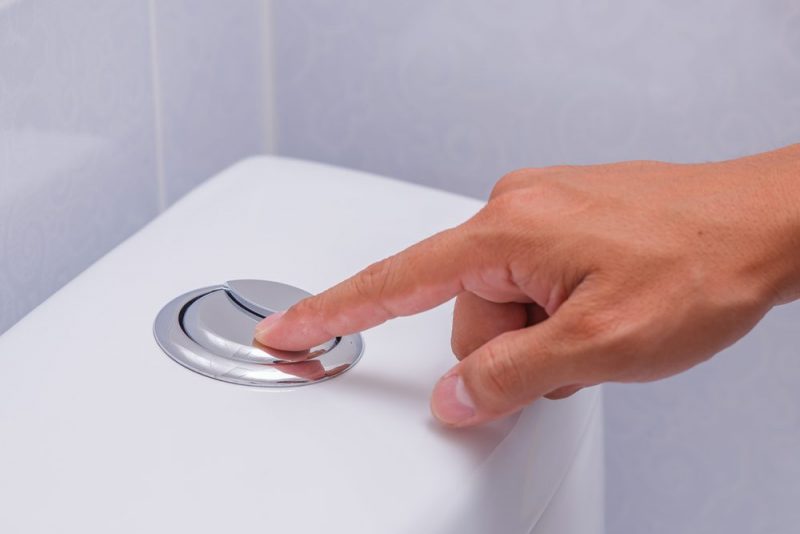 Frequently Asked Questions
How does a toilet work?
Toilets function in a variety of ways. The most simple method is to flush waste away using gravity or an assisted flush mechanism. Water is released from the tank and flushes the waste from the toilet bowl, either with or without additional pressure.
The water and waste are then discharged into the soil pipe via the outlet. This will subsequently be taken far, far away, depending on your waste and sewerage infrastructure.
What's the best way to install a new toilet?
Remove your old toilet and repair or replace the flange before installing a new one (if needed). Next, test-fit your new toilet by laying it on top of the flange to confirm that the bolts connect with the holes in the bottom and that the unit is level. After that, replace the wax ring on the horn, install the toilet, secure the screws, and attach the water supply tube.
How often should your toilet be cleaned?
Cleaning a toilet, including the bowl and seat, at least once or twice a week is recommended for sanitary reasons. If multiple individuals are using it, you may have to clean it more frequently.
Is it necessary to plug a bidet toilet combo into a power source?
The majority of today's bidet toilet combos are intended to plug into an output socket. Other types, on the other hand, are battery-powered. You should select the option that best meets your requirements.
Conclusion
With that, we ended our listicle. Because of its affordability, sleek elegance, and comfort, we mostly recommend the Toto Neorest AH Dual Flush as the best Japanese toilet. You'll save money as well because you'll use less water and toilet paper. Its self-cleaning feature saves time while also providing a more hygienic and enjoyable bathroom experience. This toilet is something you never imagined you'd need, but once you use it, you'll never want to go back to a standard toilet.