It might be difficult to choose the best home toilet. There are various factors to consider, such as size, flush performance, installation, and pricing.
By offering the most fantastic toilet reviews of all the top brands, like TOTO, Swiss Maden, American Standard, and many more, we will help you locate your perfect toilet on our website. We will evaluate a toilet if it should be purchased.
We will also offer guidelines that will make it simple for you to locate the features you want in a toilet, such as comfort height, dual flush, and seat types, to mention just a few. Our goal is to establish this website as your go-to resource for finding the ideal toilet for your bathroom. So, without any further ado, let's begin!
How Did We Create This List
Size
One of the first things you should do before acquiring a new toilet is to evaluate your bathroom space, especially where the toilet will go.
The rough-in, or the space between the wall and the floor drain, should be measured carefully. This is typically 12 inches; older houses may only have 10 or 14 inches. We considered the toilet measurements, and different toilet sets fit in various sizes of restrooms.
Shape of bowl
We took notice of the bowl shape. Although round bowls often cost less and take up less space, elongated bowls are more common because they are more comfortable. There are also more contemporary versions, including bowls that are rectangular. We have toilets having different bowl sizes.
Types of toilets
The three common types of toilets are two-piece, one-piece, and wall-mounted. The first is the most typical; you will find it in most conventional bathrooms, where the tank and bowl are separate.
The tank and bowl of a one-piece toilet are joined together, giving modern houses a sleeker, more fashionable appearance. Most toilets in this list are one-piece and two-piece toilets. Other than that, since wall-hung toilets lack a foot or base, they are simpler to clean from the bottom and a better option for those using wheelchairs or walkers.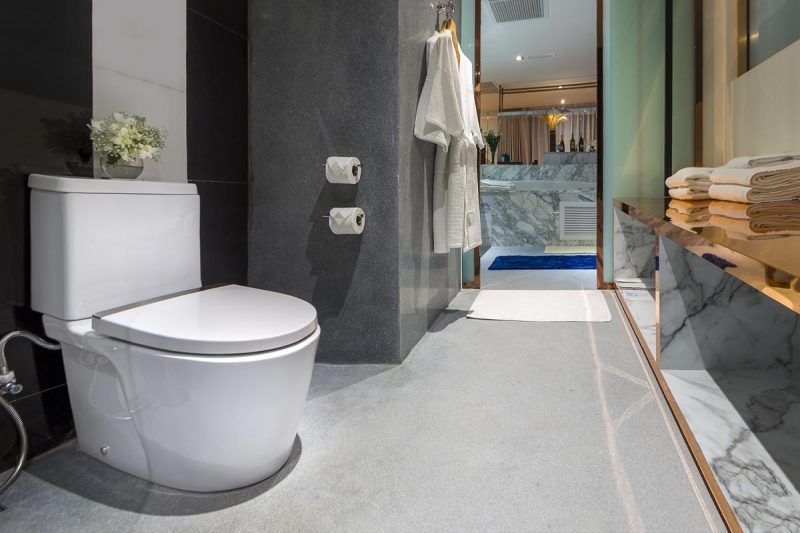 Best Home Toilets
Best Home Toilet: Reviews
The VOVO Corporation was founded in 2002 to provide household appliances. VOVO is an expert in integrated toilets, smart bidets, and air purifiers since we create, manufacture, and test all of its products at the South Korean facility.
The customers of VOVO's goods enjoy long-lasting comfort and convenience because of the high-quality materials and technical expertise used in their creation.
The STYLEMENT TCB-8100W toilet from VOVO is high-tech but reasonably priced, with smart electronic toilet seats. Its toilet products are high-tech and perform most, if not all, of the high-end bidet seats at a reasonable cost.
An average bathroom may be instantly transformed into an opulent luxury spa thanks to this simple DIY installation solution, which won Germany's IF Design Award in the top three categories worldwide.
All genders and physical conditions may readily and comfortably utilize VOVO's STYLEMENT TCB-8100W. The toilet from VOVO includes five distinct pressure settings for enema, posterior, and feminine washing. Five distinct nozzle settings may be used for oscillation and massage.
The appliance has three distinct heat settings for the dryer, water, and seat. The item automatically deodorizes, avoiding bathroom stink.
Features
This toilet includes an automatic dual flush, a hands-free operation made possible by a smart seat sensor that recognizes the user and allows them to choose between a tiny flush and a huge flush. (1.12 GPF / For 35 PSI)
This premium bidet uses self-cleaning stainless steel nozzles with auto deodorization, a heated seat, and warm water.
The STYLEMENT TCB-8100W has an intelligent remote control that can conduct posterior, feminine, and turbo wash tasks and auto deodorization.
The Tornado in the flush system wash provides a strong cleaning of the inside bowl while using a direct water supply from the pipe rather than any previously used water.
You can reduce your use of toilet paper and water with the eco-friendly design of the cUPC smart toilet, which is certified by cETLus.
The seat and the cover of the STYLEMENT TCB-8100W both have an elegant soft-closing action. The wireless remote with the toilet allows the user to turn the heated seat with power saving for 24 hours on and off and modify the temperature to one of three preset settings.
The STYLEMENT TCB-8100W directly connects to the cleaning pipe, which helps to provide a clean operation and a direct water supply.
For numerous reasons, the COSVALVE Intelligent Smart Toilet unit occupies the finest flushing toilet position overall. The toilet also exceeds all American Standard Regulations, making it a model that stands out in every way. It may be time to swap out your current toilet with the COSVALVE Intelligent Smart Toilet if you have been wondering why it flushes so slowly.
The model is a luxury and quality item, even if it is not a costly one. However, it is more expensive than other straightforward one or two-piece toilets on our list. The distinctive contemporary finish of this model is what shines out.
It is not the ideal option if you dislike bathrooms with a sleek, monochromatic design since it was made for contemporary bathrooms.
The siphon technique, which has a strong and silent flush, is another exceptional feature. Comparing the technology to other flushing methods utilized by two-piece toilets, it reduces blockages while performing superbly. The toilet allows users to consume 1 or 1.6 gallons of water every flush.
COSVALVE Intelligent Smart Toilet is not only a high-end dual flush toilet set, but it is also quite cozy. It is also simple to install and connect to other bathroom equipment.
Features
Bring a flush that is both very silent and efficient. When you leave, the bidet toilet seat that combines the two will flush itself automatically. You have a choice between many different settings for the water sprayer pressure, the heater, and the dryer. There is both a manual and an automated flush.
The COSVALVE Intelligent Smart Toilet includes rear washing options, front wash, washing with a constant temperature, washing with lady care, and washing with strong.
You may adjust the water temperature, water pressure, dryer temperature, and heat seat temperature using the remote control. In addition to that, the LED night light is capable of delivering supplementary illumination effects.
The air surrounding the toilet is properly cleaned by the deodorizer thanks to its strong air filter, maintaining a pleasant aroma in your bathroom.
Anti-counter current protection (with check valve), water purification (filter), anti-seize toilet bowl glazing, and six levels of safety protection is included. This Smart Toilet also provides complete protection against water immersion.
Dual valve water control may help lessen the noise associated with flushing. The Smart Toilet is compactly elegant while preserving available space in your bathroom.
Swiss Madison has created a chic one-piece toilet with this model. The design is neat and minimalistic, and it has a completely skirted trapway that looks wonderful and is simple to clean.
Because there are fewer nooks and gaps for dirt to hide, one-piece toilets proved to be the simplest to maintain in our testing. They also provide a sleeker, more contemporary appearance. That most definitely applies to this striking toilet from Swiss-Madison. In addition to its attractive appearance, it saves water thanks to dual-flush technology.
If you desire a conventional height, it is the customary 15 inches. The soft-close lid and the silent, gravity-fed flush are other features that our testers appreciated since they will help keep the room peaceful in the middle of the night.
The several large, heavy tanks mostly take up the size of the unit. While this could be acceptable for bigger bathrooms, a bulky toilet is not the best option if you are trying to save space.
Using height instead of length is a trick that many space-saving advocates often use. This toilet is barely 26.6 inches long and 31 inches tall. Without compromising any water needs, Swiss Madison increased the tank's height to make it a bit slimmer.
Features
It has a Tornado dual-flush system that enables you to use more water when there is more waste to flush, but it also lets you save water when you do not need to flush as much trash.
It also comes with a soft-close seat, which prevents the seat from being slammed shut, which may cause annoying and distracting noises. You just let it go, and it will shut quietly and gradually. There will be no noise.
The seat may also be removed quickly and easily to facilitate cleaning. It includes everything you'll need to attach it, such as the bolt caps and the wax fitting, so you will not have to worry about purchasing anything else.
Suppose you are searching for a toilet with a straightforward, sophisticated, and contemporary design that will give your bathroom an air of refined sophistication. In that case, this may be an option for you to consider. This toilet has a very reasonable price for such a lovely design, making it another highly recommended option.
It is encouraging to discover that the Drake two-piece elongated toilet, one of the most well-liked TOTO models, is also available with a round bowl. With a trapway skirted base design, it looks great.
Naturally, this trapway design will need further cleaning to maintain its fresh appearance over time. Although trapway-style bases are more popular, smooth-skirted bases are simpler to wash off and maintain.
Tall persons should not use this type since it is not a Comfort Height toilet. For average to short persons and far more appropriate for small children, a regular height toilet is great. It is hardly the most pleasant experience, as anybody who has used a Comfort Height toilet with their legs barely off the floor will attest.
Additionally, it is more challenging to empty a toilet if it is too high for you. However, this toilet's height from floor to rim is 14 5/8 inches; with a seat, it ought to be about an inch higher. It is thus about 2 inches shorter than a Comfort Height toilet.
Features
By agitating the water in a spiral motion, the TORNADO FLUSH performs very well while requiring less frequent cleaning and leaves the bowl surface immaculately clean. CEFIONTECT is an ultra-smooth coating that prevents waste from clogging so much that it may be readily washed away. This makes it easier to clean.
Because it only uses 1.6 gallons of water every flush, the Drake enables you to save water without fearing its performance may suffer. The Drake is equipped with a siphon jet bowl and a large 3-inch flush valve, all of which enable the work to be accomplished with a single flush.
This chic design will bring your hideaway into the current day and complement any bathroom's aesthetic. The larger space provided by the enlarged bowl enhances the feeling of coziness. The toilet has a trip lever on the left side of the tank and can accept rough-in installations 12 inches deep.
To finish your new toilet purchase, you can purchase either a TOTO SoftClose seat or a WASHLET bidet seat. The Drake tank and bowl come with the accompanying hardware already installed.
Normal height toilets are available, such as the American Standard 288DA114.020. Normal height toilets have a seat height that is 15 inches from the floor, making them comparable in height to a regular kitchen chair.
Normal height toilets are a wonderful option for tall, short, young, old, or handicapped people. This model's ideal height will be of great value to anybody who is otherwise confused about what toilet height is suitable for them and others.
The design of this two-piece toilet is straightforward and traditional, making it an excellent choice for installation in various types of bathrooms. However, even though it has a trapway design on the base side, which will need a little more work to clean, its one-piece construction will simplify cleaning this toilet.
There is no opportunity for germs, dirt, or grime to form between the tank and the bowl. It just requires a quick cleaning with a moist cloth from time to time to retain its brand-new appearance.
Features
Vitreous china is a highly resilient material used to make American Standard 288DA114.020. Additionally, an EverClean glaze finish is applied to the vitreous china, preventing germs, dirt, and debris from adhering to the surface. This is excellent for avoiding any stains on the toilet bowl and keeping the toilet looking brand-new for a very long period.
Of course, having the best flushing toilet system is necessary to earn the title of "Best Flushing Toilet." Sincere to say, TOTO and Swiss Madison also produce excellent flushing toilets. Both brands provide toilets that are well regarded. American Standard, however, has shown that the288DA114.020 will be exceedingly difficult to defeat.
A Maximum Performance (MaP) test gave the 288DA114.020 the highest score, and it can move masses that are 70% bigger than the industry average.
You must be able to hoist the toilet into position if you want to do the installation yourself. If that is not a concern, installing this type yourself should not be a problem—just like installing any other toilet. You will need nothing more than a typical wax ring to be fine.
Things to Consider When Looking for the Best Home Toilet
Many people see the toilet as more than simply a location to do their business; they view it as a place where they perform their business. Because smartphones now have the same capabilities as PCs, many individuals work on their phones while on the toilet in the morning. People who are not working during this period are often seen engaging in activities related to social media.
All of this is to just emphasize how often restrooms are used. Because of this, you have decided to study several toilets' reviews to determine which one has the most desirable features.
Despite this, we would like to extend our assistance to you even further by providing you with the following brief buyer's guide. When comparing toilets, the most significant characteristics and capabilities you should maintain in the forefront of your mind will be covered in the next section. If you take care of these details, you will not be sorry about your choice.
One-piece or two-piece
One-piece and two-piece designs are the most common configurations available for toilets. The bowl and the toilet tank, a two-piece model, are distinct components that are joined during the installation process. In contrast, a one-piece model toilet is built in a single piece from start to finish.
Because there is little difference between the two regarding performance, the choice is mostly one of appearance; yet, the answer may impact the installation. You are free to choose the fashion that, in your opinion, seems to be more attractive.
Efficiency with water
Nowadays, the cost of water is rather high; thus, water efficiency should be one of your primary concerns. The water consumed during each flush is measured in GPF, which stands for gallons per flush; selecting a model with a low score will save you cash in the long run.
Look out for water-efficient toilets that can flush in both directions. Because of this, you will flush with more water when there is a greater volume of waste to remove, but you will be able to flush with less water when it is not required.
Flushing capacity
Additionally, you need to pay attention to the flushing power. A toilet with a powerful flush will not only perform a better job of ejecting all waste, but it will also ensure that nothing is left clinging to the edges of the bowl.
Flush valves
The flush valve is one of the components that contributes to the overall strength of the flush. The larger the flush valve, the more water can run through it, and the more forceful the flush that it creates.
The typical size is two inches; however, some toilets feature bigger flush valves that give a more forceful and effective flush. The normal size is two inches.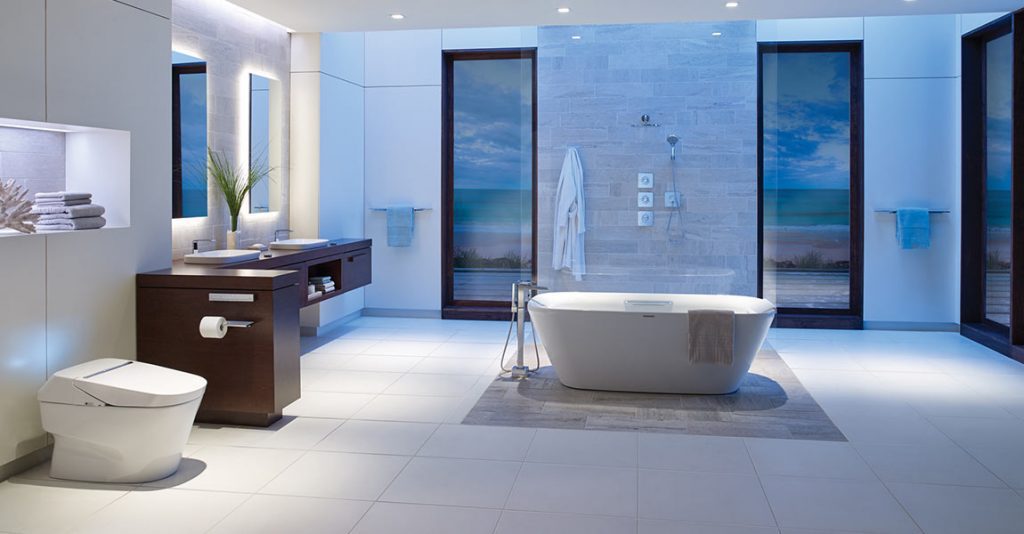 Surface of water
The water surface in your toilet bowl must be large enough since it will be more difficult to "miss if it is too tiny." This may cause garbage to get adhered to the edges of the container.
Additionally, suppose the water surface is not big enough. In that case, it will not be able to perform an excellent job of trapping any aromas underneath the water, which will cause your bathroom to have a stronger stink whenever people use it.
Comfort
When searching for a new toilet, ensure you do not overlook the importance of comfort. After all, you will spend a significant amount of time sitting on it for many years.
The height of the toilet is a crucial factor to consider, as some individuals choose a lower seat while others want a higher seat. The answer depends on both your preferences and how tall you are. When you make your purchase, give this some thought so you do not forget about it.
Type of bowl
A round and an extended form are considered conventional for toilet bowls. Elongated toilets are preferred by many individuals because of their greater comfort, although round toilets are more suitable for use in bathrooms with limited space due to their smaller footprint.
Seats that close softly
Everyone is quite annoyed if the toilet seat snaps shut. It has a propensity to take place at the most inopportune moments, such as in the middle of the night while everyone else is fast asleep.
However, if the seat in question has a gentle shutting mechanism, you will not have to be concerned about this issue again. These seats shut gently on their own without your assistance, so they never slam, which is fantastic news if there are children in the home since it ensures that their small fingers will not be pinched.
Power-assisted
A power-assisted toilet employs an electric motor to trigger air pressure into the sealed compression tank rather than a tank that holds water under pressure. This allows the compression tank to be completely sealed.
The waste is quickly and thoroughly removed from the bowl by combining water and strong air pressure, which forces the waste into the flushing channel and cleans the bowl in milliseconds. These types of flushes are a great feature to be considered.
One-Piece vs. Two-Piece Toilets
How one-piece and two-piece toilets are used is functionally identical; hence, there is no essential distinction between the two. The many components of a one-piece toilet are assembled in one cohesive unit.
As a consequence of that, there is no separate tank. This system is incredibly simple to clean and maintain due to its well-packaged design and straightforward nature.
On the other hand, two-piece tanks are installed on top of the bowl and are secured there. Most restrooms bought for residential use are two-piece models since they are priced nearly 20 to 25 percent lower than their one-piece equivalents.
The disadvantage of two-piece systems is that they might be difficult to clean. If you are set on purchasing a sanitary bar, look for one constructed with care. It prevents liquid from collecting beneath the tank, increasing the equipment's lifetime.
Standards of Water Usage in Toilets
The main objective of manufacturing toilets is to utilize the least amount of water possible to flush waste since standards have improved over time. Newer versions use an average of 1.6 gallons of water each flush, compared to older models' four gallons every flush.
Compared to earlier versions, newer designs have so much to offer. These new features include better flushing power, reduced water use, dual-action flushing handles, and many other improvements.
To avoid double flushing, a toilet with less water would need to compensate for it with other technologies. With the aid of jetted valves and gravity technology, the waste may be thoroughly cleaned and flushed away.
In certain versions, 1.28 GPF is used to avoid double flushing under severe circumstances. These restrooms provide the perfect balance of efficiency and economy. With numerous bathrooms in the home, you would want to buy newer versions of toilets to aid with water conservation since they account for one-third of a household's water use.
Make sure the toilet you choose significantly impacts your continuing savings and expenditures while searching for a great new toilet.
The Advantages of Installing Dual Flush Toilets in Your Home
The least water is used each flush by the top-performing toilets on the market. With less than a gallon of water, premium range flushing systems can clean the bowl surface.
Reduced water use results in significant water bill savings and contributes to the preservation of natural resources. Modern flushing toilets now have a greater flushing force than ever before, thanks to the twin cyclone flushing technology.
Fortunately, these well-thought-out versions flush the waste down the bowl right away, making sure there is no residue left behind to smell. Less cleaning means fewer toilet bowl cleaners are needed. Every time you flush, the bowl is kept clean and sanitary.
Personal comfort is the next noteworthy advantage of building a well-designed restroom. The top manufacturers of flushing toilets can effectively meet your range of demands, whether you want rounded or extended bowls. The primary benefit of chrome-plated variants is the additional stability of the trip lever.
Ultimately, we must recognize the decrease in maintenance and repair costs. It is unlikely that high-quality plumbing fittings would block your pipes. You will no longer need to add the plumber's phone number to your speed dial.
Frequently Asked Questions
Which method of toilet cleaning works the best?
Most toilet clogs may be removed with a plunger; however, you cannot use a cup plunger since you will require a toilet plunger, also known as a flange plunger or closet plunger. To clear a clog in your toilet, place the cup of the plunger over the hole in the bowl's base that leads to the drain, and then angle the plunger so it fits into the bowl.
Allow the plunger to fill with water. From this position, apply force to the plunger in short, sharp thrusts to build up sufficient pressure to break through the impediment. Till you have a good seal, you should only need five or six thrusts to eliminate the majority of obstructions.
Related: Best Self Cleaning Toilets
What parts of the toilet require the most replacements over time?
The toilet trip lever, flap, and fill valve are the three components that, on average, are the most prone to get damaged and need repair. This is because these three components move independently each time you flush the toilet.
The flapper and the fill valve are also subjected to almost constant contact with water, which makes them especially prone to wearing down over time.
Conclusion
Well, this is the very end of this article. Choosing which toilet will be the most fantastic fit for your bathroom is not simple. Because the price of a toilet may range anywhere from a few hundred dollars to several thousand dollars, it is important to choose the appropriate option.
We hope our buyer's guide was helpful to you as you deliberate about which characteristics have the utmost significance for you.
We also hope that you found our evaluations and buying guide for the best toilets informative and useful and that you can now make a more educated choice about which is the best home toilet for you.