A handicap toilet is a necessary element of some people's homes. Despite this, not every manufacturer takes the time and effort to make this vital piece of equipment with the attention you deserve.
While choosing the appropriate product will make your life easier, choosing the wrong one may cause you to become frustrated with a habit you shouldn't have to think about.
We've made a point in the article to showcase some of the top selections available and broaden your consideration. People with various needs will be able to locate a suitable toilet on this list.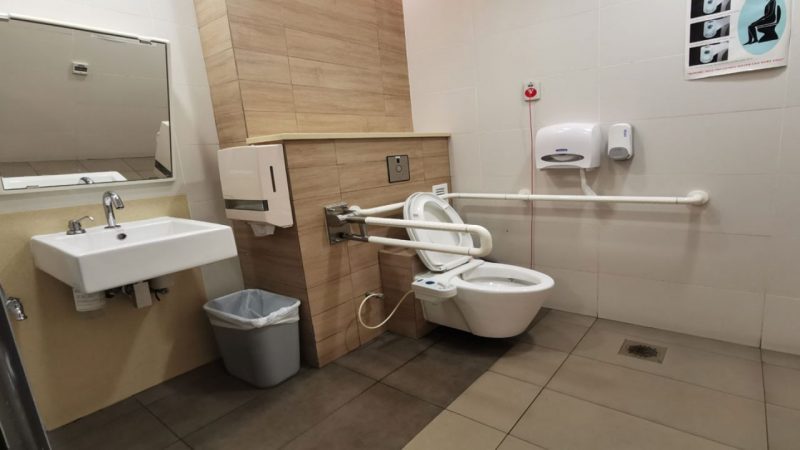 How We Created This List
Weight Capacity
The handicap toilet seats we considered can support between 200 and 400 pounds. There are also handicap seats available from the brands we've listed that can hold up to 500 pounds.
Toilet Height
The toilet height was one of the first things we considered when designing a new toilet for disabled people. The toilet height you select is determined by the size of the consumer.
It's best to choose a large enough model that can be transitioned off and on the toilet, which is why we included all of these toilets on the list. Furthermore, they are low enough to allow users to conveniently rest their feet flat on the ground while seated on the toilet.
Ease Of Cleaning
If you have trouble bending down and getting to low places, or if you hate having to clean behind and around a regular floor-mounted toilet, the toilets on our list are the best choice for you. The lack of a pedestal base makes it much easier to clean the floor around the toilet by passing a mop underneath the bowl.
Best Handicap Toilets
Best Handicap Toilets Review
OasisSpace toilet seats are developed and manufactured to raise the height of your toilet from standard to four inches higher.
The toilet seat set is ergonomically built with padded handles to make it easier for you to sit down and stand up on your toilet.
The OasisSpace raised toilet seat is considered one of the best-elevated toilet seat risers on the market.
With a removable padded grasp, armbars handle for greater safety, and non-slip padding for added comfort and grip, you'll be able to feel optimum safety and security every time you lower yourself down or get back up off the seat.
It's ideal for people who are handicapped or crippled, have restricted movement in daily tasks, are pregnant, or have bending or seating problems. This elevated toilet seat riser is made of heavy-duty molded plastic and is as robust as nails.
It meets the requirements of the American Disability Act, so you know the construction and quality are A1, which means you can use it often and for a long time.
The entire seat weighs only five pounds, making it easy to stow if the seat is only needed when specific visitors arrive or if you're a traveler who wants that added convenience, whether you're in an RV, on a ship, or staying in hotels and holiday shacks around the country.
Features
The most incredible quality in medical Bathroom Toilet Rail is the OasisSpace elevated toilet seat. It makes it highly safe for seniors to utilize.
Its elevated toilet seat and safety frame, which have few parts and a basic design, meet hygiene requirements and are easy to clean for visitors. It's ideal for persons who are recovering from an injury or surgery or who have limited mobility. Don't be concerned about your safety.
The OasisSpace Stand Alone Toilet Rail is made of a corrosion-resistant aluminum frame that holds up to 300 pounds. The raised toilet seat is quite strong and provided the customer with the aid they needed to use the toilet successfully. The raised toilet seat with handles is the most accessible to get up and is stable enough to eliminate the risk of falling.
This toilet chair for the elderly and disabled is padded with soft rubber for optimum support. The textured rubber handles provide a comfortable, non-slip surface for a safe and secure grasp when sitting or standing. Each exterior leg has a non-skid, non-slip tip for a secure and safe experience.
KMINA believes that keeping your independence and freedom is critical no matter where life takes you.
As a result, their objective is to produce items that make their clients feel confident, in control, and at ease. This toilet seat riser may be an excellent choice for persons unable to stand due to age, injury, or surgery.
It is incredibly durable and can immediately connect to your current toilet seat. These 3.5 inches are very useful for senior adults since they prevent them from entirely bending down to sit. This additional height also reduces the risk of falling and eliminates the problem of limited mobility.
This seat may be installed securely and appeal to older individuals and caretakers. This may be done without needing any tools, making the entire installation process incredibly simple.
The back end of the seat also contains the hinges, making cleaning easier. This seat can raise to 90 degrees and accommodate up to 350 pounds. Best of all, it includes a 60-day unconditional guarantee.
Features
Designed to add added support and stability to your toileting experience. It is readily adjustable and fastened to the toilet, ensuring the user's safety and stability. It keeps you from slipping or falling.
The framework may be readily modified in height, breadth, and length to fit any toilet perfectly. For more comfortable support, the armrests can be moved forward and backward.
When utilized, the curvature adjusts to the curve of the toilet and provides accessibility. The structure is simple to change and does not require any installation or tools.
The strong toilet rail, which can support up to 350 pounds, adds extra safety and security to sitting or standing in the restroom. The rail avoids slips and falls, which is ideal for the elderly, handicapped, and those recovering from injury or surgery.
For enhanced comfort, the rail grips are padded with soft foam. The textured handles provide a comfortable, non-slip surface for a safe and secure grasp when sitting or standing.
The armrests have two configurations; utilize the adjustment buttons beneath the armrest to move it forward or back for more comfortable support.
The Handicap Grab Bar from Drive Medical suits both regular and elongated toilet bowls. That includes the majority of toilet brands and models. The arms are simple to adjust and remove. As a result, you have more options regarding setting up your bathroom.
Users can sit or rise from the commode with the help of this free-standing bathroom safety frame.
It's perfect for seniors, handicapped people, those who have arthritis, and people who are healing from an injury or surgery. Accidental slips and falls, common in bathrooms, are avoided with this safety rail.
This safety rail's armrests include extra padding for added comfort and a better non-slip grip, and it can support up to 300 pounds. It's also convenient to travel with and use in other places, such as hotel restrooms because it doesn't need to be attached.
Some users claim to utilize it with chairs that don't have armrests. The strong structure and agility of this safety rail impress most users. It makes no difference what size or forms your toilet is. Almost every type of restroom may accommodate the Drive Medical Handicap Grab Bar for Toilets.
Features
Their free-standing handrail for the bathroom is incredibly simple to install without any equipment and is designed to fit virtually any toilet design. Their grab bars for the aged, disabled, pregnant women and injured are durable metal and the best shower accessories for daily living.
This high-strength, sturdy metal steel frame was designed with safety in mind and can support up to 300 pounds of user weight. Grab bars with anti-slip padding provide a solid and secure grasp.
There's no need to install anything or alter any additional fixtures. Place the toilet safety frame in the center of the existing toilet bowl. For storage, the frame folds effortlessly.
The compact toilet safety rail fits any standard elongated or oval rail handle and may be adjusted in width for a personalized fit in any home. The handles may be changed from 17″ to 20″ broad, giving you plenty of room over the toilet.
Their grab bars for bathtubs and showers are supplied with a stainless steel locking system and non-wearing rubber pads to prevent scratching during installation.
The RMS Toilet Safety Frame & Rail is designed to assist seniors with limited disabilities safely and conveniently using the toilet.
With proportions that allow it to fit around most toilet sizes, it comfortably fits around the front and rear of the toilet tank to provide improved stability.
The Toilet Safety Frame is simply adjustable in height to match your unique needs, and it's also folding so you can keep full access to your bathroom.
This Safety Frame & Rail is great for seniors who have a mobility disability that prevents them from standing and sitting comfortably and are searching for an easy-to-use toilet rail. It can fit around most toilets.
If you share your house with others, the Safety Frame & Rail may be effortlessly folded up to allow others full access to the bathroom. It's ergonomic, comfy, and durable, and it can hold up to 300 pounds.
Its anti-slip handle is also made of high-quality HDPE material, which is non-toxic and odorless. This, combined with the fact that it can be installed on any toilet, results in a decent safety toilet rail.
Features
The RMS Toilet Safety Frame may be folded completely flat for easy storage or travel. Simply fold it and set it aside when you're not using it.
The armrests are made of tough foam that can withstand prolonged use and a lot of weight. The soft and comfortable grip makes it simple to sit and stand.
The breadth of the two handles can be adjusted to fit both narrow and wide-body types. The width can be adjusted between 18.5″ and 21.5″. The arms are detachable and padded with a soft foam that provides a comfortable grip while non-slip for extra safety and stability.
The Safety Frame & Rail is portable and lightweight. The Safety Frame & Rail is a robust composite material that can support up to 300 pounds of weight.
The footrest is secured to the frame, enhancing its support and stability. The safety frame rail's height can be adjusted from 27.5″ to 33″ inches to meet the needs of its customers.
There is no need to install anything. There are no other fixtures to adjust. Simply place the safety frame rail in the center of your current toilet bowl. In addition, the RMS toilet rail is lightweight and foldable for easy storage.
Standard toilets are not tall enough for people with mobility issues. As a result, you'll need to raise the toilet to make it more comfortable.
The Carex elevated toilet raises the toilet 3.5 inches to make it easier for the elderly. The seat has handlebars to ensure that the riders are safe and comfortable.
Its metal structure makes it strong and long-lasting. We enjoy how light the toilet is, making it the most incredible portable and elevated toilet seat because caretakers can easily transport and store it. The handlebars have a stylish shape that extends out slightly.
The Carex raised seat is not only simple to use, but it's also simple to clean. Anyone with mobility limitations can utilize the seat independently due to its accessibility. Furthermore, everyone may easily sit or stand from the toilet seat.
It has durable, padded grips that provide extra support while sitting and bending, making it an ideal handicap toilet seat. The handles give stability to people recuperating from surgery or living with a chronic disease.
For more than 20 years, Carex has been a pioneer in-home medical equipment and elevated toilet seats for elders, handicapped, elderly, and disabled people. You may be confident that you're buying from an industry leader.
Features
This toilet seat elevates easily and quickly attaches to your ordinary toilet and raises its height by 3.5 inches, making it easier and more comfortable for users to sit and get off. The support arms can be deleted or added depending on the user's preferences.
The toilet seat lifter is equipped with padded, adjustable arms that provide the support push, leverage, and safety you need, whether sitting or rising from the toilet. The rail eliminates the possibility of slips and falls, providing additional peace of mind.
It is really simple and quick to set up. Simply attach the arm, place the seat riser on your toilet bowl, and secure the toilet with the back locking mechanism. A raised toilet seat is incredibly stable and secure when using the toilet, providing you peace of mind.
For individuals with limited movements, such as the elderly or people with disabilities, the toilet seat lifter is a more practical and secure alternative to the standard toilet. Cleaning this disabled toilet raiser is as simple as wiping it down with a cleaning solution.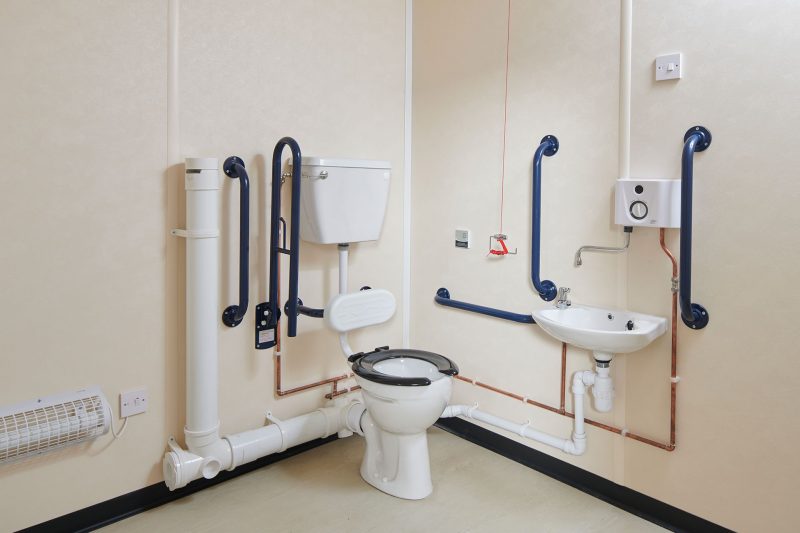 Guide: Factors to Consider When Looking For Best Handicap Toilet
Floor space
If you have limited mobility and have to use a walker or wheelchair, and your bathroom is small, choosing a toilet that is also small will make it easier for you to navigate.
Wall-mounted and back-to-wall toilets with a tank built into the wall are also excellent choices for maximizing floor space.
The bowl's form can also help to increase the amount of usable floor space. A toilet with a compact-sized bowl (round or square) takes up less floor space than models with elongated bowls. Every inch matters in a small bathroom, especially if you're handicapped.
Weight capacity
Another essential factor to consider when looking for a handicap toilet is your weight capacity, which the toilet will inspire. The type of toilet determines this ability.
There are flooring-mounted pedestal-style and wall-mounted toilets, which can be divided into one and two-piece models; however, what is important to you is the number of pounds it can handle.
Floor-mounted toilets typically have the highest weight capacity, with some handling up to 1000 lbs of the static, vertical drive. However, most versions on the market have 400 to 500 pounds of perpendicular force.
When properly installed, some wall-mounted toilets can support 350-500 pounds. It's ideal for carefully reading the product specifications or inquiring the manufacturer about this aspect before making a purchase.
Toilet height
Many people immediately think "the higher the seat height, the better" when choosing an accessible toilet. This is not always the case.
Comfort-Height Toilets are taller toilets that are unreasonably high for shorter adults, children, and some wheelchair users.
Choose a toilet with a seat height that is high enough to easily transition on and off the toilet but low enough to conveniently rest your feet on the floor when seated on the toilet.
Flush water and power consumption
Consider the flushing capability of the toilet you intend to purchase. Like many other consumers, you are interested in effective waste elimination and significantly improved clog immunity. Various flush performance systems are available in toilets, each with different abilities to resist flushing and eliminate waste.
In most cases, the product description must include a disclaimer about the system's flushing capabilities. If the toilet performs well, you will only need to flush it once to remove the waste.
If the toilet you receive has a smaller flushing capacity, you'll have to wash it in a few days to get rid of the waste, which means more water will be used.
There are many water-efficient toilets on the market, which means they consume a smaller amount of water per flush. You can choose a dual-flush toilet, which allows you to control the water you use.
Installation
Naturally, the less complicated the installation, the better. You may be shocked that installing a toilet does not have to be complicated.
Even persons with modest skill levels will be able to install an intuitively designed unit with the help of a few simple tools.
However, you should double-check this before completing your transaction. Some toilets are more difficult to set up than others. Of course, doing it yourself saves a lot of money, so this is a valuable feature if you can get it.
Price
Toilets can range in price from $200 to $500. Of course, buyers on a budget might choose the most cost-effective alternative available. Keep in mind, though, that toilets contribute to your monthly expenses.
As a result, it will be in your best interests to invest in something ecologically friendly and high-quality enough to require minimal upkeep. Remember that the correct toilet could eventually pay for itself.
Lid height
If your goal is to simply discover a product that will accommodate persons with disabilities, this is the most essential characteristic to consider. The height of the lid impacts how simple it is to get on and off a toilet. It also has a significant effect on the overall comfort of the toilet.
Ease of cleaning
A wall-mounted toilet is a fantastic option if you have trouble bending and reaching low places or if you despise cleaning behind and around a regular floor-mounted toilet.
The lack of a pedestal base makes it much easier to clean the floor surrounding the toilet by passing a mop below the bowl.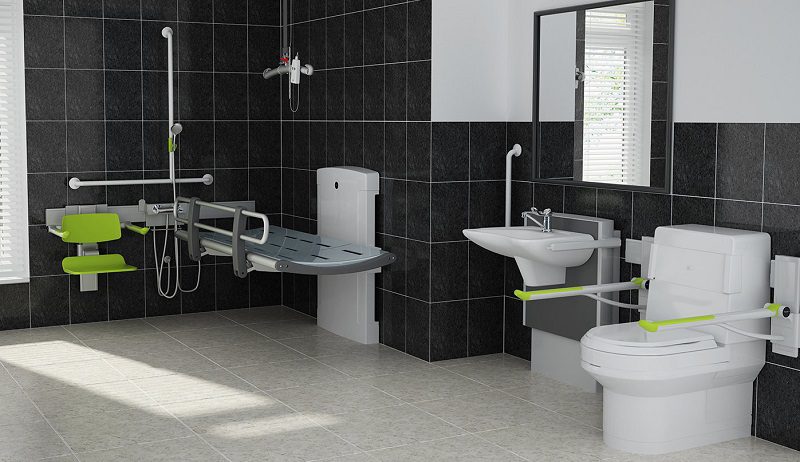 Benefits of Handicap Toilets
High toilets are easier to fit
You may acquire high toilet seats that are easy to install and don't take much time. Raised toilet seats typically contain adjustable fixing brackets that keep the seat in position for maximum stability.
Brackets are usually found on the sides and back. It's not only simple to install, but it's also simple to clean. You're fine to go after a quick wipe down with a toilet disinfectant or an antibacterial wipe.
May reduce impact on joints
The impact on joints is frequently a worry for persons living with mobility-related disorders, and in some situations, excessive joint use can cause severe pain and discomfort.
Minimizing how far a person must bend their knees and hips can make the overall experience less unpleasant and uncomfortable for someone who suffers from joint inflammation, such as persons with arthritis.
Installation
It is incredibly simple to set up. The two nuts on the toilet bolts must be removed. The toilet seats should be raised. The mounting brackets should be aligned with the holes.
Bring in the seats and secure them in place with the nuts. Insert the rails into the brackets and secure them. The leg extension is possible if your height is correct. Handles can also be adjusted. You'll have no trouble securing the ideal position.
Difference Between Standard Toilet and a Handicap Toilet
Height
A handicap toilet is sometimes referred to as an ADA toilet because its height matches that of ADA-compliant toilets, ranging from 17 to 19 inches from floor to seat. This is the equivalent of a chair's height.
From floor to seat, a standard toilet is around 15 inches tall. The best one for your home is determined by the family's height, whether someone has physical needs, and how members of the family transfer to and from the toilet.
Best use
It may seem unusual, but the most incredible way to pick the best toilet is to try it out. It should be simple to sit and stand on. Also, place both of your feet on the floor.
As a result, anyone who has difficulties standing from a low position, such as the disabled or elderly, will likely choose a comfortable height toilet.
A standard toilet is preferable for a youngster or someone of small stature. If your feet dangle without touching, the lack of circulation might cause leg pain or cause your legs to fall asleep.
Appearance
Standard and comfort height toilets are available in a range of styles and colors. The preferred colors are white or beige, which are better for the home's resale value. One or two-piece designs are available. The two-piece is the more affordable and classic option.
The one-piece is easier to clean and has a more streamlined appearance. The height of the inner mechanisms might also vary. The flushing mechanisms can either be gravity-based or pressure-assisted. With either toilet, you can enjoy bidet functionality.
Health
Apart from mobility concerns, various additional health issues may impact the choice of handicap vs. standard toilets. Constipation is the most noticeable. Squatting positions are the most natural positions for defecating.
However, since we live in modern times, we cannot go back to squatting. The standard-height toilet may be the closest thing to crouching. This is a fantastic option for folks who want to avoid or relieve constipation.
However, if you insist on using a raised toilet, you should place a little stand/stool in front of it. After that, you can use the toilet with your feet raised.
Installation
A raised toilet is installed in the same way as a regular toilet. Installing a raised-height toilet or a standard toilet costs the same amount.
On the other hand, the raised height toilets are taller than the regular height toilets. A normal-height toilet should be the obvious choice if you need a toilet to fit in a confined place, such as under a shelf.
Frequently Asked Questions
What are toilet safety rails?
Toilet safety rails are devices that make getting up and down from the toilet easier, safer, and more comfortable.
They keep persons with mobility, strength, or balance concerns from falling and give stability. If you have eyesight problems or are recovering from an injury or surgery, toilet safety rails can help.
What is the best approach to unclog a toilet?
A plunger can unclog most toilets, but you'll need a toilet plunger (also known as a flange plunger or closet plunger), not a cup plunger.
To unclog your toilet, place the plunger at an angle in the bowl and fill it with water, then place the cup over the drain opening in the bowl's bottom.
From here, make quick thrusts down the plunger to dislodge the obstruction. You can eliminate most clogs with five or six thrusts if you have a good seal.
What is a raised toilet seat?
A raised toilet seat is a sturdy toilet seat that fits on top of the toilet bowl or a seat that is elevated separately from the standard seat. The seat makes sitting and standing on the toilet easier and safer because it raises the individual's height.
Why should you consider purchasing a grab bar if you can purchase a seat with handles?
Seats with handles are ideal for people who just need to support a little amount of their body weight.
They aren't the ideal option for folks who require more assistance. Too much force on the grips can cause the seat to slide; when standing, too much force can cause the seat to flip.
For a user with restricted mobility, either option could be disastrous. Because grab bars are not attached to the seat, applying sufficient force or pressure will not impact the seat's position. It may be safer to pull than push if you have balance issues when you need to stand.
Conclusion
A handicap toilet allows users to get on and off the seat with minimal effort. As a result, it is advantageous to seniors and persons with disabilities who have leg, knee, hip, joint, or back problems.
Handicap toilets are a little taller than standard toilets. They make it easier to sit on the toilet and then stand up again.
If you use a wheelchair, seek a toilet with a seat height that matches the seat height of your wheelchair. The lateral-slide transition to the toilet seat will be easier as a result.
That was our recommendation for the best handicap toilet. If you have a mobility difficulty, all of the toilets on our list are the best on the market and provide great answers to your toilet difficulties.